NFL Nation:

Steve Atwater
January, 9, 2014
1/09/14
9:50
PM ET
ENGLEWOOD, Colo. -- In the free agency season of 2004, then-Broncos head coach Mike Shanahan wanted leadership, experience and some playoff chops in the locker room.

So, Shanahan traded for
Champ Bailey
and, much like John Elway did last year with
Peyton Manning
, Shanahan took a chance on a guy coming off neck surgery -- a guy named
John Lynch
.
Lynch, who played 11 seasons in Tampa Bay and the final four years of his career with the Broncos, was the only player with Broncos ties to make the cut for the final 15 finalists for the Pro Football Hall of Fame's Class of 2014.
The 15 modern-era finalists will be trimmed at the meeting of the Hall's Board of Selectors the day before the Super Bowl.
Former Broncos linebacker Karl Mecklenberg, former Broncos safety Steve Atwater and former Broncos running back Terrell Davis made the cut to the 25 semifinalists, but none of the three were chosen as finalists.
The Broncos, with four Hall of Famers -- John Elway, Gary Zimmerman, Floyd Little and Shannon Sharpe -- continue to be under-represented in the Hall for the team's success level.
They have six Super Bowl appearances as an organization, yet just the four Hall of Famers. Davis, Atwater and Mecklenberg remain on the modern-era ballot.
January, 11, 2013
1/11/13
12:30
PM ET
Five of 15 modern-era finalists for 2013 Pro Football Hall of Fame enshrinement have ties to teams currently in the NFC West.
Their names are shaded in the chart below:
Kevin Greene
,
Charles Haley
,
Aeneas Williams
,
Jerome Bettis
and Eddie DeBartolo Jr.
The first two men listed qualify as seniors candidates. Their enshrinement does not affect the maximum five slots available to modern-era candidates.
San Francisco 49ers
great
Roger Craig
was among the 12 semifinalists not making the reduction to 15 this year. The others were:
Morten Andersen
,
Steve Atwater
, Don Coryell,
Terrell Davis
,
Joe Jacoby
,
Albert Lewis
,
John Lynch
,
Karl Mecklenburg
, Paul Tagliabue,
Steve Tasker
and George Young.
The next round of voting begins and ends one day before the Super Bowl. I'm one of the voters and will have a tough time reducing to five on the final ballot, as usual. It's a select group that makes it in the end. Strong cases can be made for each of the four players eligible for the first time. Adding them to the list makes it tougher for some of the holdovers.
January, 7, 2012
1/07/12
7:55
PM ET
The Pro Football Hall of Fame announced its 17 finalists for enshrinement in 2012. The vote will be held February 4.
Three of the finalists have AFC West ties. Five others were part of the nine semifinalists to get knocked out of contention Saturday: Denver's Steve Atwater, Terrell Davis and Karl Mecklenburg, former San Diego coach Don Coryell and former Oakland executive Ron Wolf.
Let's take a look at the three finalists among the 17 who spent significant portions of their careers in the AFC West. Here they are:
Tim Brown, WR -- 1988-2003 Los Angeles/Oakland Raiders
Will he get in?
Brown will get in, but it may take some more time because of the logjam at receiver, whether it's right or not. Cris Carter could block him this year.
Willie Roaf, T -- 2002-05 Kansas City Chiefs
Will he get in?
I would not be shocked if Roaf gets in within the next couple of years.
Will Shields, G -- 1993-2006 Kansas City Chiefs
Will he get in?
I think Shields goes to Canton in his first time on the ballot.
June, 25, 2010
6/25/10
11:45
AM ET
Notable players:
QB John Elway, RB Terrell Davis, WRs Rod Smith and Ed McCaffrey, TE Shannon Sharpe, OT Tony Jones, C Tom Nalen, G Mark Schlereth, DE Neil Smith, DE Trevor Pryce, LB Bill Romanowski, LB John Mobley, S Steve Atwater, K Jason Elam.
Analysis:
This was a great all-time NFL team. In 2007, the NFL Network ranked the team as the 12th-best Super Bowl winner.
[+] Enlarge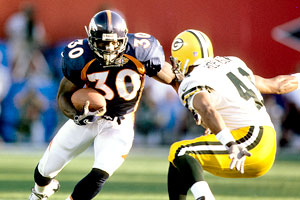 US PresswireTerrell Davis gained 2,008 rushing yards in 1998, just one of six 2,000-yard seasons in NFL history.
The 1998 Broncos followed up their magical 1997 season, in which they were a surprise Super Bowl winner, with a surgically precise team. The Broncos were masterful in every aspect of the game. Elway led the Broncos during his final NFL season, which culminated in an MVP-winning performance in an
easy 34-19 win over Atlanta
in the Super Bowl.
The Broncos won their first 13 games and finished the regular season 14-2. The only game Denver lost that it truly tried to win was its 14th game, a last-moment loss to the Giants at The Meadowlands. The Broncos were never challenged during three postseason wins. Known for not having the best supporting casts for much of his career, Elway enjoyed the benefit of a stunning running game and a nasty, fierce defense in his final season.
Running back Terrell Davis ran for 2,008 yards, which was then the third-highest rushing total in NFL history. He won the NFL MVP award that season.
When Davis' hard, downhill running in coach Mike Shanahan's brilliant zone-blocking scheme was combined with the elegance of Elway passing to Smith, McCaffrey and the game-changing Sharpe, Denver was breathtaking to watch on offense.
Defensively, this mean, nasty group always seemed to come up with the big play. Things rarely went wrong for this team. It simply steamrolled through the season.
"We were stacked," said Elam, who tied an NFL record with a 63-yard field goal during the season. "I remember us routinely being up by three touchdowns at the end of the first quarter and we knew it was over … It was a dream season."
Most impressive win:
The 34-19 victory over the Atlanta Falcons in Super Bowl XXXIII. The supremely focused Broncos never truly let the Falcons in the game. It was a perfect ending to a near-perfect season.
Businessmen:
People around this team always talk about how serious it was. Unlike the 1997 season in which Denver had to fight and scrap every step of the way for its first Super Bowl championship, winning it all was a foregone conclusion all season in 1998.
The Broncos were focused on winning the Super Bowl all season. After the win over Atlanta, there were no wild celebrations. Sure, players were happy. But they were businesslike. It was a different scene from the euphoric celebration that followed the team's win over heavily favored Green Bay the year before. It was as if the 1998 title was expected all season.
Honorable mention:
1977:
Red Miller's 12-2 outfit was strong, but it was no match for the Cowboys in the Super Bowl.
1996:
The memory of this team still stings in Denver. The Broncos were a great team, perhaps better than the 1998 outfit, but it lost at home in the divisional playoff round to Jacksonville, ruining everything good associated with this team.
1997:
This is probably the most popular Denver team ever. It fought its way to the franchise's first Super Bowl win as a wild-card team. The words "This one is for John" will never be forgotten in the Rocky Mountains.
March, 24, 2010
3/24/10
11:29
AM ET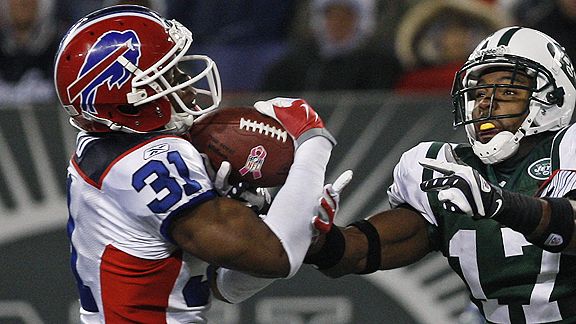 Ed Mulholland/US PresswireLed by rookie Jairus Byrd, the Buffalo secondary was one of the deepest in the league.
ORLANDO, Fla. -- The
Buffalo Bills
are an organization engulfed by uncertainty.
Who will be their quarterback?
What difference will new head coach Chan Gailey and rookie general manager Buddy Nix make?
Will Pro Bowl pass-rusher
Aaron Schobel
play or retire?
Can running back
Marshawn Lynch
bounce back?
How will they transition into their new 3-4 defense?
One area that cannot be questioned is the depth in Buffalo's secondary.
The Bills' defensive backfield isn't loaded with star power, but the quality of depth is remarkable.
The Bills ranked second in pass defense last year despite injuries pushing them to the limit. Ten defensive backs started for them.
Right cornerback
Leodis McKelvin
, the 11th overall pick from 2008, lasted only three games before getting hurt. Free safety
Donte Whitner
, the eighth overall pick from 2006, lost his job to rookie
Jairus Byrd
, who tied for the NFL interception lead and was selected for the Pro Bowl. Left cornerback
Terrence McGee
missed five games with a knee injury. Strong safety
Bryan Scott
started six games at linebacker.
Despite all that, the Bills allowed only 184.2 passing yards a game (second in the NFL) and 14 touchdowns (tied for second).
Now that's depth.
"I've gone to a lot of teams," Gailey said at the NFL owners meetings. "I don't know that I've ever gone to a team that the secondary -- I'm taking corner and safety position -- is as strong as we have right now overall.
"When I went to Dallas, when I went to Miami, when I went to Pittsburgh they were all good. But I'm not so sure that this isn't the strongest group."
Gailey isn't about to compare them player for player. After all, when he was head coach of the
Dallas Cowboys
he had cornerback Deion Sanders and safety Darren Woodson together.
"Those are two pretty good players," Gailey said. "We had a couple of other good players, but we were always trying to fill a hole."
Gailey joined the
Denver Broncos
as a defensive assistant the year safety Dennis Smith and cornerback Louis Wright went to the Pro Bowl. The Broncos later lined up Smith and Steve Atwater at safety while Gailey was there.
Gailey was on the
Pittsburgh Steelers
' offensive staff when they had future Hall of Famer
Rod Woodson
. As offensive coordinator of the
Miami Dolphins
, Gailey practiced against three repeat Pro Bowlers:
Sam Madison
,
Patrick Surtain
and
Brock Marion
.
No, the Bills aren't that good yet. Gailey isn't going to make like
New York Jets
coach Rex Ryan and proclaim they could reach legendary status. On Tuesday, Ryan said his star cornerbacks,
Darrelle Revis
and
Antonio Cromartie
,
remind him of the renowned Los Angeles Raiders tandem
of Mike Haynes and Lester Hayes.
What the Bills do have is a quality starter and backup at every spot. One of only three assistants Gailey retained from Dick Jauron's staff was defensive back coach George Catavolos.
"Even the backups at Buffalo, I'm talking about eight players, your top eight players," Gailey said, "this is as strong a group as I've ever been around."
The importance of depth in the secondary can't be emphasized enough.
As
Detroit Lions
head coach Jim Schwartz explained Wednesday morning, you can't have too many serviceable defensive backs.
"You're going to play more defensive backs than you are at other positions," said Schwartz, known as one of the NFL's brightest defensive minds. "You're not just going to play four. You're going to play five for half the game and you may even have a quarter of the game when you're playing six defensive backs.
"The other thing to look at is defensive backs get hurt at a higher rate than just about every other position on the field. Other positions have gotten bigger and bigger and bigger. Defensive backs have stayed the same, particularly corners. So with everybody else getting bigger and corners staying the same, it's not a matter of if somebody gets hurt and has to miss a game, it's a matter of when."
Five Buffalo defensive backs finished the season on injured reserve, including both of the opening-day starting cornerbacks, McGee and McKelvin.
Schwartz mentioned another important facet of defensive backfield depth.
"One person in the secondary that doesn't play well makes the whole secondary look bad," Schwartz said. "It's how the whole group plays, and if there's one weak link in that chain, then the whole group can look bad, and offenses are real good at finding that one guy and exploiting him."
Nobody can look at the Bills and call their secondary a weak link.