NFL Nation:

Steve Bartkowski
January, 19, 2013
1/19/13
10:45
PM ET
ATLANTA -- The
San Francisco 49ers
and
Atlanta Falcons
were division rivals for more than three decades until the NFL realigned into eight four-team divisions in 2002. Their matchup Sunday in the NFC Championship Game marks the fifth game between the teams since the Falcons joined the NFC South.


Keith Hawkins of ESPN Stats & Information reached into the vault to pull out three memorable games between the teams. The Falcons won two of them, including one on Steve Bartkowski's last-play pass to Billy "White Shoes" Johnson in 1983. I remember living in Northern California at the time and listening to the ending of that game -- or perhaps highlights of the ending, I'm not sure -- on the radio in my dad's old Ford pickup truck.
NFL.com has
video from that final play
, featuring a prescient announcer's call: "You've got to go to Billy 'White Shoes' and let him do a little dance with the ball and go to the end zone."
The two other games Hawkins singled out included the 49ers' 45-35 victory over the Falcons in 1990. Joe Montana set a career high with six touchdown passes. Jerry Rice caught five of them. Rice finished the game with 13 receptions for 225 yards.
More recently, in the divisional playoffs following the 1998 season, the Falcons scored a 20-18 victory over the 49ers in Dan Reeves' first game back from quadruple-bypass surgery. The Falcons went to the Super Bowl that year, losing to Denver.
The 49ers and Falcons faced one another for the first time in 1966 before becoming division rivals the following year. The 49ers hold a 44-30-1 lead in the all-time series, counting playoffs. That includes 43-26-1 as division rivals. The Falcons have won all four meetings since realignment.
The teams played to a 10-10 tie in 1986 when the 49ers played without Montana, who had undergone back surgery following a Week 1 injury that was considered career-threatening. David Archer's fourth-quarter touchdown pass to Sylvester Stamps tied the game for Atlanta. Archer completed 16-of-35 passes for 176 yards and three interceptions. Jeff Kemp completed 13-of-29 passes for 146 yards and two picks for the 49ers.
Relief performances such as that one from Kemp contributed to
the 49ers' decision
to acquire Steve Young from Tampa Bay in 1987.
December, 23, 2012
12/23/12
7:19
AM ET
DETROIT -- With some help from ESPN Stats & Information and the Falcons' media relations department, let's take a by-the-numbers look back at how Atlanta defeated Detroit, 31-18, Saturday night at Ford Field.
The Falcons won for the fourth time on prime-time television this season. Since 2008, the Falcons are 8-4 in prime-time games.
Coach Mike Smith posted his 56th career win. Smith's record is 56-23. That's the second-best record in five seasons in NFL history. Former San Francisco coach George Seifert is No. 1 at 62-18.
Quarterback Matt Ryan completed 25 of 32 passes for 279 yards with four touchdowns and a 142.6 passer rating. That's the exact same passer rating Ryan posted in last week's win against the New York Giants.
The Falcons are 32-1 when Ryan has a passer rating of 100 or better. His passer rating is 100.2 for the season and he has a chance to become only the second quarterback in franchise history to post a passer rating of at least 100 for a season. Chris Chandler had a 100.9 passer rating in the 1998 season -- the only time the Falcons reached the Super Bowl.
The four touchdowns matched Ryan's career high and he now is tied for the franchise record for touchdown passes in a season (31) with Steve Bartkowski.
Ryan was especially good on play-action passes. He completed all seven of his attempts for 109 yards and three touchdowns.
Only three of Ryan's passes (excluding throwaways) were incomplete due to an overthrow or underthrow. Ryan leads the NFL with only 13.4 percent of his passes falling off target.
Receiver Roddy White joined Marvin Harrison, Torry Holt, Jerry Rice, Tim Brown and Reggie Wayne as the only players in NFL history to record six straight seasons with 80 catches and 1,000 yards.
White finished with eight catches for 153 yards and two touchdowns. It marked the 35th 100-yard game of his career, and White tied his franchise record for 100-yard games in a season (seven).
With one game remaining, White is 81 yards shy of breaking the franchise record for receiving yards in a season (1,389) that he set in 2010.
Detroit's Matthew Stafford didn't have a passing touchdown. That marked the fifth time in the last six games the Falcons have not allowed a touchdown pass.
The defense had three takeaways and the Falcons produced points each time. Atlanta now has 96 points off 29 takeaways this season.
December, 23, 2012
12/23/12
1:47
AM ET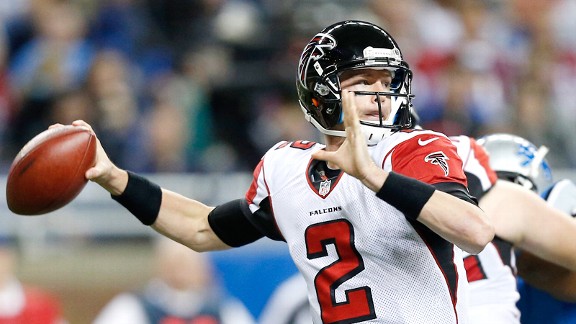 AP Photo/Rick OsentoskiMatt Ryan again demonstrated his value to the Falcons with another sparkling performance.
DETROIT -- Quite unintentionally, the
Atlanta Falcons
made the strongest case yet for
Matt Ryan
's Most Valuable Player award candidacy Saturday night.
Ryan did his part by completing 25 of 32 passes for 279 yards and four touchdowns in a
31-18 victory
against the
Detroit Lions
at Ford Field.
But this isn't a story about numbers. It's a story about how Ryan is the dominant force for the first team in the NFL to win 13 games this season.
That was obvious from the start as the Falcons put the game in Ryan's hands early, and Atlanta seemed on the way to a blowout. It became even more obvious in the fourth quarter when the Falcons put the game back in Ryan's hands and made sure they clinched home-field advantage throughout the playoffs.
"They're not talking about him, but he's my MVP,'' Atlanta linebacker
Sean Weatherspoon
said. "Who's playing better than him? In my mind, nobody. I'd definitely vote for him.''
Peyton Manning
,
Tom Brady
and
Adrian Peterson
are getting all the attention when it comes to MVP talk. But maybe Weatherspoon has a point.
Why not Ryan for MVP?
For the moment, he's the best player on the only team to win 13 games this season, and isn't it all about winning? He tied Steve Bartkowski's franchise record for touchdown passes in a season (31) and he's at or on his way to career highs in every statistical category.
But, again, this isn't about numbers. It's about how valuable Ryan is to the Falcons, who, once and for all, need to realize they aren't the same old Falcons. And coach Mike Smith and offensive coordinator Dirk Koetter need to realize they should stop even attempting to be anything close to the same old Falcons.
Let's be honest. Running back
Michael Turner
has had a wonderful run with Atlanta, but his days as the backbone of the offense are long gone. The Falcons are a pass-first team now, and Smith and Koetter need to lose the stubborn streak that's prompting them to force a running game that just isn't there anymore.
They almost learned that the hard way against the Lions.
After Ryan played a nearly flawless first half (15 of 16 for 184 yards and three touchdowns) and led Atlanta to a 21-6 halftime lead, the Falcons took the ball out of Ryan's hands in the third quarter.
They got conservative and tried to force feed Turner at the start of the third quarter. That got them nowhere, and it almost got them into deep trouble. The Lions followed a three-and-out by Atlanta with a touchdown. Early in the fourth quarter, a Detroit field goal cut the lead to 21-16 and all the momentum seemed to shift to the Lions at a time when
Calvin Johnson
was chasing (and, eventually, breaking)
Jerry Rice
's record for receiving yards in a season.
But that's when the Falcons put the game back into Ryan's hands and he made his case for MVP. On a drive that featured only two runs by Turner, Ryan led the Falcons on an 11-play, 77-yard drive that was capped by a touchdown pass to backup tight end
Michael Palmer
.
"Matt made some big time throws on that drive,'' Smith said. "That's what he's been doing all season.''
The people who vote for MVP should look long and hard at that drive, and so should Smith and Koetter. Ryan is the reason the Falcons are 13-2.
"There's a lot of politics that come along with being MVP and things like that,'' said Atlanta receiver
Roddy White
, who caught Ryan's first two touchdown passes and finished with eight catches for 153 yards. "But the guy has been here five years and he's won a lot of games. Come on. He's won 13 already this year and put us into this position going into the playoffs. And his numbers are up there with everybody else's. I don't see anybody else out there that's better than him.''
Neither do I. But White's got a point about the politics. Brady and Manning have won Super Bowls. Ryan hasn't even won a playoff game. The reality is Brady or Manning or Peterson, who's putting up huge rushing numbers, probably will win the MVP this season, no matter what Ryan does.
But there's a way Ryan can get more heavily involved in the conversation in the future. There also is a way for Smith to stop everyone from talking about what he and Ryan have yet to do.
That would be to go out and win a playoff game.
"This is a different team from last year or two or three years ago,'' White said. "Our players are more mature. I think we're ready to go.''
They'll only be ready and they'll only be a different team in the postseason if Smith and Koetter grasp the fact that they're not going to get anywhere with the running game. They need to grasp the fact that this team can only go a long way if it's riding Ryan's arm.
The Falcons can win in the playoffs, maybe even the Super Bowl, if they just let Ryan go out and play like an MVP.
December, 22, 2012
12/22/12
11:43
PM ET
DETROIT -- Thoughts on the
Atlanta Falcons
'
31-18 victory
against the
Detroit Lions
on Saturday night at Ford Field:


What it means:
The Falcons improved to 13-2 and clinched home-field advantage in the NFC playoffs. I know what you're thinking -- the Falcons went 13-3 and had the home-field advantage two seasons ago and they lost to the
Green Bay Packers
in the Georgia Dome. It's a valid point. But would you prefer the Falcons didn't have the home-field advantage?
Almost perfect:
Atlanta quarterback
Matt Ryan
flirted with the NFL record book in the first half. He completed his first 12 passes. Throw in the fact that Ryan completed his final 10 passes in a victory against the
New York Giants
and he completed 22 consecutive passes. His 13
th
attempt of the game fell incomplete, leaving him just shy of Donovan McNabb's NFL record (24 straight completions).
What I liked:
Ryan's performance overall. At least in my book, he's put himself back in the conversation for the Most Valuable Player award.
What I didn't like:
The way the Falcons insist on continuing to try to establish
Michael Turner
and the running game. Look, it just isn't working. Either make
Jacquizz Rodgers
the feature back or just scrap the run totally and put everything in Ryan's hands. The Falcons had a 21-6 halftime lead, but they were stubborn about Turner and the running game early in the second half and that gave the Lions a chance to get back into the game.
Milestone time:
Ryan now has 31 touchdown passes on the season. That ties him with Steve Bartkowski for the franchise record for touchdown passes in a season.
More milestone time:
Detroit's
Calvin Johnson
broke Jerry Rice's record for
receiving yards in a season
. It came with the Falcons in command of the game. Strangely, though, the Falcons also were the defense that
Drew Brees
broke the record for passing yards in a season against last year.
What's next:
The Falcons wrap up their regular season next Sunday, hosting the
Tampa Bay Buccaneers
in the Georgia Dome. Coach Mike Smith has to make a decision on if he's going to rest his starters.
November, 30, 2012
11/30/12
10:27
AM ET
ATLANTA -- With some help from ESPN Stats & Information and the Falcons' media relations department, let's take a by-the-numbers look back at how Atlanta defeated the
New Orleans Saints
on Thursday night:
The 23-13 victory put the Falcons only a Tampa Bay loss or tie at Denver on Sunday away from clinching the NFC South title. The Falcons also can clinch a playoff berth with a loss by Seattle on Sunday.
Tight end Tony Gonzalez's first catch of the game was his 70th reception of the season. Gonzalez now has 10 straight seasons with at least 70 receptions. That ties the NFL record set by Tim Brown. Gonzalez also now has 13 seasons in which he has caught at least 70 passes, which ties him with Jerry Rice for the NFL record.
The Falcons scored a touchdown on their opening drive. They have scored an NFL-best 26 touchdowns on opening drives since the start of the 2008 season.
Ryan completed 18 of 33 passes for 165 yards. His 1,572 yards in November established a new franchise record for passing yards in a month. Steve Bartkowski set the previous record with 1,494 yards in November 1981.
The Falcons intercepted Drew Brees five times. That ties the franchise record for interceptions in a game. The last time the Falcons recorded five interceptions in a game was when they picked off Jim Hart five times in 1980.
Although Atlanta's running game has been mediocre much of the season, the Falcons got off to a great start on the ground. Michael Turner and Jacquizz Rodgers combined to average 13.6 yards per rush between the tackles in the first quarter. Atlanta had 95 yards rushing between the tackles in the first quarter the third-best total by any team this season. The Falcons had averaged only 3.2 yards per carry coming into the game. The Falcons finished the game with 122 of their 126 total rushing yards (not counting kneel downs) between the tackles, after averaging only 59 yards between the tackles per game in the first 10 games.
Strong safety William Moore had two interceptions and free safety Thomas DeCoud had one. They now have combined for 10 takeaways this season and those have resulted in 30 points.
Turner's 3-yard touchdown run on the opening drive established a new franchise record for touchdowns. Receiver Terance Mathis had the previous record (57).
Defensive end John Abraham recorded Atlanta's only sack and it came in a crucial spot in the fourth quarter. That gives Abraham 10 sacks on the season. He now has 10 or more sacks in seven seasons.
Abraham is the NFL's active sack leader with 122 in his career. He now is tied with Simeon Rice for 14th place on the NFL's all-time sack list.
September, 2, 2011
9/02/11
4:17
PM ET
Now that we're getting down to some real football, I'm happy that I can start interacting more with my friends at ESPN Stats & Information.
They supply some wonderful stuff, much of which you can't get anywhere else, and we'll lean heavily on them during the regular season. Heck, we'll start it a little before the regular season.
Now that we know for certain
Cam Newton
will be the starting quarterback for the
Carolina Panthers
on opening day, it's time to look at some history.
Here's a look at quarterbacks drafted No. 1 overall (since 1966) who started a season opener and how they fared in that game.
2010: Sam Bradford, Loss
2009: Matthew Stafford, Loss
2002: David Carr, Win
1998: Peyton Manning, Loss
1993: Drew Bledsoe, Loss
1990: Jeff George, Loss
1989: Troy Aikman, Loss
1983: John Elway, Win
1975: Steve Bartkowski, Loss
1971: Jim Plunkett, Win
1970: Terry Bradshaw, Loss
None of the above finished the season with a winning record as a starter. In other not-so-encouraging news in this department, all rookie quarterbacks starting an opener since 1970 are a combined 10-16. But, hey, there's one bit of good news for Carolina fans. One of those 10 wins came by Carolina with
Chris Weinke
in 2001.
May, 10, 2011
5/10/11
1:00
PM ET
What key event significantly changed the fortunes of the Falcons – for better or worse? Give us your take and we'll give you our definitive moment on May 25.
Born out of a war between the National Football League and the American Football League, the Falcons began play as an expansion team in 1966. That makes them one year older than the Saints and the team with the longest history in the NFC South.
But the early history of the Falcons was far from brilliant. There were a few flashes with Steve Bartkowski and
Deion Sanders
, but success never seemed to last. The Falcons hit their high point in the 1998 season when coach Dan Reeves, running back
Jamaal Anderson
and quarterback
Chris Chandler
led them to their first Super Bowl.
Sustained success really didn't come until this century. The Falcons had some good years with
Michael Vick
, but his legal troubles and the quick tenure of coach Bobby Petrino left the franchise in shambles. Things started to change as soon as general manager Thomas Dimitroff and coach Mike Smith arrived in 2008.
In their first two seasons, the Falcons put together the first back-to-back winning seasons in franchise history. They made it three straight when they went 13-3 last season.
If you vote Other, give us your suggestion in the comments area below.
October, 22, 2010
10/22/10
2:35
PM ET
It's kind of fitting that the newest member of the
Atlanta Falcons
' Ring of Honor will be inducted during the Nov. 11 game against Baltimore that will be played in prime time. Yes, it's
Deion Sanders
.
The Falcons just announced that Sanders will be the eighth member of the Ring of Honor.
"Deion Sanders is widely regarded as one of the best cornerbacks in the 91-year history of the National Football League," Falcons Owner & CEO Arthur Blank said. "He epitomized excellence on the playing field and was a tremendously gifted athlete who possessed great speed. Deion excelled as a defender, kick returner, punt returner and on offense on his way to establishing 12 club records. He was an electrifying performer who put fans on the edge of their seats every time he manned his cornerback position or dropped back to receive a kickoff or field a punt. He is without question one of the greatest players in the history of our franchise."
Blank pretty nicely summed up what Sanders did for the Falcons from 1989 through 1993. Sanders will join William Andrews, Steve Bartkowski, Mike Kenn, Claude Humphrey, Tommy Nobis, Jessie Tuggle and Jeff Van Note in the Ring of Honor.
May, 19, 2010
5/19/10
1:39
PM ET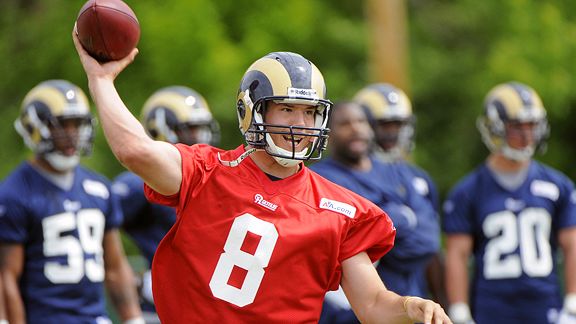 G. Newman Lowrance/Getty ImagesIt remains to be seen how the Rams will handle quarterback Sam Bradford during his rookie season.
The
St. Louis Rams
need not look far to see what can happen when an overmatched NFL team mishandles a quarterback drafted first overall.
The division-rival
San Francisco 49ers
are still trying to recoup their investment in 2005 first overall choice
Alex Smith
.
The Rams probably will not change offensive coordinators every year for the next five seasons, as the 49ers improbably did in Smith's first five, but they still need to be careful with rookie No. 1 overall choice
Sam Bradford
.
Early indications suggest the Rams would like to follow the plan Philadelphia took with
Donovan McNabb
back in 1999, when Rams offensive coordinator Pat Shurmur was coaching the Eagles' tight ends. Doug Pederson opened as the Eagles starter that season, allowing McNabb to ease into the starting role. McNabb got some reps off the bench before taking over as the starter in November.
In setting expectations for Bradford, I looked at production by rookie quarterbacks since 1970. The list featured several older players, some with experience in the CFL or USFL. I filtered out those players by focusing only on quarterbacks who were 25 or younger as NFL rookies. A quick look at them by games started:
16-game starters
There were only five, in part because the NFL season spanned only 14 games until 1978.
Peyton Manning
,
Matt Ryan
,
Joe Flacco
, Rick Mirer and
David Carr
pulled it off. All but Flacco, chosen 18th overall by Baltimore in 2008, were drafted among the top three overall choices in their class.
The ones who took the most sacks as rookies -- Carr (76) and Mirer (47) were the only ones to absorb more than 32 -- had the poorest careers. That might suggest the players had a hard time recovering from the beatings they took early in their careers. It also might reveal something about the quarterbacks' ability to process information quickly enough to get rid of the football before trouble arrives.
Offensive lines tend to take disproportionate blame for sacks, in my view. Quarterbacks are often responsible for them as well.
11- to 15-game starters
None in this group threw even 20 touchdown passes in a season (Manning and Dan Marino are the only rookie quarterbacks since 1970 to reach that barrier as rookies).
We should expect modest production from Bradford even if he starts most of the Rams' games.
Ben Roethlisberger
was a rarity among this group by completing at least 60 percent of his passes, but rookie completion percentage wasn't a reliable indicator for career success overall.
Some quarterbacks ranking lower played when teams ran higher-risk offenses and rules made it tougher to complete passes.
6- to 10-game starters
Hall of Famers Marino, John Elway, Terry Bradshaw and Dan Fouts fell into this group.
This group featured a solid middle class headed by McNabb,
Eli Manning
, Bernie Kosar, Jim McMahon, Neil Lomax, Steve Beuerlein, Pat Haden, Doug Williams and Rodney Peete.
There were a few disappointments -- Ryan Leaf, Cade McNown,
Kyle Boller
and the 49ers' Smith, who still has a shot at redemption -- but this seems like a reasonable number of starts for a quarterback drafted early.
Matthew Stafford
and
Josh Freeman
fell into this category last season.
3- to 5-game starters
Some high picks fell into this category, including Bert Jones, Vinny Testaverde, David Klingler, Tony Eason,
Rex Grossman
, Akili Smith,
Jay Cutler
, Tommy Maddox, Jim Everett and 1984 supplemental choice Steve Young.
This group produced relatively few true stars, however. Young was an obvious exception. Boomer Esiason was a good value.
In looking at the list, though, my sense is that a really good quarterback -- particularly one chosen early -- will start more than five games if he gets a chance to start at all in his first season.
2 or fewer starts
Hundreds of rookie quarterbacks failed to start a game and
69 did not attempt a pass
. The latter group featured
Tony Romo
and in-the-news quarterbacks
Kevin Kolb
and
Charlie Whitehurst
, but
Daunte Culpepper
, the 11th player chosen in 1999, stood out as a rare high draft choice among the group.
Unlike
Carson Palmer
, who sat out his rookie season as a high choice in Cincinnati, Bradford is going to play as a rookie unless he gets hurt.
It's reasonable to expect Bradford to start at least half the games, putting up modest numbers. He'll probably struggle some, and that is OK, but it's a bad sign if the Alex Smith comparisons apply by season's end. Smith tossed one touchdown pass with 11 interceptions as a rookie. He wasn't ready and his supporting cast gave him little chance. That's a bad combination.
April, 14, 2009
4/14/09
9:33
AM ET
Posted by ESPN.com's Mike Sando

Jim Thomas of the St. Louis Post-Dispatch looks at the likelihood of the Rams trading down from the second overall choice. General manager Billy Devaney says it's unlikely teams will find trading partners as they consider moving down from the top of the draft.
Also from Thomas: Former Rams GM Charley Armey advises against trading down from the top of the draft. Armey: "The No. 1 cardinal rule for me absolutely, without question, is do not trade out of an impact position. Because there's only a few impact players. Some years I've been in the draft, it was only around six impact players. The year Orlando Pace was in the draft [1997], there was only about six. The year we took Torry Holt [1999], there was about 13." He advises the Rams to draft a tackle second overall unless another team offers a blockbuster package in return for that choice.
More from Thomas: A list of 22 college players who have visited or plan to visit the Rams.

Gwen Knapp of the San Francisco Chronicle uses Matthew Stafford's visit to the 49ers as a vehicle for analyzing first-round quarterbacks. Knapp: "From 1970 to 1990, only seven quarterbacks were No. 1 [overall] picks, and only one was a bust, the latest one -- Jeff George in 1990. All the others made at least two Pro Bowls or won a Super Bowl. [They were Terry Bradshaw, Jim Plunkett, Steve Bartkowski, Vinny Testaverde, John Elway and Troy Aikman.] Of the eight most recent picks, only one has matched Elway, Aikman and Bradshaw's success -- Peyton Manning. Tim Couch is out of football. Michael Vick is behind bars. [Alex] Smith and David Carr have become back-ups, for now at least. [JaMarcus] Russell is unproven. Carson Palmer started off brilliantly but hasn't been able to recover from injuries."
Kevin Lynch of Niner Insider doesn't rule out Stafford falling all the way to the 49ers at No. 10.
Matt Barrows of the Sacramento Bee lists Bay Area college players scheduled to visit the 49ers. Cal center Alex Mack heads the list.
Floriday Danny of Niners Nation continues his pre-draft analysis by looking at draft tendencies during Bill Walsh's second run with the team, from 1999 to 2001. Walsh stockpiled picks, accumulating 27 over the three-year period.

Danny O'Neil of the Seattle Times lists the Seahawks' draft needs in this order: Defensive end, wide receiver, cornerback with size and quarterback for the future.
Eric D. Williams of the Tacoma News Tribune summarizes Greg Knapp's comments to KJR radio's Mitch Levy. Knapp, the Seahawks' new offensive coordinator, downplayed the need for a running back. Knapp: "From my experiences of running the zone scheme, a lot of guys have had some career-best seasons in the zone scheme when they didn't have it before ... So, we feel pretty confident in what we saw in practice, and what these guys' traits are."
Also from Williams: Seattle receiver Logan Payne did not undergo knee surgery to repair a damaged MCL last season. Instead, he let the injury heal on its own. Payne said he felt good by December.
John Morgan of Field Gulls looks at running back Cedric Peerman as a potential draft choice for Seattle with the 104th overall pick. Morgan on the running backs: "Let's say this is an unusually weak running back class. A running back class comparable to last year's wide receiver class. Could the first round end without a running back selected? It would be the first time since 1963 -- the first time in the modern era. But it's not a stretch."

Kent Somers of the Arizona Republic lists Mel Kiper's projections for the Cardinals through four rounds of the draft. He thinks the team would be thrilled to come away with outside linebacker Larry English, running back Shonn Greene, tight end Chase Coffman and defensive tackle Corvey Irvin.
Also from Somers: He doesn't think James Harrison's deal with the Steelers will have an immediate impact on Karlos Dansby's negotiations with the Cardinals. Both are linebackers in name, but their roles are vastly different. Harrison has 24.5 sacks over the last two seasons. Dansby has 24.5 sacks during his five-year career.
Darren Urban of azcardinals.com checks in with players on the fringes of the Cardinals' roster. Rodney Leisle was working for a company that sells mobile shelving units when the Cardinals called.
Revenge of the Birds' Hawkwind says Antrel Rolle is entering a critical season with Arizona. Will the former cornerback command a lucrative extension as a safety? The deal Adrian Wilson eventually signs -- assuming Wilson does re-sign with the team -- could influence how much Arizona wants to spend on the other safety spot.
NFL SCOREBOARD
Thursday, 10/30
Sunday, 11/2
Monday, 11/3