NFL Nation:

Steve Gleason
August, 13, 2014
Aug 13
5:55
PM ET
WHITE SULPHUR SPRINGS, W.Va. --
Drew Brees
and the
New Orleans Saints
quarterbacks took the ALS ice bucket challenge up a notch by stripping down Wednesday.
Brees then vowed to donate up to $10,000 to former teammate Steve Gleason's Team Gleason foundation for users who retweet the video of the almost-naked ice-bucket challenge.
Challenge accepted by Saints QBs' #NakedIceBucketChallenge http://t.co/qVMqdJBGuZ I'll donate $1 to @TeamGleason 4 every retweet up 2 $10K

— Drew Brees (@drewbrees) August 13, 2014
The video was inspired by Gleason, who true to his bold form, went completely naked for his own ice-bucket dousing before challenging Brees to do the same.
Brees,
Luke McCown
,
Ryan Griffin
and
Logan Kilgore
accepted the challenge by stripping down to their girdles. They turned it into one of their daily competitions by completing a series of six passes and submerging in buckets of ice-cold water for 10 seconds. Griffin was declared the winner.
The Saints' quarterbacks then challenged the quarterbacks from all of their NFC South rivals to follow suit.
The ice-bucket challenges
have become a phenomenon
, performed by countless celebrities and sports stars while increasing donations to ALS charities by millions, since being started by former Boston College baseball player Pete Frates.
And as The Times-Picayune's Jeff Duncan pointed out, Frates himself
was inspired by Gleason
, who has become a world-renowned crusader for ALS patients since being diagnosed with the disease in 2011.
Saints coach Sean Payton also promised to complete his own ice-bucket challenge on Wednesday – though he was planning to remain dressed.
"Look, it's close to home for us with Steve," Payton said. "And I think anything to raise awareness … And I would say this, I don't know that any individual has raised more awareness than Steve Gleason with regards to this disease."
October, 3, 2013
10/03/13
5:57
PM ET
By
ESPN.com staff
| ESPN.com
Sunday NFL Countdown airs from 10 a.m. to 1 p.m. ET on ESPN. Below are some of the features you can see this week.
Also, check out our
experts' picks
.
If This Was A Movie:
With a dramatic slate of games, we enlisted film director Peter Berg to be the lead character in our segment, "If This Was A Movie... How I Would Do It."
Sherman's trash talk:
The brashest player in the game, Seahawks CB
Richard Sherman
, sits down with
Darren Woodson
and discusses the art of getting in his opponents' ear.
Steve Gleason/Pearl Jam:
As former Saint Steve Gleason continues his battle with ALS, he is afforded the opportunity to spend time and interview the band he says has provided the soundtrack for his life. Gleason reveals some of the personal diaries he has taped for his son in the event he passes.
Manning and Brady:
As we start every season and see things change dramatically, two things are constant through time --
Peyton Manning
and
Tom Brady
. Two artists show how a painting can be approached dramatically different and still reach the same final result.
January, 30, 2013
1/30/13
5:34
PM ET
NEW ORLEANS -- They're having a Super Bowl here Sunday, but the best show of the week came Wednesday afternoon.
Adults cried tears of sorrow and joy, reporters violated the time-honored tradition of not clapping at news conferences and a clear winner emerged.
That was Team Gleason -- and, by extension, someday maybe the whole world.
[+] Enlarge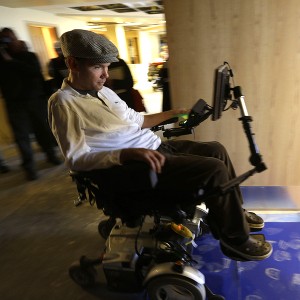 AP Photo/Gerald HerbertFormer Saints player Steve Gleason, who is suffering from amytrophic lateral sclerosis (ALS), leads a tour through Team Gleason House.
The setting was the formal announcement that Chase has donated $350,000 to the Team Gleason House for Innovative Living. Team Gleason starts with
Steve Gleason
, the former
New Orleans Saints
player who was diagnosed with ALS in 2011, but likely added scores of more members with the emotional ceremony.
"This is an effort bigger than me, the blocked punt, the city of New Orleans and the Super Bowl ... bigger than football,'' Gleason said using voice technology powered by his eyes.
Technology is the key to what Gleason and his team are doing. They're building a facility for people with ALS that will be stocked with the latest in technology.
"It will allow them to be productive and to live with purpose,'' Gleason said.
The living with purpose part is central to all this. Gleason and former teammate
Scott Fujita
, who lost an uncle to the disease 17 years ago, said that too many people have given up after receiving an ALS diagnosis.
"This is a disease that for far too long has been ignored and underfunded,'' Fujita said. "That's unacceptable.''
That pretty much was the attitude Gleason took when he received his diagnosis.
"I did not want to fade away quietly,'' Gleason said.
There's no way that's going to happen. Gleason is a New Orleans icon. That was assured the moment he made a critical punt block in the first game the Saints played in New Orleans after Hurricane Katrina.
"At that moment, we transformed ourselves from losers to winners,'' New Orleans mayor Mitch Landrieu said.
But Gleason's link to the city he called home has become even stronger since the public became aware of his illness. Gleason has become a point of pride for an entire region because of the courage he's shown. But he wants to be more than that.
"I believe this can be done regionally, nationally and even globally,'' Gleason said.
After sitting there and listening to Gleason and his team talk about their plans, I have no doubt that's possible. In fact, I believe Gleason's work will have a global impact.
Team Gleason's slogan is "Inspiring Innovation."
The innovation part is impressive. The inspiration part might be even more impressive.
November, 8, 2012
11/08/12
1:00
PM ET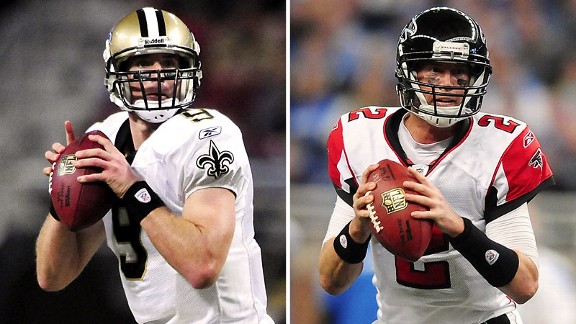 US PresswireRecent history has raised the intensity between Drew Brees' Saints and Matt Ryan's Falcons.
For at least one week, it really doesn't matter that the
New Orleans Saints
got off to an 0-4 start or that Bounty Gate seems to have been airing as long as "As The World Turns."
The Saints host the
Atlanta Falcons
on Sunday at the Mercedes-Benz Superdome, and that means only one thing. The NFC South's best rivalry -- and one of the NFL's best rivalries in recent seasons -- will take center stage, and everything else will be forgotten.
Yeah, the Saints are 3-5 and have had more turmoil than perhaps any team in NFL history. Yeah, the Falcons are 8-0 and cruising through a sea of tranquility.
But none of that matters. If the Saints are going to step up and be the Saints of old in just one game this season, it will be this one. If the Falcons are going to slide back in just one game this season (and we'll discuss their past playoff issues when the time comes), it will be this one.
These teams simply don't like each other. Although they came into the NFL at roughly the same time (in the mid-1960s) and always had a bit of a geographic rivalry, this only turned into a full-fledged feud in recent years. That's largely because the teams have been good at the same time, egos have gotten out of control, egos have been bruised, and it's all made for some great entertainment.
Let's take a stroll down memory lane and look at some incidents that have come to define this rivalry.
Photo flap:
I'll start with a game in the Georgia Dome late in the 2010 season. In a classic battle, the Saints edged the Falcons, 17-14, to clinch a playoff spot. But it wasn't so much what happened in this game that made it memorable. It was what happened after the game.
A group of New Orleans defensive players went to the locker room and then came back out onto the field to have their pictures taken on the Falcons' logo. The Falcons, a team that tries very hard to keep a low profile and stay out of public controversies, were privately offended and irate.
The Saints, a team that's not shy about anything, displayed the photos like trophies. Defensive tackle
Remi Ayodele
used some
graphic terms
to describe what the Saints were doing, even though I'm certain he was speaking only in the figurative sense.
After Ayodele's comments went viral, New Orleans assistant head coach Joe Vitt tried to
douse the flames
by saying how much the Saints respected the Falcons. But, in perhaps breaking an unwritten rule (don't celebrate on another team's logo), the damage already was done.
Pouring it on?
Then, almost exactly a year removed from the logo fiasco, there was the night in New Orleans when a lot of people (including some in the Falcons' organization) thought coach Sean Payton was
running up the score
as he let
Drew Brees
continue throwing as he set an NFL record for passing yards in a season and the Saints defeated the Falcons, 45-16. In the Atlanta locker room that night, there were more than a few players that felt disrespected, although they could have prevented it by slowing Brees.
Statue war:
Respect -– or a lack of it -– can flow both ways. That became obvious this summer when the Saints unveiled a statue of one of the most popular players in franchise history (
Steve Gleason
) making perhaps the biggest play in franchise history.
The statue replicates Gleason's punt block in the first game back in New Orleans after Hurricane Katrina. But the other figure in the moment, former Atlanta punter
Michael Koenen
, has no Falcons' logos and his name doesn't appear on the back of his figure.
The Falcons said they
realize the significance
of Gleason's play in the history of the Saints and the city of New Orleans, but said they were advised by the NFL not to allow their trademark to be used in connection with things out of their market. The Falcons could have made an exception to the NFL's guidelines, but elected not to.
That angered a lot of New Orleans fans. Anger is a big part of any rivalry and doesn't have to be limited just to fans.
Burning bridges:
We were reminded of that in the offseason when Atlanta linebacker
Curtis Lofton
was a free agent. Lofton eventually signed with the Saints and, throughout the offseason, used every opportunity to take subtle -- sometimes not even subtle -- shots at his former team.
Lofton really drew the line in the sand when he said one of the reasons he signed with the Saints was because he wanted to be with a team that had a
chance to go to the Super Bowl
. That one didn't go unnoticed in the Falcons' offices or locker room in Flowery Branch, Ga. But, long before that, lots of lines were crossed both ways in this rivalry.
With the Saints off to a bad start, this game probably has no playoff implications for them, and the Falcons could pretty much put an end to New Orleans' playoff hopes with a victory. But the Saints would love nothing better than to knock the Falcons from the ranks of the unbeaten.
Heck, if the Saints could win and send the Falcons into a tailspin, it might make their crazy season worthwhile.
If the Falcons win, it keeps them marching toward their ultimate goal -- the Super Bowl -- and that could provide further motivation for them on Sunday. For those that haven't thought that far ahead, the Super Bowl is in New Orleans this season.
Sunday might as well be the Super Bowl for the Saints. They want to derail the Falcons somehow, because the last thing anyone in New Orleans wants to see is Atlanta players celebrating in the Mercedes-Benz Superdome in February.
July, 29, 2012
7/29/12
4:50
PM ET
FLOWERY BRANCH, Ga. -- There are two sides to every story and we've only heard the New Orleans Saints' version of what has sparked controversy about the "Rebirth'' statue that was unveiled outside the Mercedes-Benz Superdome last week.

The statue depicts Steve Gleason's legendary punt block against the
Atlanta Falcons
in the first game in the Superdome after Hurricane Katrina. The New Orleans Times-Picayune reported that the Falcons had
refused to allow
the Saints and the statue's sculptor to use their logo in the statue. The other figure in the statue is former Atlanta punter
Michael Koenen
. But the statue contains none of the Falcons' trademarks.
Falcons president Rich McKay just explained the Falcons' side of things and said this was not a case of spiting a division rival. There were other issues involved, McKay said.
"The first thing that happens in a request for marks is that it has to go to the league because we don't own the marks,'' McKay told ESPN.com. "The league does for anything outside of our market. When they brought it to us, we discussed it with them and we came to the conclusion that, obviously the fact they're honoring the moment is fantastic. We were all there. It was an incredible moment for the city. It was not something that we wanted to memorialize the game. So we kind of looked at it as though we didn't want necessarily a statue in front of the building that had our marks. Albeit, we all understand how important the moment was for the city and what they had gone through. We all lived in that moment and it was a pretty special thing. Even losing, it was still a pretty special thing. But it was just something that when we talked to the league about it, we said we didn't think it was appropriate to put the marks on it. Everybody knew what the game was. Everybody knew what the moment was.''
McKay said he received a letter from the league months ago and a decision was made quickly. The initial report said the Saints tried to appeal to Falcons owner Arthur Blank for permission to use the logo. McKay said Blank was not involved in the process. McKay said after the decision was made he never heard another word about the statue until the report came out last week.
"We never intended to offend the New Orleans fans and we certainly didn't intend to make light of the moment, which was truly special,'' McKay said.
July, 28, 2012
7/28/12
10:46
AM ET
In recent years, the rivalry between the
New Orleans Saints
and
Atlanta Falcons
has been the best in the NFC South. Heck, I think it's become one of the NFL's best rivalries.
There have been some great games and even some heated words, especially after a 2010 game in which the Saints took pictures on the Falcons' logo after a victory in the Georgia Dome. Add on this year's free-agent defection by linebacker
Curtis Lofton
from Atlanta to New Orleans and the rivalry should only go stronger.
But now there is evidence the rivalry may be going too far. James Varney reports that the Falcons
refused to allow
their logo and images to be included in a "Rebirth'' statue of
Steve Gleason
that was unveiled outside the Mercedes-Benz Superdome on Friday. The statue captures a classic moment in Saints history.
It portrays Gleason's crucial block of a punt in the first game the Saints played in the Superdome after Hurricane Katrina. The 2006 game was against the Falcons and Gleason blocked
Michael Koenen
's punt.
There's a punter in the statue, but he's not in an Atlanta uniform and Koenen's name isn't on the back of the punter's figure in the statue.
I understand this was a great moment for the Saints, but not for the Falcons. But I think that not allowing the use of Atlanta's logo and images might be going a bit too far.
Anyone that walks by that statue that knows anything about history knows that the punt block game against the Falcons and that Koenen, who now plays for Tampa Bay, was the punter.
July, 27, 2012
7/27/12
8:11
AM ET
METAIRIE, La. -- There will be a celebration of one of the most significant moments in NFC South history on Friday on the southwest plaza of the Mercedes-Benz Superdome.

Gleason
The Saints will unveil a "Rebirth'' statue at 11:30 a.m. CT.
The statue is of former New Orleans special-teams ace
Steve Gleason
blocking a punt in the first game the Saints played in the dome after Hurricane Katrina in 2006. The statue will represent more than a moment in time. It represents the comeback of the Saints and the region from the Hurricane. It also represents the popularity of Gleason, who is battling ALS.
The statue comes with implications that ripple throughout the NFC South. I was reminded of that fact as I watched the Saints practice Thursday.
On the wall of their indoor practice facility is a huge photo of Gleason blocking the punt.
It came against the
Atlanta Falcons
. The punter was
Michael Koenen
, who now plays for the
Tampa Bay Buccaneers
.
June, 1, 2012
6/01/12
5:39
PM ET
We hadn't heard from filmmaker Sean Pamphilon, the man who released the infamous Gregg Williams audiotape to the media and added another controversial layer to the New Orleans Saints' bounty program, in quite some time.
But that's over. Pamphilon has
spoken up again
. On his personal website Pamphilon wrote a post that's longer than some books I have read. He recounts his decision to go public with the audio and a lot of what he says is similar to what he's said in the past. But there are some new twists.
Most significantly, he details how former New Orleans linebacker
Scott Fujita
, a member of the NFL Players Association's executive committee and now a member of the
Cleveland Browns
, urged him to go public.
Pamphilon was given access to the Saints as he worked on a documentary on former New Orleans special-teams star
Steve Gleason
, who has been diagnosed with ALS. Gleason and his wife initially were opposed to the tape being released.
"They were emphatic Steve wasn't willing to "burn that bridge," Pamphilon wrote.
Pamphilon said Fujita began acting as an intermediary to help convince the Gleasons to give their blessing on releasing the tapes. That never happened, and Pamphilon said his agreement with Gleason did not give the former player the right to veto the release of the tape. But Pamphilon said Fujita continued to encourage him to go public, at one point saying "sooner the better."
Pamphilon also said Fujita led him to believe that New Orleans quarterback
Drew Brees
also was in favor of releasing the tape. But Pamphilon got a phone message from Brees just as the tape was being released.
"In the voicemail, Brees never says NOT to release it,'' Pamphilon wrote.
Pamphilon also said the NFLPA, including executive director DeMaurice Smith, was aware of the tape's existence before it was released.
"At 3:12 in the afternoon Fujita texts me right after a conversation with DeMaurice Smith and says Smith 'brought up the release of the audio and his only question was if it will be released raw or edited?'" Pamphilon wrote.
Pampilon also wrote in great detail about the aftermath from the release of the tapes. Some of it was centered on people questioning his motives and his fractured relationship with Gleason. He also expresses disappointment in Brees. But the strongest part was reserved for Fujita, who no longer talks to Pamphilon.
Fujita recently met with the Cleveland media and denied any knowledge of a bounty program. When asked about the tape, Fujita said it was merely evidence of a coach saying some inappropriate things.
"In no way is this intended to be a cheap shot, but there is no chance in hell I would allow (Fujita) to teach either of my sons, an ethics class,'' Pamphilon wrote.
April, 12, 2012
4/12/12
7:47
PM ET
Even if you're tired about hearing about the
New Orleans Saints
bounty program, I urge you to read
this fine column
by Johnette Howard.

It's about what I find one of the most interesting and complex issues in this whole saga: the decision by filmmaker Sean Pamphilon to release audiotapes of Gregg Williams, the ringleader of the bounty program, talking to his players the night before last season's playoff game in San Francisco. It's also about former Saints special-teams star
Steve Gleason
, who is battling ALS and was the person who got Pamphilon access to the meeting room in the first place.
Pamphilon talked at length about why he released the tapes. He also talked about the fallout he's faced since then. He said hearing Williams talk so graphically about injuring specific San Francisco players left him extremely conflicted. The aftermath hasn't been what Pamphilon expected.
"And what do you do? What
do
… you
DO
?" Pamphilon asked. "What I thought releasing this audio would do is create a public dialogue that could not be ignored … something that's going to make everyone think and talk. Because before this, people knew bounties existed. But nobody knew what a bounty actually sounded like. How disgusting it is.
"But what happened instead is most of that was swallowed up. The dialogue has shifted to 'Filmmaker betrays dying man.' And how do you defend yourself against a man who you love, when almost everyone says you betrayed him, and it's destroying your reputation? I mean, I love this guy. I love this guy."
Gleason has said he didn't authorize the release of the tapes and said he was disappointed they became public. Pamphilon apologized for taking what he said was a cheap shot at Gleason when he said the former player was "protecting his own interests'' in football by denouncing the release of the tapes. But Pamphilon made no apology for making the tapes public because he thought society had a right to know about the bounty program. Pamphilon said he still cares deeply for Gleason.
"It is very difficult trying to defend yourself in public against a man who has a terminal disease,'' Pamphilon said. "I treated Steve like he was living. Not like he was dying. I met him not as the person he was before [ALS or the NFL] and I see him as a man living in a very glorious way. I see him as a fighter. I haven't seen Steve as dying. I've always seen him as a man gracefully
living
."
April, 6, 2012
4/06/12
10:23
AM ET
Former New Orleans safety Steve Gleason has
issued a statement
saying he did not authorize release of tapes of former New Orleans defensive coordinator Gregg Williams speaking to his players the night before a January playoff game with San Francisco.

Gleason
The tapes were released by Sean Pamphilon, a filmmaker who was working on a project with Gleason, who is fighting ALS. Through Gleason, Pamphilon gained extensive access to the Saints last season.
"Sean Pamphilon and I have an agreement that all recordings ultimately belong to me and my family,'' Gleason said in the statement. "Nothing can be released without my explicit approval. I did not authorize the public release of any recordings. A multitude of feelings have passed through me. I feel deflated and disappointed. I feel frustrated and distracted.''
April, 5, 2012
4/05/12
1:42
PM ET
As you might expect, a lot of Saints fans are angered at filmmaker Sean Pamphilon for releasing tapes with former New Orleans defensive coordinator Gregg Williams talking about injuring members of the
San Francisco 49ers
the night before a January playoff game.
This is coming on the same day New Orleans coach Sean Payton, general manager Mickey Loomis and assistant head coach Joe Vitt are appealing their suspensions to NFL commissioner Roger Goodell.
Ever since news of the Saints' bounty program broke, some New Orleans fans have blamed everyone from Goodell to the media for having it out for the Saints. Now, that blame is shifting to Pamphilon.
I've gotten notes from several Saints fans questioning Pamphilon's motives for releasing the tapes and the general mood is best summarized by New Orleans safety
Malcolm Jenkins
on his
verified Twitter account
.
"Sean pamphilon is a coward and should be ashamed for taking advantage of Steve Gleason! How much did u get paid for that audio?'' Jenkins tweeted.
Jenkins' tweet
has since been deleted from his page.
Pamphilon reportedly was given access to the team as he worked on a documentary about former New Orleans player Steve Gleason, who is battling ALS.
In
a statement
to the New Orleans Times-Picayune, Pamphilon explained why he released the tapes. Here's the statement:
"If this story hadn't broken and been made public, I would not have shared this it. I would not have compromised my personal relationships and risked damaging Steve Gleason's relationship with the Saints. I would have crafted these words and sentiments for another forum, perhaps years down the road. If it weren't for the fact I feel deeply that parents of children playing football MUST pay attention to the influence of men who will sacrifice their kids for W's, I would not have written this. Some will call me releasing this audio for fame or money grab. True haters will call it exploitation. People of character and conscience call it was it is: tru(e)."
What remains unclear is if Pamphilon also gave the tapes to the NFL. The league's security department is filled with former FBI agents and others who have strong law-enforcement backgrounds and that's the branch of the league office that conducted the investigation. It's possible the security department had the same tapes that were released to the media.
It's also possible the tapes are news to the NFL, just like they were to the rest of us. If that's the case, I don't think Payton, Loomis and Vitt will have any chance of having their suspensions reduced. If anything, Goodell could issue even stiffer punishments.
April, 5, 2012
4/05/12
11:02
AM ET
There's a new development in the Saints' bounty story,
and this one has people talking
.
Yahoo! first reported
about an incendiary speech former New Orleans defensive coordinator Gregg Williams made to Saints defensive players the night before his last game with the team, a playoff loss to San Francisco in January. A documentary filmmaker, who is working on a film on former New Orleans player Steve Gleason, taped the speech and released it. ESPN's Mike & Mike talked
about it
this morning.
There are comments from Williams that are going to cause a big stir. Here are highlights:
"Kill the head and the body will die. We've got to do everything in the world to make sure we kill
Frank Gore
's head. We want him running sideways. We want his head sideways.''
"We need to find out in the first two series of the game … that little wide receiver, No. 10 (
Kyle Williams
), about his concussion. We need to (expeletive) put a lick on him right now.
"(Receiver
Michael Crabtree
) becomes human when we take out that outside ACL.''
You can make the case that this is simply a coach trying to fire up his players, and bounties aren't specifically mentioned.
[+] Enlarge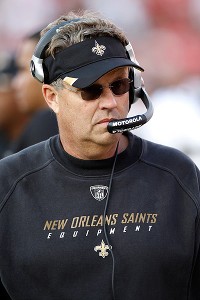 AP Photo/Paul SpinelliFormer Saints defensive coordinator Gregg Williams delivered a controversial speech before the team's Jan. 14 playoff game against the 49ers.
But, in light of all that's gone on, I don't see anything good coming out of this for the Saints or Williams. The one thing I'll defend Williams on just a little bit is the part about Gore's head. I don't think Williams told his players to injure Gore's head. He just told them to make Gore ineffective by getting him to run sideways. This is a common speech among coaches -- cut off a snake's head, the body will die. Still, it sounds terrible to be talking about a player's head, even in a figurative sense, considering everything that's going on with the Saints.
Other quotes are indefensible. On Kyle Williams, Gregg Williams clearly told his players to put a big hit on a player who previously had a concussion. On Crabtree, Williams told his players to take out the receiver's knee.
Keep in mind, these quotes were made about a week after the Saints were told the NFL was re-opening its investigation into a bounty program that New Orleans had been told to stop. That's very significant, because it shows the Saints never stopped, even after multiple warnings. Also, these quotes are coming to light on a day when New Orleans coach Sean Payton, general manager Mickey Loomis, and assistant head coach Joe Vitt are having their appeals heard by the NFL.
I think there's a good chance the NFL already heard Williams' speech. It probably came up in the NFL investigation of the bounty program. If it didn't, it's now public, and it certainly doesn't reflect well on Williams or the Saints.
Williams already has been suspended indefinitely; the former defensive coordinator can have his status reviewed next year. I think the latest developments decrease the chances of Williams coaching in the NFL again.
I also think that the chances of Payton, Loomis and Vitt getting their suspensions reduced on appeal aren't very good.
September, 23, 2011
9/23/11
11:19
AM ET
Sunday marks the five-year anniversary of the
New Orleans Saints
returning to the Superdome after Hurricane Katrina. Saints coach Sean Payton got a little philosophical when recalling that event.

It's understandable, because that game symbolized a city on the way back and marked a turning point in the history of a franchise that had struggled for much of its existence.
"I think 10, 15, 20, 30 years from now, as those memories fade, I don't think we'll ever lose track or not remember
Steve Gleason
blocking a punt,'' Payton said. "If there was one moment, it would be the first punt of the game and Gleason hitting it just right and coming up with it. That was a significant play in that game and probably the loudest I've ever heard any stadium, ever. There would be a distant second, there would be a big gap between the next crowd noise that you would be able to remember.
"The Super Bowl would be second as far as the crowd noise, and I've said this before, I think, and many would argue, but the significance of that season certainly was equal to the significance of eventually winning the Super Bowl. The significance of that season and us playing well in 2006 mattered a lot. (The) 2009 (season) was important because you won a championship but '06 for many was just as important, if not more."
That's a pretty strong statement, but it's very true. Without what happened in 2006, the Super Bowl championship in 2009 might not have taken place.
Payton said the return to the Superdome was like a second start for the franchise and it made him reflect on the first start.
"I run into so many people that tell me that they were there at Tulane Stadium when (John) Gilliam returned the (first in franchise history) kickoff for a touchdown,'' Payton said. "I don't know how many seats Tulane Stadium sat at that time, but I'm going to say 5,000 more people have told me than seats available, but I think this was that type of, or even of greater significance. That represented the start of the franchise. This represented the coming back and the return of not just a team, but more importantly a region and a city."

NFL SCOREBOARD
Thursday, 8/21
Friday, 8/22
Saturday, 8/23
Sunday, 8/24