September, 5, 2012
9/05/12
12:00
PM ET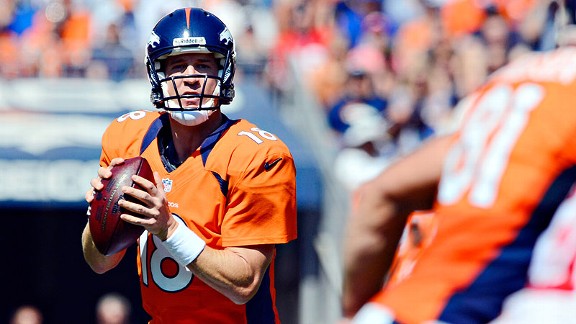 Ron Chenoy/US PresswireThe Denver Broncos are expecting big things from quarterback Peyton Manning.
Peyton Manning
stands right
where he did
one year ago: a cautious 10th on our MVP Watch list to open the regular season.
This time, we know he's going to play. We just aren't sure how well.
The four-time MVP is back. But is he really back?
"Mentally? Yes, and better than ever," ESPN.com's Matt Williamson said. "Physically? No. The timing and accuracy is there, but not the ability to drive the ball."
Another Williamson, Bill of the AFC West blog, expects to see a very good Manning in Denver, but not necessarily a vintage one.
"The reality is he had multiple neck surgeries, he missed a year and he is 36,"
Bill Williamson said.
"A decline has to be expected. But he is an all-time great and I expect him to be [among the] top 5-8 quarterbacks for the next three years. He will make a big impact in Denver."
Reigning MVP
Aaron Rodgers
opened last season second to
Tom Brady
on this list. He's the favorite now. But a strong season from Manning, whose 227-game starting streak ended when he sat out last season, could qualify him for an unprecedented double.
"If Peyton Manning returns to form and leads the Broncos to a division title, I'd expect he'd be the unanimous comeback player of the year,"
AFC South blogger Paul Kuharsky
said. "How many times has the comeback player of the year been MVP?"
Never. The comeback award dates only to 1998. Its three most recent winners -- Brady (2009),
Michael Vick
(2010) and
Matthew Stafford
(2011) -- came a lot closer to having MVP-type seasons than previous comeback players.
Chad Pennington
(twice),
Greg Ellis
,
Tedy Bruschi
and
Steve Smith
were the previous five winners. Manning fits the Brady-Vick-Stafford profile.
"For him to make it back from the serious injury and take his act on the road to Denver, making it go with a new team, would qualify as remarkable and garner a slew of votes for an unprecedented fifth MVP," Kuharsky said. "I rank Aaron Rodgers as a clear favorite to repeat. But a storybook year for Manning could change all that no matter what unfolds in Green Bay. I think we'd have a double-dip situation."
Quarterbacks have won the past five MVP awards. Running backs
Shaun Alexander
(2005) and
LaDainian Tomlinson
(2006) are the only non-QBs to win since
Marshall Faulk
following the 2000 season. No defensive player has won since
Lawrence Taylor
in 1986.
Editor's note: ESPN Stats & Information contributed to this post.
September, 3, 2010
9/03/10
12:05
PM ET
The Great Debate series wouldn't be complete this year without a discussion about Broncos rookie quarterback
Tim Tebow
.
Tebow is one of the most talked-about players in the NFL and he hasn't even played in a regular-season game. The Heisman Trophy-winning quarterback from Florida is a polarizing wonder. Tebow's NFL future has been serious water-cooler conversation ever since Denver shocked the NFL by trading three draft picks to move up and take him with the No. 25 pick in April. Everybody has an opinion and the opinions vary.
And that is the case with ESPN.com senior writer John Clayton and AFC West blogger Bill Williamson. Clayton is taking the stance that Tebow's game will not translate to the NFL, while Williamson believes it will.
Let's get started:
[+] Enlarge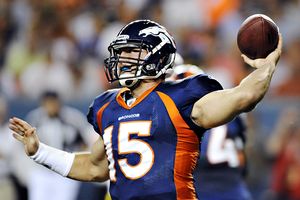 AP Photo/Chris SchneiderSome have suggested Tim Tebow's sidearm throwing motion cannot be fully corrected.
John Clayton:
Bill, we were at Broncos camp at the same time, which is why I'm surprised we have come to such different opinions. Because I know you so well, I know you are an optimist. Like most people, you would like to see Tebow succeed as a quarterback. I would like to see him succeed too. At the moment, though, I don't see it in the immediate future and when I say immediate future, I'm thinking the next two, maybe three, years.
Remember how we watched Tebow throw with the proper mechanics in warm-ups. He kept the ball high and was consistent with his release point in pre-practice. Then we watched practice and some of the old habits returned. He would throw the ball with more of a sidearm delivery. At times, there would be a little hitch in the throw. The release was slow and sometimes the passes weren't accurate.
In sports, it's hard to change habits. While it's possible for him to fix the delivery in time, it's going to take at least two years. I give Josh McDaniels credit, he recognized the dilemma and covered the organization by giving
Kyle Orton
a one-year contract extension. Both of us agree Orton is good, not great. It's also nice that he recognizes that both of us respect his abilities, leadership and the way he runs an offense.
What I like most about watching Tebow is his dedication. He won't fail because of a lack of effort. How about the extra stretching and muscle-building exercises he does at practice? Too bad we can't find a "throw doctor'" we can send him to for a quick fix.
Bill Williamson:
Mechanics is a fair enough place to start on Tebow. That, of course, is the biggest knock on him. He has an awkward delivery, there's no doubt about it. But I don't think it's a sure sign of failure for a quarterback.
Philip Rivers
doesn't have the prettiest motion in the league, nor did the late Steve McNair. Rivers is an elite player and McNair was an NFL MVP. They were able to adjust in time and Tebow will have time.
Even though we will see Tebow as a rookie in special formations such as the Wildcat, he probably won't start until 2012 unless there is an injury to Orton. Rivers and McNair sat and they were better for it. Plus, Tebow already has made strides in a short time under McDaniels' guidance. He's a much better quarterback today than he was the day he was drafted four-plus months ago. He got better as the offseason program went on and he made improvements in training camp and in the preseason. Tebow's delivery appeared to shorten as the preseason went on. He is working on improving himself. Imagine what is going to happen when the learning curve continues for two years?
Plus, several NFL folks I have talked to, including Rivers, say that Tebow doesn't necessarily have to refine his entire motion, just naturally work on it and still be the player he is comfortable being. I think taking this player's delivery and making that the premise for his ultimate failure may be a tad short-sighted.
JC:
Because you covered the Broncos in Denver, you can appreciate this: Denver is one of the toughest cities to be an NFL quarterback, and I think the Broncos made a big mistake by hyping him up after the draft.
The biggest mistake was making him a first-round pick. Quarterbacks taken in the first round tread on John Elway's turf. Those who tread on Elway's turf get worse than turf toe. They eventually become unemployed. The worst I remember was
Tommy Maddox
. He came to town when Elway was still a top quarterback. He eventually had to go into Arena Football and then the Steelers to have any kind of a successful career. The quarterback expectations eventually caught up to
Brian Griese
and
Jake Plummer
.
Now, here comes Tebow, perhaps the greatest college leader of our time. By him being taken in the first round, Tebow jerseys flew out of stores. Fans expected his college skills to translate into the NFL with instant success. Columnists in town took their sides, and some of the most influential called for McDaniels to have guts and just go with Tebow. Had that happened, Tebow might be destined for the Arena League.
In Denver, as you know, good isn't good enough when it comes to quarterbacks. Griese was kicked away because he was a 60-percent thrower but a 50-percent winner. Plummer's time ran out because he was a 50-percent thrower and a 60-percent winner. The standard in Denver is Elway, the ultimate arm and the ultimate winner. He carried the Broncos. Tebow can't do that right away and I'm not sold he ever will. Even if he fixes his bad throwing mechanics, he has the chance to start his career as a 50-percent thrower. Because the talent around him is suspect, Orton, who is good, is going to struggle to make the Broncos a 50-percent winner this season. That means Tebow would have better than a 50-50 chance of being a disaster.
[+] Enlarge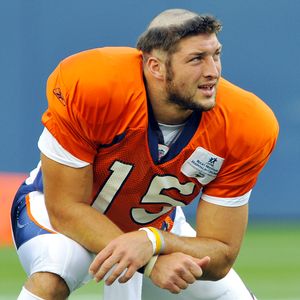 Ron Chenoy/US PresswireTim Tebow's "Friar Tuck" haircut is just one example of him being a team guy.
BW:
John, I think any team that would have drafted Tebow would have pumped him up. It goes with the territory of drafting a quarterback in the first round. Select Tebow in the first round and the situation magnifies greatly. This was a great draft with several top-flight players and Tebow stole the draft. The draft was all about the No. 25 pick. That wasn't the case last year when Miami drafted Illinois cornerback
Vontae Davis
at No.25.
Tebow brings electricity. It's because he has great intangibles. I know intangibles don't pay the bills, but they can be a great difference-maker. Tebow has special intangibles. People gravitate toward him, including his teammates.
This whole Tebow Mania deal in Denver had potential to be a disaster. Tebow's jersey instantly became the biggest seller in the NFL and Tebow is Topic A in Denver. This is the most popular team in the state of Colorado and all anyone wants to talk about is the rookie quarterback. That could have led to jealousy and hostility. It hasn't happened.
It hasn't happened because Tebow immediately earned the respect of his veteran teammates by being humble and working hard. Veterans such as future Hall of Fame cornerback
Champ Bailey
have been wowed by Tebow's work ethic and attitude. Remember that
hideous Friar Tuck haircut Tebow's teammates gave him
prior to an open scrimmage? Tebow didn't fret. He embraced the hazing. He's a team guy.
During the preseason, his teammates have remarked how Tebow already has controlled the huddle. The Broncos believe in Tebow just as his teammates at Florida did. Elway and
John Lynch
have raved about Tebow's intangibles after meeting him. If you impress these two guys, you have something going for you.
JC:
After we left Broncos camp, I watched Tebow's first preseason game and came to another disturbing conclusion. Because Tebow is fearless, I worry about his health.
That touchdown run he had in his first preseason game was exciting, but it also reminded me of the pounding Tebow took in college trying to get Florida to be a great college power. As a college quarterback, Tebow was bigger and more powerful than a lot of the linebackers and defensive backs trying to tackle him. In the pros, he's a target and I worry about him getting concussions or more injuries. That preseason touchdown run bruised his ribs, and the injury was a result of Tebow not playing it safe. That's the style that made him so good in college and it's the style that could make his career ever so short in the NFL.
As great as Tebow is as an athlete, he runs a 4.7 40, which isn't particularly fast for a NFL quarterback. His footwork isn't the greatest either. In many ways, Tebow looks like a combination of Steve Grogan and Joe Kapp. Sorry for going old school on you, buddy, but the point I'm trying to make is what worked for Grogan and Kapp back in the day doesn't work now in a league dominated by great passers.
Michael Vick
is a better athlete and better thrower than Tebow will ever be and I'm not sold he can be a winning quarterback in the post-2005 NFL, which is dominated by quarterbacks who are accurate and can run the no-huddle flawlessly.
Vince Young
is the ultimate compromise that might work because he's a 6-foot-5 quarterback who is faster than Tebow and is always looking downfield when he rolls out of the pocket. I fear Tebow tucking the ball away and just running, absorbing a big hit.
I do think Tebow's in good hands with McDaniels now that Orton will be the starter for the next two years. I just hope he stays healthy, which he will if they groom him to be an eventual backup and see where he is as a developmental quarterback by 2012.
BW:
John, I don't think there is any gray area. I don't think Tebow is going to be a decent backup. He is either going to be a star or be a failed experiment. And I don't see him failing. He is simply not going to allow himself to fail.
In one of my conversations with Tebow, he admitted that he is afraid of failure. He is afraid to let down his coaches, teammates and family. The fire burns. That's what McDaniels saw during the famous combine meeting when the Broncos' brass fell in love with Tebow.
I have talked to countless folks about Tebow. There are two schools of thought when it comes to whether his game translates to the NFL. One is that Tebow is so focused and so determined that there is no way he'll fail. The other is that he already has gotten all he can out of limited ability and has peaked as a player. Two head coaches have told me that, as have a couple of general managers.
However, there are many personnel folks who think Tebow will thrive under McDaniels' guidance. I point to the immense improvement he already has made as evidence that Tebow has not peaked. He learns from his mistakes and he gets better. He reads defenses and senses oncoming defenders better than he did a month ago. He handles the pocket better than he did earlier in camp. Tebow is an ascending player. There's little doubt in my mind.
August, 12, 2010
8/12/10
1:05
PM ET
FOXBOROUGH, Mass. -- Sam Cunningham saved me from excruciating pain and certain ridicule in front of hundreds of people.
Behind an end zone of the
New England Patriots
practice fields, we were reminiscing about his playing days when some people screamed "Heads up!"
My instinct was to look at the far field, where the Patriots and
New Orleans Saints
were running 11-on-11 drills. Saints kicker
Garrett Hartley
had been working out on the closest field but would need to go wiiiiiiiiiide left to send a ball our way.
[+] Enlarge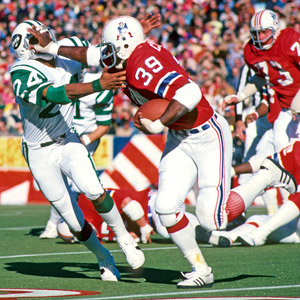 Dick Raphael/US PresswireSam Cunningham spent all 10 of his NFL seasons with the New England Patriots.
Hartley did, and thankfully Cunningham still has those soft hands or else I'd have reprised
Hans Moleman in "Man Getting Hit by Football
."
With the ball flying right toward a most delicate region and me looking into the sun, Cunningham reached over and snared it like it was a Steve Grogan backfield toss.
"I hadn't caught a football in I don't know how long," Cunningham laughed.
At that moment, I enshrined Cunningham into the Tim Graham Hall of Fame, which I'm sure falls just short of measuring up to the honor the Patriots will bestow on him Thursday afternoon.
The hard-charging fullback known as "Bam" will be inducted into the Hall at Patriot Place.
"We came, we put in our work as hard as we could and much as we could and for the fans and the people to appreciate it," Cunningham said. "At the end of the day, that's all you want. You make your money, you spend your money and you do whatever you do. The appreciation factor is something that never goes away."
He is said to have helped integrate college football in the South with a dominant performance for USC against Alabama in 1970 and spent all 10 of his NFL seasons with the Patriots. He's still the franchise leader with 1,385 rushing attempts and 5,453 yards. His 43 rushing touchdowns rank second.
Cunningham had one of the greatest seasons at any position in Patriots history in 1977, when the Patriots set an NFL record with 3,165 rushing yards. The record hasn't been legitimately approached despite the addition of two more regular-season games.
That year, Cunningham ran for a team-high 1,015 yards and four touchdowns and caught 42 passes for 370 yards and a touchdown. He went to the Pro Bowl the next season, running for 768 yards and eight touchdowns.
"He played at a time where a lot of people don't really probably right now appreciate what fullbacks were in the '70s and early '80s," Patriots coach Bill Belichick said. They were "guys that not only blocked, but ran the ball, caught it and really never came off the field ... not just on first down or third down or those kind of specialty players.
"He was a big ball carrier, a hard guy to tackle, a very good runner, a good blocker, caught the ball well, very good in short-yardage and goal line."
But Cunningham's teams reached the postseason only three times, the last coming in 1982, when he played in only six games.
"We were off the radar a little bit, but I guarantee you the teams we played didn't really want to play us," Cunningham said. "People looked at us as an also-ran team, but we had players from programs that had won and didn't like to lose and a coach that didn't like to lose and held us accountable.
"History looks back differently than those teams were at that time. The teams we played understood the talent we had and what we could do if they took us lightly."
July, 27, 2010
7/27/10
6:42
PM ET
When somebody dies, it's polite to say something nice.
Out of respect, even the reviled are generally granted dispensation when they pass away. A particularly horrible decline elicits extra mercy.
But not when it's Jack Tatum, and not when the man being asked is Steve Grogan.
"I just can't do it," Grogan coldly said Tuesday afternoon.
[+] Enlarge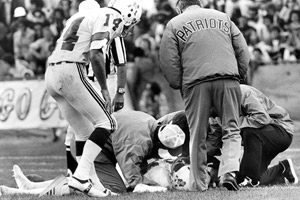 Ron Riesterer/The Sporting News/ZUMA PressDarryl Stingley, above, never recovered from a collision with Jack Tatum in Aug. 1978, remaining in a wheelchair for the remainder of his life.
Tatum, a safety who embodied the
Oakland Raiders
mystique and was called "The Assassin" for his brutal hits,
died of a heart attack at 61
. Tatum dealt with a series of problems related to diabetes in recent years. His right leg and all the toes on his left foot were amputated.
That he lived his final years in such condition was sad to some, tragically poetic to others.
Tatum's most infamous collision occurred when he paralyzed
New England Patriots
receiver Darryl Stingley in a 1978 preseason game. Stingley was 55 when he died three years ago from pneumonia complicated by his paralysis.
"I'm sorry because there was a life lost today," said Darryl Stingley's son, Derek, who was 7 when his father stopped walking. "Jack Tatum had a family. He was somebody's father, somebody's brother, somebody's cousin or uncle. I truly am sad because of that.
"But at the same time that life put my father in a situation that he couldn't feed himself when he wanted to."
Derek Stingley saw a report of Tatum's death on ESPN's news crawl and immediately called his grandmother, Hilda Stingley.
"This brings back all those memories," Derek Stingley said. "I've just been almost in a daze today."
On that fateful night in 1978, Grogan threw to Darryl Stingley on a crossing route in a meaningless game. The ball sailed incomplete. Tatum blasted him head-on anyway. Darryl Stingley didn't get up.
The hit was considered legal at the time, the kind of vicious shot Tatum delivered on a regular basis. No flag was thrown. The NFL didn't discipline Tatum. That Darryl Stingley suffered two broken vertebrae and was paralyzed from the chest down was considered bad luck.
"I've seen the hit over and over," said Derek Stingley, president of the
Darryl Stingley Youth Foundation
, which his father founded. "Tatum was just giving him a hard hit. That was in the cosmos. That was in the stars that day."
What happened in the days, weeks and years after the hit was what Grogan -- and much of the Patriots family -- deemed unforgivable.
"I have a hard time trying to find something nice to say," Grogan said about Tatum. "That bothers me because I'm not like that normally. You may talk to guys that played with him, and they might tell you he was greatest teammate in the world and everybody loved him.
"The circumstance that we were involved with, just the way he handled it, that will never come out of any of our mouths or minds."
Tatum never spoke to Darryl Stingley after the injury -- although he did suggest a televised reconciliation to coincide with the release of a book. Tatum wrote three of them: "They Call Me Assassin" in 1979, "They Still Call Me Assassin" in 1989 and "Final Confessions of NFL Assassin Jack Tatum" in 1996.
"When something like that happens and you can't apologize for it, go out and write a book to make money and try to get famous off the incident, that's just not right," Grogan said. "I thought he handled it very poorly."
In a 2003 Boston Globe story,
Darryl Stingley said he still would welcome a visit or a call from Tatum
-- without a commercial agenda.
"If he called me today, I'd answer," Darryl Stingley said. "If he came to my house, I'd open my door to him. All I ever wanted was for him to acknowledge me as a human being. I just wanted to hear from him if he felt sorry or not. It's not like I'm unreachable. But it's not a phone call I'll be waiting for anymore."
Darryl Stingley also claimed he harbored no hate for Tatum.
"It's hard to articulate," he said. "It was a test of my faith. The entire story. In who, and how much, do you believe, Darryl? In my heart and in my mind I forgave Jack Tatum a long time ago."
Tatum's legacy was forever tainted by his callousness. ESPN's John Clayton wrote a remembrance of Tatum and noted the behavior toward Darryl Stingley
likely prevented Tatum from garnering consideration
for the Pro Football Hall of Fame.
Tatum was a three-time Pro Bowler. He was involved in several memorable hits, knocking off
Minnesota Vikings
receiver Sammy White's helmet in Super Bowl XI and laying out Frenchy Fuqua to ricochet the ball Franco Harris turned into the Immaculate Reception.
The NFL Network ranked Tatum the sixth-most fearsome tackler in league history, but the program never mentioned his hit on Darryl Stingley.
"He had close to 30 years to apologize," Derek Stingley said. "If that created a burden for him to live with, that's his own doing. There were plenty of opportunities.
"This is a reminder to put things to the side and let bygones be bygones. I wish they had that opportunity to close that chapter in their lives, but it never happened."
June, 30, 2010
6/30/10
1:30
PM ET
Notable players:
QB
Tom Brady
, RB
Corey Dillon
, WR
Deion Branch
, WR/DB
Troy Brown
, TE
Daniel Graham
, T
Matt Light
, DE
Richard Seymour
, OLB
Willie McGinest
, OLB
Mike Vrabel
, ILB
Tedy Bruschi
, CB
Ty Law
, CB
Asante Samuel
, S
Rodney Harrison
, K
Adam Vinatieri
, ST
Larry Izzo
.
[+] Enlarge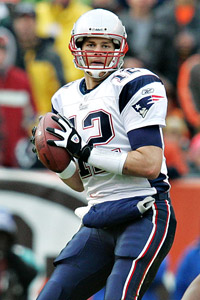 Matthew Emmons/uS PresswireTom Brady and the Patriots collected their third Super Bowl win in four seasons.
Analysis:
The
New England Patriots
are the only AFC East club with three championship seasons to consider, and one could argue with conviction their best team didn't win the Super Bowl.
But 2004 stands apart. The Patriots claimed their third Vince Lombardi Trophy in four seasons to establish themselves as one of the all-time great teams. Brady and head coach Bill Belichick ensured their place in Canton.
The Patriots picked up where they left off after winning Super Bowl XXXVIII the year before. They increased their win streak to an NFL record 21 games. They ranked fourth in scoring and second in points allowed. They lost two games all season, Week 8 at the
Pittsburgh Steelers
and Week 15 at the
Miami Dolphins
.
After beating the
Indianapolis Colts
for the second time and holding
Peyton Manning
's offense to three points in the divisional round of the playoffs, the Patriots scored 41 points to avenge their defeat in Pittsburgh.
In Super Bowl XXXIX, the Patriots beat the
Philadelphia Eagles
more comfortably than the 24-21 score indicates. Adam Vinatieri didn't need to drill a field goal in the closing seconds for a change.
Most impressive win:
The Patriots never were more dominant than they were in Week 10 against the
Buffalo Bills
, a borderline playoff team that won three out of four heading into Gillette Stadium and six straight afterward. The Patriots rolled up a season-high 428 offensive yards and limited the Bills to 125 yards to win 29-6.
What can Brown do for you?
Pretty much whatever you could ask of him. Brown caught only 15 passes in the regular season, but in Week 9 against the
St. Louis Rams
, he entered the game as an emergency defensive back when Samuel went down with an injury. Brown finished the season with three interceptions (one shy of the team lead) and broke the Super Bowl record for punt returns.
Honorable mention
2007:
It's the greatest NFL team not to win the championship. Brady,
Randy Moss
and
Wes Welker
rewrote a good chunk of the offensive record book, but the Patriots fell short of finishing the season undefeated, losing in the Super Bowl to the
New York Giants
.
2001:
New England won its first championship with an offense that ranked sixth in scoring and a defense that ranked sixth in points allowed. Belichick's controversial decision to stick with Brady when
Drew Bledsoe
returned to health created a superstar.
2003:
New England went 14-2 to win its second title in three years. The offense was pretty mediocre, but the defense posted three shutouts, gave up six points or fewer five times and averaged 11.9 points against over the final 10 weeks of the regular season.
1976:
Patriots fans thought a storybook season was unfolding in the bicentennial. Steve Grogan and Sam Cunningham led the Pats to an 11-3 record, but a controversial late-hit call helped them lose to the
Oakland Raiders
in the playoffs.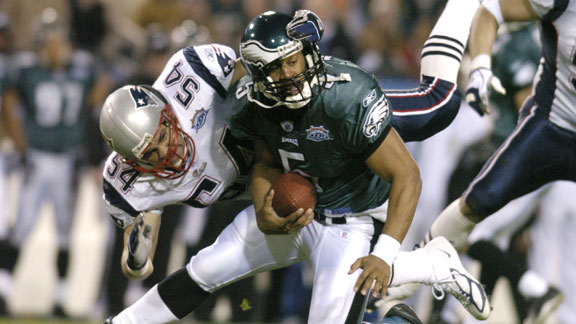 February, 24, 2010
2/24/10
4:07
PM ET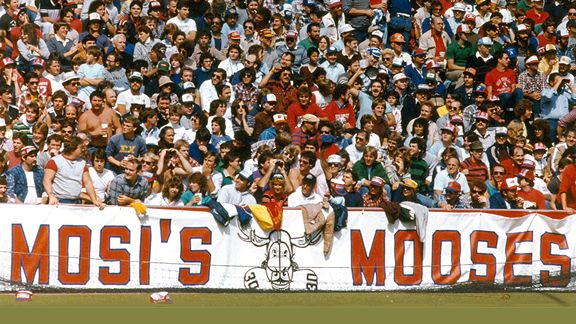 New England PatriotsMosi Tatupu had his own cheering section, "Mosi's Mooses," in Sullivan Stadium.
The
New England Patriots
are mourning the loss of a fan favorite.
Fullback and special-teams ace Mosi Tatupu died Tuesday in Attleboro, Mass. He was 54.
Tatupu, a gritty eighth-round draft choice in 1978, played 13 seasons with the Patriots. He was the lead blocker for Craig James when the Patriots went to their first Super Bowl and was selected to the Pro Bowl for 1986.
[+] Enlarge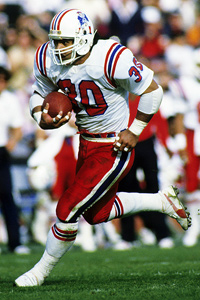 Rob Brown/Getty ImagesMosi Tatupu spent 13 seasons with the Patriots.
Tatupu had his own cheering section called "Mosi's Mooses" in Sullivan Stadium. He was named to the Patriots' 50th anniversary team.
He briefly played for the
St. Louis Rams
before retiring in 1991. He coached his son,
Seattle Seahawks
linebacker
Lofa Tatupu
, at King Philip Regional High in Wrentham, Mass.
The Patriots have released statements from the organization and some of Tatupu's teammates.
Patriots owner Robert Kraft
"I know that I share a heavy heart today with Patriots fans everywhere who have learned of Mosi Tatupu's passing. I was shocked by the news this morning. My sons and I loved to watch Mosi. He was one of our favorite players for more than a decade. I don't think you could watch a Patriots game in the '80s without becoming a fan of his. He was a dominant special-teams player and a punishing rusher who loved the Patriots as much as the fans did. He gave everything that he had on every play. ... He was an iconic player and will be remembered for all of his contributions as a Patriot, both on and off the field."
Former Patriots receiver Stanley Morgan
"There was only one Mosi. I first met Mosi the year after I came to the Patriots, when he got here in 1978, and it was love at first sight, I guess you could say. He got along great with everybody. He had that air about him that you were comfortable around him all the time, and nobody was a stranger around him. People were attracted to that."
Hall of Fame linebacker Andre Tippett
"You probably couldn't ask for a better teammate than Mosi. It was the way he approached the game. He worked hard. He practiced hard. He had a way about him. He always had an upbeat attitude. He was happy all the time and just pleasant to be around. He had a special connection with the fans and his teammates. Everybody loved him."
Former Patriots quarterback Steve Grogan
"As a teammate, he was one of the best. He was one of those guys that made life fun, whether it was in the locker room or on the practice fields. He had a smile that radiated. The fans appreciated him because he was a lunch-pail kind of guy and did whatever was asked of him, whether it was on special teams, on the goal line, in blocking or catching situations. I think Patriots fans really appreciated that."
Former Patriots center Pete Brock
"The thing about Mosi was that he did everything. He wasn't the glamour guy out in front, getting all the carries. He just played football and he played hard. A lot of people remember the 'Snow Plow Game' and, of course, John Smith's kick won it. But it was Mosi, who ran for more than 100 yards that day, that really won that game.
"It's really a shock, and it's so much tougher because we played before the era of free agency. So you really got to know everybody. We were a community. We raised our children together. Because of that it's just like losing a family member."
December, 28, 2008
12/28/08
5:56
PM ET
Posted by ESPN.com's Tim Graham
The New England Patriots defeated the Buffalo Bills 13-0 on Sunday despite Matt Cassel throwing eight passes in gusty Orchard Park, N.Y.
Elias Sports Bureau has determined that's the fewest attempts in a game since the Carolina Panthers installed a gadget, direct-snap offense to deal with the sudden need to use third-string quarterback Chris Weinke. DeShaun Foster and DeAngelo Williams combined for 49 carries in a 10-3 victory over the Atlanta Falcons.
The last time the Patriots threw so infrequently was in December 1982, the infamous Snow Plow game. Steve Grogan threw only five times to beat the Dolphins 3-0.
NFL SCOREBOARD
Sunday, 2/2
WEEKLY LEADERS