August, 18, 2011
8/18/11
3:22
PM ET
EARTH CITY, Mo. -- Thoughts and observations on the
St. Louis Rams
following their training camp practice Thursday:
Preseason plan: The starters will play until halftime unless the Saturday night game against Tennessee features an unusually high number of snaps. Coach Steve Spagnuolo thinks the team needs extra work given restrictions on practice time and cancellation of the Hall of Fame Game against Chicago.

[+] Enlarge

AP Photo/Jeff RobersonDonnie Avery is expected to be in action for the Rams Saturday night.

Receiver alert: The team expects Donnie Avery (knee) and Mike Sims-Walker (groin) to play against the Titans. Avery in particular has been sharp since returning to practice Wednesday. Quarterback Sam Bradford singled out Avery for making proper route adjustments and operating efficiently within the offense. Avery caught a deep ball down the middle in practice Thursday. Offensive coordinator Josh McDaniels was clearly pleased with Avery's attention to detail on an outside route. Danario Alexander missed a couple chances to make plays on the ball high in the air and well downfield. On one, he fell back and waited for the ball instead of leaping to catch it at a higher point. Something to work on. He's at his best letting his size work to his advantage. Brandon Gibson is enjoying a strong camp and continues to work exclusively with the starters.

Legend watch: Former Rams coach Dick Vermeil dropped by practice wearing a golf shirt with a "Vermeil Wines" logo. He mingled with fans watching practice and spoke with the team afterward. Hall of Fame running back Marshall Faulk is on the guest list for Friday. He's joining the team's television network.

Mikell's impact: Recently signed veteran safety Quintin Mikell has caught Bradford's attention with his quickness on blitzes and ability to disguise intentions in the secondary. The Rams expect both of their safeties to support the run near the line of scrimmage at times. Mikell appealed to the Rams for his toughness, particularly against the run.

Jackson's return: Running back Steven Jackson was back on the field after resting a hip injury this week. Bradford reiterated his expectation that Jackson will see his total for receptions increase this season given the nature of McDaniels' offense.

Afternoon free: Spagnuolo called off afternoon meetings with an eye toward getting players fresh for the game against Minnesota. Players cheered loudly when Spagnuolo announced the news.

Weis payoff: Bradford said his two-day meeting with former McDaniels associate Charlie Weis during the lockout gave him a firmer grasp of the basics heading into camp. Bradford: "Talking to Charlie and getting an idea for what Josh was going to be like and what his offense was going to be based around really helped me grasp the very basics of it and what we were going to try to do at the beginning of camp."

Striking out: Receiver Mardy Gilyard and offensive line coach Steve Loney strung together six or seven strikes in a row during a recent team bowling event. Spagnuolo lamented his inability to beat Bradford. The coach wasn't particularly forthcoming about his score, either. Bradford: "He never really told me his score. I have a feeling I beat him pretty bad."

Stuffing the run: Justin Bannan has blown up a couple running plays in the practices I've watched. The free-agent addition from Baltimore has played the nose in 3-4 defenses, but he's not as massive as prototypical noseguards such as Vince Wilfork or the retired Ted Washington. He can swing between nose tackle and traditional 4-3 defensive tackle.

Linebacker shuffle: Bryan Kehl continues to work with the starters at weakside linebacker, but recently signed veteran Ben Leber is getting reps there, too. I would expect Leber to take over starting duties as the season progresses. Na'il Diggs continues to work with the starters on the strong side. Brady Poppinga could be a candidate to start there as well.
The Rams will be back on the field Friday for a walk-through session.
May, 27, 2010
5/27/10
1:00
PM ET
»
NFC On the Radar
:
East
|
West
|
North
|
South
»
AFC
:
East
|
West
|
North
|
South
A player, coach or issue that should be on your radar as training camp approaches.
If it all starts up front -- and most quarterbacks will tell you it does -- NFC West fans will want to keep an eye on the men coaching their teams' offensive lines.
No division in the league features higher-caliber line coaches across the board. And in an unusual twist, NFC West teams used the offseason to play musical line coaches. A look at what it means for each team:
[+] Enlarge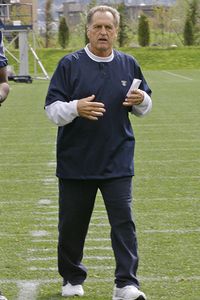 AP Photo/Ted S. WarrenSeahawks line coach Alex Gibbs is one of the most respected in the league.
Arizona:
The Cardinals were the only team in the division to keep the same coaching dynamic at the position, and why not? Russ Grimm ranks among the most acclaimed line coaches in the league and one of the few to command serious consideration as a head coaching candidate. When Grimm arrived in Arizona with Ken Whisenhunt for the 2007 season, he replaced Steve Loney, now the Rams' line coach. More on Loney in a bit.
Seattle:
For years, Alex Gibbs has ranked among the most highly regarded line coaches in the league. He's the absolute best for installing a pure zone blocking scheme. Gibbs is also 69 years old, so it's fair to wonder how long he'll stick around. Gibbs is a coaching lifer and an extremely intense personality. Gibbs' hiring has changed what the Seahawks want in their offensive linemen -- see
Rob Sims
' departure -- while more clearly defining the team's approach to offense. This is a zone team all the way.
San Francisco:
The 49ers were big winners this offseason when the Seahawks fired coach Jim Mora. The change from Mora to Pete Carroll led to Gibbs' hiring, displacing Mike Solari as offensive line coach. Solari was the perfect fit for the 49ers because he's an excellent teacher and he worked previously with San Francisco offensive coordinator Jimmy Raye. Raye largely had inherited the 49ers' offensive staff upon his hiring by Mike Singletary before the 2009 season. Solari gives Raye a trusted lieutenant at a position critical to the 49ers' success -- just as the 49ers were about to add two offensive linemen in the first round of the draft. Solari likes his linemen to have quick feet.
St. Louis:
The Rams felt good enough about Steve Loney to keep him around as line coach when Steve Spagnuolo took over for the 2009 season. Art Valero also stayed on staff, serving as Loney's assistant, but Valero left the Rams for the same job in Seattle this offseason. That makes Valero a potential heir-apparent to Gibbs.
February, 3, 2009
2/03/09
8:57
AM ET
Posted by ESPN.com's Mike Sando

Dan Bickley of the Arizona Republic
provides a checklist for the Cardinals as the team tries to sustain its current momentum.
Kent Somers of the Arizona Republic describes Ken Whisenhunt's conflicting emotions following a fantastic season punctuated by a painful defeat.
Also from Somers: The Cardinals felt Super Bowl XLIII was over-officiated, but Whisenhunt told players not to blame officiating for the defeat.
Scott Bordow of the East Valley Tribune wonders if the Cardinals' Super Bowl appearance marks a beginning or an end.

Clare Farnsworth of the Seattle Post-Intelligencer runs a list of the Seahawks' players scheduled to become free agents. The unrestricted list features Rocky Bernard, Bobby Engram, Charlie Frye, Chris Gray (retired), Howard Green, Will Heller, Leroy Hill, D.D. Lewis, Wes Mallard, Steve McKinney, Maurice Morris, Jeff Robinson, Koren Robinson, Leonard Weaver, Ray Willis and Floyd Womack. Lance Laury is the only restricted free agent.
John Morgan of Field Gulls expects the Seahawks to have about $9 million in salary-cap room, a relatively low figure. The team had more than $20 million last week, according to an NFL source with access to salary data, but cap numbers are fluid, particularly at this time of year. I expect to provide some more definitive numbers this week.

Jim Thomas of the St. Louis Post-Dispatch says the Rams have retained Art Valero in a new capacity while hiring Tom McMahon to coach special teams. Valero will assist offensive line coach Steve Loney, who was also retained by new head coach Steve Spagnuolo. The Rams now have 15 assistants under contract. They are nearly finished filling Spagnuolo's staff.
Jeff Gordon of stltoday.com wonders if Spagnuolo can deliver success to the Rams in keeping with what other first-time head coaches have delivered in Pittsburgh, Arizona and elsewhere.
Also from Gordon: A chat transcript in which he says receiver Michael Crabtree has "a lot of support" in the Rams' organization.
VanRam of Turf Show Times examines the decision to retain Loney and Valero despite the Rams' problems last season.

Gary Plummer of 49ers.com explains what makes play-action fakes effective, using a specific 49ers play against the Cowboys as an example. Even an average fake can be effective if the opposing front seven is selling out to stop the run.
Christopher Reina of realgmfootball.com recaps the 49ers' season while noting that Shaun Hill, though hardly an elite quarterback, might fit what Mike Singletary wants to do on offense. Hill had a higher passer rating than Donovan McNabb, Eli Manning and Jay Cutler.
Craig Massei of scout.com says the Cardinals' success this season should give the 49ers some hope for 2009 even though Singletary refused to call the 49ers a playoff-caliber team.

NFL SCOREBOARD
Sunday, 2/2
WEEKLY LEADERS