NFL Nation:

Steve Sarkisian
May, 18, 2011
5/18/11
12:19
PM ET
A college coach isn't going to get on the radio in a market where one of his guys was drafted and say bad things.
Still, thoughts from Washington's Steve Sarkisian on Tennessee's new quarterback,
Jake Locker
, on "The Wake Up Zone" in Nashville this morning were of interest. (Disclaimer: It's the show I'm part of, though not this morning.)
On what people should know about Locker:
[+] Enlarge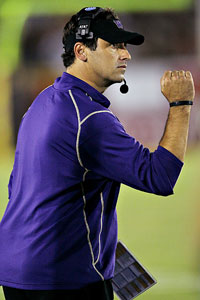 Stephen Dunn/Getty ImagesSteve Sarkisian said he would "be surprised if there is a college quarterback more mentally prepared for the NFL than Jake Locker is."
"I think his preparation will surprise people for a kid just coming out of college, on and off the field. Ultimately, how many NFL games are won in the final two or three minutes, that final drive? What he was able to do for us this past two seasons on final drives, game-winning plays, to either win football games or preserve wins, I think is what really makes him special."
On Locker's accuracy issues:
"Part of it is, I wish we were better up front for him, to be quite honest with you. And I think throughout his career starting as a red-shirt freshman and being a four-year starter, you can create some bad habits. And those bad habits can get magnified if the protection isn't as good as it needs to be. So I think there are some habits there that are easily fixable and I know [offensive coordinator] Chris Palmer and those guys on the offensive staff are going to get that done. But from a physical standpoint, you go out and throw in a T-shirt and shorts, he throws as good as anybody. There are some concerns I know everybody had about him in the pocket with guys rushing around him. And I don't think it's a lack of courage or awareness, it's because the guy got beat up so much he knew he had to escape and go make plays out of the pocket."
On Locker's NFL readiness:
"I'll be surprised if there is a college quarterback more mentally prepared for the NFL than Jake Locker is. We do it all. He does all the protections, Mike IDs, change of protections, we kill plays, we auto plays, we audible plays. We have a very pro-style approach at the line of scrimmage and we handle all that stuff beautifully, which we had to do. We just aren't quite where we want to be yet where we can just line up and pound the ball regardless of what you're in. We've got to find the best play available to us on every snap."
Hey, it's all we can get right now. No one is more eager to be on the sideline of an OTA or training camp practice to watch Locker throw than I am. In the meantime, though, reviews like this one are all we have to chew on.
March, 30, 2011
3/30/11
6:59
PM ET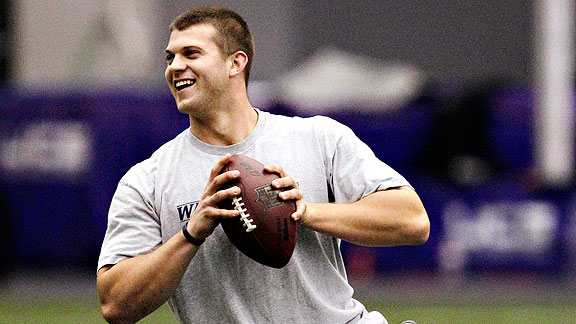 AP Photo/Elaine ThompsonWashington quarterback Jake Locker didn't appear to do anything to hurt his draft status at his pro day on Wednesday.
SEATTLE -- The guest list for
Jake Locker
's pro day at the University of Washington offered up a few surprises.
Former
Seattle Seahawks
running back
Shaun Alexander
, in town on business, dropped by the Dempsey Indoor facility. Former NFL officiating czar Mike Pereira, in town for a meeting related to his role as interim head of Pac-10 officials, also attended.
Former Washington quarterbacks Warren Moon, Damon Huard, Brock Huard (working for ESPN), Hugh Millen, Cary Conklin and Sonny Sixkiller were there.
The quarterback-needy
Tennessee Titans
sent a large contingent featuring vice president of player personnel Ruston Webster, offensive coordinator Chris Palmer and pro scouting director Lake Dawson. Keith Gilbertson (
Cleveland Browns
), Randy Mueller (
San Diego Chargers
), Bob Ferguson (
Indianapolis Colts
) and Mike Sheppard (
Jacksonville Jaguars
) were among the former Seahawks staffers in attendance.
The Seahawks' current decision-makers and most of their coaches drove over from team headquarters, no surprise given the proximity and coach Pete Carroll's ties to Huskies coach Steve Sarkisian, his former USC assistant.
But if the Seahawks' division rivals have any interest in Locker, they hid that interest quite well. The
Arizona Cardinals
and
San Francisco 49ers
did not send representatives, to my knowledge. They certainly did not have any high-profile staffers in attendance. That comes as a bit of a surprise given their obvious needs at quarterback and Locker's potential availability early in the second round, if he slips outside the first.
"I never read anything into which teams attend pro days," Locker's agent, David Dunn, said on the field following the workout. "I've had too many players selected by teams that weren't at pro days or didn't even visit with players."
Fair enough, but teams generally pay closer attention to quarterbacks. The 49ers sent Jim Harbaugh to
Blaine Gabbert
's pro day at Missouri. Cardinals coach Ken Whisenhunt ran Auburn's
Cam Newton
through various throws at a recent workout.
"With quarterbacks, you want to be able to touch and feel and see how they are as people as well as athletes and players," Dunn said.
Locker was not the only Washington prospect performing for scouts, but he was the main draw. He did nothing obvious to damage his draft stock during the workout. He completed all but a couple of passes while showing fluidity in his drops and a short delivery, according to scouts who agreed to speak in general terms and not for attribution.
"I've never nitpicked a guy like I've nitpicked Locker," one of them said. "The guy is a winner, and at the end of the day that has to count for something."
Locker has been working with former NFL quarterback Ken O'Brien to bring his hand over the top more quickly when delivering the ball.
The controlled environment was set up to make him look good. No NFL coaches or personnel people asked Locker to perform unscripted throws. They watched Locker zip the ball with ample velocity and accuracy most of the time, save for a couple high throws that his overworked wide receiver, D'Andre Goodwin, snatched away from his body.
"I'm focusing on the fluidity of the drop, getting my feet in the right spot and just bringing the hand over the top as quickly as I could, rather than dragging my hand," Locker said afterward. "I have a tendency to do that sometimes. I want to bring my hand over the top and really point that finger at my target. I have been spinning the ball a lot better and it's been coming off my hand a lot better."
Locker's relatively low completion percentage at Washington and his inexperience running a pro-style offense have raised questions about his readiness for the NFL. Can he read defenses? Can he throw accurately and on time from the pocket? To what degree did a weak offensive line and receiving corps hamstring him in college?
I've heard differing opinions from scouts as to how well Locker would fit with the NFC West teams that need quarterbacks (Seattle, Arizona and San Francisco).
"A lot of people seem to have him pinpointed to Seattle at No. 25, but I don't think that makes any sense at all," Matt Williamson of Scouts Inc. said. "It works for people who do not know the X's and O's of it all. At 25, he has some value. He went to school in that area. It is easy to say that is a good fit, but I think Seattle is going more and more to a pure West Coast offense, and Locker doesn't fit the West Coast offense at all."
The Cardinals pick fifth and the 49ers pick seventh, earlier than Locker is expected to come off the board. Seattle is one of the few quarterback-needy teams picking later in the first round, when Locker figures to become a more likely selection.
"Jake seems to be an acquired taste," Dunn said. "The more you watch him on film, the more that you are around him, the more you like him."
How well Locker would fit with the Seahawks could hinge on the degree to which Williamson is right in his assessment of how Seattle's offense will evolve.
New coordinator Darrell Bevell comes from the Andy Reid/Mike Holmgren branch of the West Coast offense, a branch that relies more heavily on short, precise passes. Before Bevell replaced Jeremy Bates, the Seahawks had been running Mike Shanahan's version of the West Coast system featuring more quarterback movement, hard play-action fakes and deeper throws requiring greater arm strength.
Carroll, who attended the workout Wednesday, has said the Seahawks do not plan to significantly diverge from the system they ran last season. But it's plausible to think that Bevell's background could steer them away to some degree.
"You do have to be a precise passer in a Bill Walsh, traditional West Coast offense," Rob Rang, senior analyst for NFL Draft Scout, said from the Dempsey Indoor facility. "But I like any offense that is going to use Jake Locker's mobility as an asset rather than just keeping him pinned in that pocket. If you can use his legs as a weapon, that is where he has been his most accurate. He made significant improvements in his accuracy from the so-called pocket in this workout, but at the same time, his strength remains throwing on the move."
Rang said he would draft Locker in the first round as long as the team in question has a veteran starter in place.
I stood next to Moon, the retired Hall of Famer, throughout the workout. Moon said he sees the NFL game evolving to favor quarterbacks with mobility. Life for traditional pocket passers is getting tougher, in his view. Locker's athleticism and scrambling ability separate him from most prospects. He has run the 40-yard dash in 4.52 seconds, a time that holds up against those posted by some wide receivers. But quarterbacks must also succeed as pocket passers to make it in the NFL.
"Locker is pretty accurate outside the pocket," Williamson said, "but as far as going 1-2-3 and getting it out, having good footwork, hitting a guy in stride, he is terrible. I don't see that fit at all. I do not think he is going to be the precise passer Harbaugh is looking for, either. I can see someone like Arizona being really interested in him in Round 2. They might like a more 'toolsy' guy, like a
Ben Roethlisberger
."
Williamson sees Locker appealing to a coach such as Shanahan, who might see Locker as a cross between
Jay Cutler
and
Jake Plummer
, two quarterbacks Shanahan coached in Denver. That's the type of quarterback Seattle was seeking when Jeremy Bates was coordinating their offense. It's the type of quarterback the Seahawks might still value if Bevell installs the type of system Carroll has favored previously.
"I don't know in the NFL right now if people run different offenses," Sarkisian said. "It's so much of a copycat league and everybody runs so many things that are similar that it's hard to say that New England is different than Pittsburgh that is different than Seattle that is different from the Chargers. They all have their focal points, but at the end of the day, there are a lot of similarities. Things will be tailored for him [Locker], like they are for every quarterback, but I just think he fits in as an NFL quarterback."
March, 29, 2011
3/29/11
4:48
PM ET
Living in the Pacific Northwest creates travel challenges much of the time, but not Wednesday.
[+] Enlarge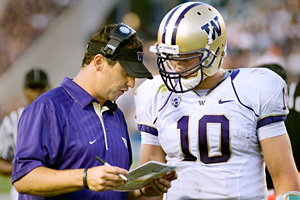 Douglas C. Pizac/US PresswireWashington Huskies coach Steve Sarkisian, left, believes Jake Locker has a bright NFL future.
Quarterback
Jake Locker
's pro day at the University of Washington makes for a relatively short drive. I'll be heading over there for the action, which
ESPN3.com will carry
at 2 p.m. ET
Three of four NFC West teams approach the 2011 NFL draft with unsettled quarterback situations. My plan Wednesday is to explore how Locker would or would not fit in the division. If you've got thoughts, please share them. I'll incorporate them in the piece I put together Wednesday.
Locker's perceived stock lacks definition within the first couple rounds.
I'm not sure what Locker can accomplish at a pro day. Throwing well in a controlled environment seemingly would not alleviate well-established concerns about accuracy. Throwing poorly would reinforce those perceptions.
Locker's college coach, Steve Sarkisian, summed up Locker this way when
speaking with reporters Tuesday
:
"My view of Jake Locker as a pro-style quarterback is that he is a true sophomore coming out early going in the NFL draft. He's had two years in a pro-style offense of learning the nuances of this thing, from the drops to the protections to the coverages to the route recognition, the reading, the route adjustments that all have to take place, the fundamentals that it takes.

"To me, his upside is huge. Whoever gets him is going to get a player that continues to deveop and is going to work at it and they are going to get someone who is a tremendous leader, not only on the field but off the field, in the community, which matters, and someone who is going to be mature enough to step into the huddle with a 10-, 12-year, 13-year, 14-year veteran and call the play with conviction, and execuate a play -- especially late in games.

"I think so much with Jake that got missed here for us, if you look at the way he performed in the fourth quarter, especially in final drives over the last two years, those were special plays and special drives. You watch the NFL on Sundays, how many times games come down to that final drive, and he's got that ability to make plays in the final drive that ultimately win games, that ultimately win playoff games, that ultimately win Super Bowls. I think that is why he is going to be special down the road."
Quarterbacks drafted early become long-term investments. They're also expected to play sooner, not later. If Locker needs some seasoning, being drafted a bit later could help his career by reducing the pressure to produce right away. Sarkisian seemed to acknowledge as much with his comments about the exceptionally athletic Locker being in the early stages of development as a pro-style quarterback.
April, 9, 2009
4/09/09
9:00
AM ET
Posted by ESPN.com's Mike Sando

Darren Urban of azcardinals.com describes Larry Fitzgerald as "totally recharged" following his adventure through Africa and the Middle East. Fitzgerald: "Best trip ever. I am totally recharged. It feels so good to get back in here. I'm so happy to see a good turnout and getting ready to get it again. I was itching to get back in the gym. It's home away from home." Fitzgerald has lots more planned for his offseason, starting with a trip to Minnesota for the annual golf tournament honoring his late mother, Carol.
Revenge of the Birds' Hawkwind says Karlos Dansby's unsettled contract situation could affect the Cardinals' draft plans. I think the team needed to address linebacker anyway. The need certainly grows if getting a deal with Dansby isn't likely.

Dave Mahler of Seattle's KJR radio checks in with Seahawks left tackle Walter Jones. This link goes directly to an audio file. Jones sounds relaxed and upbeat in discussing the change from Mike Holmgren to Jim Mora. Jones says he feels good, still loves competition and feels invigorated learning a new offense. Jones on the Cardinals: "They are a team that won the conference, they won the division, so they are the team to beat. That is your motivation."
Greg Johns of seattlepi.com found a grateful prospective Seahawk in former Western Washington linebacker Shane Simmons. Simmons has worked construction and as a personal trainer since the Raiders released him after the 2008 preseason. Simmons is participating in the Seahawks' minicamp on a tryout basis.
Dave Boling of the Tacoma News Tribune says Jim Mora appears comfortable in his new role as the Seahawks' head coach in the post-Mike Holmgren era. Boling: "Here's a difference that's fair to mention, although probably meaningless: Mora has a whistle. Holmgren let others blow the whistle. Draw your own conclusions."
Eric D. Williams of the Tacoma News Tribune checks in with Jones and Seahawks offensive line coach Mike Solari. Solari says the Seahawks installed zone concepts last season in anticipation of using them in 2009. The team did not use them in 2008.
Michael Steffes of Seahawk Addicts isn't buying talk that the Seahawks are seriously considering Matthew Stafford with the fourth overall choice. Steffes: "[Matt] Stafford maybe, but choosing Mark Sanchez would be counter to everything this team has done since 2005. Hopefully there is enough hype that someone wants to move up, but I wouldn't count on it."
Danny O'Neil of the Seattle Times says Seahawks quarterback Matt Hasselbeck expressed frustration over how his injury situation was handled last season. Hasselbeck put it this way: "Knowing that there's a high likelihood that I'm not going to play and not necessarily being able to come out and say."
Also from O'Neil: Seahawks long-snapper Tyler Schmitt says he's 100 percent after undergoing back surgery last season.
Don Ruiz of the Tacoma News Tribune says Holmgren watched practice at the University of Washington. Holmgren and new Huskies coach Steve Sarkisian have strong ties to USC.
Bob Condotta of the Seattle Times says Holmgren watched practice Wednesday at the University of Washington. Holmgren's son-in-law coordinates recruiting for the Huskies. Sarkisian: "It's an honor and hopefully our kids recognized that and hopefully he can continue to come out. It's fun. ... Hopefully we play a little better as a team the next time he comes out."

Matt Maiocco of the Santa Rosa Press-Democrat leans on draft analyst Rob Rang in assessing which running backs the 49ers might consider in the draft. Iowa's Shonn Greene is one candidate. Rang also thinks Chris Wells could go in the top 10. Rang: "I have a hard time thinking they would do that because I think they have too much respect for what Frank Gore brings. They don't want to [upset him]. But Beanie Wells is a spectacular talent. He's a Larry Johnson -- almost an Adrian Peterson -- kind of talent. But he needs to be coddled, and Mike Singletary's strength probably is not in coddling players."
Also from Maiocco: The 49ers are sprucing up their facilities while expanding square footage from 45,000 to 54,000.
Florida Danny of Niners Nation unveils a roughly 4,500-word dissertation on the 49ers' draft history since 1994. Lots of information in here. I checked some of it against my own information and it matched up. For example, the 49ers have indeed drafted 20 players from Pac-10 schools and 19 from SEC schools since 1994, more than they have drafted from other conferences.
Matt Barrows of the Sacramento Bee says Norfolk State cornerback Don Carey is visiting the 49ers and Seahawks, among other teams. Purdue running back Kory Sheets is also visiting the 49ers.

VanRam of Turf Show Times wonders how the Rams can upgrade at receiver, noting that Football Outsiders has suggested Eagles restricted free agent Hank Baskett. VanRam: "That seems unlikely until you consider that the Eagles are interested in some big names like [Chad] Ocho Cinco and earlier talk about being a player for Anquan Boldin. If that happens, they might be willing to let Baskett walk since they also have Kevin Curtis, DeSean Jackson and Reggie Brown on the roster, unless they see his productivity from last season as a sign of things to come."
Jim Thomas of the St. Louis Post-Dispatch says holding training camp away from their facility wasn
't practical for the Rams this year, in part because changes to the coaching staff and front office left little time to formulate plans.