NFL Nation:

Steve Scarnecchia
December, 6, 2010
12/06/10
8:51
PM ET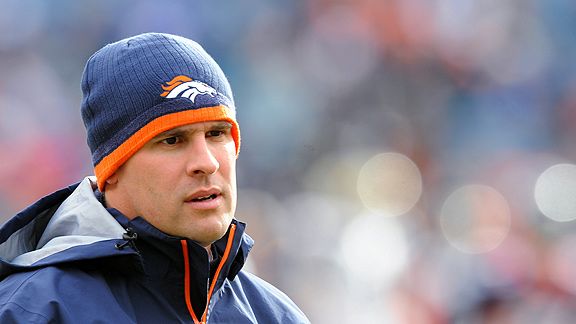 Ron Chenoy/US PresswireJosh McDaniels finished his two-year tenure in Denver with an 11-17 record.
Can you blame the
Denver Broncos
for firing Josh McDaniels?
Perhaps no NFL coach in recent memory has torn down a team as quickly as McDaniels, who was hired as a 32-year-old hotshot in January 2009 and fired less than 23 months later. He will forever be known as someone who clearly got too much too soon and was unwilling to do it any way but his own.
When McDaniels took over, the Broncos were on the doorstep of the playoffs and were a team that just needed some tinkering and refreshing after the 14-year Mike Shanahan era grew stale. McDaniels leaves Denver after 28 games with the franchise
in terrible shape
and without a true identity.
Broncos owner Pat Bowlen waffled on the coaching decision last week, but emphatically changed his mind 24 hours after his team was officially eliminated from playoff contention with a 3-9 record and a quarter of the season remaining. His decision answered the pleas from legions of Denver fans who have been calling for McDaniels' head since Oct. 17 -- when the Broncos lost by 45 points at home to Oakland.
The Broncos fired McDaniels before even deciding who would be the interim coach. This is not a similar situation to the recent head-coaching changes in Minnesota and Dallas. There is no legitimate spark to be made, no season to salvage. The Broncos are in the look-ahead mode and they are doing so without McDaniels.
There are, of course, two smoking guns in this situation: the recent videotape scandal and McDaniels' 5-17 record after starting his NFL head-coaching tenure with a 6-0 record.
The word around the franchise is that Bowlen and CEO Joe Ellis were very upset about the scandal. By not waiting until after the season to fire McDaniels, perhaps the Broncos can get out of paying McDaniels his salary for the final two years of his contract. That would certainly give Denver, which also has to pay Shanahan next year, a boost in hiring a replacement in January.
The NFL concluded that video director Steve Scarnecchia acted alone when he videotaped a San Francisco walk-through the day before the 49ers beat the Broncos in London on Oct. 31. The league had no proof McDaniels knew that Scarnecchia -- whom McDaniels knew when the two were in New England -- was planning to tape the practice. But McDaniels was still fined by the league for not disclosing the incident once he found out. That may be good enough reason for the team to prove it had cause to fire McDaniels.
The videotape incident was far from McDaniels' only issue. He made several questionable calls in his short Denver tenure that all played a role in the Broncos' demise.
McDaniels showed his feisty side less than two months into the job when he tried to get his backup quarterback in New England,
Matt Cassel
, in a trade that would have involved 25-year-old Pro Bowl quarterback
Jay Cutler
. McDaniels couldn't score Cassel, who ended up in Kansas City, and then feuded with Cutler before shipping the quarterback to Chicago. Cutler is probably heading to the playoffs with the Bears this season while McDaniels is heading to the unemployment line.
Other famous McDaniels gaffes include trading running back
Peyton Hillis
to Cleveland for No. 3 quarterback
Brady Quinn
and trading Denver's No. 1 pick in 2010 to take cornerback
Alphonso Smith
in the second round in 2009 -- only to give up on Smith this year.
McDaniels also parted ways with successful defensive coordinator Mike Nolan after one season and changed Shanahan's patented zone-blocking running scheme to a more traditional power scheme. Denver's run game has been at the bottom of the NFL nearly all season.
The Broncos went from one of the more attractive organizations in the NFL to one in total disarray. McDaniels will go down as one of the most reviled figures in Denver sports history.
The timing of his firing may have been a surprise, but in the end it was deserved.
November, 29, 2010
11/29/10
3:40
PM ET
There are two storylines in the AFC West that have caused many fans to ask me
via my mailbag
if there are hidden agendas at work.
The stories are the video scandal in Denver and
Vincent Jackson
's calf injury in San Diego.
Let's take a look:
Teams:
Denver-Kansas City
Background:
The Broncos and coach Josh McDaniels were
fined a combined $100,000
after the NFL determined that the team's video director, Steve Scarnecchia, filmed a San Francisco walk-through practice the day before the 49ers' win over the Broncos on Oct.31 in London. Scarnecchia was fired.
This is where Kansas City comes in. Many Chiefs fans have asked if the reason why Kansas City coach Todd Haley wouldn't shake hands with McDaniels after a 49-29 Denver win was because Haley suspected that the Broncos were cheating.
My take:
For all I've heard, Haley's displeasure stemmed the action on the field that day. If the Chiefs suspected foul play, I'm sure we could have heard by now.
But the point is, Denver put itself in this position by allowing this scandal to happen. Every time Denver wins from here on out, people will wonder if they had illegal help. Is it fair? Perhaps not, but neither is filming an opponent. So the Broncos are going to have to live with this type of speculation. By the way, check out
this tough talk
on McDaniels' involvement in the case, which has been closed by the NFL.
Team:
San Diego
Background:
Jackson left the Chargers' win at Indianapolis after two plays with a calf strain. It was Jackson's first game back after holding out. The only reason why he returned to the team was to accrue a season toward free agency. Many San Diego fans are wondering if Jackson is faking the injury, so he doesn't have to play for the team, but still get credited for the season.
My take:
I can see why people would think it because of the timing. But I just think its bad timing. This is another example of how players are prone to muscle pulls after long playoffs. I don't think Jackson would do this, anyway. He is a very competitive player who has a lot of pride.
Anyways, Jackson would likely pull a fake muscle during his past four weeks of practice if he really didn't want to play. Perhaps we'll find out differently, but I don't think there is any funny business going on.
November, 29, 2010
11/29/10
9:08
AM ET
The NFL's latest videotaping scandal has drawn out the
New England Patriots
, much to their annoyance.
As I wrote Saturday when the NFL announced it was punishing the
Denver Broncos
for filming a
San Francisco 49ers
walk-through prior to their game in London last month,
Spygate has re-emerged as a hot topic
.
Broncos head coach Josh McDaniels was the Patriots' quarterbacks coach and offensive coordinator under Bill Belichick when the Spygate story unfolded in 2007 and 2008.
Steve Scarnecchia, the Broncos videographer who was fired for shooting the 49ers walk-through, was on the Patriots' video staff from 2001 through 2004, when some of those infamous violations were committed. He's also the son of Patriots offensive line coach Dante Scarnecchia.
"Fox NFL Sunday" insider Jay Glazer reported McDaniels told his coaching staff in a Friday meeting that what the
Broncos did in London wasn't as bad as what the Patriots did
for years.
Glazer on McDaniels' description of what happened in New England: "That was practiced. That was coached. That was worked on."
The Broncos' transgression was a popular subject on Sunday's various NFL shows.
NBC Sports analyst Tony Dungy on McDaniels reportedly making the Patriots admission: "That is really a violation of honor code of coaches. You talk to your staff, 'Here's what we do at our place. We don't talk about what anybody else does. What happened in the past.' I don't think he should have talked about that."
Dungy on severity of Denver's violation compared to New England's: "If he's referring to videotaping, that's a completely different story than stealing signals. If you're videotaping walk-throughs, opponents' practices, that is really, really a serious allegation."
NBC Sports analyst and former Patriots safety Rodney Harrison on whether this scandal will dog the Patriots: "First of all, it won't be a distraction. This team is 9-2 and Belichick is a mastermind, absolutely a mastermind of keeping guys focused on the task at hand. In 2007 this similar situation happened to us, and as players we said 'Someone's attacking our coach. We're going to protect him.' We went out there, went 16-0, 18-1 overall, and we blew everybody out by 20, 25 points."
Harrison on McDaniels talking about Patriots practices: "Josh is a good guy, and I felt like he was a loyal guy. He was a guy that Bill Belichick gave an opportunity to, and it really surprised me that he would come out and say something like this."
CBS Sports analyst Bill Cowher: "As far as the punishment, no, it's not enough. The precedent was set when the New England Patriots were fined, Bill Belichick himself over $100,000, and draft picks should be taken away. I know they say [Steve Scarnecchia] acted independently. I don't agree with that because I think in every room, in every building, the dynamics, you always have to answer to a superior. I have a hard time believing this was done independently. It was not heavily fined enough. Draft picks should have been taken away."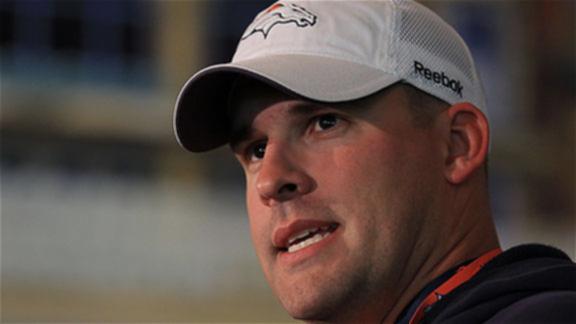 November, 28, 2010
11/28/10
8:34
PM ET
A look at a
Denver Broncos
team
in disarray
:


What it means
: The Broncos are playing out the string. They are 3-8 and are going nowhere fast. This looks like a team without an identity and without an easy solution.
Tomorrow's talker:
Josh McDaniels' life just got more difficult. His team is 5-16 since it started last season, 6-0. His latest loss came a day after it was revealed that the Broncos and McDaniels were fined a combined $100,000 after the NFL determined that video director Steve Scarnecchia filmed a San Francisco walk-through in London a day before the 49ers beat Denver. The league determined that Scarnecchia acted alone and that McDaniels didn't watch the film, but he wasn't initially forthright about it. The issues are piling up for McDaniels. Losing at home to a team coached by a runner-up for the job he got -- Steve Spagnuolo -- won't take the heat off of McDaniels, whose program appears to be a complete mess. The Broncos were never in this type of shape as a program in the 14 years of the Mike Shanahan era that preceded this regime.
Trending:
Denver quarterback
Kyle Orton
continued his ridiculous season. He threw for 347 yards and three touchdown passes. Orton has thrown for 3,370 yards this season. Orton is a true bright spot.
What's next:
The Broncos go to Kansas City. The Chiefs will be looking for redemption and looking by 20 points at Denver two weeks ago. McDaniels upset Kansas City coach Todd Haley who did not shake McDaniels' hand after the game. Haley apologized for his actions the next day.
November, 27, 2010
11/27/10
9:10
PM ET
The news that Denver's video director, Steve Scarnecchia,
filmed a San Francisco walkthough practice in London before the 49ers beat Denver on Oct. 31
will stain Denver's reputation for a long time.
But the NFL acted swiftly to allow the team and coach Josh McDaniels to move forward. It's now up to him to straighten out his team, a program that is on the brink of being in disarray in his second season.
The team and McDaniels were fined a combined $100,000 and Scarnecchia was fired. McDaniels was fined because he didn't immediately report the infraction. The league ruled that Scarnecchia acted alone and that McDaniels wasn't part of the plan to film San Francisco's workout.
The league has left the possibility for further discipline if new evidence comes to light. Rest assured, the league will be on alert. This incident shows that Spygate still lives, and I'm sure commissioner Roger Goodell is steaming mad that it does. The league thought it moved on from that form of high-level cheating.
But for now, the matter is closed. Denver will not lose any draft picks. New England was fined $750,000 and lost a first-round pick for its "SpyGate"escapade in 2007. McDaniels was part of New England's staff at the time.
And that's what will linger in Denver. This was not McDaniels' doing, but it came on his watch and it falls on him. People in Denver have started becoming skeptical of McDaniels' abilities because of some of his personnel decisions and for numerous issues with players. He has also lost 15 of his past 20 games and the Broncos are 3-7 heading into Sunday's home game against St. Louis.
For McDaniels to have to meet the media a day before a game about a matter like this puts the entire organization in a poor light. This is a new black eye.
But clearly, the Broncos are still behind McDaniels. Asked Saturday if there was cause for termination, Denver CEO Joe Ellis said this: "It is not, no. The discipline has been handed down appropriately in our mind and in the mind of the owner. We've gone through it with the league, with the coach himself. He's admitted his mistake. He's paying for his mistake. He needs to move on and finish the season. Hopefully we have some success on the field."
McDaniels apparently has a clean slate. He has to do everything he can to keep it as clean as possible or the Broncos will eventually have no choice but look for a new direction in leadership.
November, 27, 2010
11/27/10
5:36
PM ET
So, the
San Francisco 49ers
were
unwitting victims
of a Spygate-style taping scheme before their recent London game against the
Denver Broncos
.
My thoughts:
Steve Scarnecchia, the person responsible for the illicit taping earlier this month, worked for New England when the Patriots allegedly taped St. Louis Rams practices before Super Bowl XXXVI in 2002. As a result, I'm more comfortable removing the word "allegedly" from the previous sentence. The Patriots employed cheaters. Scarnecchia's father, Dante, still works for the Patriots.
The fact that a former Patriots employee would confess to spearheading similar efforts for the Broncos even after the massive Spygate fallout reveals a level of arrogance bordering on unfathomable. The NCAA phrase "lack of institutional control" comes to mind. Why would the Broncos hire Steve Scarnecchia in the first place if another Spygate-style scandal were even remotely possible?
Josh McDaniels' run as Broncos coach was already unfortunate on numerous fronts even though Jay Cutler and Brandon Marshall weren't blameless in their handling of events leading to their departures. I mean, what would the team's McDaniels-led leadership do differently if their primary job were to embarrass team owner Pat Bowlen? This videotaping fiasco leaves Bowlen with even more egg on his face.
I realize NFC West teams can be intimidating -- wink, wink -- but what's so special about their walk-through practices? I'm sure a sharp coach could pick up some helpful information, but at what cost? Again, the level of arrogance astounds.
McDaniels said he never watched the illicitly taped walk-through practice. We should not automatically trust him. The 49ers won the game, so the competitive-advantage angle isn't relevant. The Broncos are fortunate on that front. Any concerns the Rams might have had stemming from Spygate seem more credible following this repeat performance.
Niners coach Mike Singletary declined to discuss the incident when speaking with reporters following practice Saturday. He said he learned of the situation only Saturday and had not yet heard from McDaniels. The team issued a statement declining comment.
November, 27, 2010
11/27/10
3:07
PM ET
The
Denver Broncos
and head coach Josh McDaniels were fined $100,000 combined for
violating the NFL's policy on improperly videotaping an opponent
.
Broncos video operation director Steve Scarnecchia filmed a
San Francisco 49ers
walkthrough before their Week 8 game in London. McDaniels claimed he refused to watch the tape, but he and the Broncos were punished for failing to disclose the violation. The Broncos fired Scarnecchia.
The
New England Patriots
weren't directly involved in this particular case. But the incident picks at the most noticeable wart on the Patriots' recent legacy.
I've repeatedly dismissed the impact the
Patriots' video violations had on their dominance
, but that's not going to stop the renewed criticisms from a scandal that engulfed them in 2007 and 2008.
You need only read the comment sections on this blog to see how much rival fans love to play the cheater card. The fact that McDaniels and Scarnecchia cut their NFL teeth under Patriots head coach Bill Belichick won't go unnoticed.
The NFL stripped the Patriots of their 2008 first-round draft pick, fined Belichick $500,000 and fined the team $250,000 for illicitly videotaping defensive hand signals.
At the time, McDaniels was the Patriots' offensive coordinator.
Scarnecchia, the only son of Patriots offensive line coach Dante Scarnecchia, was on the Patriots' staff from 2001 through 2004, when some of the violations were committed. But Steve Scarnecchia had moved to the
New York Jets
with Eric Mangini when the NFL handed down its sanctions.
NFL SCOREBOARD
Thursday, 12/5
Sunday, 12/8
Monday, 12/9
WEEKLY LEADERS