NFL Nation:

Steve Watterson
January, 16, 2014
Jan 16
8:11
AM ET
NASHVILLE, Tenn. -- The Titans' secondary was good last year, so defensive backs coach
Brett Maxie
should have been retained.
[+] Enlarge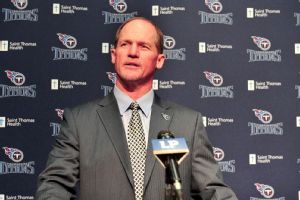 Frederick Breedon/Getty ImagesLet's give Ken Whisenhunt the benefit of the doubt before judging the moves he made regarding the Titans' coaching staff.
The Titans special teams were bad last year, so special teams coach Nate Kaczor and his assistant, Steve Hoffman, should not have been retained.
That's the popular thinking for at least a portion of Titans fans who are vocal on Twitter.
It's overly simplistic and incorrect.
I thought Maxie and assistant secondary coach Steve Brown did a good job last season.
Ken Whisenhunt kept Brown but let Maxie go.
Maybe he loved Maxie's work but has someone else in mind. Maybe he didn't like Maxie's work. Maybe a coaching colleague he trusts told him something about Maxie and something different about Brown. Maybe Ruston Webster gave him different reviews of the two. Maybe he's got a list of secondary coaches he covets and thinks a new guy working with a holdover will maximize the secondary's chances to do its best.
There are a number of factors that could have come into play. Whisenhunt's not going to spell them out for us.
The same is the case with regard to keeping Kaczor and Hoffman.
It's at least a partial endorsement of their work.
Tennessee's special teams were a problem last year, though things settled down when a quality returner,
Leon Washington
, fell into their lap late in the season.
But while those guys were heard, they weren't ultimately responsible for
Darius Reynaud
starting out as returner or
Devon Wylie
holding the job for a bit. Look higher up the Titans organizational chart for blame there -- to
Mike Munchak
and Webster.
As for silly, side-spinning, tee-less onside kicks ...
Perhaps Kaczor brought the idea to the table. But the head coach is the guy responsible for the team using it. Munchak, and any head coach, holds veto power and ultimate responsibility.
Whisenhunt is a smart coach who's respected around the league and arrives with six years as a head coach on his resume.
He's taken in some info and decided to keep the special teams assistants who were in place.
Rather than immediately call it a crazy move, how about we wait and see how they do given another chance?
---
The list of assistants and their fates, per Jim Wyatt of The Tennessean:
Retained:
Steve Watterson, assistant head coach/strength and conditioning; Steve Brown, assistant secondary coach; Sylvester Croom, running backs; Steve Hoffman, assistant special teams;
Shawn Jefferson
, wide receivers; Nate Kaczor, special teams.
Let go:
Dowell Loggains, offensive coordinator; George Henshaw, tight ends;
Bruce Matthews
, offensive line; Brett Maxie, secondary; Chet Parlavecchio, linebackers;
Dave Ragone
, quarterbacks; Tracy Rocker, defensive line.
Contract not renewed:
Jerry Gray
, defensive coordinator; Gregg Williams, senior assistant/defense;
Keith Millard
, pass rush.
TBA*:
Jonathan Gannon, defensive assistant/quality control; Arthur Smith, offensive line/tight end assistant.
* Wyatt says they are retained for now, but the new offensive coordinator will have a say in what direction the team goes.
August, 2, 2012
8/02/12
10:16
PM ET
NASHVILLE, Tenn. -- Notes and thoughts from the Titans Thursday night practice:
At his best, Jake Locker gives the Titans a big spark. But on a night like tonight, he came up far short of that -- hitting 1-of-10 or 11 passes in team periods with an interception to Jordan Babineaux, who wrestled a pass away from tight end Cameron Graham. The accuracy issue is alive and well. One miss was for a crossing Jared Cook on the left side in a ton of space near the line of scrimmage. He should be fielding an easy ball and turning upfield. Instead he was reaching for one that was beyond catchable. Locker did make one of the best throws of the night in a red zone period, but Nate Washington let a ball that was fit beautifully over his left shoulder bounce off his hands.
The other best ball was Matt Hasselbeck to Cook -- a looped throw up the right side that the tight end pulled in over defensive backs Christian Scott and linebacker Zach Brown.
Cook's looking, and sounding, confident. He stoned Akeem Ayers in a rush drill pitting tight ends against linebackers as Ayers tried to run through him and found solid resistance. (Though in a team period just a bit later, Kamerion Wimbley zipped inside Cook into the backfield and "sacked" Hasselbeck.) Later Cook was chirping at middle linebacker Colin McCarthy about how he was beating him.
Center Eugene Amano left the field after suffering a triceps injury. He either got his arm caught up in something or banged it, Mike Munchak said. Kevin Matthews was already out with concussion symptoms. The Titans were intending to get Fernando Velasco back in the center mix, so he moved there. Life in the NFL: Amano was still down and in pain, being tended to by trainers, when the Titans simply moved 20 yards and resumed the team period the injury interrupted.
Receiver Kenny Britt looked to be running comfortably in rehab work on the side under the watch of strength and conditioning coach Steve Watterson. Britt ran straight, in figure eights and laterally, appearing smooth and unbothered.
Recently signed rookie receiver Kendall Wright was not allowed to participate in any contact and the Titans reminded everyone. He ran some early routes, then watched. He was in a red jersey like the quarterbacks. He won't be a full go until Saturday.
November, 26, 2010
11/26/10
3:43
PM ET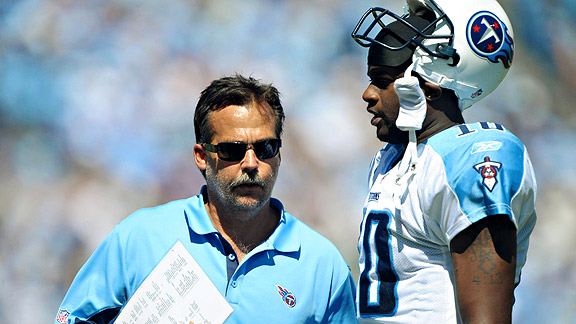 Kirby Lee/US PresswireFor Bud Adams, the choice won't be as simple as picking Vince Young or Jeff Fisher.
NASHVILLE, Tenn. -- The
Vince Young
-Jeff Fisher showdown and its spillover has many observers thinking Bud Adams will ultimately have to choose one or the other.
But the math in the equation is off, and this is not a simple, one-against-one situation.
If the love-struck Adams chooses his favorite quarterback, he's not only going to lose Fisher,
he's going to lose all, or most, of Fisher's staff
.
While Adams would be making a poor choice, even he'd have to admit that Young at his best isn't going to do much to offset the loss of some excellent assistant coaches.
All but one Titans assistant coach is working with an expiring contract, according to a Titans source. Fisher's contract runs through 2011.
In a typical scenario, Fisher would get an extension and then line up his assistants with deals of the same length.
"We are in the process of extending contracts for the entire staff," Fisher said after practice Friday. "I don't comment on negotiations other than to say we're in the process."
But there has been no word on any talks about a new deal for Fisher, and now it's a safe bet there will not be one before the Young issues are resolved. If they come to fruition, those staff extensions could be for only one season.
And the uncertain labor situation gives Adams the potential to hold off on anything new until after things are settled between the league and the players, in case he has to withstand a lockout.
Whenever it comes around, the staff issue is more significant now given the battle between Fisher and Young and Adams' comments to The Tennessean saying he expects the two to find a way
to co-exist
next season.
I think we're past the point where that's a possibility and Adams is going to have to make a choice. Hopefully it's a well-reasoned one.
[+] Enlarge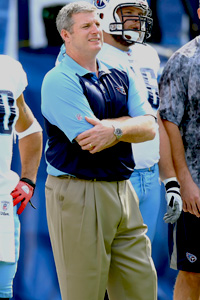 AP Photo/Kevin TerrellThe Titans' solid pass protection and good run blocking are due to efforts by coach Mike Munchak.
Pick Young, and you probably sacrifice
Mike Munchak
.
Munchak is one of eight members of the Houston Oilers/
Tennessee Titans
franchise in the Pro Football Hall of Fame. He's a steady teacher who recognizes talent and has consistently groomed quality guys. The Titans have regularly had good pass protection and solid run blocking in large part because of Munchak's exhaustive work.
Pick Young, and you probably sacrifice Jim Washburn.
The Titans' defense is tied for second in the NFL with 30 sacks. They've come from players Washburn has rebuilt such as
Jason Babin
,
Dave Ball
and
Tony Brown
or guys he encouraged the front office to draft, such as
Jason Jones
. A large number of franchises in the league would love to add a high-energy defensive line coach who can get production from such reclamation projects and draft picks.
Those two are key coaches on a staff that's widely regarded around the league as one of the best. A staff Fisher has been able to shape and hold onto because of his stability and the loyalty he shows -- occasionally to a fault.
His staff also includes offensive coordinator Mike Heimerdinger, who has been mentioned as a candidate for head-coaching jobs and once interviewed with San Francisco for its top post; defensive coordinator Chuck Cecil; veteran linebackers coach Dave McGinnis, who has been head coach of two teams; defensive backs coach Marcus Robertson, who had an excellent career as a safety for the franchise; special teams coach Alan Lowry, who scripted the Music City Miracle; strength and conditioning coach Steve Watterson; receivers coach Fred Graves; tight ends coach John Zernhelt; running backs coach Craig Johnson; and quarterback coach Dowell Loggains.
They are not all irreplaceable superstars, of course. And with expiring contracts, some of them could be moving on even if Fisher is firmly in place.
Washburn is a Nashville fixture who appreciates the second-chance Fisher gave him in 1999. But if he becomes a coaching free agent, perhaps a team with a bad defensive line would make him an offer too good to refuse.
Still, the chances he stays in Tennessee are far higher if Fisher is in the big office. I'd be willing to bet the same would be true for all the assistants.
If Adams chooses to stick with Young and Fisher negotiates out of his contract, or if another team strikes a deal to give the Titans picks to get Fisher out of his last year, I predict all the assistants would be totally turned off by Adams' choice.
Some might have to stay if they could to ensure themselves of a job. But given any sort of choice, I believe they'd be unlikely to sign new deals with Tennessee to work under Fisher' replacement.
More likely, these assistants would rejoin Fisher with a new team if he is able to move on for 2011. If not, they would find jobs elsewhere. The older guys might ponder retirement or take a year off with assurances from Fisher that they'd have a job with him once he re-enters the league.
The top in-house candidate to replace Fisher with the Titans would have to be Heimerdinger, and I believe his loyalty to Fisher would mean he wouldn't even allow his representative to talk to Adams about the post.
Even Fisher's harshest critics have to appreciate assistants like Munchak and Washburn and acknowledge they'd be difficult to replace. (You can make a case against Fisher, sure. But in a head-to-head against Young there is no way not to choose the coach.)
If Adams makes his move against Fisher, Fisher could have solidarity from his staff of 16.
If Young is the one shown the door, he'd be walking through it alone.
March, 18, 2010
3/18/10
1:54
PM ET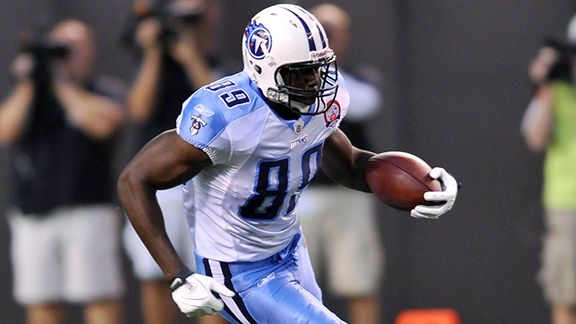 AP Photo/David RichardBecoming more consistent is important for Jared Cook if the tight end plans on being more involved in the Tennessee Titans' offense.
If there is a bigger X factor on offense in the AFC South for 2010 than Titans tight end
Jared Cook
, I'm not sure who he'd be.
As a rookie, Cook dazzled us with his post-draft, training camp and preseason work. His height, speed and athleticism made him look to be an impossible matchup as a route runner. He looked like he would plug in and be the team's second most dynamic offensive weapon, behind only
Chris Johnson
.
Then he suffered an ankle sprain and disappeared. Tennessee got nine catches for 74 yards out of him in 14 games, and the word out of team headquarters was his confidence plummeted and he did nothing to force the Titans to get him on the field.
"He needs to become much more consistent week to week if he's going to play for us," offensive coordinator Mike Heimerdinger said this week. "He has to be more consistent in everything before he can play."
And how much do you need to know what a consistent Jared Cook can bring?
"Oh, a tremendous amount," Heimerdinger said. "Hell, I don't even know who our team is besides C.J."
It's unsurprising that a gruff coach like Heimerdinger would be unenthusiastic about his group in March as he prepares to prod them into improving and sets about refining the schemes in which people are deployed.
But Cook has the potential to make Heimerdinger a happier man. He also has the potential to make the Titans look bad. They traded their second-round pick this season, No. 48 overall, to New England in order to snare Cook with an extra third-rounder, No. 89, last year.
And Tennessee has a lot of needs, so a lot of people, Cook included, will be acutely conscious of how the trade will ultimately measure out. Some want to jump the gun and judge Cook a failure after one season, but it's far too early for such conclusions.
"I'm aware," Cook said. "I know I just have to do what I do best. Definitely it's a chip on my shoulder, so as long as I put in hard work, everything is going to be all right."
March, 19, 2009
3/19/09
7:45
AM ET
Posted by ESPN.com's Paul Kuharsky
Michael Lombardi asks fives questions about each team in the AFC South.
Houston Texans
Nothing Thursday morning.
Indianapolis Colts
In an ongoing position-by-position series, Colts.com talks to Jim Caldwell about the team's wide receivers.
Jacksonville Jaguars
Cole Pepper picked for the Jaguars in a mock draft on "First Take."
Tennessee Titans
Strength and conditioning coach Steve Watterson talks with Gary Estwick about the Titans' offseason program. Watterson said LenDale White is 20 pounds lighter than he was at this point last year.
Free-agent corner Donald Strickland visited the Titans Wednesday, when they signed return man/ receiver Mark Jones, reports Terry McCormick.
December, 4, 2008
12/04/08
10:43
AM ET
Posted by ESPN.com's Paul Kuharsky
NASHVILLE, Tenn. -- He's a good listener who doesn't talk back. He's reliable and steady. He's always good for a laugh.
He probably ranks as the offensive linemen's favorite teammate.

So popular is Bryan Pride, his offensive linemates got a special nameplate installed above his locker. They track his weight gains like proud parents. They sometimes put a "Monday Night Football" hat on him and drape a towel around his midsection when reporters visit the locker room.

| | |
| --- | --- |
| | |
| | Paul Kuharsky/ESPN.com |
| | He started as an empty Gatorade bottle wrapped in tape. Bryan Pride has grown into a running joke for the Titans' offensive line, complete with his own locker stall and a name plate. |
It's not a bad life for a giant ball of tape the position group has been nurturing for months, a symbol on a larger scale of the light-hearted mood and style of the team with the AFC's best record. The defensive line has
Dave Ball
, the offensive line has Pride.
This morning he weighed in with the rest of the fellas, and he's up to 122.4 pounds. He's on the last line of the official report strength and conditioning coach Steve Watterson passes on to general manager Mike Reinfeldt and coach Jeff Fisher.
"So far, he's been a model guy for the locker room," Watterson said. "He's there, he's steady. It's amazing. I don't know that he sleeps at all. He's there before the first guy gets there, and I swear to you, sometimes I've been here late, 11, 11:30 at night, and he's still here. He's dedicated. I don't think he has much of a life outside of here."
That doesn't mean the Titans don't have to monitor him closely.
"If you don't keep him on track and keep him balanced, he will drift away," Watterson said. "If he gets on a slippery slope, you're in trouble."
Pride started as a time-killer for reserve lineman Daniel Loper, who wound athletic tape around a Gatorade bottle. He took the shape of a football or rugby ball, and the group would toss him around.
"He was very oval shaped and football like," Loper said. "And we were throwing him around to people. It was fun when he was like six or seven pounds. Once he got to 20, it stopped being fun and we quit doing it."
The name is homage to Jacob Bell, the guard who jumped to St. Louis as a free agent who called everybody Bryan. Loper said it was left tackle Michael Roos who had the ingenious idea of making Pride round. Someone found an old Christmas tree stand, sat him on it in front of an empty locker and an imaginary teammate, an honorary mascot and running joke was born.

NFL SCOREBOARD
Thursday, 9/18
Sunday, 9/21
Monday, 9/22
WEEKLY LEADERS