January, 20, 2012
1/20/12
8:05
PM ET
NFL.com is reporting
that the
Indianapolis Colts
want to interview former Minnesota coach Brad Childress for their head-coaching opening. Here's another name the Colts should consider: Hue Jackson.
If Childress is on the Colts' list, Jackson – who was fired last week after one year at the helm in Oakland – should be, too.
Jackson wasn't fired in Oakland because he can't coach. I think Jackson, 46, is one of the bright, young offensive coaching minds in the league. His work with Oakland's offense the past two years shows how capable a coach he is.
His problem in Oakland was that he took on too much power after the death of owner Al Davis — and that he talked too much. But those are issues he can quickly resolve. The Colts have a strong power structure in which Jackson would simply be asked to coach. And whether the Colts' quarterback in 2012 is
Andrew Luck
or
Peyton Manning
, Jackson would be a good leader for either.
Jackson is a candidate to be the offensive coordinator in St. Louis. If he gets that job and the Rams offense rebounds in 2012, Jackson will likely be a hot head-coaching candidate next year. Still, if the Colts are looking at a retread like Childress, they might as well take a gander at Jackson, who'd still be the head coach in Oakland under the right circumstances.
In other AFC West news:
The San Diego Union Tribune is reporting
that former Carolina secondary coach Ron Meeks has been offered the Chargers' secondary coaching job and he is expected to decide by the end of the weekend. Meeks would replace Steve Wilks — who went to Carolina to work for former Chargers defensive coordinator Ron Rivera, who is now Carolina's head coach.
The Raiders denied a report
that new Oakland general manager Reggie McKenzie has hired former Raider Sean Jones as assistant general manager. The team's search for a new head coach continues, meanwhile; Eagles offensive coordinator Marty Mornhinweg was
reportedly set to interview Friday
.
The new coach in Miami could further increase the chances
of Dolphins offensive coordinator Brian Daboll ending up in that role with Kansas City. Daboll worked in New England with new Chiefs coach Romeo Crennel.
January, 5, 2012
1/05/12
1:58
PM ET
There will be change in San Diego after all.
Two days after San Diego ownership made the controversial decision to keep coach Norv Turner and general manager A.J. Smith, the team fired defensive coordinator Greg Manusky after one season,
according to the San Diego Union-Tribune
. There will likely be other tweaking on the staff.
[+] Enlarge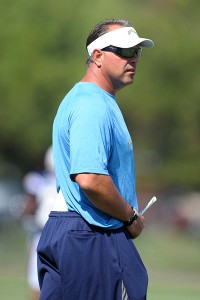 Kirby Lee/Image of Sport-US PresswireGreg Manusky lasted just one season as defensive coordinator in San Diego.
This is no surprise.
It had long been thought that if Turner did survive, Manusky wouldn't. In San Diego, the hiring of Manusky was considered the biggest mistake the team made in 2011 along with allowing running back Darren Sproles to leave and go to New Orleans as a free agent.
Manusky's defense never caught fire. Last year, the Chargers were the No. 1 ranked defense in the NFL under coordinator Ron Rivera., who left to become the head coach in Carolina. However, San Diego's defense fell to 16th under Manusky.
Manusky, a former San Diego linebackers coach, promised an aggressive defense, but it never developed.
The San Diego Union-Tribune reports
linebackers coach John Pagano is a favorite to replace Manusky. Pagano reportedly was in line to become the defensive coordinator at UCLA. This opportunity would very likely sway that decision.
Another name to keep an eye on is secondary coach Steve Wilks. He is a player favorite who has drawn comparison to Rivera for his style. Wilks was brought to San Diego by Rivera.
Expect San Diego to stick with the 3-4 defense. The next defensive coordinator will be Turner's fourth in his six seasons in San Diego. Ted Cottrell was fired midway through the 2008 season.
Whoever the new coordinator will be, improvements will be needed in San Diego. The Chargers need some pass-rushing linebackers, a starting safety and backups at cornerback. Expect improving the defense to be a focal point of the offseason. The move Thursday was just the first step.
Meanwhile, there will likely be three new defensive coordinators in the AFC West. Oakland is expected to fire Chuck Bresnahan. A new defensive coordinator will be brought into Kansas City regardless of whether Romeo Crennel is given the head-coaching job.
April, 1, 2010
4/01/10
1:00
PM ET
»
NFC Stock Watch
:
East
|
West
|
North
|
South
»
AFC
:
East
|
West
|
North
|
South
Falling

Greener pastures.
Chicago released cornerback
Nathan Vasher
after three consecutive sub-par seasons. No team wanted to see him rebound more than the Bears, who gave him a $28 million contract extension before the first of those three seasons. But Vasher never regained his 2006 form and the Bears finally gave up on him. It didn't take long, however, for another team to grow convinced things would be different with them. That team was San Diego, which boasts two of Vasher's former coaches on its staff. Chargers defensive coordinator Ron Rivera and secondary coach Steve Wilks each held similar positions with the Bears. The Chargers have minimal risk in the investment, but you wonder if they actually watched the film of Vasher's play over the past three years. Rivera and Wilks are good coaches, but as they say, the eye in the sky doesn't lie.
Rising

Jim Schwartz, Detroit head coach:
As he enters his second year with the Lions, Schwartz knows the healthy thing to do would be to
lower his blood pressure
a bit during games. The Lions have a long way to go and are going to present him plenty of temper-inducing moments in the short term. But to his credit, Schwartz realizes that's easier said than done. The worst thing he could do is begin accepting below-standard play. Schwartz said he will calm down once the team gets "the way we need [it] to be." That should be a good thing for the Lions and their fans.
January, 20, 2009
1/20/09
1:19
PM ET
Posted by ESPN.com's Bill Williamson
Denver

My take: Denver owner Pat Bowlen is a fair man and it is no surprise that McDaniels was given a competitive contract. The word is that McDaniels had long had the attention of Denver's owner, and after the interview process Bowlen was certain that McDaniels was the man to lead his team in the future. So, clearly McDaniels was going to be paid well to become the next head coach in Denver.
Kansas City

My take: It's been 23 days since the season ended and Chiefs head coach Herm Edwards and his assistants -- those who haven't taken other jobs -- are still in limbo. It is expected to change at any time. New general manager Scott Pioli has been mulling the situation for a week. He is expected to make a decision soon.
Oakland

My take: This situation is as intriguing as what is going on in Kansas City. While Edwards is in limbo, the Raiders are currently the only team without a head coach. Yet, assistants are being hired. Only in Oakland.
San Diego
My take: Steve Wilks' hiring shows that defensive coordinator Ron Rivera has some juice on this staff. And he should. It looks like Rivera will be back as the team's defensive coordinator. He did a stellar job in the second half of the season after taking over. Now that he is getting his own coaches in, Rivera should be even more effective.

January, 20, 2009
1/20/09
7:53
AM ET
Posted by ESPN.com's Kevin Seifert
Minnesota defensive coordinator Leslie Frazier made some oblique references Monday when asked about his experience interviewing for Detroit's head coaching job. You don't have to read too far between the lines to surmise that Frazier thought the Lions were much further away from competing than the Lions' front office does.
Here's what Frazier said to the Detroit Free Press and the Detroit News while attending the Senior Bowl in Mobile, Ala.:
"I can tell you this, we had a difference of opinion in how we saw the current Lions and going forward. That was probably the biggest thing in my interview. We had a different perception. I'd rather not get into [the specifics]. But we had different perceptions of where to go and the length of time to get there. We were really far apart in that."
I suppose reasonable people can debate the state of the Lions' roster. But from the outside, this is one of the top fears of elevating team president Tom Lewand and general manager Martin Mayhew. By human nature, they are looking to salvage whatever they can from the work they have already put into the team rather than simply starting anew. Time will tell if that is the most prudent tack.
Continuing around the NFC North:
January, 6, 2009
1/06/09
1:00
PM ET
Posted by ESPN.com's Kevin Seifert
Six coaches are out in Green Bay, including the defensive coordinator. The Chicago Bears have paraded a long-time coaching friend through their facility. The Lions are looking for someone to lift them from the NFL's defensive dungeon. Minnesota will be searching for its eighth new coordinator in 11 years if their current defensive leader moves on.
It's clear that we Black and Bluers are in for a defensive overhaul in 2009. The Packers and Lions will each have new defensive coordinators, and possibly new schemes as well. The Bears desperately want former Lions coach Rod Marinelli to join their defensive staff as a trusted advisor, possibly as their new coordinator. And the Vikings could lose defensive coordinator Leslie Frazier, who will interview for at least two head coaching jobs this week.
Altering the makeup of a coaching staff is an annual rite of the NFL offseason, but this year's intensity is unusual for one division -- especially when only one team has fired its head coach. But 2008 was an especially dreary year for three of your NFC North defenses, and so it's not surprising to learn that no one is standing pat.
NFL SCOREBOARD
Thursday, 9/4
Sunday, 9/7
Monday, 9/8