NFL Nation:

Stock Watch 2010 Week 1 AFC
September, 15, 2010
9/15/10
12:06
PM ET
»
NFC Stock Watch
:
East
|
West
|
North
|
South
»
AFC
:
East
|
West
|
North
|
South
FALLING
Oakland's offensive line:
We didn't have very high expectations for this unit going into the season. Expectations have dropped dramatically after Week 1. The line was atrocious in a 38-13 loss at Tennessee. The unit gave new Oakland quarterback
Jason Campbell
very little time and Campbell was sacked four times. He lost a fumble on one of the sacks. From the second quarter on, all Campbell was doing was checking down and finding receivers for very short pass plays. Oakland could never get the deep passing game going. The Raiders will continue to struggle on offense until the offensive line improves its protection.
San Diego's offense:
The Chargers' offense was expected to be much more in sync than it was in it 14-point performance. Many of San Diego's problems were caused by terrible weather, but that is no excuse. A lot of people will pin this poor effort on the holdouts, receiver
Vincent Jackson
and left tackle
Marcus McNeill
. There are numbers to support that Rivers missed Jackson. According to ESPN Stats & Information, Rivers completed five of 15 pass attempts for just 60 yards in three-receiver sets. Jackson's absence did affect San Diego when the primary target, tight end
Antonio Gates
, was being double-teamed. It's something San Diego must adjust to playing with because Jackson isn't coming back any time soon.
Denver's pass defense:
The Broncos were third in the NFL against the pass last year. However, they allowed Jacksonville quarterback
David Garrard
to throw three touchdowns in a 24-17 Jaguars' win on Sunday. Overall, the pass unit wasn't bad against Jacksonville. But the three touchdown passes were a killer. With a date with
Peyton Manning
and Indianapolis looming in Week 3, Denver has to fix this issue.
RISING
The Kansas City Chiefs:
Yep, the whole dang team is rising. You have to give Kansas City credit. After winning a combined 10 games in the past three seasons, Kansas City looked revived in a 21-14 win over four-time defending AFC West champion San Diego.
The Chiefs played hard on both sides of the ball, made big plays and were much improved on defense. This is suddenly a team to watch.
[+] Enlarge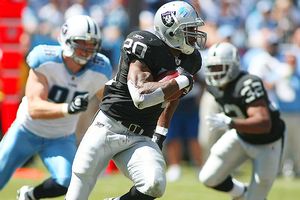 Greg McWilliams/Icon SMIOn Sunday against the Titans, running back Darren McFadden was the weapon the Raiders were hoping for when they drafted him in 2008.
Darren McFadden, Oakland running back:
He was one of the few bright spots for Oakland in its blowout loss at Tennessee. McFadden ran hard and looked like the player Oakland drafted him to be with the No. 4 overall pick in 2008. McFadden consistently broke tackles and showed great burst. He had 95 yards rushing and 55 yards receiving. He showed he can be a weapon for Oakland.
Glenn Dorsey, defensive lineman, Kansas City:
Dorsey was taken one pick after McFadden in 2008. Like McFadden, Dorsey was mostly disappointing in his first two NFL seasons. However, like McFadden, Dorsey was terrific in Week 1. It was his best NFL game. In the summer, Dorsey said he was finally comfortable playing in a 3-4 defense after adjusting last season. Dorsey sure looked comfortable Monday night. He was all over the field. Dorsey had six tackles and one-half of a sack. He also put heat on quarterback
Philip Rivers
on San Diego's final play of the game, a poor pass from Rivers on fourth-and-goal from the 6 with 39 seconds to go.
September, 15, 2010
9/15/10
10:41
AM ET
»
NFC Stock Watch
:
East
|
West
|
North
|
South
»
AFC
:
East
|
West
|
North
|
South
FALLING
The Colts defensive front:
This was a disorganized and ineffective group, giving up 8.3 yards a carry to Foster after halftime in Houston. The Colts have recovered from or survived bad run defense before. But with the backs they face the rest of the year, they'll have to fare far better.
Jim Caldwell's decisions on when to punt:
Since
Adam Vinatieri
doesn't have a booming leg means long-range field goals aren't going to be an option. But when Caldwell calls for punts from the Houston 38-yard line in the first half and the Houston 34 in the second half and winds up with touchbacks both times, the Colts net 18 and 14 yards in field position.
Justin Tryon
botched chances to down both. But the risk/reward made terrible trade-offs possible and the Colts got them.
Indianapolis receivers:
Pierre Garcon
had two drops.
Anthony Gonzalez
caught a ball while his heel was on the sideline stripe.
Austin Collie
fumbled, though it was the result of a heck of a hit. For the Colts' offense to max out, it needs mistake-free precision. Those three receivers threw off the pass offense's rhythm.
[+] Enlarge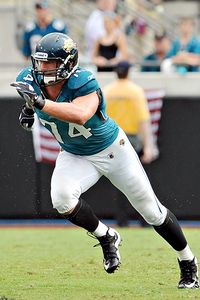 AP Photo/Stephen MortonAaron Kampman had 1.5 sacks in his first game with the Jaguars.
RISING
Arian Foster and Vonta Leach:
Let's not forget the fullback when we point to Foster's phenomenal opening-day performance. A good share of the time, Leach was leading the way and making impressive collisions.
Aaron Kampman and Owen Daniels:
Two guys who suffered torn ACLs in the middle of 2009 played in their season openers. Kampman had nine tackles, 1.5 sacks and six quarterback hits. Daniels had just one nine-yard catch, but was part of an outstanding blocking effort and played more than expected.
David Garrard and Vince Young:
Two quarterbacks under bright spotlights got off to excellent starts, making good decisions, good throws and producing efficiently in opening-day wins. The Jaguars and Titans, respectively, have to be quite pleased heading into Week 2. Tougher defenses await.
September, 15, 2010
9/15/10
10:00
AM ET
»
NFC Stock Watch
:
East
|
West
|
North
|
South
»
AFC
:
East
|
West
|
North
|
South
FALLING
1. Cleveland Browns:
I'm not sure how high Cleveland's stock was to begin the season, but it did take a hit with Sunday's loss to the
Tampa Bay Buccaneers
. This may have been the easiest game on the Browns' 2010 schedule, and they fumbled it away by blowing a 14-3 lead in the second quarter. The road doesn't get any easier. Cleveland's next game is against the
Kansas City Chiefs
(1-0), who upset the
San Diego Chargers
in Week 1.
[+] Enlarge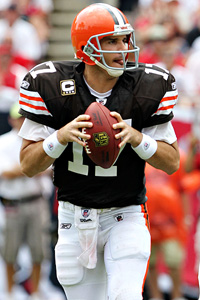 Kim Klement/US PresswireJake Delhomme threw two INTs and had a 59.2 quarterback rating against the Bucs.
2. Jake Delhomme, Browns quarterback:
There were plenty of questions coming in about Delhomme, who was coming off the worst season of his career with the
Carolina Panthers
. He did a good job this preseason of quieting some of those concerns by not turning over the football. But Delhomme's old habits came back in the regular season. He threw two costly interceptions that got the Buccaneers back in the game. It was Delhomme's sixth multi-interception game in the past year.
3. Cincinnati Bengals' defense:
I'm not going to overreact over one performance. But the Bengals' defense, which was No. 4 in the NFL last year, was manhandled by the
New England Patriots
. Cincinnati had no answer for Patriots quarterback
Tom Brady
and allowed 5.1 yards per rush. To be fair, 14 of New England's 38 points came on a defensive touchdown and on special teams. But Cincinnati's defense looked tentative and has to play better for this team to have a winning season.
RISING
1. Baltimore Ravens' defense:
There was plenty of chatter this offseason about whether the Ravens were turning into an offense-first team. But everyone got their answer Monday when
Baltimore's defense carried the Ravens
to a 10-9 victory over the
New York Jets
. Although the offense has plenty of talent and may eventually catch up, Baltimore's defense is already in midseason form. New York only mustered six first downs and 176 yards.
2. Lawrence Timmons, Pittsburgh Steelers linebacker:
The
Steelers' win was a team effort
with key contributions from a lot of players. But in my opinion, Timmons quietly had his best game as a Steeler. He recorded 11 tackles, which included three stops for losses and one pass defense. Timmons was extremely active and his timing and aggressiveness on the blitz are very good. If the season opener was any indication, the former first-round pick could be coming into his own in his fourth season.
3. Chad Ochocinco, Bengals receiver:
If you're a fantasy buff, you will be very happy with Ochocinco's performance. He had a monster game, recording 12 receptions for 159 yards and one touchdown. But Ochocinco's numbers didn't have much impact on the actual game. The Bengals trailed 31-3 in the second half before the offense started clicking in garbage time. Cincinnati's offense needs to show up for all four quarters Sunday against Baltimore.
September, 15, 2010
9/15/10
9:22
AM ET
»
NFC Stock Watch
:
East
|
West
|
North
|
South
»
AFC
:
East
|
West
|
North
|
South
FALLING
[+] Enlarge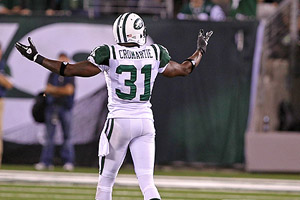 Ed Mulholland/US PresswireAntonio Cromartie was penalized four times for a total of 43 yards in New York's loss to Baltimore.
1. Antonio Cromartie, Jets cornerback:
The Ravens picked on Cromartie rather than test a cornerback who missed training camp and all four preseason games. And the Ravens were wildly successful in their strategy. Cromartie did make a tremendously athletic play to intercept
Joe Flacco
near the goal line and return it 66 yards. But Cromartie was caught cheating all night. He committed four penalties for 43 yards.
2. C.J. Spiller, Bills running back:
He was the most hyped-up rookie of the preseason because of highlight-reel touchdowns that made it look like the transition from Clemson to the NFL would be a snap. Not so fast. In a loss to the Dolphins in Ralph Wilson Stadium, Spiller had 11 offensive touches for 14 yards. He had one kickoff return for 11 yards.
3. Shonn Greene, Jets running back:
The supposed feature back in the Jets' ground-and-pound offense had a bad opener. On the second play of the game, he had a 9 yard reception that he fumbled out of bounds. He totaled five carries for 18 yards, all by the 4:09 mark of the second quarter. He fumbled away his last attempt and didn't get another touch until the fourth quarter.
Mark Sanchez
tossed an easy pass to Greene in the flat. Greene dropped it.
RISING
1. Wes Welker, Patriots receiver:
He's back to his old Welkerrific self.
Tom Brady
targeted his favorite receiver 11 times. Welker had eight receptions for 64 yards and two touchdowns, half of his last year's scoring total. Fans might hold their collective breath on a hard collision here or there in the next couple weeks, but I think we can stop worrying about Welker's rebuilt knee.
2. Dolphins' balanced offense:
Identifying a star from Sunday's low-octane victory over the Bills is difficult. Offensive coordinator Dan Henning won with remarkable equilibrium. They ran 36 times. They passed 34 times.
Ronnie Brown
rushed for 65 yards (and a touchdown).
Ricky Williams
ran for 62 yards.
Brandon Marshall
had eight catches for 53 yards.
Davone Bess
had six grabs for 51 yards. Quarterback
Chad Henne
also got tight end
Anthony Fasano
involved with three receptions, including a 21-yard strike to put the ball at the Buffalo 1.
3. Patrick Chung, Patriots safety:
The sophomore safety had a prolific afternoon in his second NFL start. He made 16 tackles, including one for a loss. Chung stepped in and staked his claim to the position ahead of veteran
James Sanders
, who started the final five games, including the postseason.
Brandon McGowan
started 11 games at free safety but was placed on injured reserve. Chung and strong safety
Brandon Meriweather
could form a rollicking duo on the back end.
NFL SCOREBOARD
Sunday, 2/2
WEEKLY LEADERS