NFL Nation:

Stock Watch 2010 Week 14
December, 15, 2010
12/15/10
1:18
PM ET
»
NFC Stock Watch
:
East
|
West
|
North
|
South
»
AFC
:
East
|
West
|
North
|
South
FALLING
[+] Enlarge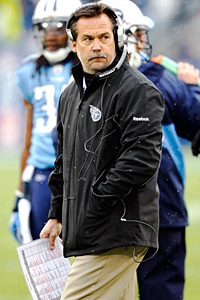 AP Photo/Paul SpinelliJeff Fisher failed to get Randy Moss and Kenny Britt involved against the Colts.
1. Jeff Fisher, Titans coach:
He spelled out his reasoning for a fourth-and-1 punt and an end-of-the-game scenario in which the Titans scored a touchdown on the last play but had no chance at the second score they needed. Still, expecting a second straight stop against the Colts' offense was overly confident. The
failure
to find a way to use both
Randy Moss
and
Kenny Britt
was atrocious.
2. The Texans' ability to finish:
For the fourth time in five weeks, the Texans came back from a 14-point deficit to tie or take the lead only to lose. That's never happened to a team before, so it's really impressive to do it in five weeks.
Matt Schaub
was spectacular in the rally against the Ravens. But Schaub simply cannot make the throw he made out of his own end zone that turned into the game-losing interception return by
Josh Wilson
.
3. Jacksonville's run defense:
They got away with one against Oakland, with
Darren McFadden
doing some major damage. Allowing 6.1 yards per carry in a crucial game is no game plan for victory, but they survived it. Now they head to Indianapolis, where the Colts' run game is unlikely to be an issue for them.
RISING
1. Gene Smith's case for executive of the year:
If the Jaguars win the division Sunday, it'll be hard to make a case against the team's second-year general manager. He's refreshed a roster and instilled a winning attitude. He's trimmed the fat and drafted well. His calm, steady approach sets a trickle-down tone.
2. Lead running backs:
Maurice Jones-Drew
,
Arian Foster
and
Chris Johnson
all got to 100 yards in their games (as did a riser from last week, MJD backup
Rashad Jennings
). I'm anti-fan voting for the Pro Bowl because it's a popularity contest. But the people are getting it right here, as the trio occupies three of the top five slots in AFC Pro Bowl voting, though they could order them better. Foster is a deserving first, with Johnson third and Jones-Drew fourth.
3. Jacksonville's run-blocking:
The Jaguars are rolling with the run and their offensive line has been getting great push with
Vince Manuwai
setting a tone. Also big factors: fullback
Greg Jones
and tight end
Marcedes Lewis
.
December, 15, 2010
12/15/10
1:00
PM ET
»
NFC Stock Watch
:
East
|
West
|
North
|
South
»
AFC
:
East
|
West
|
North
|
South
FALLING
1. Jake Delhomme, Cleveland Browns quarterback:
People in Cleveland have been asking this question all week: Why is Delhomme still the starting quarterback? Delhomme has struggled mightily this season and had two more turnovers (one interception, one fumble) in an ugly loss to the
Buffalo Bills
.
Seneca Wallace
is healthy and played better this season. Rookie
Colt McCoy
(ankle)
is getting healthier
and may also be available this week. With Browns coach Eric Mangini coaching for his job down the stretch, he needs to play the quarterback that gives Cleveland the best chance to win. Based on performance, that quarterback is not Delhomme.
2. Carson Palmer, Cincinnati Bengals quarterback:
Speaking of quarterbacks, the other Ohio quarterback isn't doing well, either. Palmer had his sixth multiple-interception game of the season in a 23-7 loss to the
Pittsburgh Steelers
. Two of his three picks were taken the other way for touchdowns. Palmer threw for 178 yards and had a 48.7 passer rating as his stock continues to plummet. Will the Bengals pay Palmer $11.5 million next season? It remains to be seen.
[+] Enlarge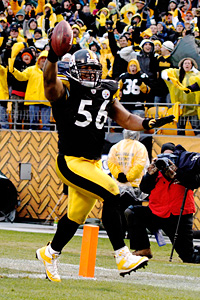 AP Photo/Keith SrakocicLaMarr Woodley returned an interception for a touchdown on Sunday -- one of two for the Steelers.
3. Baltimore Ravens in the fourth quarter:
Baltimore was a
Josh Wilson
interception away from an ugly collapse against the
Houston Texans
. The Ravens
blew a 21-point lead
to Houston and needed overtime to close out the game. It's hard to pinpoint where the biggest problem is. The offense is stalling in the fourth quarter, which constantly puts the defense on the field. But the defense also looked tired against Houston and has to make more plays. The Ravens will make the playoffs. But if they want to make a deep run, they have to figure out how to put opponents away in the fourth quarter.
RISING
1. Steelers' defense:
Pittsburgh is ranked No. 4 in total defense. But over the past month, no
team is more dominant
on that side of the football. The Steelers are allowing an average of just nine points per game over their past four and they are undefeated in that span. Safety
Troy Polamalu
has entered the NFL MVP conversation with a series of big plays in recent weeks. He combined with Pro Bowl linebacker
LaMarr Woodley
to score Pittsburgh's only touchdowns against Cincinnati. With the NFL shifting away from punishing hits this year, it's harder to play suffocating defense. But the Steelers appear to be finding their groove in time for the playoffs.
2. Derrick Mason, Ravens receiver:
Mason wasn't shy about ripping Baltimore's offense last week, calling it the "Bad News Bears." But Mason did something about it by going out and catching two big touchdowns in Baltimore's win over Houston. Mason had six receptions for 78 yards. Baltimore's offense still has things to work on. But two touchdown catches for Mason is good progress.
3. Hines Ward, Steelers receiver:
The 13-year veteran quietly had one of his best games of the year against the Bengals. Ward had a season-high eight receptions for 115 yards, which helped set up three field goals for the Steelers. Pittsburgh struggled to get into the end zone. So Ward didn't get a lot of credit for his solid performance. But the veteran proved that he still has it.
December, 15, 2010
12/15/10
1:00
PM ET
»
NFC Stock Watch
:
East
|
West
|
North
|
South
»
AFC
:
East
|
West
|
North
|
South
FALLING
[+] Enlarge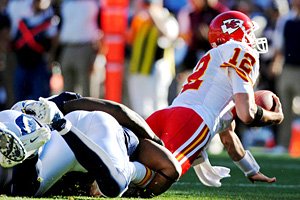 Christopher Hanewinckel/US PresswireBrodie Croyle, who had not played since December of 2009, completed 7 of 13 passes for 40 yards in Sunday's start.
1. Brodie Croyle's future:
Croyle had a chance to make himself some money on Sunday at San Diego. He failed to take advantage of it. The prospective free agent was awful as a replacement for
Matt Cassel
in a 31-0 loss to the Chargers. Croyle -- now 0-10 as an NFL starter -- completed 7 of 17 passes for 40 yards. According to ESPN Stats & Information, Croyle did not complete any of his eight pass attempts that traveled 10 or more yards. That type of performance will not attract interest from other teams in the offseason. It also has to make you wonder if the Chiefs will be interested in bringing him back.
2. Eric Studesville's future in Denver:
Studesville probably had to be perfect as Denver's interim coach to have any chance of keeping the job next season. The Broncos' 43-13 loss to the lowly Cardinals on Sunday will not help Studesville's cause to keep the job beyond the next three weeks.
3. Oakland's ability to finish:
The Raiders have to be kicking themselves after a 38-31 loss at Jacksonville. Oakland led 17-7 at halftime and watched the Jaguars score 31 points in the second half, including 21 points in the third quarter. It resulted in a loss that severely damaged Oakland's playoff hopes.
RISING
1. San Diego's run defense:
Now, that's the way to fix a problem. In Week 13, San Diego's top-ranked run defense was throttled by Oakland. The Raiders had 251 yards rushing in a 15-point San Diego loss. A week later, the Chargers held the Chiefs to 48 yards rushing and 67 yards of total offense in a shutout win. The Chiefs have the No. 1-ranked run offense in the NFL, but it was neutralized against the recharged San Diego defense.
2. Ryan Mathews, Chargers running back:
After not playing for a month because of a nagging ankle injury, the No. 12 overall pick in the April draft performed well against the Chiefs. Mathews had 65 yards and starter
Mike Tolbert
had 66. Mathews ran hard and showed his great strength on a touchdown run in which he kept himself from falling to the turf. Mathews has a lot of skills and, after a tough stretch, has proven he can help San Diego balance its offense.
3. Jason Campbell, Raiders quarterback:
Campbell made some critical mistakes in judgment at the end of the game, but overall, he had his best performance as a Raider in the loss to Jacksonville. This is a critical stretch for Campbell. If he can finish strong, Oakland probably will be comfortable enough with his play to keep him as its starter next season. If he falters, the Raiders will at the very least bring in some competition. Campbell seems to have benefited by not having to look over his shoulder for
Bruce Gradkowski
now that the backup is on injured reserve. If Campbell plays like he did against the Jaguars in the next few weeks, he probably will secure his immediate future with the Raiders.
December, 15, 2010
12/15/10
1:00
PM ET
By
Matt Mosley
| ESPN.com
»
NFC Stock Watch
:
East
|
West
|
North
|
South
»
AFC
:
East
|
West
|
North
|
South
FALLING
1. Hunter Smith, former Washington Redskins punter/holder:
This probably qualifies as dog-piling, but we should at least acknowledge Smith's time with the Skins. If the guy was leading the league in net average, maybe you stick with him after he botches the hold on an extra point attempt at the end of regulation. But that wasn't the case. Smith wasn't the only thing wrong with this team, but he still paid the price for his gaffe at the end of regulation.
2. Jon Kitna, Dallas Cowboys quarterback:
We've praised him while he has led a resurgence under interim coach Jason Garrett, but he didn't perform well against the
Philadelphia Eagles
on Sunday night. Kitna appeared to feel pressure when it wasn't there and he refused to work the ball down the field.
Roy Williams
and
Miles Austin
were nonfactors in this game, in part because Kitna was unloading the ball before they even broke out of their routes. He also threw two interceptions in a tight game.
3. Eli Manning, New York Giants quarterback:
I know his team won the game, but Manning threw two more interceptions. That's 19 on the season, which leads the league. And yes, I realize that
Drew Brees
has 18 interceptions, but he's not in our division so we're not breaking down
his
throws. Coach Tom Coughlin seemed to indicate Manning's second interception was the receiver's fault, but the quarterback still could've thrown the ball away. It's really surprising that he's being this careless with the football. Manning and his brother, Peyton, have combined for 34 interceptions this season. That seems like a large number with three games left on the schedule.
RISING
[+] Enlarge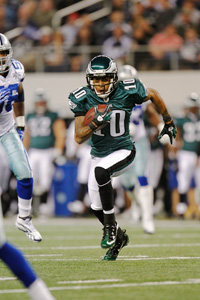 AP Photo/Brian GarfinkelDeSean Jackson was practically unstoppable against the Cowboys.
1. DeSean Jackson, Philadelphia Eagles wide receiver:
Someone pay the man. He averaged 52.5 yards on four catches and had a 91-yard touchdown that gave the Eagles a 27-20 lead in the fourth quarter. He may be the most dangerous offensive player in the league. And we'll even look past that backward plunge into the end zone for the purposes of Stock Watch.
2. Brandon Jacobs, New York Giants running back:
This looks like the player we remember from 2007. Jacobs is busting through the line of scrimmage and he has been energized by his return to the starting lineup. He and his good pal
Ahmad Bradshaw
have breathed life into the Giants' running game. And it's a good time of year for that to happen.
3. LeSean McCoy, Philadelphia Eagles running back:
When the Cowboys trimmed the deficit to 30-27 with more than four minutes left Sunday night, McCoy simply took over the game. We already know how elusive and quick he can be, but he showed off some power late in the game. Jackson might be the most exciting player on the team, but McCoy's the most efficient offensive player right now. He needs to touch the ball 20 times per game.
December, 15, 2010
12/15/10
11:25
AM ET
»
NFC Stock Watch
:
East
|
West
|
North
|
South
»
AFC
:
East
|
West
|
North
|
South
FALLING
1. Matt Hasselbeck, Seahawks QB.
Four INTs against San Francisco gave Hasselbeck eight picks in his last three games. The Seahawks probably wouldn't have beaten the 49ers even with a more efficient performance, but a little more regard for the football could have kept Seattle in the game. Another poor finish will not help Hasselbeck's long-term prospects, either. He has no contract for 2011.
2. Ted Ginn Jr., 49ers WR.
Ginn impressed during training camp by repeatedly making catches deep downfield. It hasn't translated to the regular season. Two dropped passes during a three-play stretch against Seattle killed one 49ers drive. Ginn gained 3 yards on his only punt return.
3. Seattle's tackling.
Coach Pete Carroll initially tried to blame poor footing at Candlestick Park as a factor contributing to the Seahawks' consistently horrendous tackling Sunday. That was a stretch.
Lawyer Milloy
bounced off
Vernon Davis
.
Marcus Trufant
missed
Josh Morgan
, allowing a touchdown.
Earl Thomas
missed
Brian Westbrook
, allowing a 62-yard touchdown. On and on it went.
[+] Enlarge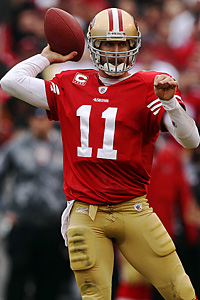 Jed Jacobsohn/Getty ImagesAlex Smith tossed three touchdown passes in the 49ers' victory over Seattle.
RISING
1. Alex Smith, 49ers QB.
Three TD passes without an INT helped the 49ers cruise past the Seahawks in a game San Francisco needed to win. Coach Mike Singletary used the word "decent" to describe Smith's performance, but that was underselling one of the better performances of the quarterback's career.
2. Adrian Wilson, Cardinals SS.
Arizona coaches credited Wilson with 13 tackles, putting him over 100 in a season for the third time in his career and the first time since 2005. Rookie linebacker
Daryl Washington
would have earned a spot on the list if he hadn't fumbled short of the end zone while celebrating an interception return.
3. Tim Hightower, Cardinals RB.
The 49ers' Westbrook deserves a mention here, too, after coming through with a 62-yard scoring catch and key contributions as a pass protector. Hightower trumped him for the third and final spot on the list by finishing with 18 carries for 148 yards and two scores.
Note: Cardinals kicker Jay Feely would have been an obvious choice here. Too obvious, in fact. I decided to spread the wealth after dedicating multiple previous items to Feely's 25-point performance against Denver.
December, 15, 2010
12/15/10
10:00
AM ET
»
NFC Stock Watch
:
East
|
West
|
North
|
South
»
AFC
:
East
|
West
|
North
|
South
FALLING
[+] Enlarge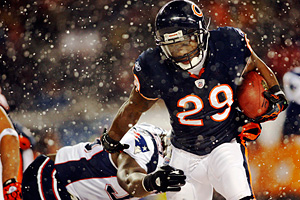 Jerry Lai/US PresswireChester Taylor rushed just three times for 1 yard Sunday against New England.
1. Chester Taylor, Chicago Bears tailback:
I've been on board with the Bears consistently utilizing their running game this season, if for no other reason than to set up their play-action passes. But it must be noted that Taylor is on pace for one of the least productive seasons for a running back since the 1970 merger. After netting 41 yards on his past 29 carries, Taylor is now averaging 2.63 yards per carry on 94 attempts this season. According to the
excellent database over on pro-football-reference.com
, there have been only five instances over the past 40 years where a running back has finished a season with 100 or more carries but less than 2.64 yards per attempt. The last time was
Chris Perry
of the
Cincinnati Bengals
in 2008. If you don't like the decimal distinction, keep this bigger picture in mind: There have been 51 running backs since 1970 who have had 100 or more carries in a season and less than 3.0 yards per carry. That's a little bit more than one per season.
2. Green Bay Packers' offensive line:
Even before left guard
Daryn Colledge
departed because of injury, the Packers were getting manhandled by an active but injury-diminished
Detroit Lions
defensive line this past Sunday at Ford Field. The Packers allowed four sacks to three reserves and/or replacement starters, and as an offense, they managed only 66 rushing yards against a team that has given up almost twice as much on average this season. We haven't heard too much about the Packers' offensive line this season, which is usually a good thing. They are in the middle of the NFL pack in allowing sacks (29). Sunday, however, they were beaten physically by an inspired but undermanned opponent.
3. Sliding skills:
Hopefully, Bears quarterback
Jay Cutler
saw a replay of Packers quarterback
Aaron Rodgers
suffering a concussion while diving for extra yardage at the end of an 18-yard scramble last Sunday. The toughness of both Rodgers and Cutler is undeniable, but Cutler has proved even less willing to slide this season than Rodgers. We all saw what happened to the Bears offense when Cutler suffered his first concussion this season; backup
Todd Collins
threw four interceptions in a victory over the
Carolina Panthers
. Extra yardage is nice, but availability is much more important.
RISING
1. Distractions in the Minnesota stadium debate:
When the Metrodome roof collapsed Sunday, the popular consensus was that it would raise the urgency for state legislators to approve new stadium construction. I don't buy it. From my vantage point, only the most extreme stadium opponents believe the Metrodome is a sustainable NFL facility. Even its current landlord, the Metropolitan Sports Facilities Commission, agrees it is nearing the end of its lifespan. The only relevant debate on this issue is who will play for a new stadium and how -- not whether one is actually needed. It doesn't matter how many roof panels fall or what other malady strikes. There won't be a replacement until someone volunteers to pay for it.
2. Detroit Lions' running game:
The Lions rushed for a season-high 190 yards Sunday against the Packers, getting some lively runs from
Maurice Morris
(51 yards on 11 carries), more than a couple misdirection plays from kick returner/running back
Stefan Logan
(30 yards on five carries) and a full-game's effort from rookie
Jahvid Best
(38 yards on 13 carries). Some of that production can be attributed to the mobility of quarterback
Drew Stanton
, who gained 44 yards of his own and must be respected as a threat to run -- via scramble or by design -- on any play.
3. The urgency to find new quarterbacks in Minnesota:
One three-hour span Monday night demonstrated all you need to know about the state of this position for the Vikings. Starter
Brett Favre
sat out because of injury and appears headed for retirement. Backup
Tarvaris Jackson
demonstrated once again that he is too inconsistent and injury-prone to be counted on as a long-term starter. And the Vikings thought so highly of rookie No. 3 quarterback
Joe Webb
that they were in the process of moving him to receiver this month before Favre's injury forced him back to quarterback. The Vikings will need multiple layers of new quarterbacks next season: Perhaps one to start and one to be developed as the future starter, unless their final record puts them in position to draft a blue-chip prospect who can be both.
December, 15, 2010
12/15/10
9:58
AM ET
»
NFC Stock Watch
:
East
|
West
|
North
|
South
»
AFC
:
East
|
West
|
North
|
South
FALLING
1. Rex Ryan, Jets head coach:
Nothing seems to be going properly for Ryan. He's known as a master motivator, but he's not pushing the right buttons lately. He symbolically buried a game ball from the Week 13 debacle against the Patriots, and it looked like nothing more than a rah-rah antic after losing at home to the Dolphins. Ryan reportedly chafed his defensive players by criticizing them in his postgame speech. And then there's the
Sal Alosi tripping scandal that might not go away
as quickly as Ryan would like.
2. Jets offense:
Mark Sanchez
is playing poorly.
LaDainian Tomlinson
and
Shonn Greene
aren't finding room to run.
Santonio Holmes
and
Jerricho Cotchery
are dropping passes.
Dustin Keller
isn't involved. Right tackle
Damien Woody
is hurt. Other than that, there's nothing to worry about.
3. Dolphins offense:
Chad Henne
is playing poorly.
Ronnie Brown
and
Ricky Williams
aren't as productive as you'd like. Right tackle
Vernon Carey
is done for the season. Top chunk-yardage receiver
Brian Hartline
is out. While Miami's defense seems to be getting itself together, the offense seems to get worse by the week.
[+] Enlarge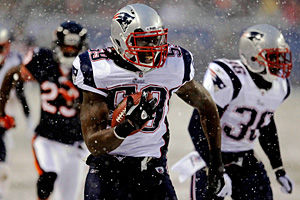 AP Photo/Charles Rex ArbogastPatriots linebacker Gary Guyton returned a fumble 35 yards for a touchdown against the Bears.
RISING
1. Inside linebacker Gary Guyton and the Patriots defense:
The Patriots have put together a pair of strong defensive efforts against division leaders, holding the Jets to three points and the Bears to seven points. With rookie starter
Brandon Spikes
suspended for four games, Guyton stepped up with an interception and returned a fumble 35 yards for a touchdown on snow-covered Soldier Field.
2. Brodney Pool, Jets safety:
Defensive coordinator Mike Pettine called him out last week for being inconsistent, but Pool arguably was the Jets' best player against the Dolphins and would have been considered the star had the Jets won. Pool recorded a sack, forced a fumble that
Jason Taylor
recovered and picked up a Henne fumble.
3. David Nelson, Bills receiver:
The undrafted rookie from Florida caught a touchdown pass in his second straight game. His 11-yard grab was the only touchdown scored in a 13-6 victory over the Browns in Ralph Wilson Stadium. He should get more opportunities over the final three games. The Bills placed veteran receiver
Lee Evans
on injured reserve Tuesday.
December, 15, 2010
12/15/10
8:13
AM ET
»
NFC Stock Watch
:
East
|
West
|
North
|
South
»
AFC
:
East
|
West
|
North
|
South
FALLING
1. Jeff Davidson, Panthers offensive coordinator.
It's kind of tough to come up with guys whose stock is falling when three NFC South teams are coming off victories and virtually everybody with the Panthers has been used in this category at one point or another. So we're going to be creative -- in other words, something Davidson is not. I know the head coach sets the tone for what his coordinators do and there's no question John Fox has limited his offense for virtually his entire tenure. But Davidson deserves some heavy blame. I mean, at least try to come up with ways to get
Steve Smith
the ball. As Fox's time in Carolina comes to an end and I reflect on it, I think one of the worst moves was making Dan Henning the scapegoat for a disappointing 2006 season. Fans thought Henning lacked imagination. After four years of watching Davidson's offense, Henning's offense, in hindsight, looks like the Tampa Bay Bandits of Steve Spurrier in the United States Football League. Fox's staff will be scrambling for jobs. Davidson might have to return to his roots as an offensive line coach because his coordinator résumé isn't looking too good.
2. Geno Hayes, Buccaneers linebacker.
He's doing fine on the field, but he
got into trouble
in the wee hours of Monday morning. If the Bucs really are a playoff team, they should be focused entirely on football at this time of year.
[+] Enlarge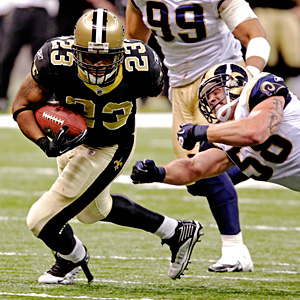 AP Photo/Bill HaberPierre Thomas accounted for 68 yards of offense in his first action since Week 3.
3. Charter flights for the Falcons
. They have to cross the country to Seattle this weekend after playing road games at Carolina and Tampa Bay. But if the Falcons keep doing what they're doing, they won't have to get on a plane again this season -- unless it's to Texas for the Super Bowl.
RISING
1. Pierre Thomas, Saints running back.
Thomas, who injured his ankle in late September, returned to the playing field Sunday when the Saints defeated the Rams. He wound up probably getting even more playing time than the Saints envisioned. The logical thing to do would have been to ease Thomas back into a rotation with
Chris Ivory
and
Reggie Bush
. But that plan went out the window when Ivory started experiencing hamstring issues early in the game. Thomas ended up carrying 12 times and catching four passes. His numbers weren't overhelming (39 rushing yards and 29 receiving yards), but he held up well. Thomas' long-term future in New Orleans might not be all that bright because of Ivory's emergence. But a strong finish could help Thomas get a nice contract somewhere else.
2. Michael Turner, Falcons running back.
With backup
Jason Snelling
banged up, the Falcons have been riding Turner even more than usual. He carried 28 times in Sunday's victory against Carolina and produced 112 yards and three touchdowns. Turner has rushed for more than 100 yards in three of the past four games and five times in Atlanta's seven-game winning streak. He has scored at least one touchdown in four straight games.
3. Arrelious Benn, Buccaneers wide receiver
. He was chosen in the second round of this year's draft and fellow receiver
Mike Williams
was picked in the fourth round. But Williams emerged instantly as the No. 1 receiver and Benn wasn't much of a factor early on. But Benn had a huge game in Sunday's victory at Washington. He had a career-high four catches for a career-high 122 yards.

NFL SCOREBOARD
Sunday, 12/22
Monday, 12/23