NFL Nation:

Stock Watch 2010 Week 3
September, 29, 2010
9/29/10
1:58
PM ET
»
NFC Stock Watch
:
East
|
West
|
North
|
South
»
AFC
:
East
|
West
|
North
|
South
FALLING
1. Mike Singletary, 49ers coach.
The "falling" list isn't long enough to single out every 49ers individual worthy of mention under the designation. We can start and end with the head coach. Mike Singletary's coaching future appears shakier with every defeat. His stock is falling. Singletary's most important decision as head coach -- hiring an offensive coordinator -- came unraveled with Jimmy Raye's firing after only three games this season.
2. Andre Roberts, Cardinals wide receiver.
The Cardinals are desperate for help at receiver, but Roberts hasn't been ready. The team tried him at punt returner against Oakland and Roberts, a third-round choice, misplayed at least one of two punts that fell shorter than anticipated. The Raiders recovered both of them and nearly won the game as a result.
3. Tim Hightower, Cardinals running back.
The running game perked up immediately with
Beanie Wells
making his 2010 debut. Hightower was on the "rising" list a week ago after his 80-yard touchdown run gave the Cardinals their only touchdown against Atlanta. There was not much he could do about Wells' return. He had 11 carries for 40 yards against the Raiders.
RISING
[+] Enlarge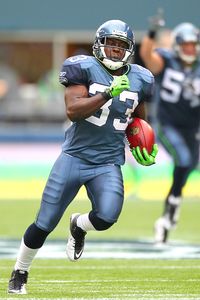 Otto Greule Jr/Getty ImagesLeon Washington's two kick returns for touchdowns keyed Seattle's upset of San Diego.
1. Leon Washington, Seahawks running back.
Two kickoff returns for touchdowns allowed the Seahawks to beat San Diego even though Seattle squandered two clear scoring chances in the first half. The Seahawks' personnel people deserve some credit here, too. They're the ones who identified Washington as a low-risk, high-reward acquisition.
2. Steve Spagnuolo, Rams coach.
Spagnuolo badly needed a boost after a disappointing performance at Oakland in Week 2. Beating a
Washington Redskins
team featuring defensive coordinator Jim Haslett and quarterback
Donovan McNabb
should carry extra meaning. Haslett coached the Rams previously, so losing to him would have looked bad on Spagnuolo's résumé. McNabb was familiar with the Rams' coaching staff from the time they shared in Philadelphia, and there was some thought St. Louis should have pursued McNabb during the offseason.
3. Beanie Wells, Cardinals running back.
Wells had 14 carries for 75 yards against the Raiders. He ran with authority. The Cardinals might need to rely on him even more now that knee surgery will sideline No. 2 receiver
Steve Breaston
for the next couple of games, at least.
September, 29, 2010
9/29/10
1:05
PM ET
»
NFC Stock Watch
:
East
|
West
|
North
|
South
»
AFC
:
East
|
West
|
North
|
South
FALLING
1. Discipline:
There were a total of 43 penalties in the two NFC North intradivision matchups in Week 3. The
Green Bay Packers
set
a team record with 18
in their 20-17 loss to the
Chicago Bears
. The
Minnesota Vikings
had 12 in their 24-10 victory over the
Detroit Lions
, who had eight. Only the Bears (five penalties) contained themselves. As a result, the Packers, Vikings and Lions all rank among the NFL's 10 most-penalized teams. One word describes our second-ever NFC North four-fecta: Sloppy.
2. Deep thinking:
Packers coach Mike McCarthy and Bears coach Lovie Smith each missed an opportunity to take an unconventional approach to the final two minutes of Monday night's game. McCarthy
elected not to allow the Bears to score a quick touchdown
, thus giving his offense a better opportunity to score a game-tying touchdown. And Smith decided
against kneeling on the ball
to guard against that possibility. I still don't think either coach should be criticized for his approach, but the alternatives would also have been defensible. Historically, teams who have been in the situation the Packers would have been in have still lost 90 percent of the time.
3. Patience in Detroit:
The Lions didn't necessarily plan on going 16-0 this season, but it's clear that frustration is mounting after their 0-3 start. "It's just getting old," center
Dominic Raiola
said. "I mean, just the whole losing around here,
it needs to change
. Right away." I'm guessing that had something to do with a number of second-half scuffles between Lions and Vikings players, culminating with quarterback
Shaun Hill
charging after Vikings defensive end
Jared Allen
. Hill said afterwards that the Lions' wouldn't be anyone's "punks."
RISING
[+] Enlarge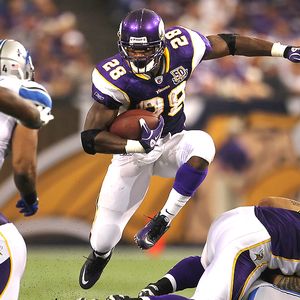 Jeff Gross/Getty ImagesMinnesota Vikings running back Adrian Peterson is off to the best three-game start of his career.
1. Adrian Peterson, Minnesota Vikings tailback:
He's off to the best three-game start in his career after a 160-yard performance Sunday against the Lions. A career-long 80-yard touchdown run demonstrated two interesting components of his game: a newfound patience and the return of his breakaway speed. Last season, Peterson scored on a bruising 64-yard touchdown run in Week 1 but wasn't much of a long threat thereafter. Meanwhile, he
followed his teammates' advice
to lull the Lions defense by staying with the original call for as long as possible before cutting back to the right sideline.
2. Greg Olsen, Chicago Bears tight end:
New coordinator Mike Martz's offense has no room for a pass-catching tight end. That's obvious. Just look at
his history
. And we all know Martz is too inflexible and not smart enough to figure out how to incorporate a tight end. I mean, look at Olsen. He caught a team-high five passes Monday night and now has 10 receptions and two touchdowns in three games. That means Olsen is well on his way to setting new records for tight end receptions and touchdowns in Martz offense. The current high marks are 38 and six, respectively. Olsen is on pace for 53 and 10. What a waste.
3. Chicago Bears offensive line:
How many sacks did Packers linebacker
Clay Matthews
add to his season total Monday night? That's right. None. With
Frank Omiyale
making his first career start at left tackle, and a right tackle rotation of
Kevin Shaffer
and rookie J'Marcus Webb, the Bears more than held their own against the Packers' pass rush. Quarterback
Jay Cutler
wasn't sacked after the first series of the second quarter, and the Bears' offense managed 18 first downs and 276 yards despite getting off only 48 plays and holding the ball for 24 minutes, 11 seconds.
September, 29, 2010
9/29/10
1:04
PM ET
»
NFC Stock Watch
:
East
|
West
|
North
|
South
»
AFC
:
East
|
West
|
North
|
South
FALLING
1. San Diego Chargers special teams:
The Chargers could easily be 3-0, but their special-teams coverage units are killing them. San Diego has given up three return touchdowns in three games -- two touchdown returns for scores in a seven-point loss to Seattle in Week 3 and a punt-return score for a touchdown in a seven-point loss to the Chiefs in Week 1. The Chargers dearly miss special teams ace
Kassim Osgood
, who is now in Jacksonville.
2. Sebastian Janikowski, Oakland Raiders kicker:
This offseason, Janikowski signed a contract that made him the richest kicker in NFL history. He had only three misses last season before Oakland gave him gold. This season, Oakland has to be wondering what is going on. Janikowski has missed five of 13 field goal attempts. Most important, he missed a 32-yard chip shot at the end of Sunday's 24-23 loss at Arizona. Janikowski has been streaky in his career. He is definitely trending the wrong way.
3. Denver Broncos' red zone offense:
The Broncos took themselves out of contention in Sunday's 27-13 loss to Indianapolis with porous play in the red zone. Denver had a first-and-goal situation at the Colts' 1 and couldn't punch the ball in. In the fourth quarter, Denver failed on fourth down and three from the Colts' 12. This team needs to find some weapons in the red zone or it will not make strides.
RISING
[+] Enlarge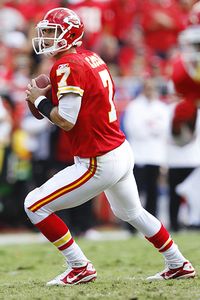 Joe Robbins/Getty ImagesMatt Cassel has quarterbacked the Chiefs to a 3-0 start.
1. Matt Cassel, Kansas City Chiefs quarterback:
Many Chiefs' fans were calling for Cassel's head despite a 2-0 start. Cassel was struggling and many in Kansas City wanted the Chiefs to trade for
Kevin Kolb
. Perhaps a strong effort by Cassel in a rout of San Francisco in Week 3 will quiet the critics. Cassel threw the ball very well and ended up with thee touchdown passes. The Chiefs are hot and now, so is their quarterback.
2. Tamba Hali, Kansas City Chiefs linebacker:
The knock against the Chiefs in the past two seasons since
Jared Allen
was traded was that they had no pass rush. And there was evidence of that. In 2008, Kansas City set an NFL record for the fewest sacks in a season with 10. However, the Chiefs are playing inspired defense. Hali is leading the way. He had three sacks against the 49ers. Hali has long hurried the quarterback well. Now, he's getting to the quarterback and bringing him down.
3. Marcus McNeill, San Diego Chargers left tackle:
McNeill ended his holdout and reported to the team Saturday. He will start playing in Week 6 at St. Louis. McNeill made a poor decision by staying away and it cost him nearly $3 million. But now that he is back where he belongs, don't be surprised if the Chargers ultimately give McNeill the long-term deal he desires.
September, 29, 2010
9/29/10
12:25
PM ET
»
NFC Stock Watch
:
East
|
West
|
North
|
South
»
AFC
:
East
|
West
|
North
|
South
FALLING
1. David Garrard:
A bad game and maybe he gets skipped a week. A game as bad as his against Philadelphia and he's really sinking. Granted, his protection wasn't good. But he can probably do more against the pressure that resulted in six sacks. He simply has to throw for more than 105 yards. Will
Trent Edwards
ultimately put pressure on Garrard?
2. Eugene Wilson:
In the loss to the Cowboys, he dropped a pick-6 in a game where the Texans desperately needed a big play from the defense. Wilson also didn't seem to be of great help to the young corners. He might not have had responsibility to help
Kareem Jackson
on the short
Roy E. Williams
catch that went for a 63-yard touchdown. Still, if he's so gimpy he can't pursue better than he did, he should sit and they should have a look at
Troy Nolan
.
3. Titans' interior offensive line:
Against the Giants, center
Eugene Amano
and right guard
Jake Scott
didn't seem to recover well from the line's poor game against Pittsburgh. The Titans don't need
Kevin Mawae
back, but jelling and communicating might still be taking some time for this gang. Scott got called for three penalties worth 20 yards.
RISING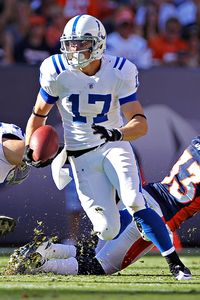 Doug Pensinger/Getty ImagesAustin Collie leads the NFL in receiving yards and receptions.
1. Austin Collie:
The guy had a superstar game in Denver with 12 catches for 171 yards and two touchdowns, showing a psychic connection with
Peyton Manning
. Some evaluators thought coming into the season that Collie had approached his ceiling last season based on his age (26 in November) and role. But he's proven he can be a top option for Manning and the offense.
2. Will Witherspoon:
Keith Bulluck
played for the Giants against the Titans. But given a choice between Bulluck and the player the Titans signed to replace him, Witherspoon seems the clear choice to me right now. He's a defensive spark for Tennessee at the linebacker level, and he's the guy who tipped Eli Manning's left-handed pass into the end zone to set
Jason McCourty's
interception in motion.
3. Jeff Linkenbach:
An undrafted Colts' rookie offensive tackle, he made his first start in Denver and did about
as well
as could be expected given the circumstances. Does he fill in for
Charlie Johnson
beyond that game? We'll get our first hint on Wednesday when we find out if Johnson (foot) can return to practice. Perhaps Linkenbach did well enough that the Colts try to allow Johnson to recuperate?
September, 29, 2010
9/29/10
12:12
PM ET
»
NFC Stock Watch
:
East
|
West
|
North
|
South
»
AFC
:
East
|
West
|
North
|
South
FALLING
1. Eric Wright, Cleveland Browns cornerback:
Wright had the worst game of his career in last week's loss to the
Baltimore Ravens
. Given the responsibility of shutting down former Pro Bowl receiver
Anquan Boldin
, Wright was not up to the task. All three of Boldin's touchdowns were scored on Wright, who usually is Cleveland's best cover corner. Browns coach Eric Mangini said Wright would not lose his starting job -- and he shouldn't. Every player has a bad game, and Wright has been solid in coverage throughout his career in Cleveland.
2. Carson Palmer, Cincinnati Bengals quarterback:
What is going on with Cincinnati's passing game? Is it the quarterback, the receivers or the offensive line? Although everyone shares a portion of the blame, the quarterback naturally gets most of the glory and criticism. Palmer has not been accurate and his numbers are trending downward with every game. Against the winless
Carolina Panthers
, Palmer completed 19 of 37 passes for 195 yards, one touchdown and two interceptions. His passer rating in three games this season has gone from to 92.5 to 60.1 to 53.3.
3. Mohamed Massaquoi, Browns receiver:
Cleveland's No. 1 receiver has only three catches in three games, including last week when he was shut out against Baltimore. Massaquoi, a former second-round pick, said this offseason that he wants to prove he can lead Cleveland's passing game. But he hasn't lived up to that billing so far. Quarterback changes certainly have something to do with Massaquoi's slow start, but other receivers, such as
Josh Cribbs,
have found ways to be productive.
RISING
[+] Enlarge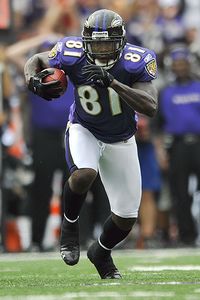 AP Photo/Gail BurtonAnquan Boldin has been outstanding for the Ravens this season.
1. Anquan Boldin, Ravens receiver:
Last week's performance is the reason Baltimore gave up two draft picks for Boldin. He lit up the Browns with eight catches for 142 yards and three touchdowns. Boldin has been far and away Baltimore's best receiver this season, and he has a knack for making the big plays. Boldin also helped quarterback
Joe Flacco
get back on track after a slow start.
2. Peyton Hillis, Browns tailback:
The Browns needed someone to jumpstart their offense, and Hillis added a nice boost. He rushed for 144 yards and a touchdown against a quality defense in Baltimore. With
Jerome Harrison
not producing early, Hillis has now earned the starting tailback role in Cleveland. He will try to run over another good defense this week against Cincinnati.
3. Charlie Batch, Pittsburgh Steelers quarterback:
Batch found the fountain of youth and threw for 186 yards and three touchdowns against the
Tampa Bay Buccaneers
. The highlight of his day was two 40-plus yard bombs to receiver
Mike Wallace
for touchdowns. Batch could have padded his numbers even more, but the Steelers played conservatively in the second half in order to run out the clock. Pittsburgh threw only three times after intermission. Batch will get his second consecutive start Sunday against Baltimore.
September, 29, 2010
9/29/10
11:41
AM ET
By
Matt Mosley
| ESPN.com
»
NFC Stock Watch
:
East
|
West
|
North
|
South
»
AFC
:
East
|
West
|
North
|
South
FALLING
1. Kareem McKenzie, New York Giants right tackle:
It's never a good day when your head coach has to yank you off the field in the fourth quarter because of two personal fouls. McKenzie doesn't really have the reputation of being a hothead, but he lost his cool against the
Tennessee Titans
last week. The Giants' offense moved the ball throughout the afternoon but personal fouls against McKenzie and left tackle
David Diehl
put the team in a bind it couldn't overcome. McKenzie is a veteran who should know better.
2. Jim Haslett, Washington Redskins defensive coordinator:
I had a tough time figuring out which defensive player to single out, so let's just go with the architect of this unit.
Steven Jackson
's 42-yard touchdown run gave the hapless Rams hope early in this game. The linebackers were undisciplined on the play and you could see safety
Kareem Moore
whiff on Jackson. He's a talented running back but there's no excuse for letting him take it to the house on that play. The defense also allowed a rookie quarterback to find his rhythm.
Sam Bradford
made plays on third down, and as Mike Shanahan pointed out, that's why he gets paid the big bucks. But the Redskins should've done a better job with the pressure.
3. Ahmad Bradshaw, New York Giants running back:
He had some nice moments in this game, but his fumble at the Titans' 5-yard line in the second half was a killer. The Giants had a chance to climb back in the game in the third quarter but Titans safety
Michael Griffin
poked the ball out from behind. Ball security has to be a huge thing near the goal line. Bradshaw was running like he was at the 50-yard line. The running back was also called for a chop block when center
Adam Koets
was engaged with a defender. That play started the second-half collapse.
RISING
[+] Enlarge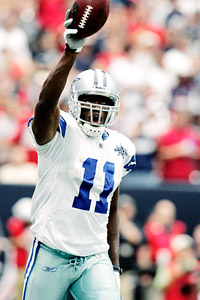 Brett Davis/US PresswireThe oft-maligned Roy Williams answered his critics Sunday, catching two TDs.
1. Roy Williams, Dallas Cowboys wide receiver:
No one in the Cowboys organization has received as much criticism as this player since he arrived during the '08 season. His lack of chemistry with
Tony Romo
has been one of the biggest mysteries in Dallas since "Who Shot J.R.?" But for one Sunday, Williams and Romo were on the same page. On the second of his two touchdowns, Williams and Romo made a sight adjustment at the line of scrimmage and opted out of a running play. If Williams has truly turned the corner, it will open things up for the rest of the offense. And he's actually played pretty well in all three games.
2. Trent Cole, Philadelphia Eagles defensive end:
I realize that
Michael Vick
could be on the list every week, but let's praise a member of a defense that held the mighty Jaguars without a touchdown. Cole had two sacks, eight tackles and a pass deflection. He's so good at keeping his pad level low and forcing offensive tackles to sort of lunge at him. It will also help as
Brandon Graham
continues to develop on the other side. Cole anchored an excellent defensive performance against what appears to be an awful team.
3. DeMarcus Ware, Dallas Cowboys outside linebacker:
Folks had been waiting for Ware to have a breakout game and it happened against the
Houston Texans
. The Cowboys took full advantage of left tackle
Duane Brown
being out with a suspension. Ware set up his man with power early in the game and then turned on the speed. He had three sacks in the game and also looked good in coverage on a couple of occasions. Ware is back on pace to have his usual 16 or 17 sacks.
September, 29, 2010
9/29/10
10:45
AM ET
»
NFC Stock Watch
:
East
|
West
|
North
|
South
»
AFC
:
East
|
West
|
North
|
South
FALLING
1. Marques Colston, wide receiver, Saints.
The guy who is supposed to be New Orleans' best wide receiver and maybe even the best receiver in the NFC South had just four catches for a very inconsequential 25 yards Sunday. Colston has yet to catch a touchdown pass this season. With his mediocre start and the quarterback struggles in Carolina taking a toll on
Steve Smith
, it's become abundantly clear that Atlanta's
Roddy White
is the best wide receiver in the division.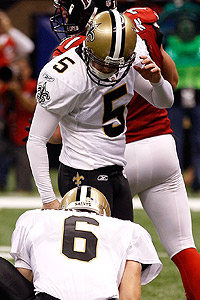 Chris Graythen/Getty ImagesThe Saints brought in some competition for Garrett Hartley after he missed a 29-yard field goal in overtime against Atlanta.
2. New Orleans' defense.
When it's not forcing turnovers, this unit is rather ordinary. The first three games have shown teams can run the ball on the Saints and teams are going to continue to do that. Sean Payton and defensive coordinator Gregg Williams are two strong personalities. They co-existed when the defense was making turnovers and the Saints were winning big last year. But a few more losses could really put this relationship to the test.
3. Garrett Hartley, kicker, Saints.
It appears as if the Saints are going to hang onto Hartley even though they're bringing in veteran
John Carney
. The Saints aren't completely ready to give up on a talented young kicker who has made some big kicks in his career. But his miss of a 29-yard field goal in overtime cost the Saints a victory Sunday. They can't afford to carry two kickers for too long, so Hartley better figure out what's causing his inconsistency and fix it quickly.
RISING
1. Matt Ryan, quarterback, Falcons.
People like to debate if Ryan's an "elite'' quarterback or not. I'm not sure what the exact qualifications for that are. But, if going into an extremely hostile environment and playing a nearly flawless game against the defending Super Bowl champions is on the list, then I'd lean toward calling Ryan an elite quarterback.
2. Atlanta's pass rush.
The numbers still aren't dominant. But the Falcons are generating pressure. They didn't make any dramatic moves in the offseason because they said they believed in what they had. Turns out, they were right.
John Abraham
's bouncing back,
Kroy Biermann
is on the rise,
Jonathan Babineaux
is one of the better interior pass-rushers in the league and the much-maligned
Jamaal Anderson
put enough pressure on
Drew Brees
to force a huge interception Sunday.
3. Lance Moore, wide receiver, Saints.
You don't replace all that
Reggie Bush
does with a single player. But Moore took on Bush's role as punt returner and spent some time at slot receiver Sunday. Moore was quieted by injuries much of last year. But he's an athlete and a playmaker and he's going to get a chance to showcase those abilities while Bush is out.
September, 29, 2010
9/29/10
8:48
AM ET
»
NFC Stock Watch
:
East
|
West
|
North
|
South
»
AFC
:
East
|
West
|
North
|
South
FALLING
1. Donte Whitner, Bills safety:
A few days before playing the Patriots, he grumbled about being tired of hearing opponents laugh at the Bills during games. Then, in a game when the Bills offense and special teams put up a fight, Whitner had one of his worst games in a defensive collapse. Whitner, the eight overall draft pick in 2006, twice was flummoxed on
Randy Moss
touchdowns and had trouble with rookie tight end
Rob Gronkowski
.
[+] Enlarge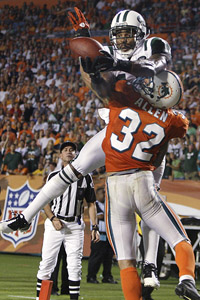 AP Photo/Lynne SladkyBraylon Edwards and the New York Jets took advantage of Jason Allen.
2. Jason Allen, Dolphins cornerback:
With the emergence of young cornerback
Vontae Davis
on the left side and Allen's track record, quarterbacks are going to be throwing Allen's direction as long as the Dolphins keep him out there. Allen thrived against
Brett Favre
in Week 2, but Jets quarterback
Mark Sanchez
didn't have much problem. Allen whiffed on
Braylon Edwards
' 67-yard catch and run and committed pass interference on third-and-goal from the 3 in the fourth quarter. The extra set of downs allowed the Jets to score a touchdown and take an eight-point lead.
3. Jets' pass defense without Darrelle Revis:
They looked far from formidable Sunday night. Dolphins quarterback
Chad Henne
threw for 363 yards and two touchdowns. The Jets couldn't contain
Brandon Marshall
. All told, the Dolphins amassed 436 yards, the most the Rex Ryan-coached Jets have surrendered in a victory by nearly a full football field.
RISING
1. Mark Sanchez, Jets quarterback:
I generally don't include a player as "rising" or "falling" two Stock Watches in a row. If you're up, then you're up, etc. But Sanchez has put together his best two games as a pro back-to-back. Headed into Week 2, he'd never thrown three touchdowns or recorded higher than a 107.0 passer rating. Sanchez notched three TDs, no interceptions and a passer rating of at least 120.5 each of the past two games.
2. Dustin Keller, Jets tight end:
After a clunker of a performance on opening night -- really, how many Jets didn't have that kind of game? -- Keller has regained his footing as a game-changer. He had six receptions for 98 yards and two touchdowns in Sunday night's victory over the Dolphins. Keller already has matched his season-high with three touchdown catches and, counting last year's playoffs, has scored at least one in five of his past six games.
3. BenJarvus Green-Ellis, Patriots running back:
With trusted veteran
Kevin Faulk
done for the year, the Patriots will need to rely upon their backfield committee approach even more. On any given week, we could see anybody step up, but Green-Ellis got to be the chairman Sunday against the Bills. He pounded out 16 carries for 98 yards and a late touchdown.
NFL SCOREBOARD
Sunday, 2/2
WEEKLY LEADERS