NFL Nation:

Stock Watch 2010 Week 4
October, 6, 2010
10/06/10
2:41
PM ET
»
NFC Stock Watch
:
East
|
West
|
North
|
South
»
AFC
:
East
|
West
|
North
|
South
FALLING
Chad Henne, Dolphins quarterback:
He mostly was quiet when the
Miami Dolphins
opened their season 2-0 on the road. Since the Dolphins opened up their passing attack, they're 0-2, with both losses at home. Henne has rolled up big aerial yardage. He passed for a
career-high 363 yards two weeks ago
against the
New York Jets
and
302 yards in Monday night's loss to the Patriots
. But he also telegraphed some passes and threw four interceptions. Another game like that after the Dolphins return from their bye, and the calls for
Chad Pennington
will get louder.
Lee Evans, Bills receiver:
A catch with about 20 seconds left in Sunday's loss to the Jets prevented Evans from going without a reception for the second time in three games. Evans has 10 catches for 94 yards and no touchdowns. An unheralded group of
Steve Johnson
,
David Nelson
and
Roscoe Parrish
each have more catches and/or yards than Evans, who is one of the league's highest-paid receivers.
Dolphins' Wildcat offense:
The Dolphins have stood by the Wildcat, but it might be time to see the vet. They averaged 6 yards a play and scored 16 touchdowns the past two seasons, but they've gotten stuffed time and again this year. Their 17 Wildcat plays have gained an average of 1.6 yards with zero touchdowns. The Dolphins called one Wildcat play Monday night against the Patriots, who stopped
Ronnie Brown
for a 2-yard loss.
RISING
[+] Enlarge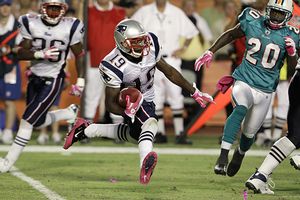 AP Photo/Lynne SladkyPatriots receiver Brandon Tate's playing time should increase now that Randy Moss is gone.
Brandon Tate, Patriots receiver:
His profile on the Patriots' offense should soar now that
Randy Moss
has been traded to the Vikings. Tate, a second-year pro with zero touchdown catches, becomes the most likely deep threat for
Tom Brady
. Tate has shown how explosive he can be in the return game. He ran back a kickoff 103 yards in Monday night's victory over the Dolphins, becoming just the third player in franchise history to return two kickoffs for touchdowns in the same season.
Jets offense with Santonio Holmes:
In their three-game win streak -- all over AFC East opponents -- the Jets averaged 32.3 points. They scored more than 28 points only twice last year. The offense is clicking.
Mark Sanchez
hasn't thrown an interception.
LaDainian Tomlinson
looks fantastic and is on pace for more than 1,300 yards.
Dustin Keller
has been devastating at tight end.
Braylon Edwards
has been a game-breaker. And look who comes back from a suspension this week. It's Holmes, the MVP from Super Bowl XLIII.
Fred Jackson, Bills running back:
The Bills reduced their crowded backfield Tuesday, when they traded
Marshawn Lynch
to the Seahawks. A league source informed me Jackson has been named the starter ahead of rookie
C.J. Spiller
. Jackson finished last season as Buffalo's featured back and had a season so prolific -- fourth-highest all-purpose yardage total in NFL history -- the Pro Football Hall of Fame asked for his jersey to display before the season opener. In four games, Jackson has 20 carries and two receptions.
October, 6, 2010
10/06/10
1:38
PM ET
»
NFC Stock Watch
:
East
|
West
|
North
|
South
»
AFC
:
East
|
West
|
North
|
South
FALLING
1. Derek Anderson, Cardinals QB. The Cardinals benched him only four games into the season. The move might not be permanent, but it was telling. Anderson had to know the Cardinals were entertaining other long-term plans at the position, but he probably figured to get longer than 14 quarters.
[+] Enlarge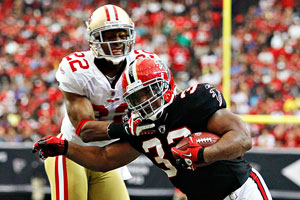 Kevin C. Cox/Getty Images49ers cornerback Nate Clements' fumble might have cost San Francisco a victory.
2. Nate Clements, 49ers CB.
Clements was enjoying a strong game against the
Atlanta Falcons
until he lost a fumble during an interception return, then ducked out of the locker room without publicly accounting for his miscue. The decision to go for a touchdown return was not the best decision given the score and game situation. If Clements was going to go for the return, he needed to make ball security his top priority.
3. Justin Forsett, Seahawks RB. Marshawn Lynch's addition to the Seahawks means Forsett no longer projects as the starter this season. Seattle has big plans for Lynch. The bye week gives the Seahawks time to prepare Lynch for the team's game against Chicago. Forsett will remain an important part of the rotation, but he's a less important part now.
RISING
1. Sam Bradford, Rams QB. Throwing two touchdown passes to help end the Rams' 17-game NFC West losing streak means Bradford is providing immediate returns on a long-term investment. He's looking like the best quarterback in the division only four games into his career.
2. Taylor Mays, 49ers S. The 49ers' decision to release veteran safety Michael Lewis became less of a story when Mays replaced him capably and, by the way, accounted for half the team's points with a spectacular special-teams touchdown. Consider this a running start for Mays.
3. Max Hall, Cardinals QB. Hall is on the rising list the way Forsett is on the falling list -- through circumstances involving another player. Anderson's benching, whether permanent or not, suggests Hall will probably be starting for the Cardinals sooner, not later.
October, 6, 2010
10/06/10
1:01
PM ET
»
NFC Stock Watch
:
East
|
West
|
North
|
South
»
AFC
:
East
|
West
|
North
|
South
FALLING
Denver Broncos running game:
A season-long issue is getting worse. The Broncos had 19 yards on 20 carries at Tennessee. They are ranked No. 32 in the NFL in rushing. Denver is averaging 2.2 yards per carry and 55 yards on the ground per game. Denver is literally getting nothing from its ground game.
Oakland Raiders run defense:
The Raiders spent a lot of time and resources on improving one of the worst run defenses in the league. Oakland has had its moments, but overall it is still an issue. After being benched to start the game, Houston's
Arian Foster
ripped apart Oakland. He had 131 yards on 16 carries, adding a 74-yard touchdown run. Oakland is just not closing gaps well enough on a consistent basis.
Steve Gregory, San Diego Chargers, safety:
The Chargers' starting strong safety is suspended by the NFL for the next four games for using a performance-enhancing substance. Gregory said he did not knowingly take the substance.
Paul Oliver
will take the place of the play-making Gregory.
[+] Enlarge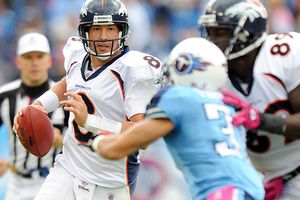 Don McPeak/US PresswireThrough four games Kyle Orton has completed 118 of 175 passes for 1,419 yards.
RISING
Kyle Orton, Denver Broncos, quarterback:
Orton is playing out of his mind. He is making up for Denver's bad running game with stellar performances. He has thrown for 1,419 yards. It is the second highest yardage total after four games in the history of the NFL.
San Diego Chargers defense:
The Chargers have allowed four touchdowns in four games. San Diego had nine sacks, including four by linebacker
Shaun Phillips
, in a win over Arizona. Like San Diego's offense, its defense is ranked No. 1 in the NFL.
Zach Miller, Oakland Raiders, tight end:
Miller is one of the best young offensive players in the league. He had 11 catches for 122 yards in a loss to Houston. Miller is a favorite target of Oakland quarterback
Bruce Gradkowski
and he is a great safety net for an offense that has an unreliable receiving crew.
October, 6, 2010
10/06/10
12:46
PM ET
»
NFC Stock Watch
:
East
|
West
|
North
|
South
»
AFC
:
East
|
West
|
North
|
South
FALLING
1. Cincinnati Bengals' offensive line
: It may not matter what Cincinnati's offensive identity is if the offensive line cannot block. The Bengals were beat up in the trenches during a loss to the previously winless
Cleveland Browns
(1-3). Cincinnati allowed four sacks, seven additional quarterback hits and ran for 3.7 yards per carry. Last year it was very good in the run game, but even that's been lagging early in the season.
2. Browns' secondary:
Cleveland's front seven has played well, but its secondary is leaving much to be desired. The Browns were torched via the pass for the second straight game. In Week 3
Baltimore Ravens
receiver
Anquan Boldin
caught three touchdowns. Last weekend
Terrell Owens
, who is on our "rising" list, got over 200 yards receiving. The Browns have a lot of young players in their secondary and teams will continue attacking them through the air until they patch up these holes.
3. Jeff Reed, Pittsburgh Steelers kicker:
We have become accustomed to Reed making tough field goals in Heinz Field. But Reed had a rare off day in his home stadium, missing his two field goal attempts -- of 49 and 45 yards -- in a 17-14 loss to the Baltimore Ravens. Heinz Field is one of the toughest stadiums to kick in, and Reed usually makes it look routine. But last week he looked as confused as most visiting kickers.
[+] Enlarge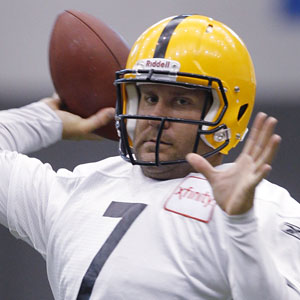 AP Photo/Keith SrakocicBen Roethisberger is practicing with the Steelers this week after serving a four-game suspension.
RISING
1. Ben Roethlisberger, Steelers quarterback:
Coming off a four-game suspension for violating the NFL's personal conduct policy, Roethlisberger's stock went from non-existent to soaring as he takes over one of the league's top teams. During Monday's news conference, Roethlisberger was genuinely
happy to be back
. He says he learned how much he misses football and can't wait to play again. Roethlisberger will have to shake the rust, but with the bye he has until Oct. 17 until he takes the field against Cleveland.
2. Terrell Owens, Bengals receiver:
As we mentioned earlier, Owens exploded against the Browns for 10 catches, 222 yards and a touchdown. The Browns made a concerted effort to double Pro Bowl receiver
Chad Ochocinco
, which allowed T.O. to exploit one-on-one coverage against Cleveland's cornerbacks. Owens, 36, proved he still has it. His longest catch was a 78-yard touchdown over Cleveland defensive back
Sheldon Brown
.
3. Haloti Ngata, Ravens defensive tackle:
Despite making his first Pro Bowl last year, Ngata is still under the radar when you mention the NFL's best defensive players. But Ngata had the type of game against the Steelers that should get him more publicity. Ngata was very disruptive, recording 11 tackles, a sack and two tackles for losses. His presence helped keep to Steelers to 3.1 yards per rush.
October, 6, 2010
10/06/10
12:31
PM ET
By
Matt Mosley
| ESPN.com
FALLING
1. Andy Reid, head coach, Philadelphia Eagles:
No matter how you slice it, that was an embarrassing display at the end of the first half. Reid's always had trouble with clock management, but he's apparently too stubborn to do anything about it. If ever a man needed a clock specialist, it's this man. I understand that the officials blew his mind by moving the ball back from the one-foot line, but you still need to have a quicker reaction. It was a clueless moment that contributed to a 17-12 loss to the
Washington Redskins
.
[+] Enlarge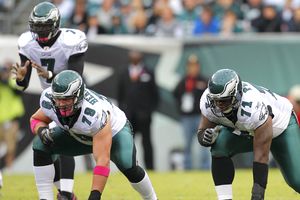 AP Photo/Rob CarrEagles tackle Jason Peters (right) struggled badly against the Redskins.
2. Jason Peters, left tackle, Philadelphia Eagles:
If this man makes the Pro Bowl again, I'm going to boycott the event, which is basically my annual plan anyway. I know
Brian Orakpo
's fast and powerful, but Peters was supposed to be among the best left tackles in the game. Peters was called for two holding penalties -- and there could've been more.
Kevin Kolb
's going to need some help against the 49ers, and I'm not sure Peters is up to the task. I was wrong about this guy big time.
3. Matt Dodge, punter, New York Giants:
Tom Coughlin has shown extreme patience with the rookie, but it's probably time to move on.
Jeff Feagles
spoiled this organization for a lot of years. Right now, Dodge has no clue where the ball's going. The team worked out
Hunter Smith
on Tuesday. I think the Giants should make the change now.
RISING
1. Albert Haynesworth, defensive lineman, Washington Redskins:
I've been highly critical of Haynesworth since the offseason because of his attitude and overall approach. But he made a big contribution to that win Sunday by drawing holding penalties and making plays against the run. I think he's starting to buy into Jim Haslett's defense, and that's a scary thing for opposing offensive coordinators. He still seemed disgruntled about his playing time after the game, but Mike Shanahan won't care as long as his defensive tackle continues to play like this.
2. Ryan Torain, running back, Washington Redskins:
Clinton Portis
might have a difficult time getting his job back when he returns from a groin injury. Torain received the bulk of the carries Sunday against the Eagles and produced 70 yards and a game-changing touchdown. That 12-yard TD on which he ran over
Quintin Mikell
set the tone for an upset win.
1. Donovan McNabb, quarterback, Washington Redskins:
I know he was lousy in the second half, but he still got the job done in a 17-12 win against his former team. You have to admire the way McNabb put aside all the emotion and made big plays in the first half. The deep ball to
Anthony Armstrong
was enormous and the touchdown throw to
Chris Cooley
staked the Skins to an early 14-0 lead. McNabb's 18-yard scramble helped milk the clock late in the game. Something tells me he'll remember to stay in bounds next time he gets that opportunity.
October, 6, 2010
10/06/10
10:38
AM ET
»
NFC Stock Watch
:
East
|
West
|
North
|
South
»
AFC
:
East
|
West
|
North
|
South
FALLING
[+] Enlarge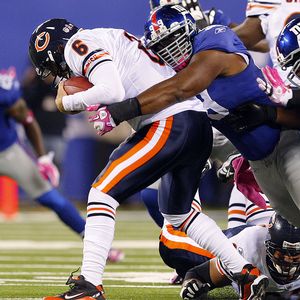 Jim O'Connor/US PresswireJay Cutler had just 42 yards passing against the Giants.
1. Jay Cutler, Chicago Bears quarterback:
Cutler lands quite literally in the "falling" category after taking nine sacks in the first half of last Sunday night's 17-3 loss to the
New York Giants
. But
as we discussed Tuesday
, the sack total is more the result of a perfect storm of factors than purely based on Cutler's performance. There is a sense that he could release the ball more quickly in some instances, but this is a systemic issue that requires multiple solutions.
2. Confidence in the Detroit Lions' defense:
I wouldn't say this group has been overly hyped this year, but Lions coach Jim Schwartz
certainly trusted it
with 6 minutes, 23 seconds remaining Sunday at Lambeau Field. Instead of attempting a long field goal or playing for a first down from the Packers' 37-yard line, the Lions punted. The idea was to pin the Packers deep, get a stop and get the ball back in good field position to launch a game-winning drive. But the Lions never got the ball back because they couldn't stop one of the NFL's least-proficient running teams from milking the entire clock. At this point, the Lions' defense very much remains a work in progress.
3. Between-play creativity:
The NFL has informed
Minnesota Vikings
defensive end
Jared Allen
that he can no longer go to the ground as part of his sack dance because it violates NFL rules. Allen reacted with appropriate humor, joking he would use a piece of cardboard to prevent contact with the ground. Allen has been using the same dance for a while, so it's clear that someone recently complained that the league wasn't enforcing its rules fairly. That someone has too much time on his/her hands. Let's find something important to legislate.
RISING
1. Brett Favre's heart rate:
The Vikings quarterback has dreamed of playing with receiver
Randy Moss
for years and was deeply disappointed the
Green Bay Packers
didn't acquire him from the
Oakland Raiders
in 2007. He'll finally get his chance. The short-term possibilities are endless for this duo, both of whom will be highly motivated to make history. Ask yourself this question: When Moss burst onto the scene with a five-catch, 190-yard performance at Lambeau Field in October 1998, did you ever think he would one day team up with the opposing quarterback that night?
2. Ted Thompson's confidence:
Hours after passing on the opportunity to trade for a legitimate starting tailback, the Green Bay Packers general manager had to endure the news that Moss was likely on the way to providing a jolt for a divisional rival. But as the Vikings were agreeing to give up a third-round draft pick for Moss, Thompson was
refusing to do the same
to acquire
Buffalo Bills
tailback
Marshawn Lynch
. I realize Thompson probably didn't know about the Moss discussions before making a decision on Lynch, but I also doubt it would have changed his mind. Ultimately, the
Seattle Seahawks
sent a fourth-rounder in 2011 and a conditional 2012 pick for Lynch. Independent of the Moss trade, Thompson must be awfully confident in his current backfield of
Brandon Jackson
,
John Kuhn
and
Dimitri Nance
to have passed up what would have been a quite reasonable deal for a 24-year-old starting-caliber runner.
3. Accountability in Chicago:
It's impossible to ignore the facts. In four weeks, the Bears have benched their No. 1 cornerback (
Zack Bowman
), their leading Week 1 receiver (
Devin Aromashodu
) and one of their long-time mainstays along the defensive line (
Tommie Harris
). They released defensive end
Mark Anderson
, have instituted rotations at two offensive line positions and have made clear that, as the kids say these days, they ain't playin'. All 53 Bears players should be on notice. It will be interesting to see if this approach fuels motivated play or spirit-killing uncertainty.
October, 6, 2010
10/06/10
10:19
AM ET
»
NFC Stock Watch
:
East
|
West
|
North
|
South
»
AFC
:
East
|
West
|
North
|
South
FALLING
[+] Enlarge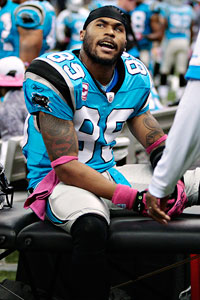 AP Photo/Bill HaberSteve Smith's injury leaves the Carolina Panthers with no established big-play threats at wide receiver.
1. Cadillac Williams, running back, Tampa Bay.
One thing about coach Raheem Morris that sets him apart from most other coaches is he's not afraid to telegraph his moves. During the bye week, he made it pretty clear that the Bucs are going to cut down on Williams' carries and try to insert
LeGarrette Blount
and
Kareem Huggins
more often.
2. Carolina's wide receivers.
With
Steve Smith
likely out with an ankle injury and
Dwayne Jarrett
released after he was charged with driving while impaired, the Panthers are down to rookie receivers
Brandon LaFell
,
David Gettis
and
Armanti Edwards
. They also claimed
David Clowney
off waivers Tuesday. Edwards has yet to be active on game day. Rookie quarterback
Jimmy Clausen
doesn't exactly have a stellar cast to throw to.
3. New Orleans' offensive line.
It's not what it was a year ago. That's a little disappointing because the line returned intact, but it hasn't been dominant.
Drew Brees
is getting pressured more than usual, the running game's been only ordinary and All-Pro guard
Jahri Evans
has developed a sudden knack for getting called for holding penalties.
RISING
1. Curtis Lofton, linebacker, Falcons.
He's been a pretty good middle linebacker in his first two seasons. But the knock on Lofton was that he didn't make big plays, and he talked this summer about how he wanted to change that. It's happening. In Sunday's victory against San Francisco, Lofton had nine tackles, a sack and an interception. A few more big plays and Lofton could be a strong candidate for the Pro Bowl.
2. Roddy White, receiver, Falcons.
It's hard to put White's stock much higher than it already was. We declared him the best receiver in the NFC South last week. But White went out and took his game to a higher level Sunday. He made one of the most incredible plays of his career and it didn't even involve him catching the ball. After
Nate Clements
had a late interception, White ran him down from behind and popped the ball loose to cause a fumble that the Falcons recovered. Atlanta then went on a drive and kicked the game-winning field goal.
3. Usama Young, safety, Saints.
He's usually just a special-teams player. But a series of injuries forced him into the strong safety spot in Sunday's victory against Carolina. With the Panthers close to the range where they could kick a game-winning field goal, Young stepped up and had a tackle where he dropped
DeAngelo Williams
for a four-yard loss. That and a sack by free safety
Malcolm Jenkins
on the next play took the Panthers definitively out of field-goal range.
October, 6, 2010
10/06/10
9:49
AM ET
»
NFC Stock Watch
:
East
|
West
|
North
|
South
»
AFC
:
East
|
West
|
North
|
South
FALLING
Chris Johnson and the Titans' run blocking:
All sort of explanations are rolling in, and some in Nashville are even asking for more
Javon Ringer
carries. That's craziness. But Fisher had said the run game isn't operating as it should be and with that being the case the Titans really have issues. The line needs to block better and Johnson needs to be decisive. He
tweeted a pledge
for a big October.



ChrisJohnson28

I wnt 2 let all my fantasy ppl & myfans kno not 2 worry ima have a gr8 oct its tkng a little time 2 adjust 2 the 8 n 9 inthe box #NOPRESSURE
Colts safeties:
Antoine Bethea
is an excellent player. But he's like to be stretched thin with the team's three best options aside from him --
Bob Sanders
,
Melvin Bullitt
and
Jamie Silva
-- all out now. The Colts are hoping for a late-season return from Sanders. In the meantime, their options on the roster are inexperienced
DaJuan Morgan
and rookie
Brandon King
, a converted corner who's had a hamstring issue.
Matt Cassel
may not be able to take advantage of that, but I suspect
Donovan McNabb
and
Matt Schaub
will.
Jamie Winborn, Titans linebacker:
He's been workmanlike and serviceable as a fill-in, but the dynamic
Gerald McRath
returns from his four-game suspension this week. The Titans should plug him directly back into the lineup and hash out what they will do when they decide to use nickel personnel. But Jeff Fisher's already spoken of the expectation of rust on McRath, which might mean Winborn retains a part time role for a bit.
RISING
[+] Enlarge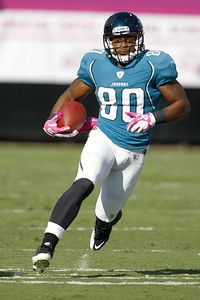 Justin Cooper/Icon SMIJaguars receiver Mike Thomas is averaging 12.2 yards per catch this season.
Mike Thomas, Jaguars receiver:
As I mentioned in Tuesday's High Energy Player of the Week post on
Tiquan Underwood
, I think the Colts' game was indicative of where the Jaguars are heading -- to a shorter passing game that won't ask
David Garrard
to make the sort of throws that failed him in the losses to San Diego and Philadelphia. Thomas had a solid game against Indianapolis and will be a big beneficiary of this alteration.
Troy Nolan, Texans safety:
The second-year safety had two picks in Oakland in his first action on defense, which prompted Gary Kubiak to pledge more playing time for him. I think
Eugene Wilson
qualifies as a weak spot for the defense and even if healthy, the team should stick with Nolan and give him a chance to be part of this young defensive backfield that's trying to grow up quickly together.
Josh Scobee, Jaguars kicker:
He doesn't rank high on the scoring list, but he's extended a great preseason into the regular season and four games in he hasn't even attempted a FG from under 44 yards. He's connected from 45, 44, 48, 51 and 59 for the Jaguars so far this season.
NFL SCOREBOARD
Thursday, 12/5
Sunday, 12/8
Monday, 12/9
WEEKLY LEADERS