NFL Nation:

Stock Watch 2010 Week 5
October, 13, 2010
10/13/10
1:09
PM ET
»
NFC Stock Watch
:
East
|
West
|
North
|
South
»
AFC
:
East
|
West
|
North
|
South
FALLING
1. Steve Crosby, special teams coach, San Diego Chargers:
San Diego head coach Norv Turner has said Crosby will not be fired because of his unit's follies and the issues may not all be Crosby's fault, but the truth is, his unit is killing the Chargers. Despite the fact that San Diego is the No. 1-ranked offense and No. 2-ranked defense in the NFL, it is 2-3. The reason: San Diego has allowed 30 points on special teams in three losses. It's getting ridiculous, especially after Sunday's performance in which Oakland scored nine points on two blocked punts in the first five minutes of the game.
2. Oakland Raiders' pass defense:
Lost in the thrill of Oakland's stunning win over San Diego was the fact that the Raiders were savaged by
Philip Rivers
. Rivers threw for 431 yards. He had 380 yards at the end of the third quarter. That has to be cleaned up. Oakland has the No. 31-ranked run defense. If the pass defense, which is ranked 10th, falters, Oakland will be in big trouble.
3. Kansas City Chiefs' third-down offense:
Kansas City converted one of 10 third-down plays in a 10-point loss to the Colts, wasting a fine defensive effort. The Chiefs have to learn to extend drives and find the end zone. Kansas City had to settle for three field goals in the game. This is a team on the rise, but it has to find a way to keep drives alive.
[+] Enlarge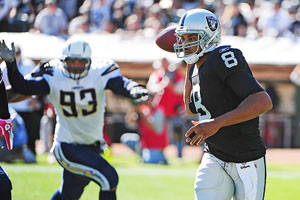 Kyle Terada/US PresswireQuarterback Jason Campbell helped guide the Raiders to a victory on Sunday.
RISING
1. Jason Campbell, quarterback, Oakland Raiders:
Campbell showed his new team he can make plays to help it win. Campbell spelled an injured
Bruce Gradkowski
and led Oakland to two fourth-quarter touchdowns in a 35-27 win. After playing terribly in his first six quarters in Oakland, Campbell redeemed himself in his second chance.
2. Kansas City Chiefs' defense:
Usually teams are not excited after 10-point defeats, but the Chiefs should be encouraged after losing 19-9 to the Colts, even though it was the team's first loss. Romeo Crennel's defense made Colts quarterback
Peyton Manning
work for what he got.
3. Malcom Floyd, receiver, San Diego Chargers:
Floyd showed why the Chargers' offense is ranked No. 1 without holdout receiver
Vincent Jackson
. Floyd had 213 yards receiving against Oakland. He is growing as a No. 1 receiver. He is fast and he can make the impossible catch. Floyd and Rivers can be a special combination.
October, 13, 2010
10/13/10
1:05
PM ET
By
Matt Mosley
| ESPN.com
»
NFC Stock Watch
:
East
|
West
|
North
|
South
»
AFC
:
East
|
West
|
North
|
South
FALLING
1. Wade Phillips, Dallas Cowboys head coach:
How does a team that's coming off the bye week end up with 12 penalties for more than 130 yards? You have to put a lot of the blame on the players, but the head coach has to be front and center. Phillips was reportedly livid in the postgame locker room, but he was back to his optimistic self Monday. The Cowboys are one loss away from eliminating themselves from any playoff conversation. And that's saying something in this watered-down conference.
2. Tony Romo, Dallas Cowboys quarterback:
I know he put up some big numbers passing, but it's tough to overcome three interceptions. Maybe tight end
Martellus Bennett
should've caught that ball near the goal line, but the interception that set up the Titans' go-ahead touchdown in the fourth quarter was on Romo. The ball was tipped at the line of scrimmage, in part, because left tackle
Doug Free
wasn't doing his job. But Romo still has to be more cautious with the ball in that situation.
3. Leonard Davis, Dallas Cowboys right guard:
The perennial Pro Bowl player was yanked off the field in the second quarter in favor of
Montrae Holland
. Davis doesn't move his feet very well at this point in his career, and the Titans'
Jason Jones
simply had too much speed and quickness. The Cowboys should keep Davis on the sideline for now, but I bet he's back in there against the Vikings.
RISING
[+] Enlarge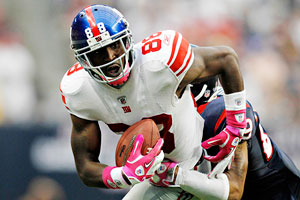 Brett Davis/US PresswireHakeem Nicks has eclipsed 100 yards receiving in back-to-back games.
1. LaRon Landry, Washington Redskins strong safety:
He may be the most improved defensive player in the league. Playing close to the line of scrimmage in a 3-4 defense has transformed his game so far this season. He's making big plays -- forced fumble and key INT against the Packers -- on a weekly basis. If Landry continues to play like this, he should be in the Pro Bowl.
2. Hakeem Nicks, New York Giants wide receiver:
He could easily be the NFC Offensive Player of the Week (as Landry was on defense) with his 12 catches for 130 yards and two touchdowns. Nicks has emerged as one of the top playmakers in the league. He has 20 catches for 240 yards over the past two games.
Eli Manning
has watched his older brother Peyton bond with
Marvin Harrison
and
Reggie Wayne
over the years. I think Manning-Nicks has the potential to be a similar duo.
3. LeSean McCoy, Philadelphia Eagles running back:
Played through the pain of a broken rib and had 138 total yards on 23 touches. It would've been easy to rest up for the Falcons game, but the Eagles desperately needed a win over the 49ers. McCoy's becoming one of the top dual-threat running backs in the league. Only
Frank Gore
has more receptions (33) than McCoy's 28. He's reminding folks of a guy named
Brian Westbrook
.
October, 13, 2010
10/13/10
12:49
PM ET
»
NFC Stock Watch
:
East
|
West
|
North
|
South
»
AFC
:
East
|
West
|
North
|
South
FALLING
1. Jed York, 49ers president.
Let's go right to the top. It's not Mike Singletary's fault the 49ers hired an inexperienced, apparently one-dimensional head coach. It's not Singletary's fault expectations surged when York promised a playoff appearance last season. It's not Singletary's fault that York came out this week saying the 49ers would win the division despite their 0-5 start. It's not
Alex Smith
's fault the 49ers committed to an unproven quarterback when
Donovan McNabb
was available during the offseason. York is the one who enthusiastically hired Singletary, then watched as the organization moved forward without viable fallback options at head coach and quarterback. York appears to have the right intentions, but to say the organization has fallen short on the execution front would be an understatement.
2. Steve Spagnuolo, Rams coach.
That failed onside kick to open the Detroit game put the spotlight on Spagnuolo following one of the more discouraging performances of this young NFC West season. The Rams had won two games in a row, beating the
Washington Redskins
and
Seattle Seahawks
with strong defensive efforts. They should have been competitive, at least, against a 0-4 Lions team. Losing 44-6 to one of the worst teams in the league will drag down the stock of any head coach.
3. Sam Bradford, Rams QB.
Losing top receiver
Mark Clayton
for the season accounts for Bradford's inclusion on this list. Bradford has played more like a veteran than a rookie for significant stretches this season. That was not the case Sunday and Clayton's early departure from the game obviously hurt. On a side note, I could have named in this spot any number of 49ers players, from Smith to the uncharacteristically fumble-prone
Frank Gore
, but York served as 49ers catch-all this week. As for Bradford? His long-term stock forecast remains decidedly positive. It's the short-term outlook that took a hit when Clayton's patella tendon gave out.
RISING
[+] Enlarge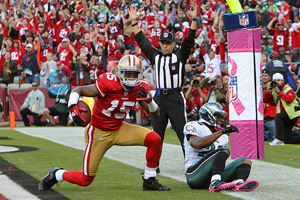 AP Photo/ Bill NicholsMichael Crabtree had his most productive game of the season Sunday against the Eagles.
1. John Schneider, Seahawks GM.
The Seahawks didn't even play in Week 5, but they scored a significant victory by landing a 2011 fourth-round draft choice from New England in the
Deion Branch
trade. The Patriots hold two fourth-rounders, their own and one from Denver. Seattle gets the highest of those two choices. I wondered whether Seattle could get even a fifth-round choice for the 31-year-old Branch. Getting the better of two fourths allowed Seattle to recoup most of the value lost when Seattle sent its own fourth-rounder to Buffalo for
Marshawn Lynch
.
2. Kerry Rhodes, Cardinals S.
Two fumble recoveries for touchdowns in a two-week period will get any safety noticed. Rhodes made other significant plays during the
Arizona Cardinals
' 30-20 victory over New Orleans. The Arizona defense played its best game of the season and Rhodes played a key role.
3. Michael Crabtree, 49ers WR.
Nine catches for 105 yards against Philadelphia showed the 49ers are more committed to getting the ball in Crabtree's hands. Crabtree has 14 receptions for 163 yards in the two games since Mike Johnson replaced Jimmy Raye as offensive coordinator. He had six catches for 81 yards in the 49ers' previous three games.
October, 13, 2010
10/13/10
12:32
PM ET
»
NFC Stock Watch
:
East
|
West
|
North
|
South
»
AFC
:
East
|
West
|
North
|
South
FALLING
Jim McIsaac/Getty ImagesDarrelle Revis, right, wasn't his normally dominatinating self against the Vikings.
1. Darrelle Revis, New York Jets cornerback:
He wasn't ready to return from his left hamstring injury. The Jets knew he wasn't fully healed for Monday night's game against the Vikings. Otherwise, Revis would've lined up against Vikings receiver
Randy Moss
. Instead,
Antonio Cromartie
guarded Moss and Revis spent much of the night limping after receiver
Percy Harvin
, who scored two fourth-quarter touchdowns. Chances are, Revis won't play Sunday against the Broncos.
2. Aaron Maybin, Bills outside linebacker:
He was the 11th overall draft choice in 2009 but hasn't been good enough to get on the field for one of the NFL's worst defenses -- and maybe the worst in franchise history through five games. Buffalo News reporter Mark Gaughan tracks the number of snaps for each defensive player. He had
Maybin down for two in Sunday's loss to the Jaguars
, five a week earlier and eight the game before that.
3. Bill Parcells, Dolphins consultant:
He's not the same golden figure he was a year ago. Parcells padded his Hall of Fame application right away by directing a 1-15 team to the division championship in 2008. But he's leaving clumsily. South Florida Sun-Sentinel columnist Dave Hyde has
nicely summed up the situation, noting the strange announcement
Parcells was stepping down as executive vice president days before the season and supposedly has been taking shots at
Chad Henne
from the thicket.
RISING
1. Aaron Hernandez, Patriots tight end:
The departure of Randy Moss could affect Hernandez most of all in New England's offense. Hernandez immediately goes from being a complement to Moss and slot receiver
Wes Welker
to a more prominent option.
Tom Brady
already has targeted Hernandez 20 times this season, two fewer than he targeted Moss. Hernandez -- not Welker -- leads the Patriots with 146 yards after catches, according to ESPN Stats & Information data.
2. Calvin Pace, Jets outside linebacker:
A foot injury kept Pace off the field for the first four games, but he came back with a fury Monday night. He recorded 1.5 sacks and hit Vikings quarterback
Brett Favre
three times. More importantly, he escaped from the game without re-aggravating his injury like Revis did. Pace is a huge part of the Jets' defense. He also missed the first four games last year because of a league suspension, but he led the team in three categories: eight sacks, 13 tackles for losses and three forced fumbles. His 16 quarterback hits were second to
Shaun Ellis
' 18.
3. Ronnie Brown, Dolphins running back:
After losing back-to-back home games, the Dolphins seem to have realized throwing the ball so much is not what they're all about -- even with Henne and
Brandon Marshall
. Head coach
Tony Sparano made comments during the bye week
that suggest they want to recommit to the run. Such a mindset seems appropriate, and Brown would be the benefactor. He has been healthy, but through four games he's on pace to rush for only 904 yards and four touchdowns. Those are not numbers the top back on an elite running team should have.
October, 13, 2010
10/13/10
12:18
PM ET
»
NFC Stock Watch
:
East
|
West
|
North
|
South
»
AFC
:
East
|
West
|
North
|
South
FALLING
1. Carson Palmer, Cincinnati Bengals quarterback:
After a three-interception performance in a loss to the
Tampa Bay Buccaneers
, Palmer is almost on pace to match his career high of 20 interceptions. The Bengals have a great supporting cast of skill players, but the quarterback has been just as inconsistent as the team, which is 2-3 heading into the bye. The Bengals have two weeks to correct their issues and the passing game should be at the forefront.
2. Chad Ochocinco, Bengals receiver:
Teammate
Terrell Owens
(Batman) is lighting it up for the Bengals, but Ochocinco (Robin) hasn't been nearly as productive. Ochocinco recorded just three catches for a season-low 20 yards last week against Tampa Bay. He's averaging just 3.5 receptions in his last four games. Ochocinco cites lack of offensive chemistry and continuity as a reason for the offense's struggles. The Pro Bowl receiver needs to be at his best for the Bengals to have consistent success.
3. Peyton Hillis, Cleveland Browns tailback:
Hillis got off to a great start this season, but a nagging quad injury hampered him in last week's loss to the
Atlanta Falcons
. Hillis recorded just 28 yards on 10 carries, which ended his two-game streak of 100-yard games. Hillis' status is up in the air again this week. He believes he will play, but if he does it likely will not be at 100 percent.
RISING
[+] Enlarge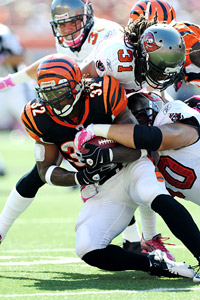 Jim Rinaldi/Icon SMICedric Benson rushed for 144 yards against the Bucs.
1. Ray Rice, Baltimore Ravens tailback:
No one thought it would take five games for Rice to explode. But the Pro Bowl running back finally got his first 100-yard game of the season against the
Denver Broncos
. Rice rushed for 133 yards and two touchdowns. He nearly broke off two big runs that could have increased his total. Rice's production will be very important Sunday against the
New England Patriots
.
2. Cedric Benson, Bengals tailback:
Benson also recorded his first 100-yard game of the season against the Bucs. He rushed for 144 yards on 22 carries. Benson was hot in the second half but the Bengals went away from him late in the fourth quarter, which ended up being the wrong move. Expect the Bengals to go back to their running back after the bye.
3. Colt McCoy, Browns quarterback:
McCoy has quickly gone from a third-string quarterback to a likely starter after both
Jake Delhomme
and
Seneca Wallace
suffered ankle injuries. McCoy's first assignment is not ideal. He will get the toughest test imaginable against the
Pittsburgh Steelers
' defense on the road. The expectations are low for McCoy in this game. But if he shows flashes of promise, that should give the Browns good vibes about their rookie third-round pick.
October, 13, 2010
10/13/10
11:48
AM ET
»
NFC Stock Watch
:
East
|
West
|
North
|
South
»
AFC
:
East
|
West
|
North
|
South
FALLING
1. Kareem Jackson, Texans cornerback:
He got muscled by
Hakeem Nicks
on an early touchdown, a tough play for any corner. But Jackson looked to grow increasingly hesitant, getting blocked out of one big-gain screen and failing to stick with Nicks on a big change of direction on a 27-yarder. Ultimately, the Texans looked to minimize his role, though they lack a solid alternative and a hamstring injury to
Sherrick McManis
meant he wound up back with a good share of work.
2. Cortland Finnegan, Titans cornerback:
He has tremendous talent, but isn't playing up to his standards right now and admitted as much on his weekly radio show in Nashville. He gave up too many plays in Dallas and may have let the fines and discussion of whether he's feisty or dirty get in his head some. If he's not playing close to his best, Tennessee's defensive backfield isn't nearly as good as it can be.
3. Texans early special teams:
Two of the team's first three drives started too deep in Houston territory because of penalties against the kickoff return team by
Darryl Sharpton
and
Frank Okam
. And before either of those, when
Darius Reynaud
muffed a
Matt Turk
punt, the Texans could have had possession in the red zone. Instead they watched
Chase Blackburn
recover the ball at the 15-yard line.
Antwaun Molden
and McManis didn't seem to track the play as long as they should have and
Xavier Adibi
lost a race to the loose ball.
RISING
[+] Enlarge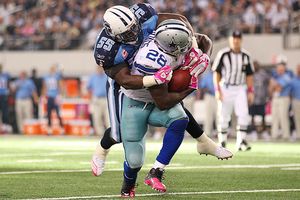 Matthew Emmons/US PresswireStephen Tulloch's career game in Week 5 helped the Titans beat the Cowboys.
1. Stephen Tulloch, Titans middle linebacker:
He was all over the place for the Titans at Cowboys Stadium with a career-high 15 tackles and a game-sealing interception late. He spent the offseason away from the team because he was unhappy about having to play for a restricted tender instead of getting a long-term deal. He's certainly doing fine work building his case for a contract.
2. Antoine Bethea, Colts free safety:
In many ways, he is the glue of the Colts defense. He's playing beside a third-string strong safety and along one corner,
Kelvin Hayden
, who has seemed off his game. I don't know that the Chiefs were ever going to score a touchdown. But Bethea eliminated one opportunity with a big, fumble-causing hit on
Jamaal Charles
with 1:07 left in Colts' territory.
3. Aaron Kampman, Jaguars defensive end:
In the win at Buffalo, Kampman had a tone-setting defensive effort with a team-high 10 tackles, four quarterback pressures, two tackles for losses and 1.5 sacks. The Jaguars are very happy with what they are getting from their big free agent addition, who's leading a young group.
October, 13, 2010
10/13/10
11:38
AM ET
»
NFC Stock Watch
:
East
|
West
|
North
|
South
»
AFC
:
East
|
West
|
North
|
South
FALLING
1. Backup receivers in Minnesota:
Personnel distribution sometimes is a function of individual game-planning decisions, but it sure looks like
Bernard Berrian
and
Greg Camarillo
are going to have a hard time getting into the
Minnesota Vikings
' rotation as long as
Randy Moss
and
Percy Harvin
are healthy. Berrian has been a starter since his high-priced arrival in 2008 and Camarillo was acquired this summer from the
Miami Dolphins
for nickelback
Benny Sapp
. But
Greg Lewis
served as the No. 3 receiver in Monday night's game at the
New York Jets
, and neither Berrian nor Camarillo had a pass thrown his way. According to
Tom Pelissero of 1500ESPN.com
, Berrian got 13 snaps and Camarillo was on the field for seven of 62 offensive plays.
2. Fourth-quarter play in Green Bay:
ESPN analyst Trent Dilfer
pointed out
some painful statistics this week: The Packers' offense has scored one touchdown, committed four turnovers and been penalized 15 times in the combined fourth quarters of five games this season. Those numbers are a big part of why they have two last-second losses on their record already, and they don't bode well for long-term success. It's difficult to pinpoint a reason; conditioning, mental toughness and/or general organization are just guesses. But unless the Packers can start building insurmountable leads, they're going to have to find a way to be more efficient at the end of games.
3. Brett Favre, Minnesota Vikings quarterback:
Elbow tendinitis and an ongoing NFL investigation made for a pretty dark week, and they threaten to consume what Favre has said is his final season. The league would like to complete its inquiry as quickly as possible, but there is no formal timetable. At the very least, Favre faces the possibility of an uncomfortable conversation with commissioner Roger Goodell. Discipline, if merited, could range anywhere from a fine to suspension. Aside from that issue, Favre matched the second-lowest completion percentage (41.2) of his career in Monday night's game. It's hard to imagine that tendinitis didn't affect at least some of his 20 incompletions.
[+] Enlarge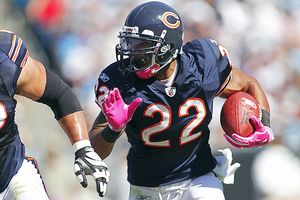 Geoff Burke/Getty ImagesMatt Forte rushed for 166 yards and two TDs on Sunday against Carolina.
RISING
1. Chicago Bears rushing game:
In part because of quarterback
Todd Collins
' ineffectiveness, the Bears ran a season-high 42 running plays in last Sunday's 23-6 victory over the
Carolina Panthers
. Starter
Matt Forte
responded with a career-high 166 yards, while backup
Chester Taylor
helped run out the clock in the second half. It's hard to imagine offensive coordinator Mike Martz averaging 42 rushing plays per game, especially with starter
Jay Cutler
(concussion) on track to return to the lineup this Sunday against the
Seattle Seahawks
. But the best offense is a balanced offense -- or, at least, one that has demonstrated the promise of balance. It's a maxim that Martz hasn't always lived by.
2. Upper Midwest medical costs:
NFC North teams should be pretty close to fulfilling their deductibles by now. An incredible number of high-profile players have already suffered significant injuries, including all four starting quarterbacks. Usually, it's safe to say that the healthiest team wins a division. This year, however, it might be decided by the quality of depth. Little-noticed decisions could come into major play. Example: The Packers lost tailback
Kregg Lumpkin
via waivers when they tried to sign him to their practice squad last month. Had he remained with them, Lumpkin probably would have been the best candidate to replace injured starter
Ryan Grant
.
3. Confidence in Detroit:
It had been 15 years since the
Detroit Lions
enjoyed a 38-plus point victory, and by all accounts, last Sunday was raucous at Ford Field. Defensive tackle
Ndamukong Suh
has already predicted the Lions won't lose another home game this season, and some fans are calling for
Shaun Hill
to keep the starting quarterback job even after starter
Matthew Stafford
returns from a shoulder injury. I think we can recognize the Hill-Stafford "controversy" as silly talk, but it's an opinion driven by excitement rather than depression. Three near-wins followed by a blowout victory have the engines started in Detroit.
October, 13, 2010
10/13/10
8:06
AM ET
»
NFC Stock Watch
:
East
|
West
|
North
|
South
»
AFC
:
East
|
West
|
North
|
South
FALLING
1. Geniuses from New Orleans.
I've been guilty of it too, but I think the media in general gets carried away with labeling coaches as "geniuses'' or "gurus'' like we did with Sean Payton and Gregg Williams last season. They might have been somewhat close to deserving those tags last season, but this season is proving that they're just football coaches. I still think both are good at what they do, but when you go up against an undrafted rookie quarterback (
Max Hall
) and you've got
Drew Brees
and you lose, nobody's going to call you a genius.
2. Jeff Davidson, offensive coordinator, Panthers.
I'm the first to put the blame for the unimaginative offense on head coach John Fox. But don't all the fans who tried to run Dan Henning out of town a few years ago feel just a tad guilty about that now? And what about that supposed "passing camp'' the Panthers had in the offseason, where the entire passing game was going to be overhauled? Well, maybe they should have used the word "demolished'' instead of overhauled. If Fox doesn't make it through the rest of the season, and that's looking possible, Davidson's way behind defensive coordinator Ron Meeks on the list to take over as the interim coach.
3. Perceptions that Reggie Bush is a bust.
Since the New Orleans running back fractured his leg, the Saints have lost two of three games. Suddenly, the Saints can't run the ball and they can't pass it nearly as well as they used to. Yeah, I know there's a school of thought that Bush is nothing more than a role player. But it's becoming pretty clear that his role is to confuse defenses and make everyone around him better. The Saints are suffering without that.
RISING
[+] Enlarge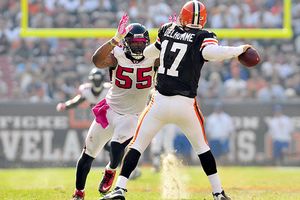 Jason Miller/US PresswireJohn Abraham's two sacks against the Cleveland Browns doubled his season total.
1. John Abraham, defensive end, Falcons.
He was supposed to be old and washed up after last year's lackluster season. But guess what? He's not. Abraham racked up two sacks against three-time Pro Bowl tackle
Joe Thomas
on Sunday. Abraham delivered a hit that knocked out starting quarterback
Seneca Wallace
and forced the Browns to put a gimpy
Jake Delhomme
on the field. In addition to reviving his own game, Falcons officials are also delighted with the way Abraham has embraced serving as a mentor to young defensive linemen -- helping
Kroy Biermann
and
Jamaal Anderson
have productive seasons.
2. Redemption songs in the Tampa Bay secondary.
Cody Grimm
,
Sabby Piscitelli
and
Aqib Talib
have seen hard times in the past. Grimm got toasted by Pittsburgh in his debut, Piscitelli took more than his share of the blame for last year's disaster and Talib was suspended for the first game for an off-field incident. But each of those three guys came up with an interception Sunday and Piscitelli's pick set up the game-winning field goal.
3. Micheal Spurlock, receiver, Buccaneers.
This little guy is showing signs he might be more than just a return man. After Piscitelli's interception, Spurlock made a great catch on a great throw by
Josh Freeman
. He kept both feet in bounds long enough and the play allowed the Bucs to kick a game-winning field goal.
NFL SCOREBOARD
Thursday, 12/5
Sunday, 12/8
Monday, 12/9
WEEKLY LEADERS