NFL Nation:

Stock Watch 2011 Week 1
September, 13, 2011
9/13/11
1:15
PM ET
»
NFC Stock Watch
:
East
|
West
|
North
|
South
»
AFC
:
East
|
West
|
North
|
South
FALLING
1. Miami Dolphins' defense:
I'm new to
the AFC East blog. But I was under the impression that Miami's defense was the strength of the team. The unit was ranked No. 6 in the NFL last season. But the
New England Patriots
carved up Miami for 622 yards in a 38-24 win on "Monday Night Football." It was a very warm night in Miami and the unit looked gassed early. I noticed many Dolphins defenders had their hands on their hips in the second quarter. New England's offense was up-tempo and used a lot of no-huddle throughout the game. The Dolphins couldn't keep up, despite the fact Miami coach Tony Sparano said the team was prepared for it. Several Miami defenders suffered cramps in the second half, as well. The Dolphins have a lot to fix in a short week before playing the
Houston Texans
.
2. Patriots' defense:
If not for
New England quarterback
Tom Brady
's dazzling display (we will get to that later), much of the Patriots' conversation would revolve around their inconsistent defense.
New York Jets
linebacker
Bart Scott
famously said last season that New England's defense couldn't "stop a nosebleed." The Patriots struggled against Miami, which racked up 488 yards of total offense. If New England's offense gains 622 yards and scores 38 points every week, it wouldn't be an issue. But there will be games when good defenses give Brady and Co. trouble. Will New England's defense be ready to pick up the slack?
3. New York Jets' running game:
The Jets had one rushing first down in Sunday's 27-24 win over the
Dallas Cowboys
. Running backs Shonn Green and
LaDainian Tomlinson
combined for 42 yards on 15 carries (2.8 yards per rush). The Jets used to be a power running team. Maybe they are getting away from that too much in favor of throwing 40-plus times. New York's run-to-pass ratio was 16-to-44. I'm curious to see whic direction New York's offense evolves.
RISING
[+] Enlarge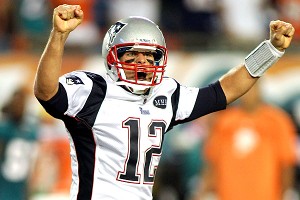 Marc Serota/Getty ImagesTom Brady was firing on all cylinders Monday night.
1. Tom Brady, Patriots quarterback:
Brady put on an amazing show with 517 yards passing, four touchdowns and one interception. Brady was two steps ahead of Miami's defense the entire night and picked the Dolphins apart. Brady spread the ball around and had four players with more than 80 yards receiving. New England will be tough to beat if Brady continues this MVP-level of play.
2. The Buffalo Bills:
The Bills put together the most complete, Week 1 performance in the AFC East. They were dominant on offense and defense during a 41-7 rout of the
Kansas City Chiefs
. Bills quarterback
Ryan Fitzpatrick
was very efficient. He threw for 208 yards, four touchdowns and had the
best Total Quarterback Rating
of any Week 1 quarterback. Buffalo's defense also forced three turnovers. Based on what I've seen in Week 1, this division could be deep and competitive this year.
3. Chad Henne, Dolphins quarterback:
This wasn't the bad Chad Henne I kept reading about.
Henne looked poised and confident
in his 2011 debut against the Patriots. He threw for a career-high 416 yards, two touchdowns and one interception. This is a big year for Henne to prove he is Miami's starting quarterback. He has a strong arm and is surprisingly mobile. Now, Henne needs to put it all together more consistently in his fourth season.
September, 13, 2011
9/13/11
1:00
PM ET
»
NFC Stock Watch
:
East
|
West
|
North
|
South
»
AFC
:
East
|
West
|
North
|
South
FALLING
1. Kerry Collins, Indianapolis Colts quarterback and his pass protection
. Collins was shaky early and by the time he settled down later the game was out of reach and the Texans had let up a bit. His protection was often overwhelmed by the Texans' new 3-4 front, which got great effort and often overwhelmed an offensive line with three inexperienced starters. Collins can't hold the ball as long, must hold it tighter when he might gets hit, and needs better work in front of him to have a chance.
2. Tennessee Titans special teams and new-found discipline
. Four penalties on special teams in the first half didn't suggest this team has evolved a great deal from the sloppy and careless crew Jeff Fisher left behind. There is no name in the game book for the first ineligible player downfield call, though it appeared to be
Akeem Ayers
.
Jared Cook
committed the same foul,
Michael Griffin
ran into the punter and
Gerald McRath
made an illegal block above the waist on a punt return.
3. Chris Johnson, Tennessean Titans running back
. Much is being made of him getting only nine carries, but that's not the biggest issue considering how the Titans hardly had possession against the Jaguars. He had six catches too. In 15 touches, he had only 49 yards. That's 3.3 yards a touch. If that's all he can get, a defense is stacking up to stop him. If so, the Titans have to be able to make teams pay with deep stuff. And while
Kenny Britt
had a big day, it was only on five catches.
RISING
[+] Enlarge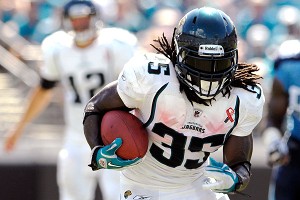 AP Photo/Phelan M. EbenhackDeji Karim gives the Jaguars some options at running back if they want to ease Maurice Jones-Drew back.
1. J.J. Watt, Houston Texans defensive end
. Veterans
Mario Williams
and
Antonio Smith
got more notoriety but Watt was consistently disruptive in the Texans' win over the Colts and deserves mention as well. Effort isn't going to be a question for this group and Watt's as high-energy a player as you can find. He was the division's most impactful rookie on opening day and he didn't look like he will require any adjustment period to the pro game, at all.
2. Deji Karim, Jacksonville Jaguars running back
.
Maurice Jones-Drew
wanted to be used more, but Karim's play gave the Jaguars the option of keeping MJD on a pitch count. He's coming off offseason knee surgery and the team wants to ensure his work is measured this season. Karim stumbled too often early, but found his footing. He was more dangerous as a receiver, with three catches for 39 yards, including a fantastic third-down conversion where he made two tackles miss after he'd run out of room short of the sticks.
3. Ben Tate, Houston Texans running back
. Who knows what 2010 would have held for Tate if he hadn't suffered a season-ending injury in the first preseason game of his rookie year. A year later, he's part of a crowded backfield. But following a nice preseason, with
Arian Foster
in street clothes, and
Derrick Ward
sidelined with a knee injury, he became the lead guy. He did what a back in the Texans' offense is now expected to do against the Colts: He consistently got to the second level, found room and was difficult to bring down.
September, 13, 2011
9/13/11
1:00
PM ET
»
NFC Stock Watch
:
East
|
West
|
North
|
South
»
AFC
:
East
|
West
|
North
|
South
FALLING
1. The "hot'' coordinators in the NFC South.
New Orleans Saints
defensive coordinator Gregg Williams,
Atlanta Falcons
offensive coordinator Mike Mularkey and
Tampa Bay Buccaneers
offensive coordinator Greg Olson all got outcoached badly in their openers. These are guys whose names come up in conversations when you talk about potential head coaches. If they keep coaching this way, they'll stay as assistants.
2. Tampa Bay's pass rush
. The Bucs have known for a couple years they needed to get better on the defensive line. That's why they drafted tackles
Gerald McCoy
and
Brian Price
in the first two rounds in 2010 and ends
Adrian Clayborn
and
Da'Quan Bowers
this year. It didn't make a bit of difference Sunday. The Bucs didn't record a sack and allowed
Matthew Stafford
to throw for 300 yards and three touchdowns.
3. New Orleans coach Sean Payton.
There was a time when there was no room to question Payton's play calling. But fans started doing it after his decision to run rookie
Mark Ingram
and take the ball out of
Drew Brees
' hands on the final play of Thursday night's loss to Green Bay. New Orleans fans are passionate and they've been spoiled by success the past couple of seasons. If the Saints get off to a slow start, they'll start questioning Payton's decision to move his family to Dallas.
RISING
[+] Enlarge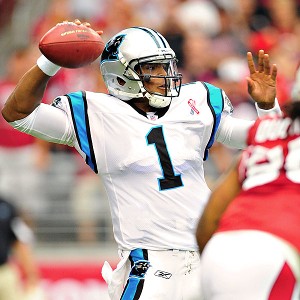 Mark J. Rebilas/US PresswireIt's safe to say that no one, except maybe the Newton family, expected Cam Newton to throw for over 400 yards in his NFL debut.
1. Carolina Panthers general manager Marty Hurney.
Who's making a huge mistake now? Not Hurney. Although fans and some members of the media said Hurney was asking for catastrophic results if he drafted
Cam Newton
with the No. 1 overall pick, that suddenly is looking like a very smart move. Yeah, Hurney also drafted
Jimmy Clausen
and
Armanti Edwards
. But if Newton's record-setting debut is any indication of the future, he's going to make things a lot brighter for Hurney and the entire organization.
2. The possibility of a Week 4 local television blackout in Tampa Bay.
That's the "Monday Night Football" game against the
Indianapolis Colts
. Once upon a time, it was thought the presence of
Peyton Manning
would guarantee a sellout at Raymond James Stadium. Now, Manning's hurt. Speaking of hurting, the Bucs' performance in the opener isn't going to help sell many tickets.
3. Atlanta owner Arthur Blank.
Could he have known about or prevented
Michael Vick
's downfall in Atlanta? It's possible. But that's the past and Vick and Blank made their peace long ago. That will make things a lot smoother Sunday night when Vick and the
Philadelphia Eagles
come to Atlanta. Blank kept in touch with Vick while he was in prison and told commissioner Roger Goodell he believed the quarterback deserved another shot in the NFL. The game between the Eagles and Falcons might bring back memories, but it's not a grudge match.
September, 13, 2011
9/13/11
1:00
PM ET
»
NFC Stock Watch
:
East
|
West
|
North
|
South
»
AFC
:
East
|
West
|
North
|
South
FALLING
1. St. Louis Rams' mojo.
Rams fans are advised to skip ahead to the third item in the "rising" section below. This item could be too painful for them. The Rams' early schedule was going to be tough enough already without subtracting key players from the lineup. Sure, quarterback
Sam Bradford
(finger), tackle
Jason Smith
(ankle) and cornerback
Bradley Fletcher
(toe) could be healthy enough to play against the
New York Giants
in Week 2. None figures to be full strength, however, and there's little or no chance the Rams will have running back
Steven Jackson
(quadriceps), cornerback
Ron Bartell
(neck) or receiver
Danny Amendola
(elbow). The Giants are also riddled with injuries, but at least they'll be at home.
2. Seattle Seahawks special teams.
The Seahawks pulled within 19-17 in the final four minutes against the Ninerse when their coverage units imploded, allowing two quick return touchdowns. Losing fullback
Michael Robinson
and cornerback
Byron Maxwell
to injuries weakened Seattle on special teams, no question. But those personnel losses could not excuse allowing a 102-yard kickoff return and a 55-yard punt return to
Ted Ginn
Jr. Seattle return specialist
Leon Washington
was already having a tough game when he ran down on the kick coverage team as Ginn gathered momentum for his 102-yarder. Washington tried to get around 49ers linebacker
Blake Costanzo
, and when he did, there was room. Ginn: "The guy that really gave it away to me was Leon."
3. Arizona Cardinals cornerbacks.
Rookie
Patrick Peterson
and former wide receiver
A.J. Jefferson
were making their first regular-season starts at cornerback for the Cardinals. By the time their day was done,
Cam Newton
had passed for 422 yards, a record for a rookie making his first start. Peterson and Jefferson were not solely to blame, of course. Effective coverage requires trust and coordination throughout the secondary. Still, coach Ken Whisenhunt was diplomatic when he said: "I think if we can get these two young guys to keep improving and getting more time in these games, we're going to be OK."
RISING
[+] Enlarge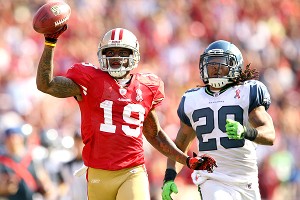 Ezra Shaw/Getty ImagesTed Ginn Jr.'s two touchdowns were the difference in San Francisco's win over Seattle.
1. Ginn and the San Francisco 49ers' special teams.
The 49ers entered Week 1 as the only team in the league featuring a snapper, kicker and punter with at least one Pro Bowl appearance apiece. Brad Seely, in his first season with the 49ers, is a two-time special-teams coach of the year. Costanzo,
Colin Jones
and
Bruce Miller
earned roster spots largely for their strength on special teams. Coach Jim Harbaugh says he thinks the 49ers spend more time than most practicing special teams. Get the idea? Beyond Ginn's returns, the punt that
Andy Lee
dropped at the Seattle 1-yard line was also pivotal. The 49ers won the field-position game, critical to the outcome. Lee set a franchise record for gross average (59.4) among players with more than one punt. His net average (54.2) was sensational.
2. Ray McDonald, 49ers defensive end.
It's tough to believe McDonald hadn't started a game since 2008 before Sunday. The 49ers gave him a $5 million signing bonus as part of a five-year, $20 million contract during the offseason. McDonald was a problem for Seattle from the beginning. He finished the game with six tackles, including three behind the line of scrimmage. He had one sack and three total quarterback hits. The 49ers felt as though McDonald had shown signs in the past that a breakthrough could be on the way. This performance showed they might have been right.
3. Cadillac Williams, Rams running back.
As promised, Rams fans, there was a reward for you in the end. Williams' 19-carry, 91-yard performance validated the Rams' decision to sign Williams for veteran depth behind Jackson. The team previously did not feel as though its backups could carry a full workload from game to game. It's looking like the Rams will need Williams to fill that role for at least one game, and it's looking like Williams will be ready.
September, 13, 2011
9/13/11
1:00
PM ET
»
NFC Stock Watch
:
East
|
West
|
North
|
South
»
AFC
:
East
|
West
|
North
|
South
FALLING
1. Minnesota Vikings' scoring potential:
Vikings quarterback
Donovan McNabb
managed 39 yards passing in a Week 1 that featured 300-plus-yard games from the other three NFC North quarterbacks. Overall, the NFL set a single-week record by combining for 7,482 passing yards, according to the Elias Sports Bureau. We have a passing division within a passing league, but the Vikings appear most equipped to move the ball as a power running team. Let's assume they get more efficient and proficient within that structure. Will they be able to score enough points, and quickly enough, to keep up in division games? The
Green Bay Packers
scored 35 offensive points last Thursday against the
New Orleans Saints
. The
Detroit Lions
' offense scored 27 and the
Chicago Bears
' offense put up 23. The Vikings' offense? It managed 10 points, the lone touchdown set up by a 46-yard run from tailback
Adrian Peterson
. Philosophically, the Vikings are swimming upstream.
2. Consternation about the kickoff rule:
NFC North teams returned a pair of kickoffs for touchdowns in Week 1, matching their total of the entire 2010 season. Packers rookie
Randall Cobb
had a 108-yard return Thursday night, and the Vikings'
Percy Harvin
scored on a 103-yard return Sunday. I'll have more on the blog later Tuesday, but suffice it to say, we have seen no evidence yet that the new kickoff rule will wipe out the potential for an exciting return.
3. Charles Woodson's bank balance:
It would be surprising if the NFL doesn't fine the Packers' cornerback for punching Saints tight end
Donald Thomas
last Thursday. Officials penalized Woodson 15 yards for the play but passed on the option to eject him from the game. I know things get heated during a game, and even the most mild-mannered gentlemen, as Woodson has developed into, can lose their temper. But I'm sure I don't have to remind Woodson that he is the role model for most young players on the Packers' roster. He needs to keep his cool if for no other reason than to ensure the rest of the Packers do as well.
[+] Enlarge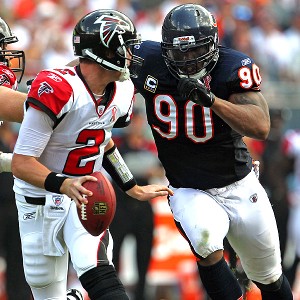 Jonathan Daniel/Getty ImagesJulius Peppers (90) was in Matt Ryan's face on numerous occasions on Sunday.
RISING
1. Julius Peppers, Bears defensive end:
There has been plenty of talk about the surprising debut of defensive tackle
Henry Melton
, who had two sacks and seven quarterback hits Sunday against the
Atlanta Falcons
. But let's not forget that Peppers also had two sacks and forced a fumble that linebacker
Brian Urlacher
returned for a touchdown. Peppers is the top priority of any opposing offense, and that's part of the reason he finished 2010 with a relatively low eight sacks. But Sunday was not only a reminder of what he can do for himself, but also what he can do for other players. Nothing against Melton, but I don't think he finishes with such gaudy numbers if Peppers isn't on the field.
2. The temper of Jim Schwartz, Lions coach:
Schwartz appeared to be seething after Sunday's 27-20 victory over the
Tampa Bay Buccaneers
, and I don't think it was just for effect when the television cameras lit up. If you have a copy of Sunday's game, go back and watch Schwartz going berserk on right tackle
Gosder Cherilus
after his late-game penalty stopped the clock and gave the Buccaneers extra time to mount a potential game-tying drive. I've heard Schwartz chastise players for "stupid" mistakes during training-camp practices on several occasions. He obviously places a big emphasis on players keeping their mental wits about them in pressure situations, and that's part of why he was so upset Sunday. But in the end, Schwartz was handed a coach's dream: A victory with plenty of humbling material to present players afterward.
3. Good citizenry in Green Bay:
Packers quarterback
Aaron Rodgers
threw for 312 yards in last Thursday's game, but none of his receivers had a 100-yard game. And from what I could tell, no one was close to upset about it. Receiver
Greg Jennings
led the way with 89 yards on seven catches. Tight end
Jermichael Finley
, who caught three passes for 53 yards, said: "In this offense, we know that we have to make the most of every opportunity you get with the ball in your hands. When that happens, you better do something with it, because you don't know when you'll get it again." Sounds like a good policy to me.
September, 13, 2011
9/13/11
1:00
PM ET
»
NFC Stock Watch
:
East
|
West
|
North
|
South
»
AFC
:
East
|
West
|
North
|
South
FALLING
1. Fan patience with Tony Romo.
Romo was outstanding against the
New York Jets
defense Sunday night until the fourth quarter, when a couple of bad decisions and turnovers by the star quarterback cost the
Dallas Cowboys
the game. This did not help combat the popular opinion that Romo is a talented guy who can't get it done in the clutch or show the leadership qualities the team needs to make a run at the Super Bowl. It's only one game, and he surely will have chances to undo the damage he did Sunday, but Romo starts the season in a hole of his own making.
2. The New York Giants' margin for error.
The
Justin Tuck
injury wasn't the reason the Giants lost to the
Washington Redskins
, but it may well have been the final
Jenga
piece that came out before the tower fell down. The Giants are so beaten up, so thinned-out by injuries and free-agent defections, that they can't afford any more hits. Losing their best player to injury in the days before the season opener, on top of everything else that had already happened, was too much to overcome. And until they can get a little bit more whole, this is going to be their issue. Lack of depth shows up as the game goes along, and Sunday they got outplayed in the second half. The guys they do have are going to have to play something close to error-free football if they're to have chances to win. Fortunately for them, their next game is against the
St. Louis Rams
, who may be even more banged-up right now than they are.
3. Philadelphia Eagles' early-round draft picks.
Not only did first-round pick
Danny Watkins
lose his job as the starting right guard last week -- he wasn't even active for the Eagles' season opener in St. Louis. Head coach Andy Reid keeps saying Watkins is taking "a step back to take a step forward," and he certainly may well be the starter at some point this season. But the Eagles are in win-now mode, and they're not going to allow Watkins to learn on the job if it's going to be a detriment to the team. Also inactive were second-round safety
Jaiquawn Jarrett
and third-round cornerback
Curtis Marsh
. But fourth-rounders
Casey Matthews
and
Alex Henery
are the starting middle linebacker and placekicker. Fifth-rounder
Dion Lewis
is the kick returner and a good-looking backup running back and sixth-rounder
Jason Kelce
is the starting center. So they got a little bit more immediate help in those later rounds.
RISING
[+] Enlarge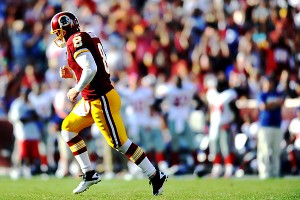 James Lang/US PresswireRex Grossman took advantage of a thinned-out Giants team and threw for 300 yards and two touchdowns.
1. Rex Grossman and the Redskins.
Theirs was the feel-good win of the week in the division, with Grossman throwing for more than 300 yards against that depleted Giants defense and the Washington defense stifling the Giants' run game. I've been writing for weeks that I didn't think -- as many did -- that the Redskins would be one of the worst teams in the league. And I don't know that they should be printing Super Bowl tickets just yet. But they're going to be a tough team to play against, and with the way the schedule lays out, they wouldn't be a huge shock as a borderline playoff contender.
2. The Eagles' offensive versatility.
I don't expect
Michael Vick
to pick up 98 rush yards every week, but he was running to beat the blitz, and he said after the game that he'd be happy to keep doing it if teams wanted to persist in sending extra rushers. Vick's ability to extend drives and turn broken plays into big gains isn't any big news, but it was one of many options the Eagles showcased Sunday, including
DeSean Jackson
as a downfield threat and
LeSean McCoy
as a fourth-quarter weapon. Vick's protection held up well when St. Louis wasn't blitzing more guys than they could account for, and once they get
Jeremy Maclin
and
Brent Celek
and
Steve Smith
into the mix, the Eagles are clearly going to be a very scary offensive team.
3. Sean Lee.
Snagged the starting inside linebacker job away from veteran
Keith Brooking
and ran with it, having a great game against the Jets. Lee has long been viewed as the future for the Cowboys at that position, but the way he played Sunday night makes you think he might be the present as well. He was an asset against the run game and picked up an interception as well. Making plays the way he did Sunday, he's not about to give that job back anytime soon.
September, 13, 2011
9/13/11
1:00
PM ET
»
NFC Stock Watch
:
East
|
West
|
North
|
South
»
AFC
:
East
|
West
|
North
|
South
FALLING
1.Kansas City Chiefs:
The whole darn team. The Chiefs were awful in the preseason, and they were terrible in the regular-season opener. This team has lost its last three games that count (including the playoffs). All three of the games were at home. The Chiefs lost the three games by a combined score of 102-24. Throw in Sunday's season-ending loss of safety
Eric Berry
, and Week 1 was a disaster for Kansas City.
2. Jamaal Charles' hands:
The Chiefs running back had trouble holding onto the ball in the preseason, and he lost a fumble Sunday. Charles is a fabulous talent, but he is going to undermine his game with sloppy play.
3. John Fox's plan:
Fox came to Denver with the plan of running the ball on offense and stopping the run on defense. Neither plan worked in his Denver debut, a 23-20 loss to Oakland on Monday night. Denver had 38 yards rushing and allowed Oakland 190 yards on the ground. So much for Fox's plan.
[+] Enlarge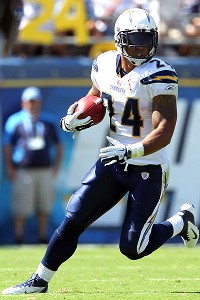 Jeff Gross/Getty ImagesRyan Mathews was a threat running and receiving the ball out of the backfield on Sunday.
RISING
1. Chargers' running backs:
Second-year running back
Ryan Mathews
had 73 yards receiving and 45 yards rushing. He ran hard and looked like a solid pro.
Mike Tolbert
scored all three of San Diego's touchdowns. This could become one of the better running back combinations in the league.
2. Takeo Spikes:
After one game, he looks like a great free-agent signing. Spikes had a game-high 11 tackles against Minnesota, and he led the way as the Chargers' defense held the Vikings to 26 yards in the second half. He may be 34, but this vocal leader still has something left in the tank.
3. Oakland running back Darren McFadden:
We have a legitimate star on our hands, folks. After a breakout year in 2010, McFadden busted out for 150 yards on 22 carries Monday night. What is so scary about McFadden is that he is going to get his big play eventually. He is too explosive not to. His 47-yard run to the Denver 1 sealed the win in the fourth quarter.
September, 13, 2011
9/13/11
1:00
PM ET
»
NFC Stock Watch
:
East
|
West
|
North
|
South
»
AFC
:
East
|
West
|
North
|
South
FALLING
1. Cleveland Browns:
The Browns finished the preseason with optimism and were favorites to beat the rebuilding Bengals at home. But Cleveland continued its longstanding trend of playing poorly in regular-season openers. The Browns fell to 1-12 in Week 1 since returning to the NFL in 1999. Cleveland had too many penalties (11) and some odd, unexplainable mental errors. The Browns have another winnable game Sunday against the Manning-less Colts. If Cleveland blows this one and falls to 0-2, it's going to be a rough season.
2. Pittsburgh Steelers' defense:
Pittsburgh's defense has been too good for too long to write off. But the Steelers did look old and two steps slow on that side of the football in Sunday's loss to the
Baltimore Ravens
. Pittsburgh's defense has eight starters over 30. The unit had a poor game against the
Green Bay Packers
in the Super Bowl and struggled again in Week 1. That is a concern. Baltimore had surprising success running and passing against the Steelers. We will see in Week 2 how Pittsburgh's proud unit bounces back against Seattle.
3. Ben Roethlisberger, Steelers quarterback:
Roethlisberger had a great preseason but accounted for five turnovers in Week 1. He threw three interceptions and lost two fumbles. The Steelers can't win when Roethlisberger is this careless with the football. The offensive line certainly didn't help. Pittsburgh allowed four sacks.
RISING
[+] Enlarge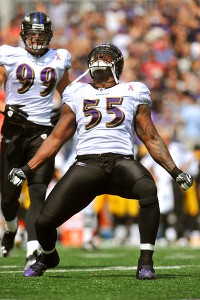 Larry French/Getty ImagesTerrell Suggs had a big day for the Ravens, recording five tackles and three sacks.
1. Ravens' defense:
Baltimore tied a team record with seven turnovers against Pittsburgh. I thought about breaking down the accolades individually in this "Stock Watch," but there were too many good performances. Defensive end
Terrell Suggs
had three sacks and became Baltimore's all-time sack leader with 70.5. Pro Bowl defensive tackle
Haloti Ngata
had four tackles, caused a fumble and tipped the ball at the line for a
Ray Lewis
interception. And
Ed Reed
had two picks off Roethlisberger for another multi-interception game.
2. Joe Flacco, Ravens quarterback:
Flacco finally got over the hump of beating Pittsburgh with Roethlisberger under center. Now, he can move on with the rest of his season. Few quarterbacks have faced more offseason scrutiny that Flacco. He responded with 224 yards and three touchdowns against Pittsburgh. The pass protection was good and Flacco took advantage. He looks ready to make a jump in Year 4.
3. Cincinnati Bengals:
The inexperienced Bengals showed some moxie with a come-from-behind road win over the Browns. Cincinnati scored 14 unanswered in the fourth quarter and did it without their starting quarterback,
Andy Dalton
, who was out with a forearm injury. Bengals head coach Marvin Lewis has said numerous times that he likes this young group.

NFL SCOREBOARD
Thursday, 12/18
Saturday, 12/20
Sunday, 12/21
Monday, 12/22
WEEKLY LEADERS