NFL Nation:

Stock Watch 2011 Week 10
November, 15, 2011
11/15/11
1:06
PM ET
»
NFC Stock Watch
:
East
|
West
|
North
|
South
»
AFC
:
East
|
West
|
North
|
South
FALLING
[+] Enlarge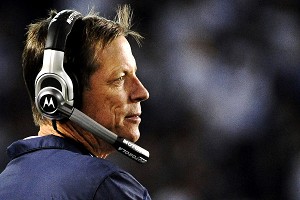 Harry How/Getty ImagesNorv Turner's Chargers have now dropped four games in a row after a hot start.
1. The future in San Diego:
The Chargers have lost four straight games and are now 4-5. This team looks incapable of doing what it takes to win right now. If the Chargers continue to flounder and don't make the playoffs for the second straight year, there will be calls for general manager A.J. Smith and coach Norv Turner to be fired. The Chargers have long been a sexy Super Bowl pick. But they look far from a Super Bowl team right now.
2. The Chiefs' playoff chances:
The Chiefs' chances of winning the AFC West took a hit the past two weeks when they lost back-to-back games at home to Miami and Denver to fall to 4-5. Now, the Chiefs enter a tough five-game stretch in which they play five games against 2010 playoff teams. It starts at New England next Monday.
3. Denver's need to throw:
Denver quarterback
Tim Tebow
threw just eight times in 17-10 win at Kansas City. Denver won for the first time with two or fewer completions. According to ESPN Stats & Information, the only other team in the past 25 years to win a game with two or fewer pass completions and have only one quarterback attempt a pass was the Browns in Week 5 2009 at the Bills.
RISING
1. Kamerion Wimbley, linebacker, Raiders:
Wimbley can get sacks in bunches and he had a bunch Thursday night at San Diego. Wimbley had four of the Raiders' six sacks. He set the tone for a ferocious defensive effort. Wimbley can be streaky, but when he is on, he can be unblockable.
2. Denver's running game:
Denver had 244 rushing yards at Kansas City. They have led the NFL in rushing in the past five weeks.
Willis McGahee
and
Knowshon Moreno
are injured, but
Lance Ball
took the lead with 96 yards against the Chiefs. Tebow's presence had clearly helped the run game as the Broncos have dominated on the ground by using the option.
3. Carson Palmer's arm strength:
There are no worries, folks. Palmer may not be the 2006 version of himself, but he can still fling the ball. According to ESPN Stats & Information, he was 4-for-4 for 146 yards on passes of 21-plus yards in the Raiders' win at San Diego. He threw the ball long at ease. Expect him to continue to shine in that area as the season progresses.
November, 15, 2011
11/15/11
1:06
PM ET
»
NFC Stock Watch
:
East
|
West
|
North
|
South
»
AFC
:
East
|
West
|
North
|
South
FALLING
1. Ray Rice's impact.
The Ravens running back has been averaging 12.3 carries the past four games, including a season-low five on Sunday. Rice's decrease in carries came right after he ran 25 times in a win over the Jets and 23 times in a victory over the Texans. Rice is a threat to break any run for a touchdown, which everyone saw on his first carry against Pittsburgh two weeks ago (a 76-yard run was called back for holding). Baltimore showed a commitment to the running back when it made
Vonta Leach
the league's highest-paid fullback. Not using Rice is mind-boggling.
2. Browns' scoring at home.
Remember
Ben Watson
's 10-yard touchdown catch against the Titans? Well, you should. That was the last time the Browns scored at home. It happened in the fourth quarter on Oct. 2. Cleveland has gone the past two home games without reaching the end zone. That's eight straight quarters. The touchdown drought at
Cleveland Browns
Stadium has reached 131 minutes, 36 seconds. The Browns play at home against Jacksonville on Sunday.
3. Special teams for Browns and Ravens.
In two losses by a combined six points, these two AFC North teams combined for three missed field goals and three fumbles on return teams. The Ravens watched kickoff returner
David Reed
fumble twice in the first half (a total of three times in two weeks) and kicker
Billy Cundiff
miss from 50 and 52 yards. The Browns lost their game against Seattle when they botched the snap on a 22-yard field goal. In the fourth quarter,
Josh Cribbs
fumbled a punt return that led to the Rams' go-ahead field goal.
RISING
[+] Enlarge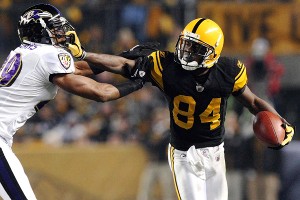 Jason Bridge/US PresswireOpposing defenses are honing in on Pittsburgh's newest go-to receiver this season, Antonio Brown.
1. Steelers' fourth-quarter turnovers
. Taking the ball away from teams has been one of the biggest disappointments with the Pittsburgh defense. But there are signs that the Steelers are getting back on track as far as turnovers. In its past two games, Pittsburgh has forced three turnovers in the fourth quarter. Against Baltimore,
James Harrison
's forced fumble set up the go-ahead touchdown. Against Cincinnati,
William Gay
deflected one pass (which led to an interception) and picked off another throw to seal the win. All three of those turnovers came in Pittsburgh territory.
2. Bengals pass rush
. Cincinnati isn't a heavy blitzing team, but the defense -- especially the front four -- keeps getting to quarterbacks. The Bengals have recorded 11 sacks the past two weeks. It was impressive that Cincinnati sacked
Ben Roethlisberger
five times, which matched his season-worst, because the Bengals were without their best pass rusher,
Carlos Dunlap
. The Bengals have 25 sacks this season, which is eighth-best in the NFL.
3. Steelers wide receiver Antonio Brown
. Defenses have more to worry about than just covering
Mike Wallace
these days. Brown is establishing himself as a go-to receiver downfield for Pittsburgh. He's emerged at a time when
Hines Ward
and
Emmanuel Sanders
have been banged up. Over the past four games, Brown is averaging 6.5 catches and 91 yards receiving. His receptions on Sunday converted two third downs and went for 12, 15, 17, 21 and 21 yards.
November, 15, 2011
11/15/11
1:00
PM ET
»
NFC Stock Watch
:
East
|
West
|
North
|
South
»
AFC
:
East
|
West
|
North
|
South
FALLING
[+] Enlarge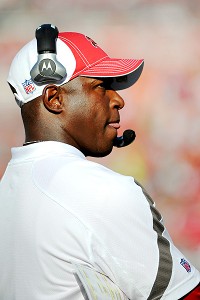 AP Photo/Brian BlancoRaheem Morris' Bucs have now dropped their past three games.
1. Raheem Morris, Buccaneers coach.
There's a strong perception by some members of media and fans that the Bucs "quit'' on Morris in Sunday's loss. When you're considered the ultimate players' coach, that's a horrible sign. The Bucs already have picked up Morris' contract option for 2012. But it's tough to see them extending him if things continue going the way they are. Ask the
Carolina Panthers
how well it works when you let a coach go into a season as a lame duck. Morris bristles when there's talk about him being on the hot seat. But guess what? He just might be on the hot seat if things don't improve dramatically in a hurry.
2. Josh Freeman, Buccaneers quarterback.
I still think he is an enormous talent. But the Bucs are running the risk of ruining him. Freeman already has thrown 13 interceptions, which is more than he threw all of last season. There's no doubt Freeman deserves some of the blame. But I think he has been hurt by a supporting cast that has been more than disappointing and the coaches haven't put Freeman in positions where he can succeed.
3. Roddy White, Falcons receiver.
I'm trying really hard to figure out how White has gone from being perhaps the best receiver in the league last season to a mistake machine this season. He had a pass go off his hands that turned into an interception and was called for two key penalties Sunday. When
Julio Jones
went down with an injury, the Falcons didn't even look to White as their go-to guy. Instead, they went to
Harry Douglas
.
RISING
1. Marques Colston, Saints receiver.
Colston was incredible on third downs Sunday. He caught four passes on third downs and turned each of them into a first down. He doesn't get the full credit he deserves because the Saints have so many other weapons on offense and they use them all nicely. But there's no question the Saints wouldn't have won Sunday if they didn't have Colston.
2. Will Smith and Shaun Rogers, Saints defensive linemen.
They're the two players who were the first to get to
Michael Turner
on the infamous fourth-down play that won the game in overtime for the Saints. Rogers hasn't had a huge impact most of the season. But he seemed to get a good jump on the snap count and moved right into the hole where Turner was supposed to go.
3. Roman Harper, Saints safety.
Yeah, I know people like to say Harper is a liability in coverage and there probably is some truth to that. But Harper is a strong safety and they often are the weakest member of the secondary when it comes to coverage. He also dropped what should have been an easy interception against Atlanta. But hey, at least he was in the right place in coverage for once. Harper compensates for his shortcomings in other ways. He had a sack and was in on 10 tackles Sunday. Harper has a team-high 6.5 sacks. When's the last time you saw a safety with 6.5 sacks through 10 games?
November, 15, 2011
11/15/11
1:00
PM ET
»
NFC Stock Watch
:
East
|
West
|
North
|
South
»
AFC
:
East
|
West
|
North
|
South
FALLING
1. My ability to defend the Detroit Lions' aggression:
Nothing that happened Sunday at Soldier Field will change the emerging national narrative of the Lions as a dirty team. And in all fairness, it's getting harder and harder to split hairs in explaining the difference between tough and dirty as it relates to their play. Bears linebacker
Brian Urlacher
said the Lions play to the "echo" of the whistle, and that's a fair and accurate way to describe it from a technical standpoint.. But visuals of defensive tackle
Ndamukong Suh
ripping off Bears quarterback
Jay Cutler
's helmet, and Lions quarterback
Matthew Stafford
slinging the Bears'
D.J. Moore
to the ground by his helmet, carry far more weight in the court of public opinion. Monday, coach Jim Schwartz asked why no one was calling the hit by Bears defensive end
Julius Peppers
on receiver
Calvin Johnson
dirty. It was a "clothesline right in the neck area," Schwartz said. Technically, Schwartz is right. But the volume of instances the Lions have produced this season, explainable or otherwise, is reaching critical mass.
2. Minnesota Vikings' competitiveness vs. Green Bay Packers:
The Packers are supposed to be the Vikings' top rivals, but the Vikings have produced a number of complete clunkers against them in recent years. They lost 45-7 Monday night, absorbed a 31-3 loss at home in 2010 and were embarrassed 34-3 at Lambeau Field in 2007. We should give the Packers some credit for their performances in those games, but on each occasion the Vikings seemed mentally disengaged from the start. Monday night's game seemed over as soon as the Packers'
Randall Cobb
returned a punt 80 yards for a touchdown -- with all of one minute and 18 seconds gone in the game. NFL teams have to show up 16 days a year. For some reason, the Vikings are habitually missing that train against a division rival.
3. Remi Ayodele, Minnesota Vikings defensive tackle:
Although he has not been seeing much playing time, Ayodele had started the Vikings' first eight games as the free agent replacement for nose tackle
Pat Williams
. In those eight games, Ayodele was unofficially credited with two tackles. The Vikings finally replaced him in the starting lineup Monday night with rookie
Christian Ballard
, who is a better pass rusher. Ayodele isn't the reason why the Vikings are 2-7, but he has to qualify as one of the least productive free agent acquisitions in recent memory. He signed a three-year, $9 million deal that includes $4.25 million in 2011 compensation.
RISING
[+] Enlarge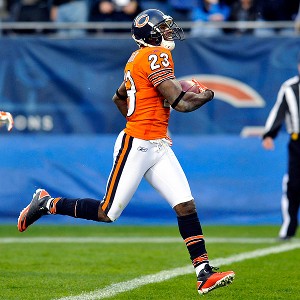 Mike DiNovo/US PresswireTeammate Brian Urlacher thinks Bears return man Devin Hester belongs in the Hall of Fame.
1. Canton credentials for Devin Hester, Chicago Bears returner:
Hester is one return away from tying the NFL record for touchdown returns of 19, set by
Deion Sanders
. He's reached that precipice in less than half the career games it took Sanders and, at 29, would seem to have a number of highly productive years remaining in his career. It's reasonable to believe he'll not just break Sanders' record but ultimately crush it. So if Hester's career arc rises so high above the best returners in NFL history, it would be hard for Hall of Fame voters to ignore him. Here's the way Urlacher put it Monday: "He's the greatest of all time at what he does, and in my opinion, when you're the greatest of all time at your position you should be in the Hall of Fame. He is a first-ballot Hall of Famer in my opinion."
2. Dom Capers, Packers defensive coordinator:
We don't have a recording of every word he spoke last week, but we can assume that Capers took cornerback
Charles Woodson
's blunt assessment of the Packers defense in stride. Capers started coaching four years before Woodson was born, but you're never too experienced to tune out constructive criticism. We'll never know what Capers would have done Monday night had Woodson not spoken out, but he certainly reinforced his reputation as a flexible manager by
turning loose his players on the blitz
. "That's the great thing about Dom," Woodson said. "You can talk to him. Tell him what's on your mind. Tell him what you think."
3. Bears competitiveness in the NFC North:
After watching the Packers' three-phase romp Monday night, it's hard to conceive them not winning the division. But of all the teams remaining on their schedule, the Bears might be the most formidable. One way to stop a high-flying offense is to hit it in the proverbial mouth and then capitalize on mistakes. One of the few things the Vikings did to the Packers was put pressure on quarterback
Aaron Rodgers
, who was sacked three times and was forced to scramble away from pressure on six other plays. The Bears can put the same kind of pressure on Rodgers and are better equipped to take advantage of that situation. We'll see if the teams' Week 16 matchup carries any postseason implications.
November, 15, 2011
11/15/11
1:00
PM ET
»
NFC Stock Watch
:
East
|
West
|
North
|
South
»
AFC
:
East
|
West
|
North
|
South
FALLING
1. DeSean Jackson's prospects of a future in Philadelphia
. Sunday began with the startling news that Jackson had skipped an Eagles team meeting and would be benched for the game against the Cardinals. A lot of other things happened in that game, and the Eagles lost it and probably slipped out of the playoff race. But the bigger, beyond-this-season issue is that of Jackson, who wants a new long-term contract, hasn't helped his chances of getting one with the way he has played this season, and now this missed-meeting fiasco. The Eagles could apply the franchise tag to Jackson next year if they want to keep him around for another season but not make the long-term commitment. But if he's already this unhappy, and he's not producing the way he used to, this might just be a marriage that needs to end.
2. Eagles' health.
During that Arizona game, quarterback
Michael Vick
broke some ribs and wide receiver
Jeremy Maclin
hurt his shoulder and hamstring. Now it looks as though the status of both players is in question for Sunday night's game against the first-place
New York Giants
, and obviously the Eagles are at a point where they can no longer lose any more games. On the bright side, Jackson should be healthy and well-rested, right?
3. Redskins' luck.
Washington's run of injuries at key positions has been well-chronicled here, and their season was already sunk before rookie wide receiver
Leonard Hankerson
went on IR with a hip injury. But the Hankerson injury is a kick in the gut for a Redskins team that was hoping to see more of him in the second half of the season in an effort to determine what role he might have on next year's team. Hankerson had a breakout game Sunday, catching eight passes for 106 yards before his injury, and now Washington fans don't even get to enjoy watching a talented rookie develop during an otherwise lost season.
RISING
[+] Enlarge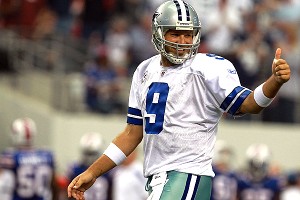 Ronald Martinez/Getty ImagesTony Romo was on top of his game Sunday against the Bills.
1. Dallas Cowboys' playoff hopes.
Dallas is one game behind the Giants now and still has two head-to-head matchups against them to come. Their first meeting will be in Dallas on Dec. 11. Between now and then, the Cowboys will play the Redskins, Dolphins and Cardinals, while the Giants play the Eagles, Saints and Packers. It's not unreasonable to think Dallas could even be in first place by the time it faces the Giants, and regardless, that game and their Week 17 matchup loom as potentially decisive games in the NFC East race. The Cowboys may have had some problems early, but the schedule favors them the rest of the way. And with the head-to-head games against New York still on the schedule, their fate is in their hands.
2. Tony Romo's health.
Finally fully recovered from the broken ribs he suffered in a Week 2 victory over the 49ers, the Cowboys' quarterback played one of the best games of his life Sunday in thrashing the
Buffalo Bills
. After the game, he said it was the first time since that San Francisco game that he felt fully healthy. And if that means he's going to play like this the rest of the way (and stay away from those pesky second-half interceptions that did him in a couple of times earlier this year), that's a scary thought.
3. Rex Grossman.
Hey, look. A week ago he wasn't one of the 32 men in the world who could call themselves a starting NFL quarterback, and this week he is. So, rising. It appears the Redskins have given Grossman the keys to their offense for the foreseeable future, and his job is to run it efficiently enough to give them a chance to win a couple more games down the stretch. They have the opportunity to play spoiler against Dallas and New York one more time each, and there are young players on offense who need to be evaluated, so Grossman isn't just taking up space in Washington. They're expecting him to do a competent job in between turnovers.
November, 15, 2011
11/15/11
1:00
PM ET
»
NFC Stock Watch
:
East
|
West
|
North
|
South
»
AFC
:
East
|
West
|
North
|
South
FALLING
[+] Enlarge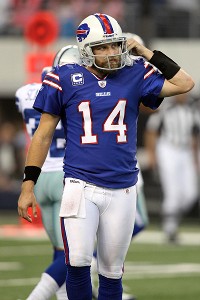 Tim Heitman/US PresswireThe Bills need quarterback Ryan Fitzpatrick to help pull them out of their recent slump.
1. Buffalo Bills:
The Bills are now 2-4 in their past six games. Mathematically, Buffalo is still in the thick of the AFC East and postseason race. But nothing about the Bills' performance the past few weeks suggest this young team is ready to take the next step. The good news is Buffalo (5-4) owns the head-to-head tiebreaker over the first-place
New England Patriots
(6-3). That could make things interesting if the Bills win enough games to make their Week 17 rematch meaningful. But there is plenty of football left and the Bills have to turn their season around quickly to have a chance. The Bills play their next two games on the road against the
Miami Dolphins
and
New York Jets
, games that will define their season.
2. Jets' offense:
It's hard to pinpoint one area. New York's offense as a whole failed to produce against the NFL's worst-rated defense in a 37-16 loss to New England. The Jets went away from the running game, which averaged 4.4 yards per carry. That's on the coaches. Jets quarterback
Mark Sanchez
was sacked five times. That's on the offensive line. And Sanchez made a pair of costly interceptions, including a pick-six in the fourth quarter. That's on the quarterback. But New York doesn't have time to wallow. The Jets have their next game Thursday night against
Tim Tebow
and the
Denver Broncos
.
3. Ryan Fitzpatrick, Bills quarterback:
Fitzpatrick is having a career year. But he has a reputation of being very streaky and is playing his worst football of the season. The Bills are trying to make a playoff push and Fitzpatrick has thrown for just 337 yards with two touchdowns and five interceptions in his past two games. Yes, Buffalo has other issues. But Fitzpatrick now is the face of the franchise and can expect to get a majority of the blame. It comes with the territory. It's up to the Fitzpatrick to lead the Bills out of this funk with his play. Buffalo has what I think is a must-win game next week against the Miami Dolphins.
RISING
1. New England Patriots:
I was shocked to see so many in our community last week claim
the Patriots were done
. I thought most AFC East fans knew better after watching New England dominate the division the past 10 years. It led me
to write this column
, which wasn't very popular but was the truth. New England continued its trend of dominating the AFC East by sweeping the Jets in convincing fashion. The Patriots have an easy schedule and look poised to cruise the rest of the season.
2. Andre Carter, Patriots defensive end:
New England's defense needed a jolt and
got it from Carter
. The veteran registered a career-high 4.5 sacks against the Jets and stayed in the face of Sanchez the entire night. Carter's sacks have come in bunches. He already has three multi-sack games for New England this season. Carter is fourth in the NFL with nine sacks. He needs just two more sacks to match his career high of 11.
3. Miami Dolphins:
Miami won two in a row for the first time this season. Dolphins coach Tony Sparano deserves a lot of credit for keeping the team motivated during a tough time when his job status is up in the air. I've been saying all season that Miami has talent. The Dolphins are finally starting to show it, and can be a dangerous spoiler to watch in the second half of the season. They get a chance to put a huge dent in the Bills' playoff hopes this week at Sun Life Stadium.
November, 15, 2011
11/15/11
1:00
PM ET
»
NFC Stock Watch
:
East
|
West
|
North
|
South
»
AFC
:
East
|
West
|
North
|
South
FALLING
1. Marcedes Lewis, Jacksonville Jaguars tight end:
This offseason MMA training was supposed to transform him and take his game to another level. That's great if his hips are opening up better, but does it matter if he's not catching the ball and if he hasn't earned the confidence of the team's rookie quarterback,
Blaine Gabbert
? If Tennessee's
Chris Johnson
wasn't getting all the attention, there would have been far more attention on Lewis' poor production and we'd be asking the same question: Did he get happy and relax after landing a big contract at the start of training camp? Blocking well is not enough. This team expected and deserves more.
2. The Colts' decision to IR Kerry Collins:
Look, the veteran quarterback wouldn't automatically be fixing all that's wrong with the Colts. But if his concussion has cleared up he'd sure provide a better alternative right now to
Curtis Painter
than
Dan Orlovsky
does. And if Collins were available and could put together one steady game with some big pass plays mixed in, the Colts would have their chance to win a game. Instead, they're choosing between two bad options and are going to be hard-pressed to find a victory.
3. The Texans' confidence, potentially:
They're coming off a fourth straight win and feeling great and, bam, bad news about their quarterback.
Matt Schaub
's done with a foot injury. The Texans are saying all the right things and I believe they do believe in
Matt Leinart
. But take a team heading for the playoffs and maybe even a first-round bye and tell it the quarterback who got it there is out, and it's got to have a psychological effect. We've questioned the mental makeup of this team in this space before. The Texans seem to be making big strides in that department, and they've overcome the loss of significant guys in
Mario Williams
,
Andre Johnson
and
Danieal Manning
. But Schaub is a different deal. The quarterback is the centerpiece and he's been steering things very well. Doubt can creep in.
RISING
[+] Enlarge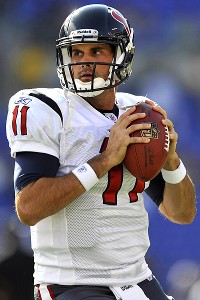 AP Photo/Gail BurtonMatt Leinart won't be the only one under pressure when he starts Nov. 27; his offensive line will face a big adjustment as well.
1. The importance of everyone surrounding the quarterback for Houston:
Leinart could do just fine as he steps in for the injured Schaub the rest of the way. But when the Texans start out with him in the huddle on Nov. 27 in Jacksonville, everyone else needs to make him as comfortable as possible. That means a continued excellent run game, behind continued great blocking from a line that also needs to protect well. It means reliable routes and catches from everyone in the Texans' big stable of pass targets. The more they can do to ease him in, the better.
2. Tennessee Titans linebackers:
Akeem Ayers
,
Will Witherspoon
and rookie fill-in
Colin McCarthy
were active and effective for the Titans in Carolina in a very good collective effort. There was better work going on in front of them as the pass rush had its best day of the season. The Titans dragged
Cam Newton
down five times. McCarthy was solid in the middle playing for the injured veteran
Barrett Ruud
.
Mike Munchak
said Ruud (groin) will be back in when he's ready, but McCarthy could get additional work in some packages.
3. Jeremy Mincey, Jacksonville Jaguars defensive end:
He continues to get better, and on a defense with some veterans who were brought in with big contracts, he's providing valuable energy as an edge rusher. In Indianapolis, he made a great spin move to get inside on
Anthony Castonzo
for the first sack, he helped
Daryl Smith
put Painter down to share a sack and got around the corner and swiped a fumble free from Orlovsky in the fourth quarter.
November, 15, 2011
11/15/11
1:00
PM ET
»
NFC Stock Watch
:
East
|
West
|
North
|
South
»
AFC
:
East
|
West
|
North
|
South
FALLING
1. Jason Brown, Rams center.
The Rams have paid $7 million per season to Brown since signing him for the 2009 season. They replaced him with
Tony Wragge
, presumably because they wanted their line to project more toughness and tenacity. The move almost surely foreshadows the end for Brown in St. Louis. Wragge, 32, had started only 15 games, 10 of them in 2008, since making his NFL debut in 2002. The
San Francisco 49ers
cut him after developing
Adam Snyder
as a backup for additional positions, including center. Wragge made his first Rams start Sunday and the running game carried on.
2. Frank Gore, 49ers running back.
Gore carried only six times for zero yards during the 49ers' otherwise memorable victory over the
New York Giants
. The knee injury Gore suffered did not appear serious, but it's the latest ailment to threaten his availability this season. Ankle injuries slowed him earlier in the season. Gore's franchise-record streak of 100-yard games ended at five, but the injury concerns account for his placement on this list.
3. Rams' secondary.
Losing
Al Harris
to a season-ending and (at his age) career-threatening knee injury weakened an already ravaged St. Louis secondary. One of the few remaining corners,
Justin King
, suffered a head injury late in the game, although coach Steve Spagnuolo suggested all symptoms cleared quickly.
Bradley Fletcher
,
Ron Bartell
,
Jerome Murphy
and other corners have already landed on injured reserve for the Rams this season.
RISING
[+] Enlarge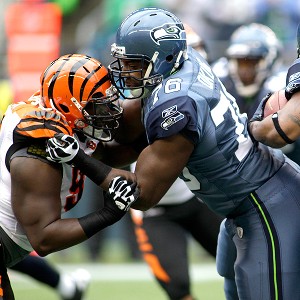 AP Photo/Ted S. WarrenSeattle's Russell Okung has stepped up his play in recent weeks.
1. Ray Horton, Cardinals defensive coordinator.
The Cardinals have not allowed a passing touchdown in their last three games after allowing nine in their first six. They became the first team to hold Philadelphia below 300 yards this season. Younger players like
Sam Acho
,
O'Brien Schofield
and
Patrick Peterson
are contributing.
Calais Campbell
has had some huge games. Yes, the Cardinals have played a couple struggling teams in recent weeks. But after allowing 932 yards over the first two games and 445 to Pittsburgh a few weeks ago, Arizona has stopped the defensive bleeding.
2. Russell Okung, Seahawks left tackle.
Okung fared well in matchups against
DeMarcus Ware
and
Terrell Suggs
over the past two games. He had help at times, but there's no question Okung is gaining in confidence and ability as his previous ankle injuries fade into the more distant past. His play has helped
Marshawn Lynch
put together 100-yard rushing performances in back-to-back games for the first time in his career. Seattle has allowed only two sacks in its last two games after allowing 14 in its previous three.
3. Alex Smith, 49ers quarterback.
Smith doesn't appear higher on this list because his stock has already been rising steadily throughout the season. Even those surprised the 49ers would lean on him so heavily against the Giants had to admit Smith's performance was only mildly (if at all) surprising in the context of this season. Don't be fooled into thinking the 49ers leaned on Smith out of necessity once Gore was injured, either. They threw 11 times in their first 13 plays because that was the offensive plan.

NFL SCOREBOARD
Thursday, 9/18
Sunday, 9/21
Monday, 9/22
WEEKLY LEADERS