NFL Nation:

Stock Watch 2011 Week 11
November, 22, 2011
11/22/11
1:00
PM ET
»
NFC Stock Watch
:
East
|
West
|
North
|
South
»
AFC
:
East
|
West
|
North
|
South
FALLING
1. John Skelton, Cardinals quarterback.
This feels like a late hit -- piling on. Skelton took enough criticism from coach Ken Whisenhunt following the Cardinals' 23-7 defeat at San Francisco. But if we're going to list NFC West players whose stock fell in Week 10, Skelton has to rank at the top. He completed 6 of 19 passes for 99 yards with no touchdowns and three interceptions before Whisenhunt benched him to start the fourth quarter. A strong performance from Skelton against the 49ers would have put pressure on Whisenhunt to stick with the second-year passer a while longer.
2. Sam Bradford, Rams quarterback.
The Rams' second-year quarterback took five more sacks, lost two fumbles and threw an interception while averaging only 4.5 yards per attempt during a 24-7 home defeat to Seattle. This was Bradford's third game back from injury, but he seems to be getting worse, not better. He has taken 31 sacks in eight starts, nearly double his rate from last season (34 sacks in 16 starts). The Rams appear inept offensively and Bradford, though hardly the No. 1 problem, has shown no ability to lift up the offense.
3. David Akers, 49ers kicker.
Akers had two field-goal tries blocked Sunday against Arizona. He missed another attempt. Akers had missed only twice all season, both against Philadelphia in Week 4. There's no reason for alarm at this point. Akers has enjoyed a Pro Bowl-caliber season, even with the misses. But as the 49ers prepare to play what could be a close game against Baltimore on Thanksgiving, they'll need Akers to bounce back from an uncharacteristically rough day. In fairness, Cardinals kicker
Jay Feely
deserved mention in this space a week earlier. He missed twice against the Eagles. Akers, like Feely, escaped serious scrutiny because his team won.
RISING
[+] Enlarge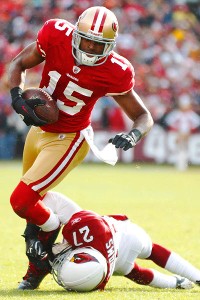 Jason O. Watson/US PresswireMichael Crabtree is turning it on as the 49ers' go-to receiver.
1. Michael Crabtree, 49ers WR.
Crabtree caught seven passes for 120 yards against the Cardinals. A week earlier, he caught a two-point conversion pass. Crabtree, slowed by injury early in the season, broke tackles and showed better breakaway ability in winning his initial matchup with Cardinals cornerback
Patrick Peterson
. Crabtree has made his mark as a blocker all season. He hasn't gotten many breaks as a receiver. Officials incorrectly waved off a Crabtree touchdown at Cincinnati. Quarterback
Alex Smith
has missed an open Crabtree a few other times. This performance Sunday marked a step forward. It was the first time this season Crabtree has reached 100 yards receiving.
2. Chris Clemons, Seahawks DE.
A three-sack performance against the Rams left Clemons with eight sacks for the season. He forced two fumbles, giving him three for the season, a career single-season high. Clemons became the first Seahawks player since 2007 to collect three sacks in one game (
Patrick Kerney
did it three times in a four-game stretch that season). Clemons is an impact player in all areas and arguably the best player on the team. He has recorded seven of his eight sacks on the road this season. A three-game home stand against losing teams should let Clemons reach double-digit sacks for the second consecutive season.
3. Kyle Williams, 49ers WR.
This was a tough call. Seattle's
Leon Washington
also came to mind after his punt returns helped the Seahawks control field position against the Rams. Williams was the choice because he basically came out of nowhere to catch five passes for 54 yards and a touchdown. The 49ers were having issues with consistency in the passing game when Williams came off the bench to spark the team.
November, 22, 2011
11/22/11
1:00
PM ET
»
NFC Stock Watch
:
East
|
West
|
North
|
South
»
AFC
:
East
|
West
|
North
|
South
FALLING
Sean McDermott, Panthers defensive coordinator.
He was hired by first-year head coach Ron Rivera, who comes with a defensive background. Plus, McDermott and Rivera were following a head coach (John Fox) who was all about defense. But the Panthers have been terrible on defense, and it seems they keep getting worse. They rank No. 27 in the league in total defense and allowed 49 points to Detroit on Sunday. This isn't all on McDermott by any means. Carolina's defense has been depleted by some big injuries that started way back in training camp. But even with injuries, a young defense should show some improvement as a season goes on.
[+] Enlarge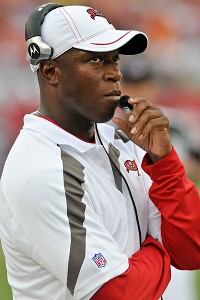 Fernando Medina/US PresswireDefense is supposed to be the area of expertise for Bucs coach Raheem Morris, but Tampa Bay's unit is ranked No. 31.
The defensive coordinator in Tampa Bay.
Yep, that's head coach Raheem Morris. The Bucs are No. 31 in total defense and much of the blame for that should fall on Morris. There is some talent on the defensive side, but the Bucs seem to be regressing in this area. Since Morris bounced defensive coordinator Jim Bates in the middle of the 2009 season, it has been difficult to figure out Tampa Bay's defensive identity, although the word "mediocre'' would be a fitting term. The Bucs don't stop the run well, generate very little pressure up front and, and despite some talent in the secondary, give up some big pass plays.
Kellen Winslow, Buccaneers tight end.
If you look only at the numbers (nine catches for 132 yards), Winslow had a good game against Green Bay on Sunday. But numbers don't tell the whole story. Winslow had a touchdown called back because he was called for offensive pass interference. He also dropped a pass that should have given the Bucs an easy two-point conversion.
RISING
Sean Payton, Saints coach.
We use the term "rising" literally here. Although Payton was back on the sideline in the last game before the bye, he was on crutches and trying to stay out of harm's way. But the leg and knee injuries that caused Payton to sit in the press box for three games are healing nicely. On Monday night against the Giants, Payton should be much more mobile, and that should help him get a better feel for the game.
Matt Ryan, Falcons quarterback.
Ryan threw for 316 yards in Sunday's victory against Tennessee. That gave him the first back-to-back 300-yard games of his career. Ryan struggled with consistency – a common theme for everyone in Atlanta – earlier in the season. But he seems to be on a good path right now, and that could come in handy as the Falcons try to make a playoff push.
Roddy White, Falcons receiver.
He played his best game of the season Sunday, with a season-high 147 receiving yards. With White seemingly getting on track and the possible return of
Julio Jones
from a hamstring injury, Atlanta suddenly could have the high-powered passing game that many of us expected at the start of the season.
November, 22, 2011
11/22/11
1:00
PM ET
»
NFC Stock Watch
:
East
|
West
|
North
|
South
»
AFC
:
East
|
West
|
North
|
South
FALLING
1. Jack Del Rio, Jacksonville Jaguars coach
: His damage control on Monday was better, but he had a terrible Sunday. When he says his coordinator Dirk Koetter makes the play calls, he appears to be throwing the assistant under the bus. He also appears not to have a good feel for the job. Allowing coordinators to do their thing is important. But it's not a violation of their freedom to do their jobs for a head coach to participate in a timeout discussion of what's to come. To claim that Koetter has complete autonomy is to distance yourself from important decisions. That's a weak strategy. Shouldn't the buck stop here?
2. Tennessee Titans defensive ends
: The Titans were excited about getting
Derrick Morgan
in the mix after losing him for his rookie year to a torn ACL, but he's made minimal impact and hurt an ankle in Atlanta. They moved
Jason Jones
from tackle to end to help beef up the outside, and he's not been a big presence.
Dave Ball
is hurt again.
William Hayes
flashed a week ago but clearly is not a staff favorite and killed the Titans with a fourth-down offside penalty against the Falcons. Production from the group has simply been insufficient.
3. Indianapolis Colts quarterbacks
: We will probably learn the team's verdict on the starting quarterback for the Carolina game on Wednesday. But does it matter much? I think
Curtis Painter
is better than
Dan Orlovsky
and should be the choice, but it's not much of a choice. The best-case scenario is that whoever is at quarterback makes a couple big plays to
Pierre Garcon
and
Reggie Wayne
and then plays mistake free. Even in that scenario, the Colts would need the sort of defensive effort to win that they don't seem capable of.
[+] Enlarge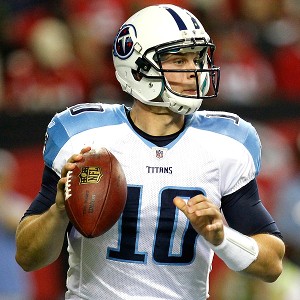 Kevin C. Cox/Getty ImagesJake Locker played well in relief of Matt Hasselbeck this past Sunday.
RISING
1. Jake Locker, Tennessee Titans backup quarterback
: He showed himself to be ready and able in relief work of
Matt Hasselbeck
. Offensive coordinator Chris Palmer put him in favorable situations -- working out of shotgun, throwing on the move, in position to take off running. He sailed a few throws but overall earned an "A" for being prepared, confident and effective. That said, the right move is to return him to the bench behind Hasselbeck. It's the kind of playing time and experience that's really healthy for Locker at this stage.
2. The perception of the AFC South as super-weak
: The Colts are winless. The Jaguars can't beat the bad Browns. The Titans are average. The Texans are a good team, but they are moving forward without their quarterback. Hasselbeck is the division's best quarterback now with
Matt Schaub
out, and although we need to see
Matt Leinart
, we know Painter and
Blaine Gabbert
are awful now. The AFC North and NFC South feel very good about drawing this division on their schedules this year.
3. Andre Johnson, Houston Texans receiver
: He's ready to return, and adding one of the game's very best receivers to the lineup should provide a jolt. Leinart's got to find him early and take advantage, too, of the attention the Jaguars are likely to devote to him, creating space and opportunity elsewhere. The Texans did great work with Johnson out of the lineup for six games with a hamstring injury. Getting him back for the first game without Schaub is a big, big deal. Someone asked me how long I thought it would take for Johnson to get back into the flow. I say three plays.
November, 22, 2011
11/22/11
1:00
PM ET
»
NFC Stock Watch
:
East
|
West
|
North
|
South
»
AFC
:
East
|
West
|
North
|
South
FALLING
1. Hue Jackson's patience:
The
Oakland Raiders
' first-year head coach complained publicly about the officiating in Oakland's win at the
Minnesota Vikings
Sunday. Monday, he spoke to the league about his concerns. The Raiders, who lead the league in penalties, were flagged 12 times for 117 yards Sunday. Several of the calls were questionable.
[+] Enlarge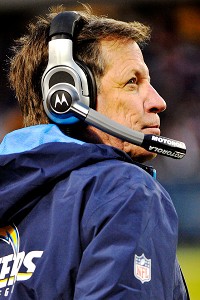 Rob Grabowski/US PresswireAfter a 4-1 start, Norv Turner can't seem to stop San Diego's five-game losing skid.
2. Norv Turner's time in San Diego:
If the
San Diego Chargers
don't somehow find a way into the playoffs, it will likely be the end of Turner's San Diego tenure. The Chargers have lost five straight games and have a 4-6 record. If San Diego finishes under .500 and out of the playoffs for the second straight year, the cry for Turner's firing will likely be too loud for ownership to ignore.
3. The Chiefs' momentum:
The
Kansas City Chiefs
have been a team of streaks all season and their streaky ways continued Monday night at New England. The Chiefs scored the game's first three points only to see the
New England Patriots
score the game's final 34. The Chiefs played very tough and very well through the middle of the second quarter before the Patriots took over. The Chiefs lost the first three games of the season, and then they won their next four games. Kansas City is now sitting on another three-game losing streak.
RISING
1. Tim Tebow's ball security:
Say what you wish about Tebow's accuracy problems, but the
Denver Broncos
' quarterback is not throwing the ball to the wrong uniform. Tebow has thrown just one interception in 125 passes attempts this season and he hasn't throw an interception in his past three games. That is a real positive step for a young quarterback.
2. Kevin Boss, tight end, Oakland:
Boss had five catches in the win over the Vikings. He previously had been targeted just 11 times this season. He and new Oakland quarterback
Carson Palmer
are building a nice rapport.
3. Von Miller's rookie of the year candidacy:
Denver's linebacker is getting better each week. He had 1.5 sacks in the Week 11 win over the Jets. Miller has 9.5 sacks in 10 games and has a chance to break Jevon Kearse's 1998 rookie record of 14.5 sacks. Miller, the No. 2 overall pick of the draft, has to be the favorite to win the award.
November, 22, 2011
11/22/11
1:00
PM ET
»
NFC Stock Watch
:
East
|
West
|
North
|
South
»
AFC
:
East
|
West
|
North
|
South
FALLING
1. Andy Dalton's interceptions:
The Bengals' rookie quarterback stumbled at times the past two weeks when the caliber of defense improved. Dalton has thrown five interceptions against Pittsburgh and Baltimore after getting picked off seven times in his first eight games. Not all of the turnovers can be put on the second-round pick. But fewer mistakes early would cut down on the fourth-quarter deficits.
[+] Enlarge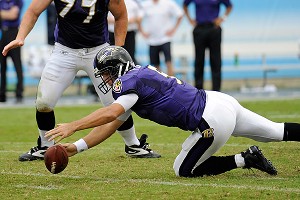 AP Photo/John RussellRavens quarterback Joe Flacco has 10 fumbles already this season, one shy of his career high.
2. Joe Flacco's fumbling:
The Ravens' quarterback is having more trouble holding onto the ball than ever before. Flacco lost the ball Sunday when he hit the arm of fullback
Vonta Leach
on what looked to be an eventual handoff to
Ray Rice
. This was his 10th fumble of the season, which is one shy of his career high that he set as a rookie. Flacco has now fumbled six times in the past six weeks.
3. Injuries to star players:
The Browns have already ruled out running back
Peyton Hillis
(hamstring) and aren't sure about the availability of backup
Montario Hardesty
(calf). The Steelers probably won't have their top pass-rusher, outside linebacker
LaMarr Woodley
(hamstring), for a third straight game. The Ravens could get back inside linebacker
Ray Lewis
(toe) but he likely won't be at full strength. And the Bengals could be facing another game-time decision with leading receiver
A.J. Green
(knee).
RISING
1. Colt McCoy's accuracy:
One reason for renewed optimism in McCoy has been his increased completion rate. He has connected on 72.5 percent of his throws the past two games (37 of 51) after completing 57.4 percent of his passes in his first eight games. This is the same quarterback who didn't complete half of his throws in three of his first five games. He's also had two completions over 50 yards the past two weeks.
2. Ravens' explosive plays:
Nearly half of Baltimore's offensive output in Week 11 came on four plays.
Anquan Boldin
scored the Ravens' first touchdown on a 35-yard catch-and-run. Rice had a 59-yard run (his second 50-plus yard run of the season) that led to a field goal in the third quarter. And
Torrey Smith
scored on a 38-yard grab in the fourth quarter and set up a second-quarter touchdown with a 49-yard diving catch. These are no longer your grind-it-out Ravens.
3. Favorable scheduling:
The Ravens and Steelers are getting some help from the NFL schedule-makers this week. The 49ers are having to make a cross-country trip on four days rest to play in Baltimore on Thanksgiving night. The Ravens will have an extra day to prepare on Wednesday while the 49ers are on a six-hour flight to Baltimore. The Chiefs are going against the Steelers after traveling from New England on a short week having played on Monday night. Pittsburgh is coming off two weeks rest because of its bye.
November, 22, 2011
11/22/11
1:00
PM ET
»
NFC Stock Watch
:
East
|
West
|
North
|
South
»
AFC
:
East
|
West
|
North
|
South
FALLING
1. Offensive line, Minnesota Vikings:
I don't want to pick only on left guard
Steve Hutchinson
, who quite clearly isn't playing at the same level he did at the height of his career. The biggest problem is that Hutchinson remains the Vikings' best offensive lineman. Watching this group get manhandled Sunday by the
Oakland Raiders
suggested it will need a significant overhaul in the coming months. We've discussed the need to find a long-term replacement for departed left tackle
Bryant McKinnie
, but the reality is no job should be safe. The Vikings have a pair of 2011 draft picks, center/guard
Brandon Fusco
and tackle
DeMarcus Love
, serving as backups at the moment. I'm not sure if either projects as a long-term starter, but it's clear that immediate action is necessary one way or the other.
[+] Enlarge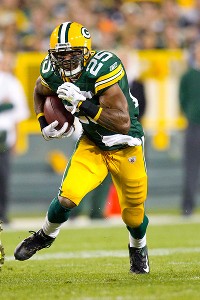 Jeff Hanisch/US PresswirePackers running back Ryan Grant could see a lot of action on Thursday against Detroit.
2. Bench warming time for Ryan Grant, Green Bay Packers tailback:
Grant has started nine of the Packers' 10 games this season but is averaging about nine touches per game. That figure could increase significantly Thursday at Ford Field, given the knee/ankle injury of "backup"
James Starks
, who is averaging about twice as many touches per game. Even if Starks is available, you would think Grant could see his workload increased. Grant has been a perfect citizen and teammate during what must be a personally disappointing time. Typically, players who understand the big picture get an opportunity to make a big contribution at some point and in some way. Odds are that Grant will get that chance soon, if not Thursday.
3. The future of Chris Cook, Minnesota Vikings cornerback:
Cook hasn't played since he was arrested Oct. 23 on a charge of felony strangulation following a domestic incident with his girlfriend. He is currently on what amounts to a paid suspension as he sorts through his issues, but you wonder whether his standing with the team will change at all after prosecutors added a second charge of third-degree assault.
According to reports
, the second charge resulted from news that the victim suffered a perforated eardrum during the incident and has experienced hearing loss. Cook has a court appearance scheduled for Tuesday.
RISING
1. Donald Driver, Green Bay Packers receiver:
It was
overshadowed by the performance of some teammates
, but Driver had his most productive game of the season Sunday against the
Tampa Bay Buccaneers
. His four catches matched the season high he set in Week 1, and his 72 yards -- powered by a 35-yard catch-and-run in the third quarter -- were the most he has had in a regular-season game since Week 13 of 2010. Those figures are a reminder that Driver, 36, is no longer a primary option in the Packers' offense. But Sunday served notice that he can still make plays downfield when the opportunity presents itself.
2. Amateur medical practices in Chicago:
Everyone has an opinion, medically based or otherwise, on how long a fractured right thumb should keep
Chicago Bears
quarterback
Jay Cutler
out of action. Initial reports suggested he would miss the rest of the season and possibly be unavailable for the playoffs, but coach Lovie Smith appeared confident Monday that Cutler will return before the end of the regular season. But Smith wouldn't divulge enough details about Cutler's condition to give us a chance to verify his timetable. What we do know is that
the American Academy of Orthopedic Surgeons
recommends a cast or splint for between two and six weeks after surgery. Depending on severity of the injury, the rule of thumb (sorry) is that it can take up to three months to regain full use of the hand.
3. Matthew Stafford, Detroit Lions quarterback:
We noted Monday how Stafford reversed his early game struggles against the
Carolina Panthers
on the way to a five-touchdown performance. Let's allow the folks at
Cold Hard Football Facts
to provide a wild glimpse at the big picture. In his three-year career, Stafford has trailed by at least 17 points in 10 of 23 starts. He has led game-winning comebacks in four of them. That's a pretty impressive trend for any quarterback, let alone one who is four months away from his 24th birthday.
November, 22, 2011
11/22/11
1:00
PM ET
»
NFC Stock Watch
:
East
|
West
|
North
|
South
»
AFC
:
East
|
West
|
North
|
South
FALLING
1. Giants' offensive line.
It hasn't really been any good all year, but now it has begun to cost them games. The Giants were absolutely manhandled up front by the Eagles' defense Sunday night, unable to find anything at all in the run game or give
Eli Manning
enough time to throw.
Brandon Jacobs
is getting booed by the home fans, but he can't make the holes himself. The Giants look like a team that will continue to be in every game they play, including the tough ones, but it's going to be difficult for them to put together a winning streak against their schedule if they can't win those physical battles in the trenches.
2. Cowboys' secondary.
They hung on to beat Washington, but
Rex Grossman
had a pretty good day against them. They miss cornerback
Mike Jenkins
, and if the injury to safety
Gerald Sensabaugh
is serious enough to linger, they'll have a tough time patching it together in time for Thursday's game. The good things for Dallas are that its offense is good enough to outscore teams and its next two opponents aren't big-time passing teams. But the Cowboys' defense did show some cracks Sunday, especially on the back end.
3. Redskins' running game clarity
. Actually, it seems kind of clear to all involved that rookie
Roy Helu
is the team's best back. But Mike Shanahan keeps giving
Ryan Torain
the starts and bringing in Helu later. Shanahan said this week that part of the reason for that is not wanting to give the rookie too much too soon -- a strategy that speaks to where Shanahan and the Redskins are right now as a franchise. They're thinking long-term, and they don't want to overload Helu mentally or beat him up physically if he's part of the long-term plans. So while it may feel frustrating right now, it's all designed to make things better in the long run.
RISING
[+] Enlarge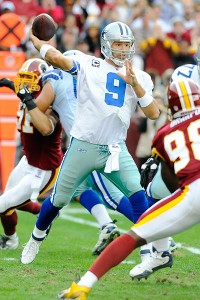 Brad Mills/US PresswireTony Romo is playing consistent football through 11 weeks.
1. Tony Romo, Cowboys quarterback.
This was a game in which a number of things that had been going right for the Cowboys did not. They didn't dominate physically in the run game as they have been lately. They didn't make the stops they needed to make on defense. And yet, rather than force things the way he was when he was making so many costly mistakes earlier in the season, Romo was smart and efficient and deliberate and made all of the throws he needed to make to deliver a division win. He's in the middle of an excellent season.
2. Vince Young, Eagles quarterback.
Man, did he look shaky for the first three quarters. He even looked shaky at times on that game-winning drive. But he made the plays he needed to make to deliver a win. And even if
Michael Vick
comes back healthy this week and Young doesn't start another game all year, he showed teams he added a win to his record as an NFL quarterback, which now stands at 31-17. That's Young's biggest selling point -- not the relative prettiness of his passes -- and if he wants to go find a starting job somewhere next year, that win is one more thing he can try to sell.
3. Eagles' and Cowboys' offensive lines.
Maligned for much of the season as a weak spot, the Eagles' line has actually consistently ranked among the best run-blocking lines in the league. Sunday night, it also gave Young the time he needed to make plays. Their playoff chances are, at best, on life support, but their physicality up front on both sides of the ball is going to make them a tough team to play the rest of the way. As for Dallas, it is still shaky at center, and
Doug Free
isn't having a very good year. But the return of
Montrae Holland
to play left guard has really helped solidify things for them in the middle, and there's reason to think they'll continue to improve as the year progresses.
November, 22, 2011
11/22/11
1:00
PM ET
»
NFC Stock Watch
:
East
|
West
|
North
|
South
»
AFC
:
East
|
West
|
North
|
South
FALLING
1. The AFC East:
I noticed some division fans
didn't like my column
on the AFC East as a mediocre division. Yes, there are other struggling divisions. But I expected more from the AFC East, especially after the
Buffalo Bills
' hot start in September. But the past month has exposed the AFC East as weaker than expected. It's possible that only one team -- the
New England Patriots
(7-3) -- will make the playoffs. No other team has a winning record.
2. Bills:
I think most reasonable football observers expected the Bills to hit a rough patch at some point. Buffalo started off fast at 3-0. There was very little chance the surprising Bills could keep up that kind of pace. But the way Buffalo has lost the past three weeks is embarrassing. Several Bills players acknowledged as much in the locker room Sunday. Buffalo looks like the
Indianapolis Colts
lately. The Bills haven't bothered to show up in games, losing by a combined score of 109-26. Buffalo has a chance to rebound this week with a huge rematch against the
New York Jets
.
3. Jets' offense:
It's hard to point the
finger at one area
of New York's offense, because everything has been failing lately. New York's running backs are injured, the offensive line allowed eight sacks in two games and quarterback
Mark Sanchez
hasn't looked comfortable. Offensive coordinator Brian Schottenheimer also fails to get the most out of his talented skill players most weeks, and his play-calling at times is shaky. New York is in must-win mode for the rest of the year. The Jets have a lot of problems to clean up offensively, and it may be too late to make the playoffs.
RISING
1. Miami Dolphins' defense:
This is the defense Dolphins fans expected all season. Miami had the NFL's sixth-ranked defense last year but struggled during its 0-7 start. But the last few weeks, the Dolphins' defense is wreaking havoc again and putting the team in position to win games. Miami forced two turnovers and held Buffalo to 262 total yards and 0-for-12 on third-down conversions in a 35-8 victory. The Dolphins have allowed just 20 points the last three games.
[+] Enlarge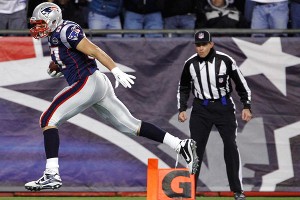 David Butler II/US PresswireRob Gronkowski added to his touchdown total with two more Monday night.
2. Rob Gronkowski, Patriots tight end:
At some point opponents will realize they have to defend Gronkowski around the end zone. "Big Gronk" caught two more touchdown passes in New England's 34-3 victory over the
Kansas City Chiefs
on Monday night. Gronkowski has 10 touchdowns this season and 17 touchdowns in the red zone since 2010, which leads the NFL. Gronkowski is emerging as one of the league's top tight ends. He has a great combination of size, athleticism and soft hands.
3. Matt Moore, Dolphins quarterback:
Moore's stock continues to rise after he led Miami to its third win in a row. Moore is playing consistent football and not making mistakes. His Total Quarterback Rating of 98.2 was the best in the
NFL for Week 11
. Moore still has a lot to prove to be Miami's long-term solution at quarterback. But at least he's making the conversation interesting.

NFL SCOREBOARD
Thursday, 8/28
WEEKLY LEADERS