NFL Nation:

Stock Watch 2011 Week 13
December, 6, 2011
12/06/11
1:00
PM ET
»
NFC Stock Watch
:
East
|
West
|
North
|
South
»
AFC
:
East
|
West
|
North
|
South
FALLING
1. Buffalo Bills' defense:
Buffalo has lost five consecutive games, and the biggest reason is its inconsistent defense. The Bills can't stop the run or rush the passer. That leaves very little hope on game day. Buffalo had only one sack and allowed
Tennessee Titans
tailback
Chris Johnson
to rush for 153 yards and two touchdowns. Injuries to players such as defensive tackle
Kyle Williams
, linebacker
Shawne Merriman
and safety
George Wilson
have contributed to Buffalo's struggles. But the Bills need to make it a point in the offseason to add more depth and defensive playmakers.
2. New England Patriots' fourth-quarter defense:
I'm not going to make a huge deal about it, but the Patriots allowed 21 unanswered points in the fourth quarter to the winless Indianapolis Colts. It's clear the Patriots took their foot off the pedal. But Indianapolis is 0-12 and had
Dan Orlovsky
at quarterback. The Colts shouldn't score 21 unanswered points against anybody. Before Sunday's game, the Colts had scored 21 points or more just once in an entire game. The Patriots allowed that many points in one period.
3. New York Jets' passing offense:
There are times when the Jets' passing offense makes you scratch your head -- the quarterback misses throws or receivers will run the wrong routes and aren't on the same page. There has been a lot of that lately with the Jets, at least in the first three quarters. New York's passing game isn't waking up until the end of games, and that's saved the Jets in back-to-back weeks. Quarterback
Mark Sanchez
struggled against the
Washington Redskins
but saved his best throws for last. The Jets have little margin for error and need the passing game to be there consistently.
RISING
1. Miami Dolphins' running game:
The
Oakland Raiders
were completely run over by Miami. The Dolphins recorded 209 rushing yards and had great performances from two tailbacks.
Reggie Bush
had 100 yards rushing and rookie
Daniel Thomas
added 73 yards on the ground. Miami's offensive line dominated in the trenches. It even led to frustration by Oakland defensive lineman
Richard Seymour
, who hit offensive lineman
Richie Incognito
in the
face and was ejected
.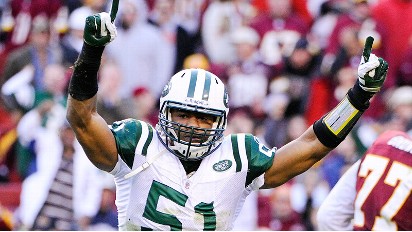 Howard Smith/US PresswireAaron Maybin has three sacks in the past two games for the Jets, whose signing of the linebacker after he was cut by Buffalo is paying dividends.
2. C.J. Spiller, Bills running back:
Spiller gets an unexpected and late audition to be the main running back in Buffalo.
Fred Jackson
's leg injury has the 2010 first-round pick in the spotlight. Based on Spiller's first two starts, he is making progress. He had his best game as a pro against Tennessee, running for a career-high 83 yards and a touchdown. Spiller could have done more. But Buffalo went away from the running game too early, despite Spiller's averaging 5.9 yards per carry.
3. Aaron Maybin, Jets linebacker:
"Mayhem" continues to get to the quarterback for the Jets. Maybin recorded his third sack in two games in Sunday's victory over Washington. Maybin, signed by the Jets in late September after he was released by the Bills, has quietly been a solid pickup for New York. Maybin's sacks are making an impact — he has five in New York's victories and just one in New York's losses.
December, 6, 2011
12/06/11
1:00
PM ET
»
NFC Stock Watch
:
East
|
West
|
North
|
South
»
AFC
:
East
|
West
|
North
|
South
FALLING
1. The Oakland Raiders' breathing room:
It was a costly trip to South Beach for Oakland, which suffered a 34-14 loss at Miami on Sunday and saw its lead in the AFC West evaporate. Oakland is now 7-5 and tied with Denver for first place. The Raiders were the only team in the AFC West to lose in Week 13. Entering the final quarter of the season, the Raiders are still in decent shape to make the playoffs as either a division winner or a wild-card team -- but there's no longer room for error.
2. Carson Palmer, quarterback, Raiders:
The Raiders traded for Palmer because they thought he'd be a difference-maker down the stretch. He was a detriment for much of Sunday's game. Palmer has been solid with Oakland, but he needs to bounce back from a sub-par performance if the Raiders are going to make a playoff run. Yes, he was missing some firepower and his line struggled at Miami, but Palmer needs to create more plays than he did Sunday.
3. Rivers' mistakes:
Suddenly, San Diego quarterback
Philip Rivers
' interception issues seem to have gone away. After throwing 17 picks in the season's first 10 games, Rivers hasn't thrown a single one in his past two. It is already the highest interception total of his NFL career, but it seems like he's getting the issue under control.
RISING
[+] Enlarge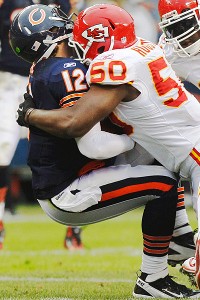 AP Photo/Nam Y. HuhJustin Houston had three sacks against Chicago and looks to be a draft steal.
1. The Denver Broncos' playoff chances:
After five games, the Broncos were 1-4 and looked like they were a contender in the
Andrew Luck
sweepstakes. However, with
Tim Tebow
at quarterback, Denver has won six of seven games, including its past five. Denver is now 7-5 and in solid shape in both the division and in the wild-card race.
2. Justin Houston, linebacker, Chiefs:
The third-round pick was dominant Sunday at Chicago, recording three sacks in a 10-3 victory. Considered a first-round talent, the University of Georgia product fell down draft boards because of character concerns. He appears to be a steal.
3. San Diego's offensive line:
This line has suffered eight different injuries and has three players on the injured reserve. San Diego played without three starters for much of Monday night's win over Jacksonville and it started
Jared Gaither
at left tackle, days after he was claimed off waivers. Still, this unit gave Rivers terrific protection. Rivers was not sacked -- a great effort by a makeshift group.
December, 6, 2011
12/06/11
1:00
PM ET
»
NFC Stock Watch
:
East
|
West
|
North
|
South
»
AFC
:
East
|
West
|
North
|
South
FALLING
[+] Enlarge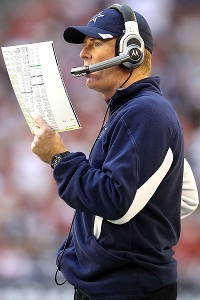 Christian Petersen/Getty ImagesIn his first full season as the Cowboys' head coach, Jason Garrett is going through some growing pains.
1. Jason Garrett, Cowboys coach.
Garrett is under fire this week after basically blowing the game against the Cardinals with poor clock management in the final minute. He should have called a timeout but didn't. Then he shouldn't have but did. And in the end his rookie kicker, who thought he'd made the game-winning kick, missed it and no one could stop
LaRod Stephens-Howling
in overtime and now everybody thinks Garrett's a clown who's in over his head. Fact is, Garrett's a young coach who's still finding his way and has done a very good job so far. But his Week 13 gaffe cost the Cowboys a chance to take a commanding two-game division lead into the final four weeks. He can of course make up for it by beating the Giants on Sunday.
2. Trent Williams and Fred Davis:
Williams, the
Washington Redskins
' starting left tackle, and Davis, their breakout tight end, have seen their seasons go up in smoke, as they will miss the final four games while serving suspensions for repeated violations of the league's substance abuse policy. It's a tough blow for a Redskins offense that wasn't exactly lighting up the scoreboard to begin with. These two guys ignored repeated warnings about their behavior, and have left their team in a tough situation.
3. Juan Castillo, Eagles defensive coordinator:
After the latest egg laid by the
Philadelphia Eagles
' defense, it's becoming increasingly clear that their first-year defensive coordinator can't return in the same role in 2012. Some have speculated Andy Reid would need to fire or at least demote Castillo in order to save his own job. And that's surely possible. But even if it weren't the case, it's hard to imagine bringing back Castillo as defensive coordinator and asking the players on the defense to buy in when they clearly haven't done so this year.
RISING
1. New York Giants' passing game.
The Saints, Patriots and Packers are the only teams in the NFL this year with more passing yards than the Giants, whose air attack remains one of the more underrated units in the league because of persistent (and largely unjustified) negative perceptions of quarterback
Eli Manning
.
Victor Cruz
has emerged as a top wide receiver, and
Hakeem Nicks
showed several times Sunday why he's one of the elite wideouts in the league, dominating his matchups in the second half as the Giants hung in with the unbeaten Packers. Manning, Cruz and Nicks are good enough to keep the Giants in any game as long as the defense doesn't completely melt down the way it did against New Orleans in Week 12.
2. Michael Vick, Eagles quarterback.
Well, it appears as though he'll be back this week, and not a moment too soon for the Eagles, who are surely sick of watching
Vince Young
throw the ball to the other team. As long as he stays healthy, Vick will be the Eagles' starting quarterback for the rest of the season. And whether they have a realistic chance or not, the way Vick plays over the final four games will have an effect on the way he's perceived by fans, teammates, coaches and the organization going into what looks like a critical 2012 season.
3. Cowboys offense.
Fullback
Tony Fiammetta
appears set to return from his mystery illness and play Sunday against the Giants. This is great news for the Cowboys. Rookie tailback
DeMarco Murray
has held up fine in Fiammetta's absence, but the Dallas run game has lacked the explosiveness it had when Fiammetta was in there blocking for him. With
Miles Austin
also likely to return from his second hamstring injury of the year, the Cowboys should be at full strength on offense for Sunday's divisional showdown, and that could be trouble for a Giants team that had a hard time handling the wide array of weapons the Saints and Packers threw at it the past two weeks.
December, 6, 2011
12/06/11
1:00
PM ET
»
NFC Stock Watch
:
East
|
West
|
North
|
South
»
AFC
:
East
|
West
|
North
|
South
FALLING
1. Our "Watch" series:
At various times this season,
Minnesota Vikings
defensive end
Jared Allen
was on pace to break the NFL record for sacks in a season.
Detroit Lions
receiver
Calvin Johnson
was on track to contest the single-season record for touchdown receptions and
Chicago Bears
tailback
Matt Forte
was in contention to set a new record for all-purpose yards. All three have fallen off those record paces, unfortunately. Allen has one sack in his past three games, Johnson has one touchdown catch in his last four games and Forte has produced 246 all-purpose yards over his last four games and is now sidelined by a sprained knee. All three players have had great seasons, of course, and their record pace was fun while it lasted.
2. Roy Williams, Chicago Bears receiver:
Williams hasn't inspired much confidence with his underwhelming showing this season, and I can't imagine a quarterback on the Bears' roster feeling good about throwing in his direction after he turned what should have been a touchdown into a game-changing interception Sunday against the
Kansas City Chiefs
. Quarterback
Caleb Hanie
delivered a perfectly placed ball into Williams' chest at the goal line late in the fourth quarter. But Williams bobbled it, knocked it into the air and ultimately couldn't prevent Chiefs safety
Jon McGraw
from making the interception. The score would have tied the game at 10. Ultimately, the Bears lost 10-3.
3. Direction in Detroit:
This week might be the most critical in the tenure of Lions coach Jim Schwartz. The NFL made his job as team disciplinarian easy last week by handing defensive tackle
Ndamukong Suh
a two-game suspension. The league isn't likely to step in on the cases of receiver
Titus Young
, tight end
Brandon Pettigrew
and kick returner
Stefan Logan
, all of whom received costly personal fouls Sunday night in the Lions' 31-17 loss to the
New Orleans Saints
. I'm sure some people don't enjoy watching that kind of football, but the real issue Schwartz has is that the penalties have impacted his team's competitiveness. Schwartz is facing the prospect of benching three prominent players during a playoff run. His response to this crisis will go a long way toward determining whether the Lions make the playoffs.
RISING
[+] Enlarge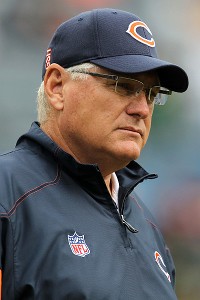 Jonathan Daniel/Getty ImagesMike Martz's future in Chicago remains uncertain at this point.
1. Debate in Minnesota over quarterback Christian Ponder:
On the one hand, Ponder threw for a career-high 381 yards and had the first three-touchdown game of his career Sunday against the
Denver Broncos
. On the other hand, he committed three costly turnovers in a 35-32 loss. He now has nine turnovers in six starts this season. Are we seeing the typical hot-and-cold performance of a rookie quarterback, especially one that had no offseason work due to the NFL lockout? Or is that excuse making? Reasonable people could occupy both sides of that argument.
2. Intrigue surrounding Mike Martz, Chicago Bears offensive coordinator:
In recent weeks, we've seen reports that Martz has interest in several college football openings, including Arizona State and UCLA. Sunday, ESPN reported that Martz appears unlikely to return to the Bears when his contract expires after the season. Monday, Bears coach Lovie Smith said those reports have been "made up" because, as the man who hires and fires assistant coaches, he could be the only credible source on the topic. Some of what we have seen lines up with classic contract leveraging: creating the perception of a market for a soon-to-be free agent. Some of it could reflect the hope of others in the Bears organization. I'm not sure. But I'll repeat my earlier sentiment: Martz is far from perfect, but starting over with a new coordinator and/or scheme would be a destructive setback for quarterback
Jay Cutler
and render moot two years of roster maneuvering to fit Martz's player requirements.
3. Cash accounts, Green Bay Packers:
The Packers launched the fifth stock offering in franchise history Tuesday morning, putting up 250,000 shares at $250 apiece to help pay for a looming $143 million expansion and renovation project for Lambeau Field. It's a little early for a progress report, but I know I had a hard time even accessing the dedicated website (www.packersowner.com) to see what all the fuss was about. Most every NFL team solicits public money for stadium projects, but in this case, only the people interested in contributing have to participate. Taxpayers with no interest in football have no obligations.
December, 6, 2011
12/06/11
1:00
PM ET
»
NFC Stock Watch
:
East
|
West
|
North
|
South
»
AFC
:
East
|
West
|
North
|
South
FALLING
1. State of Ohio's run defenses:
The Browns and Bengals gave up season highs in rushing yards on Sunday. Cleveland allowed 290 yards on the ground to Baltimore, a low point for the NFL's worst run defense. The Bengals' effort -- surrendering 146 yards rushing at Pittsburgh -- showed another crack in a once-stout run defense. Over the past four games, teams have averaged 120 yards rushing against Cincinnati.
2. Field goal accuracy:
This division features a returning Pro Bowl performer (the Ravens'
Billy Cundiff
), a kicker who is hitting 50-yarders at a record pace (the Browns'
Phil Dawson
) and another who had one miss in his first 11 games (the Bengals'
Mike Nugent
). But Sunday was an awful day for the division's kickers, and there was no long snapper to blame this time. AFC North kickers (Cundiff, Dawson, Nugent and the Steelers'
Shaun Suisham
) were a dismal 2 of 6 (33.3 percent). One was blocked (33 yards) and three veered wide right (34, 41 and 50 yards). The only one who was perfect was Dawson.
3. Andy Dalton's Rookie of the Year campaign:
The debate over whether Dalton or Carolina's
Cam Newton
should win the NFL Offensive Rookie of the Year award appears to be over. Newton's three rushing touchdowns Sunday gave him 13 for the season, which sets an NFL single-season record for quarterbacks. Dalton struggled at Pittsburgh, completing 45.8 percent of his passes for 135 yards -- both of which were his season lows for a full game. Newton should make room on his trophy case now.
RISING
[+] Enlarge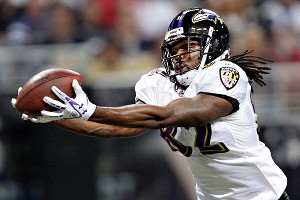 AP Photo/Tom GannamRookie Torrey Smith leads the Ravens with five touchdown catches through Week 13.
1. Ravens and Steelers' AFC North dominance:
Baltimore and Pittsburgh are once again the power players in the AFC North after routing their Ohio division rivals last Sunday. The combined score was 59-17. In 2010 and 2011, the Ravens and the Steelers have an 11-1 record against the Bengals and Browns. Since 2008, Baltimore and Pittsburgh have played in a total of 13 playoff games while Cincinnati has appeared in one (and Cleveland has none).
2. Rashard Mendenhall's touchdowns:
The Pittsburgh running back is on pace to fall well short of 1,000 yards, but he is still delivering around the goal line. Including playoff games, Mendenhall has scored 16 touchdowns in his past 17 games, including two in the demolition of Cincinnati. His 28 regular-season rushing touchdowns rank fifth on the franchise's all-time list.
3. Ravens' 2011 draft class:
While the Bengals' rookies have received most of the attention this season (and rightfully so), Baltimore's first-year players have been making a big impact in the team's pursuit of the AFC North title. First-round pick
Jimmy Smith
has two interceptions in his past three games. Second-rounder
Torrey Smith
leads the team with five touchdown catches and a 20.2-yard per catch average. And late fifth-round selection
Pernell McPhee
has been the overachiever of this class with six sacks.
December, 6, 2011
12/06/11
1:00
PM ET
»
NFC Stock Watch
:
East
|
West
|
North
|
South
»
AFC
:
East
|
West
|
North
|
South
FALLING
1. The Jaguars' ability to score points:
OK, it's not fair to say it's falling. It's been poor all season and showed no sign of improving. The Jaguars came back from a 10-0 deficit against San Diego on Monday night to take a 14-10 lead. But once San Diego got more than 20 points, the game was over –- the Jaguars haven't scored 21 points all season. And the Chargers were over 30 before the fourth quarter started on their way to
a 38-14 victory
. With
Blaine Gabbert
quarterbacking and
Maurice Jones-Drew
as the offensive centerpiece, this isn't a team that can make much of a charge from behind.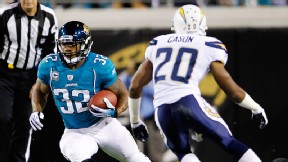 Mike Ehrmann/Getty ImagesThough Maurice Jones-Drew is solid, he doesn't much add to Jacksonville's quick-strike options.
2. The luck of Andre Johnson, Houston Texans receiver:
For the second time this season, Johnson went down while running without taking any contact, victim of a hamstring injury. Last time cost him six games. This time it's the other leg and doesn't appear nearly as serious. Although the Texans are calling him day-to-day, they could again be without their top weapon in the passing game. Absent Johnson, teams can load up to stop
Arian Foster
and
Ben Tate
, taking their chances against rookie quarterback
T.J. Yates
as he looks to less-threatening downfield weapons.
3. Offensive line play in Indianapolis
: The offensive line has actually played better much of this season than we could have reasonably expected, especially once the injuries started to pile up. Now it's struggling with penalties and giving up sacks. In New England, the line accounted for four of the Colts' five penalties with false starts and holding. With the minimal margin for error, they simply can't afford that. A hold that might save a hit it one thing, but a false start is the sort of undisciplined stuff that gets bad teams killed.
RISING
1. Gary Kubiak, Houston Texans coach
: He gave credit to offensive coordinator Rick Dennison and quarterbacks coach Greg Knapp for a sleepless week working to get Yates ready and teach two new backups the system. But Kubiak calls the Texans' plays, and Yates made a solid showing in his first NFL start. Jim Harbaugh might run away with coach-of-the-year honors for his work turning San Francisco around, but that seems only slightly more improbable to me than what Houston's doing considering its injuries. While defensive coordinator Wade Phillips gets a lot of credit for the transformation, here's a small bid for giving Kubiak his fair share.
2. Chris Johnson, Tennessee Titans running back
: He's here a second week in a row after a second big game in a row, and this one came after he lost weight because he was so sick in the days leading up to the team's trip to Buffalo. The Titans have waited and waited, and Johnson finally looks like he's back to the form that earned him a giant contract after his holdout this summer. To make a push for a wild-card spot out of a division the Texans are very likely to win, the Titans will need more big contributions and explosive plays from Johnson. Everyone was getting blame when it was bad, as coach Mike Munchak pointed out, everyone should get some of the credit now.
3. Taylor Price, Jacksonville Jaguars wide receiver
: A third-round choice by the Patriots in 2010 out of Ohio University, he didn't make a mark with receiver-needy New England. But the Jaguars are even more receiver-needy. They got him Monday with a waiver claim, and even if Price does nothing in the remainder of the season, he's a good piece to add to the mix for the upcoming offseason. The 90th overall pick by a team that drafts well is definitely worth a look, and even if the team really addresses the position in free agency and the draft, Price could have an opportunity to stick in Jacksonville.
December, 6, 2011
12/06/11
1:00
PM ET
»
NFC Stock Watch
:
East
|
West
|
North
|
South
»
AFC
:
East
|
West
|
North
|
South
FALLING
1.. Free-agent wide receivers.
Sidney Rice
, the
Seattle Seahawks
' marquee addition in free agency, landed on injured reserve following his second concussion of the season. Shoulder, knee and foot injuries bothered him earlier. Another free-agent receiver in the division,
Braylon Edwards
, was inactive for the 49ers while recovering from knee and shoulder injuries. The 49ers invested far less in Edwards than Seattle invested in Rice. Still, these big-name receivers have seen their stock fall. Cheaper, younger alternatives stepped up Sunday, notably the 49ers'
Kyle Williams
and the
Arizona Cardinals
'
Andre Roberts
. Seattle has gotten strong play from undrafted rookie
Doug Baldwin
all season.
2. Job security in St. Louis.
The Rams have lost twice to
John Skelton
over the past month. They failed to score against the San Francisco 49ers on Sunday. They are trending in the wrong direction and appear unable to do anything about it. Consider this your weekly "falling" item on the Rams. Not much more to say.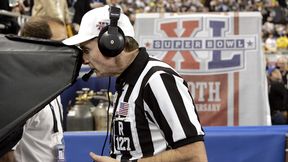 AP Photo/Paul SancyaSeattle fans seem likely to remind ref Bill Leavy about their opinion of his work in Super Bowl XL.
3. Bill Leavy's self-esteem.
What's this about the league assigning the Super Bowl XL referee to work a game in Seattle for the first time since the Seahawks complained about multiple controversial calls in the big game six years ago? It's
scheduled to happen
Monday night. Fans have long memories and loud voices. This could be a rough night for Leavy.
RISING
1. Jed York, San Francisco 49ers president.
The week would have been a success for York and the 49ers even if the team did not clinch the NFC West title. That is because the 49ers secured $850 million in financing for their proposed stadium. Throwing in a 26-0 home victory over St. Louis for a 10-2 record, division title and team's first playoff berth since the 2002 season was certainly nice, of course. Stocks are rising for quite a few other 49ers, including Williams, new franchise career rushing leader
Frank Gore
, quarterback
Alex Smith
, receiver
Michael Crabtree
, rookie outside linebacker
Aldon Smith
and others. There wasn't space to honor them all.
2. Tarvaris Jackson, Seattle Seahawks QB.
Jackson appeared to be winding down for the season until he completed 13 of 16 passes for 190 yards and two touchdowns during a 31-14 victory over Philadelphia.
Marshawn Lynch
certainly could have represented Seattle in this spot as well. He was phenomenal against the Eagles. Lynch's stock was already quite high, however. Jackson's enjoyed a higher percentage gain, for sure. This was probably his best game of the season even though the team lost Rice to injured reserve a few days before the game.
3. Ray Horton, Arizona Cardinals defensive coordinator.
The Cardinals have won four of their last five games, allowing 63 points in those victories. They held Dallas to 13 points, the Cowboys' second-lowest total of the season. They collected five sacks, a high against Dallas this season. Young outside linebackers
Sam Acho
and
O'Brien Schofield
are improving. Arizona has allowed only five touchdowns in its past five games after allowing 20 in its first seven.
December, 6, 2011
12/06/11
1:00
PM ET
»
NFC Stock Watch
:
East
|
West
|
North
|
South
»
AFC
:
East
|
West
|
North
|
South
FALLING
1. Raheem Morris, Buccaneers coach.
He has become a weekly contestant in the "Falling'' category of Stock Watch. That's only because his stock has continued to fall every week for about the past month. How much lower can it go? Well, think about this: The Bucs play Jacksonville on Sunday. You put together back-to-back losses to the Panthers and Jaguars and that's as bad as it gets. The defense, which Morris coordinates, is a mess. Weird things keep happening around One Buccaneer Place (see Morris,
cursing and ripping
on defensive tackle
Brian Price
in the latest episode). This is really starting to look like the final, bizarre days of Sam Wyche all over again. I'm just hoping Morris doesn't do what Wyche did and go on a 45-minute diatribe/meltdown on Christmas Eve.
2. Julio Jones, Falcons receiver.
When he has been healthy, the rookie receiver has had a pretty good season. But Jones played like a rookie Sunday. He dropped two passes and was called for a couple of costly penalties.
3. Mike Mularkey, Falcons offensive coordinator.
Atlanta came out very aggressive, throwing a couple of quick deep passes against Houston. That didn't work. Didn't the Falcons learn anything early in the year when they were trying to force things downfield? Their offensive line isn't really good enough to block for the deep ball, unless
Michael Turner
and the running game has softened up a defense first. If the Falcons somehow don't make the playoffs or have an early exit, there's probably going to be a scapegoat because expectations were so high at the start of the season. Mularkey's looking like the leader in the scapegoat clubhouse.
RISING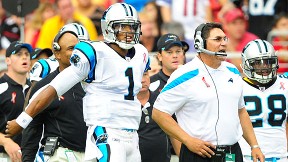 Mark J. Rebilas/US PresswireRon Rivera looks to have the beginnings of a solid turnaround with Carolina and Cam Newton, left.
1. Ron Rivera, Panthers coach.
Carolina has won two in a row, which is more significant than it sounds. In my newspaper days, I covered two dramatic turnarounds. I saw Tony Dungy take over a bad Tampa Bay team in 1996 and put it in the playoffs the next season. I saw John Fox take over a terrible Carolina team in 2002 and put it in the Super Bowl the next season. Each of those teams showed some progress and built momentum at the end of the first season that clearly was a stepping stone to success the next year. What Rivera is doing looks an awful lot like what Dungy and Fox did at the end of their first seasons.
2. Robert Meachem, Saints receiver.
About as quietly as you can put up 119 receiving yards and one touchdown, Meachem did that in Sunday night's victory against Detroit. It's easy to get lost in a receiving corps that also includes
Lance Moore
,
Marques Colston
and
Devery Henderson
, and don't forget tight end
Jimmy Graham
and the running back trio of
Darren Sproles
,
Pierre Thomas
and
Mark Ingram
. People always say
Drew Brees
makes everyone around him look better and that's got a lot of truth to it. But Brees also benefits from working with an amazing collection of talent -- and Meachem is part of that collection.
3. Tony Gonzalez, Falcons tight end.
On a day when not much went right for the Falcons, Gonzalez put up 100 yards on seven catches. This guy is amazing. There were times last season when I thought Gonzalez was near the end of the road. If you threw him a 7-yard pass, he'd give you 7 yards. This season, Gonzalez looks faster and is making some things happen after the catch.
NFL SCOREBOARD
Thursday, 11/27
Sunday, 11/30
Monday, 12/1
WEEKLY LEADERS