NFL Nation:

Stock Watch 2011 Week 15
December, 20, 2011
12/20/11
1:00
PM ET
»
NFC Stock Watch
:
East
|
West
|
North
|
South
»
AFC
:
East
|
West
|
North
|
South
FALLING
1. Candlestick Park.
Better make that Candlestick Dark, Candlelit Park or some other electricity-deprived variation. The 49ers' stadium, although steeped in tradition, already was notorious as an outdated, substandard NFL stadium. Having two power outages knock out the lights during "Monday Night Football" only reinforced perceptions. December was shaping up as a rough month for the old stadium even before Monday night. The 49ers recently secured funding for a new stadium in Santa Clara.
2. Top two wideouts from 2005 draft.
San Francisco's
Braylon Edwards
(third overall) and Seattle's
Mike Williams
(10th) have struggled to make an impact lately. The 49ers made sure that would continue for Edwards when they named him inactive Monday night. The Seahawks placed Williams on injured reserve after their 2010 receiving leader suffered a broken ankle against the
Chicago Bears
in Week 15. With
Sidney Rice
aboard,
Doug Baldwin
and
Golden Tate
emerging and
Kris Durham
coming back as a potential Williams type, there are no assurances Williams will remain in the team's plans for next season.
3. NFC West draft status.
All four division teams lost ground in the 2012 draft. The
St. Louis Rams
fell to 2-12 with a defeat to Cincinnati, but their strength of schedule improved relative to the
Minnesota Vikings
' strength of schedule. As a result, the Vikings overtook the Rams for second in the tentative order. Every other NFC West team won in Week 15. That was great for San Francisco, Arizona and Seattle as the regular season winds down. It won't help in the draft, of course.
RISING
[+] Enlarge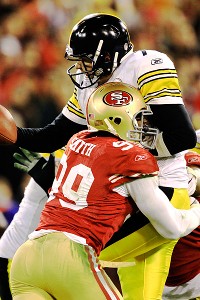 AP Photo/Marcio Jose SanchezSan Francisco 49ers linebacker Aldon Smith had 2.5 sacks on Pittsburgh quarterback Ben Roethlisberger in their Monday night game.
1. 49ers' playoff credibility.
Beating the previously 10-3
Pittsburgh Steelers
on a national stage left the 49ers with surging confidence after a three-game stretch featuring two defeats. The 49ers improved to 11-3 and remained ahead of New Orleans in the race for the second seed in the NFC. They showed they could beat a playoff-caliber team through defense, special teams and improved play in the red zone.
Alex Smith
,
Aldon Smith
and various other 49ers played well enough to deserve mention here as well.
2. Tarvaris Jackson, Seattle Seahawks quarterback.
Jackson completed 15 of 19 passes after halftime to help the Seahawks turn a 14-7 deficit into a 38-14 victory at Soldier Field. Jackson has three touchdowns with no interceptions over Seattle's past three games. The Seahawks are 3-0 in those games and have reached 7-7 thanks largely to Jackson's improved play. Seattle now has every reason to bring back Jackson as its starter heading into next season. The plan would still remain for the Seahawks to draft or otherwise acquire a younger quarterback to begin developing in 2012. On a side note, lots of other Seahawks deserved consideration in this spot, from
Red Bryant
to
K.J. Wright
to
Brandon Browner
and others.
3. Cardinals' 2010 draft haul.
Second-round pick
Daryl Washington
is an emerging star. Third-rounder
Andre Roberts
caught a touchdown pass for the second week in a row. Fourth-rounder
O'Brien Schofield
collected two sacks, forcing a game-altering fumble on one of them. Fifth-rounder
John Skelton
posted another comeback victory, improving his record to 4-1 as the Cardinals' starting quarterback this season. Even veteran safety
Kerry Rhodes
, acquired from the
New York Jets
for a 2010 fourth-round pick, played a strong game Sunday. First-round pick
Dan Williams
is on injured reserve. Nothing the Cardinals can do about that.
December, 20, 2011
12/20/11
1:00
PM ET
»
NFC Stock Watch
:
East
|
West
|
North
|
South
»
AFC
:
East
|
West
|
North
|
South
FALLING
1. Hue Jackson, Oakland, coach:
Earlier in the season, Jackson predicted Oakland would win the division. Going into the Detroit game, Jackson called it a must win. However, Jackson helped contribute to his team's loss to the Lions. He made some questionable decisions in an eventual 28-27 loss to Detroit that kept the Raiders from tying Denver for first place in the division. I highly doubt the rookie coach is in trouble, but he needs to find a way to stop a three-game losing streak in December.
2. Denver's ball security:
One of the reasons Denver turned its season around was because it held onto the ball. That did not happen Sunday as the Broncos lost three fumbles in their territory in the second quarter to help turn a nine-point lead into an 11-point deficit at halftime in a 41-23 loss to New England.
3. Faith in Oakland's defense:
Oakland's defense is talented, but that's not enough. It has been giving up big plays all season and it completely collapsed Sunday as Detroit turned a 13-point deficit into a win by scoring two touchdowns in the final five minutes to hurt Oakland's playoff chances.
[+] Enlarge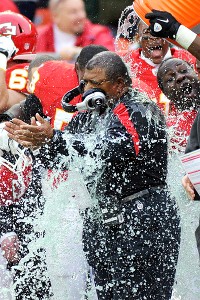 AP Photo/Reed HoffmannRomeo Crennel had plenty of reasons to smile on Sunday after the Chiefs knocked off the Packers.
RISING
1. Division intrigue:
Every team in the division is entering Week 16 with a chance to win the division as two games separate first-place Denver (8-6) and last-place Kansas City (6-8). Oakland and San Diego are both 7-7. Denver has the best chance, followed by Oakland, San Diego and Kansas City. But it's pretty impressive that every team is still playing for something. It's the only division in the NFL where each team is still alive in the division chase.
2. Romeo Crennel, Chiefs coach:
What's the best way for an interim coach to make a statement that he belongs in the big chair permanently? Ruin a perfect season for an opponent. That's exactly what Crennel did Sunday in his first game as the interim coach after the Chiefs jettisoned Todd Haley last week. The Chiefs outplayed and shocked Green Bay 19-14. Crennel likely isn't a lock to be the Chiefs' coach next year, but he helped his cause immensely with this win.
3. Philip Rivers' legacy:
Forget all the talk about the Chargers' quarterback being done. He has been outstanding for the past month, and Sunday he became the third quarterback in history (joining
Peyton Manning
and
Drew Brees
) to throw for more than 4,000 yards in four straight seasons.
December, 20, 2011
12/20/11
1:00
PM ET
»
NFC Stock Watch
:
East
|
West
|
North
|
South
»
AFC
:
East
|
West
|
North
|
South
FALLING
1. The Texans' third-down defense:
The Panthers converted 9 of 14 third downs against the Texans on Sunday, the sort of number that's hard to survive. Houston's been very good on third down this season, and it's been a key to its defensive and overall success. But the Texans have slipped in recent weeks in the category. After Week 13, they were second in the league in third-down defense. In just three weeks they've dropped to eighth. It's tough to move that much that quickly in season rankings. They must end the trend if they intend to secure one of the top seeds and increase the potential for more than one game at home.
2. The Jaguars' national credibility:
They played two of their last three games on national television in prime time and did nothing to offset the national reputation they often complain about. Nobody will remember the Dec. 11 41-14 home win over Tampa Bay because it was sandwiched by a "Monday Night Football" 38-14 loss to San Diego and the 41-14 "Thursday Night Football" debacle in Atlanta. The wheels came off in a way even the biggest Jaguars pessimist probably couldn't have envisioned, and the offseason can't arrive soon enough.
3. Tommie Campbell, Tennessee Titans special-teamer:
He got flagged for four penalties on special teams in Indianapolis, including two 15-yard unsportsmanlike conduct penalties. It was the sort of undisciplined showing that Mike Munchak has called unacceptable, and to the coach's credit, Campbell was benched -- though it might have come a bit earlier. Campbell is a blazing fast, great athlete with a future as a cornerback for the Titans if he can avoid the combination of boneheaded plays and temper issues. But he's got to get past such things if he wants to remain in the plan.
[+] Enlarge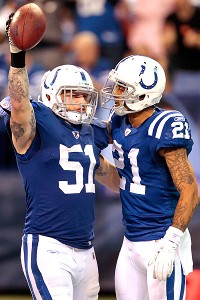 AP Photo/Darron CummingsPat Angerer (51) came up big for the Colts in their win over Tennessee on Sunday.
RISING
1. Pat Angerer, Indianapolis Colts linebacker:
He's had a great season flying around and making plays. Against the Titans, he keyed an excellent defensive effort, forcing a
Jared Cook
fumble that killed Tennessee momentum and picking off a bad ball from
Matt Hasselbeck
. In a season with so many lousy storylines for the Colts, Angerer has emerged as a reliable tackling machine who can play the run and the pass. He is definitely a piece of what the team will build around. He moved to the middle from the strong side when
Gary Brackett
suffered a season-ending shoulder injury in the opener. It will be difficult to take Angerer out of the spot now.
2. The image of the AFC South as a terrible division:
We had to turn something negative into a riser here after bad losses by three of our four teams. Even with their win, the Colts remain the worst team in the league with a 1-13 record and the Jaguars rank in or near the bottom five. Tennessee is a completely average 7-7 and the Texans, after the loss to Carolina, rank as just the third-best division leader/winner in the AFC. The division has four fewer wins than any other.
3. Donald Brown, Indianapolis Colts running back:
He's largely regarded as a bust, but it's not completely fair. He's remembered for a blown pass protection that drew the ire of
Peyton Manning
, and he doesn't have a fully rounded game. He's spent a lot of time in the doghouse and not been used as much as may be warranted. He can run, and he showed it in the win over the Titans, even before a great, freelanced 80-yard touchdown run that secured the win and made Tennessee's defense look foolish. His 161-yard day should earn him more opportunities.
December, 20, 2011
12/20/11
1:00
PM ET
»
NFC Stock Watch
:
East
|
West
|
North
|
South
»
AFC
:
East
|
West
|
North
|
South
FALLING
1. Odds of an AFC North team capturing the AFC's top seed:
The Ravens would've clinched home-field advantage throughout the playoffs by winning out, but they got routed on Sunday night. The Steelers were then in control of the No. 1 seed until they got hammered on Monday night. The Ravens and Steelers showed no urgency when the most coveted postseason spot was within their grasps. The failures of these AFC North rivals likely means the road to the Super Bowl in the AFC will go through New England.
2. Steelers' record against the Harbaugh brothers:
The Steelers' mark against John and Jim Harbaugh dropped to 0-3 after they lost at San Francisco. Pittsburgh's record against the rest of the league is 10-1. What the teams under the Harbaugh brothers have done better than most is force the Steelers into committing costly mistakes. In the three combined losses to the Ravens and 49ers, Pittsburgh has turned the ball over 13 times and has taken it away once.
3. AFC North teams on the West Coast:
A theme for the AFC North teams this year is "How the West was lost." This division has struggled mightily when traveling across the country, going 2-6 on West Coast trips this season. It really bottomed out in Week 15, when the AFC North's top two teams (the Ravens and Steelers) lost by a combined score of 54-17 in prime-time games in California. The only two West Coast trip wins by the AFC North were the Bengals at Seattle and the Steelers at Arizona.
RISING
[+] Enlarge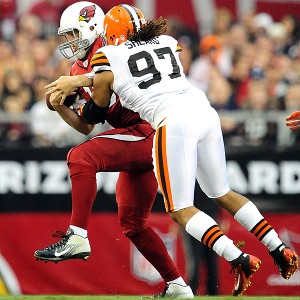 Mark J. Rebilas/US PresswireJabaal Sheard has recorded 7.5 sacks for the Browns this season.
1. Rookie wide receivers:
The Bengals'
A.J. Green
, the Ravens'
Torrey Smith
and the Browns'
Greg Little
have all flashed potential throughout the season. This rookie trio really stood out in an otherwise forgettable week for the division's offenses. Green, Smith and Little totaled 17 receptions for 323 yards and two touchdowns. This came at a time when these receivers are supposed to be hitting the rookie wall.
2. Bengals on the road:
Young teams like Cincinnati are expected to struggle on the road. But the Bengals have been one of the most successful NFL teams away from home. Cincinnati improved to 5-3 after surviving a scare at St. Louis. The only teams that have more road wins than the Bengals are the
New England Patriots
and
Green Bay Packers
. This is quite a turnaround for the Bengals, who came into the season having lost 11 of their past 12 road games.
3. Jabaal Sheard, Browns defensive end:
Cleveland's second-round draft pick has actually outplayed first-round pick
Phil Taylor
this season. Sheard is finishing his rookie season strong, recording five sacks in his past five games (including two at Arizona Sunday). He now has 7.5 sacks, which is the most for a Browns rookie since linebacker
Kamerion Wimbley
had 11 in 2006.
December, 20, 2011
12/20/11
1:00
PM ET
»
NFC Stock Watch
:
East
|
West
|
North
|
South
»
AFC
:
East
|
West
|
North
|
South
FALLING
1. Mike Williams, Tampa Bay Buccaneers receiver.
For the first time in his career, Williams failed to record a reception in Saturday night's loss to the
Dallas Cowboys
. Heck, Williams wasn't even targeted a single time. Early in the season, it was easy to say Williams was getting more attention from defenses after catching 65 passes for 964 yards and 11 touchdowns as a rookie. But Williams isn't getting a lot of extra attention these days because defenses aren't worried about him. He has failed to get separation, his routes haven't been precise and he's among the league leaders in dropped passes. Williams did show up for some of the player workouts in Tampa during the lockout. But several teammates said during the summer that Williams wasn't there as much as most of the other receivers and spent much of his offseason in Buffalo. In hindsight, you could make the case Williams might have been better served spending more time working out with his teammates.
[+] Enlarge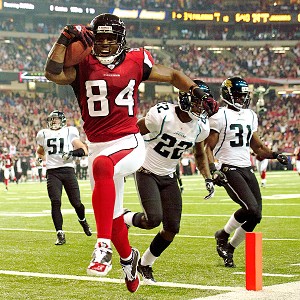 Dale Zanine/US PresswireRoddy White had one of his best games of the season in a blowout win over Jacksonville.
2. Dominique Franks and Christopher Owens, Atlanta Falcons cornerbacks.
They've each done a decent job while getting increased playing time while
Brent Grimes
and
Kelvin Hayden
were injured. But it's looking like Grimes and Hayden will be ready to return for Monday night's game with the
New Orleans Saints
. No offense to Franks and Owens, but I'm pretty sure coach Mike Smith will elect to put Grimes, the best overall athlete on the team, back in the starting lineup and put Hayden, who's more experienced than Owens and Franks, at nickel back. When you're going up against
Drew Brees
, you want your best guys on the field.
3. Kellen Winslow, Buccaneers tight end.
Unlike Williams, Winslow was a fixture at the offseason workouts and he and quarterback
Josh Freeman
seemed to be enhancing their chemistry. But that hasn't translated into success. Winslow has only two touchdown catches this season and the most recent came Nov. 6. In the past four games, Winslow hasn't finished with more than five catches and 52 yards. In Saturday's loss to Dallas, Winslow had four catches for 37 yards. He did have a 17-yard catch, but I remember thinking the Winslow of a few years ago would have gone for at least 30 yards on that play. I'm not sure if his knees, his age or all that's wrong with the Buccaneers is catching up to Winslow, but he's not having anything close to a good season.
RISING
1. Roddy White, Falcons receiver.
We've had our share of fun with White's season-long struggle with dropping passes. But the fact is, White has been playing a lot better of late. He had 10 catches for 135 yards and two touchdowns in Thursday night's win against the
Jacksonville Jaguars
. White has five touchdown catches in his past four games and has his season receiving yardage total up to 1,100 yards, which is much more than respectable. White relinquished his title as the NFC South's best receiver to the
Carolina Panthers
'
Steve Smith
, who previously held it for a long time. But White is at least the second-best receiver in the NFC South these days.
2. Roman Harper, Saints strong safety.
Fans rip on Harper because he's not great in coverage and opponents have called him a dirty player. But the fact is, Harper does what he's supposed to do. The strong safety is usually the weakest guy in coverage in your secondary. Their real job is to tackle and play almost like a linebacker. That's exactly what Harper does. He recorded another sack in Sunday's win against the
Minnesota Vikings
. That gives Harper 7.5 sacks this season. Time to put in a call to ESPN Stats & Information to find out what the record for sacks by a safety in a season is.
3. Jordan Senn, Panthers linebacker.
This guy has been in the league for five years and was a backup and special-teams player until moving into the starting lineup after the Panthers had a slew of injuries at linebacker. Senn has played well in five starts, but he was never better than in Sunday's upset victory against the
Houston Texans
. Senn had a team-high 14 tackles, forced a fumble and came up with a key interception. With all the defensive injuries, coach Ron Rivera has been looking for guys to step up all season and not getting much in the way of results. But Senn has made the most of his opportunity and this guy is going to have a job next year.
December, 20, 2011
12/20/11
1:00
PM ET
»
NFC Stock Watch
:
East
|
West
|
North
|
South
»
AFC
:
East
|
West
|
North
|
South
FALLING
1. New York Jets:
How do you explain a team on a three-game winning streak and fighting for a playoff spot laying the type of egg the Jets did on Sunday? You can't. Jets head coach Rex Ryan was shocked and at
a loss for words
after his team didn't show up in a 45-19 loss to the
Philadelphia Eagles
. The Jets were flat-out beat in every phase. It was New York's worse loss in two years. Fortunately, New York (8-6) still controls its own destiny. The Jets need to win their final two games against the
New York Giants
and
Miami Dolphins
to secure the final seed in the AFC. Both are winnable games. But you just never know which Jets team will show up.
2. Buffalo Bills' third-down offense:
What happened to Buffalo's offense? The Bills could not stay on the field in the first three quarters in a loss to the Miami Dolphins. Buffalo was 0-for-11 on third down and eventually fell behind 30-13. The offense warmed up in the fourth quarter, but it was too late. What's even more embarrassing is that Buffalo couldn't get a first-down conversion against Miami all season.
3. Wayne Hunter, Jets right tackle:
Hunter allowed three sacks to Eagles defensive end
Jason Babin
. It was another poor performance in a string of bad games Hunter has had this season. The Jets have no depth at offensive tackle and are forced to keep the struggling Hunter in the lineup. He's pushed around way too often, which puts Jets quarterback
Mark Sanchez
at risk.
RISING
[+] Enlarge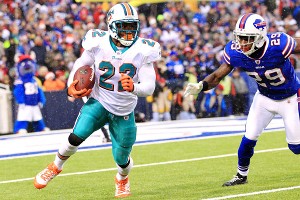 Kevin Hoffman/US PresswireDolphins RB Reggie Bush runs under pressure from Bills cornerback Drayton Florence on Sunday.
1. Aaron Hernandez, New England Patriots tight end:
The
Denver Broncos
were so focused on
Rob Gronkowski
that they forgot about New England's other tight end. Hernandez ran circles around the Broncos with nine catches for 129 yards and a touchdown. He killed single coverage and showed why he's also one of the top tight ends in the NFL. Hernandez could be key for the Patriots in the playoffs if opponents continue to focus on "Gronk."
2. Reggie Bush, Dolphins running back:
Bush is proving that he can be a feature back. Bush dominated Buffalo's defense with 203 yards and a touchdown. Bush needs just 27 yards for his first 1,000-yard season. Many questioned the Bush signing in Miami, but Bush has proven to be one of the best free-agent signings in the AFC East.
3. C.J. Spiller, Bills running back:
Spiller had his most complete game, albeit in a losing effort. The 2010 first-round pick rushed for 91 yards and a touchdown on 12 carries. Spiller also had nine receptions for 76 yards. He accounted for a majority of Buffalo's offense and is making a good impression after the season-ending leg injury to
Fred Jackson
. It remains to be seen whether Spiller can be a feature back, but he's showing potential.
December, 20, 2011
12/20/11
1:00
PM ET
»
NFC Stock Watch
:
East
|
West
|
North
|
South
»
AFC
:
East
|
West
|
North
|
South
FALLING
1. Health, Chicago Bears:
The Bears led a charmed life on the way to their 2010 NFC North title, losing only a handful of starts due to injury all season. But their four-game dive in 2011 has coincided with injuries to quarterback
Jay Cutler
and running back
Matt Forte
. Receiver
Johnny Knox
has been lost for the season and receiver/kick returner
Devin Hester
clearly has been limited by an ankle injury. Two members of their Week 1 offensive line, left guard
Chris Williams
and right tackle
Gabe Carimi
, are also on injured reserve. I've always considered it silly to say that injuries come in bunches, but that has been the case this season for the Bears and it provides a ready-made excuse for why they are likely to miss the playoffs in 2011.
2. Offensive line, Green Bay Packers:
It's very possible that the Packers will have replacement starters at three of their five positions Sunday night against the Bears. Left tackle
Marshall Newhouse
will make his 10th start at left tackle after taking over for veteran
Chad Clifton
, who has been working through hamstring and back injuries. Left guard
T.J. Lang
could move to right tackle, replacing
Bryan Bulaga
(knee) and
Derek Sherrod
(broken leg). And that would mean
Evan Dietrich-Smith
would return to the starting lineup in Lang's spot. Dietrich-Smith made two starts earlier this season in place of right guard
Josh Sitton
(knee). That's hardly the kind of continuity you want heading into the playoffs, but the Packers have dealt with such issues before.
3. Sleep totals in Detroit:
Lions coach Jim Schwartz admitted it Monday. "I'm just tired as hell," he said during a news conference less than 24 hours after his team pulled off a wild comeback victory in Oakland. In the interim, the Lions made the long flight back east and immediately began preparations for the biggest week in recent team history. Playing a day early because of the Christmas weekend, the Lions are hoping to clinch their first playoff berth since 1999 with a win Sunday over the
San Diego Chargers
. There won't be much time to sit by the fire or sip eggnog this week. Serious business is at hand.
[+] Enlarge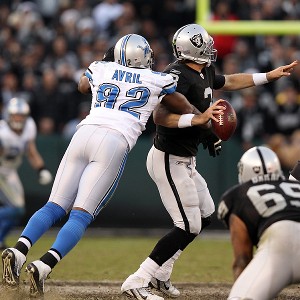 Ezra Shaw/Getty ImagesCliff Avril came up big with a sack of Carson Palmer in the final minute of Sunday's win over Oakland.
RISING
1. Cliff Avril, Detroit Lions defensive end:
I know we've been touting Avril regularly here on the blog, but something caught my eye late in Sunday's game that merits a mention. Moments after
Calvin Johnson
's go-ahead touchdown late in the fourth quarter, television cameras showed Avril pointing demonstratively at defensive tackle
Ndamukong Suh
and then at defensive tackle
Corey Williams
. Poking both in the chest, Avril appeared to be saying something along the lines of:
You make a play
. As it turned out, Avril made one himself a few minutes later, sacking quarterback
Carson Palmer
and forcing the Raiders to use their final timeout. Suh went on to block the Raiders' attempt at a game-winning field goal. Avril now has 11 sacks this season, but it was also nice to see him recognize the moment and, as a leader, challenge his teammates in a positive way.
2. Questions about Jermichael Finley, Packers tight end:
When the season began, there were those who thought Finley was the best young tight end in the NFL. The
New England Patriots
'
Rob Gronkowski
(15 touchdown receptions) has captured that title, and Finley has regressed a bit in the past month with more drops than the Packers would like to see. He entered Sunday's game at Kansas City with five drops in 66 targets, according to ESPN Stats & Information, and probably had three more against the Chiefs, depending on how strict of a grader you are. Finley blamed no one but himself for the drops, and we should note that his 41-yard catch to set up the Packers' first touchdown required a high degree of skill and concentration. But through 15 weeks of the season, I'm not sure we can say Finley has broken through to the degree most thought he would. He'll need 10 catches over the next two weeks to match the career high of 55 he set in 2009 -- in 13 games.
3. Jim Kleinsasser, Minnesota Vikings tight end:
Multiple reports suggest Kleinsasser is prepared to retire at the end of his 13th season, marking the end of a career that is to be admired in many ways, even if it rarely was reflected in the box score. Few recall that Kleinsasser was emerging as a reliable receiving threat in the early 2000's before he tore his ACL in Week 1 of the 2004 season. Since then, he has handled one of the NFL's most inglorious jobs with aplomb, serving as a blocking tight end/quasi-third tackle and earning the respect of three different coaching staffs along the way. His approach has been a model for anyone who wants to maximize an NFL career. For 13 years, Kleinsasser has hit people hard and kept his mouth shut.
December, 20, 2011
12/20/11
1:00
PM ET
»
NFC Stock Watch
:
East
|
West
|
North
|
South
»
AFC
:
East
|
West
|
North
|
South
FALLING
1. Prince Amukamara, Giants cornerback
. It may not be nice, or really even fair, to pick on the rookie. But opposing offenses are doing just that, and the
New York Giants
' first-round cornerback is struggling. Amukamara's problems are emblematic of the overall coverage issues with which the Giants have been struggling throughout the second half of the season. But while those problems were more easily explained when the Saints, Packers and Cowboys were throwing on them at will, the fact the Redskins' offense was able to operate so efficiently and with so much third-down success Sunday was extremely troubling for the Giants.
2. Reasons to criticize Tony Romo.
The Cowboys are 5-2 in their past seven games, and during that stretch Romo has 18 touchdown passes and two interceptions -- both of which came in the Thanksgiving game against Miami. The Cowboys' issues in finishing off games against the Cardinals and Giants were on the defense, which continues to struggle on the back end and could cost them again this week against the Eagles. But there's no denying the efficient, responsible and extremely effective way Romo is leading an offense that hasn't missed a beat since its star running back went down with an ankle injury.
[+] Enlarge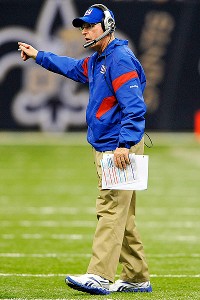 AP Photo/Bill FeigTom Coughlin's seat is a warm one in the month of December as the Giant are 1-2.
3. Tom Coughlin's job security.
I've said it before and I believe it: The Giants' head coach is not to blame for what's going on in New York. He was handed an insufficient roster that was ravaged by injuries, and the fact the Giants' 6-2 start was an act of overachievement. I think Giants management would be wise to take a long, serious look at the way its team's roster is constructed, the way certain positions are consistently and stubbornly overlooked and the extent to which needs have not been addressed over the past few offseasons, and Coughlin has nothing to do with that. But all of that said, fair or not, a third straight season without a playoff appearance is the kind of thing that puts coaches (especially New York ones) on the hot seat. And while the Giants' owners are not the type to do anything rash or reactionary, Coughlin has to be uneasy about the way his overall December record looks in the big picture.
RISING
1. Jason Babin, Eagles defensive end.
When Babin found himself in Tennessee last year hooked up with defensive line coach Jim Washburn, his career was re-energized. Washburn stripped away everything except the thing Babin does best -- get after quarterbacks -- and told him to focus only on his strength. Babin was wise enough to move to Philadelphia this past offseason, and with six sacks in his past two games he's up to 18 on the season. Babin had 17.5 sacks in the first 66 games of his career. In his past 30, playing for Washburn, he has 30.5. He's currently tied for the league lead and has an outside chance at
Michael Strahan
's all-time single-season record of 22.5. And he's helping drive an Eagles defense that has turned it on in the past two weeks for the team's longshot playoff push.
2. Dallas Cowboys' playoff chances.
Lots of people last week were telling me the game against the Buccaneers didn't mean anything, and with regard to tiebreakers it did not. But with the Redskins beating the Giants, the Cowboys' victory over Tampa Bay may turn out to have been important for keeping them out of any ties. If Dallas beats the Eagles this week and the Giants lose to the Jets, the Cowboys clinch the division and the Week 17 rematch against the Giants will be the
Stephen McGee
show as Romo and the Cowboys rest and get ready for a home playoff game the following week. Dallas took care of business against a team with a losing record and the Giants did not, and as a result Dallas is the team in the position of strength right now.
3. Rex Grossman, Redskins quarterback.
Two early interceptions? Ten games in a row with at least one? Hey, Grossman is who he is. But there's no denying that the Redskins' offense is at its best when Grossman is playing quarterback. He has no tight ends, only two of his five starting offensive linemen, no real No. 1 receiver and a rookie running back. And yet, Washington has averaged 23.5 points over its past five games. That doesn't make them the Packers, but with their defense it makes them a team that's always in the game. The Redskins still need to find a franchise quarterback this offseason if they're to take the next step into a brighter future. But if they bring back Grossman, at the very least they'll know they have a veteran backup capable of putting points on the board if they need to use him.
NFL SCOREBOARD
Sunday, 2/2
WEEKLY LEADERS