NFL Nation:

Stock Watch 2011 Week 16
December, 27, 2011
12/27/11
1:00
PM ET
»
NFC Stock Watch
:
East
|
West
|
North
|
South
»
AFC
:
East
|
West
|
North
|
South
FALLING
1. Cowboys' offensive line
. With the exception of brilliant rookie right tackle
Tyron Smith
, who handled the red-hot
Jason Babin
well most of the night, the
Dallas Cowboys
' line was dominated physically by the Eagles' defensive front. And now, with left guard
Montrae Holland
out with a torn biceps, they're shorthanded for their big division title game against the
New York Giants
and their fearsome D-linemen. Someone on the Cowboys' line is going to have to step up and play better than they've been playing. And no matter what happens Sunday night, interior offensive line is going to be a need position this offseason.
2. The Philadelphia Eagles' draft position.
One more win gets the Eagles to .500 for the season and could slide them further back into the middle of the draft's first round than they already are. (Currently, they'd hold the No. 13 pick). That lessens their chances at an impact player that would hasten their planned 2012 turnaround, but the Eagles have several needs they can address on defense at that point in the draft. They might even be able to get a wide receiver there if they cut ties with
DeSean Jackson
.
3. Washington Redskins' self-confidence:
Flying high two weeks ago after a big victory over the Giants, the Redskins' defense melted down Saturday against
Joe Webb
,
Toby Gerhart
and the
Minnesota Vikings
' bench. The loss deprived the Redskins of a chance to improve on their 2010 record and, as their worst defensive performance of the season, left them scratching their heads a bit as they ponder the future. The thought around Washington has been that this offseason's focus would be on offense. But there may be some tinkering left to do on defense, particularly on the back end.
RISING
[+] Enlarge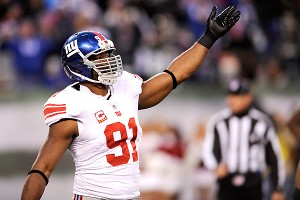 AP Photo/Bill KostrounWith Justin Tuck healthy and on his game, the New York Giants can be a force on defense.
1. Justin Tuck, Giants defensive end.
And, with him, the Giants' defensive line. After last week's pep talks by coach Tom Coughlin and GM Jerry Reese, Tuck was able to exert a little bit of mind over matter for the first time this season, sweep aside the aches and pains that have been bugging him and play his best game so far this year. Tuck admitted after the game he hasn't been mentally right this year, and he has let his injury problems bother him more than they should have. If he's back in the right frame of mind to stay, and the Giants can come after
Tony Romo
from his side and
Jason Pierre-Paul
's on Sunday night, you have to like their chances.
2. Cowboys fans' blood pressure.
Because this should have been taken care of weeks ago. If the Cowboys lose to the Giants and miss the playoffs, the laments will be numerous and woeful. They should have held their late leads against the Jets, Lions, Patriots, Cardinals and Giants. Win two of those five games -- all of which they surely could have won — and they'd have rendered the season finale meaningless. But their inability to finish games has put them in a position to have to finish the season with a tough win on the road. And their fans will spend this entire week fretting over whether Romo, Jason Garrett and the crew have what it takes to do that.
3. Victor Cruz, Giants wide receiver.
His 99-yard touchdown catch flipped the game in favor of the Giants right before halftime and may have been the play of the Giants' season. Cruz also set a new Giants team record for receiving yards in a single season, running his 2011 total to 1,358 and breaking
Amani Toomer
's team record. He's not likely to be announced as a Pro Bowler tonight, because he wasn't on the fan ballot and the fan vote counts for one-third of the total. But his breakout season is a big reason the Giants have a chance to make the playoffs.
December, 27, 2011
12/27/11
1:00
PM ET
»
NFC Stock Watch
:
East
|
West
|
North
|
South
»
AFC
:
East
|
West
|
North
|
South
FALLING
1. The Houston Texans' confidence:
They will say otherwise, but coming off of two bad losses the Texans have to be wondering about themselves. They got pushed around by Carolina, and their vaunted defense fell apart in the final minutes, allowing the Colts to drive to a game-winning touchdown. I was among those questioning this team's mental makeup coming into the season. I thought they'd answered that question resoundingly as they ran away with the division. Is it creeping back in now?
2. The Jacksonville Jaguars' dealings with tight ends:
Marcedes Lewis
will be a headliner on the AFC South All Disappointment Team, and if not for
Chris Johnson
, he'd be the captain. Saturday in Nashville, he pulled up on one ball across the middle for fear of a hit from notorious thumper
Michael Griffin
, the Titans safety (#sarcasm). On the other end, the defense let Tennessee's
Jared Cook
run wild. The coverage call on Cook's 55-yard touchdown pass that sent the safeties wide and left middle linebacker
Paul Posluszny
covering Cook deep down the middle was disastrous.
3. The Houston Texans' third-down offense:
On last week's list, it was third-down defense. The Colts allowed them just one conversion in 10 chances, and that one came on a pass that bounced off
Antoine Bethea
twice. This team can win with games centered on defense and the run game. But if the offense can't convert third downs and stay on the field for some extended drives, the strain on those two areas becomes too much and the margin of error shrivels.
RISING
[+] Enlarge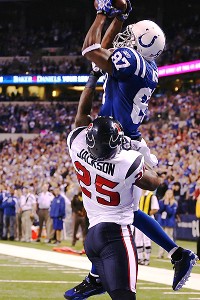 Brian Spurlock-US PRESSWIREIndianapolis Colts wide receiver Reggie Wayne stepped up in last Sunday's win against Houston.
1. Reggie Wayne, Indianapolis Colts wide receiver:
He talked leading up to the Colts' home finale about wanting to go out with a bang in case it turned out to be his last game as a Colt at Lucas Oil Stadium. I saw one early route where I thought his effort was questionable. But he sure cranked it up as
Dan Orlovsky
threw his direction 14 times. He pulled in eight receptions for 106 yards and cradled the game-winning touchdown after a 1-yard catch that provided the winning margin for Indianapolis in its second consecutive win. He's heading toward free agency and it's clear he can still produce. How much longer is the question.
2. The Tennessee Titans' discipline:
Mike Munchak has preached discipline from his first day as the Titans coach. Saturday, when he didn't get a postgame question about a penalty-free performance, he didn't leave the podium before jokingly pointing it out. It was the first time the franchise didn't draw a flag in a game since 1972. Meanwhile the Titans benefited from six calls against the Jaguars that gave Tennessee 28 yards and three first downs.
3. Jared Cook, Tennessee Titans tight end:
Following the best game for a tight end in franchise history -- 169 yards -- he's in range of the franchise record for tight end receiving yards in a season. He's a receiver-like threat who I believe has been under-used by offensive coordinator Chris Palmer and quarterback
Matt Hasselbeck
since
Kenny Britt
went down early in the season. Cook killed the Titans with a lost fumble in the loss at Indianapolis. The effort against the Jaguars was an excellent rebound. The Titans need to find ways to get him the ball Sunday at Reliant Stadium.
December, 27, 2011
12/27/11
1:00
PM ET
»
NFC Stock Watch
:
East
|
West
|
North
|
South
»
AFC
:
East
|
West
|
North
|
South
FALLING
1. John Skelton, Arizona Cardinals QB.
Skelton started slowly again, and this time there wasn't enough time for the Cardinals to come back and win. The scoring passes Skelton threw came after his three interceptions and repeated inaccurate passes helped Cincinnati run out to a 23-0 lead. Skelton finished the game with a 6.3 score out of 100 in Total QBR, lowest among 32 starting quarterbacks in Week 16. Teams with lower QBR scores than their opponents are 1-47 (.021) over the past three weeks (the Bengals'
Andy Dalton
was at 70.9 in this game). Receiver
Early Doucet
was a candidate to represent the Cardinals in the "falling" category after missing a chance to make the tying reception against the Bengals, but he became a sympathetic figure, in my view, when
Larry Fitzgerald
's father
criticized him
.
2. Tarvaris Jackson, Seattle Seahawks QB.
Jackson has been a good fit for the Seahawks this season, but his performance in defeat against the 49ers served as a reminder that the team could outgrow his limitations before long. Jackson held the ball too long and seemed indecisive when the 49ers'
Larry Grant
struck him from behind to force a fumble with the game on the line. Holding the ball too long has been a problem frequently this season. Jackson finished the game with decent passing stats, but he didn't do enough to help his team win the game. This was a step backward for him as the Seahawks' playoff hopes evaporated.
3. Josh Brown, St. Louis Rams kicker.
The Rams have enough problems without missing relatively short field goals on those few times when the offense moves into scoring position. Brown missed from 33 yards (and also from 52) against the Steelers when the Rams badly needed points. They trailed only 13-0 after three quarters before allowing two touchdowns to lose 27-0. Brown has made 73.1 percent of his attempts this season, which would be a career low. He has missed five times from inside 50 yards and twice from longer distances. Brown has made at least one attempt from 50-plus yards in each of his eight previous seasons, but none in 2011.
[+] Enlarge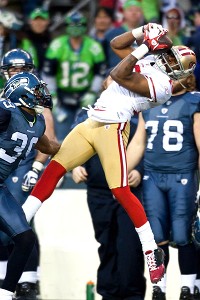 Jay Drowns/Getty ImagesThis Michael Crabtree reception helped put the 49ers in position to beat the Seahawks this past Saturday.
RISING
1. Michael Crabtree, San Francisco 49ers WR.
The 49ers faced a second-and-18 situation while trailing the Seahawks by a point with about six minutes left in the fourth quarter. Crabtree's leaping reception along the left sideline for a 41-yard gain bailed out the 49ers and moved them into position for the winning field goal. Crabtree finished the game with five receptions for 85 yards. Both figures were game highs. Crabtree also provided a 27-yard reception to open the second half. That play jump-started an eight-play, 75-yard touchdown drive as the 49ers tied the game following a rough first half.
2. Marshawn Lynch, Seattle Seahawks RB.
Lynch's stock had already soared over the second half of this season, but he hasn't gotten enough recognition in this space. What Lynch accomplished against the 49ers takes his stock up a few more notches, anyway. You know the particulars by now. With 107 yards and a touchdown, Lynch ended the 49ers' streaks for not allowing a 100-yard rusher (36 games) or a rushing touchdown (15 games). Teams tend to think of running backs as easier to replace than players at other positions. Lynch is an exception in Seattle. The way he runs makes him irreplaceable at this time. He is the Seahawks' MVP, easily.
3. Alex Smith, San Francisco 49ers QB.
Poor passing stats in the first half (6-of-15) obscured a strong overall performance from Smith, his second in a row and third in four games. Smith made clutch scrambles, protected the football and came through with that deep pass to Crabtree for the 41-yard gain. He upped his starting record to 12-3 this season. Though Smith did not throw a scoring pass Saturday, he has 24 touchdowns and only six interceptions in his last 20 starts. The 49ers have a 15-5 record in those games. Yes, the team has often won with defense, special teams and ball control, but Smith has occasionally been the difference in victory, as he was Sunday. He has also avoided the mistakes that doomed the 49ers to defeat in the past.
December, 27, 2011
12/27/11
1:00
PM ET
»
NFC Stock Watch
:
East
|
West
|
North
|
South
»
AFC
:
East
|
West
|
North
|
South
FALLING
1. LeGarrette Blount, Buccaneers running back.
He lost a fumble on Tampa Bay's first offensive play against Carolina and coach Raheem Morris benched Blount, who has had fumbling problems all season, until the second half. Tampa Bay has all sorts of problems, but if you asked me to single out the biggest culprit among the players, I'd go with Blount. He ran for 1,000 yards as a rookie in just about half a season and probably won't do that for this full season unless he runs wild in the finale against Atlanta. Yeah, like that's going to happen. My main gripe with Blount is that he's held back the entire offense because the coaches won't use him as a pass-catcher or pass-blocker. If you haven't learned to pass block by the end of your second NFL season, you probably never will pick it up.
2. Atlanta's defense.
I'm sure some members of the Falcons' organization aren't happy the Saints were still throwing the ball late in Monday night's game. Understandable because the Saints did push the limits of decorum a little bit. But there's an easy way for a defense to prevent that. Play better earlier in the game and you won't put yourself in a situation where a team is blowing you out.
3. Michael Turner, Falcons running back.
He carried 11 times for 39 yards Monday night. I know the Falcons had to go away from the running game after they fell behind. But this was the fifth straight game in which Turner has failed to rush for 100 yards. He has been on the injury report with a groin problem in recent weeks. Makes you wonder if the injury might be holding him back.
RISING
[+] Enlarge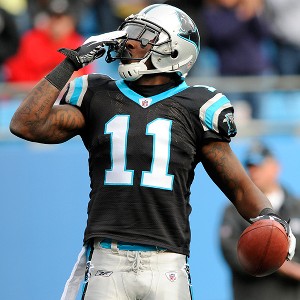 AP Photo/Mike McCarnBrandon LaFell celebrates his touchdown reception this past Saturday against Tampa Bay.
1. Drew Brees, Saints quarterback.
His stock has hit an all-time high and that's saying something. He broke Dan Marino's record for passing yards in a season and he did it in a victory. Brees is having a season for the ages, but he has made it clear it will only be meaningful if it culminates with a second Super Bowl title.
2. Brandon LaFell, Panthers receiver.
He had his first career 100-yard receiving game against Tampa Bay and that included a 91-yard touchdown catch, the longest in franchise history. A lot of people say the Panthers should draft a receiver early and pair him with
Steve Smith
. I say that's not necessary. They invested an early pick in LaFell last year. It often takes receivers some time to develop. Plus, Carolina put in a whole new offense this season. LaFell seems to be picking it up and the coaches are happy with his progress.
David Gettis
, who missed his second season with an injury, also will be back next year. Put LaFell and Gettis with Smith and the Panthers might already be set at receiver.
3. Darren Sproles, Saints running back.
He sort of got lost in Brees' shadow, but Sproles had another huge all-around game Monday night. He rushed five times for 67 yards, caught two passes for 22 yards and a touchdown and added a 92-yard kickoff return. The biggest difference I see between last year's Saints and this year's team is the addition of Sproles. He has brought different elements to the offense and the special teams.
December, 27, 2011
12/27/11
1:00
PM ET
»
NFC Stock Watch
:
East
|
West
|
North
|
South
»
AFC
:
East
|
West
|
North
|
South
FALLING
1. Secondary play in Chicago and Minnesota:
Between the two of them, the
Chicago Bears
and
Minnesota Vikings
have maybe one or two defensive backs who should be considered 2012 starters heading into the offseason. Bears cornerback
Charles Tillman
qualifies, and perhaps Vikings cornerback
Antoine Winfield
will as well if he returns healthy from a fractured collarbone. Otherwise, the Bears and Vikings need a serious overhaul to their defensive backfields. Both teams tried season-long rotations at safety, neither of which led to any personnel conclusions, and cornerback play outside of Tillman has been atrocious for both teams. It will probably be a multiyear process for these franchises to rebuild these positions. With
Aaron Rodgers
,
Matthew Stafford
and
Jay Cutler
in this division, they better hurry.
2. Christian Ponder, Minnesota Vikings quarterback:
We all remember ESPN analyst Trent Dilfer's
harsh criticism
of Ponder shortly after the draft. In brief, Dilfer said Ponder looks the part of an NFL quarterback but quickly falls from his comfort zone and loses accuracy under pressure. Dilfer
softened some of that analysis
after Ponder's relatively strong debut, but we should note that Ponder has been one of the NFL's worst quarterbacks against extra pass-rushers this season. According to ESPN Stats & Information, he is completing about 39 percent of his passes when opponents send five or more pass-rushers. The only player with less success against the blitz?
Denver Broncos
quarterback/running back
Tim Tebow
. It's not necessarily a warning sign if a rookie doesn't perform well under pressure, but to this point Ponder's performance hasn't veered much from Dilfer's original analysis.
3. Marion Barber, Bears running back:
Barber's mental errors in a loss earlier this month to the Broncos, and his inability to keep his troublesome calf healthy, would seem to spell the end of his short tenure with the Bears.
Kahlil Bell
's hard-charging 123-yard performance Sunday night offers the Bears a much younger option for the role of backing up starter
Matt Forte
. It was a nice run, as they say.
[+] Enlarge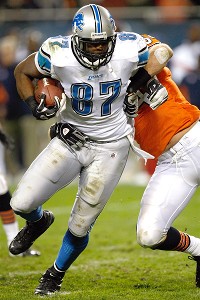 Scott Boehm/Getty ImagesBrandon Pettigrew has been a productive weapon for the Lions this season.
RISING
1. Home-field advantage:
The Packers have a quirky history when it comes to playing at home in the playoffs. In the big picture, the state of Wisconsin has provided one of the best home-field advantages in professional sports. The Packers are 15-3 all-time at home in the playoffs, including games played in Milwaukee. But those three losses have come in their past five playoff games at home: In 2003 to the
Atlanta Falcons
, in 2004 to the Vikings and 2007 to the
New York Giants
. One of the two victories, meanwhile, came in overtime to the
Seattle Seahawks
. Recently, at least, opponents haven't been intimidated by playing at Lambeau Field.
2. Brandon Pettigrew, Detroit Lions tight end:
A significant debate erupted in 2009 when the Lions used the No. 20 overall pick to draft Pettigrew, passing up offensive lineman
Michael Oher
and receiver
Percy Harvin
, among others. But the Lions insisted that a multi-faceted tight end was critical to their offense, and they have followed through by utilizing Pettigrew as much as any team in the NFL. The Lions have used him as an extension of their running game, and although he is averaging a modest 8.7 yards per reception, his total of 76 catches ranks third among tight ends. By all accounts, Pettigrew is an excellent blocker as well. The Lions have gotten by this far with
Jeff Backus
and
Gosder Cherilus
as their tackles, minimizing the need for Oher. And while Harvin would have been a nice addition, the Lions have found value by signing veteran
Nate Burleson
and using a second-round pick to draft
Titus Young
.
3. T.J. Lang, Green Bay Packers offensive lineman:
When the season began, how many people would have chosen Lang as the Packers' most valuable offensive lineman? Not me. Lang had been an inconsistent starter and player who couldn't find a position and was behind a rookie on the depth chart when the season began. But Lang outplayed first-round pick
Derek Sherrod
in camp to win the left guard job and has provided a seamless transition from departed starter
Daryn Colledge
. And when the Packers needed someone to jump over to right tackle after injuries to
Bryan Bulaga
and Sherrod, Lang successfully made the move. On Sunday night, at least, he held his own against Bears pass-rushers
Julius Peppers
and
Israel Idonije
. Center
Scott Wells
might be the Packers' best offensive lineman this season, but not many left guards could jump out to right tackle as well as Lang appeared to do Sunday night.
December, 27, 2011
12/27/11
1:00
PM ET
»
NFC Stock Watch
:
East
|
West
|
North
|
South
»
AFC
:
East
|
West
|
North
|
South
FALLING
1. New York Jets' playoff chances:
It was just one week ago that the talented but inconsistent Jets controlled their own playoff fate. It was a simple formula: Win the final two games and they're in. But the Jets laid their second egg in a row, to the cross-town rival
New York Giants
. Now, the Jets need to beat the Dolphins and get a ton of help. Three teams need to lose next week or the Jets will be watching the playoffs from home. This team had Super Bowl expectations entering the season. The Jets have no one to blame but themselves if they don't get into the postseason.
2. Jets offensive coordinator Brian Schottenheimer:
The Jets have the NFL's 27th-ranked offense. Although there's plenty of blame to go around, the offensive coordinator will probably get the brunt of it. Schottenheimer has underachieved with talented weapons such as tight end
Dustin Keller
, receivers
Santonio Holmes
and
Plaxico Burress
and running backs
Shonn Greene
,
Joe McKnight
and
LaDainian Tomlinson
. There are already rumblings in New York that Schottenheimer's job may be in jeopardy. I think, at the very least, Jets head coach Rex Ryan and the front office will take a hard look at ways to improve the offense and its coaching staff in the offseason.
3. Miami Dolphins' draft stock:
The Dolphins are 5-10 and currently own the No. 8 overall pick in April's NFL draft. Sounds good, right? Well, not so much. Miami is searching for a top quarterback and may be on the outside looking in this offseason. Three very good quarterback prospects were expected to be available: Stanford's Andrew Luck, Baylor's Robert Griffin III and USC's Matt Barkley. Luck will be gone with the first pick, Griffin is projected to go before No. 8 and Barkley opted to return for his senior season. The Dolphins could roll the dice with Oklahoma's Landry Jones, but he's considered a drop-off from the other three college quarterbacks. It's looking more and more like Miami could stay with
Matt Moore
in 2012 or see whether there are any intriguing veterans available in free agency.
RISING
[+] Enlarge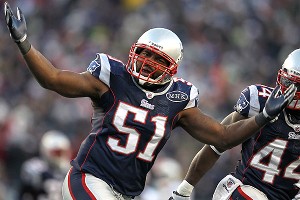 Jim Rogash/Getty Images New England linebacker Jerod Mayo is coming off his best game of the season.
1. Jerod Mayo, New England Patriots linebacker:
New England needs someone to step up defensively down the stretch. Mayo is the most likely candidate to do it. He is coming off his best game of the season in a key win over Miami. Mayo recorded 13 tackles and a season-high two sacks. Mayo is one of the few consistent players on New England's inconsistent defense. Keep an eye on Mayo in the playoffs.
2. Leodis McKelvin, Buffalo Bills cornerback:
Buffalo fans expected more from McKelvin when the team drafted him in the first round in 2008. The Bills were counting on McKelvin to develop into a shutdown corner. That hasn't been the case. But one area where McKelvin has been as good as advertised is his ability to return kicks, which came in handy during Buffalo's win over the
Denver Broncos
. McKelvin set a team record with 136 punt return yards, including an 80-yard touchdown in the second quarter that was Buffalo's final lead change.
3. Wes Welker, Patriots receiver:
What more can you say about Welker? He continues to produce and had another big game against Miami. Welker recorded 12 receptions for 138 yards. Teams are focusing on Patriots tight end
Rob Gronkowski
more, which should open up opportunities for Welker. Welker was targeted 19 times last week by Patriots quarterback
Tom Brady
. Welker has 116 receptions for 1,518 yards in what will surely be another Pro Bowl season.
December, 27, 2011
12/27/11
1:00
PM ET
»
NFC Stock Watch
:
East
|
West
|
North
|
South
»
AFC
:
East
|
West
|
North
|
South
FALLING
1. Norv Turner's revival:
After the first three games of December, there was talk that Turner may be saving his job. The
San Diego Chargers
were 3-0 for the month and were dominating opponents. Well, the domination is over and so is Turner's new-found job security. The Chargers were eliminated from the playoff picture with a 38-10 loss to the
Detroit Lions
Saturday. The Turner-is-going-to-be-fired watch is on full alert again.
[+] Enlarge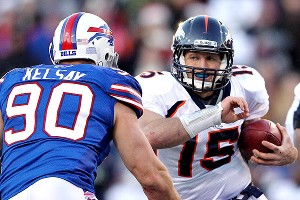 Luc Leclerc/US PresswireDespite the loss to Buffalo, Tim Tebow and the Broncos will make the playoffs with a win over Kansas City Sunday.
2. Tim Tebow's ball security:
Tebow's best attribute was his ability not to turn the ball over. His glaring deficiencies had been excused for much of this season because Tebow wasn't throwing interceptions. That is no longer the case. Tebow was picked off four times in a 40-14 loss at the
Buffalo Bills
. Two of the interceptions were brought back for touchdowns in a 19-second span. His vision appeared to be bad and he was rushing passes. If this continues, Tebow's long-term sustainability as Denver's starter will be re-examined.
3. Kyle Orton in the red zone:
One of the reasons why Denver moved away from Orton in favor of Tebow was Orton's inability to make plays when it counted. That was a problem for Orton Saturday in the
Kansas City Chiefs
' 16-13 overtime loss to the
Oakland Raiders
. He threw two interceptions in Oakland territory, including one in the end zone. The Chiefs are 2-for-9 in the red zone in Orton's two starts. If Orton has any chance of being the Chiefs' quarterback in 2012, the free-agent-to-be must perform well in the red zone Sunday when he tries to knock his former team out of the playoffs.
RISING
1. Denver-Oakland tension:
One of these two old rivals will snap a long playoff drought. Oakland hasn't been to the playoffs in nine years and it's been six years since Denver has made it. Denver will make the playoffs with a home win over the Chiefs. Oakland -- which also has wild-card hopes -- will win the division with a Denver loss and a home win over San Diego. Both of these games will be played at the same time Sunday and it will be a tremendous ending to an unpredictable season in the division.
2. Richard Seymour's impact:
Oakland's defensive lineman has been dealing with injuries and he hadn't made much of an impact in the past several weeks. That changed in a big way at Kansas City. Seymour blocked two 49-yard field goal attempts by Kansas City kicker
Ryan Succop
, including one at the end of regulation.
3. Darrius Heyward-Bey, Raiders, receiver:
In his third season, the No. 7 overall pick in 2009 is putting together a strong statistical line. Heyward-Bey has 55 catches for 845 yards. He had 35 catches for 490 yards in his first 26 games. Finally, Heyward-Bey looks like a legitimate NFL receiver.
December, 27, 2011
12/27/11
1:00
PM ET
»
NFC Stock Watch
:
East
|
West
|
North
|
South
»
AFC
:
East
|
West
|
North
|
South
FALLING
[+] Enlarge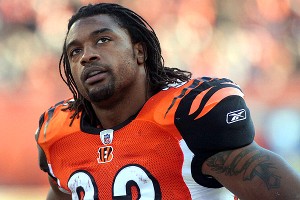 AP Photo/Tony TribbleBall security has been an issue of late for Bengals running back Cedric Benson.
1. Cedric Benson's ball security:
The Bengals running back had been one of the most reliable players in the NFL this season when it came to holding onto the ball. That was until Benson lost his first two fumbles of the season Saturday. And both came at a costly time -- in the fourth quarter. Fumbling has been a disturbing trend lately for Benson, who has put the ball on the ground five times in the past two weeks. Benson hadn't fumbled in his first 12 games this season, which totaled 222 carries.
2. Browns' football intelligence:
The low point of coach Pat Shumur's rookie season came Saturday in Baltimore, where the Browns looked more like a Pop Warner team than an NFL one with mental gaffes at the end of the first half and at the end of the game. Veteran backup QB
Seneca Wallace
cost Cleveland three points when he decided to run the ball in the red zone with 11 seconds left in the first half and no timeouts. Then, rookie first-round pick
Phil Taylor
jumped offside on fourth down with two minutes left when it was obvious the Ravens were looking to draw the Bengals offside.
3. Ravens coverage teams:
Special teams is supposed to be the expertise of coach John Harbaugh, but the Ravens have been struggling in that area all season. The latest lapse came when the Ravens allowed the Browns'
Josh Cribbs
to return a punt 84 yards for a touchdown. It jumpstarted Cleveland's second-half rally and underscored Baltimore's problems in covering kicks. This marked the third time this season the Ravens have given up a return for a touchdown (two on punts and one on a kickoff). The Ravens hadn't allowed multiple touchdowns off punt returns since 2002.
RISING
1. Ravens' dominance in the AFC North:
A week after finishing perfect at home for the first time in franchise history, the Ravens are looking to go undefeated in the division for the first time in their existence. Baltimore, which is 5-0 in the division, is looking for the second AFC North title in team history when it wraps up the regular season at Cincinnati. Since realignment in 2002, only three teams have finished undefeated in AFC North play: the 2002 Steelers, 2008 Steelers and 2009 Bengals.
2. Steelers' pass defense:
Pittsburgh roughed up Rams quarterback
Kellen Clemens
, who was held to 91 yards passing on nine completions. While crushing Clemens won't impress many, the Steelers have been shutting down quarterbacks for the past two months. The NFL's top-ranked pass defense has given up two touchdown passes in the past six games. The Steelers haven't allowed a quarterback to record a passer rating over 87 since
Tom Brady
on Oct. 30. The amazing part is pass-rushers
James Harrison
and
LaMarr Woodley
haven't played a full game together since Sept. 25 at Indianapolis.
3. Bengals' pass rush:
Few defenses have pressured quarterbacks like Cincinnati recently. Over the past three games, the Bengals have recorded 13 sacks and 29 quarterback hits. The problem for offenses is that you can't shut down the pass rush by shutting down one player. During this three-game span, 11 players have recorded at least a half sack. The only player with more than 1.5 sacks is defensive end
Jonathan Fanene
(three sacks). The Bengals rank third in the NFL in sacks with 44.
NFL SCOREBOARD
Thursday, 11/27
Sunday, 11/30
Monday, 12/1
WEEKLY LEADERS