NFL Nation:

Stock Watch 2011 Week 3
September, 27, 2011
9/27/11
1:13
PM ET
»
NFC Stock Watch
:
East
|
West
|
North
|
South
»
AFC
:
East
|
West
|
North
|
South
FALLING
1. Philip Rivers' interception reputation:
Even though he is chance-taking gunslinger, Rivers has never had major interception problems. Now he does. Rivers has thrown two interceptions in each game this season. That is the first time he's thrown two interceptions in three straight games in his career. He has never thrown three interceptions in one game. Rivers' highest interception total in a season is 15. He's nine picks from tying it with 13 games to go.
2. Willis McGahee, Denver running back:
McGahee is a nice backup. He can't be counted to be a top option. Sure, he had 101 yards on 28 carries in a Week 2 win over Cincinnati. Yet, in Week 3, McGahee, who'll turn 30 next month, had 52 yards on 22 carries. Denver needs
Knowshon Moreno
to get healthy and for McGahee to get fewer carries.
3. The Chiefs' chances in this division:
The defending AFC West champions are now 0-3. It's early, but this team looks much closer to a team that will be in the Andrew Luck sweepstakes in December than a playoff chase.
[+] Enlarge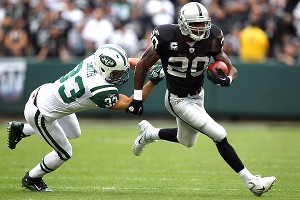 Jed Jacobsohn/Getty ImagesDarren McFadden rushed for 171 yards and two touchdowns in Oakland's win over the Jets.
RISING
1. Darren McFadden's MVP chances:
McFadden has a long way to go to have a legitimate chance to win the NFL MVP award. But he's in the early-season conversation. McFadden is leading the NFL with 393 rushing yards. He is averaging 6.4 yards per carry. It's difficult for running backs to win the award, though. Since 2000, only three running backs have won the award. The last to do it was former San Diego running back
LaDainian Tomlinson
(2006).
2. The Raiders' reputation in the AFC:
Oakland was 2-8 outside of the division last year. It was routinely thumped by the better teams in the conference. However, Sunday's 34-24 comeback win over the
New York Jets
will cause teams to pay attention to the Raiders. I know one team will notice -- the
New England Patriots
. They visit Oakland on Sunday.
3. Ryan Mathews, Chargers, running back:
The second-year back looks great. He is much improved from his rookie season. Mathews had 98 yards rushing and 51 yards receiving in Week 3. He runs with authority and confidence.
September, 27, 2011
9/27/11
1:13
PM ET
»
NFC Stock Watch
:
East
|
West
|
North
|
South
»
AFC
:
East
|
West
|
North
|
South
FALLING
1. Bengals' third-down offense:
Cincinnati has failed to convert on 19 of its past 21 third-down opportunities. These are the types of growing pains that come with starting a rookie at quarterback and wide receiver. The Bengals have to figure out a way to be more productive running the ball on the early downs so quarterback
Andy Dalton
is dealing with more third-and-short situations this Sunday.
2. Steelers' pass protection:
To be honest, this area has been falling for a while. Pittsburgh has given up nine sacks this year, putting the Steelers on pace for their sixth straight season of allowing at least 43 sacks. The problem lately is the pressure has been leading to turnovers (two fumbles by
Ben Roethlisberger
at Indianapolis). It won't get any better if Pittsburgh's offensive tackles continue to struggle.
3. Bengals running back Cedric Benson
: After opening the season with a 100-yard performance, he has slipped to 59 and 64 yards rushing the past two games. His longest run over the last two weeks has been 14 yards. Benson could be suspended for the next three games because of a violation of the personal conduct policy, but he is appealing the ruling today. Despite Benson's struggles, there is a significant drop off when the Bengals have to turn to their backup running backs.
[+] Enlarge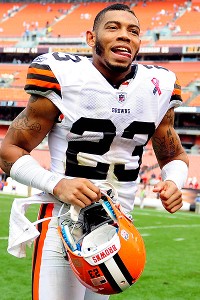 Andrew Weber/US PresswireJoe Haden has made life difficult for opposing receivers this season.
RISING
1. Browns cornerback Joe Haden
: The seventh overall pick of the 2010 draft has quickly become the elite cornerback of the division. After quieting Cincinnati's
A.J. Green
and Indianapolis'
Reggie Wayne
in the first two weeks, he basically shut down Miami's
Brandon Marshall
(four catches for 43 yards). Haden is the face of new and improved defense in Cleveland.
2. Steelers wide receiver Mike Wallace:
He's been rising for a while, and there is no other NFL wide receiver on a hotter streak than him. Wallace is the first wide receiver to reach 100 yards receiving in his first three games of a season since
Randy Moss
in 2007, according to ESPN Stats & Information. He's accounted for 40 percent of the Steelers' passing yards this season.
3. Ravens linebacker Terrell Suggs:
He's taken a lot of heat for failing to put together back-to-back Pro Bowl seasons. That motivation has spurred him to get off to fast start, one that could eventually lead to a Defensive Player of the Year award. In three games, Suggs has four sacks, one interception, two forced fumbles and two passes defensed.
September, 27, 2011
9/27/11
1:02
PM ET
»
NFC Stock Watch
:
East
|
West
|
North
|
South
»
AFC
:
East
|
West
|
North
|
South
FALLING
1. Matt Turk, Jacksonville Jaguars punter
: The Jaguars pride themselves on having a good special-teams unit. They were without one of their premier special-teamers,
Kassim Osgood
, in Carolina and another stand-out,
Montell Owens
, probably will be on the injury report this week. The thinking was they'd help Turk look good. But through three games he has a 33.4-yard net punt average and has given up touchbacks on four of his 10 punts. Jack Del Rio said it's not been good enough and if it doesn't get better, the Jaguars could ponder an alternative.
2. Red zone offense, Houston Texans
: That killer instinct I've written about repeatedly always comes into question when the Texans settle for field goals. They moved the ball great in New Orleans then stalled when they got close and called on
Neil Rackers
too often. The good news is, no team has been inside the 20 more than Houston (16 trips). But five touchdowns for a .313 percentage in the red zone puts them 30th in the NFL. With their offense, that's just not sufficient. (It could be worse, though. The Jaguars are dead last in red zone efficiency. They've been in the red zone a grand total of one time, when they kicked a field goal.)
3. Quarterback accuracy, Indianapolis Colts
:
Kerry Collins
and
Curtis Painter
combined to hit on just 18 of 40 passes in the Colts' loss to Pittsburgh. Each missed open guys at crucial moments. The stat sheet says
Reggie Wayne
was targeted 13 times, which is as it should be. But he caught only three passes for 24 yards, which is something we can really second-guess. Painter missed a wide open
Pierre Garcon
on a play that could have changed the game. We're not going to get anything close to
Peyton Manning
out of these guys. But whoever is under center needs to get the ball in the hands of Wayne,
Austin Collie
,
Dallas Clark
and Garcon.
RISING
[+] Enlarge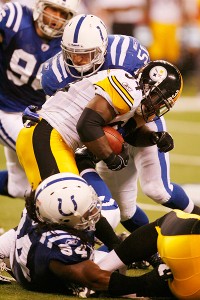 Brian Spurlock/US PresswireLinebacker Pat Angerer (51) racked up 21 tackles against the Steelers.
1. Pat Angerer, Indianapolis Colts linebacker
: In a game in which the Colts' defense really woke up and made things work,
Dwight Freeney
and
Robert Mathis
led the line and harassed
Ben Roethlisberger
. Angerer keyed the second level. Game statisticians credited him with 21 tackles, twice as many as anyone else in the game. And he added one on special teams for good measure. He was constantly around the ball, and he wasn't collecting "cheap" tackles by jumping in late or from behind.
2. James Casey, Houston Texans fullback
: It's still early to rate the tight end-turned-fullback as a run-blocker. But getting him on the field gives the Texans another high-quality pass-catcher. The Saints struggled to cover him, leaving him alone on a 62-yard reception. And his diving 26-yard touchdown catch was just beautiful. Casey finished with five catches for 126 yards, just two fewer than the best receiver in the NFL,
Andre Johnson
. He's a matchup issue for everyone the Texans now face. Treat him like a fullback and opponents may suffer for it when he motions out and runs routes like a receiver.
3. Jurrell Casey, Tennessee Titans defensive tackle
: He can rush the passer better, but the rookie's a big piece of a defense that currently holds the No. 1 ranking in the NFL. He was one of the guys who stopped
Willis McGahee
in a fourth-quarter goal line stand against Denver. As a run-stopper, he's an influential guy who's got potential to get even better as he gets more comfortable and confident.
September, 27, 2011
9/27/11
1:00
PM ET
»
NFC Stock Watch
:
East
|
West
|
North
|
South
»
AFC
:
East
|
West
|
North
|
South
FALLING
1. Concern about Ryan Grant's future:
The veteran
Green Bay Packers
running back didn't exactly roar back from his ankle injury in the first two weeks of the season, totaling 65 yards on 15 carries. But against the
Chicago Bears
this past Sunday, Grant broke through for 92 yards on 17 carries and emerged relatively unscathed from a hit to his ribs. Packers quarterback
Aaron Rodgers
said: "Ryan was Ryan today for the first time this season. He ran the ball hard. He made the right cuts." I'm sure the Packers aren't going to forget about second-year back
James Starks
, but Grant's performance was a reminder that this team has two legitimate options in the backfield.
2. Game-day awareness:
Two weeks ago, the Bears allowed offensive coordinator Mike Martz to call passing plays more than 80 percent of the time in what was mostly a close game against the
New Orleans Saints
. Last Sunday, the
Minnesota Vikings
unintentionally limited tailback
Adrian Peterson
to a total of five carries in the second half against the
Detroit Lions
. In each case, Bears coach Lovie Smith and Vikings coach Leslie Frazier expressed regret the next day. You have to wonder about game-day communication when such an obvious trend goes unnoticed, or at least unaddressed, until it's too late.
3. Roy Williams, Bears receiver:
Williams returned from a groin injury but continues to look totally out of sync with quarterback
Jay Cutler
, and it wasn't clear if he was even running at 100 percent because of the injury. Cutler threw four passes toward Williams. Two were intercepted and two fell incomplete. With
Earl Bennett
sidelined by a chest injury, the Bears really need Williams to step up as an option. But it seems increasingly unlikely that it will happen.
[+] Enlarge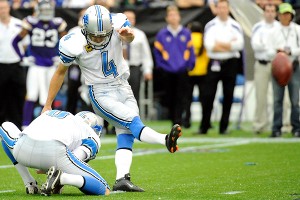 Hannah Foslien/Getty ImagesJason Hanson came through in a big way for the Lions on Sunday.
RISING
1. Jason Hanson, Detroit Lions place-kicker:
It's hard to believe that we spent time this summer discussing whether Hanson was nearing the end of his career. The Lions had a legitimate competitor in
Dave Rayner
, but Hanson never appeared challenged. This past Sunday, he drilled all four field goal attempts, including a 50-yarder that might have been good from 60. Even at age 41, Hanson appears to have one of the most accurate deep legs in the league. He has converted all eight attempts this season, including two from at least 50 yards, and is tied for fourth in the NFL with 11 touchbacks on kickoffs. The man is in his 20th NFL season.
2. Jarius Wynn, Green Bay Packers defensive tackle:
How many of you had Wynn as the Packers' leading pass-rusher after three weeks? I wouldn't have guessed it. Wynn had his way with the Bears' offensive line last Sunday and now has three sacks on the season. The only other Packers player with more than one sack is cornerback
Jarrett Bush
(1.5). Much as
C.J. Wilson
did last year, Wynn is taking advantage of
Mike Neal
's latest injury to establish a permanent role. I can't say I spent a lot of time studying Wynn during the preseason, but on Sunday, he appeared powerful and aggressive and fully capable of capitalizing on attention paid to linebacker
Clay Matthews
. (And before you ask, the answer is "no." I don't think anyone should have concerns about Matthews' total of one sack this season. I feel like he's still affecting games, especially in Week 2 against the
Carolina Panthers
. And Sunday, all three of his tackles were behind the line of scrimmage.)
3. Tight end play:
We just saw a glimpse of the kind of tight-end production the NFC North could see on a weekly basis. Our top four tight ends combined for five touchdowns in Week 3. The Packers'
Jermichael Finley
had three of them, while the Bears'
Kellen Davis
had a 32-yard score and the Vikings'
Visanthe Shiancoe
had an 8-yard touchdown. Meanwhile, Lions tight end
Brandon Pettigrew
recorded 11 receptions for 112 yards and is tied for third among all NFL tight ends this season with 16 catches.
September, 27, 2011
9/27/11
1:00
PM ET
»
NFC Stock Watch
:
East
|
West
|
North
|
South
»
AFC
:
East
|
West
|
North
|
South
FALLING
1. Michael Vick.
That's two games in a row the
Philadelphia Eagles
quarterback has failed to finish because of injury, and he's now 1-4 since the big Week 15 comeback against the Giants last year. He may have all kinds of good points about how late guys are hitting him, and his protection is obviously an issue the Eagles need to resolve if he's going to give them anything resembling what he gave them last year. But the facts are these: While Vick is missing fourth quarters and complaining about officials,
Eli Manning
and
Tony Romo
are out there winning games in far more difficult circumstances. Vick and the Eagles are going to have to find a way to overcome their challenges, because so far the other teams in the division are doing a better job of it.
2. Redskins offense.
The fundamental problem with Washington's offense showed up in a loss to Dallas on Monday night. It's all well and good to lean on the run and work the clock and focus your play calling on avoiding mistakes. And with mistake-prone
Rex Grossman
as quarterback, it's even wise to do that. For the most part this season, it has worked, and in many games to come it should continue to work. But when the Redskins need somebody to make a big play on offense, they're short on options. The Cowboys severely limited the run game --
Tim Hightower
and
Roy Helu
combined for 56 yards on 19 carries -- and the Redskins couldn't make a play to extend a fourth-quarter drive that could have put the game away. This is what it's going to be this year for this offense -- steady and reliable but nothing special. Their defense is good enough that, most weeks, it should be enough. But the lack of truly explosive talent on offense will show up and cost them at big times.
3. Patience in Philadelphia.
Big things were expected of these Eagles, and in the wake of Sunday's loss to the Giants there were calls for the heads of Andy Reid, Juan Castillo,
Casey Matthews
... you name him, they're down on him right now in Philadelphia. The Eagles could use one of these feel-good wins like the Giants and Cowboys had this week to make their fans feel good about the team while they work out their issues. The 49ers are no pushovers, but if the Eagles can toughen up against the run and keep Vick (or whoever plays quarterback) clean, they could earn some much-needed good vibes in the City of Brotherly Love.
[+] Enlarge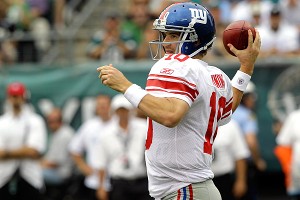 Rob Carr/Getty ImagesEli Manning on Sunday was the steady quarterback Giants fans have been waiting to see.
RISING
1. Eli Manning.
He gets ripped for his mistakes, so he deserves praise for a game in which he didn't make any -- especially considering he was throwing mainly to backup receivers, still doesn't have a tight end to speak of and was going up against the Eagles' multimillion-dollar secondary. Manning was cool and calm and patient, waiting for his chances and hitting the big pass when he got it. For the first time since Nov. 28, 2010, he didn't throw an interception. You wanted Manning to be more steady and reliable, and on Sunday, you got it. We'll see if it's the springboard into a steadier season.
2. Cowboys defense.
My expectation was, with their starting cornerbacks banged-up and only a month's worth of practices under new coordinator Rob Ryan, the Dallas defense would start the season slowly and improve as it got more comfortable with the new scheme. Instead, the Cowboys have come out firing on defense. Players such as
Sean Lee
,
Anthony Spencer
,
Kenyon Coleman
and of course
DeMarcus Ware
are thriving in a system that trusts them and allows them the freedom to make the kinds of plays they like to make. They're enjoying themselves, playing like a cohesive unit and were instrumental in making sure the Redskins weren't able to put Monday's game away. A defense that gave up the second-most points in the league last year may just be turning back into the Cowboys' strength.
3. Parity.
After three weeks, three NFC East teams are 2-1 and the Eagles are 1-2. With the Redskins a real factor and the out-of-division schedules looking soft, it appears the division has a real chance at a four-way race for the top. Both division games were decided in the fourth quarter this week, and that's the kind of tough, hard-fought football I expect to see from the NFC East as the season rolls along. The Cowboys and Giants are feeling good right now, the Eagles and Redskins less so, but I think those temperatures are going to change week-to-week, and all year long.
September, 27, 2011
9/27/11
1:00
PM ET
»
NFC Stock Watch
:
East
|
West
|
North
|
South
»
AFC
:
East
|
West
|
North
|
South
FALLING
1. Steve Spagnuolo, Rams head coach:
Cornerback
Justin King
would make for a convenient scapegoat here after allowing three touchdown passes to Ravens rookie
Torrey Smith
. Singling out King would also miss the broader point. Spagnuolo tops the list this week not only because the Rams were horrible during a 37-7 home defeat to Baltimore, but also because they've been horrible too frequently in losing their first three games. Their defense has vastly underperformed. That was the one component of the Rams that appeared best positioned to play well based on continuity and personnel. It was also the one area Spagnuolo could influence the most. The Rams rank 32nd in rushing yards allowed.
2. Frank Gore, 49ers running back
: Gore is averaging 2.5 yards per carry through three games. He lost a fumble and had a pass bounce off his helmet during critical points of the 49ers' victory over Cincinnati. Gore's rookie replacement hasn't fared any better from a yards-per-carry standpoint, a reflection of shaky blocking. The 49ers haven't fielded offensive lines packed with Pro Bowl players in seasons past, yet Gore managed to get his yardage then. An ankle injury might have slowed Gore some against the Bengals.
3. Kevin Kolb, Cardinals quarterback:
Two interceptions and three sacks worked against the Cardinals during their 13-10 defeat to Seattle. Kolb was not entirely to blame for the defeat, obviously, but the Cardinals acquired him with an expectation that he would make a positive difference in games such as this one.
RISING
[+] Enlarge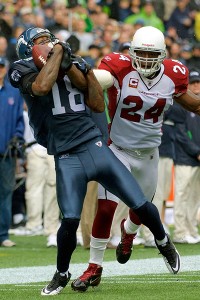 Steven Bisig/US PresswireSidney Rice provided a spark for the Seahawks' passing attack in his first game of the season, catching eight passes for 109 yards.
1. Sidney Rice, Seahawks receiver:
Not long ago, reports of a torn labrum raised questions about whether Rice might be headed for season-ending surgery. Those fears were misplaced. Rice caught eight passes for 109 yards in his Seahawks debut. His shoulder proved strong enough to prevent the Cardinals'
Adrian Wilson
from wresting the ball away after an early reception. Seattle will have to open up its offense to compete with better teams. That would be impossible without Rice.
2. Vernon Davis, 49ers tight end:
Davis met with coach Jim Harbaugh to discuss his role in the offense after catching only seven passes for 65 yards through the 49ers' first two games. The 49ers made him a bigger part of the plan during their 13-8 victory over Cincinnati. Davis caught eight passes for 114 yards, becoming
Alex Smith
's go-to receiver with the game on the line.
3. Calais Campbell, Cardinals defensive end
: The NFC West produced plenty of defensive candidates for a spot on this list.
Kam Chancellor
,
Leroy Hill
,
Chris Clemons
,
Ahmad Brooks
and
Carlos Rogers
come to mind. I went with Campbell for the sheer level of his dominance against Seattle. Campbell finished the game with 10 tackles, four quarterback hits and 2.5 sacks, sensational numbers for anyone, let alone for a 3-4 defensive end.
September, 27, 2011
9/27/11
1:00
PM ET
»
NFC Stock Watch
:
East
|
West
|
North
|
South
»
AFC
:
East
|
West
|
North
|
South
FALLING
1. Sam Baker, left tackle, Falcons.
Drafted in 2008 to protect
Matt Ryan
's blind side, Baker had ups and downs in his first three seasons. This year, he has experienced only downs. Baker has been routinely beaten in pass blocking. Ryan has been under more pressure than ever before and that's a major reason the Falcons are off to a 1-2 start. The Atlanta coaching staff is talking about possibly shaking up the offensive line. There's not much behind Baker, so it may be difficult to bench him. But unless his play turns around dramatically the rest of the way, Baker probably will be gone after this season and the Falcons will have to replace him through free agency or the draft.
2. DeAngelo Williams, running back, Panthers.
He has two 1,000-yard seasons on his résumé and is talented as a runner and a pass-catcher. But Williams has done very little this year. He has only 61 rushing yards and is averaging 2.8 yards per carry. I don't think this is a case of Williams suddenly getting old. I think the Carolina coaching staff needs to do a better job of finding ways to utilize one of the team's most talented players.
3. Corey Peters, defensive tackle, Falcons.
Atlanta coach Mike Smith was right when he said one play didn't cause the Falcons' loss to the Buccaneers on Sunday. But there really is no excuse for Peters jumping offside on a fourth-down play late in the game. Everyone else in Raymond James Stadium knew the Bucs were trying to get the Falcons to jump. Peters did and it cost the Falcons a chance to get the ball back and attempt a last-minute drive. With
Peria Jerry
playing well, Peters is probably on his way out of the starting lineup as soon as
Jonathan Babineaux
is healthy enough to return.
RISING
[+] Enlarge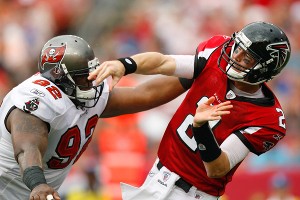 Mike Ehrmann/Getty ImagesBrian Price (92) was a disruptive force against the Falcons, recording two tackles and sacking Matt Ryan once.
1. Brian Price, defensive tackle, Buccaneers.
He is quickly becoming one of the best comeback stories in the league this season. Price missed almost his entire rookie season and had a rare surgery to repair damage to his pelvis. As recently as late June, Price was talking as if he might miss the season or at least the first half of it. But his recovery quickly took off once training camp started and Price has worked his way into the starting lineup. Against Atlanta on Sunday, he was a force, helping the Bucs hold the Falcons to 30 rushing yards and recording his first sack.
2. Sean McDermott, defensive coordinator, Panthers.
Yes, the opponent might have been the lowly
Jacksonville Jaguars
and the weather certainly played a role in slowing both offenses. But McDermott had to be doing something right. Any time you hold an NFL team to 10 points, you're doing well. And let's not forget McDermott engineered this defensive performance without linebackers
Jon Beason
and
Thomas Davis
, who are out for the season with injuries.
3. Jimmy Graham, tight end, Saints.
He got an earful from
Drew Brees
for running a wrong route that led to an interception. But Brees continued throwing to his young tight end, who came up with a key 27-yard touchdown catch. Graham finished the day with four catches for 100 yards.
September, 27, 2011
9/27/11
1:00
PM ET
»
NFC Stock Watch
:
East
|
West
|
North
|
South
»
AFC
:
East
|
West
|
North
|
South
FALLING
1. Tony Sparano, Miami Dolphins head coach:
When I moved to Miami before the the Dolphins' Week 1 game against the
New England Patriots
, fans and sports talk shows already were talking about Sparano on the hot seat. So you can imagine how heated the conversation is now after an 0-3 start. The Dolphins are staying the course with Sparano, and I think that's the best move. But he needs to turn the Dolphins around quickly. A tough road game against the
San Diego Chargers
(2-1) doesn't make his job any easier.
2. New York Jets' run defense:
What happened? That's about all you can say after the defensive-minded Jets gave up 234 rushing yards to the
Oakland Raiders
. Raiders tailback
Darren McFadden
shredded the Jets for 171 rushing yards and two touchdowns. Some of Oakland's big gains came on trick plays and broken plays. New York's run defense usually is disciplined, but not this week.
3. Chad Ochocinco, New England receiver:
I'm on record
giving Ochocinco plenty of time to get acclimated in New England. I don't think the Patriots need him this early. Ochocinco is learning a new team and a new system for the first time in 10 years. But there's no defending Ochocinco's
drop of an easy touchdown pass
. That's unacceptable for the former Pro Bowler. Ochocinco also was the target on a slant route that was picked off by Bills corner
Leodis McKelvin
.
RISING
[+] Enlarge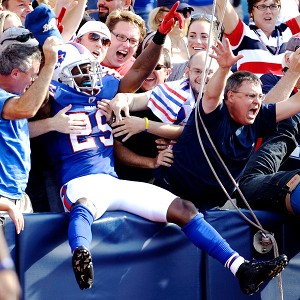 AP Photo/David DupreyDrayton Florence's touchdown capped a Buffalo comeback and gave the Bills the lead in the fourth quarter.
1. Buffalo Bills:
The city of Buffalo is rocking this week after the Bills pulled off a shocking upset against the Patriots. Buffalo (3-0) is the NFL's biggest surprise and the only undefeated team in the AFC. The Bills also are in sole possession of first place in the AFC East. The Bills have to prove that they have staying power and that this start is no fluke. Their next game will be on the road against the struggling
Cincinnati Bengals
(1-2), who are on a two-game losing streak.
2. Wes Welker, Patriots receiver:
Welker had a career game against Buffalo. He stepped up in the absence of injured tight end
Aaron Hernandez
and set a Patriots record with 16 receptions for 217 yards and two touchdowns. Welker played a smart, efficient game and kept the chains moving for New England. With Hernandez out and Ochocinco struggling, Welker and teammate
Rob Gronkowski
have to continue to carry New England's passing offense.
3. Mark Sanchez, Jets quarterback:
Sanchez nearly overcame little help from the running game and a rare, bad outing from New York's defense to beat Oakland. Sanchez threw for 369 yards, two touchdowns and one interception to keep the Jets in the game. I think it was Sanchez's best performance of the season. His top target was running back
LaDainian Tomlinson
, who recorded five receptions for 116 yards and a touchdown.

NFL SCOREBOARD
Sunday, 2/2
WEEKLY LEADERS