NFL Nation:

Stock Watch 2011 Week 6
October, 18, 2011
10/18/11
1:11
PM ET
»
NFC Stock Watch
:
East
|
West
|
North
|
South
»
AFC
:
East
|
West
|
North
|
South
FALLING
1. Cam Newton, quarterback, Panthers.
His stock remains very high, but it's dipping a bit. Newton's put up fantastic numbers and given the Panthers lots of hope for the future. He's angry that the Panthers are losing, but he can help change that. Newton threw three interceptions against the Falcons and you're not going to win many games when you turn the ball over that much. Newton needs to discover the fine line between forcing and not forcing throws. When he does that, the Panthers will start winning some games.
2. Drew Brees, quarterback, Saints.
Again, the stock was sitting pretty high, but there's been a little drop. Brees threw three interceptions in a loss to Tampa Bay and it's time to start wondering if the career-high 22 interceptions he had last season were something more than a fluke. Brees didn't throw an interception in the first two games of this season. But he's been intercepted eight times in the last four games.
3. Darren Sproles, running back, Saints.
He had his quietest game since joining the Saints against the Buccaneers. Sproles had just one rushing attempt. He did catch eight passes but they added up to just 46 yards.
RISING
[+] Enlarge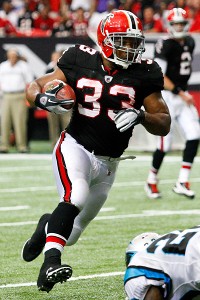 Daniel Shirey/US PresswireMichael Turner re-emerged in a big way against the Panthers, gaining 139 yards and scoring twice.
1. Michael Turner, running back, Falcons.
As they try to find their offensive identity, the Falcons went back to basics in Sunday's win against Carolina. They ran Turner 27 times and he produced 139 yards and two touchdowns. Not every run defense is as soft as Carolina's, but this was a good reminder that Turner still needs to be the backbone of this offense. If he's running well, it's going to open the way for those downfield passes the Falcons so desperately want.
2. Josh Freeman, quarterback, Buccaneers.
He seemed out of rhythm early in the season, but everything came together Sunday against New Orleans. Freeman threw for a season-high 303 yards with two touchdowns and no interceptions. Freeman talked before the game about how he needed to tone down his confidence and not try to force passes when the play wasn't there. He got that part right against the Saints and it resulted in the biggest win of his career.
3. Earnest Graham, running back, Buccaneers.
With
LeGarrette Blount
out with an injury, the Bucs turned to Graham, who has done a little bit of everything throughout his career. He took over as the feature back and carried 17 times for 109 yards. He also caught three passes for 22 yards.
October, 18, 2011
10/18/11
1:11
PM ET
»
NFC Stock Watch
:
East
|
West
|
North
|
South
»
AFC
:
East
|
West
|
North
|
South
FALLING
1. Mike Sims-Walker, ex-Rams WR:
That did not take long. Sims-Walker went from key free-agent addition to dropping three passes against Washington to being named inactive to being released in a short period of time. Perhaps now we know why the
Jacksonville Jaguars
decided against bringing back Sims-Walker even though they lacked proven players at the position. Sims-Walker was the logical Rams receiver to go once the team acquired
Brandon Lloyd
from Denver. The team expects to welcome back veteran
Mark Clayton
from the physically unable to perform list at some point, too.
2. Lockout grace periods:
It's tough for the
San Francisco 49ers
' division rivals -- and other teams -- to complain too loudly about the lockout setting them back. The 49ers have gotten to 5-1 despite changing over just about all of their coaching staff and installing new schemes. As
Arizona Cardinals
president
Michael Bidwill said
following his team's 1-4 start, "A lot of guys are making mistakes. Can you say, 'Well, gee, that is lack of offseason?' We're now into October. We now should be able to clean up those things. These are professional athletes and they have to rise to the occasion. And none of the other 31 teams had an offseason, either. We shouldn't be at that much of a disadvantage where we've only won one game."
3. Shawntae Spencer, 49ers CB:
Spencer was a starter last season and arguably the best cornerback on the team. He's not getting on the field at this point because
Carlos Rogers
,
Tarell Brown
and rookie
Chris Culliver
are ahead of him on the depth chart. The 49ers did a good job addressing the position in the offseason. Had they stood pat, Spencer would probably be starting. Injuries have also set back Spencer this season.
RISING
[+] Enlarge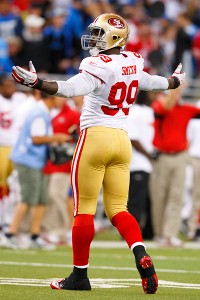 AP Photo/Rick Osentoski49ers linebacker Aldon Smith is making a case to become defensive rookie of the year.
1. Aldon Smith, 49ers OLB:
The player San Francisco drafted in the first round is quickly becoming a candidate for defensive rookie of the year, along with
Ryan Kerrigan
of the
Washington Redskins
. Smith has 5.5 sacks over the 49ers' last three games. He is playing well and benefiting from the talent around him. Opposing offenses must funnel additional resources toward defensive end
Justin Smith
in particular.
2. Vic Fangio, 49ers defensive coordinator.
The 49ers' defensive performance on the road against the
Detroit Lions
was mostly dominant. The defense provided a safety and held the Lions to two third-down conversions in 15 opportunities. Fangio and the personnel department deserve much credit for putting together the right mix of players on defense. Drafting Smith seventh overall and Culliver in the third round helped the defense right away. Other moves that have worked out well: adding Rogers to replace
Nate Clements
, moving
NaVorro Bowman
into the lineup at the expense of
Takeo Spikes
, signing and moving into the lineup
Ray McDonald
and remaking the safety position without losing
Dashon Goldson
. The 49ers took some heat for not signing
Nnamdi Asomugha
, but no one is complaining now.
3. Delanie Walker, 49ers TE:
Walker now has touchdown receptions in consecutive games. He has three for the season after catching none since 2008. Years ago, when
Trent Dilfer
was still playing for the 49ers, I remember him saying Walker was one of the most talented players on the team. Year after year, Walker seemed on the verge of becoming a bigger factor, but it would never happen to the extent anticipated. It's looking like the new coaching staff is finding ways to get more key plays from Walker. His game-winning touchdown reception in the final minutes Sunday stands as a career highlight, but perhaps not for long.
October, 18, 2011
10/18/11
1:10
PM ET
»
NFC Stock Watch
:
East
|
West
|
North
|
South
»
AFC
:
East
|
West
|
North
|
South
FALLING
1. Donovan McNabb, Minnesota Vikings quarterback:
We've noted many times that McNabb deserves only partial blame for the Vikings' woes this season. The lockout, an imbalanced roster and some uninspired work from offensive coordinator Bill Musgrave have all contributed. Regardless, you have to wonder if McNabb has made the final start of his NFL career. Coach Leslie Frazier officially is still mulling his starter for Sunday's game against the
Green Bay Packers
, but it doesn't usually bode well for an incumbent when the coach doesn't immediately express support. If
Christian Ponder
assumes the job and stays healthy for the remainder of the season, what options would McNabb have in 2012? He would have been benched in consecutive years by two different organizations. I'm not sure if another team would offer him its starting job. Earlier this month, Sports Illustrated reported McNabb will strongly consider retirement if that scenario plays out.
2. Perspective on postgame handshakes:
I promise this will be my final comment on Sunday's postgame fracas at Ford Field. I've been surprised at how many people think this incident has been overblown. Rarely, if ever, in the modern history of the NFL has one head coach been restrained from going after another, regardless of provocation. To find even a similar example,
the Pro Football Hall of Fame
went back to a
Chicago Bears
-Los Angeles Rams game -- in 1947. After the game, a dirty affair from another era that featured five ejections and 16 penalties, a Bears player chased Rams coach Bob Snyder into the locker room and sparked a brawl. And this list of coaching confrontations, compiled by
Sam Farmer of the Los Angeles Times
, hardly compares to what we saw Sunday. What exactly was Schwartz going to do Sunday if he reached Harbaugh? Were they going to fight right there on the field? When something so out of the ordinary occurs relative to history, it is by definition a significant event.
3. Vikings pass defense:
The Vikings have gotten decent push from defensive ends
Jared Allen
and
Brian Robison
this season, but they were largely stymied Sunday night by a Chicago Bears offense that held back extra blockers in pass protection. Robbed of the protection usually afforded by Allen and Robison, the Vikings' secondary was revealed as an undermanned group that doesn't have an anchor as long as veteran is
Antoine Winfield
(neck) sidelined. The Vikings rank No. 24 overall in NFL pass defense. They continue to run a rotation at safety between
Tyrell Johnson
and
Jamarca Sanford
, and cornerback
Cedric Griffin
is gamely fighting through his second return from an ACL tear in as many seasons. All secondaries are better when they have a pass rush, but the Vikings' is a real liability if Allen and Robison can't get consistent pressure.
RISING
[+] Enlarge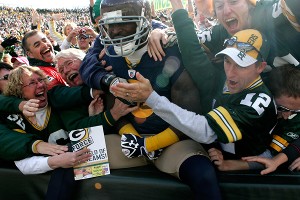 Zuma Press/Icon SMIJames Jones celebrates his 35-yard touchdown catch against the Rams with the fans.
1. James Jones, Packers receiver:
Jones wasn't happy with his playing time early in the season. But after agreeing to sit tight and wait his turn, Jones has caught a touchdown pass in each of the Packers' last three games. In fact, three of his last seven receptions have gone for touchdowns. Over that stretch, Jones has pulled himself even with the slew of receivers the Packers have behind
Greg Jennings
.
Jordy Nelson
has 20 receptions this season. Jones has 15.
Donald Driver
has 12 and
Randall Cobb
has nine.
2. Jay Cutler, Chicago Bears quarterback:
We'll get to this in more detail later Tuesday, but Cutler has put together his best two games of the season over the past two weeks. He's completed 71 percent of his passes over that stretch with three touchdowns and no interceptions. He's even made a believer of Total Quarterback Rating, which gave him a season-high 91.4 score after Sunday's victory over the Vikings. It's interesting that Cutler has a better sense for what the Bears offense can do, and not do, than coordinator Mike Martz.
3. Desmond Bishop, Packers linebacker:
Tackles are an unofficial statistic, but I usually prefer to use the set based on review from each team's coaches. Based on that film review, Bishop had a stunning 20 tackles in Sunday's victory over the
St. Louis Rams
. That unofficially gives Bishop a team-high 72 tackles through six games. He also has three sacks and a forced fumble. Consider that at this time last season, Bishop was only two games into his replacement of injured starter
Nick Barnett
. He has now blossomed into a key ingredient of a championship defense.
October, 18, 2011
10/18/11
1:10
PM ET
»
NFC Stock Watch
:
East
|
West
|
North
|
South
»
AFC
:
East
|
West
|
North
|
South
FALLING
1. Rex Grossman.
Look,
Washington Redskins
coach Mike Shanahan
could
come out Wednesday and say Grossman's still the starting quarterback. It's clear the Redskins aren't fully comfortable with
John Beck
, and Grossman does seem to have the support of the locker room. But regardless of what Shanahan decides for this week, that four-interception mess Grossman made against the Eagles on Sunday is a clear sign that he's not going to have an easy time holding onto this job all year. The good news for Grossman is that if he does lose it, that's no guarantee he's lost it for the whole year, either. Things could be about to get ugly for the offense in Washington, which brings us to...
2. The Redskins' offensive line.
Season-ending injuries to left guards don't get a lot of national publicity, but the play of
Kory Lichtensteiger
and the offensive line were perhaps the main reason the Redskins' offense was functioning as effectively as it was through the first four games. They're not loaded with playmakers on offense, so they have to dominate in the trenches as they had been. But with Lichtensteiger now gone, left tackle
Trent Williams
out for a few weeks with an ankle sprain and tight end
Chris Cooley
out indefinitely with a broken hand, the Redskins are going to have a hard time with their run-first, ball-control offense.
3. Felix Jones.
Hurt again, and now possibly out two to four weeks with his own ankle sprain, Jones and the Cowboys' running game have been major disappointments this season. Coach Jason Garrett deserves blame for his unimaginative play calling when the Cowboys needed to pick up a first down or two to beat the Patriots on Sunday, but the fact is that the Cowboys haven't been able to rely on their run game all year. It'll be interesting to see if
Tashard Choice
or rookie
DeMarco Murray
can perform more effectively and reliably than Jones has as he's tried to play through shoulder and now ankle injuries.
RISING
[+] Enlarge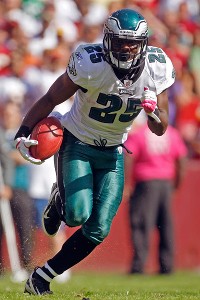 AP Photo/Evan VucciThe Eagles turned to LeSean McCoy when the team needed to protect its lead Sunday and the running back delivered.
1. LeSean McCoy.
You hear fans complain all the time that their team can't run the ball to run out the clock when it has a lead. Well, the Eagles have blown their share of fourth-quarter leads this year, but watching McCoy run Sunday it was hard to imagine how. He may not be the stereotypical big, bruising back that picks up those tough yards through sheer will and physicality, but McCoy is clearly an elite runner who loves to fidget his way through the tiniest spots and fight for extra yards that way. The Eagles' coaching staff should pay close attention to what McCoy gave them in the second half Sunday and learn to rely on it. He just might save their season.
2. Corey Webster.
Two absolutely huge interceptions by a guy who was just about the last defensive back standing for the Giants this year. And yeah, he got beat on the
Stevie Johnson
touchdown, but he made the big plays when he had to, which is what the Giants have been about so far this season. Webster is playing at a very high level, taking on the opposing team's best receiver every week in
Terrell Thomas
' absence. And while the Giants' defense is keyed around pressuring the quarterback, it has to be nice for them to get a strong, surprising contribution from Webster.
3. Eagles defense?
Yeah, still a question mark, but they said they were going to be able to build on some encouraging things they did in the second half of the Buffalo game, and they did. They tightened up their "Wide-9" formation to account for the Redskins' zone blocking run game, and it's encouraging to see that they're willing to adjust and adapt. Now, about those cornerbacks playing so far off receivers ...
October, 18, 2011
10/18/11
1:00
PM ET
»
NFC Stock Watch
:
East
|
West
|
North
|
South
»
AFC
:
East
|
West
|
North
|
South
FALLING
1. Jacob Lacey, Indianapolis Colts cornerback:
Lacey is ideally a dime guy, maybe a nickel. But the Colts married themselves to him as their No. 2 starter right after the lockout in a move many of us still struggle to understand. Lately they've been using
Terrence Johnson
some. Sunday in Cincinnati it sure seemed like they went with Lacey early and then pulled him for Johnson. If there was anyone on the roster who was capable of putting real pressure on Lacey, he'd have to get some time on the bench to get his game together.
Drew Brees
will look his way and see red meat.
2. Rashean Mathis, Jacksonville Jaguars cornerback:
In a poor first half for the Jaguars in Pittsburgh, Mathis was exceptionally noticeable. He had a crack at a hit that would have prevented a
Rashard Mendenhall
touchdown run, got stiff-armed out of another run play, he dropped a ball I thought he could have picked and was in defense on a touchdown pass to
Mike Wallace
(yes he's tough to defend, but still). Mathis is a quality leader and a quality guy. He told the team after the game that it's on the cusp of winning a game. They may be, but he's one of the guys who's got to do better to make it happen.
3. Leroy Harris and Eugene Amano, Tennessee Titans interior offensive linemen:
Mike Munchak's team has been very good in pass protection, which is why
Matt Hasselbeck
's been able to be such a significant story. But run blocking is an issue, and these two guys are the root of it. Munchak is steadfastly loyal to the group that started for him last season when he was offensive line coach, but asked recently if he was considering any line changes, his answer wasn't "no," it was "not yet." That's as close as this pair may come to getting put on notice.
Fernando Velasco
is the one legitimate alternative on the bench.
[+] Enlarge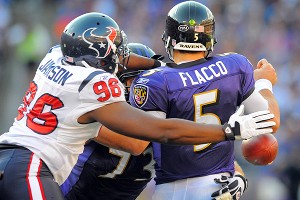 Zuma Press/Icon SMITim Jamison has stepped up admirably in Mario Williams' absence.
RISING
1. Tim Jamison, Houston Texans defensive end:
As the Texans started life without injured outside linebacker
Mario Williams
, Jamison exploded with a big first-half performance: two sacks, including one that forced a fumble he recovered that set up a touchdown. It was an impressive showing, and it's the sort of effort from a member of the supporting cast that the Texans can really use. Gary Kubiak said he sees Jamison as a young
Antonio Smith
. That's high praise considering what a player Smith is.
2. The Tennessee Titans' health:
Coming off a bye, the Titans appear pretty healthy. Safety
Chris Hope
(arm) is out for a long stretch. Backup linebacker and special-teamer
Colin McCarthy
(hamstring) may be the only other issue. If tight end
Craig Stevens
(ribs) is feeling better, things will be looking up for the Titans. And considering the Texans just played the very physical Ravens and have a banged-up quarterback in
Matt Schaub
, it's a nice advantage to have.
3. Indianapolis' pass protection:
The Colts have scrambled to patch things together with a bunch of injured guys, but quarterback
Curtis Painter
has gone over 100 pass attempts without an interception and he's had time the past few games to make his reads and make his throws.
Pierre Garcon
and
Reggie Wayne
have been beneficiaries. This line's taken a beating when things have been bad, and run blocking is no strength. But the group is stepping up to give the young quarterback a chance.
October, 18, 2011
10/18/11
1:00
PM ET
»
NFC Stock Watch
:
East
|
West
|
North
|
South
»
AFC
:
East
|
West
|
North
|
South
FALLING
1. Browns' special teams:
The unsoundness of these units is concerning. Cleveland's kickoff coverage team was the best in the NFL last season, but it didn't look that way when the Raiders
Jacoby Ford
returned a kickoff 101 yards for a touchdown. The bigger embarrassment was when the Browns allowed a 35-yard touchdown pass from punter
Shane Lechler
to
Kevin Boss
on a fake field goal. Two Browns players ran past Boss in an attempt to block the kick but allowed the tight end to run wide open in the process.
2. Bengals running back Cedric Benson:
The good news is it might take two to three more weeks before a ruling is made on his suspension appeal. The bad news is Benson hasn't been a factor much lately anyway. Over the past two weeks, Benson has averaged 2.7 yards per carry and has failed to break a run longer than nine yards. Backup
Bernard Scott
is now replacing Benson for full series during games.
3. Browns quarterback Colt McCoy:
The problem is either McCoy isn't ready to be an NFL starter yet or the Browns aren't calling plays tailored for his strengths. In his first full season as a starting quarterback, McCoy has completed less than half of his passes in three of five games this season. Even though he threw for two touchdowns at Oakland, he failed to come through when it mattered the most. Needing a touchdown to tie the game, he threw three incompletions in the final minute to end the Browns' comeback chances.
RISING
[+] Enlarge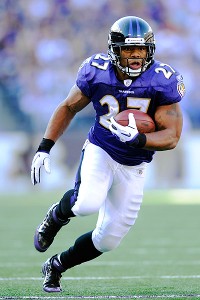 AP Photo/Nick WassBaltimore Ravens running back Ray Rice accounted for 161 yards against the Texans last Sunday.
1. Ravens running back Ray Rice:
He continues to show that he is one of the best all-around backs in the NFL and proved it on the same field with the reigning NFL rushing champion
Arian Foster
. Against Houston, Rice produced 101 yards rushing and 60 yards receiving. In the Ravens' four wins, he is averaging 151 total yards from scrimmage.
2. Steelers pass rush:
Pittsburgh was expected to struggle to get to the quarterback after
James Harrison
went down with an eye injury. But the Steelers have actually increased their pressure in his absence. Pittsburgh has recorded eight sacks over the past two weeks after having seven in its first four games. The Steelers recorded a total of 13 quarterback hits on the Titans'
Matt Hasselbeck
and the Jaguars'
Blaine Gabbert
.
3. Bengals thievery:
Cincinnati might not be racking up the interceptions, but the Bengals can still take the ball away from you. Against Indianapolis, the Bengals set up their first score when
Nate Clements
stripped the ball away from Colts tight end
Dallas Clark
and clinched the victory when defensive end
Carlos Dunlap
returned a fumble for a touchdown. Cincinnati has caused nine fumbles, which is tied for third in the NFL, recovering seven of them.
October, 18, 2011
10/18/11
1:00
PM ET
»
NFC Stock Watch
:
East
|
West
|
North
|
South
»
AFC
:
East
|
West
|
North
|
South
FALLING
1. Tony Sparano, Miami Dolphins head coach:
A national audience witnessed the
end of an era
in Miami. Even with two weeks of preparation, Sparano failed to accomplish anything against a division rival -- the
New York Jets
-- and fell to 0-5 on the season. Sparano entered the year on the hot seat and suffered his eighth consecutive loss. Miami owner Stephen Ross has publicly backed Sparano, but Sparano is heading toward his third consecutive losing season. Now the owner is expected to cut bait barring a sudden and unexpected turnaround.
2. Buffalo Bills' defense:
It's been a season-long issue, but the Bills' defense is only recently getting bad press after the team lost two of the last three. Buffalo allowed 400 yards for the fifth consecutive game in a 27-24 loss to the
New York Giants
. The Bills also failed to force a turnover for the first time this season. Buffalo's defensive issues are plentiful. The Bills struggle stopping the run, allow too many big passing plays and can't generate a pass-rush. Buffalo has two weeks to work on these issues during the bye week.
3. Matt Moore, Dolphins quarterback:
The Matt Moore era in Miami didn't get off to a good start. He threw for 204 yards and two interceptions in a 24-6 loss to the New York Jets. Moore, like former starter
Chad Henne
, struggled most in clutch situations. Miami was 2-for-12 on third down and 0-for-3 in the red zone. Moore also was sacked four times. The Dolphins can't win many games with this kind of performance from their starting quarterback.
RISING
[+] Enlarge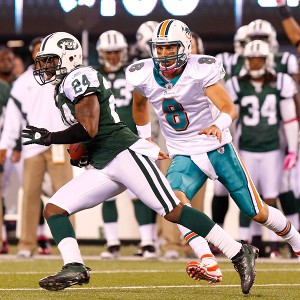 Tim Farrell/The Star-Ledger via US PresswireJets cornerback Darrelle Revis had two picks in a primetime win against the Dolphins.
1. Darrelle Revis, New York Jets cornerback:
Revis showed on "Monday Night Football" why he is, in my opinion, the best cornerback in the NFL. Revis had a high-profile matchup with Dolphins receiver
Brandon Marshall
and recorded a pair of interceptions. One was returned for a 100-yard touchdown and changed the momentum in New York's favor. Revis also recorded three tackles and had four passes defensed. Most teams avoid throwing at Revis. The Dolphins were one of the few to test the Pro Bowl corner and paid for it.
2. New England Patriots' defense:
The Patriots are quietly fixing their much-maligned defense. New England has allowed just 37 points in two games. The defense kept the Patriots in the game this past weekend when the offense struggled for three quarters against the
Dallas Cowboys
. Stopping the run has been key. New England is allowing an average of 87 rushing yards per game the past two weeks. Patriots coach Bill Belichick now has a bye to make further improvements.
3. Calvin Pace, Jets linebacker:
Revis wasn't the only Jets defender who had a big game. New York linebacker Calvin Pace was all over the field. He recorded seven tackles, two sacks and a forced fumble. The Jets' defense finally looked like the top unit it was the past two years under head coach Rex Ryan. Miami was an easy opponent. The Jets' defense must continue this improvement with a tough upcoming schedule.
October, 18, 2011
10/18/11
1:00
PM ET
»
NFC Stock Watch
:
East
|
West
|
North
|
South
»
AFC
:
East
|
West
|
North
|
South
FALLING
1.
The Raiders' draft future:
The Raiders are
set to give up
a 2012 first-round pick and a conditional first-round pick in 2013 to Cincinnati for
Carson Palmer
. The Raiders' highest draft pick in 2012 will be a fifth-round pick. They have a sixth-round pick, but not a seventh-round pick. The Raiders are likely set to get a couple of compensatory picks (it starts at the end of the third round) for lost free agents. Still, the Raiders are clearly set up to win now.
2
. Jason Campbell's job security:
Campbell's broken collarbone Sunday prompted the Palmer deal. The injury was a major blow to Campbell, who was finding success in his second season in Oakland. He is a free agent after the season. I could have seen the Raiders extending his contract at some point. Now, the 29-year-old's future is very likely over in Oakland with the Raiders set to trade for Palmer. Campbell is going from the Raiders' sure starter to career limbo.
3. Kyle Orton's future:
Now that he has been replaced by
Tim Tebow
as Denver's starting quarterback, it may be difficult for Orton to get another starting gig. He is a free agent at the end of the year, but will he be sought after as a starter?
[+] Enlarge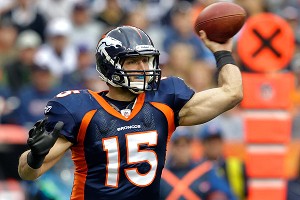 AP Photo/Joe MahoneyTim Tebow is going to get his chance to prove himself as the Broncos' starting quarterback.
RISING
1. The Raiders' discipline:
The Raiders were penalized just five times for 35 yards in their 24-17 win over Cleveland in Week 6. The Raiders have long been the most penalized team in the NFL. Oakland coach Hue Jackson has worked diligently on the issues. It may finally be paying off.
2. Oakland's defense:
Oakland's defense has made strides in the past two weeks. It was effective against the Browns. If the Raiders can continue to limit the big play, the defense should help the team win games.
3. TebowMania:
It's just starting. Now that Tebow is going to be given the chance to prove he can be the Broncos' starting quarterback of the future, we'll be hearing even more about the kid who has been known as the most popular backup in sports.