NFL Nation:

Stock Watch 2011 Week 7
October, 25, 2011
10/25/11
1:28
PM ET
»
NFC Stock Watch
:
East
|
West
|
North
|
South
»
AFC
:
East
|
West
|
North
|
South
FALLING
1. Colts' defense
: There is no explaining the inability of the Colts to stop anything Sunday night at the Mercedes-Benz Superdome. You'd think something good would happen somewhere merely by accident. Outspoken defensive end
Robert Mathis
was critical of the effort, which sets off a whole debate about whether the team quit. I saw effort throughout, which actually makes the results worse. If you play hard and get beat like that, where does that leave you? I don't know where they begin to solve things or how they hold things together.
2. Chris Johnson, Tennessee Titans running back
: I don't have a problem with his suggesting after the game that the blocking is a major issue in the run-game failures. But it has to come with a raised hand and an admission of just how much he's contributing to the league's worst run game himself. He looks timid, tentative and uninspired. It's just not acceptable considering the faith the Titans have shown in him with the contract he got and the carries he's still getting. If it weren't the Colts coming to town, I'd propose he be deployed only as a third-down back this week. But Indianapolis is capable of curing his woes.
3. Coach Jim Caldwell, Indianapolis Colts
: He has to say he didn't have the team prepared well enough after such a large-scale debacle, and there are surely things the staff could have done to help the Colts be less bad in New Orleans. His personality won't change, but something has to. He's not listening to the conversations about who the next coach should be. But when the owner is tweeting "Titanic collapse,apologies 2 all ColtsNation..problems identifiable;solutions in progress but complex in nature/ better days will rise again" you have to wonder what's up.
RISING
[+] Enlarge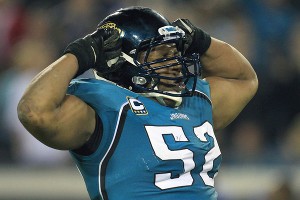 AP Photo/Chris O'MearaJaguars outside linebacker Daryl Smith had a huge game against the Ravens, collecting six tackles, two tackles for a loss and a sack.
1. Daryl Smith, Jacksonville Jaguars outside linebacker
: Smith is a very good player who's often viewed as underrated. He was outstanding on Monday night in the win over Baltimore, with six tackles, two tackles for a loss, a sack and a forced fumble. The fumble was the first the Jaguars recovered all season. It was a dynamic effort from Smith, and if it can be a launching point for him and the Jacksonville defense, they could present real problems for upcoming opponents. Smith needs to lead the team toward that instead of allowing the huge effort against the Ravens to qualify as a blip for a defense that's been good, but not great.
2. Arian Foster and Ben Tate, Houston Texans running backs
. Both ran with great determination in Nashville, topping 100 yards and helping the Texans absolutely dominate Tennessee in a giant AFC South game. I'd suggested concerns about Foster and Houston's run game were overblown after they had had two poor weeks against quality defenses. I think Houston is capable of setting up games where just about everything is built off the run. The line did a great job against the Texans, with right tackle
Eric Winston
doing a lot of very effective work.
3. Jaguars' pass coverage:
With
Derek Cox
back from a rib injury that had cost him three games, the Jaguars' secondary was transformed. Cox and
Rashean Mathis
were both excellent in coverage against Baltimore's wide receivers, and that was a big reason
Joe Flacco
had such a poor game. The safeties and situational guys were good, too. They got nice hits from
Dawan Landry
,
Dwight Lowery
was active, and
Drew Coleman
sealed the game with a late interception.
October, 25, 2011
10/25/11
1:18
PM ET
»
NFC Stock Watch
:
East
|
West
|
North
|
South
»
AFC
:
East
|
West
|
North
|
South
FALLING
1. Patience of Ndamukong Suh, Detroit Lions defensive tackle:
Suh
forcefully and emotionally defended himself
Monday against allegations of what would have been some sketchy trash talk by the
Atlanta Falcons
. Suh vehemently denied he called for the Falcons to bring out a medical cart when quarterback
Matt Ryan
injured his left ankle. Falcons receiver
Roddy White
stood by that allegation
during an interview with the NFL Network
on Monday night, so someone is not telling the truth. Crazy things get said and done on NFL fields all the time. But based on the passion of Suh's defense, you have to assume (and hope) he's not the one lying here.
2. Minnesota Vikings locker room:
Coach Leslie Frazier has plenty on his management plate as he enters Week 8 of his first season as a permanent head coach. Cornerback
Chris Cook
, a rising young player on a roster of veterans, has been jailed since Saturday morning on domestic violence allegations. Receiver
Bernard Berrian
has apparently run afoul of team discipline on a number of occasions, resulting in two game-day deactivations and an a looming departure from the organization. And although it went underplayed late last week, Frazier absorbed some rare and direct public criticism from soft-spoken defensive tackle
Kevin Williams
, who challenged Frazier's assertion that the defensive line hasn't played physically. Williams told
the St. Paul Pioneer Press:
"If you want to call somebody out, call who you're talking about out." There are growing pains in any head coaching transition, and Frazier is dealing with it on a number of fronts.
3. Silliness of criticizing Clay Matthews, Green Bay Packers linebacker:
Matthews had a sack of Vikings quarterback
Christian Ponder
, bringing his season total to three. But I thought his performance Sunday was a perfect example of how a rush linebacker can make a tremendous impact without sack totals. For one, his run defense was excellent. He was in on tackles that limited the Vikings to 2-, 1-, 2, minus-2, and minus-5 yards on rushing plays. On the latter, he beat Vikings left guard
Steve Hutchinson
to the backfield by several steps, as noted by
Pro Football Focus
.
RISING
[+] Enlarge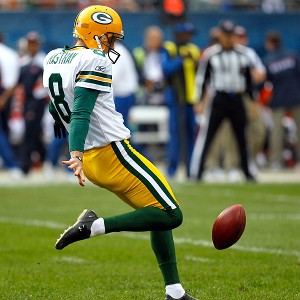 AP Photo/Charles Rex ArbogastPunter Tim Masthay has been a weapon for the Packers this season.
1. Tim Masthay, Green Bay Packers punter:
It hasn't been a stellar season for Masthay, who entered Sunday's game against the Vikings with the second-worst net average (30.4) in the NFL. But he made the most of his three punts at the Metrodome, averaging 55.3 net yards. According to Mark Simon of ESPN Stats & Information, that net average was the third-best by an NFL punter in the past 35 years (minimum three punts). Masthay's 64-yard punt in the fourth quarter was especially important, flipping field position at a time when the Vikings were trying to get into position for a go-ahead score. The punt, downed at the Vikings' 2-yard line, increased the Packers' win probability from 75 to 80 percent, based on data from games compiled over the past 10 years.
2. Matt Forte, Chicago Bears running back:
Forte notched his third 100-yard rushing game in the past four weeks Sunday against the
Tampa Bay Buccaneers
. It's almost impossible right now to distinguish him from the top running backs in the game, as ESPN analyst Andrew Brandt writes for
the National Football Post.
Forte's 1,091 all-purpose yards is 211 yards ahead of the next-best mark in the NFL, and he has accounted for more than 50 percent of the Bears' offense. With Forte and Packers quarterback
Aaron Rodgers
, the NFC North might have the top two MVP candidates through Week 7.
3. Charles Woodson, Packers cornerback:
Two interceptions Sunday brought Woodson's NFL-leading total to five after seven games. You can note that four of the five have come against rookie quarterbacks Ponder and
Cam Newton
, but I haven't noticed any asterisks in league rankings lately. Plus, half of what makes a good defensive player is getting in position to make plays that will eventually be afforded you. Woodson might not be blanketing receivers as he once did, but his playmaking has been a huge equalizer for the Packers defense.
October, 25, 2011
10/25/11
1:00
PM ET
»
NFC Stock Watch
:
East
|
West
|
North
|
South
»
AFC
:
East
|
West
|
North
|
South
FALLING
1. Browns' special teams:
Yes, this group was on the list last week. But Cleveland's special teams dipped farther down after two field goals were blocked and punter
Brad Maynard
booted a 9-yard kick Sunday. The Browns would've allowed another return for a touchdown this week if not for a very questionable block in the back penalty. This unit is having a major meltdown this year.
2. Ravens' wide receivers:
Other than
Torrey Smith
running a go route, no other receiver is getting open for
Joe Flacco
on a consistent basis.
Lee Evans
was supposed to provide speed to this group, but he's missed the past four games with an ankle injury.
Anquan Boldin
's physical style works in the red zone, but not elsewhere. The Jaguars used physical man-to-man defense to remove Baltimore's receivers from the game.
[+] Enlarge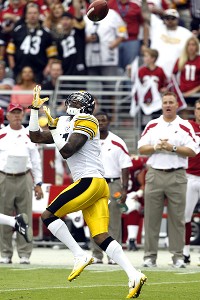 AP Photo/Ross D. FranklinMike Wallace continues to be a downfield threat for the Pittsburgh Steelers.
3. Anyone covering Mike Wallace.
Cornerbacks are starting to have nightmares after watching the highlights of the Steelers wide receiver blowing past defenders. Wallace has caught a pass of 40 yards or longer in six straight games, which is the longest streak since 2001. His 95-yard touchdown reception at Arizona is the second-longest play from scrimmage in Steelers history. So, all those playing safety against Pittsburgh, take a few steps back before the ball is snapped.
RISING
1. Browns' drafting of defensive players.
Two starters on the defensive line -- defensive tackle
Phil Taylor
and defensive end
Jabaal Sheard
-- were drafted in the first two rounds this year. Half of the starting secondary -- cornerback
Joe Haden
and safety
T.J. Ward
-- was selected in the first two rounds in 2010. This explains the resurgence of the Browns' defense, which has gone from 31st in 2009 (before these four starters were drafted) to No. 4 this week.
2. Steelers wide receiver Antonio Brown.
He stepped up when
Hines Ward
went down with an injury, delivering season highs in catches (seven) and yards (102). He also averaged 23 yards on two punt returns. Brown is such a dangerous playmaker because he always seems to make the most of his opportunities.
3. Record against NFC West.
The AFC North is reaping the benefits of playing the NFC West with wins over Seattle and Arizona on Sunday, which improves the AFC North to 4-1 over that division this year. How weak is the NFC West? Take away the 49ers and the rest of that division (Seahawks, Cardinals and Rams) are a combined 3-15 (.166). It wasn't too long ago when the NFC West sent teams to the Super Bowl.
October, 25, 2011
10/25/11
1:00
PM ET
»
NFC Stock Watch
:
East
|
West
|
North
|
South
»
AFC
:
East
|
West
|
North
|
South
FALLING
1. Miami Dolphins' poise:
The Dolphins (0-6) are setting records for being inept. They are the first team to blow a 15-point lead in the final three minutes since the NFL-AFL merger, according to the Elias Sports Bureau. Once
Denver Broncos
quarterback
Tim Tebow
got hot, Miami completely unraveled on offense, defense and special teams. The Dolphins' defense allowed two late
touchdown drives to Tebow
, the special teams failed to recover an onside kick, and Miami quarterback
Matt Moore
's sack and fumble led to Denver's game-winning field goal. It was a teamwide collapse.
2. Tony Sparano, Miami head coach:
The Dolphins' coach is one of the AFC East leaders in the "falling" category this season. He dropped his ninth straight game as head coach. The Dolphins also are an astounding 1-12 in Sparano's last 13 home games. It's just a matter of time before Miami makes a coaching change. It could happen next week or at the end of the season. But Miami can't continue down this path beyond the 2011 season.
3. New York Jets in the first half:
This may sound like nitpicking -- New York eventually came back to beat the Chargers -- but the Jets have started slow for the past month. New York trailed at halftime in three of its past four games. The Jets led at halftime only against the winless Dolphins, 14-6, in that span. New York overcame a 21-10 deficit last week against the Chargers. The Jets are 4-3 and cannot continue to rely on second-half rallies if they want to make the playoffs.
RISING
[+] Enlarge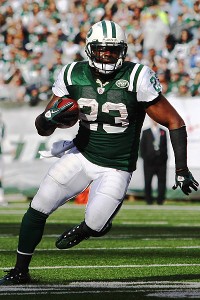 Ed Mulholland-US PRESSWIRE After a slow start to the season, New York Jets running back Shonn Greene rushed for his first 100-yard game against the Chargers.
1. Shonn Greene, Jets tailback:
The AFC East blog has been critical of Greene's lack of production all season. So it's fair to give Greene credit when he has a great game. Green rushed for a season-high 112 yards on 20 carries. He ran strong between the tackles against the Chargers and averaged 5.6 yards per carry. The Jets can win a lot of games if Greene runs this way more consistently. This is the first 100-yard game for Greene in 2011.
2. Plaxico Burress, Jets receiver:
Burress had the most impressive four-catch, 25-yard performance a receiver can have. Burress was unstoppable in the red zone against San Diego. He scored all three of New York's touchdowns to lead the Jets to a 27-21 win. The Jets invested $3 million into Burress for games like this. He's a big body who can make quarterback
Mark Sanchez
's job a lot easier when the offense is clicking.
3. Rest for Patriots and Bills:
The
Buffalo Bills
and
New England Patriots
should benefit from the bye week. Both teams had injuries and gave key players two weeks to heal. For the Patriots, Pro Bowl linebacker
Jerod Mayo
is improving and has a chance to return against the
Pittsburgh Steelers
. Buffalo is expected to get back starting linebacker
Chris Kelsay
. Linebacker
Shawne Merriman
(Achilles) also said last week he expects to play against Washington, but nothing has been made official by the Bills.
October, 25, 2011
10/25/11
1:00
PM ET
»
NFC Stock Watch
:
East
|
West
|
North
|
South
»
AFC
:
East
|
West
|
North
|
South
FALLING
1. Aqib Talib, cornerback, Buccaneers.
He was called for a costly personal foul in the final minutes. Talib's had problems controlling his emotions throughout his career and that doesn't seem to be improving. The Bucs have gone out of their way with Talib because he is a rare physical talent. But their efforts have rarely been rewarded this season. In the past, Talib's physical talent often outweighed his mistakes. This season, that hasn't been the case.
2. Raheem Morris, coach, Buccaneers.
His team has been wildly inconsistent all season. One week, the Bucs go out and play great against the Saints. The next, they're flat as can be against the Bears. Tampa Bay is a very young team and inconsistency should be expected. But it's ultimately up to the head coach to get his team to play with consistency. The Bucs haven't shown any progress in this area.
3. Sam Baker, left tackle, Falcons.
He sat out with a back injury.
Will Svitek
filled in and did not allow a sack to
Kyle Vanden Bosch
. Baker's been shaky most of the season. It will be interesting to see what the Falcons do at left tackle coming out of their bye week.
RISING
[+] Enlarge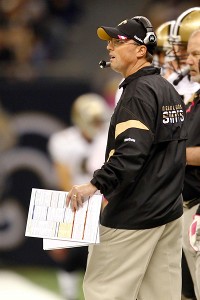 Derick E. Hingle/US PresswireOffensive coordinator Pete Carmichael had a very successful debut as the Saints' playcaller.
1. Pete Carmichael, offensive coordinator, Saints.
With Sean Payton nursing his injured leg up in the press box, Carmichael got to call the plays for the entire game for the first time in his career. He obviously did pretty well as the Saints scored on their first nine possessions. Carmichael has kept a low profile and he's a quiet guy. But he's known and respected throughout the league. It looks like he'll continue calling the plays for some time. That should only raise his profile and his name could start coming up in some conversations about head-coaching jobs.
2. Antwan Applewhite, defensive lineman, Panthers.
This guy was a late pickup for the Panthers after they suffered a number of injuries on the defense. Coach Ron Rivera had history with Applewhite in San Diego. But this guy is contributing much more than you'd expect from a guy who was signed off the street just a few weeks ago. Against the Redskins, Applewhite had a sack, forced a fumble and made five tackles.
3. Corey Peters, defensive tackle, Falcons.
The second-year pro has quietly been Atlanta's best defensive lineman. He was stout against the run last season, but his skills as a pass-rusher have improved this year. That showed through Sunday when he came up with a third-quarter sack that stalled a Detroit drive and forced the Lions to kick a field goal.
October, 25, 2011
10/25/11
1:00
PM ET
»
NFC Stock Watch
:
East
|
West
|
North
|
South
»
AFC
:
East
|
West
|
North
|
South
FALLING
1. Coach Ken Whisenhunt and GM Rod Graves.
The men who got much of the credit for reviving a dormant franchise get most of the blame now that the Cardinals have lost five games in a row and 14 of their last 17 dating to last season. Ownership opened its wallet during the offseason, spending for
Kevin Kolb
and quite a few free agents. The product on the field hasn't improved sufficiently. The record has gotten worse. Kolb hasn't met expectations. A trip to Baltimore in Week 8 isn't likely to trigger a turnaround. Arizona lost seven in a row at one point last season, winning only when the dysfunctional
Denver Broncos
arrived. The current Cardinals have a home game against the Rams in Week 9 before a three-game road trip. This team could easily be 3-10 or 2-11 when Cleveland visits in Week 15.
2. Coach Steve Spagnuolo and GM Billy Devaney.
The problems on defense stand out as most troubling for the Rams' coach and GM. Just about all of the free-agent additions on defense --
Justin Bannan
,
Quintin Mikell
,
Ben Leber
,
Brady Poppinga
, etc. -- were supposed to help shore up the run defense. The Rams have only gotten worse in that area, maintaining their No. 32 ranking in rushing yards allowed after Dallas'
DeMarco Murray
set a franchise record with 253 yards Sunday. Spagnuolo's expertise is on the defensive side of the ball. Some drop-off in pass defense would be understandable given injuries at cornerback, but there's no way the Rams should be this bad against the run. The team's low-keyed approach to upgrading at wide receiver also backfired. Adding
Brandon Lloyd
could be too little, too late.
3. Charlie Whitehurst, Seahawks QB.
Completing 12 of 30 passes for 97 yards against Cleveland left Whitehurst in dubious company. In Seahawks history, only
Stan Gelbaugh
ever had fewer yards to show for as many attempts in a single game. Whitehurst was inaccurate even on some of the passes he completed, including a sideline pass to
Sidney Rice
that should have gone for a touchdown. Whitehurst's throw was far enough outside to lead Rice right out of bounds, preventing him from reaching the end zone. This was a giant step backward for Whitehurst and the offense.
[+] Enlarge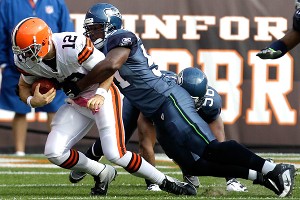 AP Photo/Tony DejakDavid Hawthorne was a bright spot for the Seahawks on Sunday.
RISING
1. David Hawthorne, Seahawks LB.
Eleven tackles, one sack and one interception constituted a rebirth for Hawthorne, who seemed to play more freely than at any point this season. I was tempted to list teammate
Red Bryant
in this spot after Bryant blocked two field goal attempts and provided strong run defense, but Bryant was already regarded as one of the most important players on the team. His stock was already high, in other words. Also, the penalty against Bryant for head-butting
Cleveland Browns
tight end
Alex Smith
killed whatever fleeting hopes the Seahawks had for a last-minute comeback victory.
2. Braylon Edwards, 49ers WR.
Edwards had only four receptions for 48 yards through the 49ers' first two games. A knee injury sidelined him for four games, but now Edwards appears ready to rejoin his teammates for practice this week. He'll step into an offense that has showed general improvement over the past month. Playing time shouldn't be a problem for him, either, now that starting receiver
Josh Morgan
is on injured reserve with a broken leg. Edwards and
Michael Crabtree
give the 49ers two big targets to pair with tight ends
Vernon Davis
and
Delanie Walker
. Edwards' ability to make plays downfield should help the offense.
3. LaRod Stephens-Howling, Cardinals RB.
A hand injury had sidelined Stephens-Howling early in the season and limited him some during his return. That changed Sunday when Stephens-Howling turned a short pass into a 73-yard touchdown when the Cardinals were desperate for a spark. Stephens-Howling's role in the offense could grow with
Beanie Wells
suffering a knee injury.
October, 25, 2011
10/25/11
1:00
PM ET
»
NFC Stock Watch
:
East
|
West
|
North
|
South
»
AFC
:
East
|
West
|
North
|
South
FALLING
1. Excitement over Carson Palmer in Oakland:
Whether it is unfair or not, there has to be some worry in Oakland about Palmer. He threw three interceptions in the second half after he was inserted in Sunday's 28-0 loss to Kansas City. It may not be a big deal. Palmer did not expect to play in the game after just three practice days in Oakland and he hadn't played since Week 17 of last season. So, the odds were stacked against him. Still, Palmer came to Oakland with the expectations of helping the Raiders win a title. He needs to quickly turn it around.
2. The Crispness of the Chargers' offense:
The Chargers have one of the most dangerous offenses in the NFL. However, at the
New York Jets
, the passing game was in disarray in the second half, the running game couldn't get going and the Chargers were disorganized during their final drive. There was a sharpness that was lacking.
3. Kyle Boller's future:
Don't expect Boller to be back in Oakland next year. The main job of a backup quarterback is his ability to lead his team to a win when needed. But Boller was awful in his start against Kansas City. The Raiders can't have any confidence in him moving forward.
[+] Enlarge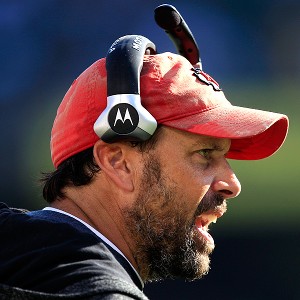 AP Photo/Marcio Jose SanchezThe Chiefs have won three straight games since Todd Haley stopped shaving.
RISING
1. The myth of Tim Tebow:
In the end, it didn't matter that Tim Tebow was awful for 55 minutes in his first start of the season. What mattered is his that he led Denver to a wild comeback that ended in overtime. Again, Tebow may have not been good, but he did enough to win when it counted. That will keep him in the job.
2. The power of Todd Haley's beard:
The Chiefs are now 3-3 after starting 0-3. However, since Haley start growing his beard, the Chiefs have not lost and Haley is off the hot seat. He will not shave until his team losses.
3. John Fox's confidence in Tebow:
After the Broncos' win at Miami, the Denver coach said he saw Tebow make strides Sunday and he expects him to continue to make strides. Fox had always been very measured when talking about Tebow. However, these comments indicate Fox is warming to the quarterback.
October, 25, 2011
10/25/11
1:00
PM ET
»
NFC Stock Watch
:
East
|
West
|
North
|
South
»
AFC
:
East
|
West
|
North
|
South
FALLING
1. Redskins' health.
They lost two starting offensive linemen -- one for the season -- and valuable tight end
Chris Cooley
last week. This week, they lost starting running back
Tim Hightower
for the season and top wide receiver
Santana Moss
for five to seven weeks. The Redskins were always going to be a team for which everything had to be just right, and things seem to be going very, very wrong all of a sudden. They're liable to be able to fill in at running back with
Ryan Torain
and
Roy Helu
, but the injuries on the line are a major concern, as those are likely to show up more as the year goes along than they did in the first week without
Trent Williams
and
Kory Lichtensteiger
on the left side.
2. Tashard Choice.
For a time, there was an opinion in Dallas that Choice deserved a chance to start -- or at least get more carries -- over
Felix Jones
. But he's failed to emerge, and his failure to take advantage of an opportunity against the pitiful Rams on Sunday could spell the end of his time with the Cowboys. Rookie
DeMarco Murray
seized that same opportunity and literally ran with it for a team-record 253 yards. There's no question which back will be featured until Jones is healthy again. The only question now is whether Choice will have a spot on the team once Jones gets back.
3. Redskins' defense.
Through four games, Washington was allowing 15.25 points per game. They even did an impressive job in Week 6 against the Eagles, holding Philadelphia scoreless in the second half after giving up 20 in the first. But they allowed 33 points and 407 total yards to
Cam Newton
and the Panthers on Sunday, and they may be trending the wrong way. Granted, the way the offense is playing, it's asking too much of the defense. But that's not likely to get better any time soon, so the Redskins need to toughen up starting this week against
Ryan Fitzpatrick
,
Fred Jackson
and the high-powered offense of the
Buffalo Bills
.
RISING
[+] Enlarge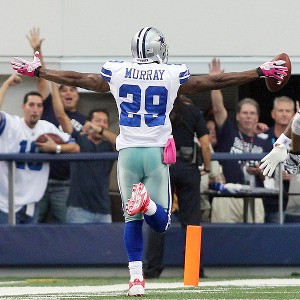 Tim Heitman/US PresswireDeMarco Murray had the ninth-best rushing day in NFL history, shredding the Rams for 253 yards.
1. DeMarco Murray.
No, he's not going to get the Rams' defense every week. And scouts will tell you that his falling-forward running style will create a problem for him down the line if he doesn't clean it up. But Murray runs hard and is quick, and his performance showed the Cowboys what can be when they rely on their run game. Once Jones does come back, they would do well -- as some have been saying all along -- to mix up their running backs, not ask too much of any single one and develop a rotation that keeps their running game healthy and dangerous all year long. I don't think
Tony Romo
would mind the break.
2. Giants' health.
What wonders a bye week can work. The Giants got
Justin Tuck
,
Brandon Jacobs
,
Chris Snee
,
Prince Amukamara
... even perpetually injured receiver
Ramses Barden
back at practice Monday and should be at something close to full strength for Sunday's game against the Dolphins. Health was a major issue for the Giants at the start of the season, but they've managed to go 4-2 while missing a number of key players. And except for
Terrell Thomas
and
Jonathan Goff
and guys who suffered season-ending injuries, it looks as though they may be getting most of their key contributors back on the field in time for their challenging second-half schedule.
3. Ryan Torain.
He was a huge Week 6 flop against the Eagles as the Redskins got behind early and only ran the ball 12 times. But with Hightower out of the picture and Helu still a rookie, Torain should get a chance to be the Redskins' feature back this week against Buffalo. We've seen what he can do with that role, and I think you can expect big numbers as long as he stays healthy. I say "I think," because we never know with Mike Shanahan. But he likes the way Torain runs, and I'm expecting that he'll give him a chance.

NFL SCOREBOARD
Thursday, 9/18
Sunday, 9/21
Monday, 9/22