NFL Nation:

Stock Watch 2011 Week 8
November, 1, 2011
11/01/11
1:01
PM ET
»
NFC Stock Watch
:
East
|
West
|
North
|
South
»
AFC
:
East
|
West
|
North
|
South
FALLING
1. Pete Carroll, Seattle Seahawks coach.
Coaches lose credibility with their players over time when they risk defeat with imprudent decisions. Carroll handled the quarterback situation questionably against Cincinnati on Sunday. He clearly botched the sequence when the first-half clock ran out, preventing the Seahawks from getting points. He did not stop the team from calling another option running play for quarterback
Tarvaris Jackson
, even though Jackson was still playing with an injury stemming from the last time Seattle called such a play. Making mistakes is bad enough. Refusing to correct them is worse. Danny O'Neil of the Seattle Times recently ran through some of the
other questionable decisions
from Carroll. The Seahawks deserve better for their $35 million investment.
2. Russ Grimm, Arizona Cardinals assistant head coach/offensive line.
Grimm's Hall of Fame pedigree and long-established reputation as a top offensive line coach have largely buffered him from criticism. That should change given where the Cardinals' line stands five seasons into Grimm's tenure with Arizona. Grimm hasn't been able to turn a top-five draft choice,
Levi Brown
, into even an average starting NFL tackle. Quarterback
Kevin Kolb
, though largely to blame for holding the ball too long, nonetheless needs better protection than the Cardinals' line has afforded him.
3. Charlie Whitehurst, Seahawks QB.
Carroll's patience with Whitehurst finally ran out against the Bengals. Whitehurst is likely finished in Seattle unless an injury forces him into the lineup and he suddenly performs at a high level for an extended stretch. The team needed to find out about Whitehurst this season. Carroll made it clear he's seen enough when he benched Whitehurst after only seven pass attempts Sunday. Whitehurst took two sacks during his brief time on the field. He appeared unsettled by the rush and unsure what to do.
RISING
[+] Enlarge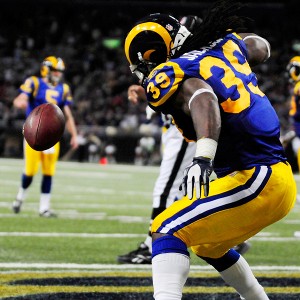 Jeff Curry/US PresswireSteven Jackson celebrates one of the two touchdowns he scored in the Rams' upset win over New Orleans.
1. Steven Jackson, Rams RB.
Jackson is the Rams' emotional leader, but that leadership had its limits when a quadriceps injury was preventing Jackson from performing at high level. Jackson has shown over the past two games an ability to run with abandon. Jackson carried 25 times for 159 yards and two touchdowns in the Rams' 31-21 upset of New Orleans. He now has 28 career 100-yard rushing performances with the Rams, one more than
Marshall Faulk
. Only
Eric Dickerson
(38) has more in franchise history. Jackson's four receptions tied him with Elroy "Crazy Legs" Hirsch for sixth on the Rams' career list (343 catches). Jackson also moved past Faulk for third on the Rams' list for most yards from scrimmage.
2. Chris Long, Rams DE.
Long's three-sack performance against
Drew Brees
and the Saints came after a quiet week for Long and the Rams' defense at Dallas. This was a breakout game in every way. Long had one sack in each of the Rams' first three games this season. He then went three games without one before breaking through against Saints right tackle
Charles Brown
. Long next faces an Arizona team that has juggled personnel at right tackle, switching between
Brandon Keith
and
Jeremy Bridges
. Long's rise could continue.
3. Robert Quinn, Rams DE.
A few unestablished young players in the division qualified for consideration in this spot.
Richard Sherman
,
Greg Salas
,
Sam Acho
and
O'Brien Schofield
come to mind.
Patrick Peterson
was another consideration, but his punt return for a touchdown wasn't his first of the season, and the Cardinals ultimately lost. The
San Francisco 49ers
' collective stock has already surged, making it tough to pinpoint one player from that team following a routine victory over Cleveland. I went with Quinn because his stock had sagged quite a bit early in the season. He wasn't even active for the opener. But with a sack and blocked punt against New Orleans, the rookie first-round draft choice played an important role in the Rams' first victory of the season.
November, 1, 2011
11/01/11
1:00
PM ET
»
NFC Stock Watch
:
East
|
West
|
North
|
South
»
AFC
:
East
|
West
|
North
|
South
FALLING
1. Miami Dolphins in the fourth quarter:
The Dolphins continued their disturbing trend of not being able to finish games. They blew a fourth-quarter lead for the second straight week, this time against the
New York Giants
in a 20-17 defeat. Miami has been outscored 28-9 in the fourth quarterback and overtime the past two weeks by the Giants and
Denver Broncos
.
2. Bill Belichick, New England Patriots head coach:
This is a first for Belichick this season. Overall, he's done another good job leading the Patriots to a 5-2 start. But Belichick's defensive schemes and personnel decisions have not been up to par this year. It's starting to catch up to him as teams like Pittsburgh and Buffalo are taking advantage of New England's defense. Quarterback
Tom Brady
cannot throw for 400 yards every week. Belichick, who has a reputation as a defensive guru, has to find solutions on that side of the football before it's too late.
[+] Enlarge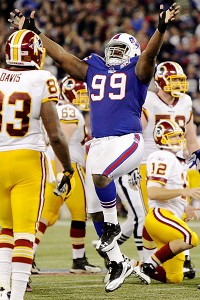 Luc Leclerc/US PRESSWIRERookie Marcell Dareus moved to nose tackle and had 2.5 sacks on Sunday.
3. Devin McCourty, Patriots cornerback:
You can't put everything on Belichick. The players on the field have to produce as well. After a great rookie year, McCourty is having a major sophomore slump as New England's top cornerback. Against Pittsburgh, McCourty recorded seven solo tackles and zero pass defenses. He's struggling to get in position to make plays on the ball. McCourty has zero interceptions and only three pass defenses in seven games.
RISING
1. Marcell Dareus, Buffalo Bills defensive tackle:
Buffalo's first-round pick had his best game as a pro. Dareus was a handful for the
Washington Redskins
' offensive line and recorded four tackles and a career-high 2.5 sacks. Dareus moved to nose tackle from defensive end this week because of a foot injury to
Kyle Williams
. The rookie looked right at home fighting off numerous double teams while still getting to the quarterback.
2. Fred Jackson, Bills tailback:
Jackson continued his monster season with another great game, this time against the Redskins. Jackson rushed for 120 yards and added 74 yards receiving. Jackson runs through a lot of tackles and is on pace to rush for more than 1,600 yards this season. I think he's
earned a new contract
. Jackson deserves some mention in the Most Valuable Player race, as well.
3. Reggie Bush, Dolphins tailback:
Bush had his second career 100-yard rushing performance and his first with the Dolphins. Bush's quickness gave the Giants fits for three quarters. He rushed for 103 yards on 15 carries. Bush's longest run was for 35 yards, and he averaged 6.9 yards per carry. Miami needs more games like this from Bush to get more victories.
November, 1, 2011
11/01/11
1:00
PM ET
»
NFC Stock Watch
:
East
|
West
|
North
|
South
»
AFC
:
East
|
West
|
North
|
South
FALLING
1. Chances of a new contract for Matt Forte, Chicago Bears tailback:
We've been
discussing the risks and rewards
of giving big money to a running back for months.
Michael C. Wright of ESPNChicago.com
recently posted some updated thoughts. But it's worth nothing that the better Forte plays this season, the more sense it makes for the Bears to avoid a long-term deal and instead use the franchise tag on him next spring and possibly beyond. Forte's MVP pace has elevated his value substantially since the start of training camp. The Bears can either pay out an ever-increasing total of guaranteed money, or wait until the spring, when they can lock in Forte for less than $8 million in total compensation.
Tennessee Titans
running back
Chris Johnson
, who is averaging 2.8 yards per carry this season after receiving $30 million in guarantees,
is providing the latest cautionary tale
.
2. Cedric Griffin, Minnesota Vikings cornerback:
How many times have you heard about an NFL player continuing his career after tearing the anterior cruciate ligament in both knees? That's what Griffin has done after suffering those two serious injuries in less than a year, missing only 14 games over a two-season span because of the timing in each case. But the Vikings will take some time during their bye week to evaluate his play and determine whether a demotion is in order. It's a cruel business, but Griffin's admirable push to get back on the field and do his job has revealed him to be less effective than he once was. When he was drafted in 2006, Griffin was considered a cornerback/safety. Is it time to give the latter a try?
3. Sack totals for Ndamukong Suh, Detroit Lions defensive tackle:
Let's be clear from the top. A defensive tackle can have a fine season without recording a single sack. But lost in the national conversation about whether Suh is a dirty player, and his
scheduled meeting Tuesday
with NFL officials, has been a noticeable decline in his sack production. Suh has three sacks through eight games, tying him with 22 other players for No. 26 in the NFL. Through eight games of his rookie season, Suh had 6.5 sacks on the way to 10 for the season. As we've discussed many times, good fortune is one of several key factors in running up high sack totals. Sacks are but one measure of an effective defensive tackle. So take the drop-off for what you will.
RISING
1. NFC North in prime time:
The NFL's top division is preparing for a nice run of national exposure. Three of our four teams will appear on "Monday Night Football" over the next two weeks, first the Bears (at the
Philadelphia Eagles
) and then the Minnesota Vikings and
Green Bay Packers
(at Lambeau Field). The Packers and Detroit Lions have a pretty meaningful Thanksgiving Day game looming, and the Bears and Packers will stage their second matchup of the year on the night of Christmas. And we're just getting into the flexible portion of the NFL's national schedule!
[+] Enlarge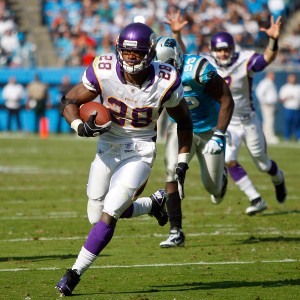 AP Photo/Nell RedmondAdrian Peterson took a second-quarter screen pass from Christian Ponder to the house Sunday.
2. Adrian Peterson, Minnesota Vikings tailback/receiver:
That's right. Peterson caught five passes for a career-high 76 yards in Sunday's victory over the
Carolina Panthers
. Included in that mix was a 19-yard touchdown on a middle screen. For reasons I don't fully understand, the Panthers defense was playing deep against the Vikings' receiving corps, leaving Peterson with room to roam underneath. It sounds simple, but quarterback
Christian Ponder
was smart enough to take advantage. "I will take that all day," Ponder told reporters. Peterson hasn't always been the smoothest of receivers. But screens and checkdowns are an easy way for a young quarterback to deal with pressure, and there is no better player in the open field than Peterson once he gets the ball in his hands.
3. Jason Hanson, Detroit Lions place-kicker:
Hanson drilled his fourth field goal of 50 or more yards this season in Sunday's victory at the
Denver Broncos
, a nice eight-game accomplishment for any kicker but one especially noteworthy for a 20-year veteran. Only two NFL kickers,
Sebastian Janikowski
and
Josh Scobee
, have converted more attempts of 50 or more yards. I know we've mentioned Hanson before in Stock Watch. But he continues to excel at an elite pace. Overall, Hanson is tied for first among NFL kickers with 17 field goals. His only miss this season has been from 52 yards.
November, 1, 2011
11/01/11
1:00
PM ET
»
NFC Stock Watch
:
East
|
West
|
North
|
South
»
AFC
:
East
|
West
|
North
|
South
FALLING
1. Blaine Gabbert, Jacksonville Jaguars quarterback
: It's baby steps for the rookie quarterback, who isn't the root cause of the team's losing but isn't doing nearly enough for the team to win with any regularity. I don't like to read too much into body language, but it's hard for a guy who's not productive to give a team much moxie. And more than moxie, the team needs a couple touchdown passes from its quarterback. In the same game. No, he doesn't have great weapons or protection, but we need to see him elevate his game, at least at times. It may not be fair to measure him against
Andy Dalton
,
Cam Newton
and
Christian Ponder
, but he's not off to the same caliber of start to his career.
2. Confidence in the Titans' ability to solve problems
: Never mind a debate about
Chris Johnson
versus
Javon Ringer
. Johnson's going to start, but Ringer will continue to get work if he's the hotter hand when he gets his chances. We're seven games into the season, and two Hall of Fame offensive linemen -- Mike Munchak and Bruce Matthews -- clearly don't have the horses to get effective run-blocking consistently. That's a big problem for a team that's supposed to have a run-based offense. The head coach and his offensive line coach wanted these guys, now they are on the hook for fixing things with what they have.
3. Jim Caldwell, Indianapolis Colts coach
: A second consecutive appearance! Congrats. Bill Polian keeps talking about the great job Caldwell's doing, and he has done well to keep things from fracturing. But there is only so much value in that when there are no wins. Caldwell and his staff don't have enough talent to work with, but they also haven't adjusted their plan and approach enough to reflect what they are working with. It shouldn't be a surprise that they can't block up a great return. Points are tough to get so they have to be more aggressive at chances to get them. Caldwell looks like things are wearing on him.
[+] Enlarge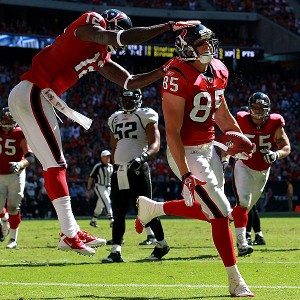 Ronald Martinez/Getty ImagesHouston's Joel Dreessen has had a nose for the end zone recently.
RISING
1. Joel Dreessen, Houston Texans tight end
: He's got a touchdown catch in two consecutive games and three in the last four. Even without
Andre Johnson
playing, defenses don't put a priority on covering the Texans' second tight end.
Owen Daniels
,
Arian Foster
,
Jacoby Jones
,
Kevin Walter
and even a healthy
James Casey
all probably qualify as more threatening. But Dreessen's got the confidence of
Matt Schaub
and has a knack for taking advantage of what a defense allows him to do. Gary Kubiak said Monday you can be sure Dreessen's not undervalued in Texans headquarters.
2. Karl Klug, Tennessee Titans defensive tackle
: The high-motor rookie's been an impact guy for the Titans so far and put together a very nice game against the Colts. He had a sack of
Curtis Painter
, a tackle for a loss and a deflected pass. He's a key guy in Tennessee's defensive line rotation and looks to be a real find as a fifth-round draft pick out of Iowa. The team made a push to get bigger on the defensive front. Klug is the tallest tackle at 6-foot-3, but the lightest at 275 pounds. Light is just fine if he produces like this.
3. Optimism in Houston
: It's always a bit dangerous to get excited about the Texans because they've been so consistent at suffering letdowns right when it appears they are ready to make a big step. But they've found their balance in a lot of ways over the past two weeks. The division is bad. The schedule is favorable. It's there for the taking and it's understandable if, no matter how careful history suggests we need to be, big expectations are building.
November, 1, 2011
11/01/11
1:00
PM ET
»
NFC Stock Watch
:
East
|
West
|
North
|
South
»
AFC
:
East
|
West
|
North
|
South
FALLING
1. Browns' offense
: Cleveland has produced one touchdown and three 50-plus-yard field goals over the past two games. That's 13 points scored despite possessing the ball for 70 minutes. Injuries have hit every position on offense this season and knocked out the Browns' top two running backs the past couple of weeks. It's been equally painful to watch the Browns' offense getting held to 17 points or fewer in six of seven games this season.
2. Ravens' penalties
: The Ravens not only have a way about playing down to the competition but they have kept one-win teams in games with penalties. Baltimore has been flagged 21 times for 184 yards in less-than-focused efforts against the Jaguars and Cardinals. Officials seem to be keeping a close eye on the Ravens, penalizing them twice for taunting against Arizona. Right tackle
Michael Oher
has accounted for 10 percent of the penalties this season (two for false starts and three f0r holding).
3. Injuries to Steelers linebackers
:
James Harrison
has missed the past three games with an eye injury,
James Farrior
missed last Sunday's game with a calf injury and
LaMarr Woodley
missed a good portion of Sunday's game with a hamstring injury. The only starting linebacker who is healthy is
Lawrence Timmons
and he's playing out of position because of the injuries. There's a chance that the NFL's second-ranked defense could be missing three starting linebackers against Baltimore on Sunday night.
[+] Enlarge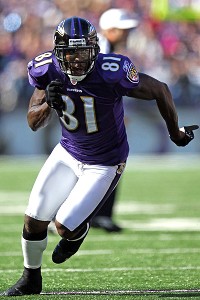 Mitch Stringer/US PresswireAnquan Boldin came up big on Sunday against Arizona.
RISING
1. Bengals' fourth-quarter defense
: The Cincinnati defense has become the Mariano Rivera of the NFL. The Bengals have closed out the past three wins by scoring touchdowns in the final 2 1/2 minutes of games. The latest came Sunday when
Reggie Nelson
returned an interception 75 yards for a touchdown with 36 seconds remaining. It's the first time the Bengals' defense has reached the end zone in three straight games since October 1983.
2. Steelers quarterback Ben Roethlisberger
: He's shrugged off a slow start to the season like it was another pass-rusher to become one of the hottest quarterbacks in the NFL. During the Steelers' four-game winning streak, Roethlisberger leads the NFL with 11 touchdown passes (while throwing just two interceptions) and ranks among the league leaders in passing yards (third with 1,154) and completion rate (sixth at 67.1), according to ESPN Stats & Information. Now, he gets ready to go against the Ravens and the top-ranked defense in the NFL.
3. Ravens wide receiver Anquan Boldin
: It's taken longer than expected for Boldin to develop a rapport with
Joe Flacco
. Maybe it took removing
Derrick Mason
from the team for Flacco to start leaning on Boldin. Whatever the reason, Boldin has carried the Ravens at times, catching 19 passes and averaging 105.6 yards over the past three weeks. In the Ravens' comeback against Arizona, he delivered the big play in each of Baltimore's four scoring drives that led to 24 unanswered points.
November, 1, 2011
11/01/11
1:00
PM ET
»
NFC Stock Watch
:
East
|
West
|
North
|
South
»
AFC
:
East
|
West
|
North
|
South
FALLING
1. Philip Rivers, San Diego, quarterback:
No player will be more closely watched in Week 9 than Rivers. It has been a rough season for Rivers. He looked to snap out of his funk with brilliant play Monday night. However, all that will be remembered is Rivers dropping the snap from center
Nick Hardwick
in the final minute at the Chiefs' 15-yard line with the Chargers ready to kick a game-winning field goal. The Chiefs ended up winning in overtime.
2. Tebowmania:
Even the most ardent
Tim Tebow
supporters are going to have a hard time putting a shine on this one. Tebow was terrible in a 35-point home loss to the Lions on Sunday. Tebow showed no improvement and he continued to have the same delivery, accuracy and pocket issues. This is Tebow's chance to prove he belongs in the NFL as a starting quarterback. So far, it hasn't been impressive.
3. Carson Palmer's preparation time:
It's almost go time for the new Oakland starting quarterback. Palmer vowed to be ready for Sunday's home game against the Broncos after he was rusty and shaky in a second-half performance against Kansas City in Week 7, five days after he became a member of the Raiders. Palmer worked diligently with his new receivers during the bye week, and he will have this week to get ready. The Raiders are counting on Palmer. He must be ready.
[+] Enlarge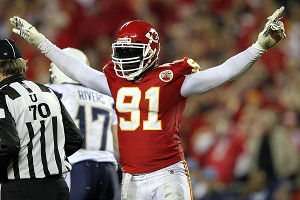 Jamie Squire/Getty ImagesTamba Hali was in celebration mode after a pair of sacks in Monday night's win.
RISING
1. Tamba Hali, linebacker, Kansas City:
The Chiefs' pass-rusher is one of the better defensive players in the NFL. He may not be known by the casual fan, but he is a nightmare to deal with. He took over against the Chargers at times with two sacks Monday night.
2. Raiders in the standings:
It has to feel good any time you gain ground while on your bye week. Thanks to the Kansas City's win over San Diego, the idle Raiders moved into a three-way tie for first place with the Chiefs and Chargers at 4-3. It is the first time three teams have been tied for first place at 4-3 since 1989 in the old AFC Central.
3. Jon Baldwin, Kansas City, receiver:
The Chiefs' first-round draft pick looked great in his second NFL game. He had a team-high five catches for 82 yards and he had a 39-yard touchdown catch. Baldwin missed two months after suffering a thumb injury after a reported fight with teammate
Thomas Jones
. However, Baldwin is showing why the Chiefs drafted him, and the big target is giving the offense another dimension.
November, 1, 2011
11/01/11
1:00
PM ET
»
NFC Stock Watch
:
East
|
West
|
North
|
South
»
AFC
:
East
|
West
|
North
|
South
FALLING
1. The New Orleans offensive line.
Drew Brees
was sacked six times and the running game never got going in Sunday's loss to St. Louis. Right tackle
Charles Brown
struggled mightily and it's likely he'll be back on the bench soon because
Zach Strief
is coming back from injury. But the problems weren't all due to Brown. New Orleans has some highly regarded players across the rest of the line, but none of them played well Sunday. Guard
Carl Nicks
had a bad game and fellow guard
Jahri Evans
also appeared off.
Jermon Bushrod
has developed into a dependable left tackle, but he wasn't dependable against the Rams.
2. Jonathan Vilma, Saints linebacker.
He has been one of the top players in the NFC South the past few years. But Vilma doesn't look the same this year. Part of it might be because of a knee injury that's been bothering him all season. Against the Rams, I saw Vilma miss a couple of tackles he never would have missed a few years ago.
3. Olindo Mare, Panthers kicker.
Carolina cut veteran and fan favorite
John Kasay
to make room for Mare, who landed a huge contract. Mare has kicked well most of the season. But he missed a 31-yard field-goal attempt that would have sent Sunday's game with Minnesota into overtime. Yeah, Kasay was old and couldn't kick off, but I don't recall Kasay ever missing very many 31-yard kicks.
RISING
[+] Enlarge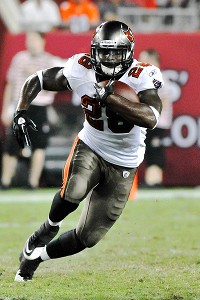 Fernando Medina-US PRESSWIRETampa Bay Buccaneers running back Kregg Lumpkin is about to have an increased role.
1. Kregg Lumpkin, Buccaneers running back.
He's 27, but this reserve has all of 14 career carries and has never scored an NFL touchdown. Ready or not, Lumpkin's about to get an increased role. With
Earnest Graham
lost for the season to injury, Lumpkin is going to be the top backup to
LeGarrette Blount
. He also is likely to be used as the third-down back. The Tampa Bay coaches are high on Lumpkin and they better be right because he's only a Blount injury away from being the feature back.
2. Jason Snelling, Falcons running back.
Fullback
Ovie Mughelli
has been lost for the season with a knee injury. The Falcons did sign
Mike Cox
and he could be used as the lead blocker for
Michael Turner
at times. Snelling is the top backup to Turner at tailback, but he has filled in at fullback from time to time. Don't be surprised if the Falcons decide to let Snelling and Cox share the duties at fullback. At 237 pounds, Snelling might be a little light for a fullback. But he's a good blocker and his ability to run and catch passes could add a new dimension to Atlanta's offense if he's playing fullback.
3. Julio Jones, Falcons receiver.
The rookie was off to a pretty good start before missing the past two games with a hamstring injury. The bye week helped Jones get healthy and he returned to practice Monday. I'm expecting a big second half of the season from Jones. Remember, he was thrown right into the starting lineup and didn't have a true offseason because of the lockout. He seemed to catch on pretty quickly, but this little break has given Jones a little time to really process everything.
November, 1, 2011
11/01/11
1:00
PM ET
»
NFC Stock Watch
:
East
|
West
|
North
|
South
»
AFC
:
East
|
West
|
North
|
South
FALLING
1. Redskins' offense.
The injuries to the left side of the offensive line appear to have rendered the
Washington Redskins
helpless on offense. They gave up nine sacks Sunday to a Buffalo team that had collected only four sacks -- total -- in its first six games. It's impossible to grade
John Beck
as the replacement for
Rex Grossman
at quarterback because it doesn't appear he has enough time to do anything back there. They can't get the run game going with
Ryan Torain
and
Roy Helu
, so they picked up former Cowboys running back
Tashard Choice
this week hoping maybe he could help. The end result of all of this was the first-ever shutout of a Mike Shanahan-coached team and a frightening ongoing situation in which the offensive ineptitude is requiring the defense to be on the field too long. The Redskins have to find a way to sustain drives, or we could see repeats of Sunday's debacle.
2. Rob Ryan.
It was a rough week for the
Dallas Cowboys
' first-year defensive coordinator. His defense was trampled by a
Philadelphia Eagles
team he'd derided as the "all-hype team." He lost breakout star linebacker
Sean Lee
to a wrist injury and starting cornerback
Mike Jenkins
to a hamstring injury. Ryan's defense had a great first half of the season prior to Sunday night, but it appears fresh new challenges await. The Eagles put a lot of informative stuff on tape about how to attack the middle of the Dallas defense without Lee, and even though the Cowboys are heading into the soft second half of their schedule, a 3-4 record leaves them little margin for error going forward.
3. Giants' running game.
Rather than build off of
Ahmad Bradshaw
's first 100-yard game of the season, the Giants' 30th-ranked rushing offense regressed in Sunday's victory over the winless Dolphins. The Giants rushed for 58 yards on 23 carries as
Eli Manning
had to put the ball in the air 45 times to lead the Giants from behind. The problem appears to be the line, which is getting no push and opening very few holes in the run game. The Giants' line has done well in pass protection this year, but it appears to get pushed around on running downs, and Bradshaw and
Brandon Jacobs
are just slamming into large men at the line of scrimmage. The Giants are heading into the tough part of their schedule now and will need to fix this in order to maintain their early-season success.
[+] Enlarge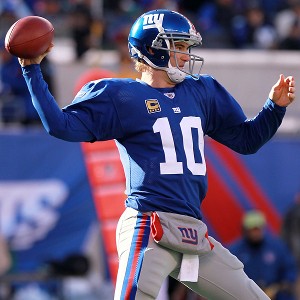 Nick Laham/Getty ImagesEli Manning remained cool under pressure while rallying the Giants on Sunday.
RISING
1. Manning.
The flip side of that last bit is that
Manning is playing like an MVP candidate
this year, limiting mistakes, making good decisions and acting like the reliable veteran leader the Giants need him to be. One of the things the Giants love about Manning is his consistency. He never misses a game, and perhaps more important, he's always the same guy from game to game and play to play. He doesn't get rattled or upset when his team is, say, way behind one of the worst teams in the league and shooting itself in the foot with red zone penalties. He just brings everybody back to where they need to be, makes plays and finds ways to win. Add in the fact that he seems to have his interception issues fixed this year, and you have -- dare we say it -- an elite NFL quarterback.
2. LeSean McCoy.
It's tough to imagine how much more he can "rise," but if anybody didn't think McCoy was a star when this season began, he's answered whatever questions may have been lingering. After carrying the ball 28 times for 126 yards against the Redskins two weeks earlier, McCoy followed up with 185 yards on 30 carries in Sunday night's domination of the Cowboys (who'd come into the game with the best run defense in the league). It remains to be seen whether the Eagles will continue to lean on McCoy that much. To hear Andy Reid and the coaches tell it, there will be games in which it makes more sense to pass all night. But what they know about McCoy after the past two games is that he's the kind of player who doesn't mind taking the ball -- a lot -- and grinding out clock when that's what needs to be done. That should serve the Eagles well as they attempt to climb back into contention.
3. Juan Castillo.
The Eagles' much-maligned former offensive line coach and current defensive coordinator is getting a lot of credit this week after the job his defense did against Dallas. Sure, the Cowboys had the ball for only 18 total minutes in the game, but during those 18 minutes we saw a rejuvenated
Nnamdi Asomugha
making plays all over the field, a fully healthy defensive line shifting up looks to successfully confuse
Tony Romo
and a suddenly much more comfortable
Jamar Chaney
solidifying things at the middle linebacker spot. Castillo is saying it only made sense that it would take time for everything to come together on defense with so many new players and new coaches working together to establish a new scheme. If he's right, the Eagles are going to be tough to beat the rest of the way. They'll just have to hope that 1-4 start didn't knock them all the way out.

NFL SCOREBOARD
Thursday, 8/21
Friday, 8/22
Saturday, 8/23
Sunday, 8/24
WEEKLY LEADERS