November, 3, 2013
11/03/13
7:00
AM ET
Thoughts and observations on the
New York Jets
:
1. The Re-X factor
: The top storyline for the second half of the season, which begins Sunday, will be the future of head coach Rex Ryan. Owner Woody Johnson and general manager John Idzik have to make a decision: Extend his contract or fire him. Naturally, the No. 1 factor will be the team's record, but there's another factor that should (and will) loom large in the evaluation -- the development of rookie quarterback
Geno Smith
.
If Smith makes strides and finishes with his arrow pointing up, it would be a huge boost for Ryan and his coaching staff. It would mean he's developing under Marty Mornhinweg & Co., and what sense would it make to start over next year with a new staff? My sense is that a 7-9 record, with an ascending Smith, would be good enough to earn Ryan another year. Statistically, Smith's second quarter was slightly better than the first, but he'll need more than baby steps over the final eight games to nail down the job for 2014. If he regresses, it won't bode well for Ryan.
[+] Enlarge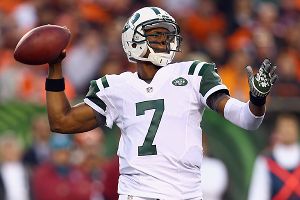 Andy Lyons/Getty ImagesWill the Jets use another early draft pick to select a QB if rookie Geno Smith continues to struggle the rest of the season?
"If I put on my GM hat, I would tie Rex, Marty and Geno together," said ESPN analyst Trent Dilfer, one of the smart people around football. "The Marty-Geno mix is really good, and I think Marty is good for Rex. The Jets' ceiling, if they acquire more talent, is higher because of Marty's aggressive approach. I wouldn't want to start over with a new guy next year. They should maintain continuity. They're wildly inconsistent, but it looks better and has a better feel than last year. It's a better product."
I agree. But Smith needs to keep going in the right direction.
2. Quarterbacking 101
: Dilfer said Smith is operating an offensive system more complex than what the Jets used in
Mark Sanchez
's rookie year in 2009. In '09, they scaled it back to help Sanchez. It was heavy play-action and they moved the pocket, halving the field and cutting down his reads. With Smith, "It's pure dropback, with complex read progressions," Dilfer said. "Marty is throwing a lot of good stuff at him. It's baptism by fire. Talking to great coaches and great quarterbacks, and knowing my own experience, that's the best way to get the best out of a young quarterback. It speeds them up to the graduate level."
I get it, but I think there should be times when Mornhinweg dials it back a little to help Smith through rough patches.
3. Where the Hill is Stephen?
Second-year WR
Stephen Hill
has become an afterthought in the Jets' offense, raising questions about him. Consider the last five games: 23 targets and only 10 receptions, including five when the team was in an obvious catch-up/passing mode. Save for two big games against the
Buffalo Bills
, Hill has been a disappointment in his first two seasons. In fact, one-third of his career yardage total (and three of his four TDs) has come in the two Buffalo games.
I asked Mornhinweg about Hill's lack of production, and all he said was, "That's my responsibility. I have to do a better job there." Meaning? "Get him the ball a little bit."
Here's the part that stings the Jets: They drafted Hill in the second round (43rd overall) after trading up, passing up WR
Alshon Jeffery
, who has become a solid receiver with the
Chicago Bears
. Jeffery has 57 catches, 928 yards and five touchdowns in two seasons; Hill has 44, 592 and four. The Jets knew Hill would be a project when they drafted him, but it has to be troubling that a receiver off the street --
David Nelson
-- has produced better numbers over the past month.
4. Re-visiting Revis Island
: Some in the media (including me) have fallen into the trap of trying to imagine the Jets' defense if they had kept CB
Darrelle Revis
, perhaps conveniently forgetting that he's coming back from major knee surgery. He's still not the Revis of old, and he admitted it the other day on his weekly radio spot in Tampa. Revis, explaining why the Buccaneers haven't used him in the press-man style that made him famous, said his surgically repaired knee has been the main factor.
"Earlier in the year, I didn't have the explosion to play press; the receiver would just run the [vertical] 9-route on me and I didn't have the stamina to do that play in and play out, especially playing press," Revis said.
If he were with the Jets, this would be a significant issue, considering their system is predicated on man-to-man coverage.
5. Ivory's payback
:
Chris Ivory
downplayed Sunday's matchup against the
New Orleans Saints
, his former team, but I suspect he will be highly motivated to prove a point. Back in training camp, Ivory admitted to me that his three-year run in New Orleans was difficult at times because of their crowded backfield.
"I never felt lost, but I didn't like the situation at times," Ivory said. "At the same time, you have to understand there are phases you have to go through, being undrafted. They had guys they drafted, guys they had confidence in. Me, just coming in, I had to build their confidence and it took a little more time."
The Jets traded a fourth-round pick for Ivory, one of only six player trades last offseason involving a fourth-round pick or higher,
according to ESPN's John Clayton
. The Jets had two of the six -- the Ivory and Revis trades.
6. Revolving door
: Because of injuries, it has been difficult to build continuity on offense. In fact, the Jets have used 28 different players, tied with the Bucs for most in the league.
7. Go wide, young man
: The Jets aren't known as a perimeter running team, but maybe they should think about it more often. When they run around left end, they average 6.78 yards per carry, the fifth-best mark in the league, according to NFL stats. When they go right end, it's 5.59 yards. Imagine if they had a real perimeter threat.
8. McElroy's intel
: Dan Pompei of Bleacher Report spent a week with
Cincinnati Bengals
offensive coordinator Jay Gruden, who allowed behind-the-scenes access as he prepared for last week's game against the Jets.
The story
reveals that former Jets QB
Greg McElroy
, a member of the Bengals' practice squad, was a big help. McElroy typed up a tip sheet and gave it to QB
Andy Dalton
. Gruden also picked his brain on the Jets in a meeting.
"His insight is very helpful," Gruden told Pompei in the middle of the week. "He has a pulse on their defense, what hurts them."
I'd say the Bengals hurt them, all right.
9. Good news/bad news:
The Jets are one of only 11 teams since 2001 to have a minus-12 turnover margin or worse through eight games. That's bad. Of those 11 teams, they're the only one to have a .500 record. That's good. It indicates what they could be if Smith stops giving it away.
10. Feeling old
: The first time I saw
Nick Toon
was Nov. 27, 1992, the day his dad, Al, retired from the NFL at the too-young age of 29. Nick was only 4, but he was at the news conference, and I remember seeing him afterward in the parking lot at the Jets' old Hofstra training facility. He hopped into a mini-van, and the family drove off. It always struck me that Al's wife, Jane, was behind the wheel. Al, still suffering from post-concussion syndrome, wasn't fit to drive. Now, Nick is a grown-up wide receiver, and he'll be playing Sunday for the Saints at MetLife Stadium. I'll be in the press box, wondering how 21 years flew by in a minute.
September, 29, 2013
9/29/13
6:00
AM ET
Week 4 notes on the
New York Jets
:
1. Green with envy
: The Giants won their last two Super Bowls, in large part, because of a franchise quarterback and a dominant defensive line. Clearly, that defensive line is eroding before our eyes. For a change, the best D-line in town belongs to the Jets, whose front three/four is emerging as a premier unit. I'm not saying they'll be playing a home game next February, but it's hard not to be optimistic about the early returns.
[+] Enlarge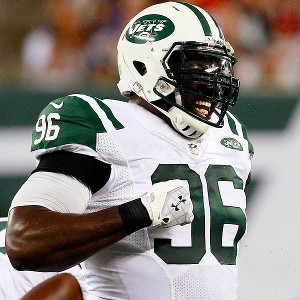 William Perlman/The Star-Ledger/USA TODAY SportsWith the likes of Muhammad Wilkerson, the Jets have one of the better defensive lines in the NFL.
"They've got one of the best defensive lines in the NFL," said ESPN analyst Damien Woody, a former Jet. "You don't think the Giants would trade for the Jets' defensive line? The Giants would kill for the Jets' defensive line right now."
The Jets' front should be good because they picked a lineman in each of the past three first rounds --
Muhammad Wilkerson
(2011),
Quinton Coples
(2012) and
Sheldon Richardson
(2013). Because of salary-cap restrictions, it's rare for a team to invest that much into one position group. Finances eventually could cause the break up of the group, so enjoy it while you can.
Damon Harrison
, undrafted in 2012, is the low-cost guy of the bunch.
You probably won't see another eight-sack performance anytime soon, but the front's ability to generate pressure seems to have affected Rex Ryan's play calling. This season was supposed to mark the return of Blitzing Rex, but check out the numbers: The Jets have used five or more rushers on only 34.9 percent of the pass plays, the league average, according to ESPN Stats & Information.
2. Naming rights
: It's premature to bestow a nickname on the defensive line, but Twitter follower @travisppisani raises an interesting quirk: The line is led by the three "sons" -- WilkerSON, HarriSON and RichardSON. I'll take that a step further. How 'bout "My Three Sons" as a potential nickname? I guess Ryan would be Fred MacMurray, right? I haven't figured out how to get Coples in there, but give me time. That linebacker/line hybrid position is a challenge.
3. Premature celebration
: Richardson said he's motivated by people who questioned his ability to play the run. He's doing well, and not shy about sharing his feelings.
"I've been playing the run most definitely exceptionally well," he said. "I made sure I'm sound in that because of my knocks coming into the NFL, which I didn't understand."
Based on overall performance, Richardson is the seventh-rated 3-4 end in the league, according to ProFootballFocus. His grade would be higher if he tackled
Fred Jackson
last Sunday instead of celebration before the whistle -- "a rookie mistake," he said. "Won't happen again." By the way, the man he replaced, Mike Devito (
Kansas City Chiefs
), is fourth in the ratings.
4. The Buc stops in 2014
: Unless rookie QB
Mike Glennon
is some sort of savior, the
Tampa Bay Buccaneers
(0-3) appear headed to a top-10 draft pick -- or maybe higher. Naturally, the Jets will be second-guessed for not demanding the Bucs' 2014 first-round pick in the
Darrelle Revis
trade.
Before the trade, there were reports saying the Bucs were offering the '14 choice, not their '13 first rounder -- and the Jets were balking. It would be a second-guess on my part if I criticized the outcome because I wrote at the time that the smart play would be take the immediate and known quantity -- the Bucs' No.1 this year (13th overall). They did, using it to select Richardson, who looks like the real deal.
Remember, the Jets will get the Bucs' third rounder as part of the deal, meaning they will have at least three picks in the top 70 if the Bucs continue to tank.
5. Bay Watch
: A divorce between the Bucs and demoted QB
Josh Freeman
seems inevitable. Who could've imagined that
Mark Sanchez
and Freeman -- the second and third-drafted quarterbacks in 2009, respectively -- would be on the outs after five years? They both showed real positive strides in 2010. Of the 11 quarterbacks drafted in '09, only one still has a starting job -- the
Detroit Lions
'
Matthew Stafford
, chosen No. 1 overall.
Freeman will be a free agent after the season. Sanchez is signed through 2016, but likely will be traded or released.
6. Nick the Quick
: The Jets return to the scene of their 2012 lowpoint -- Nashville, where they committed five turnovers and were eliminated from playoff contention last Week 15 with a 14-10 loss to the
Tennessee Titans
. I asked C
Nick Mangold
what he remembered most about that night, and he replied without hesitation: "I short-armed that snap at the end." They had a chance to pull out a victory in the final minute, but Sanchez failed to handle a low, but catchable shotgun snap from Mangold. The Titans recovered.
Mangold has appeared in roughly 7,000 plays in his career and, by his count, he has botched only three snaps -- one in 2006 (
Chad Pennington
at quarterback), last December in Nashville and last week (a premature snap to
Geno Smith
).
"You don't forget them," he said. "I know all of them, biblically."
7. Evil twins:
The Jets should be wary of Titans CB
Jason McCourty
. He and his twin brother,
New England Patriots
S
Devin McCourty
, have turned into Jets killers over the last two seasons.
In Week 2, Devin recovered a fumble and returned it 44 yards. In two meetings last season, Devin scored on a 104-yard kickoff return and, in the Butt Fumble Game, he forced a fumble on a kickoff return -- and the fumble was returned for a touchdown. Jason upheld the family tradition by recording two interceptions in last December's game in Nashville.
The McCourty brothers grew up in Nyack, N.Y., and both attended Rutgers. Maybe this is some sort of payback after being ignored in the '09 draft by one of their local teams.
8. Perspective, please
: The
Buffalo Bills
are a dangerous team in one respect, and one respect only: The Jets usually play so well against the Bills that it creates a false sense of confidence about the team, internally and externally. It happened early last season, and it could be happening now, coming off last week's win. The same people who predicted a 4-12 season are now talking about playoff possibilities. It's a long season, folks. Relax.
9. Johnny on the spot
: One thing I've noticed about GM John Idzik: He likes to be near the action -- or maybe I should say the "competition." It was apparent in training camp, where he was on the practice field, lurking near positional drills. In last Sunday's win, he was on the Jets' sideline in the fourth quarter, behind the bench. In fact, there was a TV shot of him, congratulating
Santonio Holmes
after his game-winning touchdown. I'd like to say Idzik is a Jerry Jones wannabe, but that wouldn't be accurate. Idzik isn't exactly a spotlight guy.
10. The wild, wild East:
Things are moving pretty fast in the AFC East -- literally. The Bills average one play every 29.3 seconds (first in the NFL), followed by the New England Patriots (36.9, seventh),
Miami Dolphins
(37.2, ninth) and Jets (37.7, 11th), according to ESPN Stats. Who knew?
September, 22, 2013
9/22/13
6:00
AM ET
Some quick thoughts and observations on the Jets as we head into Week 3:
1. Arms race:
The perception that
Geno Smith
was the Jets' slam-dunk quarterback preference going into the 2013 draft isn't accurate. Smith and
EJ Manuel
, whom they face Sunday at MetLife Stadium, were "very close" on the Jets' draft board, according to former scout Joe Bommarito. "We had both guys up there high," he said.
Bommarito declined to divulge anything more specific than that, except to say both quarterbacks were grouped together on the same line on their board, meaning they probably had similar grades. If Smith hadn't been available in the second round, Bommarito said, they would've happily picked Manuel at No. 39 overall. Manuel took a pre-draft visit to the Jets' facility and felt the coaches liked him enough to take him.
As it turned out, the Jets passed twice on both quarterbacks (with the ninth and 13th picks). By the time they got to 39, Manuel was long gone, picked 16th by the Bills.
Bommarito's take on the two rookies: Smith has the stronger arm, Manuel gets the edge in accuracy. So far, you'd have to give the early lead to Manuel, who has made fewer mistakes than Smith. But we'll learn more about Manuel by the way he handles his first road game.
[+] Enlarge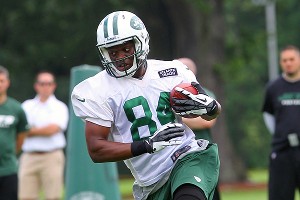 Ed Mulholland/USA TODAY SportsA former Jets scout said that the team considers WR Stephen Hill, a 2012 second-round draft choice, a "four-year project."
2. The Hill Project:
Bommarito, whose contract wasn't renewed after the draft, spent a dozen years as a Jets scout. One draft pick that caused a considerable amount of angst among fans (and some in the organization) was WR
Stephen Hill
, whose inconsistency is maddening. Bommarito is a Hill fan, but he acknowledged, "One minute, you're excited about the guy. Other times, you're like, 'Oh, really?' He's a four-year project. You have to be patient with him." He was alluding to Hill's limited background in the passing game. But four years? That's a lot of waiting in the NFL, especially for a second-round draft pick in 2012.
For more Jets-related insights from Bommarito, check him out on Twitter. His handle is @AskTheScout.
3. Rex's coaching tree
: Both Rex Ryan and Bills defensive coordinator Mike Pettine insist everything is cool between them, and that there was no falling out at the end of last season. Ryan told me he wants Pettine to succeed in his new gig. Another former Ryan assistant, Chiefs defensive coordinator Bob Sutton, is off to a great start. Before Thursday night, the Jets and Chiefs were ranked first and second in total defense, respectively, among AFC teams.
"I'm proud of Bob Sutton, too," Ryan said. "Somehow, maybe I helped a little bit. I'm proud to have a little bit of a coaching tree."
4. Nate (Can) Hackett:
Speaking of coaching trees, what's better than a father-son deal? Bills offensive coordinator Nate Hackett is the son of former Jets OC Paul Hackett, who served under Herm Edwards from 2001-04. Hackett, a Bill Walsh disciple, was a lightning rod for criticism. He got beat up pretty badly in this town, so much so that he resigned under pressure after the Jets' playoff run in Jan. 2005. The tabloids cranked out plenty of "Paul Can't Hack-it" headlines.
His son, 33, the second-youngest coordinator in the NFL, is a rising star in the business. Bills coach Doug Marrone, the offensive line coach on that same Edwards staff, hired Nate at Syracuse. That's where they developed the up-tempo offense they're using in Buffalo, and it happened almost by accident. About two weeks before the 2012 opener, the Syracuse offense was getting dominated by the defense in practice. They needed to shake it up, so Marrone and Hackett junked their old offensive system and developed a hurry-up attack on the fly. That's what you call a true hurry-up.
5. The big trade
: Jets OT
Ben Ijalana
, a former second-round pick of the Colts, was "excited," but not surprised his old team made the blockbuster trade for RB
Trent Richardson
. Ijalana said, "This is now for the Colts. There's no later. They have Lombardi aspirations. It's no secret. They talk about it all the time."
It's great to have an aggressive organization, but I think this was a panic move by the Colts, who surrendered a first-round pick to the Browns. Richardson gives them a legitimate running back to help QB
Andrew Luck
, but he won't be a game changer behind that offensive line. Luck is only a second-year player, so the window of opportunity will be open for many years. Like I said, they panicked.
6. Impact on the Jets:
The Colts/Browns trade could affect the Jets in 2014. Clearly, the Browns are in the market for a franchise quarterback, and now they have two first-round picks to wheel and deal their way to the top passer in the '14 draft, presumably Teddy Bridgewater of Louisville. The Browns own five picks in the first three rounds, plenty of ammunition to make trades. If the Jets don't like what they see from Geno Smith and want to draft another quarterback, it'll be really hard to move ahead of the Browns.
Then again, after trading their best player, the Browns could up with the No. 1 pick without having to trade up.
7. Rex and Marty Show:
Mark my words, you'll be hearing the phrase "run-pass ratio" a lot throughout the season. The chatter already has started. Ryan is saying all the right things, claiming he's all-in with Marty Mornhinweg's pass-heavy approach, but this bears watching. Ryan is a defensive-minded coach and defensive-minded coaches have "ball control" in their DNA, especially when there's a rookie quarterback involved. Under Mornhinweg, they're running the ball in only 37 percent of the plays. In 2009,
Mark Sanchez
's rookie year, they ran 59 percent of the time.
8. Class of '13
: GM John Idzik is getting a lot of bang out of his first draft, at least in terms of playing time. Smith and FB
Tommy Bohanon
have played in 100 percent and 43 percent of the offensive snaps, respectively. For DT
Sheldon Richardson
and CB
Dee Milliner
, it's 90 percent and 78 percent of the defensive snaps, respectively. Milliner, benched at halftime last week, will be part of a rotation against the Bills.
9. The Iron Man
: LT
D'Brickashaw Ferguson
has started every game in his career (114) and has missed only one play. There have been 7,330 offensive plays since his rookie year, 2006, according to ProFootballReference.com
10. Keeping up with Mr. T
: Former GM Mike Tannenbaum is off to a fast start in the agent business, having signed at least 20 new clients from the coaching and media ranks. Sports Business Journal
catches up with Tannenbaum
to see how he's enjoying his new gig.
NFL SCOREBOARD
Sunday, 2/2
WEEKLY LEADERS