November, 20, 2013
11/20/13
11:10
AM ET
NASHVILLE, Tenn. -- For this installment of "Survey Says" I asked Titans, "What's the worst pain you've ever felt?"
Defensive tackle Antonio Johnson:
"My ACL injury, I would say. In 2007, my rookie year. It was excruciating. It felt like hell. Painful, very painful, I would say the first couple days coming out of surgery, when they have to bend it, fresh out of surgery, The bending of the knee trying to get the flexion back, that's the most painful thing I ever felt. I wouldn't wish it on my worst enemy. Coming out of surgery it was just that throbbing feeling, like it's got a heart in it."
Guard Chance Warmack:
"I dislocated the ring finger on my left hand in the Auburn game. I had to play with it for two games, the Georgia game and the Notre Dame game. It never had a chance to heal properly. I buddy-taped it. I remember the Georgia game, it kept popping out, we had to keep popping it back in. It felt like my finger was going to fall off. I was blocking with four fingers."
Wide receiver Nate Washington:
"I was playing basketball and I got hit in the eye and my eye was open so the guy actually moved my eyeball a little bit. I had a patch on my eye for about two weeks. I was 20, 21 years old. It was excruciating pain. I did not know it would hurt like that, I couldn't open my eye for about two weeks. Black eye, eyeball was red. Worst football injury was a hip pointer, because you can do absolutely nothing. No loud talking, no sudden movements, no sneezing, no coughing. I've broken bones before but hip pointer is the most immobilizing nagging thing. But the eye was worse."
Linebacker Akeem Ayers:
"My appendix, this year, right before the season started. That s--- was terrible. It was kind of like a sharp, endless pain type of deal. This was there for about 12 hours, just non-stop until it was taken out. It was like a knife and some punches at the same time.
[+] Enlarge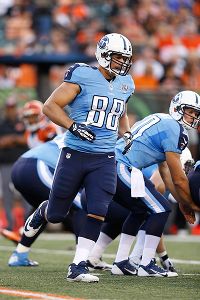 AP Photo/Joe RobbinsCraig Stevens said his broken rib was "the most excruciating pain I've ever felt."
Guard Andy Levitre:
Getting pleurisy. It's an inflamed lung, so every time you breath, it feels like you are getting stabbed in your chest, but it's your lung rubbing up against your rib cage. I feel like that's the most painful thing I ever had, it was in college. I had it for a few days and it bough me to tears, it was that bad. It was insane. I couldn't take full breaths. That was bad. I ended up going to the ER. I tried to tough it out for a few days and then I just couldn't take it anymore."
Tight end Craig Stevens:
"When I broke my rib, by far the most pain ever. Two years ago we were playing Cleveland and
Eugene Amano
came and landed with his knee right here (points to left side of his torso.) I couldn't get up or anything and then it kind of clicked back in and I was like, 'Yeah, it's not so bad.' Then I ran down there and I actually made a tackle and fell on the ground. I couldn't get up. For about a week, it was the most excruciating pain I've ever felt. I couldn't move. I would lay down and I couldn't get up, I needed help to get up, that's how bad it was. It eventually healed. It would heal and I would play with it and re-break it before it had a chance to really heal up. Every time I re-broke it, it was like I'd go back to square one with that pain. After about four weeks of re-breaking it, I took a game off, then I started feeling better."
Tight end Delanie Walker:
"Probably when I broke my jaw two years ago against Seattle. Dec. 24. After the morphine wore off, that's when it was worse. The flight was two hours, and that's about when it wore off. That's when I felt it. It just felt like someone was kicking me in the mouth nonstop, over and over. Took me three weeks to recover. I played in the NFC Championship Game."
Cornerback Coty Sensabaugh:
"Probably when I broke my leg in high school. I broke my fibula, I had to have surgery. It was a 10 on a scale of 1-10."
Defensive tackle Mike Martin:
"When my shoulder came out. Kind of came in, came out, slipped a little bit in college, my senior year against Illinois. I was going to tackle Juice Williams, get a sack and my linebacker came and hit the back of my shoulder, slipped it out, it was horrible. It reverberated all through my body, it felt like it was going through all my limbs, that's how bad it was initially."
October, 10, 2013
10/10/13
2:09
PM ET
NASHVILLE, Tenn. -- The
Tennessee Titans
are about to embark on the NFL's toughest road trip.
It's a long way to Seattle, and the raucous crowd in an exceptionally loud CenturyLink Field will be waiting.
I wondered what ranks as the favorite road trip for the Tennessee Titans, so I strolled the locker room asking guys.
So wanted to know specific criteria -- was I asking more about the stadium experience or the city itself? I told them it was for them to decide, I just wanted to know what ranked as their favorite road trip.
Here's what they told me:
Fitzpatrick
Quarterback Ryan Fitzpatrick:
"My favorite road trip is Arizona, just cause I've got a lot of family there, that's where I'm from. The stadium is really cool. It's an awesome stadium. Last year when I played for the Bills, we played San Fran and then we played Arizona the next week. So we stayed in Arizona for that week. Which was awesome, I got five, six days to do my work, but then also get some family time, which you never get during the season."
Defensive tackle Sammie Lee Hill:
"I'd have to say New Orleans. That's the best I've ever been to when you're playing somebody in a dome, it's loud, their fans, it's their fans but they still get you cranked and ready to play. That and Dallas, those are my two favorite places to play."
Running back Jackie Battle:
"I guess it would have to be Kansas City, just because I played there and that's an unbelievable environment. It's like a college atmosphere in Kansas City."
Safety George Wilson:
"When I was in Buffalo, we played at the Redskins. They have I think about 90,000 people and a real passionate fan base. I like the Redskins."
Receiver Damian Williams:
"I like playing in Seattle for a couple reasons. It's one of the tougher places to play. Also, my whole college coaching staff is there. I enjoy going up there and playing against those guys."
Linebacker Zach Brown:
"I don't have one, man. I have no favorite road trip. I like playing at home. I like playing in Houston just to shut the crowd up. And Pittsburgh, they were so quiet up there when we were winning, I just thrive off really shutting the crowd up. That's motivation."
Receiver Nate Washington:
"It'd probably be Houston, because that's where I've got the most family. My grandmother is there. Anywhere between 15 and 25 people will come to the game. I know a lot of people around there, it's a great town to go get you some dinner. I really don't like the stadium, it feels dark in there. But I do like the atmosphere, I like playing in a hostile environment like that."
McCourty
Cornerback Jason McCourty:
"I don't have any in particular, but any team with a guy I played with in college, it's pretty cool. You get a chance to see a guy maybe you haven't see in a while, maybe get a chance to go out and eat or something like that. So New England where my brother is,
Tiquan Underwood
on Tampa Bay was my college roommate,
Jeremy Zuttah
in Tampa Bay. You know Greg Schiano has a ton of Rutgers guys."
Center Rob Turner:
"If anything, it's going back to Texas, because that's home for me. Dallas or Houston. When I go back to Texas, generally I have 20 or 30 people that come down. I get to see my family."
Linebacker coach Chet Parlavecchio:
"Indianapolis. There is a great cigar place there. I don't know the name of it, I just know where it is. Right by that statue, I know it's next to the Starbucks. (Laughs.) Last time I got La Flor Dominicanas, excellent, great cigar. I enjoy my cigar, ask anyone here. Every night going home in my car and then on my deck."
Tight end Delanie Walker:
"Probably New Orleans. It's got some great food, Bourbon Street, it don't get no better than that. And a Saints game is always a good atmosphere, and it's indoors, you don't have to worry about the weather."
Wimbley
Defensive end Kamerion Wimbley:
"I like going to Oakland. For some reason I just have good luck when I play in the Bay Area. When I was with Cleveland, I was able to get a couple two-sack games out there. I love it, because they hate the teams that come in, of course the Black hole when you see it and they boo you and they're dressed up all crazy, it just adds excitement to the game."
Guard Andy Levitre:
"Bay Area, San Francisco or Oakland, so I can see my family. A lot of my family and friends might not get a chance to come out here during the season, so it's one of those games where all of them can come see."
Free safety Michael Griffin:
"Houston. Go back home, play in front of friends, family. Stadium-wise, I've never played in San Francisco's stadium, but going to watch a friend,
Tarell Brown
, play in a playoff game last year, it was a very tough environment to play in."