NFL Nation:

Sylvester Croom
January, 16, 2014
Jan 16
8:11
AM ET
NASHVILLE, Tenn. -- The Titans' secondary was good last year, so defensive backs coach
Brett Maxie
should have been retained.
[+] Enlarge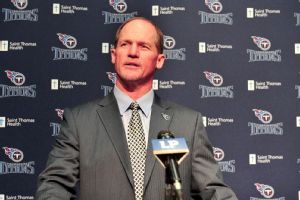 Frederick Breedon/Getty ImagesLet's give Ken Whisenhunt the benefit of the doubt before judging the moves he made regarding the Titans' coaching staff.
The Titans special teams were bad last year, so special teams coach Nate Kaczor and his assistant, Steve Hoffman, should not have been retained.
That's the popular thinking for at least a portion of Titans fans who are vocal on Twitter.
It's overly simplistic and incorrect.
I thought Maxie and assistant secondary coach Steve Brown did a good job last season.
Ken Whisenhunt kept Brown but let Maxie go.
Maybe he loved Maxie's work but has someone else in mind. Maybe he didn't like Maxie's work. Maybe a coaching colleague he trusts told him something about Maxie and something different about Brown. Maybe Ruston Webster gave him different reviews of the two. Maybe he's got a list of secondary coaches he covets and thinks a new guy working with a holdover will maximize the secondary's chances to do its best.
There are a number of factors that could have come into play. Whisenhunt's not going to spell them out for us.
The same is the case with regard to keeping Kaczor and Hoffman.
It's at least a partial endorsement of their work.
Tennessee's special teams were a problem last year, though things settled down when a quality returner,
Leon Washington
, fell into their lap late in the season.
But while those guys were heard, they weren't ultimately responsible for
Darius Reynaud
starting out as returner or
Devon Wylie
holding the job for a bit. Look higher up the Titans organizational chart for blame there -- to
Mike Munchak
and Webster.
As for silly, side-spinning, tee-less onside kicks ...
Perhaps Kaczor brought the idea to the table. But the head coach is the guy responsible for the team using it. Munchak, and any head coach, holds veto power and ultimate responsibility.
Whisenhunt is a smart coach who's respected around the league and arrives with six years as a head coach on his resume.
He's taken in some info and decided to keep the special teams assistants who were in place.
Rather than immediately call it a crazy move, how about we wait and see how they do given another chance?
---
The list of assistants and their fates, per Jim Wyatt of The Tennessean:
Retained:
Steve Watterson, assistant head coach/strength and conditioning; Steve Brown, assistant secondary coach; Sylvester Croom, running backs; Steve Hoffman, assistant special teams;
Shawn Jefferson
, wide receivers; Nate Kaczor, special teams.
Let go:
Dowell Loggains, offensive coordinator; George Henshaw, tight ends;
Bruce Matthews
, offensive line; Brett Maxie, secondary; Chet Parlavecchio, linebackers;
Dave Ragone
, quarterbacks; Tracy Rocker, defensive line.
Contract not renewed:
Jerry Gray
, defensive coordinator; Gregg Williams, senior assistant/defense;
Keith Millard
, pass rush.
TBA*:
Jonathan Gannon, defensive assistant/quality control; Arthur Smith, offensive line/tight end assistant.
* Wyatt says they are retained for now, but the new offensive coordinator will have a say in what direction the team goes.
January, 5, 2014
Jan 5
1:22
PM ET
NASHVILLE, Tenn. -- So Mike Munchak's choice boiled down to this: lose his job as head coach of the
Tennessee Titans
or fire a large contingent of assistant coaches in exchange for an extension and raise.
He chose Option A, and it's understandable.

Munchak
Saturday, general manager Ruston Webster answered all the questions during a 20-minute news conference, but said he didn't have a comment about whether an extension was discussed as things were sorted out with Munchak.
The extension would have helped Munchak hire replacements for the fired staff -- which was going to include defensive coordinator Jerry Gray (who wouldn't have been fired, he just would not have been renewed), offensive coordinator Dowell Loggains, offensive line coach Bruce Matthews and linebackers coach Chet Parlavecchio.
"I think [Munchak] is a guy that people like to work for and I'm sure we would have been able to attract some coaches," Webster said of a lame-duck scenario.
Assistants were more likely to join Munchak's staff given two- or three-year contracts.
I initially presumed any extension would have amounted to an additional, papier-mache year.
But
per Chris Mortensen
, Munchak was offered "a multiyear extension at almost double his $3 million salary, conditional upon Munchak making more than a dozen staff firings and demotions."
While Munchak's loyalty was admirable, coaches who joined him last year on short-term deals -- receivers coach Shawn Jefferson and running back Sylvester Croom -- may now lose their jobs as a result of their boss' commitment to other assistants.
Yes, they'll be in line to still collect their salaries if they don't work elsewhere next year. But it's not only about the money.
One example: Jefferson's son, Van, is a rising senior receiver at Ravenwood High School in Brentwood, Tenn. A receiver like his dad was, he's
a top college recruit
. If his dad's job is elsewhere next year, the family will face time apart or an awkward move. That's life-altering stuff.
The biggest thing is, if president and CEO Tommy Smith and Webster were telling Munchak which coaches he had to fire, they would have certainly expected to approve those he went on to hire.
That would have effectively neutered Munchak going forward no matter his salary or length of his deal.
A four-year coaching contract in the NFL is set up for a determination to be made after three years. After three years, the body of work should indicate the coach is deserving of a second contract or needs to be replaced.
Munchak did not deserve an extension based on his 22-26 record, a 6-12 AFC South record and a 3-20 record against teams that finished with a winning record.
The Titans may have dressed things up for him. I'm unimpressed that Smith and Webster saw a scenario in which a multiyear extension and a raise were good ideas.
Ultimately Munchak didn't have much of a choice. He couldn't have stayed and maintained the level of control an NFL coach should expect, so he told them to fire him and saved them from a bad situation.
September, 27, 2013
9/27/13
2:03
PM ET
NASHVILLE, Tenn. --
Chris Johnson
hasn't busted a run longer than 23 yards in three games, and since he's a home-run hitter, it's natural that attention will fall on that.
What has struck me about the
Tennessee Titans
running back through three games, however, is how well he's contributed to the pass protection for quarterback
Jake Locker
.
"He's underrated in my opinion," Locker said. "He does a great job, he sticks his face in there, he's really physical in the pass protection."
[+] Enlarge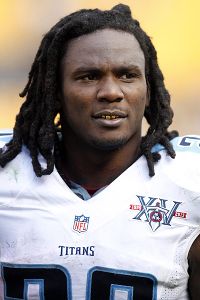 Charles LeClaire/USA TODAY SportsRunning back Chris Johnson has impressed the Titans with his improved blocking this season.
Sylvester Croom is in his first season as the Titans' running backs coach.
Croom liked what Johnson was doing in pass protection before he joined the staff, but has worked with him to expand his toolbox when it comes to slowing down a linebacker or defensive back trying to get involved in the rush.
"The big thing we wanted to do was try to make it a little easier for him," Croom said. "He's not a very big guy, and surprisingly, I think for his frame and body size, he packs a pretty good punch. We want him to get better leverage, to get lower and to attack them before they get a great head of speed.
"The other thing we want to do is give him another weapon in the cut block and improving that technique. He had a couple of those in there last week, just using them as a change up."
Johnson's pass protection in the Titans game-winning drive against the Chargers rated as "absolutely perfect," Croom said.
Not only has Johnson helped save Locker from the pass rush, he helped spring the quarterback on a 7-yard touchdown run against the Chargers.
"That's an advantage for us, because you're not taking him out and putting someone else in that situation and drawing some red flags," Locker said.
"I'm sure people don't expect him to be a lead blocker," Croom said.
While Johnson is running reasonably well with 256 yards through three games, and blocking well, he has not been featured much in the pass game, which is one of the things the Titans said they intended to do this season.
Johnson has two catches for 2 yards, and lost one good gain on a screen pass in Houston to a penalty.
Two things are at play in those small numbers.
1) The Titans haven't thrown many checkdowns.
And fewer checkdowns are a good thing, it means something is there for Locker earlier in the read, and to someone who is likely deeper down the field.
"As well as we run the football, and people are playing us a lot of man-to-man coverage, well, you're not going to get a lot of checkdowns on man-to-man coverage," Croom said. "That's what's happening right now. We did get a little more zone last week, but the receivers were open. I'm very happy we threw it to the receivers, because that's a lot bigger gain when they catch the football."
2) They simply haven't called many screens yet, because other things have been available. And that's a game-by-game thing.
"We haven't called as many as we discussed because as we got in the game other things were going on," Croom said. "You always carry several screens into the game plan. Sometimes a situation comes up where you use them and sometimes you don't."
Like with a lot of things we haven't yet seen from the Titans, there is still time for more screens to show up.
August, 29, 2013
8/29/13
11:50
AM ET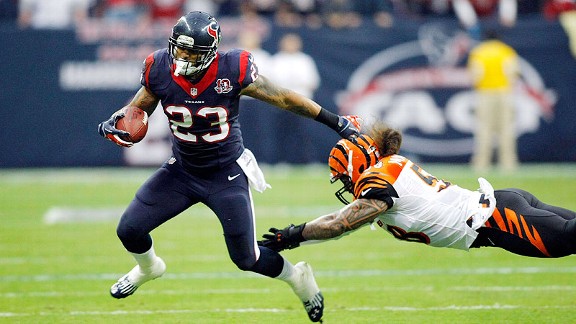 Brett Davis/USA TODAY SportsThe AFC South has three of the 15 running backs in the #NFLRank top 100, including Arian Foster.
The AFC South is the lone division in the NFL with three running backs rated in the top 100 players on offense in #NFLRank, ESPN.com's widespread player-ranking poll.
Fifteen running backs made the top 100, so the AFC South accounts for one-fifth of them, with Houston's
Arian Foster
14th, Jacksonville's
Maurice Jones-Drew
50th and Tennessee's
Chris Johnson
68th.
Indianapolis, the only team in the division whose quarterback is on the list --
Andrew Luck
is 41st -- is also the only team from the division without a running back on it.
But the Colts came close.
Vick Ballard
finished 110th.
Having a top running back doesn't automatically make a team run-centric, though Tennessee and Jacksonville certainly will be. Houston's passing game with quarterback
Matt Schaub
(No. 108) is equipped to make big plays, but is also most effective when it's built off play-action that is triggered by Foster's success. (See sidebar.)
While running effectively and playing good defense remain things good football teams typically need to do to win, it's rare for a team without a good passer to have a great deal of success. And that has changed the way running backs are regarded.
Foster, Jones-Drew and Johnson are all playing under lucrative second contracts in a league where a back is highly unlikely to get big dollars or years the third time his agent sits down for negotiations.
Increasingly, teams are wary of drafting a running back high, as the Titans did with the 24th pick overall in 2008. Instead, they seek to find a back in the middle or late rounds. Some even hit a home run in the undrafted rookie pool, as the Texans did with Foster in 2009.
"A lot of things we do start with the run," Texans coach Gary Kubiak said. "I think you've got to do what your team does best. You can't worry about what everybody else does or what everybody else thinks is the formula. Last year, our formula, we played great defense, we ran the ball well, we held onto the ball longer than anybody in football. It was an excellent formula for our football team. This year, I don't know. We've got to go see."
Foster gives the Texans a great combination of speed and power, running with a gliding, effortless style and catching the ball well. Those qualities have earned him 1,115 regular-season touches over the past three seasons.
"He's a real good running back," Johnson said. "He's a bigger guy. He can run the ball and catch the ball out of the backfield. Just seeing him run the ball is interesting, because he is a very smooth runner. They've got a great scheme with him, they like to run that stretch with him, he's got a great feel for his linemen and they've got a great thing going where they know when to cut the backside down. The offense he's in is a very good offense."
Jones-Drew was knocked out of action last season after just six games. He's back from a foot injury now, and while he's on a team with better receivers than they've had in some time, the Jaguars still have a giant question mark with
Blaine Gabbert
at quarterback as well as a susceptible defense.
The Jaguars will hand the ball to him against loaded boxes and when trailing. He could face those situations more than any of the league's top backs.
He came into the league as a second-round pick just seven years ago but has seen a dramatic change in perception about the position in that span.
"I think money-wise they tried to change it, but there are certain players and every team understands that you need a balanced attack," he said. "So
Aaron Rodgers
, they threw the ball so many times. I remember last year he was like, 'We need a running game, we need a running back.' And they went out and drafted two.
"Teams want to portray it as if running backs aren't valuable or are interchangeable. No, everybody has a piece. Your piece [as a quarterback] may be bigger than the other positions. But in order for the whole offense to work …"
Jones-Drew points to the 2010 Packers who won Super Bowl XLV. Come the playoffs, pass-happy Green Bay got quality play from
James Starks
, who ran well and created a new option. Last season's Super Bowl teams, San Francisco and Baltimore, had hot quarterbacks who were supplemented by good runners.
Balance and co-existing skill players -- it's an easy formula to want, and often a difficult one to execute.
Things won't work if they are too pass-centered, Jones-Drew said. And it's the same if his team is over-reliant on him.
"I've been screaming for balance ever since I've been here," he said. "People can't say I've been like, 'Oh, let's run the ball.' 'Cause I know what balance brings. It opens it up for everybody."
December, 6, 2012
12/06/12
12:14
PM ET
The Jaguars seem to be talking as if the Jets are the most blitz-happy, complicated front in the football world.

Running backs coach Sylvester Croom, who talks the team through third-down blitz packages each week, took some extra time with his presentation this week.
"When you start talking percentages it's pretty heavy what they're doing," coach Mike Mularkey told local media. "But they've been doing that for a long time. Identification and communication will be imperative this week, and very important for our guys to be on the ball."
Per Jason Starrett of ESPN Stats and Info, the Jets have rushed five or more defenders on 33.8 percent of opponent drop-backs this season, the 12th-highest rate in the NFL.
On those 139 snaps, they have 10 sacks. The 10 sacks off blitzes ranks 17th in the league.
Yes, the Jaguars need to be ready to fend off potentially complicated stuff. If New York comes in and has a big day hitting
Chad Henne
it's more likely to be about the Jaguars' protection than the Jets' blitzing.
Henne has a 42.6 QBR against five or more rushers this season, 23rd among quarterbacks with at least 50 attempts, and a 93.7 NFL passer rating (11th).
In his time in the AFC East with Miami, Henne played in four games against the Jets. The Dolphins were 3-1 in those games and he threw six touchdowns, one interception and had a 94.2 passer rating. But he did absorb 12 sacks.
"It's definitely a difficult scheme that they run," he said. "They bring every which guy on defense, so always got to be aware of what they're doing, got to study their defense, understand your protections and the rhythm of the play, and as a quarterback get the ball out on time and knowing where to go with the football."
May, 23, 2012
5/23/12
12:19
PM ET
JACKSONVILLE, Fla. -- Did the players really win much when they reduced offseason workout obligations in the new collective bargaining agreement?
Sure, less work is better in some ways, and a bigger offseason is certainly an upgrade for a lot of players in a lot of ways.
Sure, parameters need to be spelled out and restrictions put in place to keep teams from abusing players' time or making them feel they need to be doing things they don't really have to.
But a scene from Tuesday at the Jaguars' OTA session was telling.
These light, two-hour practices end promptly at 1 p.m. with three short blasts of a horn.
But Monday, running backs coach Sylvester Croom and
Rashad Jennings
were lingering. It's what a lot of coaches and players do after practices during the year. Stay after a bit to go over something, to get a question answered or to make a correction.
"I turned around and I didn't even realize they were still on the field after 1 p.m.," coach Mike Mularkey said. "I'm like, 'You can't be out here!' I had to pull them off and I hope my gesture of 'get-off-the-field' was big enough that the cameras saw me."
Props to Mularkey for being a stickler on the rules.
He said he's had to pull Croom and receivers coach Jerry Sullivan off the field that way so far, because by force of habit coaches work with guys after practice and players ask for such time.
Now the Jaguars' new head coach has to monitor such things.
In "concessions" the players "won" from owners in the negotiations that produced a 10-year labor agreement, did they really want to ensure a running back who wanted to couldn't spend an extra minute with his coach before leaving the field on May 23?
April, 17, 2009
4/17/09
10:39
AM ET
Posted by ESPN.com's Mike Sando

Mike Jurecki and Dan Bickley of XTRA radio had fun with Cardinals receiver Anquan Boldin on the air (office alert: the link goes directly to audio). Boldin recently took up boxing to help him stay in shape and hone his hand-eye coordination. Jurecki and Bickley asked Boldin who he wanted to see on the stool in the opposing corner, Cardinals general manager Rod Graves or Jets safety Eric Smith. That one drew laughs. They also asked Boldin what his plastic surgeon thought of boxing as an avocation. Boldin said he knocked down his lone opponent in the second round.
Kent Somers of the Arizona Republic says a Boldin trade has seemed "inevitable" for some time.
Also from Somers: He sizes up potential trade partners for the Cardinals, including the Eagles, Giants, Titans, Jaguars, Bears, Chiefs, Ravens and Redskins.
Darren Urban of azcardinals.com quotes Boldin on Michael Irvin's radio show. Boldin said he wants his situation resolved quickly one way or another.
Also from Urban: Jewelers were at Cardinals headquarters to fit players and team personnel for their NFC championship rings.
ESPN.com provides audio from Boldin's interview with Irvin.

John Crumpacker of the San Francisco Chronicle says the 49ers' contract extensions with Parys Haralson and Joe Nedney are "sure to be popular in the locker room." Haralson: "It was a priority because I'm basically excited about the direction the team is going in and with the things coach [Mike] Singletary is doing and the expectations his defense has. It's all about being somewhere where you are comfortable. I like it out here."
Matt Maiocco of the Santa Rosa Press-Democrat describes Haralson's re-signing as "an essential move" because the team lacks pass rushers. Maiocco: "I've always doubted the 49ers would take a pass-rusher with the No. 10 overall pick. Perhaps, if Brian Orakpo is there the 49ers would consider him. But, more than likely, all four offensive tackles, Michael Crabtree and B.J. Raji would have to be gone, along with the two QBs and the trade possibilities attached to them."
Daniel Brown of the San Jose Mercury News quotes Haralson as saying he thinks the 49ers could have the best defense in the league.

John Morgan of Field Gulls, while acknowledging that Seattle likely would not draft Jeremy Maclin fourth overall, says the Missouri receiver has struggled against top competition.
Also from Morgan: He compares Darrius Heyward-Bey to Eddie Royal.
More from Morgan: University of Arizona receiver Mike Thomas might provide good value for the Seahawks with the 105th overall choice in part because Thomas can help in the return game. Morgan: "Thomas could be a great wide receiver. He has the short, squatty build of Wes Welker or Steve Smith, and is arguably a better athlete than either. He's also shorter than either -- somewhat significantly. Thomas is under 5-8. And that's really the essence of any critique against him. He's really, really short."
William Tomisser of Seahawk Addicts sounds surprised I would project as few as seven victories for the Seahawks in 2009. I see a pile of 8-8 in this division, give or take a game here and there. And I need to see more from the Seahawks this summer before giving them the benefit of the doubt in several areas. Plus, I'm not a big fan of their schedule.

Jim Thomas of the St. Louis Post-Dispatch says the Rams are looking at running backs to complement Steven Jackson. However, none of the 23 known college visitors was a running back. Thomas: "But the Rams have scouted a lot of running backs, and they've shown more than passing interest in North Carolina State's Andre Brown, Iowa's Shonn Greene and Liberty's Rashad Jennings. The Rams have talked to Brown at the Senior Bowl, the NFL scouting combine and North Carolina State's pro day. They also had an individual workout with Brown, with a Rams contingent that included running backs coach Sylvester Croom on hand."
Bryan Burwell of the St. Louis Post-Dispatch says the Rams new regime has inspired a more optimistic outlook for Rams followers heading into the draft.
January, 30, 2009
1/30/09
8:47
AM ET
Posted by ESPN.com's Mike Sando

Paola Boivin of the Arizona Republic visits Anquan Boldin's hardscrabble hometown about 170 miles from Tampa. Boldin's old coach says chasing rabbits through sugarcane fields helped make the young receiver more agile.
Dan Bickley of the Arizona Republic says farewell to Cardinals running back Edgerrin James, who is likely playing his final game for Arizona.
Mark Faller of the Arizona Republic checks in with Phoenix-area products Lyle Sendlein and Deuce Lutui. Both are starting on the Cardinals' offensive line.
Bob McManaman of the Arizona Republic says Cardinals linebacker Karlos Dansby has stepped up his game for the playoffs.
Kent Somers of the Arizona Republic quotes Karlos Dansby as saying the Cardinals need to step up and pay their top players, including Dansby himself. Dansby: "The world is watching right now, man. Everything has to change. If you want to commit to changing and to winning and being a winning organization, you have to do the right things. It's a test."
Also from Somers: The Cardinals face a tough obstacle in Steelers defensive coordinator Dick LeBeau.
Darren Urban of azcardinals.com says the Cardinals are looking inward as they prepare for the Steelers' defense.
Also from Urban: The Cardinals are guarding against getting stale with so much time between games.
More from Urban: Safety Adrian Wilson represents the Cardinals' tough road to the Super Bowl.
Scott Bordow of the East Valley Tribune says the 20-point barrier is key for Arizona. The Cardinals are 0-4 this season when they fail to exceed 20 points. The Steelers are 12-1 when they hold opponents to 20 points or fewer.
Mike Tulumello of the East Valley Tribune examines the Cardinals' appetite for trick plays.
Also from Bordow: He checks in with Cardinals backup quarterback Matt Leinart.
Revenge of the Birds' Hawkwind cites a report suggesting the Steelers might use the Wildcat offense against Arizona.

Danny O'Neil of the Seattle Times lists the Seahawks' franchise players. The list includes Marcus Trufant, Josh Brown, Shaun Alexander, Walter Jones and Joey Galloway. He also lists former transition player Steve Hutchinson.
Eric Williams of the Tacoma News Tribune says Jaguars receiver Reggie Williams wouldn't mind signing with the Seahawks this offseason.
Also from Williams: Seahawks quarterback Matt Hasselbeck thinks Seattle has enough talent to contend for the Super Bowl next season.
John Morgan of Field Gulls continues his look at potential free agents of interest for the Seahawks. Albert Haynesworth takes his turn.

Jim Thomas of the St. Louis Post-Dispatch updates the situation with Steve Spagnuolo's first Rams staff. Sylvester Croom, Rock Gullickson and Matt House are coming to St. Louis.
Judd Zulgad of Access Vikings says the Rams have hired Minnesota assistant defensive line coach Brendan Daly.
VanRam of Turf Show Times looks at some of the names associated with the Rams on various mock drafts.

Matt Barrows of the Sacramento Bee checks in with new 49ers offensive coordinator Jimmy Raye, who confirms he has accepted the job. Raye says the 49ers need to find a fullback. He also expects to install an offense similar to the one Norv Turner ran in San Francisco.
Dan Brown of the San Jose Mercury News provides testimonials from Jackie Slater and Tony Richardson. Both speak out in favor of Raye.
Matt Maiocco of the Santa Rosa Press-Democrat says 49ers defensive coordinator Greg Manusky has signed a contract extension through the 2010 season, as expected.

NFL SCOREBOARD
Sunday, 2/2
WEEKLY LEADERS