March, 30, 2011
3/30/11
11:48
AM ET
Our periodic look at the best and worst draft pick by position for each team begins with running back. We'll look at draft results since realignment in 2002, since that's when the Texans came into existence and gives us the most level comparison.

Houston Texans
Best:
Arian Foster
is the best guy they've had, but he was undrafted so he doesn't qualify. It's not a great list, but the best of the lot was
Domanick Williams
, who became Domanick Davis, a fourth-rounder in 2003. In three seasons, he averaged 4.1 yards a carry and scored 28 touchdowns. That's pretty solid production for a back during a three-year stretch when his team was 14-34.
Worst:
Lots of options here. I remember thinking that 2002 fourth-rounder
Jonathan Wells
was simply not an NFL back.
Vernand Morency
(2005, third),
Wali Lundy
(2006, sixth) and
Tony Hollings
(2003, second in the supplemental draft) were also not good. The Texans got just one season plus one game out of Morency, who couldn't get ahead of
Ron Dayne
, Lundy or
Samkon Gado
. But the least value came from Hollings, who earned just 49 carries in three seasons. Pro Football Reference says his weighted career average ranks him 10,562nd since 1950.

Indianapolis Colts
Best:
He takes a lot of grief because he's not necessarily a big producer for fantasy leagues, but
Joseph Addai
(2006, first) is very effective at doing what's asked when he's healthy. He's got a darting style that's suited for the team, he's a great pass-catcher and he's very reliable in protecting
Peyton Manning
.
Worst:
The team spent late picks on backs in 2002 (
Brian Allen
), 2005 (
Anthony Davis
) and 2006 (
T.J. Rushing
) and none of them did much. Hard to grade hard on such low picks, but it's too early to talk
Donald Brown
(2009 first-rounder) here. Allen had one kick return in 2003 and Davis didn't make the team. We'll declare it a tie, acknowledging a hit with either would have qualified as a nice surprise.

Jacksonville Jaguars
Best:
Maurice Jones-Drew
is the centerpiece of the team and was a steal in the second round (60th overall) of the 2006 draft. The Jaguars passed on him at No. 28 in the first round, when they took tight end
Marcedes Lewis
. MJD qualifies as the face of the franchise.
Worst:
LaBrandon Toefield
and
Alvin Pearman
made contributions on a team that was in pretty good shape at the position with
Fred Taylor
and then Jones-Drew. So while it's unfair to hit them for a seventh-rounder from 2008, it also means they've done pretty well. Three years into his career,
Chauncey Washington
finished 2010 on the practice squad of the
St. Louis Rams
.

Tennessee Titans
Best:
You'd expect the 24th overall pick to be here and
Chris Johnson
certainly is the selection. He's coming off a 1,364-yard, 12-TD season that was largely regarded as a failure because he'd set the bar so high with his 2,006-yard rushing season in 2009. He's as fast as or faster than any running back in the league.
Worst:
The Titans fell in love with
Chris Henry
at the combine and let his measurable outweigh his unspectacular performance at Arizona. The second-round pick the team spent on Henry in 2007 amounted to a waste. The Titans kept him for three seasons to try to justify spending the 50th overall pick on him, which was longer than the needed to know he was a strikeout. He played in just 10 games.
April, 23, 2010
4/23/10
11:02
PM ET
The
Indianapolis Colts
began restocking their secondary with a third-round selection of USC cornerback
Kevin Thomas
, who could rank as high as fourth at corner after a purge of the guys at the tail end of the group.
Indy nabbed Thomas with the 94th pick overall, right in the same range it found
Jerraud Powers
last season. Powers stepped in when injuries cut into the availability of
Marlin Jackson
and
Kelvin Hayden
last year and was a key piece in a Super Bowl run.
With Jackson,
Tim Jennings
,
T.J. Rushing
and
Aaron Francisco
gone from the 2009 team, Thomas should get a chance to show he can function in the defensive backfield if one of the Colts top three -- Hayden, Powers or
Jacob Lacey
-- goes down.
Some write-ups like Thomas's long arms, athleticism and instincts, while others see him as an underachiever lacking polish. A tough training camp working against
Peyton Manning
and a stacked crew of receivers could certainly help accelerate the growth process.
March, 25, 2010
3/25/10
2:16
PM ET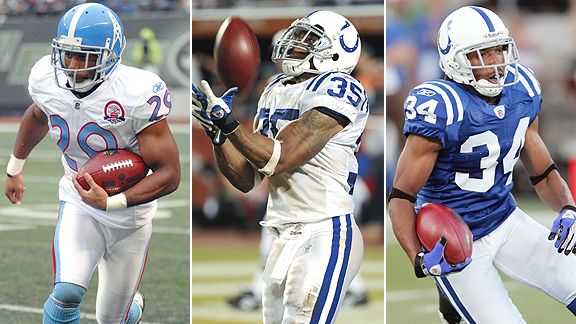 Icon SMIAFC South return men Ryan Mouton of the Titans and Chad Simpson and TJ Rushing of the Colts failed to get their teams the yards they needed.
The Titans' 2009 search for a returner was a failure. In recent years, the Colts haven't shown a lot of interest in finding a dynamic one.
Universal thinking is each team can solve the issue in the upcoming draft, though it would take a change in Indianapolis' approach for the Colts to focus on it.
So what does it take to unearth a quality return man?
I set out this week to address this from several angles, and I'm going to let some smart people with informative takes carry the day.
So without further ado…
Baltimore Ravens coach John Harbaugh
has a big background in special teams.
What's he want to see out of a prospective returner?

"Punt and kickoff return are completely different. In punt return, the bottom line is he's got to be a natural catcher. So catching a punt is a unique thing. If they can't catch, you can forget about it. Kick return is a little easier to catch, but some of these guys struggle to catch kicks. To me, a kick returner has to be a north-south runner. He's got to have a burst of acceleration and/or power, and he's got to have vision. It's usually more of a running back-type guy who can read the hole and cut off blocks. Punt return is a guy that can catch the ball naturally, has great body control and he can do two things at once. He's got to be able to catch the ball and feel the pressure around him. Make the guy miss, whether it's make or miss with the body control to slip through there, or be able to change speed and change angles."

Does he need to see a college player do that or can he project it?

"It's a good question. You'd rather see it because then you know. But if you don't see it, you can project it. But you've got to go work the guy out and see if he can catch. So you can take a guy that maybe wasn't a college punt returner, and maybe turn him into a pro punt returner. Maybe you find out that he has been catching punts every day but they didn't put him back there because he was their primary receiver or whatever. It's pretty rare to see a great pro punt returner who wasn't a pretty good college punt returner."

Matt Williamson of Scouts Inc. says he wants to see courage and toughness in a return man:

"It's funny. When looking/reading prospect reports on draft prospects this time of year, many scouts rightfully put something along the lines of, 'Also can contribute as a return man' as part of a young man's scouting report. That is all well and good, but like kickers and punters, is he one of the best 32 (or so) at this skill in the world? It is not for the faint of heart and while speed, elusiveness and vision are all paramount for either punt or kickoff returns, I think guts/fearlessness/toughness is maybe the most important. If you are going to keep a pure returner, he had better be outstanding-by NFL standards. Otherwise, he has to do something else. Be the fourth cornerback or wide receiver or be a core special teams player on coverage teams."

Keith Hawkins of ESPN Stats & Information took a look at some of the best returners in league history and some of the most productive guys in recent history to see if there were any commonalities:

"The one 'similarity' of the best returner historically (Brian Mitchell) and the best return man in 2009 (Joshua Cribbs) is that they were both college QBs.

"The other common denominator is that of the players below, only three were defensive backs in college: Darrien Gordon, Devin Hester, Deion Sanders.

"Another common denominator (with the exception of the 6-foot-1 Cribbs) is that they are all under six feet tall."
Finally,
Kevin Weidl of Scouts Inc
. was kind enough to run through the best return prospects in the draft:
Return Specialists

These guys will either be drafted or signed as free agents strictly for their return skills. Due to lack of size, they will need a creative offensive coordinator to contribute offensively at the next level.

Brandon Banks, Kansas State (5-7, 159) -- Banks is the top pure returner in this years' class. He possesses a nice combination of vision, quickness, speed and elusiveness to consistently set offenses up with favorable field position.

Brandon James, Florida (5-6, 176) -- James possesses great vision to locate and the short-area burst to quickly get through first line of defense. He also displays a quick stop and start and is very reliable tracking and fielding punts. Questionable overall long speed to outrun defenders when they have favorable angle in pursuit.

Trindon Holliday, LSU (5-5, 172) -- World-class track speed, and has the ability to exploit even the slimmest of creases. He is shifty but lacks elite elusiveness to make defenders miss in confined areas.

Other prospects that bring added value as returners (sorted by position);

Running backs

C.J. Spiller, Clemson -- The most dynamic and versatile offensive weapon in this year's class. Explosive short-area burst and elite top-end and long speed give him ability to rip off a big gain at any point in both phases of the return game.

Dexter McCluster, Ole Miss -- McCluster is pint sized (5-8) but shows great versatility and quickness to contribute as a change-of-pace back and wide receiver at the next level. Elite open-field capabilities make him dangerous as a punt returner.

Other RBs with returning experience: Joe McKnight, USC; Ben Tate, Auburn; Andre Dixon, UConn

Cornerbacks

Javier Arenas, Alabama -- Instinctive and tough football player who should step in and contribute immediately as a sub-package nickel back. Despite lack of elite top-end speed, Arenas is one of the more effective returners in this year's class. I love his vision, balance and quick stop and start as a returner.

Kyle Wilson, Boise State -- Physical press corner who shows great anticipation and ball skills out on an island. Wilson brings added value as a reliable punt returner with good speed and open-field capabilities.

Devin McCourty, Rutgers -- Not many holes in McCourty as a cornerback. Easy change of direction, strong overall ball skills, plays bigger than size indicates and not afraid to get jersey dirty in run support. McCourty is one of the most versatile special teams prospect in this year's class, an effective kick returner and outstanding gunner with punt coverage.

Akwasi Owusu-Ansah, IUP -- Possesses a nice combination of size, speed and ball skills teams covet as either a press corner or free safety at the next level. Owusu-Ansahis a strong open-field runner who has experience as both a kickoff and punt returner.

Other cornerbacks with returning experience: Perrish Cox, Oklahoma State; Syd'Quan Thompson, Cal; Walter Thurmond, Oregon; Dennis Rogan, Tennessee

Wide receivers

Golden Tate, Notre Dame -- Aggressive, savvy and sure-handed and should develop into at least a strong No. 3 WR at the next level. Reliable punt returner with good vision, balance and deceiving top-end speed.

Damian Williams, USC -- Smooth athlete and one of the most polished route runners in this year's receiver class. Despite lack of top-end speed, Williams will consistently field punts cleanly and has enough elusiveness to pick up positive yardage.

Mardy Gilyard, Cincinnati -- Instinctive and passionate playmaker on the field who should develop into a solid No. 3 WR. By no means a burner, but a difference-maker as a returner in both phases as he shows elite body control and never slows down out of cuts.

Jacoby Ford, Clemson -- World class track speed and should be a nice vertical threat at the next level. Elite top-end speed gives him ability to hit the home run at any point as both a kick and punt returner.

Antonio Brown, Central Michigan -- Quicker than fast, and should contribute working out of the slot at the next level. Brown brings added value as both a kick and punt returner with his open field capabilities and overall elusiveness.

Other receivers with returning experience: Jordan Shipley, Texas; Emmanuel Sanders, SMU; Andre Roberts, Citadel; David Reed, Utah

And a bonus
link
to a Pro Football Weekly story on the best special teamers in the draft, including three return specialists.
Final thoughts from me having taken all this in: Things always get twisted up with return guys. If the Colts or Titans draft a guy they intend to be a contributor as a cornerback or running back or receiver, there is a point at which they won't want to overload them with the extra job or expose them to injury on special teams. How long would we see Spiller or Wilson or McCourty or Tate be a special teamer? First-round receiver
Kenny Britt
returned kicks for the Titans late last season, but the team can't want him there much longer.
So I'd like to see both teams commit a pick to a return specialist, dedicating a roster spot to him.
Consistent fielding of punts and kicks was an issue for the Titans last year, and it's time for the team to actually have bigger expectations for its returner than an ability to fair catch.
Ryan Mouton
couldn't even do that reliably when things were at their worst.
The Colts have always seemed to figure they'd simply get the yards the return game doesn't provide from
Peyton Manning
and the offense. Their issues on special teams extend beyond the returners -- primarily
T.J. Rushing
on punts and
Chad Simpson
on kicks in 2009 -- and their blocking, and got magnified in the Super Bowl loss to New Orleans. But with offensive line and depth at corner and linebacker as the major needs in a draft where the Colts have eight picks, it appears a good time to try to add a dynamic piece.
March, 18, 2010
3/18/10
9:15
AM ET
Upon seeing the news that Chicago cut cornerback
Nathan Vasher
quickly got the AFC South Blog thinking about his potential to fit in this division.
The Texans and Titans are cornerback needy, but it's the Colts who rank as the best fit for him based on what the very smart Matt Williamson of Scouts Inc. told me Thursday morning.
"Don't love him. He isn't real fast and he isn't real big. Two problems for a CB. The Bears didn't do a real good job of getting after the QB this past season, but Vasher also didn't play all that well either. He is more of a short-area quickness guy, which was a pretty good fit with the Cover 2, but not as much in Tennessee or Houston. He was much more productive early in his career -- on very good defenses -- and probably inflated his name value more than his true play now indicates. He also has missed a lot of time with injuries, which could have directly led to his overall play falling off."
The Colts do need secondary depth after a purge that saw
Marlin Jackson
,
Tim Jennings
,
T.J. Rushing
and
Aaron Francisco
all become free agents after Indy didn't tender them as restricted. Jackson signed in Philly where he's going to convert to safety. Jennings signed in Chicago, where he's surely part of the reason the Bears felt OK about parting with Vasher.
NFC North kingpin Kevin Seifert says the release came
a year too late
and that Vasher, who was productive early in his career, was already an "inferior player" at the end of 2008.
It will be interesting to see where he lands.
March, 4, 2010
3/04/10
9:12
AM ET
Houston Texans

Potential unrestricted free agents:
CB
Dunta Robinson
, WR
Kevin Walter
, RB
Chris Brown
, DT
Jeff Zgonina
, G
Chester Pitts
, S
Brian Russell
, S
Nick Ferguson
, LS
Bryan Pittman
, LB
Chaun Thompson
, QB
Rex Grossman
, LB
Khary Campbell
, G
Tutan Reyes
, T
Ephraim Salaam
, P
Matt Turk
.
Potential restricted free agents:
DL
Tim Bulman
, S
John Busing
, OT
Rashad Butler
, TE
Owen Daniels
, RB
Ryan Moats
, S
Bernard Pollard
, LB
DeMeco Ryans
, G
Chris White
.
Franchise player:
None.
What to expect:
I don't think the Texans will jump out and make any monumental moves. But by deciding not to tag Robinson they created another hole and saved themselves big dollars. With needs at corner, running back, free safety, interior offensive line and defensive tackle they may have more than they can address in one draft. That means they could jump out for one significant free agent – like they did last year with defensive lineman
Antonio Smith
-- and maybe another less expensive one or two.
Indianapolis Colts

Potential unrestricted free agents:
MLB
Gary Brackett
, K
Matt Stover
.
Potential restricted free agents:
WR
Hank Baskett
, S
Antoine Bethea
, S
Melvin Bullitt
, OL
Dan Federkeil
, CB
Aaron Francisco
, LB
Tyjuan Hagler
, CB
Marlin Jackson
, CB
Tim Jennings
, DT
Antonio Johnson
, OT
Charlie Johnson
, LB
Freddy Keiaho
, DT
Dan Muir
, CBPR
T.J. Rushing
.
Franchise player:
None.
What to expect:
Brackett is priority one and the team has indicated a plan to pay him as an upper-echelon guy. The restricted list includes a lot of key guys who will remain big factors next year. Indy is not a team that looks to bring in many outsiders for big roles and it won't start now. Bill Polian's said the Colts will sit back and see how things unfold in the new capless landscape.
Jacksonville Jaguars

Potential unrestricted free agents:
DE
Reggie Hayward
, G
Kynan Forney
.
Potential restricted free agents:
DT
Atiyyah Ellison
, LB
Clint Ingram
, DL
Greg Peterson
.
Franchise player:
None.
What to expect:
The Jaguars are draft-reliant, but will also shop for bargains in free agency, hoping to plug a couple holes with high-character guys with upside who fit what they are doing. As for a big splash, it's unlikely based on their recent busts with big-name free agents like
Jerry Porter
and
Drayton Florence
and the direction they've moved since.
Tennessee Titans

Potential unrestricted free agents:
DE
Kyle Vanden Bosch
, C
Kevin Mawae
, LB
Keith Bulluck
, TE
Alge Crumpler
, CB
Nick Harper
, CB
Rod Hood
, DE
Jevon Kearse
, S
Kevin Kaesviharn
.
Potential restricted free agents:
DE
Dave Ball
, DT
Tony Brown
, TE
Bo Scaife
, LB
Stephen Tulloch
, DT
Kevin Vickerson
, RB
LenDale White
.
Franchise player:
None.
What to expect:
The Titans will undergo a youth movement, especially on defense where Vanden Bosch and Bulluck, who's recovering from ACL repair, are going to be allowed to walk. Mawae been told his only chance to return is as a backup at a backup price. Brown, Scaife and Tulloch are important guys they'll want to retain. Beyond that, expect mostly bargain shopping.
March, 4, 2010
3/04/10
9:08
AM ET
Restricted free-agent tenders have to be done before midnight ET. Here's what's out so far:

Houston

From John McClain of the Houston Chronicle.

Indianapolis

Bethea info from Adam Schefter.

Jacksonville

Tennessee

From Jim Wyatt of The Tennessean.


February, 6, 2010
2/06/10
3:01
PM ET
»
Super Bowl Final Word
:
Colts
|
Saints
MIAMI --
Five nuggets of knowledge about Super Bowl XLIV between the New Orleans Saints (15-3) and Indianapolis Colts (16-2):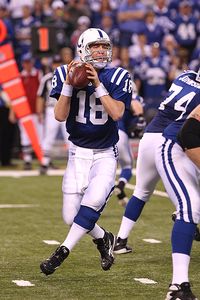 Al Pereira/Getty ImagesColts quarterback Peyton Manning is more than capable in adapting to an opponent's defense.
1. Peyton Manning should expect to see a defensive Plan A, B and C.
In the AFC Championship Game, the Jets brought some early blitzes that were unfamiliar and confused the Colts. But once Manning and offensive coordinator Tom Moore had some time on the sidelines to sort things out, they solved the puzzle. Once they did, they seemed to deflate New York, which failed to make any major countermoves.
Saints defensive coordinator Gregg Williams should have multiple plans and when he senses the Colts have figured something out, he'll flip the switch on some major alterations and be prepared to do so multiple times. If Manning wins on smarts, odds are he will be challenged more than he was two weeks ago.
2. Indianapolis doesn't run it well, but watch how it runs once it's inside the 20.
The Colts finished last in the league in rushing the ball this year with 1,294 yards. However, they did score 16 rushing touchdowns and ESPN Stats & Information says they had a nice balance of rush-to-pass play calls down in the red zone (74-78). Their predictability on offense before reaching the red zone may have caused Manning's numbers to suffer on play-action passes.
In red-zone play-action he had six touchdowns and no interceptions in 12 pass attempts this season, posting a 124.3 passer rating. Outside of the red zone his rating on play-action was only 79.7 and his five touchdowns are measured against nine interceptions. His completion percentage is 63.3 outside the red zone on play-action, 20 points lower than inside it.
3. The Colts' secondary depth is their weak spot.
Even if
Jerraud Powers
is fine to play after recent foot surgery, if the Saints can force the Colts to use six defensive backs, that last man is a shaky piece of the defense.
Kelvin Hayden
and Powers are quality starters, and although
Jacob Lacey
got torched on an 80-yard touchdown against the Jets, he's a capable player too.
But if the Colts need to rely much on
Tim Jennings
or go deeper than that to someone like
Aaron Francisco
or
T.J. Rushing
, I expect Sean Payton and
Drew Brees
will target them as quickly and as often as possible. They should.
4. For all the grief about his postseason failures, Manning's got some good numbers.
Break down the top five players in postseason passing yardage by the game, and Manning's the best of them with an average of 284 to
Joe Montana
(251),
Dan Marino
(251),
Brett Favre
(244) and
John Elway
(226). No one has more playoff 300-yard passing games than Manning's seven.
But his counterpart's got an amazing number going this season when it comes to facing top postseason quarterbacks. The Super Bowl will mark the fourth time this season Brees has faced a former Super Bowl MVP. The three quarterbacks he faced before Peyton Manning were
Eli Manning
,
Tom Brady
and
Kurt Warner
. Brees has been unreal in those games, posting a combined passer rating of 152.8 with three wins, 12 touchdowns and no interceptions.
5. With or without Dwight Freeney, the Colts might be wise to blitz.
This defense is far different than the one on the 2006 championship Colts. That was a Cover 2 team that rushed four almost every snap. This is a group that is willing to blitz.
The Cardinals and Vikings rarely tested Brees with an additional pass rush in New Orleans' first two postseason games, ESPN Stats & Info says. Against four or fewer rushers, he's thrown five touchdown and no interceptions, averaged 8.2 yards an attempt and posted a passer rating of 127.3. Against five or more rushers he's thrown one touchdown and no interceptions, averaged 4.3 yards an attempt and posted a rating of 90.2.
February, 5, 2010
2/05/10
1:17
PM ET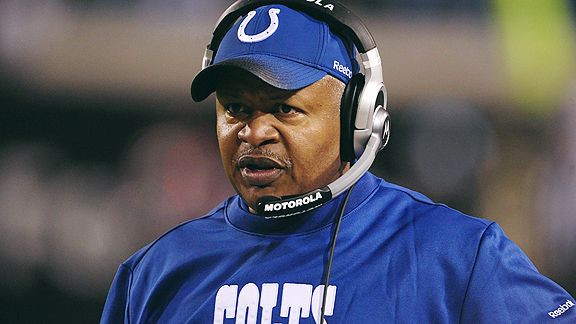 Sam Greenwood/Getty ImagesColts coach Jim Caldwell often uses biblical messages to help guide his players.
FORT LAUDERDALE, Fla. -- In his rookie season as a head coach, Jim Caldwell has said over and over that he believes in self-fulfilling prophecy. He's quoted this Chinese proverb several times:
"Be careful how you think. Your life is shaped by your thoughts."
This week he also pointed to Proverbs 23:7: "As a man thinketh in his heart, so is he."
If one thing is clear about Caldwell -- a serious, guarded and thoughtful man -- it is that he is a spiritual person, unafraid of using biblical messages to help guide his players.
Members of his staff are in line with that.
"One thing that's neat about coaching is it makes you walk by faith, it's not a by-sight thing," receivers coach Clyde Christensen said. "We could be home next week and I could be unemployed. You just trust. There is a great verse in Exodus that we shared as a staff Tuesday morning: 'God doesn't take you the most direct route.'
"He didn't take the Israelites the most direct route to the Promised Land because they couldn't handle it. They needed to develop some character and of course they screwed it up and took 40 years. But he didn't take them the most direct route."
Hearing Caldwell and Christensen early Wednesday morning, I started to think about how I view the spiritual aspect of the Colts.
Certainly the atmosphere Tony Dungy created and Caldwell inherited fosters faith. But it's not a pushy environment and wouldn't make someone who might be uninterested in such things uncomfortable.
That's because when Caldwell points out a biblical passage, it typically has undeniable football and life applications. When coachable guys are offered such nuggets, they generally gobble them up.
"He'll tell you it's all about winning football games," special-teams coach Ray Rychleski said. "Now he has a certain belief beyond football obviously, but he wants to send a message that helps our football team -- 'This is how it's been, this is what can work for us.'
"Everybody makes analogies with things and tries to compare things and that's his way of doing it and people understand it. Whatever he's selling, everybody's buying into it."
Clint Session
said he feels like the bulk of the team's roster is invested in the spiritual and biblical, that Bill Polian even works to find guys who will fit in with it.
"Guys that know, 'Whatever this coach is telling me, it's for a good reason,'" Session said. "… He comes out some mornings and throws a Bible verse on the board, and you look at it and think, 'This has so much of a connection to our team and what I deal with throughout life.'
"He's not only teaching us to be better players, he's also teaching us to be a man with dignity and pride and integrity. Words we will be able to use throughout football and after football. When you take care of that, it's going to show on the field."
February, 5, 2010
2/05/10
10:32
AM ET
FORT LAUDERDALE, Fla. -- We spoke to
Jerraud Powers
earlier this week and
he expressed no doubt
about playing Sunday.
But I asked Jim Caldwell this morning if Powers had surgery and he confirmed Powers had.
Here's the
news story
.
If Powers can't play or is not effective, I think it might be a bigger concern than a limited or missing
Dwight Freeney
.
The depth at defensive end is better than at corner, where the Saints would surely look to target
Tim Jennings
if he's the nickel and go after whoever is at dime --
Aaron Francisco
(who needs surgery on both his pinkies, by the way),
T.J. Rushing
or
Jamie Silva
.
November, 16, 2009
11/16/09
2:02
AM ET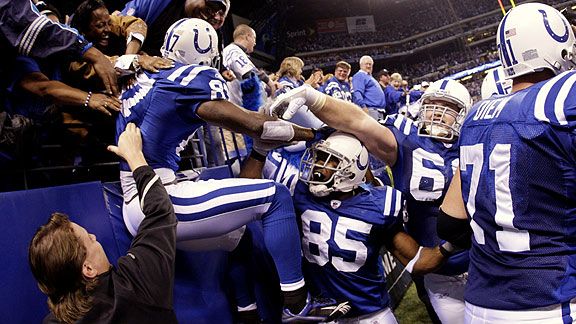 Jamie Squire/Getty ImagesReggie Wayne, left, celebrates his 1-yard touchdown catch that gave the Colts the victory.
INDIANAPOLIS --
T.J. Rushing
was all set. The Colts don't boast much of a return team and he had fair caught three of the balls off Chris Hanson's foot, allowing the other to be downed. Now, he'd get one more chance.
With a fourth-and-2 from the Patriots' 28-yard line, he was ready to line up and hoping he wouldn't have to wave before catching punt No. 5.
"I think I was going to line up at the 25-yard line, about 45 yards away from him, because he was hitting them pretty good today, so I was hoping he out-kicked his coverage," Rushing said. "Third-down stop, I got excited because I thought I was going to get a chance to make a play.
"I ran out on the field, I saw [Tom] Brady still out on the field, and I was like, 'What is happening?' They're on their own end of the field, there is no way they are going to go for it."
What was happening was Patriots coach Bill Belichick was deciding on an all-or-nothing gamble. He sent his offense back on the field to get the first down, to end the game with a gain of six feet with 2:08 left on the clock.
"That was like a video-game play," Rushing said. "You're playing your buddy and you're like, 'I'm just going to go for it.' I guess they figured no matter what, if the offense got the ball back, we were going to win. That's the only thing I can think of."
Strong safety
Melvin Bullitt
lined up on running back
Kevin Faulk
with a mentality much like Rushing's. He was going to make the game-swinging play. Defensive backs coach Alan Williams had told his guys all week in a fourth-down situation like this one, the Patriots would go to
Wes Welker
or Faulk.
Brady took a shotgun snap and threw to Faulk on the right. Bullitt was right there, wrapping up Faulk and taking him down for a 1-yard gain. Colts' ball, and, four plays later, Colts' game, 35-34, after a
Peyton Manning
-to-
Reggie Wayne
touchdown.
In showing confidence in his offense, Belichick set off an inadvertent side effect.
The Colts' defense was offended by the boldness.
"I was thinking, 'Man, they're going to try us like that? They're going to disrespect us like that?' " linebacker
Philip Wheeler
said. "We've got to stop them. We've got to man up. And we did that. Maybe it wasn't disrespectful, maybe it was the smartest thing they could think of to do. I think we handled our business when they did it."
"We just felt as though, that was a slap in the face," free safety
Antoine Bethea
said. "Fourth down, in their territory? That was just a smack in the face. But the defense, we stood up and made a big play."
Former Colts coach Tony Dungy, on NBC's postgame show, questioned the logic.
"You have to punt the ball in that situation," Dungy said. "As much as you might respect Peyton Manning, you have to play the percentages and punt the ball."
The Colts (9-0) needed Belichick's bailout plan because they'd played a game lacking their typical crispness and efficiency.
The fierce pass rush was stonewalled, the secondary toasted for 179 yards and a pair of touchdowns by
Randy Moss
. The offense stumbled, with rhythm issues and drops.
Pierre Garcon
was targeted 11 times, and while all those throws from Manning were hardly perfect, he pulled in only three of them. He didn't think his 29-yard touchdown catch offset the errors. Rookie
Austin Collie
booted at least one pass too. Manning even threw a wobbly duck for one of his two picks.
"There were a lot of things," Colts coach Jim Caldwell said. "One of the things we certainly can't do is give up big plays and early on there Moss was kind of having his way with us I think. … You get him where he's even with you and Brady's not going to miss him. He puts that ball right on the money.
"Then we had penalties that set us back a little bit and dropped passes. So there are a lot of things for us to work on. It's great to get a victory when maybe you didn't play as well as you're capable of."
The Colts' best work may have come on the play that produced the decisive points.
Earlier, Manning had looked unsuccessfully for Wayne on a fade in the left side of the end zone. From the 1-yard line with 16 seconds left, Manning was looking to try it again.
"I gave him my C.C. Sabathia shake off," Wayne said. "I felt like I wanted to show fade and just come with the slant and it worked. [It was] at the line of scrimmage. You've got to be quick with it. You've got to shake him off and go on to the next call. I shook him off and I gave him the signal. I think after nine years he can trust me."
The tired Colts shrugged after it was all over as they considered just how it unfolded.
"That's the craziest win I've ever been involved in," Bullitt said. "They're bold. We never expected anything less."
August, 15, 2009
8/15/09
1:15
PM ET
| | |
| --- | --- |
| | |
| | Scott Boehm/Getty Images |
| | New coach Jim Caldwell has made a number of changes and the Colts appear happy with the alterations. |
Posted by ESPN.com's Paul Kuharsky
INDIANAPOLIS -- Dwight Freeney didn't shoo Tony Dungy out the door and wasn't begging for alterations to a formula that has brought the Indianapolis Colts great success.
But Freeney is content with new coach Jim Caldwell's changes at defensive coordinator and special teams coach. The Colts' star defensive end surveys a landscape that no longer includes Ron Meeks and Russ Purnell and feels just fine.
"I think that's one thing people need to understand: We had a lot of success in the years with Meeks and Purnell and, yeah, we are changing personnel as far as those coaching positions are concerned. But change is not always a bad thing," he said. "If you look at the end result, and I'm not saying it was their fault, but we only achieved the end goal once even though we were very successful.
"And I'm not saying it was because of them. But there is always room for improvement. You never know -- you change things around, it brings new energy, it brings new fire. We could see some bigger things."
That energy was palpable early in camp from a team that overcame a lot to go 12-4 last year, then botched a big opportunity in a playoff game in San Diego.
The Colts have had a smooth transition because they anticipated the change and had Caldwell serve as associate head coach under Dungy. Caldwell removed Meeks and Purnell, replacing them with Larry Coyer and Ray Rychleski, respectively.
But the other key people in the organization who provide major stability are still in place -- Bill Polian is still the team president and Peyton Manning is still the quarterback.
Like Freeney, Polian believes some change can be a good thing.
"Sometimes that's good -- you hear a different voice, you hear a different approach, it gets the message across in a different manner," Polian said. "Both are excellent coaches, both are terrific guys.
"They're both organized and they're both good teachers, so I don't think there is any real change there. But maybe the way the lesson is taught might be a little bit different and it's probably, in the end, good."
Key questions
1. Can the third-down defense get Manning the ball back?
The Colts tied for second worst in the league in third-down conversion rate, allowing teams to convert on third down 47.4 percent of the time. Bend-but-don't-break is going out of fashion under Coyer, according to many of his players. And with third down as a focus, they hope to get the offense back on the field and allow their best people to spend more time working.
Only six teams fared worse in time of possession than the Colts (28:39) last year. No matter how opponents try to play keep-away, getting Manning and the offense on the field more must be a priority.
2. Does Manning have the weapons and protection?
Reggie Wayne has been the de facto No. 1 receiver for a while already. And Anthony Gonzalez is primed for a great year in his third season, with a lot more opportunities to come. Pierre Garcon and Austin Collie were both impressive early in camp and appear primed to be steady contributors, and Donald Brown provided a second running back with dynamic possibilities.
The protection question may be a bigger conc
ern. Charlie Johnson has been inserted at left tackle. While he has been an effective fill-in, if he is the guy for 16 games, defensive ends named Mario Williams and Kyle Vanden Bosch are going to find the holes in his game. Perhaps Tony Ugoh responds to the demotion and seizes the job back. Either way, could Manning have to worry more about getting hit from a blind side rusher than he has in the past?
3. Can special teams provide a boost?
Mediocre to poor special teams have been the norm for the Colts, and under Dungy there seemed to be a level of tacit acceptance. Enter Rychleski, a fiery and passionate special teams coach who Caldwell hired from South Carolina. As in many of the departments where the Colts ranked poorly in the past, just a moderate improvement can make a big difference.
The return games have been the worst element. T.J. Rushing is the leading candidate right now, but rookies Collie and Jerraud Powers could provide a boost. Another rookie, Pat McAfee is slated to be the new punter.
Market watch
Working predominantly as the third receiver last season, Gonzalez had 664 receiving yards. Bumped up to No. 2, he should be poised to top 1,000 yards and improve on the four touchdown catches he totaled in 2008. He is typecast by too many as a slot guy, but in three wide receiver sets it appears more likely that Wayne or Collie will line up inside.
Gonzalez is a complete receiver who has established a great rapport with Manning -- so much so that Manning invited the receiver to serve as his caddy at a pro-am golf tournament in April.
| | |
| --- | --- |
| | |
| | Scott Boehm/Getty Images |
| | The Colts are counting on Donald Brown to have a big impact in his rookie season. |
Newcomer to watch
While most analysts figured the Colts would look wide receiver or defensive tackle late in the first round, Polian spent the 27th pick in the draft on highly productive UConn running back Brown. An indictment of Joseph Addai? Perhaps. An upgrade over Dominic Rhodes? Absolutely.
The Colts' plans for Brown and their opinion of Addai after an off year in which he struggled with with knee trouble are both unclear. But Caldwell has made it clear he anticipates significant work for his top two backs. Brown was effective in his first preseason action, even as it came against a mix of second- and third-string Minnesota defenders. High draft picks on offense are expected to help right away and rookie running backs regularly plug in and excel. It's what Addai did in 2006 as the league's leading rookie rusher and it's what Brown may well do in the same offense.
Observation deck
Kicker Adam Vinatieri (hip) isn't expected back until the very end of the preseason. When he's kicking again, he will work intensively with McAfee, his new holder, to get their rhythm and timing down. ... If everyone is healthy in the secondary, work as the dime won't be sufficient for safety Melvin Bullitt. Expect the Colts to creatively find other ways to get him on the field regularly. His development likely means Antoine Bethea won't be re-signed when he becomes a free agent. ... Ryan Lilja is the best run blocker on the line and will also help Jeff Saturday provide an additional veteran influence on the younger players in the offensive line meeting room. ... While Harrison was locked in to lining up in the right, Reggie Wayne will move from the left into the slot, making him tougher to predict and defend. ... Curtis Painter's preseason play could determine his fate. The team doesn't intend for the rookie quarterback to be Manning's backup this season -- that's still Jim Sorgi's job. But injuries and numbers at other spots could impact their ability to keep three signal-callers. Ideally they would have Painter on the practice squad, but what if someone else wants to sign him away? ... Gijon Robinson can block and catch and qualifies as a starter. Buy the development of two second-year right ends could cut into his time. Jacob Tamme runs good routes and has good hands, qualifying as more of a pass catcher while he's emerging as a better blocker. Tom Santi can be a combination guy but has had health issues. ... Because the Colts added three big bodies to the defensive tackle mix -- veteran Ed Johnson and rookies Fili Moala and Terrance Taylor -- two guys who contributed in the interior last year could see far less action. Keyunta Dawson has been moved to end and Eric Foster could get caught in a numbers crunch. ... If Philip Wheeler and Clint Session lock in the outside linebacker spots, then Freddy Keiaho and Tyjuan Hagler will give the Colts something they have not often had -- veteran linebackers available for a lot of special teams work. ... Dante Hughes looks to have fallen out of favor, which creates a lot of opportunity for Powers. ... Maybe I just caught him on a good couple days of practice, but receiver Taj Smith looks like a guy with real potential to develop. Look for him on the practice squad again.