September, 3, 2011
9/03/11
3:12
PM ET
A running list of Saturday cuts around the AFC South so far, per reports from people in the know…

Houston
Indianapolis
Jacksonville
Tennessee
August, 8, 2011
8/08/11
12:08
PM ET
ANDERSON, Ind. -- Some quick, initial impressions from the first practice of Colts training camp I watched…
Joe Reitz, who's listed as a tackle, continues to work at left guard ahead of Jacques McClendon. He lined up with left tackle Jeff Linkenbach, center Jeff Saturday, right guard Mike Pollak and right tackle Ryan Diem to form the starting O-line.
Justin Tryon ranks as the third corner right now, but count me among those who think he could wind up second. I watched him encourage and advise undrafted rookie Terrence Johnson during one-on-ones about being patient working against receiver Taj Smith. Good stuff.
"Saturday," a fan screamed and the center raised his fist before the rest of the line was delivered. "Thank you for the season." He should hear that a lot based on his giant role in the CBA negotiations.
It can't be a fun job to be the guy who holds up a three-ring pack of laminated sheets with the right package or play name on it to the camera before each play. But the coaches need to have some stuff labeled as "Alcatraz" of "Queso" when they review and look for landmarks of the sets.
With Dwight Freeney out for the morning, the first-unit defensive line was, left to right, Jamaal Anderson, Fili Moala, Antonio Johnson and Robert Mathis.
Special teams worked on punting out of the back of the end zone and the block team did well to get to one off of Pat McAfee's foot. Special-teams coach Ray Rychleski didn't care for close-but-no-cigar on another snap. Well, not even close, apparently. "Don't go near the guy,"' he barked at one rusher. "You're not even close. Block it or don't go near him." The broader point: Roughing the punter penalties kill.
Watched some one-on-one pass rush and saw Tommie Harris win snaps against McClendon and Reitz. Anthony Castonzo and Ben Ijalana looked good to me. Drake Nevis and Jerry Hughes didn't have a great period from what I could tell.
Linebacker Ernie Sims is out two weeks after an appendectomy, according to Jim Caldwell.
May, 24, 2011
5/24/11
12:02
PM ET
Taj Smith
is a great example of the kind of fringe NFL player who needs a functioning league and the money it can bring him.
Buying 70 pairs of sneakers was not a wise way to use some of what he's already made. He's saved little as he also took care of his family and paid rent.
[+] Enlarge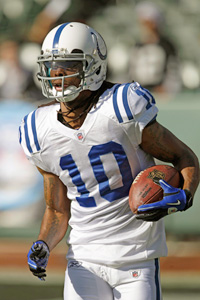 AP Photo/Marcio Jose SanchezTaj Smith played in five games last season for the Colts.
Greg Bishop paints
a telling portrait
of the receiver, who has spent significant time on the Colts' practice squad and has played in five games.
Smith's agent, Wes Bridges, said Smith is in the second year of a three-year contract, little of which is guaranteed. His window of opportunity in professional football, which opened later than most, is small to begin with, so every paycheck, every workout bonus matters for his family and his future.

But of course Smith now resides in the limbo created by the N.F.L. lockout, hopeful but uncertain. No games. No organized practices. No paychecks. Nothing to be done that could secure his future in the game.

Back in Newark, as the sport's labor dispute moves slowly through the federal court system, Smith has driven through the familiar, rough streets of his childhood, reacquainting himself with all that he wants to leave behind, including the building where he was robbed at gunpoint and the alley where his friend was killed. …

He admits to playing his own part in perpetuating the dead-end pathology of violence begetting violence. He says he is not looking for sympathy. Just work.
I didn't know his background. I do remember being impressed by Smith in back-to-back training camps and thinking he could pan out into something.
Read the piece and you'll know a lot more about why he needs the chance. I hope he and others like him are also mapping an alternative course.
January, 9, 2011
1/09/11
1:55
AM ET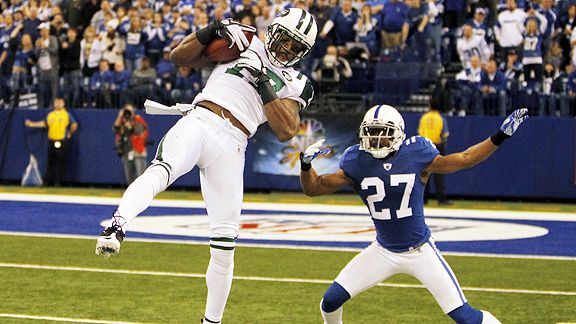 William Perlman/The Star-Ledger/US PresswireThe Colts gave up big plays, including this Braylon Edwards catch to set up the winning field goal.
INDIANAPOLIS -- They trudged to the helmet painted on the turf at midfield, offering congratulations to the team that ended their season.
In time, the Colts might come to consider this pre-Super Bowl playoff exit the least painful and most dismissible of the seven they've endured during a nine-year run of postseason qualification. On Saturday night, of course, they were too close to it to think or speak that way.
They saw a blown opportunity in their
17-16 loss
to the
New York Jets
in the opening round of the NFL playoffs.
So they'll carry regret into the offseason, regret not so much about losing to the Jets, but losing to the Jets like that.
By blowing three leads.
The Colts were up 7-0, 10-7 and 16-14.
By watching the Jets convert five of seven third downs in the second half while they failed to convert two third-and-longs in the fourth quarter that left them settling for field goals.
The first, a third-and-7, produced only a 1-yard run by
Dominic Rhodes
against a heavy defensive-back set.
"They had seven DBs, they had 34, [cornerback Marquice] Cole at defensive end, it was 100 percent pass coverage,"
Peyton Manning
said. "That's a lot of DBs. We just thought they're not going to think we're going to run it. We've got to be able to pick those up."
The second, a third-and-6, was a Manning sprint out to the right and a throw to
Blair White
that looked to be a bit short on the right side. White couldn't corral it as he went to the ground.
By allowing New York to keep the ball with a running-into-the-punter penalty, which resulted in two timeouts burned ahead of schedule and 34 fewer seconds on the clock when the Colts got the ball back.
Taj Smith
was flagged despite trying to hold up Jets punter
Steve Weatherford
once he'd made contact.
"He did a good acting job and I should have played it more conservative, it just was a bad play on my part," Smith said. "… They just said play it more smart and keep my head up."
By allowing a 47-yard kickoff return with 53 seconds remaining that positioned the Jets for a quick drive and a field goal as time expired.
[+] Enlarge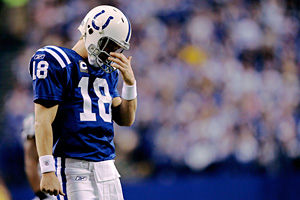 AP Photo/AJ MastThe loss to the Jets was the seventh time in Peyton Manning's 11 trips to the playoffs that the Colts failed to advance beyond their first game.
"It goes from putting a lot of pressure on the offense to putting a lot of pressure on the defense with that field position change," Manning said.
The Colts aren't used to watching that unfold with their offense on the sideline. They're used to Manning and the offense making the other team's offense squirm on the sideline, enduring a sense of helplessness.
"It's just bad execution on our part," left tackle
Charlie Johnson
said. "It's bad because … I want to be careful here. You have to give them credit. They played a great game, but at the same time I feel like the better team didn't win."
It was the seventh exit in the Colts' first game of the playoffs in Manning's 11 trips to the postseason, the sort of context the Colts absolutely hate to have pointed out to them.
"We've been to the playoffs nine consecutive years. I don't think this team has to explain itself to anybody as far as what we are doing in the playoffs," linebacker
Gary Brackett
said. "A team's pinnacle is to get to the playoffs and we've done that consistently."
Said Johnson: "I think it's bogus. I think there are some teams in the league that would love to have the success we've had, regardless of going to Super Bowls or not -- winning so many games over the years, winning 12 or more games however many years in a row, going to the playoffs nine straight years. There are a ton of teams that would take that and be happy with it."
This exit will ultimately deserve a less harsh review than some others because of how deep the injury-riddled Colts had to dig along the way. They ended the game with
Ken Hamlin
at free safety. He signed Dec. 22 and was, at the very best, their fifth option at the position this season.
Coming into the game the question for Rex Ryan was, if his team couldn't get past the Colts now, when might it ever?
Before Manning left the interview podium for the last time in what may be quite a long time, he offered a glimpse into how the 2010 Colts were looking at a potential playoff run, at how things might have been different this time.
"It would have been fun to have kind of gotten on a little run here, there would have been a different feeling," Manning said. "I thought we would have been the underdog in every game. I thought we were the underdog tonight. We would have been the underdog going to Pittsburgh. That's certainly a different feeling.
"Usually in the playoffs we're always kind of usually the favorite to win, expected to win. This would have been a fun little run. This has been a fun little run, these last few weeks, we felt like they've all been playoff games. This was the best team we've played in some time. We certainly had a chance and just came up short."
January, 8, 2011
1/08/11
11:12
PM ET
INDIANAPOLIS -- The
New York Jets
defeated the
Indianapolis Colts
17-16
in Lucas Oil Stadium.


What it means:
Even though
Mark Sanchez
had a lackluster night, the Jets found a way to knock off
Peyton Manning
with a thrilling victory. Rex Ryan's Jets improved their road playoff record to 3-1 and avenged last season's loss to the Colts in the AFC Championship Game.
Hero:
Nick Folk
kicked a 32-yard field goal as time expired to pull off the upset and send Colts fans silently filing toward the exits.
Near Hero:
Colts kicker
Adam Vinatieri
almost won the game on a 50-yard field goal with less than a minute to play. The kick was his longest of the season.
Hero II:
Jets running back
LaDainian Tomlinson
looked like he did when he was an early season MVP candidate. He had his biggest game in three months. Tomlinson ran 16 times for 82 yards and two touchdowns, including the go-ahead score with about 10 minutes to play.
All is forgiven:
The Jets trailed 7-0 at halftime but should have had at least a field goal right before the break. The Jets made it to the Colts' 19-yard line. On a third-and-10 play, Sanchez had too much time to think and forced a ball to
Dustin Keller
near the goal line. Colts defensive back Justin Tyron intercepted.
Costly play:
One play after Jets receiver
Santonio Holmes
had a costly third-down drop, Colts special-teams ace
Taj Smith
was flagged for running into punter
Steve Weatherford
on fourth-and-5 with 3:02 to play. First down, Jets. Colts had to start calling their timeouts on the next set of downs.
If on third you don't succeed:
The Jets were phenomenal on third downs almost all night, limiting the Colts to three-and-out series on their first three possessions. But the Colts converted a third-and-7 and a third-and-8 on their first field-goal drive of the fourth quarter.
What's next:
The Jets advanced to the divisional round and will play the
New England Patriots
in Gillette Stadium. The Jets defeated the Patriots 28-14 at the Meadowlands in Week 2, but the Patriots administered a 45-3 beating five weeks ago in Foxborough.
December, 9, 2010
12/09/10
10:13
PM ET
NASHVILLE, Tenn. -- Halftime thoughts from LP Field where it's
21-7
Colts over Titans.
December, 5, 2010
12/05/10
7:56
PM ET
Thoughts on the
Cowboys' win over the Colts
at Lucas Oil Stadium.
What it means:
The Colts are at 6-6, in second place in the AFC South, a game plus a tie-breaker behind 7-5 Jacksonville.


What I didn't like:
Four picks by
Peyton Manning
, two were returned for touchdowns, two turned into field goals. With Dallas scoring 20 points off turnovers, the thinned out Colts simply couldn't overcome things without a takeaway of their own. Tashard Choice had 100 yards rushing for a career day. The Cowboys had a 217-40 advantage in rushing yards and had eight third down conversions in 15 chances.
What I liked:
An awful lot of fight to pull even after trailing 17-0 at the start and by 13 entering the fourth quarter. A ridiculous, 14-catch, 200-yards, one-touchdown day from
Reggie Wayne
. Two rushing touchdowns from
Javarris James
. A blocked punt and a resulting touchdown from Taj Smith.
Major gaffe:
A leverage penalty against
Eric Foster
on a late Dallas field-goal attempt in regulation gave the Cowboys a first down and allowed them to ultimately score a go-ahead touchdown and 2-point conversion. The Colts offense bailed Foster out with a giant touchdown drive to force overtime. But they could have been in position to win it.
What's next:
The Colts have a quick turnaround and a Thursday night game in Nashville against the Titans in an AFC South matchup.
August, 15, 2009
8/15/09
1:15
PM ET
| | |
| --- | --- |
| | |
| | Scott Boehm/Getty Images |
| | New coach Jim Caldwell has made a number of changes and the Colts appear happy with the alterations. |
Posted by ESPN.com's Paul Kuharsky
INDIANAPOLIS -- Dwight Freeney didn't shoo Tony Dungy out the door and wasn't begging for alterations to a formula that has brought the Indianapolis Colts great success.
But Freeney is content with new coach Jim Caldwell's changes at defensive coordinator and special teams coach. The Colts' star defensive end surveys a landscape that no longer includes Ron Meeks and Russ Purnell and feels just fine.
"I think that's one thing people need to understand: We had a lot of success in the years with Meeks and Purnell and, yeah, we are changing personnel as far as those coaching positions are concerned. But change is not always a bad thing," he said. "If you look at the end result, and I'm not saying it was their fault, but we only achieved the end goal once even though we were very successful.
"And I'm not saying it was because of them. But there is always room for improvement. You never know -- you change things around, it brings new energy, it brings new fire. We could see some bigger things."
That energy was palpable early in camp from a team that overcame a lot to go 12-4 last year, then botched a big opportunity in a playoff game in San Diego.
The Colts have had a smooth transition because they anticipated the change and had Caldwell serve as associate head coach under Dungy. Caldwell removed Meeks and Purnell, replacing them with Larry Coyer and Ray Rychleski, respectively.
But the other key people in the organization who provide major stability are still in place -- Bill Polian is still the team president and Peyton Manning is still the quarterback.
Like Freeney, Polian believes some change can be a good thing.
"Sometimes that's good -- you hear a different voice, you hear a different approach, it gets the message across in a different manner," Polian said. "Both are excellent coaches, both are terrific guys.
"They're both organized and they're both good teachers, so I don't think there is any real change there. But maybe the way the lesson is taught might be a little bit different and it's probably, in the end, good."
Key questions
1. Can the third-down defense get Manning the ball back?
The Colts tied for second worst in the league in third-down conversion rate, allowing teams to convert on third down 47.4 percent of the time. Bend-but-don't-break is going out of fashion under Coyer, according to many of his players. And with third down as a focus, they hope to get the offense back on the field and allow their best people to spend more time working.
Only six teams fared worse in time of possession than the Colts (28:39) last year. No matter how opponents try to play keep-away, getting Manning and the offense on the field more must be a priority.
2. Does Manning have the weapons and protection?
Reggie Wayne has been the de facto No. 1 receiver for a while already. And Anthony Gonzalez is primed for a great year in his third season, with a lot more opportunities to come. Pierre Garcon and Austin Collie were both impressive early in camp and appear primed to be steady contributors, and Donald Brown provided a second running back with dynamic possibilities.
The protection question may be a bigger conc
ern. Charlie Johnson has been inserted at left tackle. While he has been an effective fill-in, if he is the guy for 16 games, defensive ends named Mario Williams and Kyle Vanden Bosch are going to find the holes in his game. Perhaps Tony Ugoh responds to the demotion and seizes the job back. Either way, could Manning have to worry more about getting hit from a blind side rusher than he has in the past?
3. Can special teams provide a boost?
Mediocre to poor special teams have been the norm for the Colts, and under Dungy there seemed to be a level of tacit acceptance. Enter Rychleski, a fiery and passionate special teams coach who Caldwell hired from South Carolina. As in many of the departments where the Colts ranked poorly in the past, just a moderate improvement can make a big difference.
The return games have been the worst element. T.J. Rushing is the leading candidate right now, but rookies Collie and Jerraud Powers could provide a boost. Another rookie, Pat McAfee is slated to be the new punter.
Market watch
Working predominantly as the third receiver last season, Gonzalez had 664 receiving yards. Bumped up to No. 2, he should be poised to top 1,000 yards and improve on the four touchdown catches he totaled in 2008. He is typecast by too many as a slot guy, but in three wide receiver sets it appears more likely that Wayne or Collie will line up inside.
Gonzalez is a complete receiver who has established a great rapport with Manning -- so much so that Manning invited the receiver to serve as his caddy at a pro-am golf tournament in April.
| | |
| --- | --- |
| | |
| | Scott Boehm/Getty Images |
| | The Colts are counting on Donald Brown to have a big impact in his rookie season. |
Newcomer to watch
While most analysts figured the Colts would look wide receiver or defensive tackle late in the first round, Polian spent the 27th pick in the draft on highly productive UConn running back Brown. An indictment of Joseph Addai? Perhaps. An upgrade over Dominic Rhodes? Absolutely.
The Colts' plans for Brown and their opinion of Addai after an off year in which he struggled with with knee trouble are both unclear. But Caldwell has made it clear he anticipates significant work for his top two backs. Brown was effective in his first preseason action, even as it came against a mix of second- and third-string Minnesota defenders. High draft picks on offense are expected to help right away and rookie running backs regularly plug in and excel. It's what Addai did in 2006 as the league's leading rookie rusher and it's what Brown may well do in the same offense.
Observation deck
Kicker Adam Vinatieri (hip) isn't expected back until the very end of the preseason. When he's kicking again, he will work intensively with McAfee, his new holder, to get their rhythm and timing down. ... If everyone is healthy in the secondary, work as the dime won't be sufficient for safety Melvin Bullitt. Expect the Colts to creatively find other ways to get him on the field regularly. His development likely means Antoine Bethea won't be re-signed when he becomes a free agent. ... Ryan Lilja is the best run blocker on the line and will also help Jeff Saturday provide an additional veteran influence on the younger players in the offensive line meeting room. ... While Harrison was locked in to lining up in the right, Reggie Wayne will move from the left into the slot, making him tougher to predict and defend. ... Curtis Painter's preseason play could determine his fate. The team doesn't intend for the rookie quarterback to be Manning's backup this season -- that's still Jim Sorgi's job. But injuries and numbers at other spots could impact their ability to keep three signal-callers. Ideally they would have Painter on the practice squad, but what if someone else wants to sign him away? ... Gijon Robinson can block and catch and qualifies as a starter. Buy the development of two second-year right ends could cut into his time. Jacob Tamme runs good routes and has good hands, qualifying as more of a pass catcher while he's emerging as a better blocker. Tom Santi can be a combination guy but has had health issues. ... Because the Colts added three big bodies to the defensive tackle mix -- veteran Ed Johnson and rookies Fili Moala and Terrance Taylor -- two guys who contributed in the interior last year could see far less action. Keyunta Dawson has been moved to end and Eric Foster could get caught in a numbers crunch. ... If Philip Wheeler and Clint Session lock in the outside linebacker spots, then Freddy Keiaho and Tyjuan Hagler will give the Colts something they have not often had -- veteran linebackers available for a lot of special teams work. ... Dante Hughes looks to have fallen out of favor, which creates a lot of opportunity for Powers. ... Maybe I just caught him on a good couple days of practice, but receiver Taj Smith looks like a guy with real potential to develop. Look for him on the practice squad again.
June, 8, 2009
6/08/09
11:36
AM ET
Posted by ESPN.com's Paul Kuharsky
INDIANAPOLIS -- The offensive and defensive lines need some sorting out, but the most intriguing competition for a prominent role with the 2009 Indianapolis Colts might be for the No. 3 wide receiver slot.
| | |
| --- | --- |
| | |
| | AP Photo/Michael Conroy |
| | Pierre Garcon is one candidate for the Colts' No. 3 receiver spot. |
The prime candidates: Pierre Garcon, rookie Austin Collie and Roy Hall.
"I've been throwing with them a lot during this offseason," Peyton Manning said. "I try to take them all individually and work with them one-on-one. Sometimes, I think you get out there in a big group session and you throw one route to Pierre and one route to Austin, you get pretty good at a bunch of them instead of trying to master all of the routes. We do these private sessions in the morning. We started it a couple of years ago. I think it really does make a difference. I get really comfortable with the timing on all of them.
"Pierre can really run. He's made big strides since last year. He's made some tough catches so far in the OTAs. Collie is a guy, it's still early, and you're kind of evaluating him and getting a feel for him, but you can tell he knows how to catch the ball. He's caught so many balls in practice. You have Roy Hall who's competing in there, Sam Giguere, who's injured right now, who was making some strides. It's going to be good, healthy competition. I think Taj [Smith] is in there. Competition will be a good thing all the way leading up to the first game of the regular season."
Manning had more to say there about Garcon and Collie than Hall, and the buzz among people who cover the team on a daily basis is that it follows a trend. Generally, players and coaches don't talk about Hall unless specifically asked about him. Maybe we over interpret, but that would seem to suggest he's not at the front of the group.
Garcon catches the ball very well, Hall is the biggest receiver at 6-foot-3 and 240 pounds. Collie seems to be a crafty player -- he's drawn a lot of comparisons to Brandon Stokley.
"Everybody knows the playbook, you've just got to step out and do something great," Garcon said.
Team president Bill Polian said he's confident one from the group will emerge and be the clear-cut No. 3. He doesn't expect any sort of committee, but he doesn't expect a verdict before the team is well into training camp, either.
Reggie Wayne, who trains in Miami and only has been around for a few days, said he doesn't know much about Collie yet. But Garcon and Hall have been asking him a lot of questions and leaning on him as the team looks to sort out the position beyond Wayne and Anthony Gonzalez in the post-Marvin Harrison era.
"We've got something in store for you, you are going to see," Wayne said. "As a receiving corps, I think we are going to surprise a lot of people."
June, 6, 2009
6/06/09
6:44
PM ET
Posted by ESPN.com's Paul Kuharsky
FRANKLIN, Ind. -- Some observations and thoughts from Saturday afternoon's public minicamp practice at Franklin College's Faught Stadium:
Outreach: Bill Polian spoke to the crowd before things started and told those in attendance that owner Jim Irsay had charged the team to create more outreach and more interaction with fans, which was the impetus for a practice like this one.

Boomer: New special teams coach Ray Rychleski has a booming voice that carries. He's got some enthusiasm for sure and offered critiques and compliments with equal fervor. Rookie punter Pat McAfee bombed a couple, but was inconsistent.

Stumble: Tyjuan Hagler provided some comic relief, tripping over his own feet during a linebacker drill where players zigzagged in a back pedal before breaking on a ball.

Third wide: I tried to read into how the receivers deployed, but there is no telling at this stage how the candidates for the No. 3 job -- Pierre Garcon, Austin Collie and Roy Hall -- stack up. My eye -- which has no experience training receivers, just lots watching them -- puts them in that order right now.

It got even harder to gauge Garcon against Collie when Anthony Gonzalez dropped out, seemingly with a right thigh issue. Those two worked in three-wide with Reggie Wayne. That might tell us something about Hall, though.

Clyde Christensen is working as the offensive coordinator now, but is still with the receivers as their position coach. The Colts are creative in some of the drills they use when the wideouts work alone. I don't recall seeing other teams, for example, run short stuff where they cut behind a blocking bag that interrupts their view as they angle back to collect a pass. But it seems a smart way to recreate some real-world experience in this sort of mild setting. I saw Collie, Hall and Taj Smith drop short passes in that segment.

Details: While special teams work went on at one point, quarterbacks worked alone. Peyton Manning lined up in the spot where he imagined a defender would be on a specific play and looked to offer detailed commentary/advice/coaching to Curtis Painter before he took a few drops envisioning the full 11 that could be opposite him.

Protection: The first offensive line that worked in front of Manning in a team drill was, left to right: Tony Ugoh, Jamey Richard, Jeff Saturday, Dan Federkeil and Ryan Diem. (Charlie Johnson and Mike Pollak didn't work and Ryan Lilja didn't work that deep into the session.)

Scrambled backers: I tried to look at linebackers the same way, but it seemed like there was a lot of mix and match going on. One early group had Jordan Senn and Philip Wheeler bracketing Adam Seward. Of all the things not to read much into -- which is virtually everything here -- I'd rank this first.

Coming back: Watched Lilja, who's coming off a season lost to a knee injury, a little bit. He wore sleeves on both knees and seemed comfortable firing off the line and cutting down a blocking bag/tackling dummy as the O-line concentrated on some individual technique.

Off day: Among those who sat out at spots other than the O-line: Running backs Joseph Addai and Mike Hart, defensive end Dwight Freeney, cornerback Marlin Jackson, safety Bob Sanders and linebacker Gary Brackett.

Catches: In work with just quarterbacks and wide receivers, Gonzalez ran on to a nice line drive post from Manning, stopping it with one hand and then catching up to it as he accelerated. In the same period, Austin went to the ground to collect a pass from Chris Crane.

The break-up: Third-round cornerback Jerraud Powers made what I thought was the standout defensive play of the afternoon. In the team period, matched up with Wayne and with Manning, Powers broke well on mid-range pass to the left side, got a hand in front of Wayne and broke it up.
February, 27, 2009
2/27/09
1:49
PM ET
Posted by ESPN.com's Paul Kuharsky
Houston Texans
I can't believe this, but Oilers/Titans Hall of Fame offensive lineman Bruce Matthews is joining the Texans coaching staff. I would have bet a lot against that one. He must have gotten bored at home.
We knew Eugene Wilson had a new deal. The National Football Post has contract details.
The Sage Rosenfels to Minnesota trade is official.
Indianapolis Colts
The Colts are now thin at linebacker, writes Mike Chappell.
Indy announced it tendered exclusive rights free agents offensive lineman Dan Federkeil, who also was offered a tender as an exclusive rights free agent in addition to running back Lance Ball, linebacker Buster Davis and defensive tackle Daniel Muir.
The team also confirmed it's added the following players since the end of the 2008 season: Linebacker Rufus Alexander, defensive back Brannon Condren, punter Mike Dragosavich (waiver claim), defensive back Brandon Foster, wide receiver Sam Giguere, tackle Corey Hilliard, defensive back Travis Key, linebacker Michael Okwo, tight end Jamie Petrowski, wide receiver Taj Smith and defensive back Brandon Sumrall.
Jacksonville Jaguars
Tim Graham says choosing the Patriots over the Bills was easy for Fred Taylor.
Keeping Brad Meester was a good move, says Cole Pepper.
Tennessee Titans
David Climer would like the Titans to take a new approach at receiver.
The agent for receiver Nate Washington expects him to visit the Titans. Also interested: Lions, Buccaneers, Rams and Vikings. He's in Detroit Friday, according to Jim Wyatt.
Titans free agent receiver Brandon Jones will visit the 49ers, says Wyatt.
Defensive tackle Chris Canty is slated to visit the Titans Saturday after a stop in Washington.
The Titans have ratcheted up efforts to hold onto Chris Simms, says Terry McCormick.