NFL Nation:

Tarrell Brown
March, 18, 2014
Mar 18
9:00
AM ET
Brown
Most significant signing:
Cornerback
Tarell Brown
.
Oakland
signed him away from crosstown rival
San Francisco
. Brown received a one-year, $3.5 million deal. He is a solid player, and I think he can be the Raiders' best veteran cornerback in a few years. If
D.J. Hayden
can improve and stay healthy in his second season, the Raiders have a solid pair of cornerbacks. I like this move over some of the other bigger defensive players the Raiders signed, such as
Justin Tuck
,
LaMarr Woodley
and
Antonio Smith
, because of value and impact at the position. I
also like the pickup
of former Green Bay receiver
James Jones
on Monday evening. He is a solid player who should become the Raiders' most reliable receiver. This is exactly the type of signing a team with a surplus of cap room should execute.
Most significant loss:
Left tackle
Jared Veldheer
. Defensive end
Lamarr Houston
is a close second. Veldheer gets the nod as the worst whiff because the Raiders have not replaced him (more about that later). The Raiders had the most salary-cap room in the NFL, and it was telling they couldn't keep these two good, young players. Successful teams keep their own players. For the Raiders to create holes and, in Houston's case, get older in the process is not efficient free-agency management.
Biggest surprise:
The event surrounding tackle
Rodger Saffold
. This has been the league's strangest story of free agency. The Raiders tried to replace Veldheer with Saffold. After that deal was widely panned because Veldheer is considered a better player than Saffold, the Raiders voided the deal because Saffold failed his physical. The Rams, Saffold's previous team, were well aware of his physical condition and quickly signed Saffold. Now the Raiders, despite all their cap room, have a gaping hole at a premium position.
What's next?
The Raiders reportedly have $51 million in cap room (still the most in the NFL). They still have to build their roster, so there is plenty of work to do. It is bargain time in free agency, so the Raiders should have the ability to pick and choose whom they want to sign. In addition to finding Veldheer's replacement, the Raiders are also looking at quarterbacks. Possibilities include a trade for Houston's
Matt Schaub
,
Mark Sanchez
and perhaps
Michael Vick
.
March, 14, 2014
Mar 14
10:34
PM ET
After getting egg on his face Wednesday,
Oakland Raiders
general manager Reggie McKenzie went back to work on Friday, signing former
Houston Texans
defensive end
Antonio Smith
, along with cornerback
Tarell Brown
, a day after inking linebacker
LaMarr Woodley
and
Justin Tuck
. Raiders reporter Paul Gutierrez and Houston Texans reporter Tania Ganguli broke down Smith leaving Houston for Oakland to the tune of a reported two-year, $9 million contract.
Paul Gutierrez
: What I'm wondering, Tania, is what kind of defensive end is Smith, the prototypical edge-rusher the Raiders so desperately need, or more of a run-stuffer on the edge?
Tania Ganguli
: He's better at pass rushing than run stuffing. The Texans' scheme under Wade Phillips, one he liked to call the Phillips 3-4, featured an attacking front. Most of their pass-rushing pressure came from their defensive ends, Smith and
J.J. Watt
, rather than their outside linebackers. That's not exactly by design – they would've loved more pressure from those edge guys – but it spoke to the skill they had at their defensive end positions. Smith is strong and can overpower opposing linemen.
[+] Enlarge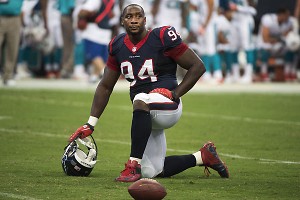 George Bridges/Getty imagesAntonio Smith recorded five sacks for the Texans this past season.
How do you see the Raiders using him?
Gutierrez
: As a pass-rusher/run-stuffer. Cop out, I know. But last season's sack leader, defensive end
Lamarr Houston
, had six sacks and was better at stopping the run, though he left for the
Chicago Bears
, and the Raiders have not had anyone with double-digit sacks since 2006. Still, it is interesting that Smith, Tuck and Woodley ALL play on the left side. They still have to figure out what they're going to do with the right side, unless they switch from a 4-3 to a 3-4 base defense. Then, all bets are off.
Many Raiders fans have been screaming for
Richie Incognito
to join the Raiders and shore up the offensive line. But with Smith here now, kind of hard to see it happening with the bad blood, no? Could you explain it?
Ganguli:
Oh, that would be interesting. Those two have a history going all the way back to college, when both of them played in the Big 12, Incognito at Nebraska and Smith at Oklahoma State. Then they played in the same division in the pros with Smith at Arizona and Incognito at St. Louis. They know each other well and Incognito knows how to goad him. In the 2012 season opener, Incognito engaged in some shenanigans with Smith's ankle, in Smith's view trying to twist and/or break it. He kicked Incognito in the head as he disengaged himself and landed a $21,000 fine. The fine was reduced to $11,000 after an appeal, but still went on Smith's permanent record with the league. When they suspended him for what they viewed as him ripping off Incognito's helmet and using it as a weapon during the 2013 preseason, they sent him a note detailing his history of discipline. Smith was again reacting to Incognito's shenanigans, this time with his face mask and so his face, head and neck. Again, it cost him. It wasn't the smartest move, taking off Incognito's helmet, but I thought the talk that he "could have killed" Incognito was a little overwrought. One thing to know about Smith: He's not the type of guy who gets into scuffles like this with everyone he faces. This is a specific deal between those two guys.
Another thing to know about Smith: He created an alter-ego called the Ninja Assassin while in Houston. Wore a ninja mask during pregame introductions. His sack celebration was him pulling out an imaginary sword from an imaginary sheath and brandishing it. Other times he'd say he was Tonestradamus, and make predictions about whatever came into his head. He's silly, and even in the bad times I didn't sense Texans fans tiring of it. How do you think Raider fans will respond to that?
Gutierrez
: Put it this way: Raider Nation is going to love it. Or have you not seen how every home game is Halloween on Hegenberger, what with so many costumes and characters filling the Black Hole. He will be a fan favorite, so long as he produces. That being said, how much of his success was his being on the other side of Watt, and, with Smith, a 10-year vet turning 33 in November, how much tread does the Ninja Assassin have left on his tires?
Ganguli
: I should note, unless he's changed his mind, the Ninja Assassin is dead. Smith said that if he didn't return to Houston he was going to leave it behind and find another character. I'm sure he'd love suggestions. I think a two-year deal was smart on the part of the Raiders. He's got plenty left right now, but beyond 2015, that'd be tough to say. I think his fit, rather than his age, is why the Texans let him go. Watt and Smith had a symbiotic relationship. Two of Smith's most productive seasons, sack wise, came after the Texans drafted Watt, but one of those was 2011, a season during which Watt hadn't yet turned into what he is today.
Wrapping up, Smith was always happy to help younger teammates in Houston, taking an active mentoring role with some. Can you see that developing with anyone on the Raiders' roster?
Gutierrez
: Poor Ninja Assassin. My dad actually toured the Far East on a martial arts expedition with Sho Kosugi, who starred in all of those ninja movies of the early 1980s. But I digress ... to answer your question, most definitely. Sure, the Raiders went the vet route with Smith, Tuck and Woodley, but they do have high hopes for defensive end
Jack Crawford
, who will be entering his third season and was initially drafted in the fifth round as a project, of sorts, out of Penn State. Plus, they kept undrafted rookie
Ryan Robinson
a year ago over seventh-round draft pick
David Bass
. So if Smith is up for some mentoring, the Raiders have some young bucks who would be wise to sit and learn at his knee. So long as they don't ask any ninja-related questions, I surmise.
November, 4, 2013
11/04/13
8:00
AM ET
SANTA CLARA, Calif. – The
San Francisco 49ers
are going to get deeper at cornerback this week as they are expected to activate
Eric Wright
from the physically unable to perform list.
Wright
Wright was signed in the offseason to bring experience and ball skills to the defending NFC champions, and he will add to an already strong secondary. The 49ers cornerbacks have played well during the team's has string together a five-game winning streak. The starters are
Carlos Rogers
and
Tarell Brown
, and
Tramaine Brock
has taken over as the nickel cornerback from
Nnamdi Asomugha
.
Asomugha, signed earlier this year, may be in danger of being cut to make room for Wright on the 53-man roster.
It will be interesting to see if Wright can become more than a dime cornerback on this unit. I asked ESPN analyst Matt Williamson his thoughts. He said he doesn't think Wright will break into the top three.
Still, Wright's presence will make the team deeper and provide important injury insurance.
"It's a pretty good group for sure," said Williamson, who also said he thinks the unit will be better when pass-rusher
Aldon Smith
comes back.

NFL SCOREBOARD
Thursday, 9/4
Sunday, 9/7
Monday, 9/8