August, 26, 2014
Aug 26
5:15
PM ET
Most significant move:
The Steelers cut a pair of players who appeared in games for them last season. In the process, their plans along the defensive line came more into focus. The team released defensive end
Brian Arnfelt
, who appeared in two games at the end of last season, and nose tackle
Hebron Fangupo
, who played in four games in 2013.
Josh Mauro
, an undrafted rookie, has the edge for the last defensive spot if the Steelers keep seven defensive linemen, and rookie nose tackle
Daniel McCullers
, a sixth-round pick, is almost sure to stick on the 53-man roster. Defensive end
Ethan Hemer
may be the odd man out with defensive end
Nick Williams
and nose tackle
Roy Philon
likely grabbing spots on the practice squad. Arnfelt entered training camp with a good chance at making the team, but the second-year man fell out of favor with the coaches and Mauro passed him at defensive end. Williams still has a chance to unseat Mauro if he plays well in the Steelers' final preseason game Thursday night against the
Carolina Panthers
.
Running back shuffle:
The Steelers are down to five running backs after releasing three at that position Tuesday, including
Tauren Poole
, who got a long look from the coaches. A roster spot is there for the taking if either
Josh Harris
or
Stephen Houston
seizes the final opportunity against the Panthers. The Steelers may go with three running backs and fullback
Will Johnson
even given the uncertain status of starter
Le'Veon Bell
and
LeGarrette Blount
. Coach Mike Tomlin has said the team is considering all options as far as punishment following their arrest on marijuana possession charges. (Bell has also been charged with driving under the influence.) That includes a suspension -- and the Steelers can maneuver around the collective bargaining agreement by simply deactivating Bell, Blount or both for the Sept. 7 season opener against the Browns. I don't expect the Steelers to sit either for an entire game, and a suspension from the NFL wouldn't come until next season. That means Harris or Houston will have to play his way on to the 53-man roster, or the two could be vying for a spot on the practice squad. The Steelers will also keep an eye on the waiver wire to see which running backs become available at the end of the week.
Steelers' moves:
Arnfelt, S
Jordan Dangerfield
, C
Chris Elkins
, Fangupo, WR
C.J. Goodwin
, RB
Jordan Hall
, LS
Luke Ingram
, RB
Miguel Maysonet
, OT
Emmanuel McCray
, WR
Kashif Moore
, Poole, CB
Devin Smith
, OLB
Vic So'oto
, CB
Lew Toler
, TE
Eric Waters
August, 16, 2014
Aug 16
12:00
PM ET
The
Buffalo Bills
(1-1) and
Pittsburgh Steelers
(0-1) play Saturday night at Heinz Field.
The first-team offense will get its first extended action of the preseason, and you can look for the starters to play at least a quarter. Ben Roethlisberger put together a nice drive in the only series the veteran quarterback played last Saturday night against the Giants, but the Steelers couldn't finish it. They had to settle for a Shaun Suisham field goal after the offense stalled inside the Giants' 10-yard line. "That's certainly a trend we don't want to start, not finishing off our drive," tight end Heath Miller said. "We need to be better in the red zone." The Steelers also need to be better when it comes to extending drives. They converted just 2 of 14 times on third down in the 20-16 loss to the Giants.
All signs point to rookie inside linebacker Ryan Shazier playing in his first preseason game. Shazier, who didn't play against the Giants because of a bruised knee, was a full participant in the Steelers' final practice of training camp. The speedy Shazier has been impressive when he has been on the practice field. Now it's time for the first-round pick to show what he can do in a game. The first-team defense should be intact with Shazier's anticipated NFL debut and strong safety Troy Polamalu also expected to play against the Bills. Coach Mike Tomlin didn't play Polamalu against the Giants, but the eight-time Pro Bowler needs to get some game action with new free safety Mike Mitchell.
A number of players who showed progress in camp could make a move in the game, and that is critical to their push for a spot on the 53-man roster. Tomlin said that the last week of camp (which concluded with a pair of joint practices with the Bills at St. Vincent College) and the Steelers' second preseason camp is when separation among players fighting for a roster spot really occurs. That should keep fans from changing the channel after the starters have been taken out of the game. Linebacker Dan Molls, who led the Steelers with nine tackles against the Giants, should see extended playing time if Vince Williams (concussion) and Jordan Zumwalt (groin) don't play against the Bills. Other players to watch include defensive end Josh Mauro, tight end Eric Waters, running back Tauren Poole, outside linebacker Howard Jones and safety Jordan Dangerfield. "I told a couple of guys we're calling for a third defense [in practice] and in a couple of weeks there will be no third defense," Tomlin said earlier this week. "So if you're on the third defense you better make a move."
August, 5, 2014
Aug 5
1:00
PM ET
LATROBE, Pa. -- A seemingly forgotten linebacker has hit harder than some of the storms that swept through the area during the
Pittsburgh Steelers
' first week of training camp.
Vince Williams
jolted
Le'Veon Bell
several times during a back-on-'backers drill last Friday night, leading to the first fight of camp. The next day Williams walloped running back
Miguel Maysonet
and
Tauren Poole
in separate drills, putting him among the players who have stood out since the pads have gone on and started popping.
"Vince brings a great deal of emotion and intensity to his work. He has that distinguishing characteristic," Steelers coach Mike Tomlin said. "He had it at Florida State and it continues. It's a good thing to build his game around."
Williams started 11 games last season following the loss of
Larry Foote
, and the sixth-round draft pick made significant progress during his rookie campaign. But he opened offseason practices behind rookie first-round pick
Ryan Shazier
on the depth chart at weakside inside linebacker, and Shazier has only tightened his grip on Williams' former job.
Williams lacks Shazier's speed and athleticism, two attributes that are vital with offenses increasingly spreading out defenses, but man can he deliver a shot. The Steelers will count on Williams doing that in a reserve role at linebacker as well as on special teams.
THREE REASONS FOR OPTIMISM
1.
The Steelers have an abundance of talent at inside linebacker a year after they had to start a player who had previously worked as an insurance adjuster for two games at the position. Williams gives them solid depth inside and
Sean Spence
looks like he will contribute two years after suffering a career-threatening knee injury. The Steelers are so deep at inside linebacker that
Terence Garvin
, who played 15 games as a rookie last season, will have to battle to make the team. One of the final roster spots could come down to Garvin and rookie sixth-round pick
Jordan Zumwalt
.
[+] Enlarge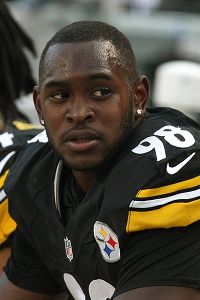 Jason Bridge/USA TODAY SportsSecond-year linebacker Vince Williams has made an impact during Steelers training camp this summer.
2.
Ben Roethlisberger
has looked sharp and focused despite talk swirling around him about his contract situation and former teammate
Emmanuel Sanders
' claim that
Peyton Manning
is a far better leader than Roethlisberger. Sanders, who is now with the
Denver Broncos
, might reassess his evaluation if he watched Roethlisberger for a couple of days during training camp. The 11th-year quarterback has been coaching the Steelers' wide receiver as much as he has been throwing to them, barking at them if they run a wrong or sloppy route or drop a ball, but also praising them when they make a good play. He has also stayed after practice to throw to his receivers.
3.
The offensive line has a chance to be really good if it can stay relatively healthy. The Steelers already appear to be set with their starting five, and that group can use camp and the preseason games to work together on the new technique and schemes the line is learning from new position coach Mike Munchak. The line, which returns four starters from 2013 as well as Pro Bowl center
Maurkice Pouncey
from a knee injury, has taken to the coaching of Munchak. It has also taken personally that the Steelers averaged just 86.4 rushing yards per game last season. One of the offensive line's goals this season is for the Steelers to rank among the NFL's top 10 teams in rushing.
THREE REASONS FOR PESSIMISM
1.
Running back
LeGarrette Blount
's on-field behavior has been a little unsettling, and you have to wonder if the raw emotion that he couldn't check when he dived onto Vince Williams during the first fight of camp will resurface if he doesn't get the ball enough during the regular season. Bell is entrenched as the starter and he is clearly the better all-around back then Blount. The Steelers also want to get speedy rookie
Dri Archer
involved in the running game. How many carries that leaves for Blount remains to be seen. If he becomes unhappy with his role in the offense that could become an issue.
2.
Groin injuries haven't become an epidemic but they have been an issue at camp and cost several players valuable practice time. New starting free safety
Mike Mitchell
, who arrived at camp with a groin injury, has yet to practice and he needs to develop a good on-field rapport with strong safety
Troy Polamalu
. The two did not practice together much during the offseason since Polamalu skipped the voluntary organized team activities (OTAs) and it has to be at least a small concern to the Steelers that they have yet to work together in camp.
Jordan Zumwalt
also missed significant practice time with a groin injury stunting his development. Zumwalt has a real chance to make the 53-man roster, but after missing OTAs because UCLA's school year hadn't ended, the sixth-round pick needs to get as many repetitions as he can during camp.
[+] Enlarge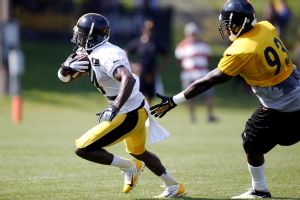 Charles LeClaire/USA TODAY SportsAntonio Brown, who caught 110 passes for 1,499 yards last season, has been a popular target for Ben Roethlisberger during training camp.
3.
Roethlisberger seems to be targeting
Antonio Brown
a lot during 11-on-11 drills, which is understandable considering the latter caught 110 passes for 1,499 yards last season. But Brown is going to need some help this season to keep defenses from throwing all kind of coverages his way. The reality is that the young wideouts who have looked so promising in camp have yet to prove themselves at this level. The Steelers will probably feel a lot more at ease about their wide receivers if
Markus Wheaton
and
Justin Brown
, among others, flash in preseason games instead of just practice.
OBSERVATION DECK
Rookie outside linebacker Howard Jones has helped himself through the early part of camp. Jones, who signed with the Steelers as an undrafted free agent, has stood out during back-on-'backers drills, and last Friday night he twice beat tight end Heath Miller. "He has a chance to be a player," a veteran Steelers player said of Jones.

One of the young running backs is going to emerge and make the 53-man roster and my guess is it is either Tauren Poole or Miguel Maysonet. Both have had their moments running the ball, though special teams may be the biggest consideration as far as who the Steelers keep as a fourth running back.

Wide receiver Martavis Bryant is making the team. The question is will the Steelers essentially redshirt him during his rookie season by deactivating him for games. The answer at this time last week would have probably been yes. But Bryant has come on after a slow start to camp and the Steelers could badly use a 6-4 wide receiver inside the 20-yard line. Bryant dominated a red zone drill late last week.

The Steelers are through the grind of camp. They are off today following six consecutive days of practice, and they will only practice two more times this week before holding a walk through for their first preseason game. After playing the New York Giants on Saturday night, the Steelers will practice four more times at St. Vincent College before breaking camp.
August, 2, 2014
Aug 2
7:15
PM ET
LATROBE, Pa. – A daily review of the hot topics coming out of
Pittsburgh Steelers
training camp:
The offense and defense battled to a draw in one of the most anticipated drills of training camp. The offense scored three touchdowns in six attempts from the 1-yard line in the goal-line drill. Ben Roethlisberger threw an easy touchdown pass to tight end Matt Spaeth off play-action to start the drill. The play call didn't sit well with the defense and might have contributed to cornerback Ike Taylor and LeGarrette Blount later jawing at each other from across the field. Tauren Poole and Josh Harris each scored on 1-yard runs, but the defense held its own, stopping three runs other short of the end zone. Inside linebacker Vince Williams blew up Poole short of the end zone, putting an exclamation on an impressive day. Williams had delivered a monster hit earlier in practice when he obliterated running back Miguel Maysonet in an 11-on-11 drill.
Rookie wide receiver Martavis Bryant had his best practice of training camp. The fourth-round draft pick made a handful of difficult catches. None were more impressive than when Bryant twisted his body while on the run to catch a Bruce Gradkowski pass that had sailed behind the 6-foot-4, 210-pound Bryant in the end zone. "He's a big, so we expect him to consistently make big-guy plays," Steelers coach Mike Tomlin said of Bryant. "I'm interested in him developing a complete game."
Tempers flared again a day after the first fight of training camp broke out and nearly turned into a brawl. Outside linebacker Chris Carter and left tackle Kelvin Beachum had to be separated at the end of one play during a red-zone drill. Pro Bowl center Maurkice Pouncey and nose tackle Hebron Fangupo went at it during goal-line drills and punches were thrown before the two were separated.
Wide receiver Darrius Heyward-Bey missed his second consecutive practice after sustaining a concussion last Thursday and linebacker Jordan Zumwalt remains out with groin tightness. Tomlin gave tight end Heath Miller and nose tackle Steve McLendon the day off in part so he could look at some of the younger players at those positions. Safety Mike Mitchell did some work, Tomlin said, and he might be close to returning. Mitchell, who signed a five-year, $25 million contract with the Steelers in March, has been on the physically unable to perform list since reporting to camp with a groin injury.
Rookie running back Dri Archer showcased his speed in one-on-one passing drills. Matched up several times against Lawrence Timmons, Archer made an over-the-shoulder catch after separating from Timmons on a wheel route. Earlier in the drill, Archer caught a pass in front of Timmons, stopped and then ran right past him.
The Steelers practice Sunday and Monday from 2:55 to 5:30 p.m. ET. The players are off on Tuesday and practice will resume on Wednesday.
August, 11, 2012
8/11/12
10:25
PM ET
This should come as absolutely no surprise, because it's what the
Carolina Panthers
envisioned on draft day and what they've seen so far in training camp. But the world got to see the impact of rookie linebacker
Luke Kuechly
in Saturday night's preseason opener, a
26-13
loss to the
Houston Texans
.


It didn't take long for Kuechly to do what he's done in practice every day -- make a big play. On Houston's second drive of the night, Kuechly put a big hit on running back
Arian Foster
and forced a fumble that was recovered by safety
Sherrod Martin
. That turnover helped set up a field goal for the Panthers.
Kuechly left the game after the first quarter, but finished with two solo tackles, two assists and the forced fumble. Spread that out over four quarters and over an entire season, and it sure looks like the Panthers have found a playmaker at linebacker.
Some other observations on the Panthers:
NFL SCOREBOARD
Thursday, 11/27
Sunday, 11/30
Monday, 12/1
WEEKLY LEADERS