NFL Nation:

Tavares Gooden
March, 18, 2013
3/18/13
9:18
PM ET
PHOENIX -- The
Seattle Seahawks
and especially the
San Francisco 49ers
added to their 2013 NFL draft hauls Monday when the NFL awarded compensatory selections to offset net losses in free agency last year.
The 49ers received the 131st overall pick, a fourth-rounder, plus the 246th and 252nd choices, both in the seventh round. The Seahawks received the 241st and 242nd overall choices, also in the seventh round.
Teams cannot trade compensatory picks.
"Under the rules for compensatory draft selections, a team losing more or better compensatory free agents than it acquires in the previous year is eligible to receive compensatory draft picks," the NFL announced. "Compensatory free agents are determined by a formula based on salary, playing time and postseason honors. The formula was developed by the NFL Management Council. Not every free agent lost or signed by a club is covered by this formula."
The 49ers received compensatory choices because free-agent losses
Blake Costanzo
,
Josh Morgan
and
Madieu Williams
outweighed free-agent addition
Mario Manningham
according to the formula. The Seahawks received picks because free-agent losses
Atari Bigby
,
John Carlson
,
David Hawthorne
and
Charlie Whitehurst
outweighed free-agent additions
Matt Flynn
and
Jason Jones
.
I've put together lists below showing all unrestricted free agents added, lost and re-signed by NFC West teams last offseason.
Update:
I've also made available for download
an Excel file
with tentative 2013 draft order, reflecting comp picks and known trades. This is unofficial. The league has not yet released the official order; additional trades could affect it.
The 49ers have a league-high 14 picks, including two picks in each of the second through fifth rounds. They're in prime position to stock their roster for the future.
By my accounting, the Cardinals hold the 7th, 38th, 69th, 103rd, 140th, 174th and 176th picks. The 49ers hold the 31st, 34th, 61st, 74th, 93rd, 128th, 131st, 157th, 164th, 180th, 227th, 237th, 246th and 252nd choices. The Seahawks hold the 56th, 87th, 123rd, 138th, 158th, 194th, 214th, 220th, 241st, and 242nd choices. The Rams hold the 16th, 22nd, 46th, 78th, 113th, 149th, 184th and 222nd picks.
Arizona Cardinals
Re-signed:
D'Anthony Batiste
,
Mike Leach
,
Early Doucet
,
Jay Feely
,
Dave Zastudil
Added:
Adam Snyder
,
William Gay
,
James Sanders
,
Quentin Groves
Lost:
Richard Marshall
,
Sean Considine
,
Deuce Lutui
San Francisco 49ers
Re-signed:
Tavares Gooden
,
Carlos Rogers
,
Alex Smith
,
Ted Ginn
Jr.
Added:
Mario Manningham,
Rock Cartwright
,
Josh Johnson
Lost:
Josh Morgan, Adam Snyder, Blake Costanzo,
Reggie Smith
, Madieu Williams,
Chilo Rachal
Seattle Seahawks
Re-signed:
Heath Farwell
,
Red Bryant
,
Paul McQuistan
,
Michael Robinson
,
Leroy Hill
,
Matt McCoy
Added:
Matt Flynn, Jason Jones, Deuce Lutui,
Barrett Ruud
Lost:
John Carlson, Atari Bigby, Charlie Whitehurst, Tony Hargrove, David Hawthorne
St. Louis Rams
Re-signed:
Kellen Clemens
Added:
Cortland Finnegan
,
Kendall Langford
,
Scott Wells
,
Quinn Ojinnaka
,
Steve Smith
,
Robert Turner
,
Jo-Lonn Dunbar
,
William Hayes
,
Trevor Laws
,
Mario Haggan
,
Barry Richardson
Lost:
Brandon Lloyd
,
Chris Chamberlain
,
Donnie Jones
,
Jacob Bell
,
Bryan Kehl
,
Gary Gibson
March, 12, 2013
3/12/13
6:14
PM ET
The NFL has released its official list of restricted and unrestricted free agents.
The chart breaks down the UFA counts by team in the NFC West.
A quick look at the lists, which include a couple players who have already reached agreement on new contracts:
Arizona Cardinals

UFA offense (4):
D'Anthony Batiste
,
Pat McQuistan
,
Rich Ohrnberger
,
LaRod Stephens-Howling
UFA defense (8):
Michael Adams
,
Nick Eason
,
Quentin Groves
,
Vonnie Holliday
,
Rashad Johnson
,
Paris Lenon
,
James Sanders
,
Greg Toler
RFA:
Brian Hoyer
, tendered to second-round pick.
Note:
The Cardinals announced Johnson's agreement to a three-year contract.
St. Louis Rams

UFA offense (8):
Danny Amendola
,
Kellen Clemens
,
Brandon Gibson
,
Steven Jackson
,
Barry Richardson
,
Steve Smith
,
Robert Turner
,
Chris Williams
UFA defense (6):
Craig Dahl
,
Bradley Fletcher
,
Mario Haggan
,
William Hayes
,
Trevor Laws
,
Rocky McIntosh
RFA:
Darian Stewart
, tendered to right of first refusal.
Note:
The Rams announced Hayes' agreement to a three-year contract.
San Francisco 49ers

UFA offense (4):
Leonard Davis
,
Ted Ginn
Jr.,
Randy Moss
,
Delanie Walker
UFA defense (6):
Dashon Goldson
,
Tavares Gooden
,
Larry Grant
,
Clark Haggans
, Ricky Jean-Francois,
Isaac Sopoaga
RFA:
Tramaine Brock
, tendered to right of first refusal.
Note:
Walker has reportedly agreed to terms on a contract with the
Tennessee Titans
.
Seattle Seahawks

UFA offense (2):
Cameron Morrah
,
Frank Omiyale
UFA defense (5):
Alan Branch
,
Patrick Chukwurah
,
Leroy Hill
,
Jason Jones
,
Marcus Trufant
UFA special teams (2):
Steve Hauschka,
Ryan Longwell
RFA:
Clint Gresham
and
Chris Maragos
, tendered to right of first refusal; and
Clinton McDonald
, tendered to seventh-round choice.
March, 16, 2012
3/16/12
12:30
PM ET
Michael Robinson
's expected re-signing with the
Seattle Seahawks
would give the team a league-high four re-signings in the unrestricted free-agent market.
Red Bryant
,
Paul McQuistan
and
Heath Farwell
previously re-signed.
Seattle and the other NFC West teams have added only two UFAs from other teams, however. I've put together UFA scorecards for each team in the division. Ages are in parenthesis. Here goes ...
Seattle Seahawks

UFA unsigned (age):
defensive end
Raheem Brock
(33), defensive lineman
Jimmy Wilkerson
(31), safety
Atari Bigby
(30), quarterback
Charlie Whitehurst
(29), linebacker
Leroy Hill
(29), linebacker
Matt McCoy
(29), defensive lineman
Anthony Hargrove
(28), linebacker
David Hawthorne
(26), running back
Justin Forsett
(26), linebacker
David Vobora
(25)
UFA re-signed:
Farwell (30), Robinson (29), McQuistan (28), Bryant (27)
UFA added:
none
UFA lost:
tight end
John Carlson
(27)
Franchise player:
none
Comment:
Forsett has provided value, but the Seahawks will want to add a power back as depth behind
Marshawn Lynch
, who re-signed before free agency.
Mike Tolbert
, a free agent from the
San Diego Chargers
, could be worth a look if the running back market remains soft. Tolbert weighs 243 pounds, has 21 total touchdowns over the past two seasons, and caught 54 passes in 2012. The price would have to be right after Seattle committed to Lynch.
San Francisco 49ers

UFA unsigned:
fullback
Moran Norris
(33), tight end
Justin Peelle
(33), safety
Madieu Williams
(30), quarterback
Alex Smith
(27), receiver
Ted Ginn
Jr. (26), guard
Chilo Rachal
(26), safety
Reggie Smith
(25)
UFA re-signed:
cornerback
Carlos Rogers
(30), linebacker
Tavares Gooden
(27)
UFA added:
none
UFA lost:
guard
Adam Snyder
(30), linebacker
Blake Costanzo
(27), receiver
Josh Morgan
(26)
Franchise player:
safety
Dashon Goldson
(27)
Comment:
Randy Moss
and potential addition
Rock Cartwright
do not appear in the listings because they were not unrestricted free agents. Re-signing Alex Smith and finding additional receiver help appear to be the top priorities. The 49ers are showing little outward urgency on either front, however.
Arizona Cardinals

UFA unsigned:
defensive lineman
Vonnie Holliday
(36), kicker
Jay Feely
(35), long-snapper
Mike Leach
(35), outside linebacker
Clark Haggans
(35), outside linebacker
Joey Porter
(34), offensive lineman
Floyd Womack
(33), punter
Dave Zastudil
(33), tackle
D'Anthony Batiste
(29), safety
Sean Considine
(29), guard
Deuce Lutui
(28), safety
Hamza Abdullah
(28), tackle
Brandon Keith
(27), receiver
Early Doucet
(26)
UFA re-signed:
none.
UFA added:
Snyder (30)
UFA lost:
cornerback
Richard Marshall
(27)
Franchise player:
defensive end
Calais Campbell
(25)
Comment:
The Cardinals have been in a tough spot. They would have faced criticism had they declined to pursue
Peyton Manning
. They could now face criticism for sacrificing the first week of free agency while waiting for Manning. The reality is that Arizona probably wasn't going to be all that aggressive in the market this offseason, anyway. It did hurt losing Marshall to the
Miami Dolphins
after coordinator Ray Horton called him the Cardinals' defensive MVP.
St. Louis Rams

UFA unsigned:
cornerback
Al Harris
(37), quarterback
A.J. Feeley
(34), offensive lineman
Tony Wragge
(32), linebacker
Brady Poppinga
(32), punter
Donnie Jones
(31), offensive lineman
Adam Goldberg
(31), guard
Jacob Bell
(31), receiver
Brandon Lloyd
(30), cornerback
Rod Hood
(30), running back
Cadillac Williams
(29), defensive tackle
Gary Gibson
(29), receiver
Mark Clayton
(29), tackle
Mark LeVoir
(29), tight end
Stephen Spach
(29), safety
James Butler
(29), tight end
Billy Bajema
(29), quarterback
Kellen Clemens
(28), running back
Jerious Norwood
(28), linebacker
Bryan Kehl
(27), linebacker
Chris Chamberlain
(26), cornerback
Justin King
(24)
UFA re-signed:
none
UFA added:
cornerback
Cortland Finnegan
(28)
UFA lost:
none
Franchise player:
none
Comment:
The Rams are not looking to re-sign many of their own free agents. They want to turn over the roster, and that is happening in a big way. The team's failure to secure playmaking help for quarterback
Sam Bradford
stands out as the biggest theme to this point. Finnegan was a welcome addition, but he isn't going to score many touchdowns.
The chart below shows a general overview.
February, 7, 2012
2/07/12
7:24
PM ET
Five of the
San Francisco 49ers
' projected unrestricted free agents for 2012 played right around 1,000 snaps or more last season, easily the highest figure in the NFC West.
Re-signing quarterback
Alex Smith
appears likely. Smith accepted the Associated Press' coach of the year award on Jim Harbaugh's behalf Saturday, the latest indication Smith remains firmly in the fold.

Cornerback
Carlos Rogers
has said he wants to return. His value spiked after earning a trip to the Pro Bowl. The franchise tag remains available, but the price would be lower if San Francisco used it for free safety
Dashon Goldson
instead. Either way, the 49ers have decisions to make in their secondary.
The charts below expand upon
Brian McIntyre's lists
. I've added offensive and defensive snap counts from ESPN Stats & Information. The final column shows what players earned per year on their most recent contracts.
Some players, notably
Blake Costanzo
and
C.J. Spillman
, played extensively on special teams. The charts show offensive and defensive snap counts only.
.
The second chart shows restricted free agents. Teams can retain rights to RFAs by making one-year qualifying offers.
January, 12, 2011
1/12/11
4:53
PM ET
Here is the latest news on who practiced and who didn't for the
Baltimore Ravens
and
Pittsburgh Steelers
:

Steelers (12-4)
Coming off the bye week, the Steelers are as healthy as they've been in months. They only have one player who sat out of practice entirely Wednesday and that's Pro Bowl safety
Troy Polamalu
(Achilles). Recently Pittsburgh has been resting Polamalu during the week before bringing him back before the final practice. Polamalu said Wednesday that he will practice Thursday. Starting cornerback
Bryant McFadden
(hamstring) and defensive end
Aaron Smith
(triceps) had limited practices. Smith, who has been out for two months, said Tuesday he
doesn't expect a final decision
on his playing status until late in the week.

Ravens (13-4)
Baltimore was fortunate to come out of last week's wild-card win over the
Kansas City Chiefs
healthy. The Ravens have five players listed on their injury report, with receiver
Donte' Stallworth
(illness) and starting center
Matt Birk
(knee) being the only two who didn't practice Wednesday. Cornerback
Chris Carr
(thigh) was limited but he's expected to play. Linebacker
Tavares Gooden
(shoulder) and safety
Tom Zbikowski
(back) are both improving and fully participated in practice. All things considered, the Ravens are a healthy group coming into the divisional playoff game.
October, 17, 2010
10/17/10
11:59
AM ET
August, 25, 2010
8/25/10
1:07
PM ET
A team-by-team look at the most indispensable players (non-quarterbacks) in the division.
The NFL, perhaps more than any professional sport, is a league filled with replaceable players. By sheer numbers, fielding 22 players on offense and defense makes it difficult for a single cog to be above the team, especially for non-quarterbacks.
But there are several players vital to AFC North teams. Here are four difference-makers in the division: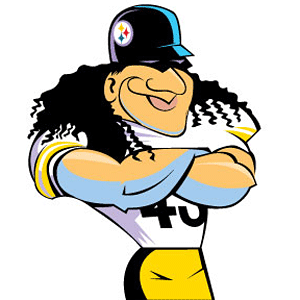 Chris Morris for ESPN.comTroy Polamalu helps take the Pittsburgh defense to another level when he's on the field.
PITTSBURGH STEELERS: TROY POLAMALU
To define Polamalu's importance, look no further than last season. Pittsburgh missed the playoffs in 2009, mostly because its defense was unable to hold leads in the fourth quarter without its star safety in the lineup.
Polamalu missed 11 games with a left knee injury, and it appeared the other 10 defenders were overcompensating for Polamalu's absence by blowing routine assignments. Polamalu provides a calming influence, and his greatness can be measured by his teammates playing at a higher level when he's in the game.
Steelers defensive coordinator and 2010 Hall of Famer Dick LeBeau recently said he
cannot find a weakness
with Polamalu. He's athletic, smart, instinctive and excels against the pass and the run.
Pittsburgh's defense without Polamalu is good (No. 5 in 2009), but with Polamalu, it might be the best in the NFL.
CLEVELAND BROWNS: JOSH CRIBBS
Where would the Browns be without Cribbs?
For starters, you probably can erase two or three wins from last year's 5-11 record. Cribbs also might have saved Browns head coach Eric Mangini's job.
Cribbs was one of the few bright spots for Cleveland last season. He made the Pro Bowl as a kick returner, but his ability to run the Wildcat also added a new wrinkle to the Browns' struggling offense, which finished last in the NFL in 2009.
The Browns plan to expand Cribbs' role, both in the Wildcat and as a receiver. The more the team is able to get the ball in his hands, the better.
Despite Cleveland adding pieces in the draft and free agency, Cribbs remains the Browns' most-feared player. He's also a locker-room leader and, perhaps, the new face of Cleveland sports now that LeBron James signed with the Miami Heat.
BALTIMORE RAVENS: RAY LEWIS
Lewis, 35, is no longer the Ravens' best player. That distinction could be shared by
Ray Rice
,
Ed Reed
and
Haloti Ngata
. But Lewis' leadership still makes him Baltimore's most indispensable player.
Lewis remains the heart and soul of a team many feel is a Super Bowl contender this year. Physically, the Ravens are stacked with talent at nearly every position. But there's no one in the locker room who can replace Lewis' role as the motivational leader.
On the field, Lewis made his 11th Pro Bowl last season, recording 134 tackles and three sacks. Backups
Dannell Ellerbe
or
Tavares Gooden
would be significant drop-offs if Lewis were injured. On the other hand, the Ravens have plenty of quality replacements ready for Rice, Reed and Ngata. Even
Joe Flacco
has a capable backup in veteran quarterback
Marc Bulger
.
CINCINNATI BENGALS: CEDRIC BENSON
Cincinnati is a team better defined by the sum of its parts. But if I had to pick the most important non-quarterback, it would be Benson.
The Bengals have two very good cornerbacks:
Leon Hall
and
Johnathan Joseph
. They have plenty of receivers, including two who have put up Hall of Fame-caliber numbers in
Chad Ochocinco
and
Terrell Owens
. But Benson is the workhorse who makes it all work. Benson opens things up for the passing game, which was inconsistent last season, and he moves the chains to help keep the defense off the field.
Second-year tailback
Bernard Scott
will help Benson carry the load this year. He showed positive flashes as a rookie, but the former sixth-round pick remains unproven. With Cincinnati expected to pass more, Benson might not match his career-best 1,251 rushing yards from last season. But that doesn't make him any less important.
August, 22, 2009
8/22/09
1:03
PM ET
| | |
| --- | --- |
| | |
| | James Lang/US Presswire |
| | Coach John Harbaugh, who took the Ravens to the AFC Championship Game in his first season, is looking to take the next step. |
Posted by ESPN.com's James Walker
WESTMINSTER, Md. -- If the Baltimore Ravens want to take the next step and build off a stellar 2008 season, there is only one place left for this team to go: Super Bowl XLIV in Miami, Fla.
Coming off a competitive AFC Championship Game loss to the reigning champion Pittsburgh Steelers, optimism abounds in Baltimore.
The Ravens feel they finally found their franchise quarterback in Joe Flacco. They have an energetic coach in John Harbaugh who quickly brought the team back to prominence, and the defense was rated second in the NFL last season behind Pittsburgh.
Based on the record-setting turnout in Westminster this summer for training camp, Ravens fans are clearly buying into Baltimore's rosy outlook as a title contender. But for the Ravens to position themselves to make a run, they must first address several key issues.
Key questions
1. Can Baltimore overtake Pittsburgh?
If Baltimore were able to topple Pittsburgh last season, who knows where the Ravens would be right now? Perhaps the Ravens, and not the Steelers, would be entering the season as the defending champs.
But Baltimore was unable to climb "Mount Pittsburgh" in 2008, losing close games in all three attempts. The end result was falling one game shy of the AFC North division title and one touchdown drive short of Baltimore advancing to play the Arizona Cardinals in Super Bowl XLIII.
Although the Ravens probably wouldn't admit this publicly, much of what they're doing this season is geared toward closing the gap with the Steelers. Baltimore drafted rookie tackle Michael Oher to help nullify Pittsburgh's edge rushers James Harrison and LaMarr Woodley. The Ravens improved the depth in their secondary, which broke down with injuries during the playoffs, by adding cornerbacks Domonique Foxworth and Chris Carr in free agency.
The difference between Baltimore and Pittsburgh wasn't sizable to start. But the Ravens are hoping this is the year the balance of power shifts in their favor.
| | |
| --- | --- |
| | |
| | James Lang/US Presswire |
| | Coaches have been working with QB Joe Flacco to attack more areas of the field. |
2. Will Joe Flacco avoid the sophomore slump?
Much of Baltimore's success will hinge on Flacco proving to be the real deal. So far there is no reason to believe that won't be the case.
The Ravens by no means will become a pass-happy offense this season, but Flacco is being given more responsibility in his second year working with offensive coordinator Cam Cameron. In addition to a strong running game, overall balance will make Baltimore harder to defend if Flacco is up to the task.
Flacco had a good preseason debut, completed 9 of 15 passes for 103 yards in a 23-0 victory last week over the Washington Redskins. What stood out most is Flacco connected with six different receivers in limited playing time, which is an important next step in his maturation process.
As a rookie Flacco had the tendency to lock in on his two receivers -- Derrick Mason and Mark Clayton -- on the outside. The pair accounted for nearly half (47 percent) of Flacco's completions. All spring and summer the coaches have been working with Flacco to attack more areas of the field, particularly over the middle, to make the passing game less predictable.
3. Can the defense stay elite?
Since their inception the Ravens have been built on defense. It is also where they allot most of their salary-cap space.
Baltimore has dealt with defections before but rarely has the unit been hit this much in one offseason. Four of the 11 starters will be new this year and the team is replacing longtime defensive coordinator Rex Ryan.
Free-agent pickup Foxworth and linebacker Tavares Gooden will join defensive tackle Kelly Gregg and safety Dawan Landry as starters who weren't contributors for Baltimore's No. 2-rated defense last season. Gregg (knee) and Landry (neck) were starters for the Ravens in the past but are returning from season-ending injuries.
The primary challenge for new defensive coordinator Gregg Mattison is to add his own wrinkles without changing too much
of Baltimore's identity. When you have players like Ray Lewis, Terrell Suggs, Ed Reed and Haloti Ngata, the transition certainly becomes a lot easier.
Market watch
Many in Baltimore are asking: How much is left in the tank of Willis McGahee?
Once one of the top running backs in the AFC, McGahee has been slowed by injuries the past two years in Baltimore. Now in his seventh season, he is at a crossroads to prove he can get back to his previous form.
McGahee, 27, has opened the door for second year-running back Ray Rice to become the starter this season. But the two have been pushing each other recently in training camp in a scenario that is working out for both players.
Rice appears solid in his quest to keep the starting job, while McGahee also is running harder. McGahee is averaging 6.5 yards per carry in the preseason, after averaging less than four yards per carry in three of the past four seasons.
With last year's leading rusher Le'Ron McClain playing more fullback this season, expect McGahee and Rice to have more opportunities to prove themselves in the running game this year.
| | |
| --- | --- |
| | |
| | AP Photo/Rob Carr |
| | Tavares Gooden will take over for Bart Scott, who followed former coordinator Rex Ryan to the Jets. |
Newcomer to watch
The Ravens have had a penchant for finding talented young linebackers and they hope Gooden is next in line.
Gooden, a 2008 third-round pick, missed 12 games last season with a hip injury. But with the departure of linebacker Bart Scott to free agency, Gooden is expected to start next to Lewis in Baltimore's linebacking corps.
Lewis is taking Gooden under his wing the same way he's tutored others such as Scott and Adalius Thomas before him. Teammates jokingly have nicknamed Gooden "Baby Ray."
Observation deck
The Ravens traded up to get first-round pick Michael Oher, and the rookie right tackle is immediately fitting in. With the retirement of veteran Willie Anderson, Oher took all the first-team reps during the spring and summer, which is helping his learning curve. With Oher with left tackle Jared Gaither, the Ravens have two quality young tackles who could be building blocks for a long time. ... The receiver position remains a concern as Baltimore made no significant additions in free agency or the NFL draft. The Ravens caught a break with the return of Mason from a brief retirement, but questions of depth remain. Clayton has missed most of camp with a hamstring injury and Marcus Smith is out for the season with a torn ACL. That leaves Demetrius Williams, Justin Harper and Kelley Washington to assist Flacco. ... This season marks the first time in franchise history that Baltimore will not have longtime Raven Matt Stover as its kicker. Stover eventually lost his leg strength for kickoffs so the Ravens are having a two-way battle between Steve Hauschka and Graham Gano for the job. Both kickers had their ups and downs early, but Hauschka seems to have the early advantage with three games remaining in the preseason.
August, 10, 2009
8/10/09
3:30
PM ET
Posted by ESPN.com's James Walker
It's a popular saying in Baltimore, particularly on defense, that you must "play like a Raven" to make the team. There is no set definition for that term, yet everyone on the Ravens' roster seems to understand it.
| | |
| --- | --- |
| | |
| | AP Photo/Rob Carr |
| | Tavares Gooden is hoping to fill the linebacker spot Bart Scott occupied last season. |
Second-year linebacker Tavares Gooden is the latest player looking to uphold Baltimore's legacy of being physical and punishing. He is competing for a starting inside linebacker job vacated by another physical player in Bart Scott.
Also adding to the pressure is the nickname Gooden has received in "Baby Ray." Defensive leader and fellow Miami Hurricane Ray Lewis is taking Gooden under his wing to teach him the nuances of the game, and the pair is expected to play side-by-side this season in Baltimore's 3-4 scheme.
"Being the youngest in my family, I've always had to exceed whatever somebody else did," Gooden said at Ravens camp this week. "My brother -- he was a great football player -- and I was the baby. So, I was always called 'Little Byron,' or 'Little Stump.' So, I had to go through that.
"Now, it's the same thing with Ray -- they're like, 'Baby Ray.' Eventually, I just want to come out here and make my coaches proud, make my team proud and earn my own name."
Gooden said making the transition a lot easier is playing behind a stout defensive line featuring players like Haloti Ngata and Kelly Gregg. Much of his job in Baltimore is to read and react to the defensive line and fill the holes accordingly.
If Gooden wins the job, as projected, he will be the least experienced starter on Baltimore's defense, which ranked No. 2 in the NFL last season. He could see a lot of teams test him early, but Gooden says he doesn't plan on letting his teammates down.
"You didn't need to be a rocket scientist to know that Bart, Ray and 'Sizzle' [Terrell Suggs] were all up on their deals [last year]," Gooden said of the situation this season. "They brought in another linebacker. You never knew how it was going to unfold, but this is how it is. Now it's time for us to start playing together, start building communication."
| | |
| --- | --- |
| | |
| | Getty Images/US Presswire |
| | Baltimore's Ray Rice and Pittsburgh's Limas Sweed could be poised for big seasons. |
Posted by ESPN.com's James Walker
When it comes to spotting this year's breakout players, most are aware of the usual targets such as Cleveland Browns quarterback Brady Quinn, or linebackers Lawrence Timmons of the Pittsburgh Steelers and Keith Rivers of the Cincinnati Bengals. As former first-round picks, each has received plenty of attention from the AFC North blog and other national outlets despite their lack of playing time or starting experience.
But being a true NFL sleeper is a little different. Consider it a step or two below the label of breakout player.
Expectations aren't nearly as high for a sleeper. Unlike Quinn, Timmons and Rivers, a sleeper can avoid the hype and enter the season without much fanfare.
Although fans may not be talking about these players at the moment, here are the top 10 AFC North sleeper players you might be discussing by season's end:
10. Daniel Sepulveda, P, Steelers
Why: Most casual fans outside of Pittsburgh are not aware of how poor the Steelers' punting was last season. On a bad week, it was horrendous. On a good week, it was average. Pittsburgh's No. 1 defense last year overshadowed this issue. But help is on the way in Sepulveda, who averaged 42.4 yards a punt in 2007 (38.4-yard net). He missed all of 2008 with major knee surgery and has become a free-agent pickup of sorts for the Steelers.
Walker's projected 2009 numbers: 16 games, 43.4-yard average, 21 inside the 20-yard line.
9. Paul Kruger, DE/LB, Baltimore Ravens
Why: One of just two rookies to make this list, Kruger is a second-round pick who appears to have an NFL motor and size. Also keep in mind that Kruger got extensive work with the first team this offseason as starting defensive end/linebacker Terrell Suggs missed minicamp and organized team activities. Now, Kruger gets to find his niche as a situational player while learning from some of the best defenders in the league.
Walker's projected 2009 numbers: 34 tackles, four sacks.
8. Dawan Landry, S, Ravens
Why: A little-known fact in Baltimore is that Landry was having an impressive offseason for the Ravens before the 2008 season. The coaching staff really liked the progress he was making, but it was cut short by an early season neck injury that sidelined him for the season. The Ravens are hoping Landry can gradually get back his confidence this season. The team was confident enough in Landry not to overpay for veteran safety Jim Leonhard, who followed coach Rex Ryan to the New York Jets. That should tell you something.
Walker's projected 2009 numbers: 55 tackles, two interceptions.
7. Brian Robiskie, WR, Browns
Why: The Browns aren't expected to air it out much this season, but Robiskie should be ready to make plays when the opportunity presents itself. Robiskie remains unsigned as of Wednesday, so it's important that he gets into training camp on time when the full team takes the practice field Saturday. Cleveland's No. 2 receiver job is wide open this season, and with Braylon Edwards currently sidelined with an unspecified leg injury, Robiskie will get plenty of early reps with the first team. If he is as polished as scouts and the Browns believe he is, Robiskie could earn a starting job with Cleveland at some point in his rookie season.
Walker's projected 2009 numbers: 35 receptions, 484 yards, two touchdowns.
6. Tavares Gooden, LB, Ravens
Why: Entering his second year, Gooden has become the latest linebacker to fill the role next to future Hall of Famer Ray Lewis. Can he do it? The Ravens believe he can. Gooden is speedy, athletic and very high energy. But injuries during his rookie season prevented people from seeing his potential. Gooden enters training camp as the favorite to replace Bart Scott and could have a solid second season on a veteran unit stocked with playmakers.
Walker's projected 2009 numbers: 64 tackles, two sacks, two forced fumbles.
5. Limas Sweed, WR, Steelers
Why: There is not as much pressure on Sweed as some may think. He is expected to fill a role as Pittsburgh's No. 3 receiver, so that doesn't require him to start. But the Steelers and offensive coordinator Bruce Arians love to use the trips package, which helped Nate Washington earn a big contract with the Tennessee Titans this offseason. It is much more difficult to get open in the NFL than it is to catch the football. So Sweed already has the difficult part figured out.
Walker's projected 2009 numbers: 39 receptions, 528 yards, four touchdowns.
4. Brodney Pool, S, Browns
Why: For four years, the Browns have been waiting for the light to come for Pool. He has above-average ability, but so far has been just an average NFL safety. Pool is arguably the best athlete Cleveland has on its roster. But to date no one has been able to get the best out of his abilities. Now that new coach Eric Mangini and defensive coordinator Rob Ryan have their hands on Pool, this sleeper could be primed for
his best season to date.
Walker's projected 2009 numbers: 85 tackles, three interceptions.
3. Rashard Mendenhall, RB, Steelers
Why: Can a former first-round pick be a sleeper? Yes, when you are a backup tailback coming off a major injury with the defending Super Bowl champions. Mendenhall is actually in a good spot. The pressure is on him to contribute, not to take over games. He didn't show much in his first season. But combined with Willie Parker and Mewelde Moore, Mendenhall should help Pittsburgh restart its ground attack.
Walker's projected 2009 numbers: 107 carries, 440 yards, four touchdowns.
2. Chris Henry, WR, Bengals
Why: Quarterback Carson Palmer is already calling Henry a mini version of Randy Moss. That is probably stretching it. But considering Palmer has played with his share of Pro Bowl receivers, his words carry some merit. Henry has always been a talent-in-waiting. He has size, speed and athleticism, but immaturity on and off the field have held him back. According to the Bengals, Henry has matured knowing he is down to his final shot in the NFL. A contract year also helps Henry's focus, as he is expected to produce for a full season in a pass-happy offense.
Walker's projected 2009 numbers: 44 receptions, 681 yards, five touchdowns.
1. Ray Rice, RB, Ravens
Why: How confident is Rice? He recently switched agents in anticipation of putting up good numbers in just the second year of a four-year contract. Part of the deep running back class of 2008, Rice often got lost in the mix of strong rookie seasons by contemporaries Chris Johnson, Matt Forte and Steve Slaton. Rice showed flashes last season with 454 yards as part of Baltimore's three-headed monster. This year he is the favorite to start in Baltimore behind a solid and physical offensive line. With Willis McGahee returning from injuries and Le'Ron McClain playing more at fullback this year, look for Rice to get plenty of opportunities in his sophomore season.
Walker's projected 2009 numbers: 170 carries, 710 yards, four touchdowns.
| | |
| --- | --- |
| | |
| | Joe Robbins/Getty Images |
| | Brady Quinn and Derek Anderson will compete for the starting quarterback job during Cleveland's training camp. |
Posted by ESPN.com's James Walker
As the weather heats up, it's time to start looking ahead to this summer's NFL training camps.
The AFC North should be very interesting as several key position battles could make or break a team's 2009 season. Here is a look at the seven most intriguing competitions from around the division:
7. Cornerback: William Gay vs. field
Team: Pittsburgh Steelers
Why it's important: With a veteran-laden team that returns 20 of 22 starters, Gay is the only projected starter in any real danger of losing his job in training camp. All indications are that the job is his to lose. The Steelers signed veteran cornerback Keiwan Ratliff and drafted rookies Keenan Lewis and Joe Burnett to provide depth and possibly be there in case Gay falters. But the organization has shown a lot of confidence in Gay since last season when he filled in for former Steeler Bryant McFadden, who signed a two-year deal with the Arizona Cardinals. Gay worked exclusively with the first team in Pittsburgh's full-squad minicamp.
Early favorite: Gay
6. Kicker: Steve Hauschka vs. Graham Gano
Team: Baltimore Ravens
Why it's important: According to Ravens coach John Harbaugh, this kicking competition in Baltimore is going to be "very interesting." Perhaps Harbaugh, a former special-teams coach, is overhyping this battle. But what is interesting is Baltimore is looking for just its second full-time kicker in franchise history. The position was held since the Ravens' inception in 1996 by veteran kicker Matt Stover. But Stover's age (41) finally started to show last season and opened the door for Hauschka and Gano to compete this year. Both young kickers have strong legs, but so far this offseason Hauschka and Gano haven't displayed Stover-type accuracy. If neither kicker comes into his own this summer, things might get "very interesting," as Harbaugh promised.
Early favorite: Even
5. Center: Alex Mack vs. Hank Fraley
Team: Cleveland Browns
Why it's important: This is a classic battle between a first-round pick and an experienced veteran who's started for winning teams and played in the postseason. Mack comes to Cleveland with lofty credentials and expectations. He's strong, smart and expected to be a starter from Day 1. The only person standing in his way is Fraley, 31, who's done a solid job in his two stops with the Browns and Philadelphia Eagles. That Cleveland's new regime, led by coach Eric Mangini, took a center in the first round is a sign that Mack is the favorite to win the job. But if Fraley finds a way to hold the rookie off in training camp, Mack has the versatility to play guard, most likely on the right side.
Early favorite: Mack
4. Linebacker: Rey Maualuga vs. Brandon Johnson
Team: Cincinnati Bengals
Why it's important: Cincinnati's defense, which was ranked No. 12 in 2008, is trying to take another step forward. In order to do this, dynamic linebacker play will be crucial. Maualuga fell to the Bengals in the second round because of several off-the-field questions surrounding the former USC linebacker. But no one questions that Maualuga is a first-round talent on the field. The issue with the Bengals is that Maualuga, a natural middle linebacker, cannot supplant leading tackler and defensive leader Dhani Jones this year. So Maualuga needs to supplant Johnson, the outside linebacker, if he wants to play right away as a rookie. Johnson is no slouch, either. He recorded 83 tackles, two interceptions and came on late last season. Rashad Jeanty, who started 15 games last year, also is a possibility at the other outside linebacker spot. Regardless, the trio of Jones, Keith Rivers and Maualuga/Johnson/Jeanty should make for a solid group of linebackers in Cincinnati.
Early favorite: Even

3. No. 2 receiver
Team: Browns
Why it's important: Someone needs to help No. 1 receiver Braylon Edwards. The long list of candidates includes veterans David Patten, Mike Furrey, and rookies Brian Robiskie and Mohamed Massaquoi. Donte' Stallworth also remains on the roster. But based on Cleveland's roster moves, it appears the Browns expect Stallworth's legal situation to keep him out this season. With the loss of former Pro Bowl tight end Kellen Winslow Jr., Edwards is Cleveland's only real receiving threat and he likely will see a lot of double teams. That will provide plenty of opportunities for Patten, Furrey, Robiskie or Massaquoi to make plays. But it remains to be seen if these players have the ability to step up.
Early favorites: Patten and Robiskie
2. ILB: Tavares Gooden vs. Jameel McClain
Team: Ravens
Why it's important: The "bodyguard" role in Baltimore's defense is underrated but very important. There is a reason safety Ed Reed and linebackers Ray Lewis and Terrell Suggs are able to fly around the field and make plays. It's because the inside linebacker opposite Lewis, formerly the ultra-physical Bart Scott, takes on fullbacks and pulling offensive linemen at every chance. Now the Ravens are looking at Gooden or McClain as Scott's replacement. Both young players have good athleticism. But ultimately, the player who is the most physical will win this job. Gooden opened veteran minicamp as the starter, so you have to give him the edge heading into this summer.
Early favorite: Gooden
1. QB: Brady Quinn vs. Derek Anderson
Team: Browns
Why it's important: The Mangini era in Cleveland, in large part, will depend on his decision at quarterback. An antsy fan base in Cleveland is tired of waiting for a winner and will not give Mangini four years to turn it around. Therefore, the best thing Mangini can do is figure out quickly which player is the better quarterback. It's been three seasons and the Browns still haven't settled this debate. Anderson showed flashes with his Pro Bowl campaign in 2007, but his struggles last year left many questions. Quinn, a former first-round pick, looked up and down in limited playing time. Ironically, the two never directly competed against each other -- until now. According to the coaching staff, both players will be given a fair opportunity. But Cleveland's offensive system under Mangini is being built around a power running game and an efficient and conservative passing game, which seems to favor Quinn.
Early favorite: Quinn
Posted by ESPN.com's James Walker
OWINGS MILLS, Md. -- The Baltimore Ravens completed their second day of veteran minicamp Saturday.
Here are some notes and observations:
Ravens starting quarterback Joe Flacco is having a great minicamp this week. During his first minicamp a year ago, Flacco proved that he could make NFL throws, but was making mistakes in the process. This year his reads and progressions are efficient and he's making very few mistakes.
Middle linebacker Ray Lewis likes what he sees from second-year teammate Tavares Gooden, who will compete to replace linebacker Bart Scott in Baltimore this season. But Lewis said it's important to teach the young, antsy Gooden how to conserve some energy and aggression for the regular season.
"Tavares is sometimes going too fast," Lewis said. "At a jogging pace, he wants to hit somebody, like right now. So, I've got to calm him down."
Pro Bowler Le'Ron McClain is taking most of the snaps at fullback this weekend, which likely is a sign that McClain will revert more to his natural position in 2009. When asked about this, McClain said he wasn't exactly sure how much he will be used in certain positions, because things were still a work in progress.
There was an Art Modell sighting in practice Saturday morning. The former Baltimore and Cleveland Browns owner still owns a one-percent stake in the Ravens. Another person who showed up at Ravens' practice Friday was NBA star Rudy Gay of the Memphis Grizzlies, who grew up in the Baltimore area.
Greg Mattison is participating in his first minicamp as Ravens defensive coordinator. The early impression through two days of minicamp is there are some different wrinkles but no drastic overhaul to the scheme so far.
"We haven't changed the defense too much," Ravens caoch John Harbaugh said. "[But] I'd say we have evolved the defense."
| | |
| --- | --- |
| | |
| | Getty Images |
| | Laveranues Coles, Domonique Foxworth and Matt Birk headline this year's free-agent additions in the AFC North. |
Posted by ESPN.com's James Walker
NFL free agency was created to improve the competitive balance and shake up rosters on an annual basis. This year is no different.
The AFC North lost a wealth of talent over the past two weeks, as teams outbid and traded for players such as Bart Scott, Jason Brown, Kellen Winslow Jr., T.J. Houshmandzadeh and Bryant McFadden.
Therefore, meet the replacements -- AFC North style. There are no Shane Falcos in this group, although Baltimore Ravens quarterback Joe Flacco developed that "The Replacements"-inspired nickname with his team last year.
Nonetheless, these players filling in will have a major impact on the success of their respective AFC North teams next season.
William Gay, CB, Pittsburgh Steelers
Replacing: Bryant McFadden
Reason for hope: Gay began to earn a decent amount of playing time during the second half of the Steelers' season, and there was no significant drop-off in production. He impressed the coaching staff so much that even when McFadden returned from a broken arm, the team still didn't want to keep Gay off the field. Now he gets to play full time.
Reason for concern: Sometimes the hardest adjustment for a cornerback is jumping from being a situational player to a full-time starter. Gay will no longer defend a team's No. 3 or No. 4 receiver. If he proves not to be ready for that jump, Pittsburgh will hope to get one more year out of aging veteran and longtime starter Deshea Townsend. It will be interesting to see how the Steelers replace McFadden, now with the Cardinals.
Domonique Foxworth, CB, Baltimore Ravens
Replacing: Chris McAlister/Samari Rolle
Reason for hope: Combined with teammate Fabian Washington, Foxworth gives the Ravens one of the fastest cornerback tandems in the NFL. The Ravens run a lot of blitz packages from their 3-4 defense and need to make sure nothing gets behind them in case the call doesn't lead to a sack. Usually, safety Ed Reed will play deep centerfield to protect against the big play. But with two speedy corners, the coaching staff can move Reed around more next year and allow him even more flexibility, which is scary.
Reason for concern: Until last season in Atlanta, Foxworth had the label of "career backup." Sure, he was backing up two good corners in Champ Bailey and Dre Bly in Denver. But it is somewhat of a risk to pay a player $27 million after one season of starting with the Atlanta Falcons. Foxworth will have to answer those critics who will question his inexperience. Someone will have to step up since the Ravens waived McAlister and Rolle might see the same fate or be used as a nickelback.
Matt Birk, C, Baltimore Ravens
Replacing: Jason Brown
Reason for hope: The Ravens lost up-and-coming center Brown -- a free agent who signed with the Rams -- but signed a six-time Pro Bowler in Birk. He has been one of the best centers in the NFL for the past decade and will bring stability and more veteran leadership to the offensive line that already has tackle Willie Anderson. Birk also will help bring along a young signal-caller in second-year quarterback Flacco.
Reason for concern: In signing Birk, the team gained experience but also got six years older at the position. Birk will be 33 at the beginning of the 2009 season and has some wear and tear on his body after playing in the trenches for 12 seasons. He has started all 16 games the past three seasons. The Ravens are hoping that clean bill of heath continues for Birk in 2009.
Tavares Gooden or Jameel McClain, ILBs, Baltimore Ravens
Replacing: Bart Scott
Reason for hope: The Ravens have two potential replacements for Scott, now with the Jets. Therefore, they have twice as good a chance to find a suitable replacement in time for next season. Gooden was a third-round pick in 2008 from the University of Miami and a player who impressed fellow Hurricane Ray Lewis. The veteran Lewis has tutored many linebackers before, including Scott, and will have to teach another young player the position. McClain was an undrafted surprise from the University of Syracuse and registered 2.5 sacks in limited playing time. Sometimes he is compared to Scott in Baltimore because both players were undrafted.
Reason for concern: Scott is as physical a linebacker as there is in the NFL. He did a lot of the dirty work, such as blowing up fullbacks and offensive linemen at the point of attack to allow teammates like Lewis and Terrell Suggs to clean up and make plays. Both Gooden and McClain have ability. But it remains to be seen if either can bring that same type of physicality in what is essentially a "bodyguard" role for Lewis, Suggs, Reed and others.
Laveranues Coles, WR, Cincinnati Bengals
Replacing: T.J. Houshmandzadeh
Reason for hope: Coles is a savvy veteran receiver who has meshed well with a lot of different quarterbacks. Last year, he developed good on-field chemistry with Brett Favre and should have no problems playing with Carson Palmer, who remains one of the league's best quarterbacks when healthy. Coles should fit in seamlessly.
Reason for concern: Coles is no longer a game-breaking receiver. He will be asked to replace current Seahawk Houshmandzadeh's tremendous production, but Coles is not the type of player who will record 90 to 100 receptions per season. Therefore, a combination of players will have to make up for those numbers, whether it is Chad Ocho Cinco having a monster year or Coles combining with one of the younger receivers to equal Houshmandzadeh's output.
Robert Royal, TE, Cleveland Browns
Replacing: Kellen Winslow Jr.
Reason for hope: First-year Browns coach Eric Mangini is familiar with Royal after battling the former AFC East division rival Buffalo Bills during Mangini's days with the New York Jets. The signing is out of respect for Royal's ability and hopes that he can bring some stability to the position. There is also depth with teammates Steve Heiden and Martin Rucker.
Reason for concern: Current Buccaneer Winslow is a unique talent and a top-five player at his position when healthy. Browns fans have become accustomed to tremendous production from that position over the years with Ozzie Newsome in the 1980s and Winslow most recently, but Royal is simply not that caliber of player.
David Bowens, OLB/ILB, Cleveland Browns
Replacing: Andra Davis or Willie McGinest
Reason for hope: Bowens, who just signed Wednesday night, has the versatility to play inside or outside in a 3-4 defense. Mangini had Bowens for two seasons as coach of the New York Jets. Bowens will be able to start right away and help the younger players quickly adapt to the new scheme. With 32.5 career sacks, he should also bring a much-needed pass rush to Cleveland.
Reason for concern: Bowens was mostly a career backup who is now being asked to be a full-time starter in Cleveland. At 31, he is a stopgap player who will be able to teach the young players the position for a few seasons. Bowens never has had more than 41 tackles in a season. Bowens is talented enough to do his part, but he is not the difference-maker defensively that the Browns have long searched for. McGinest is not on the Browns' roster and Davis signed with the Broncos.
NFL SCOREBOARD
Thursday, 11/20
Sunday, 11/23
Monday, 11/24
WEEKLY LEADERS