September, 26, 2010
9/26/10
3:23
PM ET
DENVER –-
Champ Bailey
is in, Andre Goodman is out and
Tim Tebow
has been demoted, for the day at least.
Bailey will play Sunday against Indianapolis. He missed much of the week with a foot injury. He was on crutches after last week's game. Goodman has a thigh injury he suffered last week. He tested his injury Sunday, but he was not ready to play. Rookie
Perrish Cox
is expected to play. Expect Colts quarterback
Peyton Manning
to test the fifth-round pick often.
Tebow is Denver's third quarterback.
Brady Quinn
is the No. 2. Tebow beat out Quinn for the backup job late in the preseason and he was the No. 2 quarterback in the first two games. Tebow played sparingly in special packages in the opener and he didn't play at all last week.
The likely reason for Tebow for being "demoted" is that Denver probably didn't have any packages for him in the game plan Sunday. But it is clear, for at least this week, Denver thinks Quinn is more ready to take over for
Kyle Orton
if he gets hurts.
Other key Denver inactive players include running back
Knowshon Moreno
(hamstring), tackle
Ryan Harris
(right tackle) and rookie receiver
Eric Decker
. The Broncos stacked their active roster with defensive players, because of several injuries. They were no healthy defensive scratches for Denver on Sunday.
September, 13, 2010
9/13/10
8:49
PM ET
Denver coach Josh McDaniels said Monday he is not concerned with starting quarterback
Kyle Orton
losing his rhythm when backup quarterback
Tim Tebow
comes in to run different packages.
Tebow took snaps twice and had two rushes for 2 yards. The rookie also lined up at receiver once. Orton was spread wide when Tebow was on the field.
Expect the Broncos to continue to sprinkle Tebow into game plans as the season progresses. McDaniels thinks it will not be an issue for Orton, who said the same thing after Denver's 24-17 loss at Jacksonville on Sunday.
"Kyle never came out of the game and he was the one calling every play because when you're out there with two quarterbacks, only one of them can hear the call," McDaniels told reporters in Denver on Monday. "You can't have two headsets out there at the same time. Kyle's rhythm, I don't think, was affected by that at all. Like I said, he was in the game the entire time. We've done that before where we've split him out of the backfield and he's the one calling the offense the entire time. Again, if we decided to do something other than that we'd have to consider (his rhythm), but I don't think yesterday was an issue."
September, 7, 2010
9/07/10
5:20
PM ET
Denver coach Josh McDaniels told reporters Tuesday that
he has not decided
who his backup quarterback will be Sunday at Jacksonville.
McDaniels said that rookie
Tim Tebow
and veteran
Brady Quinn
will still compete this week for the job.
"We're not going to name [the No. 2 QB] right now," McDaniels said. "We got three that we like and ... (Tebow and Quinn) are going to compete and we'll try to make the decision that we feel is best on game day for our team, based on how we're going to play the game … There's a lot of factors that will go into that. How they practice and how things look during the week will probably play a large role in determining who we name as the No. 2."
Tebow has to be the favorite to be the No. 2 in Denver on Sunday because he moved the ball better than Quinn in the preseason, the team has plans to use Tebow in packages this season and the team has more invested in Tebow than Quinn. Plus, Tebow replaced starter
Kyle Orton
in the past two preseason games.
Another major hint is that, at this point, the plan is to have just two quarterback active on the 45-man roster. With Tebow likely to get on the field in some packages, such as the Wildcat and in the red zone, he will likely be on the active roster.
August, 19, 2010
8/19/10
7:00
PM ET
Denver Broncos
rookie
Tim Tebow
missed his second straight day of practice Thursday with a rib injury he suffered Sunday night in his preseason debut.
The Denver Post reports
that Tebow will likely miss his Denver debut, Saturday against Detroit. Denver coach Josh McDaniels wouldn't commit either way, saying there is still time for injured players to come back and play Saturday. Still, McDaniels also indicated that players who didn't practice Thursday could be out for the game.
"There's a chance that a lot of those guys that aren't out here won't play," McDaniels said. "We are just going to see in the next 24 to 36 hours how all of them respond to the treatment they are getting, and we'll make the best decision hopefully for the team going forward. We are not going to worry about trying to hurry anybody back for this game, but if they're healthy and we feel like it's not a risk, then we'll go ahead and play them."
There are many, many people in Denver who are holding a ticket for Saturday's game who are very interested in his decision. I bet Tebow doesn't play. If he missed practice Wednesday and Thursday, would he really play in an exhibition game Saturday?
If Tebow doesn't play, it's not the end of the world. He needs the work, but it's not worth having him play injured. If Tebow doesn't play, he will have to catch up in the final two preseason games. However, because the first team plays well into the second half in the third preseason game, Tebow's playing time in the final two games will be somewhat limited. However, assuming he is back on the practice field soon, Tebow should be ready for special-package play he will receive when the season starts.
Tebow's rugged style of play has come into question in Denver. Many observers believe the all-out running style he displayed at Florida will not fly in the NFL. Tebow was hurt on the final play of the game in Cincinnati when he collided with a defender at the goal line on a 7-yard touchdown run.
McDaniels doesn't think it's much of an issue.
"He wasn't in a position the other night to do anything other than what he did," McDaniels said. "Had he not tried to get it in on the last play of the game, I'm sure that would have been a bigger story. No, if it's the first quarter and you get a first down on a scramble, yeah you try to preserve your body. I think that's the smartest thing to do. He hasn't been in that situation yet, so to judge him on what happened the other night in terms of being reckless I would say is very unfair. I think what he did the other night I hope all of our guys would have done – no matter who it was. Yeah, it's part of his game, but I'm sure he'll learn either the easy way or the hard way that you want to try to stay in this league as long as you can, and we'll help him do that."
August, 11, 2010
8/11/10
6:00
PM ET
ENGLEWOOD, Colo. -- The
Tim Tebow
NFL extravaganza that has swept through the league ever since Denver gambled by trading three picks to move up and draft the quarterback is about to enter to a new level: Tebow is actually going to play in an NFL game.

Tebow
Sunday, Tebow will make his preseason debut at Cincinnati. Tebow, who is currently third on the depth chart behind starter
Kyle Orton
and backup
Brady Quinn
, will likely play extensively in the second half Sunday.
Tebow, with just a few more practices to prepare for the game, said he is ready to face another NFL team.
"I'm really excited about it; just excited to get it going," said Tebow, who will be supported by a group of family and friends at the game. "I feel like I'm ready and I look forward to executing everything we've done here on the field."
Tebow performed well at the team's intra-squad scrimmage at Invesco Field at Mile High last Saturday night.
Denver coach Josh McDaniels has maintained a big part of Tebow's growth this summer has been translating what he is seeing on film to the practice field.
"Tim continues to make strides," McDaniels said. "He understands the importance of doing the things the right way."
Tebow will go into the Cincinnati game with the benefit of plenty of repetitions. He is has worked extensively this summer and he done a lot of work in short-yardage situations.
Tebow will likely be used in the regular season in special packages such as the Wildcat formation and in the red zone.
August, 3, 2010
8/03/10
4:00
PM ET
SAN DIEGO -- Like the rest of the free world, count
Philip Rivers
among those interested in the
Tim Tebow
phenomenon.

Rivers

Tebow
Everybody seems to have an opinion on whether or not the Denver Broncos' rookie quarterback will succeed as an NFL quarterback. Rivers is among those who believe Tebow has a very good chance to succeed.
"He looked pretty good to me in the college games I saw," Rivers said of the former Florida star. "He seems like he's a pretty good player to me."
Rivers admits he is interested in Tebow because Tebow is criticized for his throwing motion. The same criticism was levied against Rivers when he came out of North Carolina State in 2004.
Six years later, Rivers is one of the elite quarterbacks in the NFL.
"I'm not going to discount a guy because his throwing motion, I know a thing or two about that critique," Rivers said. "My advice to him is listen to his coaches, do what it takes, but still be the same player you were always. Just keep trying to improve."
Rivers and Tebow share the same agent. Rivers has had one phone conversation with Tebow, but the two have never met.
"He seems like a great kid," Rivers said. "He seems as advertised … He's going to fun for everyone to follow."
Unlike his rivalry with former Denver quarterback
Jay Cutler
, don't expect Rivers and Tebow to become an AFC West sideshow.
July, 29, 2010
7/29/10
7:15
PM ET
Denver has agreed to terms with quarterback
Tim Tebow
.
The two sides were making major progress earlier
Thursday afternoon and apparently the deal is sealed
. The five-year, $11.25 million contract has $8.7 million in guaranteed money and has a maximum value of $33 million.
Denver's rookies began camp Wednesday. Tebow's two competitors at quarterback -- starter
Kyle Orton
and backup
Brady Quinn
–- have been at camp since Wednesday. Denver's full squad starts camp Sunday. While the Broncos preferred Tebow in camp by Wednesday, they really wanted to make sure he was signed and ready to go by Sunday. With him now secured, the team is confident Tebow won't miss any significant practice time.
Barring any unexpected setbacks, Tebow should be ready to play in Denver's preseason opener at Cincinnati on Aug. 15, a game in which Tebow and Bengals' receiver
Terrell Owens
will be fighting for the league's headlines.
Tebow's contract is a healthy raise from the salary last year's No. 25 pick received. In 2009 Miami signed cornerback Vontae Davis with the same pick and signed him to a five-year, $10.5 million deal. The difference is understandable since Tebow is a quarterback, which is a premium pay position. Tebow will likely be a backup in 2010 unless the season completely blows up in Denver. Tebow, who will likely be the starter in 2011, will likely play early in the season in the Wildcat formation and perhaps in some red-zone packages.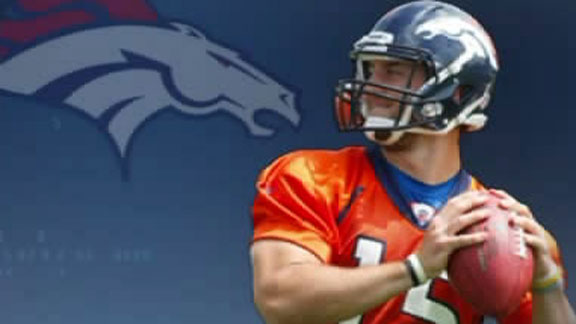 NFL SCOREBOARD
Thursday, 12/18
Saturday, 12/20
Sunday, 12/21
Monday, 12/22
WEEKLY LEADERS