NFL Nation:

Ted Marchibroda
December, 15, 2013
12/15/13
4:07
PM ET
INDIANAPOLIS -- A few thoughts on the
Indianapolis Colts
' 25-3
victory
over the
Houston Texans
:
What it means
: The Colts didn't wait until the second half to get going offensively. They started on their first offensive series of the game. The Colts mixed up the run with the pass to go 80 yards on 11 plays on their opening drive. The drive ended with quarterback
Andrew Luck
finding receiver
Griff Whalen
for a 14-yard touchdown. That was the first time the Colts scored a touchdown in the first quarter since doing it against Denver on Oct. 20. Slow starts have been a problem the past seven weeks for the Colts, but they went into the half with a 20-3 lead. They were 5-of-8 on third down in the first half after going 0-for-6 in the first half against Cincinnati on Dec. 8. The one downside about the Colts on offense is that they started the game 5-for-5 on third down but failed to convert on their final 10 attempts.

Whalen steps up
: Whalen has been an afterthought this season after having a strong training camp. He was elevated from the practice squad Saturday because of the injury to fellow receiver
LaVon Brazill
(foot). He took advantage of the opportunity. Whalen, a college teammate of Luck's at Stanford, caught four passes for 45 yards, returned three punts for 67 yards and a kickoff for 22 yards.
Being honored
: Former Colts running backs Eric Dickerson and Marshall Faulk were inducted into the team's Ring of Honor at halftime. Dickerson rushed for 5,194 yards and 32 touchdowns during his five seasons with the Colts. He won the league's rushing title in 1988, when he gained 1,659 yards to go with 14 touchdowns. The Colts traded Dickerson to the Los Angeles Raiders following the 1991 season. Faulk rushed for 5,320 yards and 42 touchdowns to go with 297 receptions and 2,804 yards in his five seasons with the Colts. He was traded to the
St. Louis Rams
after the 1998 season because he thought he deserved a raise. Dickerson and Faulk join Robert Irsay, Bill Brooks, Chris Hinton, Ted Marchibroda, Jim Harbaugh, the 12th Man, Tony Dungy, Marvin Harrison and Edgerrin James in the team's Ring of Honor.
Injuries
: Colts guard
Joe Reitz
left the game in first half after being tested for a concussion. Starting running back
Donald Brown
sat out the second half with a stinger. He ran for 38 yards on five carries. Linebacker
Daniel Adongo
(hamstring) and safety
Sergio Brown
(groin) also left the game.
What's next
: The Colts go on the road to take on the
Kansas City Chiefs
on Sunday. The Colts and Chiefs have a chance to face each other in the playoffs in Indianapolis.
October, 9, 2013
10/09/13
8:00
AM ET
INDIANAPOLIS – Lost in the news of running back
Ahmad Bradshaw
deciding to have season-ending knee surgery Tuesday was that the
Indianapolis Colts
plan to add former running backs Marshall Faulk and Eric Dickerson to the Ring of Honor together during the Dec. 15 game against Houston.

They will be the 10th and 11th members of the Ring of Honor, joining Robert Irsay, Bill Brooks, Edgerrin James, Marvin Harrison, Tony Dungy, Jim Harbaugh, Chris Hinton and Ted Marchibroda and the 12th Man.
Faulk, the No. 2 overall pick in the 1994 draft, rushed for 5,320 yards during his five-year career with the Colts. Dickerson rushed for 5,194 yards during his time with Indianapolis.
The city of Indianapolis also received some good news Tuesday, as it joins Minneapolis and New Orleans as finalists for the 2018 Super Bowl. Indianapolis hosted a successful Super Bowl in 2012.
November, 3, 2012
11/03/12
4:25
PM ET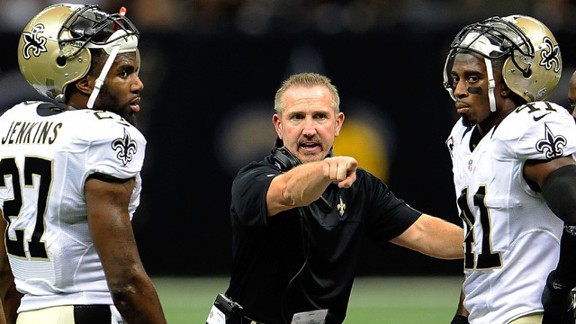 Stacy Revere/Getty ImagesIt is not time for the Saints to give up on Steve Spagnuolo's defense in New Orleans.
It's so easy to sit back, look at the numbers and say the
New Orleans Saints
simply need to blow up their defense.
They are the first team in NFL history to allow 400 or more yards in each of its first seven games. The 3,323 yards the Saints have allowed are the most through seven games since the NFL first started tracking total yards in 1933. The Saints also are the only team to allow 24 points in each game this season.
It's clear Steve Spagnuolo's defense isn't working. The Saints should just scrap it and go back to what (dare we say it?) Gregg Williams ran, right?
Wrong. That's the worst thing the Saints, who host the
Philadelphia Eagles
on "Monday Night Football," could do for their future. Long before the bounty scandal broke, it became obvious that Williams had to go, and he did, leaving immediately after last season's playoff loss to San Francisco.
When Sean Payton was making the switch, he realized the Saints needed something they'd never had in his tenure. They needed a consistently good defense.
"Listen, what we always win with around here is complementary offense and complementary defense,'' said Joe Vitt, who is the interim head coach as Payton serves a season-long suspension. "There have been, quite frankly, a lot of times around here since '06 that we have struggled some defensively.''
Yep, the Saints struggled so badly on defense in 2008 that Payton fired close friend Gary Gibbs and replaced him with Williams, even though the two men knew going in that their personalities and egos probably would clash.
For one beautiful season, things clicked. Williams' defense, while not shutting everyone down, produced a bunch of turnovers and big plays and the Saints won a Super Bowl. The next two seasons, the Saints got bounced in the playoffs because their defense wasn't producing much.
Payton decided to, once and for all, fix his defense permanently. Hehired Spagnuolo, who came with a proven system.
It's not working as it should yet, but this is about the long term now, because the Saints aren't going to the playoffs this season.
"I think with the veteran coaches [like] Chuck Knox, Dick Vermeil, Ted Marchibroda, if you have dramatic changes and you have [radical] changes, that's when panic sets in,'' Vitt said. "All of a sudden you're going to create a scheme that you have not worked on in OTAs, that you have not worked on in training camp, and all of a sudden all of the things that looked good in OTAs and looked good in training camp all of a sudden start to look bad right now. If you put that panic in, the players can smell the house burning before the match is ever lit.''
Leave the panic up to the fans. The Saints have to keep their eye on the ball and work through this or else they'll never get back to being the powerhouse they've been in recent years.
Sure, Spagnuolo can make a few minor tweaks. But the best thing he can do right now is to implement his system fully. The Saints already have decided rookie DT
Akiem Hicks
is a better fit than veteran
Brodrick Bunkley
If safety
Roman Harper
can't handle the coverage duties of Spagnuolo's scheme, maybe it's time to find out whether
Isa Abdul-Quddus
can. If
Will Smith
and
Cameron Jordan
can't generate a consistent pass rush up front, maybe it's time to figure out whether
Junior Galette
and
Martez Wilson
can.
Even if the younger guys do show they fit in Spagnuolo's system, that's not going to change everything overnight. The Saints faced salary-cap issues and a lack of draft picks in the offseason, and that's why they weren't able to stock Spagnuolo's cupboard with the players he needed.
They're going to face similar restrictions in the next offseason, but general manager Mickey Loomis is smart enough to work around that. It's best to use the rest of this season to find out which guys do fit Spagnuolo's system.
Then, fill the remaining holes in the offseason.
This may seem like a lost season for the Saints. But Payton's coming back next season and, if he has the kind of defense he's always dreamed of, the Saints could be better than ever.
November, 18, 2011
11/18/11
4:30
PM ET
Elias Sports Bureau has corrected information on the longest winning streaks since 1970 for first-time NFL head coaches.
The San Francisco 49ers' Jim Harbaugh ranks tied for fourth on the list with seven consecutive victories. His team would have to win its remaining regular-season games to tie Jim Caldwell for the top spot.
The chart breaks out the leaders. Just passing along.
.
November, 17, 2011
11/17/11
3:58
PM ET
Ronnie Lott witnessed one of the greatest coaching jobs in NFL history during the Bill Walsh years in San Francisco three decades ago.
The Hall of Famer thinks the 49ers' current coach, Jim Harbaugh, might be doing something more spectacular in leading the team to an 8-1 record against all expectations.
"This might be the greatest coaching that I've ever seen in the history of the game of professional football," Lott told Sirius NFL Radio recently. "It's his first [season as an NFL head coach] and not only is he hitting it out of the park but, man, he's hitting all the notes. Everything that you can think of, he's done."
Lott pointed to the 49ers' ability to play well and win under a first-time NFL head coach following a lockout-shortened offseason. The turnaround from eight consecutive non-winning seasons has been striking. Kenton Wong of ESPN Stats & Information put together a Harbaugh-related packet with the following key points:
Stanford went from 1-11 the year before Harbaugh arrived as head coach to 4-8, 5-7, 8-5 and 12-1 over his four seasons at the university.
The 49ers brought back most key players, notably Alex Smith, from a team that went 6-10 last season. Their eight victories this season match the rest of the NFC West combined. The 49ers have a .889 winning percentage, compared to .296 for the rest of the division. They are plus-95 in points. The rest of the NFC West is minus-198. The 49ers have one more road win (four) than the rest of the division combined.
Smith is on pace for career bests in yards per attempt (7.2) and touchdown-to-interception ratio (3.7).
Harbaugh's seven-game winning streak is tied for second longest by a rookie head coach since the 1970 NFL-AFL merger, according to Elias Sports Bureau. Ted Marchibroda's Colts won nine in a row in 1975. Bobby Ross' Chargers won seven straight in 1992. Chuck Knox's Rams (1972) and Nick Saban's Dolphins (2005) each enjoyed six-game streaks. Update: Steve Mariucci won 11 in a row during the 1997 season, his first with the 49ers. We'll notify Elias on that one.
This is the best start for a rookie NFC West coach since Mariucci's 49ers opened the 1997 season with an 11-1 record. They finished 13-3.
Mike Martz's
St. Louis Rams
went 8-2 to open the 2000 season. Mike Holmgren's Seahawks opened the 1999 season with an 8-2 record.
I've put together a chart showing NFC West head coaches' first-year records since 1997, excluding interim coaches.
.
May, 21, 2011
5/21/11
12:53
PM ET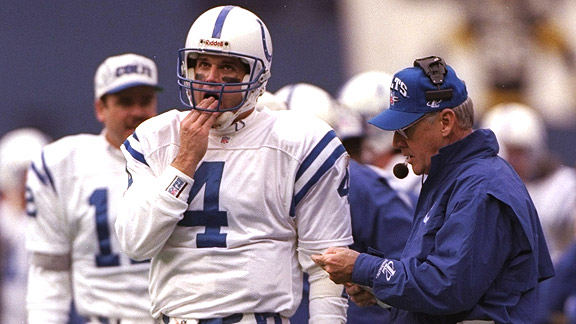 Doug Pensinger/Getty ImagesJim Harbaugh, left, says former coach Lindy Infante, right, had a huge impact on his career.
Jim Harbaugh
's reverence for Bill Walsh has been palpable since the
San Francisco 49ers
named him head coach this offseason.
Harbaugh has sought to round up
old coaching tapes
featuring Walsh installing game plans. He has embraced Walsh's offensive philosophy, pledging to run
a similar version
of the West Coast system. He has paid homage to 49ers tradition. Before Walsh died in 2007, he backed Harbaugh at Stanford, where Walsh was twice head coach. Walsh even
spoke to players
at Harbaugh's first spring practice.
Harbaugh has also been around the NFL long enough to know the league has produced a long list of outstanding coaches, even if few match Walsh in terms of success and overall legacy.
Lindy Infante
was one of those coaches in Harbaugh's eyes.
"Lindy doesn't get near the credit that Bill Walsh does," Harbaugh said this offseason, "but in many ways they are equals in terms of football minds. I never played for Bill Walsh, but there's no question in my mind."
This statement struck me as profound, but context is key. Harbaugh wasn't comparing their careers. He was comparing football acumen. One of the things Harbaugh admires most about Infante, who coached him in Indianapolis and is now retired, applies directly to Harbaugh's current challenge with the 49ers.
"It would be the ability to make a quarterback really play well," Harbaugh said.
Not just any quarterback, but quarterbacks with limitations.
"I went to the Pro Bowl playing for Lindy and up until that point, I wasn't thought of as a good quarterback at all," Harbaugh said. "But coaching made a difference."
Bernie Kosar and Don Majkowski enjoyed their best statistical seasons with Infante coaching them.
[+] Enlarge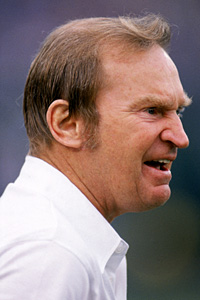 Photo by George Rose/Getty ImagesThe passing concepts taught by longtime NFL coach Don Coryell influenced the coaches who influenced Jim Harbaugh.
All of this came to mind Thursday during our blog discussion measuring
Don Coryell's impact on Walsh
and, by extension, on the 49ers.
Coryell never won a championship as a head coach, but he affected modern football tremendously through his innovative scheming.
Walsh served as Coryell's offensive coordinator before landing at Stanford and, two years later, with the 49ers. Though Walsh and Infante never worked together, Coryell influenced both. Infante expanded upon Coryell's innovations while serving as offensive coordinator for the
Cincinnati Bengals
during the early 1980s. The concepts became staples within offenses around the league, including the one Infante taught to Harbaugh while both were with the Colts during the 1990s.
Infante, reached by phone at his Florida home, spoke specifically of the option routes Coryell used in San Diego to make Chargers tight end Kellen Winslow more dangerous.
The way Infante tells it, he was studying the Chargers' offense under Coryell when something unusual stood out on film. San Diego would run what appeared to be the same play from the same formation, but Winslow seemed to be acting on his own.
The first time, Winslow might run 12 yards and break toward the outside right. Ten or 12 plays would pass, and then the same play would come up again, but this time Winslow would run a tight hook to the inside, getting open for a first down. A quarter might pass and the same play would appear, with Winslow breaking across the field to his left.
"I kept writing these things down and diagramming them and I sat back and said, 'It looks to me like they are giving Winslow the right to go where he wants to go,' " Infante said. "We started playing around with what we call the 'Y' or tight end option. The first day out on the practice field, we had a full scrimmage and I said, 'Here goes, we're going to find out whether this thing is going to work.' "
It worked.
"By about the third or fourth time we ran it, Kenny Anderson and the tight end, Danny Ross, ended up on the same timing-type situation, but the quarterback got to the point where he could tell where the receiver was going to go way before he went," Infante said. "He was trying to get the ball there early and we had the ball hit Danny Ross in the face because he couldn't get turned around fast enough. We had to do some on-the-job training, but that is what got us thinking."
If the tight end could make such adjustments, Infante thought, why couldn't wide receivers do the same? If wide receivers could do it, why not the running backs? Before long, receivers could have as many as five options on a particular route based on the coverage, blitzes and the other factors.
Ross caught 71 passes for 910 yards and five touchdowns in 1981. He was on pace for even bigger numbers a year later, finishing the strike-shortened 1982 season with 47 catches for 508 yards in just nine games. Ross went to the Pro Bowl that season.
"It evolved to the point where we were doing a lot of option-route running, a lot of route adjustments after the snap of the ball and the quarterback would have the right to change certain plays if certain things were going on," Infante said. "It was exciting because it was inventive and you had to feel free to go and try to invent something. When I started coaching with Harbaugh, they brought me in to Indianapolis and the idea was I would bring my offense with me."
Harbaugh finished his playing career under Ted Marchibroda (
Baltimore Ravens
), Mike Riley (
San Diego Chargers
) and Marty Mornhinweg (
Detroit Lions
). He coached under Bill Callahan in Oakland before becoming a head coach at the University of San Diego and then Stanford.
The lockout has prevented Harbaugh and offensive coordinator Greg Roman from installing their offense with the 49ers. The coaching staff has used the time to refine exactly how they'll present information to players once the lockout finally does end.
Players might not know it, but former coaches will influence the process, at least indirectly.
"For this offense, there's a lot of Lindy Infante principles," Harbaugh said, "but I don't think it's exclusive to this offense. You talk about the option routes. The
smash route
now is a universally run route, but that was Lindy Infante.
"From a quarterback standpoint, I learned from him that there were more ways to read a route than just through a progression. I learned how to throw people open from him, that covered did not mean covered. That is a huge part of football now. The whole option game, the option routes, the smash concepts -- all those things I learned from him. He was very technical, very detailed. Just a
different way to understand the passing game
is what I learned from him."
June, 16, 2009
6/16/09
4:29
PM ET
| | |
| --- | --- |
| | |
| | AP Photo/David Duprey |
| | When all the Bills' running backs are active, free-agent signee Dominic Rhodes is probably No. 3 on the depth chart. |
Posted by ESPN.com's Tim Graham
ORCHARD PARK, N.Y. -- Dominic Rhodes was at the most exhilarating juncture of his career.
He was reveling in the glory as a Super Bowl champion, and he was more than a bit player for the Indianapolis Colts. He could have been the game's MVP.
Furthermore, Rhodes was headed to free agency. Convinced he deserved to be a starting back after years of mopping up for Edgerrin James and Joseph Addai, the big break was within sight.
Rhodes blew it.
He blew a .09, and he blew his best opportunity to show he could be somebody's leading man in 2007.
"That year, me and Travis Henry were the top backs in the free-agent market," Rhodes said last week after a Buffalo Bills minicamp practice. "I had high hopes for myself. I don't know, man."
Rhodes is certain his past transgressions still follow him. He has been arrested for DUI and domestic abuse. Two years ago, he was suspended as a repeat offender under the NFL's substance abuse policy.
As a free agent again this year, he wasn't pursued nearly as much as he figured. He did turn 30 in January. Signing a running back at that age is tantamount to buying a gallon of milk a day before the expiration date.
| | |
| --- | --- |
| | |
| | Stan Liu/US Presswire |
| | After being cut by the Raiders, Rhodes returned to Indianapolis last season and ran for 538 yards and six touchdowns. |
But Rhodes was coming off a productive season with the Colts. He gained 840 total yards as Addai's backup. He said he's happy to be with the Bills, but he thought he would've had more options.
"I was upset with how it went," Rhodes said. "I really figured I would get more interest and more teams would be coming to get me.
"But I sat back and realized some of the mistakes I made. I messed up."
Two weeks after running for a game-high 113 yards and a touchdown to help the Colts beat the Chicago Bears in Super Bowl XLI, Rhodes was failing field-sobriety tests at 3 a.m. on the Interstate-65 shoulder in Indianapolis.
Police arrested Rhodes for DUI, but the blunder didn't cost him right away. Three weeks later, the Oakland Raiders signed him to a two-year contract worth $7.5 million. And his legal problems improved. He pleaded guilty to reckless driving and had the DUI charges dropped.
Rhodes was in the clear. Or so he thought.
The NFL suspended him the first four games of 2007 as a repeat offender under its substance abuse policy. Rhodes forfeited almost $353,000 in game checks and fell out of favor with the Raiders' front office. They cut him after the season.
The undrafted overachiever from tiny Midwestern State had done so much to make it in NFL, but he prevented himself from experiencing all that was possible.
"More than the money, when you're 75 or 80 years old, you're going to look back on the opportunities missed," said Carolina Panthers quarterback Josh McCown, who was Rhodes' training camp roommate with the Raiders. "Those are going to be your regrets, regardless if there's a dollar sign attached or not. He realizes that was a missed opportunity. As a competitor in this business, you hate to miss any opportunity."
In 2002, Rhodes was arrested for domestic battery. Rhodes avoided a conviction. The judge placed him in a diversion program and mandated counseling.
"I'm not shying away from the fact I got in trouble," Rhodes said. "It's out there. People know. I'm ready to talk about it and make amends for it and help anyone else who needs help with it."
The timing of his DUI and the four-game suspension torpedoed his chance to become a feature back.
When he joined the Raiders, he fully expected to emerge as the starter. But in the first three games he was away from the team, LaMont Jordan rushed for 70, 159 and 121 yards. In Week 4, Jordan ran for 74 yards, while Justin Fargas ran for 179 yards.
"The four weeks off really hurt him in his heart because he missed being around us and playing the game," McCown said. "That's when it really set in what had happened.
"Even moving forward there was a thought process 'I'll sign with Oakland and win this appeal and go play and be opening day starter and parlay that into something bigger.' When the suspension came down, it was a blow to what he was hoping to get accomplished."
Rhodes played only six games for Oakland. He had only 24 yards through his first three appearances. He started the last two, rushing for more than 100 yards in each loss.
"I wished he would've gotten a chance to work in that offense the whole year," McCown said, "because I think he would have had a big year."
Rhodes returned to his comfort zone last season. Indianapolis was a security blanket.
Benevolent coach Tony Dungy welcomed him back. With such mainstays as Peyton Manning, Marvin Harrison, Reggie Wayne and Jeff Saturday, the offense hadn't changed. After seeing the grass was browner elsewhere, Rhodes was more willing to accept his backup role to Addai.
"We're barely a year and a half removed from my DUI," Rhodes said. "Teams were kind of scared of that. Teams that don't know you are scared. The Colts know me. They know that I'm not a bad guy."

Dominic Rhodes
#33 RB
Buffalo Bills


CAREER STATS
ATT
YDS
AVG
LNG
TD
777
3,114
4.0
77
26
Rhodes, who started four games last season when Addai was hurt, ran for 538 yards and six touchdowns. He caught 45 passes for 302 yards and three touchdowns. His nine combined scores matched the single-season career high he set as a rookie, when he filled in for James and rushed for 1,104 yards.
"One thing people forget is they think of him as a backup, but I think he's a little better football player than the perception," said former Colts coach Ted Marchibroda, who is a broadcast analyst for the team. "He did a great job filling in last year.
"I think he felt in his first stint with the Colts he should've been playing more, and he made it known. But not this time. He was real happy coming back with the Colts and did a good job."
But the offers didn't roll in. That was a nice development for the Bills, who failed to sign free agents Fred Taylor and Kevin Jones.
"I was excited to see him go back to Indy and hopefully rekindle what he had going there," McCown said. "When I saw he got to play in some games and was starting, I thought 'You know what? He's going to turn this into something good. It's going to work out for him.' I was surprised people didn't take more interest in him."
Rhodes signed a two-year contract that will pay him base salaries of $750,000 this year and $1.25 million next year. The deal included $450,000 in bonuses.
He's probably third on Buffalo's depth chart when everybody is active. Pro Bowl back Marshawn Lynch has been suspended for the first three games because of repeated malfeasance. Popular backup Fred Jackson should be the primary backup.
"The opportunity's there for me to get some touches," Rhodes said. "They wanted me the year I came into free agency after the Super Bowl, so I figured the second time is a charm.
"All I want to do is get out there and make some plays and just keep showing the league what I got and keep playing as long as I can."
Rhodes insists he's more mature than he used to be, that he has amended his lifestyle and learned from his mistakes.
Another misstep could lead to a season-long suspension.
"I have a chip on my shoulder," Rhodes said. "I came from a small school. I'm a smaller back. I run a lot different than most smaller backs. I'm a between-the-tackles guy and I'm always out there trying to prove a point and make sure people notice me when I'm on the field.
"That's just me. I'm always out to prove myself and give everything I got and make sure my teammates know I'm accountable."
June, 15, 2009
6/15/09
8:34
PM ET
Posted by ESPN.com's Tim Graham
Over the phone from Weems, Va., I could tell Ted Marchibroda was smiling when I mentioned the Buffalo Bills returning to a no-huddle philosophy.
| | |
| --- | --- |
| | |
| | Matthew Emmons/US Presswire |
| | Lee Evans gives the Bills great depth at receiver. |
"I think it's a great offense for them," Marchibroda said Monday night. "I don't think people totally realize how valuable it is."
Marchibroda was Buffalo's offensive coordinator when they instituted the renowned K-Gun offense for quarterback Jim Kelly, running back Thurman Thomas and receivers Andre Reed and James Lofton.
The Bills have decided to dedicate a significant portion of their offense to the no-huddle to deploy their abundance of talent at the skill positions.
Trent Edwards still is trying to find his way in the NFL, yet no-huddle pioneer Sam Wyche explained the main traits required of a no-huddle quarterback are intelligence and accuracy. Edwards, a Stanford graduate, completed 65.5 percent of his passes last year.
But what really makes the no-huddle intriguing for Buffalo is its skill players. They have three quality backs in Marshawn Lynch, Fred Jackson and Dominic Rhodes, one of the league's top 1-2 receiving tandems in Terrell Owens and Lee Evans and slot receivers Josh Reed and Roscoe Parrish.
"The no huddle does many things," said Marchibroda, who served as head coach of the Baltimore Colts, Indianapolis Colts and Baltimore Ravens. The graduate of nearby St. Bonaventure University was on Marv Levy's staff from 1987 through 1991. "No. 1, defensive coaches now have to make their decisions this particular week a little faster than what they normally have to. No. 2, you have a chance to keep substitutions off of the field."
The Bills biggest question mark is their offensive line. None of their five starters from last year is back at the same position. They traded Pro Bowl left tackle Jason Peters. They might have a rookie at each guard post.
But Marchibroda recalled the players who enjoyed the no-huddle most were his linemen.
"The people who love the no-huddle most are the offensive lineman," Marchibroda said, "because of the fact the no-huddle tires the defensive line out tremendously, very quickly."
August, 26, 2008
8/26/08
3:26
PM ET
Posted by ESPN.com's Tim Graham
Bill Belichick used to be The Turk.

Belichick
Sounds like a fitting job for the man Bill Parcells once dubbed "Doom" for his stolid demeanor.
The Turk is the universal term -- nobody's sure where it began -- for every team's preseason grim reaper, the golem who approaches a player who's about to die and says, "Coach wants to see you. Bring your playbook."

With rosters being cut down to 75 today and to 53 on Saturday afternoon, Belichick waxed nostalgic about being The Turk as part of his first NFL job. It was 1975, and he was a 23-year-old special assistant on Ted Marchibroda's Baltimore Colts staff.
"I think everyone knew at that time that I wasn't the one making the decision," Belichick said. "I wasn't really the one telling them [they were being cut], but when they saw me it was bad news. They knew that.
"They knew if I was in the area that didn't bode well for them. If I wasn't in the area then the coast was clear."
Belichick has been spreading joy ever since.
But the dreadful process of taking a sickle to the roster never gets easy for a coach, regardless of how many years he's been in the league or how many Super Bowls he has won.
"It is hard," Belichick said. "The players work hard and give a lot. Some of them have given a lot for a number of years. It's not all rookies that we're releasing.
"You develop a relationship with the guys. They've won for you, played for you and given you everything they've got. At some point you have to make those decisions. It is one of the least fun parts of the job."

NFL SCOREBOARD
Thursday, 9/4
Sunday, 9/7
Monday, 9/8