February, 28, 2014
2/28/14
12:45
PM ET
MIAMI -- There is no way around it: The
Miami Dolphins
are in a dark place.
[+] Enlarge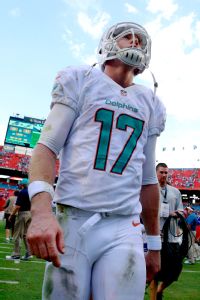 Chris Trotman/Getty ImagesRyan Tannehill has done little to establish himself as the Dolphins' franchise quarterback.
They are coming off a season that included a
high-profile bullying scandal
, a
late-December collapse
and the firing of
general manager Jeff Ireland
and
offensive coordinator Mike Sherman
. There
also was the fallout
following the Ted Wells report that resulted in the firings of offensive line coach Jim Turner and head trainer Kevin O'Neill.
But one player is capable of removing the dark cloud that hangs over the Dolphins' franchise: quarterback
Ryan Tannehill
.
The 2012 first-round pick is entering a crucial year. If he develops into a legitimate franchise quarterback, the Dolphins could be a playoff contender next season and many of their problems would be forgotten. But if Tannehill falters in his third NFL season, there will be repercussions. Jobs could be lost in Miami.
That puts a lot of pressure on Tannehill, 25, who is entering a make-or-break 2014 season after throwing for 3,913 yards, 24 touchdowns and 17 interceptions in 2013. Potential must become a reality or there could be a new quarterback under center in 2015.
After two seasons, Tannehill's resume has come closer to resembling former Dolphins draft bust
Chad Henne
's than Hall of Famer
Dan Marino
's. Henne was 13-14 in his first two seasons as a starter; Marino was 21-4 over the same span. Tannehill is 15-17, playing mostly in less-than-ideal circumstances.
"I'm a big Tannehill fan," ESPN.com NFL scout Matt Williamson said. "I think his supporting cast, with the [depleted] offensive line and zero running game, has hurt him dramatically.
"I think he excels this year, despite his circumstances. But I also hesitate to say that until I see the status of the Dolphins' opening-day offensive line."
There already was a report this offseason indicating that Tannehill will have a
slimmer margin for error
. According to CBS Sports, Dolphins coach Joe Philbin told general manager candidates during the interview process that he wants more competition for Tannehill. Philbin, who might need to make the playoffs to keep his job, reportedly informed GM candidates that he would not be afraid to bench Tannehill for backup
Matt Moore
if Tannehill struggles.
The Dolphins neither confirmed nor denied the report last week at the NFL combine. "I can't respond to speculation," Dolphins GM Dennis Hickey said. "I'm not about that, but I believe in Ryan Tannehill."
The NFL is a passing league, and few quarterbacks get four years to prove they can flourish. Other quarterbacks from the famed 2012 draft class have already experienced success. Seattle's
Russell Wilson
is a Super Bowl champion.
Andrew Luck
led Indianapolis to the postseason twice.
Nick Foles
took Philadelphia to the playoffs this past season and
Robert Griffin III
did the same for Washington in 2012. These players are firmly grounded in their starting quarterback roles for their respective teams after just two seasons.
Tannehill has not come close to the level of success of his peers. He has yet to record a winning season. Tannehill has been just good enough to keep his starting job but not convincing enough to prove he's the long-term solution in Miami.
Former
Chicago Bears
GM Jerry Angelo recently offered a scathing scouting report on Tannehill.
"He's an athlete who is trying to develop into a QB. His arm is good, but his accuracy is questionable," Angelo wrote on
TheSidelineView.com.
"He isn't comfortable from within the pocket. Led the league in sacks, something isn't right, given he's an athletic QB. Protection is one thing, 'feel' is another. When things aren't going well, he can't pull himself or his team out of it. Those aren't good signs for a signal-caller."
The Dolphins changed offensive coordinators in January, hiring Bill Lazor in hopes of lighting a spark to Tannehill's career and addressing his weaknesses. Lazor was the quarterbacks coach in Philadelphia and did wonders last season with Foles. The Dolphins are hoping Lazor has similar success with Tannehill, who arguably has more natural ability than Foles.
"I'm excited to work with him because I see a lot of ability," Lazor recently said of Tannehill. "[But] it would be premature to make an evaluation of what he can be and what he can do because I haven't been around him that much."
Williamson likes the addition of Lazor and what he brings to Tannehill and to Miami's offense.
"A new offensive coordinator could go a long way," Williamson explained. "Tannehill is way better than Foles. At a minimum, I bet Tannehill puts up big numbers. But the offensive line does need major upgrades."
The Dolphins clearly have a leadership void, evident in the findings in the 144-page Wells report. Three offensive linemen --
Richie Incognito
,
John Jerry
and
Mike Pouncey
-- were allowed to harass and bully
Jonathan Martin
, other teammates and an assistant trainer, according to the report.
Tannehill is one of the key players who must step up his leadership. One of the key components of being a starting quarterback and a face of the franchise is the ability to lead others. Tannehill has not demonstrated that ability to this point.
In many ways, it's now or never for Tannehill. The Dolphins have waited long enough for him to develop into a consistent, legitimate franchise quarterback. The 2014 season could be his final chance to prove it in Miami.
February, 18, 2014
2/18/14
4:00
PM ET
The
Miami Dolphins
have been "team turmoil" as of late. They have been dealing with the aftermath of the Ted Wells report, but there are some other things on the way in terms of free agency and the NFL draft.
With that in mind, the NFL combine kicks off later this week. The Dolphins hold the No. 19 overall pick.
Here are some key questions and answers:
1. How will the new GM handle the combine?
This is the first NFL combine as the top guy for Dolphins general manager Dennis Hickey. He worked in both college and pro scouting for the
Tampa Bay Buccaneers
for 18 years before getting the GM job in Miami in January.
Hickey was not Miami's first choice, but he has an opportunity to begin proving his worth at the combine. Scouting is his specialty and one of the primary reasons he got the job. The Dolphins have some holes to fill.
Hickey will address the media on Thursday in Indianapolis. Unfortunately for the Dolphins, Hickey most likely will have to spend a good amount of time addressing the fallout from the Ted Wells report, which was released last week and detailed Miami's bullying scandal involving Dolphins offensive linemen
Richie Incognito
and
Jonathan Martin
.
2. Who are some players to watch for Miami?
The Dolphins were 8-8 in 2013. So they are not a rebuilding team with a bare cupboard. However, Miami does have some well-defined needs that must be addressed if the Dolphins want to get to the next level.
For starters, Miami must rebuild nearly its entire offensive line. It was the weakest part of the team last year, allowing a franchise-record 58 sacks to go with an inconsistent running game. The Dolphins have four starters about to become unrestricted free agents: offensive tackles
Tyson Clabo
and
Bryant McKinnie
, as well as guards Incognito and
John Jerry
. Incognito and Jerry were two parties involved in the Ted Wells investigation for Miami's bullying scandal and won't return. Clabo and McKinnie are older players and the Dolphins will look to get younger at the position.
That means Miami will have a long look at guards and tackles in the draft. The Dolphins are fortunate that this is an area of great depth this year. Some offensive tackles to keep an eye on are Notre Dame's
Zack Martin
, Alabama's
Cyrus Kouandjio
and Virginia's
Morgan Moses
. All three should be in range for Miami at No. 19. Potential second-round selections could come at running back, where players like
Carlos Hyde
from Ohio State or Wisconsin's
James White
could be available.
3. What is Jonathan Martin's future?
Scouting rookies isn't the only business that happens at the combine. Team executives also meet with agents in Indianapolis to discuss current NFL players, potential trades and contracts. One major issue for Miami is what to do with Martin.
The 2012 second-round pick has two years left on his rookie contract. But it's clear after the Wells report that a mutual parting of ways is best for both parties. Both sides are expected to meet in Indianapolis to figure out where to go from here.
February, 15, 2014
2/15/14
1:00
PM ET
The Ted Wells report pulled the curtain back on the
sordid locker room culture
of the
Miami Dolphins
. One of the biggest developments was fellow offensive linemen
Mike Pouncey
and
John Jerry
joined
Richie Incognito
in the persistent harassment of
Jonathan Martin
and others on the team.
The immediate futures of Incognito and Jerry are simple: Both are unrestricted free agents in March and the Dolphins can easily wash their hands by letting them walk. Neither player is expected to return.
However, Pouncey's situation is more complex.
Not only is Pouncey still under contract, he's one of the best players on the team. He's certainly Miami's best offensive lineman, which is an area the Dolphins cannot afford to lose talent. Pouncey made his first Pro Bowl this season.
The NFL surely will review the Wells report thoroughly and determine if further action is necessary. Incognito, Jerry and Pouncey are all on commissioner Roger Goodell's radar, which is not good for those three players. A fine or suspension is not out of the realm of possibility if Goodell believes this trio violated the NFL's code of conduct.
Last week I wrote
that Pouncey, based on his on-field play, is outperforming his contract and could be due for a raise. Now, I don't see that happening following the details of the Wells report.
Expect the Dolphins to remain in wait-and-see mode with Pouncey this offseason.
February, 14, 2014
2/14/14
5:30
PM ET
I need to take a shower.
After reading all
144 pages of Ted Wells' report
Friday, I feel the need to scrub off the sludge coming from the
Miami Dolphins
' locker room.
The persistent harassment.
The racial slurs.
The homophobic language.
Verbal taunts and physical acts most people would deem unacceptable in the workplace happened with the Dolphins,
and were made public
Friday for all to see.
We knew details of the twisted relationship between
Jonathan Martin
and
Richie Incognito
before Friday's report. What we didn't know was the degree of oversight -- or the lack thereof -- within the Dolphins' organization.
Where were the leaders in this situation? Why didn't any responsible person with the Dolphins step forward and stop this mess before it became a national media firestorm?
What about offensive line coach Jim Turner? He was, at times, a willing participant in the Dolphins' screwed-up culture. According to the report, Turner used vile language toward Martin and even played a homophobic prank on another player. Turner appeared to be the person in authority who was most aware of Martin's issues with other offensive linemen. Turner was in position to stop the harassment, and didn't.
What about head trainer Kevin O'Neill? The investigation states one of his assistants, who was born in Japan, was the target of racial slurs from Incognito,
Mike Pouncey
and
John Jerry
. O'Neill failed to do anything and "allegedly even laughed at some of the racial insults," according to the report.
These are clues that should have been picked up. Yet the negative culture was allowed to fester.
Where was coach Joe Philbin? According to the report, Philbin was completely oblivious to what was going on inside his locker room. Although that's enough to keep his job, it's certainly not something to be proud of. The Dolphins, after all, were his team, and these ugly details -- 144 pages' worth -- happened on his watch. That is a stain on Philbin's résumé that is hard to shake.
The Dolphins as a franchise deserve just as much criticism as the players involved in this scandal. The Wells report pulled the curtain back on Miami's locker-room culture and showed a mixture of negligence and a lack of awareness that is unacceptable. We had an inkling months ago as to what went down in Miami, but the details that emerged Friday were worse than originally imagined.
The Dolphins' offensive line was described in the Wells report as having a "freewheeling, 'anything goes' atmosphere." That must be eradicated immediately. It is the only way to prevent another Martin-Incognito scandal from happening.
Martin was harassed, demeaned and ridiculed. But it also should be noted that Martin never reported the abuse to the Dolphins before leaving the team in October. No one -- including Martin -- is 100 percent absolved of blame.
However, the bigger picture is that a stronger team infrastructure could have prevented this. Had Martin felt more comfortable with the power structure above him, it's more likely he would have told Philbin or another person of authority about his concerns instead of leaving the team altogether. That is a systemic failure.
The Dolphins are a proud franchise with a rich history. They have won two Super Bowls and are still the owners of the NFL's only undefeated championship season.
However, Friday's sordid report is now part of the Dolphins' history. Hopefully, it can be used as a teaching tool by the Dolphins and other teams for what must be done to prevent a similar situation moving forward. That is the only hope the franchise has for cleansing itself of this scandalous chapter.
January, 28, 2014
1/28/14
8:25
PM ET
DAVIE, Fla. -- On the same day the
Miami Dolphins
introduced their new general manager, a major issue from their recent past was brought to light when offensive tackle
Jonathan Martin
did
an interview with
NBC regarding the 2013 bullying scandal.
Martin
Martin, in an interview with Super Bowl-winning coach Tony Dungy, said he felt "trapped" by the locker-room atmosphere in Miami.
"I'm a grown man. I've been in locker rooms," Martin told NBC. "One incident doesn't bother me. It was the persistence.
"I felt trapped, like I didn't have a way to make it right. I thought it was best to remove myself from the situation."
The full interview will be released Wednesday. But here are some early thoughts on Martin's comments and his status with the Dolphins:
Right or wrong, Martin's comments won't help him in Miami, and it could hurt his chances of latching on with another team. According to some Dolphins players I spoke to, their biggest complaint was that Martin walked out on the team. Players felt he could have handled it in a better way than exiting in the middle of the season and sparking a national controversy for the Dolphins. Martin reiterated that it was best to "remove myself from the situation." Now other teams will have questions about Martin's toughness and whether or not he will walk away in the future.
that he doesn't expect either player to be back. It was an honest moment from Ross, despite the fact he tried to recant his statement soon after. Ross knows many of the details in the NFL report, which is expected to come out after the Super Bowl. The quickest way to begin moving on from the bullying scandal is not to have Martin and Incognito around the team in 2014.
Dolphins owner Stephen Ross said Tuesday
With that in mind, Martin remains under contract for two more years. Miami either must trade or release their 2012 second-round pick. Martin's value in the trade market is extremely low due to the bullying scandal and the fact everyone now knows Miami wants to part ways with him. It would be surprising if the Dolphins can get much -- or anything -- in return for Martin. That will be one of the early responsibilities of new Dolphins GM Dennis Hickey.
Overall, the sense I get from the Dolphins is they are confident they will come away from this scandal relatively unscathed. Miami head coach Joe Philbin received several strong endorsements from ownership and is safe. Offensive line coach Jim Turner remains on staff, although the Ted Wells report could impact his status. Miami already got rid of former general manager Jeff Ireland, although for different reasons. Ireland was responsible for drafting Martin in the second round in 2012 and signing Incognito in free agency in 2011.
November, 17, 2013
11/17/13
7:04
PM ET
MIAMI -- A few thoughts on the
Miami Dolphins
' 20-16
win
against the
San Diego Chargers
on Sunday.

What it means:
Despite all their issues on and off the field, the Dolphins (5-5) are back in the thick of the AFC playoff race after a big win. Miami is tied with the division-rival
New York Jets
(5-5) for the sixth seed in the conference. The Dolphins still play the Jets twice in the month of December, and both games are shaping up to be important.
Stock watch:
Someone who improved their stock was Miami tight end
Charles Clay
. He had a big day with six receptions, 90 yards and a 39-yard touchdown catch where he ran through three would-be tacklers. Miami's running game also improved, but had a low bar to work with. The Dolphins rushed for 104 yards against the Chargers after gaining a franchise-low 2 yards last week in a loss to the
Tampa Bay Buccaneers
.
As far as stock down, Miami's pass protection was an issue again. Without starting center
Mike Pouncey
, the Dolphins' offensive line allowed four more sacks, which upped the total to 41 this season. The Dolphins' run defense also allowed 154 rushing yards, and has underachieved in that area most of this season.
Focus a premium:
The Dolphins will have some trouble staying focused during the upcoming practice week. NFL investigators are expected to visit the practice facility to talk to multiple players, coaches and executives about
Jonathan Martin
's claims of bullying and harassment. Martin met with NFL lead investigator Ted Wells for seven hours last week, which should provide plenty of questions for Dolphins personnel once Wells arrives. Miami still has a game to prepare for, and must handle this distraction.
What's next:
The games do not get any easier for the Dolphins. They will host the streaking
Carolina Panthers
, who have won five straight. Miami will get a chance to scout Carolina on Monday. The Panthers will be coming off a short week, and have a big game against the
New England Patriots
on ESPN's "Monday Night Football."