May, 22, 2014
5/22/14
10:00
AM ET
»
NFC Wrap:
East
|
West
|
North
|
South
»
AFC:
East
|
West
|
North
|
South
»
Grades

With free agency and the draft in the rearview mirror and training camp just a couple of months away, we assess the
Arizona Cardinals
' offseason moves.
[+] Enlarge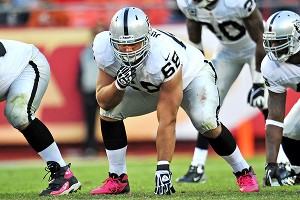 Peter G. Aiken/Getty ImagesNew left tackle Jared Veldheer gives the Cardinals an established veteran at a position of need.
Best move:
Adding left tackle
Jared Veldheer
early in free agency solidified a position that has plagued the team for years. He is a top-tier tackle who can protect quarterback
Carson Palmer
's blind side, a move that was necessary to keep the veteran Palmer as healthy as possible as the Cardinals make a run for the playoffs. Veldheer also showed a change in philosophy in the Cards' front office. Going after a big name early in free agency showed the Cards' commitment to making a postseason push.
Riskiest move:
Adding a 30-year-old cornerback with a recent history of hip issues isn't exactly the most sound move, which is why signing
Antonio Cromartie
was the riskiest move for the Cardinals this offseason. But if Cromartie is healthy, he also can be the most rewarding move. It is yet to be seen how healthy Cromartie actually is. By signing him, Arizona moved
Jerraud Powers
, last season's starter at cornerback across from
Patrick Peterson
, to the bench. If Cromartie doesn't pan out, the Cards would have to go back to Powers.
Most surprising move:
Not taking a right tackle in the draft was the most surprising move because of the need at the position. The Cardinals didn't re-sign last season's starting right tackle,
Eric Winston
, leaving the position up for grabs between
Bradley Sowell
and
Bobby Massie
. Instead of grooming a rookie in case Sowell and Massie do not pan out, the Cardinals will sign a free agent or bring back Winston.
Smartest move:
Without realizing it, the Cardinals' smartest move this offseason might have been signing
Ted Ginn
. The veteran speedster will be Arizona's third wide receiver and its kick returner. He will be an instant upgrade at both and already has started to draw rave reviews from teammates. His addition gives them an established player at both positions, and his resume speaks for itself.
March, 13, 2014
3/13/14
5:25
PM ET
TEMPE, Ariz. -- Even though they checked off their top priority of free agency with left tackle
Jared Veldheer
just minutes after the mayhem began, the
Arizona Cardinals
haven't been sitting idle, happily basking in their take.
On Wednesday, they re-signed one linebacker --
Marcus Benard
-- while reportedly agreeing to a two-year deal with another --
Matt Shaughnessy
-- and added a running back and another offensive lineman.
Cromartie
Ginn
Two other visits to the Cardinals' Tempe training facility on Thursday are raising eyebrows. It was confirmed that Arizona met with former
New York Jets
cornerback
Antonio Cromartie
and, according to reports, former Carolina wide receiver and returner
Ted Ginn
.
Both would instantly make the Cardinals better.
Both would instantly make the Cardinals a contender.
Both showed that Arizona is serious about winning this year.
Competing in the NFC West is a chess match. Every team is trying to one-up the next. By bringing Cromartie and Ginn in, the Cardinals are showing not just the West, but the rest of the league that they're playing at the high-stakes tables.
Ginn would be the third receiver for the Cardinals, a speedy threat that head coach Bruce Arians would use to take the top off. He'd also be Arizona's kick returner -- a major upgrade from
Javier Arenas
last season. Ginn is also a punt returner, but I don't see Arians taking
Patrick Peterson
off punt duty especially after he didn't give
Tyrann Mathieu
a chance last year before his knee injury.
As for Cromartie, he'd be an upgrade from
Jerraud Powers
across from Peterson and would solidify Arizona's secondary as one of the best in the league. It would also prevent teams from picking on Powers, which was often the case last season when teams stayed away from Peterson. More importantly to the Cardinals, Cromartie could be the answer to defending tight ends. At 6-foot-2, he'd match up better with the likes of
Jared Cook
and
Vernon Davis
than Powers or any of the Cardinals' safeties. And if Cromartie lined up across a tight end, in the slot possibly, Mathieu is capable of sliding to the corner spot on the edge after he returns.
However, while Ginn would be affordable, Cromartie would most likely have to take a significant pay cut to come to Arizona. But he'd be one piece that could help Arizona make a run to next February.
April, 30, 2009
4/30/09
1:10
PM ET
| | |
| --- | --- |
| | |
| | Thomas E. Witte/Getty Images |
| | The Colts seemingly showed faith in Anthony Gonzalez by not taking a receiver in the first three rounds of last weekend's draft. |
Posted by ESPN.com's Paul Kuharsky
Anthony Gonzalez is typecast.
As I considered the possibility of the Indianapolis Colts using the 27th pick in the draft on a receiver, I kept hearing the same thing about Gonzalez: He's a nice slot guy for Peyton Manning; the Colts showed a willingness to draft a player for a narrow role when they took him out of Ohio State with their 2007 first-round pick, 32nd overall.
But now, moving forward without Marvin Harrison, Indianapolis needed another top-flight receiver to line up across from Reggie Wayne.
The Colts, I knew, viewed Gonzalez differently than many others in the league. After all, they have tight end Dallas Clark working out of the slot in a lot of formations and last year they threw a wrinkle at defenses where Wayne lined up in the slot with Gonzalez outside.
"I've never thought of myself as a slot or an outside guy necessarily. I think of myself as a receiver," Gonzalez said in a phone interview this week. "For example, the drills I do, the routes I run, the fundamentals are the same whether you are inside or outside, so they are all geared toward being a complete receiver. Now there are some different challenges as to how a defense plays a guy on the inside and what he's looking at as opposed to when he's outside.
"This is a guess, but I would say if you looked at all my snaps that I've had with the Colts since I've been here, I'd bet that I've had more snaps outside than inside."
Not only did the Colts not use their top pick on another receiver, they didn't address the position until the fourth round, when they took BYU's Austin Collie, a player who's compared by some to the slot receiver Gonzalez was drafted to help replace, Brandon Stokley. The Colts may see him as more, but Mel Kiper Jr. was hardly alone when he wrote that Collie won't be too much of a vertical threat against NFL corners but could be good as a "possession type, underneath receiver."

Anthony Gonzalez
#11 WR
Indianapolis Colts


2008 STATS
REC
YDS
TD
AVG
LNG
57
664
4
11.6
58
Wayne and Gonzalez now head a corps that also includes Roy Hall, Pierre Garcon and Collie. With Harrison gone and Jim Caldwell taking over for Tony Dungy as coach, Wayne is No. 1, Gonzalez should be No. 2 and Clark will continue to be a primary target. Forecasting how the others receivers will be deployed is a guessing game.
Coming from some, the "slot guy" label suggests restricted skills. Gonzalez may still be accurately described as crafty, quick and shifty. But those are qualities he can -- and has -- just as easily put to use outside.
His numbers don't look particularly slot-like. Consider that in two years of working mostly in the slot in New England, Wes Welker has averaged 10.5 yards a catch while Gonzalez's average in the same period was 13.2 yards.
One AFC personnel man said he still envisions Gonzalez as best used when shifted inside in three-wide formations. The inexperienced Hall, Garcon and even Collie will have an easier time breaking out on the perimeter, while Gonzalez can be at his best in the middle of the field handling more blitz-related responsibilities.
"I think of Gonzalez as a slot guy, because that's kind of the reason that they took him," he said. "I think they took him to be primarily their slot guy. ... He is a heck of a receiver. He's super quick, he can catch the ball, he can run after the catch, he's a tough kid, he has all those attributes. He can be a No. 2 and he is going to be a No. 2 and I think he's going to be a pretty good one. I think ideally his skills are suited to play in the slot."
| | |
| --- | --- |
| | |
| | Ron Schwane/US PRESSWIRE |
| | As a senior, Anthony Gonzalez was used primarily in the slot at Ohio State. |
As a senior at Ohio State, Gonzalez said he pressed the coaches to give him more work outside, for variety if nothing else. But the reality was the Buckeyes had quality receivers like Ted Ginn Jr. and Brian Robiskie to split out, and the experienced Gonzalez was told he was the most trustworthy at picking up on blitz situations.
As he and his staff studied the 2007 draft class, Colts president Bill Polian saw Gonzalez as an excellent fit.
"This guy's a Colt," Polian said after drafting him. "He's got the horseshoe stamped all over him from the minute that you saw him."
With the Colts there is not much difference between lining up inside or out, according to Gonzalez. Outside he's reading three defenders -- the cornerback, the safety to his side and the closest linebacker. Inside, he looks largely at the same three guys from a different perspective. But based on the protection he knows who's accounted for and who isn't. Most of the time he turns into a hot receiver for Manning when one of those three opponents blitzes, he said, but sometimes it's any of two or three that can prompt him to break off his route to be ready for an extra quick delivery.
Gonzalez has no interest in talking about the strengths and weaknesses of his game -- he's only half joking when he calls them trade secrets. But his offseason work is all designed to address the weaknesses and he said he has great faith in his plan.
Odds are as the post-Harrison Colts get started, Gonzalez is going to be a super-popular pick as a breakout guy.
"I really like the kid," Matt Williamson of Scouts Inc. said. "Very smart. Excellent work ethic. Much faster and quicker out of his breaks than many tend to realize. Soft hands. Should be an ideal guy with Manning, as he will study defenses and work real hard to get open, find the soft spots in zones and present a good target for Manning to hit. Also very competitive with the ball in his hands after the catch.

"He isn't weak, but he also isn't an overpowering physical player by any means. Better when he doesn't have to fight off a jam and might still project best to the slot. However, I expect that to change going forward and I see him as a very productive player going forward. Should have a huge year."
Two years of work with Manning have Gonzalez feeling comfortable, but he referred questions about their chemistry to the quarterback. (Stars of Manning's stature are not readily available and I was unable to attend his round of golf with Tiger Woods Wednesday -- I'll have to check in on that at minicamp in early June.)
| | |
| --- | --- |
| | |
| | Icon SMI |
| | The chemistry Manning and Gonzalez have developed over the past two seasons will be vital as the team enters the post-Marvin Harrison era. |
"Are we at the point that him and Marvin were at their peak? Absolutely not," Gonzalez said. "You're talking about the No. 1 quarterback-receiver tandem in the history of the game. Are we there? No sir. But it's one of those things where there is no substitute for experience, so the more game situations and practice situations we can get into, it'll benefit our chemistry."
Out wide, Gonzalez is not lacking, the personnel man said. It's just that his best qualities serve him best inside.
"Because of his quickness and his ability to change directions, it's a matchup deal and he gets much more favorable matchups when you move him into the slot," the personnel man said. "When you're playing with two receivers, he's with Wayne. When you bring in your third, then ideally you take Gonzalez from outside to inside to have more favorable matchups. Then you bring your third in and let him play outside."
Gonzalez said he doesn't know the team's early plan for how he or the other receivers will be used. Harrison regularly lined up on the right. Without him, the Colts may move people around more to be unpredictable and search for the most favorable matchups.
Gonzalez has no prediction or expectation.
"I don't really know what to expect," he said. "I don't anticipate being handed anything, I will tell you that. I'm going into minicamp and training camp with the idea that I've got a lot to prove and I've got to earn whatever reps, snaps, throws I get."