NFL Nation:

Terence Garvin
December, 29, 2013
12/29/13
12:20
PM ET
PITTSBURGH -- The
Pittsburgh Steelers
will be without their leading pass-rusher Sunday against the
Cleveland Browns
as outside linebacker
Jason Worilds
is inactive because of an abdominal injury. Wide receiver
Emmanuel Sanders
is playing despite a sprained knee that knocked him out of the second half of the Packers game last Sunday.
Worilds
The Steelers are dressing an extra wide receiver as insurance as
Derek Moye
is active.
Sanders is among those who could be playing in their final game for the Steelers today as he will be an unrestricted free agent after this season.
The Steelers need to beat the Browns and also get wins from the Jets, Bengals and Chiefs to make the playoffs.
In addition to Worilds, who will be replaced at left outside linebacker by
Chris Carter
, linebacker
Terence Garvin
, nose tackle
Hebron Fangupo
, cornerback
Isaiah Green
, defensive
Brian Arnfelt
, quarterback
Landry Jones
and center
David Snow
are inactive for the Steelers.
A steady raining is falling in Pittsburgh, and the grounds crew took the tarp off the field a little before 11 a.m. ET.
December, 27, 2013
12/27/13
2:15
PM ET
PITTSBURGH -- Wide receiver
Emmanuel Sanders
practiced Friday and will be a game-time decision Sunday in what could be his final contest with the Steelers.
Sanders
Sanders (knee) and outside linebacker
Jason Worilds
(abdomen) are listed as questionable for the 1 p.m. ET game against the visiting Browns. Linebacker
Terence Garvin
(knee) is the only Steelers player who has been ruled out for the regular-season finale at Heinz Field.
Worilds practiced on a limited basis Friday while Sanders was listed as a full participant in drills.
"Right now I'm 50-50," said Sanders, who sprained his knee last Sunday while making a cut on the muddy turf at Lambeau Field. "I practiced today and the pain was bearable."
Sanders said he will play Sunday if he can't make the injury any worse.
"I've always played through injuries no matter what," said Sanders, who has played in every game this season and caught 65 passes for 714 yards and six touchdowns. "I'm not going to hold anything back, and that's always been my mentality.
Sanders will be an unrestricted free agent after the season and he is among a handful of Steelers players who face an uncertain future.
In addition to Sanders, right guard
David DeCastro
(back) practiced on Friday after missing drills the previous day. DeCastro said his back won't limit him against the Browns, who will be without starting nose tackle
Phil Taylor
(concussion).
"Back's fine," DeCastro said. "I'm good to go."
DeCastro, defensive end
Brett Keisel
(foot), outside linebacker
Jarvis Jones
(illness), wide receiver
Markus Wheaton
(finger), safety
Troy Polamalu
and tight end
Heath Miller
are all listed as probable for Sunday.
December, 26, 2013
12/26/13
4:28
PM ET
PITTSBURGH -- Outside linebacker
Jason Worilds
and wide receiver
Emmanuel Sanders
have yet to practice this week, making Friday critical for each player regarding his availability for the
Pittsburgh Steelers
' regular-season finale.
Worilds is trying to come back from an abdomen injury and a stinger, while Sanders will try to play through a sprained knee Sunday when the Steelers host the Browns.
Worilds
Sanders
Sanders said earlier this week that his knee has to get strong enough for him to have confidence cutting on it.
"We've still got time and he's working hard to give himself a chance to come out and play," Steelers offensive coordinator Todd Haley said. "He's a competitive guy that wants to be part of this and part of having a chance to win Sunday."
In addition to Worilds and Sanders, right guard
David DeCastro
(back) and linebacker
Terence Garvin
(knee) did not practice on Thursday. Outside linebacker
Jarvis Jones
(illness), defensive end
Brett Keisel
(foot) and wide receiver
Markus Wheaton
(finger) were full participants in practice.
The Steelers appear to be bringing Worilds along slowly after he missed most of the second half of their win at Green Bay last Sunday. His injuries and the absence of Jones – he had been scratched after getting sick the night before the game – led the Steelers to start
Chris Carter
at outside linebacker and play
Stevenson Sylvester
extensively at left outside linebacker.
Defensive coordinator Dick LeBeau said he hopes Worilds' playing time on Sunday isn't limited.
"But Chris will get some snaps and so will Sly," LeBeau said. ""They'll all four play."
December, 23, 2013
12/23/13
10:52
AM ET
A review of four hot issues from the
Pittsburgh Steelers
'
38-31 win
against the
Green Bay Packers
:
[+] Enlarge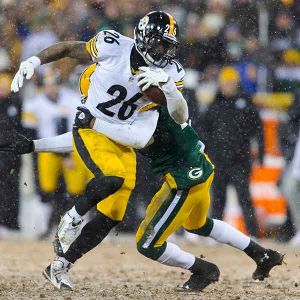 Jeff Hanisch/USA TODAY SportsPittsburgh's Le'Veon Bell rushes for one of his 26 carries against the Packers in their Week 16 game.
Can you top this?:
After rushing for 100 yards Sunday -- his first 100-yard game of the season -- Steelers RB
Le'Veon Bell
admitted that playing against RB
Eddie Lacy
's Packers gave Bell a little extra incentive. Both are rookies, and both were selected in the second round. "I wanted to go out there and play at his level or better," Bell said. It's probably safe to say that Bell and Lacy battled to a draw, if it can be said that a duel transpired between the two at Lambeau Field. Bell outrushed Lacy (124 yards to 85) but Lacy posted a better yards per carry average (5.6 to 4.8). Each showed why his respective team already leans so heavily on him. Lacy displayed nifty vision and footwork on a 14-yard touchdown run in the second quarter. Bell, the first Steelers rookie RB to gain 100 yards in a game since
Willie Parker
in 2004, hurdled a Packers defensive back during one run. He also ripped off a 25-yard run on his first carry after losing a fumble that set up a Lacy touchdown. "He's a good player," Steelers coach Mike Tomlin said of Bell, "and he's getting better every week."
A trip to remember:
Ben Roethlisberger
savored his 94th career victory in the regular season because of where the Steelers won as much as how they won. The 10th-year veteran had never been to Lambeau Field before Sunday; Roethlisberger didn't make the trip to Green Bay in 2005 because it was too soon after knee surgery for him to fly. "I don't know if I'll get to come back because you don't know about scheduling," Roethlisberger said. "If there was one time to play at Lambeau, I guess this is what you want." Indeed, Roethlisberger and the Steelers got a healthy dose of Lambeau as snow swirled throughout the game and provided enough frosting to cover what Roethlisberger politely called a weathered playing surface. "I called a snap from center and there was clumps of mud on the laces," Roethlisberger said with a laugh. "At the end of the half, I had to ask them to get a new ball because the laces were filled with mud."
Steelers blissfully unaware:
Lawrence Timmons
' reaction to what happened outside of Green Bay typified how the Steelers stayed focused on the Packers and not what others around them were doing. When told that pretty much everything had broken right for the Steelers, Timmons said, "Oh, wow, so that puts us in seventh place again? I haven't even checked my cellphone yet." The Steelers are ninth in the AFC, and they still have to jump three teams to make the playoffs. Such a scenario is a lot more plausible than it was two days ago, though it is still hardly favorable. The Steelers have to win Sunday against the visiting Browns and need the Ravens, Dolphins and Chargers all to lose. "It's irrelevant, to be honest," strong safety
Troy Polamalu
said of the playoff picture. "Nothing's changed from our standpoint, and our mental approach to the game's got to be a week-to-week thing."
Injury update:
Wide receiver
Emmanuel Sanders
may have played his last down for the Steelers. Sanders had an MRI taken on the knee that he hurt while running a pass pattern on the slippery field. He did not play in the second half, and Sanders is hoping for the best regarding the noncontact injury. He will be an unrestricted free agent in March, so he is especially hoping that the Steelers extend their season beyond next Sunday -- and that he is healthy enough to play if the Steelers do what seemed impossible a couple of weeks ago. "We've got a legitimate shot of making the playoffs," said Sanders, who caught a touchdown pass and set up the Steelers' only other score in the first half with a 47-yard kickoff return. "Knowing that, I want to be all right because I feel like if we get in the tournament, who knows what will happen." At Tomlin's weekly news conference Monday, the coach will provide an update on Sanders and linebacker
Terence Garvin
's knee.
December, 20, 2013
12/20/13
8:00
AM ET
PITTSBURGH -- Steelers linebacker
Terence Garvin
had been as anonymous as any NFL position player can be prior to last Sunday night.
But now just about everyone associated with the sport knows who Garvin is, including the league officials who mete out punishment for on-field infractions.
The NFL has fined Garvin $25,000 for a block that seriously injured Bengals punter
Kevin Huber
-- and fueled debate on the delicate balance the NFL has tried to maintain between protecting players and maintaining the integrity of the game.
[+] Enlarge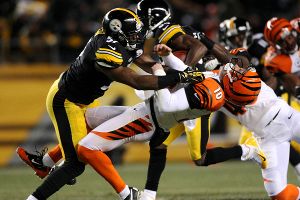 Jason Bridge/USA TODAY SportsThe NFL fined Terence Garvin $25,000 for this hit on Kevin Huber.
But to hear Steelers defensive coordinator Dick LeBeau talk, Garvin may not always be known for the vicious hit that ended Huber's season.
"I think he's got a good future," LeBeau said. "I'm pleased with the way he works. He has continued to improve. I think he's just done an outstanding job."
Garvin is the only Steelers rookie who has played in every game this season, and he made team in late August as an undrafted rookie. That might not mean as much in some organizations, but the Steelers have signed a number of such players through the years who became significant contributors if not stars.
The list includes 2008 NFL Defensive Player of the Year
James Harrison
as well as
Willie Parker
, who still has longest run in Super Bowl history, to name a few.
Garvin has not solidified his spot on the 53-man roster by any means, but the player who first had to try out for the Steelers before getting signed for offseason practices has been making an impression on his coaches ever since joining the organization last May.
"There were about three straight practices where he intercepted one or two balls every practice," LeBeau said. "He showed that ability and instinct to find the ball and get it."
He also flashed that ability in the practices that coach Mike Tomlin derisively refers to football in shorts. But Garvin continued to stand out during training camp, and he played his way onto the Steelers as a special teamer.
He has done well enough in that phase of the game to earn some snaps when the Steelers go to one of their sub packages on defense.
"You give a young guy an opportunity to make plays on special teams and he's done that and has been consistent and productive," Steelers coach Mike Tomlin said. "Guys that usually do it in that phase usually have the potential to do it on offense."
That is another way of saying the Steelers don't view Garvin as just a player who can hurl his body around on special teams for them.
Garvin played safety at West Virginia, and the 6-foot-3, 235-pounder is playing -- and learning the nuances of -- inside linebacker for the first time of his career.
Garvin has added about 15 pounds since signing with the Steelers, and Tomlin said the team is leaving its options about where he plays in the future.
"I think it's a blank canvas with him," Tomlin said.
December, 18, 2013
12/18/13
8:30
PM ET
One of the hot NFL topics in recent days centers on the blindside hit that Cincinnati Bengals punter Kevin Huber took from the Pittsburgh Steelers' Terence Garvin. Huber suffered a broken jaw and cracked vertebrae, injuries that ended his season. ESPN NFL analyst Tedy Bruschi has studied the play and considered what might be done to avoid similar situations in the future, and he offers his analysis:
"I do believe there was a foul on the play [even though it wasn't called]. The crown of Garvin's helmet made contact with the chin/neck area, so yes, I believe a penalty should have been called. If Garvin used his shoulder and lowered his target area, that would have been a legal block.
[+] Enlarge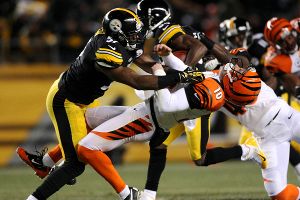 Jason Bridge/USA TODAY SportsTedy Bruschi agrees with the NFL's head of officials that punters are defenseless, and thinks there should be a rule exempting specialists from contact.
"What interested me was
the explanation given
by NFL Vice President of Officiating Dean Blandino on [the] NFL Network, when he said that punters are defenseless throughout the down. When you initially think about that – a player being defenseless throughout the down and not being subject to the same types of hits as others – some might consider it ridiculous. But I believe Blandino is correct. The majority of kickers and punters don't have the same strength, speed and abilities as the other 21 players on the field. I would even stretch it to say, 'All specialists are in that category – punters, kickers, holders, long-snappers.' They provide a special skill that has to be executed for certain special-teams plays to be run. They train differently. They work out differently.
"A part of me believes that if you're on the field you should be subject to the same risks as every other player. However, I recognize how the game is progressing with player safety and how that is so important for the future of the NFL.
"Thus, what I think should happen is this: Specialists should be required to wear a different color jersey – a neutral color – and players will know that certain color jersey can't be touched. Wearing that jersey, specialists then surrender their right to participate in the down once their act is executed. So, for example, after Huber punts the ball he has no right to make a tackle, he's eliminated from the play.
"Blandino is right – these players are defenseless throughout the down. I played with kicker Adam Vinatieri and saw him run down Herschel Walker, but it's rare for a kicker to have that type of toughness. Sure, you see some punters and kickers making tackles. Usually they are the last line of defense. It can be argued that even when they do make the tackle it looks awkward and they are still putting themselves at risk. The best way to protect them is to take them out of the equation completely and introduce the neutral jersey.
"All players know the neutral jersey because it's used across the NFL in practices. You see it with quarterbacks or players coming back from an injury, they come out wearing a red jersey and there is a different tempo used for that player. On plays where there is potential for a high-impact collision, other players are trained to yield to that jersey. So it's already in the psyche of players because it's used around the league in practices. It now needs to be used in game situations, protecting specialists from violent collisions against linebackers, defensive ends, fullbacks and others who are trying to keep their own jobs by making crushing blocks that often injure or end seasons for specialists."
December, 17, 2013
12/17/13
9:00
PM ET
CINCINNATI -- Marvin Lewis thinks there has been more than enough talk this week about the violent play at Pittsburgh last weekend that sidelined his punter for the remainder of the season.
Whether or not the blindside hit was clean is no longer of any consequence to the
Cincinnati Bengals
' coach. He thinks it's time the world moves on from discussing the play and focuses on other things. Namely, Sunday's game between the Bengals and
Minnesota Vikings
.
With a postseason berth still on the line and the Bengals needing to win their last two games, his mind has already drifted elsewhere. As it very well should.
[+] Enlarge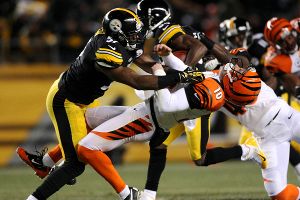 Jason Bridge/USA TODAY SportsThe Bengals have been mum about the hit that ended punter Kevin Huber's season. Coach Marvin Lewis, for one, wants to move on.
But why should the rest of ours? We still have five days to write about and talk about Cincinnati's next contest. There are still several elements of the shot heard 'round the Ohio Valley that deserve to be debated. Particularly this one: Were the Bengals right to not retaliate after Steelers special-teamer
Terence Garvin
sent Bengals punter
Kevin Huber
to the hospital with a devastating hit?
I say they were.
Some of you probably do not share that sentiment. That's OK. I can understand why.
Football, at its foundation, is a violent sport. It's about hitting and colliding and blocking and pushing. For some, it's the ultimate test of machismo. (
How hard can I hit you and how quickly will you pick yourself up?
) In that vein, it's also a sport that hinges on teamwork. (
Will you help me up and have my back if I get knocked down?
)
It's the part about helping that some Bengals fans have had a problem with the last couple of days.
In the time since Huber was bloodied and broken by Garvin's helmet-to-face-mask hit in the first quarter of Sunday night's 30-20 loss at Pittsburgh, there have been questions about why the Bengals didn't jump to Huber's defense at any point during the rest of the game. There are those who wanted to see a Steeler get popped high on a tackle or an off-ball block. Others have wondered why Bengals offensive linemen didn't dive low at the knees of Steelers linebackers. Still others are wondering why the Bengals haven't said much about the hit in the days since.
We'll answer those concerns in reverse order.
For starters, the Bengals haven't said much because, aside from social media, they haven't really had the forum to say anything. Even though Lewis spoke with reporters Tuesday, players have been off limits since Sunday. And immediately after the game, none took the bait when asked to discuss any anger they felt when they saw Huber lying on the ground in obvious pain.
The closest reporters could come to getting the Bengals to share those feelings was when kicker
Mike Nugent
was asked about being angry after the play.
"Honestly, I didn't see the hit," said Nugent, who ended up punting in place of Huber for the rest of the game. "I was watching the ball the whole time. I wish I could comment more on it, but I have to see it on film. It makes you wonder, though, how someone breaks their jaw. It had to be a pretty high hit."
The Bengals' locker room will be open for the first time this week late Wednesday morning, and presumably after film study.
As for reasons the Bengals didn't retaliate, how's this -- they were trailing 21-0 at the time, and as much as their thoughts might have been with Huber, they also needed to focus on overcoming the massive deficit.
Eventually, their defense started holding and the offense got rolling. The comeback bid wasn't enough in the end, though.
Yes, Pittsburgh and Cincinnati will meet again. It won't happen until next season, the same time Huber makes his return. Even if Garvin isn't playing for the Steelers then, the Bengals probably will see him at some point. Even if there are years that separate them from facing him again, you can be sure that some current Bengals will remember his hit.
In different days, those Bengals may have actively sought ways to get back at him. But in this NFL, one that preaches the value of player safety and player integrity, don't expect the old-school retaliation you may want. Fines are too steep.
The only retaliatory option the Bengals have is to just do what they set out to do before the season began: win the division and win the Super Bowl. In this league, the sweetest revenge is playing when everyone else is at home watching.
December, 16, 2013
12/16/13
4:45
PM ET
PITTSBURGH -- After watching countless replays of
Terence Garvin
's crushing block on Bengals punter
Kevin Huber
, I don't think there's any doubt that the Steelers linebacker will be fined by the NFL.
That is not to say there isn't some gray on the play in which
Antonio Brown
scored on a 67-yard punt return.
Garvin lined up Huber in the chest before hitting him and appeared to make a good, if ferocious, block. But when Garvin finished his block the crown of his helmet hit Huber's chin, leaving the latter with a
broken jaw and a serious neck injury
, according to ESPN NFL Insider Chris Mortensen.
Punters are not protected from hits if they try to make a tackle as Huber clearly did. But they are afforded the same protection as other players who are deemed defenseless and cannot be hit above the shoulders.
It is close as to whether Garvin violated that rule or simply made a textbook block on a player who probably should have been more aware of where he was on the field -- or what position he put himself in when he gave chase to Brown.
But a league that has made improving player safety a top priority is going to err on the side of caution, which is why Garvin should expect some mail from the NFL this week.
December, 16, 2013
12/16/13
11:15
AM ET
A review of four hot issues from the
Pittsburgh Steelers
'
30-20 win
against the
Cincinnati Bengals
:
[+] Enlarge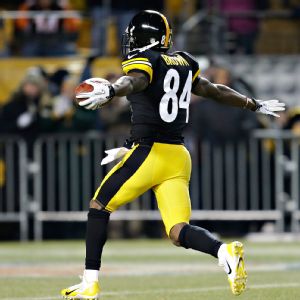 AP Photo/Gene J. PuskarThrough 14 games this season, Antonio Brown is averaging 13.8 yards per reception for the Steelers.
Roethlisberger, Brown shine again:
And then there were two. The Steelers' MVP award, which the players will vote on shortly, is down to quarterback
Ben Roethlisberger
and receiver
Antonio Brown
. Roethlisberger continues to have the finest statistical season of his career, already establishing a new Steelers record for completions in a season (340). Roethlisberger, who completed 80 percent of his passes against the Bengals, needs 414 passing yards in the final two games to break the Steelers' single-season record, which he holds. Brown, meanwhile, became the first player in the NFL since 2001 with at least five catches and 50 receiving yards in each of his team's first 14 games, according to ESPN Stats & Information. The fourth-year veteran also joined
Hines Ward
as the only players in Steelers history to catch at least 95 passes in a season. Flip a coin between Roethlisberger and Brown, who won the Steelers' MVP award in 2011. It is that close between the two players.
Was it legal?
Brown gave the Steelers a commanding three-touchdown lead with his 67-yard punt return near the end of the first quarter, and a devastating block by rookie linebacker
Terence Garvin
helped spring him. Garvin demolished
Kevin Huber
with a block that left the Bengals punter with a fractured jaw, and the NFL will determine whether the blindside hit violated the rule on crack-back blocks that it instituted in 2009, a season after Ward broke Bengals linebacker
Keith Rivers
' jaw with a block that happened behind the play. Garvin did not get flagged on the play, and he said the block was a legal one. "I thought I hit him pretty square, right in his chest. Nobody said anything to me about it," Garvin said. "I saw AB about to break and I really just wanted to finish up and help him get all the way out."
A different look:
Garvin, who made the Steelers as an undrafted free agent, has worked his way into the Steelers' nickel defense. Garvin, who played safety at West Virginia, replaced
Vince Williams
when the Steelers went to their nickel package against the Bengals. The Steelers used the nickel extensively against Cincinnati, allowing
Troy Polamalu
to play safety more than he has in recent games. "My shoulders are pretty fresh," Polamalu said after he recorded five tackles and forced a fumble. The Steelers sustained a couple of injuries on defense, most notable a calf injury that sidelined outside linebacker
LaMarr Woodley
early in the game. Woodley missed three games earlier this season with a calf injury. The seventh-year veteran hurt his other calf against the Bengals. Cornerback
Ike Taylor
sustained a rib injury, but he said after the game that he is fine.
Big Ben blitzes Bengals:
The offensive line allowed just one sack, and gave Roethlisberger enough time to pick apart the Bengals when they didn't blitz him. Roethlisberger completed 17 of 20 passes when the Bengals rushed four or fewer players, according to ESPN Stats & Information.
Andy Dalton
, by comparison, completed just 14 of 28 passes when the Steelers didn't blitz the Bengals quarterback. The one thing that didn't sit well with Roethlisberger after he improved to 14-6 lifetime against the Bengals: The Steelers had to settle for three
Shaun Suisham
field goals, including twice after they had driven inside Cincinnati's 10-yard line. "I'm disappointed because I thought we could have been better in the red zone," Roethlisberger said. "We could have put seven points on the board a couple of times."
December, 15, 2013
12/15/13
11:40
PM ET
PITTSBURGH – A few thoughts on the
Pittsburgh Steelers
'
30-20 win
over the
Cincinnati Bengals
at Heinz Field.

What it means:
The Steelers stayed mathematically alive for the postseason, albeit barely. Unless a ton of things come to pass, the Steelers' most impressive win of the season will have come too late for them to avoid missing the playoffs in back-to-back seasons for the first time in their seven years under coach Mike Tomlin. The Steelers dominated from the outset, quickly answering any questions about how they would play with the postseason all but out of their reach. They erupted for 21 points in the first 15 minutes, dominating a quarter in which they too often had been owned this season. The Steelers had been outscored 77-43 in the first quarter before their final primetime game of the season. They didn't allow a point against the Bengals.
Stock watch:
The defense looked anything but old or a group that was just playing out the string, limiting the Bengals to 91 yards in the first half. But a pair of special-teams plays shaped the second meeting of the season between the AFC North rivals -- and helped Pittsburgh avoid a season sweep by the Bengals for the first time since 2009. A bobbled snap by
Kevin Huber
resulted in the Bengals punter getting tackled on Cincinnati's 1-yard line, and two plays later Steelers running back
Le'Veon Bell
scored the first touchdown of the game. Huber's night got much worse near the end of the quarter.
Terence Garvin
obliterated Huber on one of the blocks that helped spring
Antonio Brown
for a 67-yard punt return for a touchdown. The block left Huber with a fractured jaw, and it could lead to a fine if the NFL determines Garvin violated the Hines Ward Rule, which prohibits a blocker from using his shoulder, forearm or helmet to hit a player from behind or the side.
Woodley sidelined again:
LaMarr Woodley
can't seem to stay healthy, and it's fair to wonder if the Dec. 29 regular-season finale against the Browns will be his final one at Heinz Field in a Steelers uniform. Woodley hasn't been the same player since injuring his hamstring more than two years ago, and the Steelers can't justify the contract that makes Woodley the highest-paid defensive player in franchise history. Woodley, who signed a six-year, $61.5 million deal in 2011, aggravated the calf injury that sidelined him for three games earlier this season. And he is not even the best pass-rusher on the Steelers when healthy. If the Steelers have to choose between keeping Woodley or signing
Jason Worilds
after the season, the decision looks like a no-brainer.
Tough sledding for Bell:
Bell averaged just 2.4 yards per carry and seemed to be a little too indecisive while rushing for 57 yards. But he also caught five passes for 50 yards and again showed glimpses of what kind of runner he can be at this level. He stopped Bengals defensive end
Michael Johnson
in his tracks with a withering stiff arm on the way to one of his more productive runs of the night. An earlier run, in which Bell hurdled Bengals cornerback
Dre Kirkpatrick
, was brought back because of a holding penalty on tight end
Matt Spaeth
. Bell joined Franco Harris and Bam Morris as the only rookie running backs in franchise history to gain at least 1,000 yards from scrimmage.
What's next:
The Steelers play the
Green Bay Packers
next Sunday at Lambeau Field. The game could mark the return of Packers quarterback
Aaron Rodgers
, who has been out since early November with a broken collarbone. The Packers remained in playoff contention Sunday with a come-from-behind win at Dallas, increasing the chances that Rodgers will play against the Steelers.
December, 1, 2013
12/01/13
3:00
PM ET
How well did the Pittsburgh Steelers draft last April? Ask me in three years.
I think it takes at least three years before you can accurately -- and fairly -- judge a draft class. That said, 12 games have provided enough of a sample size to assess how the Steelers' rookies have fared in their first NFL season.
Here is a look at where the players in the Steelers' most recent draft picks stand three-quarters of the way into the 2013 season.
1. Jarvis Jones, OLB:
Jones has not made much of an impact as a pass-rusher, and the Steelers took the former Georgia star 17
th
overall to get after the quarterback. But it takes time for outside linebackers in Dick LeBeau's 3-4 defense to develop, so it's way too early to read much into the fact that Jones has just one sack and 30 tackles. Just as paramount as the 6-foot-2, 245-pounder improving his grasp of the defense in the offseason is Jones adding bulk.
[+] Enlarge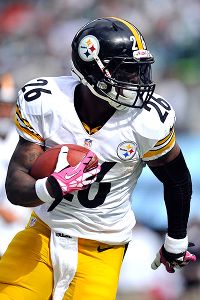 Joe Camporeale/USA TODAY SportsLe'Veon Bell has been one of the bright spots from Pittsburgh's latest draft class.
2. Le'Veon Bell, RB:
The early returns are good on this pick as Bell is almost a lock to win the Joe Greene Award, which is given to the team's top rookie. The former Michigan State star is already a focal point of the offense, and he is the kind of all-around back around which the Steelers can build. Bell is nearing 1,000 yards of total offense -- he has 847 -- and he is only going to get better as a runner.
3. Markus Wheaton, WR:
The Steelers have gotten minimal production from Wheaton, which has been surprising considering the praise he received from some of the veteran players before the start of the season. Wheaton, who has six catches for 64 yards, hasn't gotten on the field much as a No. 4 wide receiver, and he missed four games after needing surgery to fix a broken right pinkie. His development is crucial, especially if
Emmanuel Sanders
signs elsewhere after the season as an unrestricted free agent.
4a. Shamarko Thomas, S:
The former Syracuse star has played well enough to get on the field extensively as a third safety in the Steelers' quarter package, though he missed two games recently with a high-ankle sprain. Thomas, who has 29 tackles, has to be a big part of the future with
Ryan Clark
unlikely to return after the season and
Troy Polamalu
also anything but guaranteed to be back in 2014 since he is set to make just over $8 million in the final year of his contract.
4b. Landry Jones, QB:
Jones has not been on the active roster for any game this season. That is actually a good thing as it means
Ben Roethlisberger
has stayed healthy, and indeed the 10
th
-year veteran has avoided the kind of injuries that have sidelined him in past seasons. It's too early to call this a wasted pick but it certainly looks like the Steelers could have gone in another direction with the second of their two fourth-round selections, especially since they had signed a proven backup in
Bruce Gradkowski
before they drafted Jones.
5. Terry Hawthorne, CB:
The Illinois product did not show enough during offseason practices or training camp for the Steelers to even keep him on the practice squad after cutting Hawthorne at the end of August. Hawthorne couldn't overcome offseason knee surgery, and he is currently a free agent.
6a. Justin Brown, WR:
He lost the the battle for the final wide receiver spot on the 53-man roster to former Penn State teammate
Derek Moye
. Brown has been on the practice squad all season, and he will be given a chance to make the team next season. He also has potential as a punt returner.
6b. Vince Williams, LB:
The former Florida State star has been thrust into the starting lineup due to a season-ending bicep injury sustained by
Larry Foote
. Williams has probably played as well as can be expected but it's too early to tell whether he has a future with the Steelers as a starter or is more suited for a backup role. Williams has 40 tackles, but he has played sparingly in recent week as he comes off the field in the quarter package and has also lost some snaps to undrafted rookie
Terence Garvin
.
7. Nick Williams, DE:
Another small-school project for Steelers defensive line coach John Mitchell. The Steelers saw enough from Williams to place him on injured reserve instead of waiving him with an injury settlement in late August. Williams is working his way back from a knee injury, and the offseason will be a critical one for the Samford product.
Overall:
Could have been better but could have been worse, too. And that assessment comes with the caveat that it's way too early to label any of the rookies, which include Garvin, guard Chris Hubbard (practice squad), defensive end Brian Arnfelt (practice squad) and Devin Smith (practice squad) as anything but works in progress.

NFL SCOREBOARD
Sunday, 2/2
WEEKLY LEADERS