NFL Nation:

Terrance Copper
August, 24, 2012
8/24/12
12:00
PM ET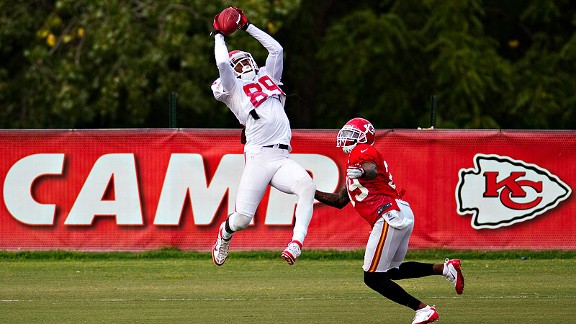 Shane Keyser/Kansas City Star/Getty ImagesJon Baldwin has made highlight-film catches on a regular basis in training camp.
A year ago, the
Kansas City Chiefs
could have been forgiven if they had buyer's remorse after drafting receiver
Jon Baldwin
with the No. 26 overall pick.
The pick was somewhat surprising because the team had other needs and the supremely athletic Baldwin was considered a player who had the potential to be an off-field problem after some issues while at the University of Pittsburgh.
Then, at the end of his first NFL training camp, Baldwin was reportedly involved in a locker-room scuffle with then-Chiefs running back
Thomas Jones
. Baldwin suffered a broken thumb in the incident, which impacted his rookie season severely. It wasn't a great start to a career that was being scrutinized anyway.
A year later, however, the Chiefs are not questioning the decision to draft Baldwin. They view Baldwin the same way they did when they drafted him. They think he can be a dynamic player who can make an impact on a varied offense because of his ability as a deep threat.
Most important, the Chiefs like the way Baldwin is developing off the field. Many people in the Chiefs' camp raved about the improvement in the way Baldwin, who turned 23 this month, is handling himself this year.
"I think he has matured a lot in the past year," Chiefs coach Romeo Crennel said late in training camp. "I really like the way he has handled himself."
[+] Enlarge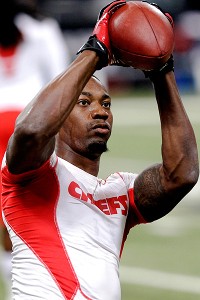 AP Photo/Seth Perlman"I think he has matured a lot in the past year," Chiefs coach Romeo Crennel said of Jon Baldwin.
Baldwin took advantage of extra repetitions in the offseason program and in training camp with No. 1 reciver
Dwayne Bowe
holding out. Bowe reported to the team last Friday and the Chiefs are hopeful he will be ready to make an impact in Week 1. Either way, expect Baldwin to be part of the starting mix when the Chiefs begin the season.
The team was impressed that Baldwin hunkered down and gleaned as much information and knowledge as possible from veteran receivers
Steve Breaston
and
Terrance Copper
. They are two of the more respected veterans on the roster because of their professional approach. For a player who needed to gain his team's trust, it seems Baldwin has done just that this summer.
"Jon has done a great job of taking to the coaching that has been given to him," Chiefs receivers coach Nick Sirianni said during training camp. "He takes his weaknesses and turns them into strengths. He comes to practice every day, just like all of our guys. He's a professional trying to improve every day."
The key to his success, Baldwin said, has been his study habits. He is working at learning the pro game.
"I take a lot of notes at night. I study those notes so that I don't come back and make the same mistake," Baldwin said. "That is one thing Coach Nick jars on; don't make the same mistake twice. Being able to study my mistakes, and come out the next day to execute the mistake that I made the day before. I just make plays, and if there are any corrections needed, I go make the corrections and get better tomorrow."
Labeled as a "wide target" by quarterback coach Jim Zorn, the 6-foot-4, 230 pound receiver has made highlight film catches on a regular basis in training camp. Baldwin, who showed flashes of brilliance late in his rookie season, has one catch in the preseason, but he hasn't been targeted much. Still, quarterback
Matt Cassel
has praised Baldwin for stretching the field and keeping defenses honest in the preseason.
Expect the targets to rise dramatically for Baldwin in September. There is no doubt Cassel, who has taken Baldwin under his wing since shortly after he was drafted, is a Baldwin believer.
"Unfortunately, he was out with an injury for the first six games of the season," Cassel said. "This year we had a whole offseason to work together and also all of camp. I feel very comfortable with Jon. He's making a lot of progress himself."
Baldwin credits a strong relationship with his quarterback for helping him becoming a better player.
"We talk a lot," Baldwin said of himself and Cassel. "He tells me where he wants me to be on certain things and we talk back and forth. It makes the communication a lot better with him. He understands where I'm going to be on certain routes. I know where he's going to put the ball on certain routes. That makes it a lot better for the both of us.
"The main thing is trust. One thing I always say to him is that I'm going to try to make every play possible. He understands that and just gives me a chance to make a play. I try to make as many plays as I possibly can for him."
If the maturation of Baldwin continues, the Chiefs will never regret their once-questioned decision to draft him.
August, 18, 2012
8/18/12
12:00
PM ET
ST. JOSEPH, Mo. -- This isn't a training camp for the leisurely.

Armed with the best roster this franchise has seen in years, the
Kansas City Chiefs
are moving quickly under new coach Romeo Crennel. For those who visited the Chiefs camp last year, this pace is foreign.
"There are no wasted moments," said quarterback
Matt Cassel
.
The final training camp of the Todd Haley era will live in infamy in the Heartland. The Chiefs' training camp last season was essentially a three-week walk-through exercise. Haley chose to go that route because he wanted to ease the players back into the program after a lost offseason due the lockout. The plan didn't work as the Chiefs were physically and mentally behind the rest of the league. The Chiefs, who suffered several major injuries early in the season, were clubbed early in the season and it set the tone for a disappointing season.
However, speed is back in vogue as Crennel tries for head-coaching success in the NFL in his second go-around. The tempo change has paid off so far. The Chiefs have looked crisp in practices and they were dominant on both sides of the ball against Arizona in the preseason opener last week.
The idea is to keep the forward tempo moving into the season as the Chiefs try to win the AFC West for the second time in three seasons.
"It's exciting to see what is happening here," Cassel said. "We have a lot of work to do, but we are all on the same page and all want to have success together."
THREE HOT ISSUES
1. The ACL Club:
In addition to bringing in several free agents, the Chiefs are getting back three standouts. Safety
Eric Berry
, running back
Jamaal Charles
and tight end
Tony Moeaki
all blew out the ACLs in their knee last September. All of the players are back and on pace to be major contributors this season.
"All of those guys look great," Cassel said. "They're going to help us a lot."
2. Dwayne Bowe's absence:
The Pro Bowl receiver did not participate in the offseason workouts and he was not present for the entire training camp in Kansas City. Bowe has not signed his franchise tender. The general consensus is Bowe will report in early September, just before the season. But there are issues. Bowe has had trouble staying in football shape in the past, so coming in late could be a problem. Plus, he has to learn a new offensive system. The Chiefs want Bowe back, but they are moving forward without him. They know he makes them better, but the team likes its roster and won't wait for anyone.
[+] Enlarge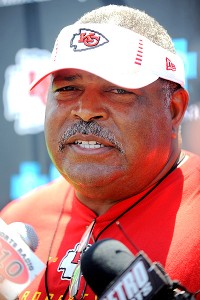 Denny Medley/US PRESSWIREChiefs coach Romeo Crennel has the respect of his players.
3. Good vibrations:
This team is in a good place. The players love playing for Crennel. One of the reasons why Crennel was promoted from interim coach was the players' respect for him. It has continued now that he is the permanent coach. He is a polar opposite of former coach Todd Haley, who was known as somewhat of loose cannon. Crennel is a calm, steady hand. Players love that he's organized and up front. There is a lot of trust going on in this club.
"They've worked hard and they know the possibilities this team has," Crennel said. "Every team feels good about itself this time of year, but this team's attitude is in the right place."
REASON FOR OPTIMISM
This is the best overall roster in the AFC West. It is one of the deepest rosters in the AFC. There is proven talent throughout the roster and the team has the right mix of veteran and young players. Still, the Chiefs are the youngest team in the NFL. They are the only team in the league not to have a player over the age of 30.
"When I was on my visit, I just looked up and down this roster and saw so much talent," free-agent pickup, tight end
Kevin Boss
said. "It is just loaded with talent."
You look at this roster, and there isn't much not to like.
REASON FOR PESSIMISM
The Chiefs will be banged for not being a playoff contender this year until Cassel proves otherwise. The big reason why many people don't believe in the Chiefs is because they don't believe in Cassel, even though he has already delivered a division title in Kansas City. Many scouts don't think he can be a difference maker and because he is the least talented of the four quarterbacks in the AFC West, he will not be able to overcome the other teams in the division. I am of the belief there is enough talent on the roster to help Cassel lead the Chiefs deep into the playoffs. But he must prove it.
OBVERSATION DECK
The rap on No. 11 overall pick Dontari Poe is that the defensive tackle wasn't productive at Memphis. The Chiefs didn't feel that way. They reviewed every college snap he ever played and they were impressed that he played 60 percent of the snaps at 346 pounds. For what it's worth, Poe's college statistics and combine measuruables compare favorably to Green Bay's B.J. Raji. He has become a star after being the No. 9 overall pick in 2009. Poe is two inches taller and nine pounds heavier than Raji, yet he ran a 4.9 40-yard dash at the combine compared to Raji's 5.23. Poe had nine more tackles and four more quarterback hurries than Raji in college despite the fact Raji played 16 more college games. This is not to suggest Poe is going to be a better NFL player than Raji, but it does take away some of the steam out of the argument that Poe wasn't a productive college player.

[+] Enlarge

John Rieger/US PRESSWIREThe Chiefs like what they've seen from first-round pick Dontari Poe so far.

With Bowe holding out, Jon Baldwin has been thriving under the professional guidance of veteran receivers Steve Breaston and Terrance Copper. Some folks in camp think Baldwin is making strides, because he is taking cues from Copper and Breaston.

Defensive ends Tyson Jackson and Glenn Dorsey are plus players for the Chiefs. No, neither is spectacular and they will always get grief for not living up to their draft billing. Dorsey was the No. 5 overall pick in 2008 and Jackson went No. 3 a year later. But both players are excellent run stuffers and are at their top of the game in that area.

While the focus is on Poe at nose tackle, Anthony Toribio and 2011 draft choice Jerrell Powe are also in the mix.

Inside linebacker Brandon Siler looks good after missing all of last season with an Achilles injury. He could push Jovan Belcher for playing time.

While Haley was known for his ranting and raving on the field, new offensive boss Brian Daboll is also fiery. He scoots around the field, barking instruction.

His new teammates love running back Peyton Hillis. His toughness and competitiveness have been a talk of camp.

Very quietly, left tackle Branden Albert is becoming the player the former Kansas City regime thought they were getting when they took him No. 15 overall in 2008. I expect the Chiefs to try to extend the pending free-agent at some point. He's been stellar.

I wouldn't be surprised if the Brady Quinn-Ricky Stanzi battle to be Cassel's backup continues all season, but with Quinn winning the job initially. The Chiefs like where they stand with both players.

The Chiefs are excited about the potential of tight ends Moeaki and Boss. Expect both to have high profiles in the offense.

Second-year pass-rusher Justin Houston has been terrific and the Chiefs are bubbling over at what kind of pass-rush combination Tamba Hali and Houston can become.

The team appreciates the flexibility of third-year player Dexter McCluster , who has bounced from receiver to running back to receiver again. McCluster may never have a classically defined role, but he will have a role in this offense.

Undrafted rookie receiver Josh Bellamy still has a chance to make the 53-man roster, but in a numbers game, he could be practice-squad bound.

So far, so good for new center Rodney Hudson. The second-year player looks comfortable playing with Cassel and vice versa.

Camp observers believe kicker Ryan Succop has gotten bigger and stronger, which will help with his field-goal range.

The team's fourth-round pick, receiver/returner Devon Wylie, is explosive. He will be given a chance to contribute.

Keep an eye on defensive end Ropati Pitoitua. He has outplayed 2011 third-round pick Allen Bailey and he may be a keeper.

Brandon Flowers' foot injury has allowed second-year cornerback Jalil Brown to blossom. I expect Brown to be on the field often in the regular season.
August, 14, 2012
8/14/12
4:55
PM ET
ST. JOSEPH, Mo. -- If I had to judge an early winner in the
Dwayne Bowe
-
Kansas City Chiefs
standoff, it would have to be the team.

Why?
Because the Chiefs are moving along business as usual as the receiver continues to stay away. In my first day around the Chiefs this summer, I haven't gotten the sense that they are overly fretting about Bowe's absence. The focus is on hosting the
Atlanta Falcons
on Sept. 9 -- not on Bowe's whereabouts.
The offense is learning the system of new offensive coordinator Brian Daboll, and it is apparently learning it quickly and successfully. The first-team offense scored two touchdowns in two possessions in the preseason opener, a 27-17 victory over Arizona on Friday, and all three offensive units performed well in the game.
Second-year receiver
Jon Baldwin
has been a camp star; fellow veteran receivers
Steve Breaston
and
Terrance Copper
have been model professionals. All are clicking with quarterback
Matt Cassel
, as are young slot receivers
Dexter McCluster
and
Devon Wylie
.
Coach Romeo Crennel has said often that he is only worrying about the players who are in camp. I believe that. I don't get the feeling Crennel and Daboll are pulling their hair out at night because Bowe is not ready to sign his franchise tender.
Don't get me wrong, I know the Chiefs would prefer to have Bowe in camp. He's a talented player and he'd make the offense better. But they aren't waiting for him.
I wouldn't be surprised if the Chiefs feel the same way about Bowe's holdout as I do. It's pointless. There really isn't much to be gained for Bowe, who can't sign a new deal until after the season.
He has to perform well in 2012 if he is going to get a new deal, whether it's from the Chiefs or from another team in unrestricted free agency (if the Chiefs don't franchise him again if they can't agree on an extension).
The longer Bowe -- who is expected to show up shortly before the start of the regular season -- waits to report, the more difficult it will be for him to have a great season. He has had issues with coming into camp in shape before and it is going to take him time to get into football shape. Plus, he has to learn Daboll's style. But if Bowe ends his holdout soon, he has a chance to be a major factor come Week 1.
If not, his chances of making an impact early in the season will dissipate quickly -- and that means if he heads to free agency next year, he will have more dings on a resume that already has a few blotches.
While Bowe is risking future earning,s the Chiefs refuse to stand around and wait for him.
August, 11, 2012
8/11/12
2:45
PM ET
NFL teams have long sought hard-hitting safeties to deter receivers from making catches over the middle of the field.
Wilson
Adrian Wilson
of the
Arizona Cardinals
has been one such safety for more than a decade.
The rules have changed, however, and players such as Wilson walk a finer line when determining how to serve as a deterrent without inviting penalties and fines.
The hit Wilson delivered Friday night against
Kansas City Chiefs
receiver
Terrance Copper
provides another test case. At first glance, Wilson did what every team has wanted its safeties to do for decades. He held the opposing team accountable for lofting a high pass over the middle. Copper leaped for the ball, his body suspended in a jumping-jack position as gravity pulled him back toward the ground, where Wilson was waiting.
Copper never had a chance to defend himself from contact. In a split second, the ball sailed past him by about five yards and Wilson lowered his 6-foot-3, 230-pound frame into a crouching position. As Copper landed, Wilson's left shoulder and upper arm struck him in the torso area near the elbow. The impact catapulted Copper into the air and onto his back.
Replacement officials working the game did not penalize Wilson. Copper knelt for a few seconds after the play before going down onto his hands and knees, where he remained for another 70 seconds or so. Three members of the Chiefs' training/medical staff tended to him during that time. Copper eventually walked off the field.
Will the NFL fine Wilson? A few things to consider:
Copper was a defenseless player;
Rules allow defenders to hit defenseless players as long as the defenders do not initiate contact with their helmets, and as long as defenders do not strike the defenseless players in the head or neck area;
Wilson did not use his helmet to deliver the blow;
Wilson did not strike Copper in the head or neck area.
By these measures, the hit on Copper was a legal one. The only uncertainty, in my view, involves the timing. The pass from Chiefs quarterback
Brady Quinn
was high and slightly behind Copper. The ball had gone past Copper when Wilson delivered the hit.
As the rulebook states, "It is a foul if a player initiates unnecessary contact against a player who is in a defenseless posture."
June, 7, 2011
6/07/11
4:00
PM ET
KC Joyner isn't sure we'll see a repeat playoff performance by the
Kansas City Chiefs
in 2011.
[+] Enlarge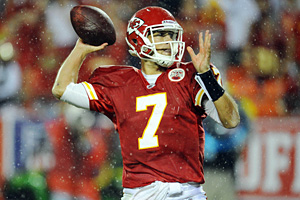 John Rieger/US PresswireThe Chiefs need Matt Cassel to hit more deep passes if they hope to return to the playoffs next season.
In an ESPN.com Insider piece,
Joyner points to quarterback Matt Cassel's struggles to complete long passes as a major reason why he thinks the Chiefs -- who went 10-6 and won the 2011 AFC West title after winning a grand total of 10 games in the previous three seasons combined -- could slip this season.
Here is some of what worries Joyner about Cassel: His metrics in this category range from mediocre to abysmal. His 10.2 vertical YPA (vertical being defined as passes thrown 11 or more yards downfield) ranked 20th in the league last season. His 9.0 stretch vertical YPA (defined as passes thrown 20 or more yards) was even worse, as it ranked next to last among qualifying quarterbacks (175 pass attempts needed to qualify). (Note: these numbers include attempts and yardage totals posted on pass penalties such as defensive holding, illegal contact, pass interference, etc.)
Many might come to Cassel's defense by pointing out the subpar state of the Kansas City wide receiver/tight ends corps last season. It would seem awfully difficult to put together an effective vertical passing game when mediocre pass catchers such as
Chris Chambers
,
Terrance Copper
,
Verran Tucker
,
Leonard Pope
and
Tim Castille
all post at least 10 targets, as was the case last season.
Some will point to the addition of former Pitt wide receiver
Jonathan Baldwin
in the first round of the 2011 draft as a reason for optimism here.
However, the primary counter to that statement would be that Baldwin's first-year learning curve could be steep, given that a) the lockout could prevent him from getting much practice time prior to the start of the season and b) Scouts Inc. said that he is inconsistent and erratic in many areas.
Throw in the fact that Baldwin's 15.51 yards per reception average last season ranked him 68th among FBS pass catchers and it shows just how far he has to go before he can be considered an answer to the Chiefs' vertical receiving woes.
My thoughts? Cassel's inability to complete the deep pass is clearly an issue. That's why Baldwin was drafted in the first round. Kansas City recognized the issue and tried to fix it. That's what good teams do.
The key is how fast Baldwin can make a difference in this area. Joyner points out the learning curve and he's right, but he will be given every chance to succeed.
This season surely will not be easy for Kansas City. It is now the hunted. It has a tougher schedule than it did in 2010. But, in the end, this is a balanced team with good coaching. The Chiefs appear to be headed in the right direction, regardless of potential obstacles.
January, 4, 2009
1/04/09
12:15
PM ET
Posted by ESPN.com's Tim Graham
MIAMI -- No surprises on the inactive list for Sunday's wild-card playoff game between the Baltimore Ravens and Miami Dolphins.
Baltimore Ravens
Miami Dolphins
December, 20, 2008
12/20/08
7:43
PM ET
Posted by ESPN.com's Matt Mosley
IRVING -- The Blue parking lot at Texas Stadium was full about an hour earlier than usual tonight. Cars were shoe polished with messages such as "Farewell to Texas Stadium" and "We'll always remember you."
And it seems that more than 1,000 people have secured VIP pre-game field passes. Camera flashes are going off throughout the stadium -- and many of them were pointed at Roger Staubach as he made his way to the NFL Network set. The only thing that would make this better is if the Cowboys were actually playing a rival. The Ravens are playing for the first and last time at Texas Stadium.
After the game, more than 100 former players will participate in a closing ceremony. I'm a little surprised Jerry Jones opted to wait until after the game to hold the ceremony. If the Cowboys lose, I can't imagine a lot of fans sticking around to watch.
Tony Romo and Terrell Owens just ran onto the field together and received a pretty nice ovation. Pacman Jones just ran the length of the field to hug Ravens backup quarterback Troy Smith. Not sure what to read into that development.
I've already reported this elsewhere on the site, but wanted to make sure you knew that Marion Barber will play tonight. For the Ravens, rookie Ray Rice (calf) is inactive.
Here's a look at all the inactives:
Cowboys: Emergency QB: Brooks Bollinger, CB Alan Ball, S Courtney Brown, RB Alonzo Coleman, LB Bobby Carpenter, G Montrae Holland, G Joe Berger, WR Isaiah Stanback
Ravens: Emergency QB: Todd Bouman, QB Joe Flacco, WR Terrance Copper, WR Marcus Maxwell, RB Ray Rice, T Oniel Cousins, G/T David Hale, TE Edgar Jones
October, 16, 2008
10/16/08
5:25
PM ET
Posted by ESPN.com's Pat Yasinskas
SAINTS
The injury report continues to look much better than it has in recent weeks, with tight end Jeremy Shockey and receiver Marques Colston practicing for the second straight day.
Receiver Courtney Roby, a third-round pick by Tennessee in 2005, was signed. The move came two days after the team released Terrance Copper. Roby also spent time with Indianapolis. Copper was a regular on special teams, but the Saints believe Roby may have more upside as a receiver and could be worth a look.
BUCCANEERS
Coach Jon Gruden said there's a 50 percent chance Joey Galloway will play Sunday. That sounds about 500 percent more positive than Gruden has sounded in recent weeks.
PANTHERS
Here's a very nice story by Steve Reed about the Panthers helping lift the spirits of a seriously ill child. As quarterback Jake Delhomme says in the story, this puts things in perspective.
FALCONS
Coach Mike Smith is using the bye week to address the red zone offense and a couple of other weak spots.
I sat down with owner Arthur Blank during the NFL meeting earlier this week. Check back tomorrow afternoon for an extensive story with Blank's thoughts on Atlanta's fast start and where the Falcons are going.

NFL SCOREBOARD
Sunday, 12/28
WEEKLY LEADERS