NFL Nation:

Terrance Taylor
January, 22, 2010
1/22/10
1:30
PM ET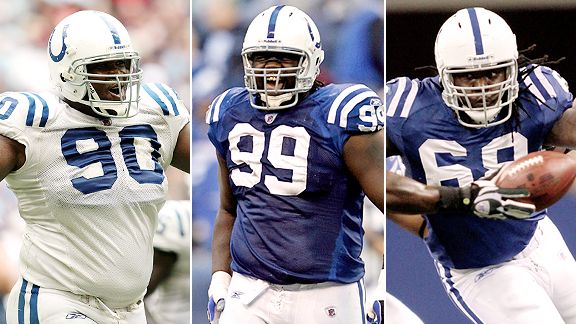 US Presswire/Getty Images/AP PhotoDaniel Muir (left), Antonio Johnson and Eric Foster will face the league's best rushing offense Sunday.
INDIANAPOLIS -- The 2009
Indianapolis Colts
needed to be stouter.
Item No. 1 on virtually every team's list of needs after the 2008 season was defensive tackle. A new head coach with a new defensive coordinator would still want quick interior linemen, but a little more beef would help the team better tamp down the run.
Thus, the Colts selected
Fili Moala
out of USC in the second round of the 2009 draft. They grabbed Terrance Taylor from Michigan in the fourth round. They recruited Adrian Grady from Louisville as an undrafted free agent. They ultimately brought back veteran
Ed Johnson
, who had been waived early in the 2008 season.
Things were going to appear a whole lot different between veteran defensive ends
Dwight Freeney
and
Robert Mathis
.
Months later, here stand the Colts, a game away from their second Super Bowl in four seasons. The three defensive tackles who will key the run-stopping efforts Sunday against the
New York Jets
in the AFC Championship Game are... the same three guys they intended to replace with upgrades.
New York has a Pro Bowl center in
Nick Mangold
and a Pro Bowl left guard in
Alan Faneca
, two key pieces of an offensive line that blocks for the NFL's top rushing team. The Colts will counter with starting defensive tackles
Antonio Johnson
,
Daniel Muir
and
Eric Foster
as the primary changeup.
Of all the "upgrades," only second-rounder Moala stuck -- and he's inactive when the guys ahead of him are healthy.
The three holdovers are used to beating long odds. Antonio Johnson was signed off the
Tennessee Titans
' practice squad in early November 2008 and played eight games with the Colts that season. Muir was a waiver claim from the
Green Bay Packers
in late August 2008. Foster was an undrafted free agent from Rutgers signed in 2008.
And so it's no-names versus big-names in the trenches when the Jets have the ball at Lucas Oil Stadium, and it could be the matchup most telling in who wins the AFC title and advances to the Super Bowl.
Posted by ESPN.com's Paul Kuharsky

Three quick hits on the Indianapolis Colts:
1. Jim Caldwell will be a steady leader. Sure, there is still some adjusting for a team led by Tony Dungy for so long. But Caldwell has a similar demeanor, and the first time this team faces a crisis and looks to him, I expect it'll like how he responds. Too much has been made of other changes on the coaching staff. Tom Moore and Howard Mudd are back in place leading the offense and offensive line, respectively, after retirements that helped with their pensions. And new defensive coordinator Larry Coyer and special teams coach Ray Rychleski replaced coaches many thought Dungy had been loyal to for too long.
Football Outsiders
The Football Outsiders use their unique brand of analysis to break down each of the league's 32 teams.
Indianapolis Colts

2. The defense is bigger and more physical. Philip Wheeler and Clint Session are more rugged as the outside backers. The interior defensive line is much bigger with Ed Johnson back and rookies Fili Moala and Terrance Taylor in the mix. That should mean the team fares better in run defense, but all these guys can run too, so the team hasn't sacrificed its dedication to speed. Look for more variety on defense, as indications are a Cover-2 team will play more man and do more blitzing. Whatever the new wrinkles to the scheme, the mindset is more aggressive. Safety Bob Sanders many not be ready for opening day but the team has an excellent fill-in with Melvin Bullitt.
3. Marvin Harrison was hardly himself last year, and while not having him makes things different for Peyton Manning, he's got a solid stable of weapons with Reggie Wayne, Anthony Gonzalez, Dallas Clark, Joseph Addai, Donald Brown, Austin Collie and Pierre Garcon. While protection and run blocking are issues at the start, firepower shouldn't be. Addai looks primed for a rebound after a second-year slow-down and Brown is a more dynamic second option out of the backfield.
August, 15, 2009
8/15/09
1:15
PM ET
| | |
| --- | --- |
| | |
| | Scott Boehm/Getty Images |
| | New coach Jim Caldwell has made a number of changes and the Colts appear happy with the alterations. |
Posted by ESPN.com's Paul Kuharsky
INDIANAPOLIS -- Dwight Freeney didn't shoo Tony Dungy out the door and wasn't begging for alterations to a formula that has brought the Indianapolis Colts great success.
But Freeney is content with new coach Jim Caldwell's changes at defensive coordinator and special teams coach. The Colts' star defensive end surveys a landscape that no longer includes Ron Meeks and Russ Purnell and feels just fine.
"I think that's one thing people need to understand: We had a lot of success in the years with Meeks and Purnell and, yeah, we are changing personnel as far as those coaching positions are concerned. But change is not always a bad thing," he said. "If you look at the end result, and I'm not saying it was their fault, but we only achieved the end goal once even though we were very successful.
"And I'm not saying it was because of them. But there is always room for improvement. You never know -- you change things around, it brings new energy, it brings new fire. We could see some bigger things."
That energy was palpable early in camp from a team that overcame a lot to go 12-4 last year, then botched a big opportunity in a playoff game in San Diego.
The Colts have had a smooth transition because they anticipated the change and had Caldwell serve as associate head coach under Dungy. Caldwell removed Meeks and Purnell, replacing them with Larry Coyer and Ray Rychleski, respectively.
But the other key people in the organization who provide major stability are still in place -- Bill Polian is still the team president and Peyton Manning is still the quarterback.
Like Freeney, Polian believes some change can be a good thing.
"Sometimes that's good -- you hear a different voice, you hear a different approach, it gets the message across in a different manner," Polian said. "Both are excellent coaches, both are terrific guys.
"They're both organized and they're both good teachers, so I don't think there is any real change there. But maybe the way the lesson is taught might be a little bit different and it's probably, in the end, good."
Key questions
1. Can the third-down defense get Manning the ball back?
The Colts tied for second worst in the league in third-down conversion rate, allowing teams to convert on third down 47.4 percent of the time. Bend-but-don't-break is going out of fashion under Coyer, according to many of his players. And with third down as a focus, they hope to get the offense back on the field and allow their best people to spend more time working.
Only six teams fared worse in time of possession than the Colts (28:39) last year. No matter how opponents try to play keep-away, getting Manning and the offense on the field more must be a priority.
2. Does Manning have the weapons and protection?
Reggie Wayne has been the de facto No. 1 receiver for a while already. And Anthony Gonzalez is primed for a great year in his third season, with a lot more opportunities to come. Pierre Garcon and Austin Collie were both impressive early in camp and appear primed to be steady contributors, and Donald Brown provided a second running back with dynamic possibilities.
The protection question may be a bigger conc
ern. Charlie Johnson has been inserted at left tackle. While he has been an effective fill-in, if he is the guy for 16 games, defensive ends named Mario Williams and Kyle Vanden Bosch are going to find the holes in his game. Perhaps Tony Ugoh responds to the demotion and seizes the job back. Either way, could Manning have to worry more about getting hit from a blind side rusher than he has in the past?
3. Can special teams provide a boost?
Mediocre to poor special teams have been the norm for the Colts, and under Dungy there seemed to be a level of tacit acceptance. Enter Rychleski, a fiery and passionate special teams coach who Caldwell hired from South Carolina. As in many of the departments where the Colts ranked poorly in the past, just a moderate improvement can make a big difference.
The return games have been the worst element. T.J. Rushing is the leading candidate right now, but rookies Collie and Jerraud Powers could provide a boost. Another rookie, Pat McAfee is slated to be the new punter.
Market watch
Working predominantly as the third receiver last season, Gonzalez had 664 receiving yards. Bumped up to No. 2, he should be poised to top 1,000 yards and improve on the four touchdown catches he totaled in 2008. He is typecast by too many as a slot guy, but in three wide receiver sets it appears more likely that Wayne or Collie will line up inside.
Gonzalez is a complete receiver who has established a great rapport with Manning -- so much so that Manning invited the receiver to serve as his caddy at a pro-am golf tournament in April.
| | |
| --- | --- |
| | |
| | Scott Boehm/Getty Images |
| | The Colts are counting on Donald Brown to have a big impact in his rookie season. |
Newcomer to watch
While most analysts figured the Colts would look wide receiver or defensive tackle late in the first round, Polian spent the 27th pick in the draft on highly productive UConn running back Brown. An indictment of Joseph Addai? Perhaps. An upgrade over Dominic Rhodes? Absolutely.
The Colts' plans for Brown and their opinion of Addai after an off year in which he struggled with with knee trouble are both unclear. But Caldwell has made it clear he anticipates significant work for his top two backs. Brown was effective in his first preseason action, even as it came against a mix of second- and third-string Minnesota defenders. High draft picks on offense are expected to help right away and rookie running backs regularly plug in and excel. It's what Addai did in 2006 as the league's leading rookie rusher and it's what Brown may well do in the same offense.
Observation deck
Kicker Adam Vinatieri (hip) isn't expected back until the very end of the preseason. When he's kicking again, he will work intensively with McAfee, his new holder, to get their rhythm and timing down. ... If everyone is healthy in the secondary, work as the dime won't be sufficient for safety Melvin Bullitt. Expect the Colts to creatively find other ways to get him on the field regularly. His development likely means Antoine Bethea won't be re-signed when he becomes a free agent. ... Ryan Lilja is the best run blocker on the line and will also help Jeff Saturday provide an additional veteran influence on the younger players in the offensive line meeting room. ... While Harrison was locked in to lining up in the right, Reggie Wayne will move from the left into the slot, making him tougher to predict and defend. ... Curtis Painter's preseason play could determine his fate. The team doesn't intend for the rookie quarterback to be Manning's backup this season -- that's still Jim Sorgi's job. But injuries and numbers at other spots could impact their ability to keep three signal-callers. Ideally they would have Painter on the practice squad, but what if someone else wants to sign him away? ... Gijon Robinson can block and catch and qualifies as a starter. Buy the development of two second-year right ends could cut into his time. Jacob Tamme runs good routes and has good hands, qualifying as more of a pass catcher while he's emerging as a better blocker. Tom Santi can be a combination guy but has had health issues. ... Because the Colts added three big bodies to the defensive tackle mix -- veteran Ed Johnson and rookies Fili Moala and Terrance Taylor -- two guys who contributed in the interior last year could see far less action. Keyunta Dawson has been moved to end and Eric Foster could get caught in a numbers crunch. ... If Philip Wheeler and Clint Session lock in the outside linebacker spots, then Freddy Keiaho and Tyjuan Hagler will give the Colts something they have not often had -- veteran linebackers available for a lot of special teams work. ... Dante Hughes looks to have fallen out of favor, which creates a lot of opportunity for Powers. ... Maybe I just caught him on a good couple days of practice, but receiver Taj Smith looks like a guy with real potential to develop. Look for him on the practice squad again.
August, 2, 2009
8/02/09
5:06
PM ET
Posted by ESPN.com's Paul Kuharsky
How things sort themselves out at defensive tackle for the Colts will be a big training camp storyline once practices start Monday.
The team went into the offseason determined to get bigger in the middle and added three players who give them size but can also move the way they need their tackles to: veteran returnee Ed Johnson (6-foot-2, 296 pounds) and draft picks Fili Moala (6-4, 303) and Terrance Taylor (6-0, 319).
"It's designed specifically to get us back to where we were when we had Booger McFarland and Corey Simon," Colts president Bill Polian said. "Corey, I don't know what the hell he was, he might have been 320, Booger was between 307 and 310. And that's what you need to play; you can't play at 265.
"We're not looking for the space-eater, we're not looking for the guy who's just going to sit there and absorb blocks. The idea is not to keep blockers off the linebackers, that's not the design of our defense. But we needed to get people who could stand a gap over 16 games, and that's what we have when we were at our best."
July, 23, 2009
7/23/09
11:27
AM ET
Posted by ESPN.com's Paul Kuharsky
| | |
| --- | --- |
| | |
| | Bill Baptist/Getty Images |
| | A healthy Chris Brown could be a big plus for Houston. |
Training camp site: Houston, Texas
Campfires: Weakside linebacker appears to be the biggest battle for a starting spot. Xavier Adibi has bulked up in an effort to become more rugged and withstand the 16-game pounding. Zach Diles appears to be an underdog here, as does veteran Cato June, who signed up after spending time in Indianapolis and Tampa Bay.
Finding a back to complement Steve Slaton is a big priority, but the Texans didn't spend much to increase their options. A healthy Chris Brown could do well in the role, but Houston is living on the edge if it's counting on 16 games from him. Undrafted rookies Jeremiah Johnson and Arian Foster are in the mix along with Ryan Moats and Clifton Dawson
The safety position remains an issue, with Nick Ferguson and Eugene Wilson in line to start now. But the team will allow for the possibility of Dominique Barber to nudge his way into the lineup.
Camp will be a downer if: Anything bad happens to Matt Schaub, Andre Johnson or Slaton. This is an offensive team keyed around that trio, and the loss of any of them for any extended time will be a huge setback.
Schaub's been labeled as injury prone, but it's really been more about being unlucky. It's not as if other quarterbacks would have played through some of the things he's faced. Still, Gary Kubiak's talked about how players can learn how to stay on the field, and he needs his signal-caller to do that.
Camp will be a success if: A defensive identity develops under new coordinator Frank Bush, who's pledged to be more aggressive.
With new coaches overseeing the defensive line and the defensive backs, there is a real chance for new messages and approaches to have a bearing on players and units.
The Texans need some preseason success on both sides of the ball to carry into the regular season, because another shaky start will be cause for concern based on the team's history. If Houston is to plot a course to its first playoff berth, it needs to avoid a poor start.
Second time around: Slaton was a revelation as a rookie, and while there is uncertainty about who else will get carries, the line should be better. It's the second year for the group under Alex Gibbs running his scheme, which should mean better and more consistent play.
Additionally, not only does the unit have Gibbs and John Benton as coaching resources, but can look to assistant Bruce Matthews, the Hall of Famer who's now part of the staff.
---
Training camp site: Terre Haute, Ind.
| | |
| --- | --- |
| | |
| | Donald Miralle/Getty Images |
| | Peyton Manning's receiving corps will be without Marvin Harrison this year. |
Campfires
: Targets for
Peyton Manning
are crucial, of course, and that's why there is such a large focus on the three-way fight for the No. 3 receiver spot.
Pierre Garcon
,
Austin Collie
and
Roy Hall
will draw a lot of attention as that's sorted out. Garcon seemed to be getting a lot of positive reviews in OTAs and min
icamp, with Hall not generating much buzz.
Returning defensive tackles Keyunta Dawson, Eric Foster, Raheem Brock (an end on early downs) and Antonio Johnson will be fighting for roles at a position that welcomed back Ed Johnson and has two young, thick additions from the draft in Fili Moala and Terrance Taylor. Getting bigger inside while maintaining athleticism was a priority for the Colts.
The plan at linebacker is for Clint Session to play on the weakside and Philip Wheeler to replace him on the strongside. But guys with starting experience like Freddy Keiaho and Tyjuan Hagler will be looking to take the team away from that blueprint.
Camp will be a downer if: Left guard Ryan Lilja, perhaps the team's best run blocker, can't make it back after the knee injury that cost him all of 2008. Trouble on the return path for cornerback Marlin Jackson (knee) would also be a bad thing.
With those injuries, the two surgeries on Manning's knee, a dinged Joseph Addai and a bunch of additional problems for the offensive line, the Colts got to show that they could survive. It's not anything they want to be in position to prove again.
Camp will be a success if: New head coach Jim Caldwell sets an early tone that gives the team no room for doubt about the transfer of power from his mentor, Tony Dungy. The players also must take to the thinking of new defensive coordinator Larry Coyer (a bit more aggressive) and new, fiery special teams coach Ray Rychleski.
It also would be great if Manning develops increased rapport with Anthony Gonzalez, who's graduated to No. 2 receiver with Marvin Harrison gone. Manning also needs to gain a real feel for the guy who wins the battle for No. 3 as well as the young tight ends, Jacob Tamme and Tom Santi.
Off the record: Even with a new coach and changes on his staff, it's unlikely there will be any different emphasis on preseason results. Indianapolis is 3-15 in the preseason over the last four years and 51-13 in the regular seasons that followed.
The Colts have a good feel for how to get ready and don't have to worry about building fan enthusiasm with preseason wins. Everyone knows to look at smaller things early in the game to gauge the team's readiness.
---
June, 29, 2009
6/29/09
12:14
PM ET
Posted by ESPN.com's Paul Kuharsky
| | |
| --- | --- |
| | |
| | Joe Robbins/Getty Images |
| | The Titans will look to Jason Jones anchor the defensive line this season. |
NASHVILLE, Tenn. -- Titans defensive line coach Jim Washburn is mixing and matching and it will be a while before he knows how his interior guys will line up in the post-Albert Haynesworth era.
However it sorts out, Jason Jones will have a big role.
Everybody knows Haynesworth was the AFC's top defensive tackle with 8.5 sacks. Nobody knows Jones was second among interior linemen in the conference with 5.0 sacks.
Ask Washburn for specifics that Jones -- or any of his linemen -- need to work on, and he says they all need to work on everything.
Jones believes one key to substantial improvement is a focus on better hand placement.
"My hand placement was all off [in 2008]," Jones said. "If my hand placement is all over the place, it won't help me on the block that I am getting. If my hand placement is there, everything will be all right. It's recognizing the blocking and focusing on your aiming points. Coach Wash gives us aiming points on the offensive line body that I have got to concentrate on."
With prompting, Jones put his hands on me, showing me a bit about angles and leverage -- one hand centered on my chest, the other pushing on my shoulder.
"I'm blowing you into the backfield," he said. "If your hands are in the right place, it helps you a whole lot."
Jones said Tony Brown is the guy he tried to follow with regard to hand placement, and that guard Jake Scott is difficult to get hands on correctly.
"He's tricky, he blocks a certain way you've really got to get used to," Jones said. "Certain things you do that work against a regular person won't work on him. He's one of the guards that's kind of challenging. Going against him every day is helping me a lot."
I look for Jones to be one of several interior defensive linemen in the AFC South to emerge or re-emerge this season.
Among the other candidates:
May, 14, 2009
5/14/09
12:03
PM ET
Posted by ESPN.com's Paul Kuharsky
We have, can and will argue about whether a highly drafted 300-plus pound defensive tackle is going to change things for the Colts defense and whether he marks the start of any philosophical change for a unit operating under a new coach and coordinator.
But no matter where we come out on it, there is no doubt that Indianapolis thinks it's upgraded at defensive tackle and that second-round tackle
Fili Moala
may just be the AFC South's rookie on the hot seat.
If he can garner the attention of multiple blockers and make running up the middle against the Colts tougher, his trickle-down effect could be as big as any first-year player in the division even if it's not as apparent as Donald Brown's rushing yards or the catches for Kenny Britt in Tennessee.
The Colts haven't revamped at linebacker, but if Moala and fourth-round interior lineman Terrance Taylor upgrade the Colts' interior defense, life could get a lot easier for players like Philip Wheeler, Gary Brackett and Clint Session, smaller linebackers whose paths to success will be built around being freed up and using their quickness.
Indy did fine last season with what it had. But Moala can help make things easier for a lot of people. And he warranted the 56th pick in the draft by Bill Polian, who's hardly made a habit of drafting interior linemen, better yet with his most valuable picks.
I acknowledge this is an easy category to plug virtually any draft pick into, especially a first-rounder. They all come into the league with expectations they will alter a position group. We could make the case for 14 or 15 different guys.
In my thinking, Houston linebacker Brian Cushing qualifies as the first runner-up. He should start from the outset and is expected to help fortify a front seven that's been an issue as the Texans have been unable to get over the 8-8 hump. If he doesn't upgrade the linebacking corps from opening day, we'll be asking a lot of questions about why not.
For the Jaguars, I expect good things quickly from Eugene Monroe and Eben Britton, but if the veteran offensive linemen are healthy and free-gent addition Tra Thomas' transition is smooth, the top two picks don't have to be big factors right from the start. The hot seat guys are third-rounder Terrance Knighton, a defensive tackle the team needs to make a strong showing to help re-establish its defensive personality, and Derek Cox, the third-round defensive back the team traded next year's second-rounder to acquire when many other teams had him rated much lower.
For the Titans, who had no overwhelming draft class need, it's first-round receiver Britt. The Titans are deep and lost only two starters, and have veterans who should be able to help fill the Albert Haynesworth void. In tandem with free-agent addition Nate Washington, Britt is expected to help make the Titans a more explosive team that can find a big pass plays to go with a solid run game. But he doesn't have to be effective immediately for the Titans to be successful.
April, 26, 2009
4/26/09
2:58
PM ET
Posted by ESPN.com's Paul Kuharsky
Defensive tackle upgrading has been a priority for Indianapolis in this draft.
After the Colts took 6-foot-4, 305-pound Fili Moala from USC in the second round, Bill Polian talked about why he's a good fit.
"We like his length. We like his toughness. We like his effort," Polian said. "The speed is good. He's very different than what we're used to having. That's fine. We felt like it was a departure in the right direction...

"This guy isn't necessary the 'big buy' in the middle. He's a bigger guy than we've had. We still need length. We still need athleticism. We still need change of direction. The under tackle is still a guy that has to be able to get through the gap and disrupt. It's hard to win consistently with 275-pound guys in there. It helps if they are 290 to 300. The nose tackle is another story. He could even be bigger if you could find one."
After they took a second defensive tackle, Michigan's Terrance Taylor, with a fourth-round pick, I wanted to see what Scouts Inc. had to say about the two new Indy interior linemen.
Scouts Inc. breaks DTs into five position specific categories: Agility/quickness, strength/toughness, instincts, pass rusher and run stopper.
They had Moala as average in four categories and above average in instincts:
"Locates the ball quickly. Does a sound job of getting hands up in throwing lanes when sees quarterback start throwing motion. Times jumps well when trying to block field goal attempts."
Taylor was rated as below average in agility/quickness and as a pass rusher, and average on instincts.
But Scouts Inc. says he is above average in the two other categories.
Strength/toughness:

"Rare upper body strength and lower body strength appears more than adequate on film. Plays with a mean streak. Frequently spelled on film (2007 Penn State and Notre Dame games as well as the 2008 Purdue game) and may lack ideal endurance."

Run stopper:

"Does an above-average job of keeping shoulders square to the line of scrimmage and can anchor against double teams when plays with a wide base, though base admittedly narrows at times. Extends arms once locked on making it tough for blockers to get into frame and flashes the ability to shed blocks in time to make play. Isn't a sideline-to-sideline run defender and isn't going to make many plays in pursuit, though not for lack of effort (see first quarter of the 2008 Purdue game)."
That last piece is big. If Taylor is able to draw double teams as a run defender, the Colts will have plenty of quick defenders able to read plays and get to the ball carrier.
With Moala at 305 and Taylor at 306, the Colts now have four 300-pounders inside to sort through.
Daniel Muir (312) didn't play in six of 16 games last season after he was claimed off waivers from Green Bay. Antonio Johnson (310) was more effective after he was signed off the Titans' practice squad, playing in all eight games after making the move and starting the final four.
March, 10, 2009
3/10/09
10:50
AM ET
Posted by ESPN.com's Mike Sando

Bill Coats of the St. Louis Post-Dispatch says James Butler is six years younger than Corey Chavous and ready to replace him in the lineup at strong safety.
Also from Coats: Mike Karney could fit as the blocking fullback St. Louis wants for its offense. No mention of Leonard Weaver as a potential candidate.
Rich Cimini of the New York Daily News expects the Jets to show interest in receiver Torry Holt once the Rams release him, as expected. Cimini: "Henry Ellard is the Jets' new receivers coach, the same Ellard who served as Holt's position coach for seven consecutive 1,000-yard seasons. If that doesn't give the Jets an advantage in terms of recruiting and insider knowledge, what does?"
VanRam of Turf Show Times links to a radio show in which Jim Thomas of the St. Louis Post-Dispatch suggests the Rams could try to rework Randy McMichael's contract.

John Morgan of Field Gulls says the Seahawks are "very interested" in Clemson safety Michael Hamlin, who spoke with three members of the organization in one day.
Also from Morgan: He thinks the Seahawks should re-sign Weaver. The price apparently hasn't been right to this point.
More from Morgan: Seven players for the Seahawks to draft. Quarterback Matt Stafford, offensive lineman Max Unger, safety Michael Hamlin, receiver Mike Thomas. defensive tackle Terrance Taylor and snapper Jake Ingram get the call.
NFL.com carries a transcript of T.J. Houshmandzadeh's recent chat. He says the Bengals weren't as serious about re-signing as it appeared. Houshmandzadeh: "They were persistent, but it wasn't persistent with good intentions, in my opinion. They weren't as persistent as it has been reported that they were."

Matt Barrows of the Sacramento Bee says the 49ers could have a hard time finding an offensive tackle with the 10th overall choice. Barrows: "The Raiders have pick No. 7 and they definitely could use a tackle. Theoretically, so could Detroit, St. Louis, Kansas City and Cincinnati." The Seahawks could consider one as well.
Also from Barrows: Expect cornerback Karl Paymah to visit the 49ers on Wednesday.
Clark Judge of CBSSports.com lists the 49ers among three teams that need to "stay after school" for their efforts in free agency. Judge: "I don't mean to pick on the 49ers, but they have a nasty habit of spending a lot of money on marginal talent. This year's winner is wide receiver Brandon Jones, who picked up a $5.4 million signing bonus. I don't know much about Jones, other than when I watched the Titans, I never had a feeling he was a guy who could beat you." Judge also thinks the Rams paid a premium for Jason Brown.

Jim Corbett of USA Today quotes Kurt Warner as saying he's still willing to take a pay cut to help the team sign Anquan Boldin. Do players really think that's how it works?
Revenge of the Birds' Hawkwind checks in with Cardinals offensive lineman Elliot Vallejo.
Kent Somers of the Arizona Republic says the Cardinals won't be spending big except to keep their own players.
Darren Urban of azcardinals.com says the Cardinals want Bertrand Berry to return and a deal appears likely at some point.
Also from Urban: He thinks the Cardinals will not trade Boldin.
NFL SCOREBOARD
Sunday, 2/2
WEEKLY LEADERS