NFL Nation:

Terrelle Pryor to Seattle
April, 21, 2014
Apr 21
9:45
PM ET
Surprised that
Terrelle Pryor
has been let go by the
Oakland Raiders
? You shouldn't be. Not if you were reading the Silver and Black tea leaves.
At least the Raiders were able to get something in return by working out a trade with the
Seattle Seahawks
. Otherwise, Oakland faced the prospect of merely cutting Pryor loose with no return on Al Davis' final draft pick.
Or, as one league source wondered Monday afternoon, "Would you want him?"
[+] Enlarge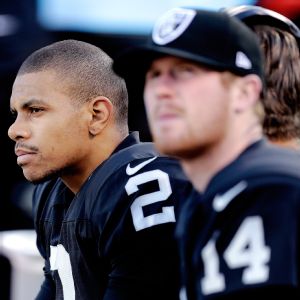 AP Photo/Tony AvelarThe Raiders replaced quarterback Terrelle Pryor with Matt McGloin once teams began to figure out Pryor.
The Raiders will receive a seventh-round pick from Seattle and now have seven picks again -- Nos. 5, 36, 67, 107, 219, 235 and 247 -- in the upcoming NFL draft.
Now, this is not meant as a slam on Pryor. Not at all. You cannot question his work ethic. His decision-making on the field? Sure. His blonde locks of late that tweaked the Raiders, even if he was merely following through on a lost bet? Absolutely.
But it has been painfully obvious since last summer that the Raiders, for lack of a better term, have not
liked
Pryor as a quarterback. At least, not as
their
quarterback.
Not even after he started nine of 11 games and finished with 1,798 passing yards in completing 57.4 percent of his passes. He had seven touchdowns and 11 interceptions while setting a franchise rushing record for a quarterback with 576 yards. His total QB rating of 30.5 was third-lowest in the NFL among qualified quarterbacks last season.
Sure, Pryor won the starting gig last preseason over
Matt Flynn
, but with Flynn's arm hurting and Oakland's offensive line leaking like a sieve at the time, the more mobile Pryor simply gave the Raiders their best chance at success.
And he was more than exciting, his NFL record-for-a-quarterback 93-yard touchdown run in Week 8 against the
Pittsburgh Steelers
serving as his apex for the Raiders.
But when opponents began figuring him out -- he likes to roll out to his right -- his success quickly diminished. A sprained knee and what many in the organization saw as a pouting act following a loss at the
New York Giants
sent Pryor to the bench in favor of an undrafted rookie whose skillset -- a more polished, pure dropback passer -- better fit the type of offense the Raiders wanted to run.
Matt McGloin
is not the answer, either. That's why the Raiders traded for a veteran,
Matt Schaub
, to run their offense.
It was just another sign that Pryor was on the Raiders' backburner -- if they were keeping him warm at all. He is liked in the organization well enough, but he would frustrate many with his improvisational ways and how he would often take to social media and the traditional media to get his message across as a pseudo QB of the People.
He works hard.
He's giving away a coffee machine
and, well, he works hard.
From Day 1, I compared Pryor to
Tim Tebow
, rather than the likes of
Cam Newton
,
Colin Kaepernick
or
Russell Wilson
.
You have to wonder, though, if Pryor will have a similar NFL fate to Tebow's.
Now, though, he'll ostensibly learn at the knee of Wilson. And, oh yes, the Raiders play at Seattle this coming season.
April, 21, 2014
Apr 21
9:40
PM ET
Will
Terrelle Pryor
be a quarterback for the
Seattle Seahawks
, or will they try to convince him to play another spot?
The Seahawks made one of their surprising moves (are any of their moves surprising anymore?) Monday evening by making a trade with the
Oakland Raiders
to acquire Pryor, who was about to be released by the
Oakland Raiders
. Seattle general manager John Schneider gave up a seventh-round draft pick to get Pryor.
In that case, he's worth it. Pryor is scheduled to make $705,000 in 2014. At 6-foot-6, 235 pounds with 4.4 speed, Pryor is an exceptional athlete. But is his future at quarterback or somewhere else on the field?
"Terrelle is an incredibly explosive athlete and we're excited for him to come in and compete," Schneider said in a Seahawks news release.
[+] Enlarge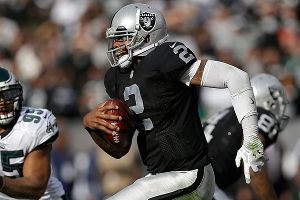 AP Photo/Marcio Jose SanchezWill Terrelle Pryor play quarterback or will the Seahawks move him to another position?
A running quarterback certainly fits into the Seahawks' offensive scheme, as fans have seen with
Russell Wilson
. Pryor, 24, is similar to Wilson as far as running read-option plays. Maybe the Seahawks see Pryor as a long-range answer as a backup.
Backup quarterback
Tarvaris Jackson
, who turned 31 on Monday, was a free agent before signing a new one-year deal at $1.25 million for 2014. The Seahawks players love Jackson. He knows the offense and he is the ultimate team guy.
So could the Seahawks talk Pryor into considering a move? Pryor could be sort of a hybrid tight end/receiver that the Seahawks are looking for, something the team sought in its interest in former Green Bay tight end
Jermichael Finley
.
Maybe, but I'm guessing Pryor is coming to Seattle to compete at quarterback for the backup spot behind Wilson. Reportedly, the 49ers also were interested in signing Pryor.
Pryor, the former Ohio State quarterback, started nine games last season and passed for 1,798 yards. He completed 57 percent of his passes with seven touchdowns and 11 interceptions. His total QB rating of 30.5 was third-lowest in the NFL last season, but he set a franchise rushing record for a quarterback with 576 yards while playing behind Oakland's porous offensive line.
Interesting side note: Wilson now is the third-highest paid quarterback on the team, making a base salary of $662,000 this year. Obviously, that's about to change dramatically.
It's also interesting that Oakland and Seattle have made two quarterback deals in the past year. The Seahawks traded
Matt Flynn
to Oakland last April.
This is what the Seahawks do, bring in talented athletes and find a place for them where they can help the team and excel as individuals. Maybe that's still at quarterback for Pryor, maybe it's elsewhere. For Seattle, it certainly is worth the cost of a seventh-round pick.

NFL SCOREBOARD
Thursday, 9/4
Sunday, 9/7
Monday, 9/8