NFL Nation:

Terrence Johnson
August, 31, 2013
8/31/13
6:27
PM ET

Most significant move:
The Falcons were 13-3 last year and kept most of their team together. That's why it's more than a little surprising that four undrafted free agents made the roster. That's a tribute to the scouting staff. OT
Terren Jones
, LB
Paul Worrilow
, LB
Joplo Bartu
and OT
Ryan Schraeder
made the team. Worrilow and Bartu should contribute immediately on special teams. Schraeder has shown the ability to play both right and left tackle.
Fan favorite:
He was a long shot all the way, but Banks was being followed closely by fans. That's because he had a unique history. Banks spent five years in prison and later was exonerated. Banks' attempt to make the team was a great story while it lasted. But it may not be completely over. The Falcons reportedly may offer Banks a position working with the team.
What's next:
The Falcons could be combing the waiver wire for offensive line help. Second-year pro
Lamar Holmes
is unproven at right tackle and the Falcons, who lost projected starter
Mike Johnson
to injury, might want to bring in an alternative. Even if Holmes plays well, the line still could use more depth. It also is possible the Falcons could bring in a veteran quarterback because backup
Dominique Davis
never has taken a snap in the regular season.
Players cut:
Waived LB
Brian Banks
, G
Theo Goins
, DT
Neal Huynh
, CB
Terrence Johnson
, S
Charles Mitchell
, DT
Micanor Regis
, T
Alec Savoie
, LB
Pat Schiller
, K
Jeremy Shelley
, CB
Peyton Thompson
, RB
Ronnie Wingo
, FB
Patrick DiMarco
, LB
Robert James
, WR
Darius Johnson
, CB
Jordan Mabin
, G
Phillipkeith Manley
, G
Jacques McClendon
, WR
Martel Moore
, DT
Adam Replogle
and WR
James Rodgers
. The Falcons also placed QB
Sean Renfree
and TE
Andrew Szczerba
on injured reserve.
October, 14, 2012
10/14/12
11:41
AM ET
September, 17, 2012
9/17/12
7:40
PM ET
ATLANTA – There was some concern the Falcons would be without injured right tackle
Tyson Clabo
(hip) and linebacker
Sean Weatherspoon
(hamstring) on Monday night.
Both players were listed as questionable, but there no longer is any question they'll both be in the starting lineup against the Broncos.
The Falcons just announced their inactives and Clabo and Weatherspoon are not on the list.
The inactives are quarterback
Dominique Davis
, safety
Charles Mitchell
, cornerback
Terrence Johnson
, center
Joe Hawley
and defensive end
Jonathan Massaquoi
.
July, 3, 2012
7/03/12
2:00
PM ET
»
AFC camp battles
:
West
|
North
|
South
|
East
»
NFC
:
West
|
North
|
South
|
East
An early look at the biggest training camp position battles:

HOUSTON TEXANS
Right tackle:
Rashad Butler
versus
Derek Newton
Right guard:
Antoine Caldwell
versus
Brandon Brooks
The Texans are reshaping the right side of their offensive line after releasing right tackle
Eric Winston
to save money and watching right guard
Mike Brisiel
take a free-agent deal with the
Oakland Raiders
.
Butler and Caldwell have experience in the system and go into training camp as favorites to win the starting jobs. But it won't be a giant upset if one of them loses out to the promising kid in position to make a push. The team is high on Newton, who appeared in 14 games as a rookie in 2011, and Brooks, a third-round pick who was listed at 343 pounds when he was drafted and would be the team's biggest lineman even if he slims down. We won't see Newton and Brooks as starters, but we could see one of them pull an upset.

INDIANAPOLIS COLTS
Cornerback:
Kevin Thomas
versus all comers at left cornerback
The secondary is the Colts' biggest issue, and depth beyond starting right cornerback
Jerraud Powers
is very questionable at corner. Thomas lined up as the second starter during spring and summer work. But the team did a lot to give itself other options for that slot as well as nickel and dime.
The Colts traded for
Cassius Vaughn
, claimed
Korey Lindsey
off waivers and signed free agent
Justin King
, previously of St. Louis. Those three plus holdovers
Chris Rucker
,
Terrence Johnson
and
Brandon King
will look to earn roles during training camp. The team could continue to seek help at corner, too.

JACKSONVILLE JAGUARS
Cornerback:
Rashean Mathis
vs.
Aaron Ross
While
Derek Cox
will man right cornerback, veterans Mathis and Ross will compete for the starting job on the left side.
Mathis is a true pro who's been a good leader for the Jaguars for nine seasons. He's made great progress in a comeback from a shredded knee suffered in November. Ross was part of two Super Bowl-winning teams with the
New York Giants
and will also offer leadership. The guy who doesn't get the starting job will still be an important player on defense, lining up in the slot in the nickel package.

TENNESSEE TITANS
Quarterback:
Matt Hasselbeck
versus
Jake Locker
It's experience versus potential in what will be one of the most watched training camp battles in the NFL. Don't believe Hasselbeck can't lose the job. Coach Mike Munchak wouldn't be setting it up as a competition for show.
To me, the question is whether Locker can be accurate enough to make his mobility too appealing to pass up. If so, he's got a chance. If not, then Hasselbeck should retain the job. In the long run, it would be far easier to pull Hasselbeck along the way than it would be to take Locker out of the lineup. That could be a factor in what the Titans say will likely boil down to a gut feeling on whom they are better off with under center.
May, 24, 2012
5/24/12
11:20
AM ET
»
AFC Scenarios
:
East
|
West
|
North
|
South
»
NFC
:
East
|
West
|
North
|
South
Yes, the start of training camps is two months away, but it's never too early to consider the coming season. A look at the best-case and worst-case scenarios for the Colts in 2012.

Dream scenario (8-8):
I consider this a pretty optimistic dream, but since we're dreaming …
This one would require exemplary rookie seasons from quarterback
Andrew Luck
, tight ends
Coby Fleener
and
Dwayne Allen
and at least a few others from the new regime's first class.
But beyond that, they'll need several guys from the old regime to play far better in a new system than they did in the old one for which they were better suited.
Donald Brown
or
Delone Carter
will have to run effectively, for example. From a pool of returning cornerbacks including
Chris Rucker
,
Kevin Thomas
,
Terrence Johnson
and
Brandon King
, they need to find at least a nickel, and that presumes the guy they just traded for,
Cassius Vaughn
, will be the second starter. (If I am playing against the Colts, with that collection of defensive backs, I'm trying to get them in dime.)
Dwight Freeney
and
Robert Mathis
prove to be pass-rushing demons as outside linebackers in a 3-4 base set, where they are coming from less predictable spots and forcing quarterbacks into all kind of mistakes. Their play offsets the questions at other spots for the defense, and helps set Luck and the offense up with good field position.
Nightmare scenario (2-14):
Yes, it's possible the first year of the Ryan Grigson-Chuck Pagano regime matches the last year of the Bill Polian-Jim Caldwell one.
The Colts will face
Aaron Rodgers
,
Tom Brady
,
Matthew Stafford
and
Jay Cutler
in 2012. But if things go badly, plenty of second- and third-tier quarterbacks will also shred a patchwork secondary that added only safety
Tom Zbikowski
in free agency and Vaughn in a trade and got no help in the draft.
The defense can prove to have too few quality pieces to run a 3-4 or a 4-3 effectively, and if it's giving up a lot of points, Luck will be dropping back a lot to try to lead comebacks. If a line of leftovers and castoffs can't consistently fend off rushers, there will be trouble.
And should Luck get hurt and miss any time, the team will look to
Drew Stanton
or seventh-round pick
Chandler Harnish
. Either one is likely to leave fans pining for the halcyon days of
Dan Orlovsky
.
Also damaging would be the Texans ability to stay good and improvements from Tennessee and Jacksonville. The Colts got their two wins last season against the Titans and Texans late in the year.
October, 27, 2011
10/27/11
12:06
PM ET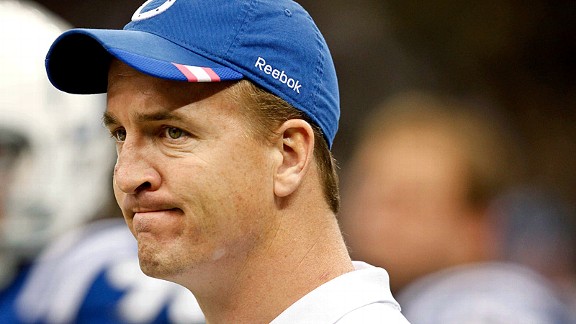 Derick E. Hingle/US PresswireThe Colts were clearly ill-prepared for life without star quarterback Peyton Manning.
It's ugly in Indianapolis.
At 0-7, the Colts are talking about sticking together, improving and giving themselves a chance to win.
But as they prepare for a trip to Nashville for a Sunday meeting with the Titans at LP Field, they are a severely broken team. Where they
would be
with
Peyton Manning
is an interesting hypothetical question, but we're dealing with realities. And those realities are the sort that will test the franchise's stitching -- seamwork that might not hold together when this is all over.
Who's at fault? Everyone's got a hand in it, but let's look at the Colts from a couple different angles.
A big cover-up:
It's not a secret that Manning has helped cover up a lot of flaws and allowed the franchise to under-address certain areas.
The Colts during the Manning era have never been much concerned with size, always valuing speed and instincts more. They've never worried about stocking special teams with any veteran backups, in part because they spend their money on stars, or adding a high-quality return man. They've settled for being below average running the ball. And they've won despite a general inability to stop the run.
Without their four-time MVP running the offense, all of those things are magnified in ways they've never been before.
It shouldn't be a surprise. They're built to have Manning at the controls, and he's been there all the time from the very beginning in 1998 until opening day this season.
There are maybe two teams and markets in the league that would not trade for what the Colts have done since 1999. Twelve consecutive playoff seasons followed by one complete dud? Where do I sign up for that?
[+] Enlarge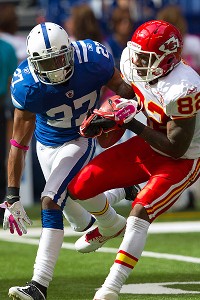 Michael Hickey/US PresswirePersonnel decisions by the Colts put cornerback Jacob Lacey, 27, in a prominent role in a secondary that has struggled this season.
Construct questions:
That said, regardless of a serious neck surgery to the star quarterback, what exactly was the plan in the secondary? Is an evaluation that leaves
Jacob Lacey
,
Terrence Johnson
,
Kevin Thomas
and
Chris Rucker
as cornerbacks No. 2 through 5 good enough? Absolutely not.
The Colts get credit for adding a couple outside veterans this season -- linebacker
Ernie Sims
and defensive ends
Jamaal Anderson
and
Tyler Brayton
. But the drafting has dropped off.
Set aside the most recent class, as it's too early to judge.
The Colts drafted 41 players from 2005 through 2010. I count one star, safety
Antoine Bethea
, and two guys who can become stars, linebacker
Pat Angerer
and receiver
Austin Collie
(if he's working with Manning). Running back
Joseph Addai
is a good fit who does more than people think. And receiver
Pierre Garcon
and cornerback
Jerraud Powers
have been pretty solid starters.
Sure, the Colts drafted higher in the five years before. Still, those classes produced five guys who rank among the best players of their generation at their positions: tight end
Dallas Clark
, defensive ends
Dwight Freeney
and
Robert Mathis
, safety
Bob Sanders
and receiver
Reggie Wayne
. The next tier provided steady starters on the offensive line (
Jake Scott
,
Ryan Diem
) and linebacker (
David Thornton
).
That list is more than a third of a starting team, a big-time core. As those guys age or disappear, I'm not seeing a core in waiting.
Colts president turned vice chairman Bill Polian said recently on his radio show that they needed to have done better recently, particularly at defensive tackle and cornerback.
And there is a domino effect to the problem. Find Tarik Glenn's ultimate replacement at left tackle in 2007, and then you don't need to use your top pick in 2011 on
Anthony Castonzo
. Hit on
Donald Brown
in the first round in 2009, and
Delone Carter
might not be necessary in the fourth round in 2011.
The Polians:
Bill Polian has been pulling back and yielding responsibility to his son, GM Chris Polian. (Chris politely declined to be interviewed for this piece.)
We don't yet have much tape on Chris Polian, so to speak. Bill Polian is a good talent evaluator who's had success in three NFL stops and has done well to build a team Manning has won with. But Bill Polian has also overseen those recent draft drop-offs.
His strong-willed personality is part of what has made him good at his job, and his big-picture assessment of important league issues is as intelligent as anyone's. He's got clout and influence that extends beyond Indianapolis.
Stylistically, he's a stubborn and demanding boss. There are indications from within that, without the steady stream of personnel hits he provided earlier in his tenure, some inside the building are tiring of the way things are run.
Polian talked recently about how
Curtis Painter
's play vindicates the team for having faith in him, but failed to mention that the faith was so strong that the team signed
Kerry Collins
to a $4 million contract shortly before the season started and handed him the starting job.
I suspect Bill Polian's got the backing of owner Jim Irsay for as long as he wants it. That would ensure safety for Chris Polian, too.
Bill Polian made the Manning-over-Ryan Leaf call in 1998. Because of the way Leaf busted, people forget that was a coin flip at the time, that Leaf was regarded as a big-time prospect just as much as Manning was. Polian called it correctly, built a team that's been to two Super Bowls and won one, got a new stadium built and greatly enhanced the value of Irsay's franchise.
Cryptic messages:
Further complicating things is Irsay, who clearly gets a kick out of being the center of NFL attention in the Twitter-verse but has undermined some of his people with it.
He announced
the team added Collins while coach Jim Caldwell was conducting his daily news conference. It did Caldwell no favors, as he appeared completely out of the loop.
Most recently, following the 62-7 loss in New Orleans on Sunday night, Irsay provided this gem:
"Titanic collapse, apologies 2 all ColtsNation...problems identifiable;solutions in progress but complex in nature/ better days will rise again"
A day later, he added:
"Just because you perceive problems on the horizon,and you possess solutions..doesn't mean they are avoidable and implementation is instant"
Solutions in progress, but complex in nature. That sounds to me like what would be written in big silver letters on the lobby wall of a consulting company on a TV show. Or a clever, but far-too-long name for a band.
It also sounds like change is going to come.

Caldwell
Coaching questions:
While Bill Polian recently said that adding Jim Tressel to the staff as a replay consultant was
Caldwell's idea
, it's a weird looking move that's made some of us wonder if a bigger role awaits the former Ohio State coach.
Caldwell does a nice job managing personalities, looking at things philosophically and staying on message. I believe he's a good teacher and his patient, quiet style is generally healthy for a team with a good share of veteran stars.
But he's got blind spots, too, and is hardly a strategy master. There are bound to be significant changes at the conclusion of what's sure to be a dreadful season, and he'll be at the front of the line.
If he does the best job we can remember at holding a terrible, ineffective team together, is that enough? I'd guess not.
Injuries:
This team gets hurt too much. There is a huge element of bad luck to it, of course. But is there something bigger at work as well?
Last season as quality players went down, Manning helped some role players like tight end
Jacob Tamme
and receiver
Blair White
emerge. This season, guys like linebacker
Gary Brackett
and safety
Melvin Bullitt
were lost for the season early, and there's been a revolving door on the offensive line because of injuries.
The Colts are constantly testing their depth and shuffling the back end of their roster. There is only so much shuffling a depth chart can handle.
I believe they need to attempt some change that might have a positive effect on their overall health -- whether it be adopting new training philosophies, altering how they evaluate prospects or changing personnel philosophies.
It's easy to ask them to figure out why they tend to suffer so many injuries and hard to find an answer. But some sort of shift is due, even as we know it comes with no guarantee of better health.
When the current approach is failing, it's OK to try something else. It's not admitting some sort of failure, it's merely part of a necessary process of evaluating and revising operations.
Suck for Luck:
Given a chance to draft Stanford quarterback Andrew Luck, I think the Colts would. Bill Polian can give Chris Polian the guy expected to be the NFL's next great quarterback, and Chris Polian's legacy would be built on a fantastic cornerstone.
But there is no losing on purpose to get in position for Luck. You think Wayne or Mathis is interested in such a master plan?
Said veteran center and team tone-setter
Jeff Saturday
: "'I'll steal a Robert Mathis quote: I ain't sucking for anybody."
October, 20, 2011
10/20/11
2:10
PM ET
Antoine Bethea
is surrounded by nobodies.
Jerraud Powers
is a good corner who's going to be a factor for a while, but he's got a bad hamstring.
Everyone else in the Indianapolis Colts' secondary is hardly noteworthy.
Yet Bethea is playing as effectively as a free safety in such circumstances can, a true pro who won't allow his game to be influenced by such circumstances.
Quarterbacks are completing 69.9 percent of their passes against Indianapolis. They have a 104.0 passer rating and a 70 QBR (out of 100), the 31st worst number in the league.
I'm not sure what Indianapolis' plan for the secondary was this season. When they let cornerback
Kelvin Hayden
go because he cost too much, one had to believe the Colts felt confident in the alternatives. Then
Justin Tryon
, who was an effective player last season, fell out of favor and wound up getting cut. The No. 2 corner,
Jacob Lacey
, is no longer a full-timer in the base defense with
Terrence Johnson
getting some time in the spot.
The Colts are playing
David Caldwell
at strong safety in the base defense and
Joe Lefeged
in the spot in the nickel.
Corner
Chris Rucker
is also seeing some action.
"As a veteran back there, I see myself as the glue," Bethea said. "One of my roles is to get everybody lined up and confident. As a safety, that's my job."
Bethea said he likes the way the Colts are deploying their other safeties, using Caldwell ("He lays the boom") against the run and Lefeged ("He plays the ball well") in passing situations. In time each may be well-rounded enough to be a full-timer, but for right now splitting the job between them is a smart approach.
Bethea is backing his guys, but neither has been great since
Melvin Bullitt
was lost for the year with a shoulder injury.
Bethea said the young corners need to play technique, show improvement week by week and be sure not to repeat the same mistakes.
The Tryon situation was business, and players can't spend time questioning a front office decision. Bethea is great at focusing on his stuff and his guys. He said that although 0-5 is a miserable place, no matter where the team goes moving forward we will not see the sort of fissures that often open on struggling teams.
As for being surrounded by unproven guys ...
"You can't let other people affect how you play," Bethea said matter-of-factly. "How you play is how you play, how you study is how you study. If my play goes down because there are different players around me, it says guys can't look up to me. They need to see 41 flying around, playing hard, making plays."
October, 18, 2011
10/18/11
1:00
PM ET
»
NFC Stock Watch
:
East
|
West
|
North
|
South
»
AFC
:
East
|
West
|
North
|
South
FALLING
1. Jacob Lacey, Indianapolis Colts cornerback:
Lacey is ideally a dime guy, maybe a nickel. But the Colts married themselves to him as their No. 2 starter right after the lockout in a move many of us still struggle to understand. Lately they've been using
Terrence Johnson
some. Sunday in Cincinnati it sure seemed like they went with Lacey early and then pulled him for Johnson. If there was anyone on the roster who was capable of putting real pressure on Lacey, he'd have to get some time on the bench to get his game together.
Drew Brees
will look his way and see red meat.
2. Rashean Mathis, Jacksonville Jaguars cornerback:
In a poor first half for the Jaguars in Pittsburgh, Mathis was exceptionally noticeable. He had a crack at a hit that would have prevented a
Rashard Mendenhall
touchdown run, got stiff-armed out of another run play, he dropped a ball I thought he could have picked and was in defense on a touchdown pass to
Mike Wallace
(yes he's tough to defend, but still). Mathis is a quality leader and a quality guy. He told the team after the game that it's on the cusp of winning a game. They may be, but he's one of the guys who's got to do better to make it happen.
3. Leroy Harris and Eugene Amano, Tennessee Titans interior offensive linemen:
Mike Munchak's team has been very good in pass protection, which is why
Matt Hasselbeck
's been able to be such a significant story. But run blocking is an issue, and these two guys are the root of it. Munchak is steadfastly loyal to the group that started for him last season when he was offensive line coach, but asked recently if he was considering any line changes, his answer wasn't "no," it was "not yet." That's as close as this pair may come to getting put on notice.
Fernando Velasco
is the one legitimate alternative on the bench.
[+] Enlarge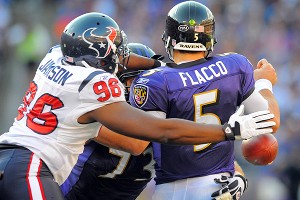 Zuma Press/Icon SMITim Jamison has stepped up admirably in Mario Williams' absence.
RISING
1. Tim Jamison, Houston Texans defensive end:
As the Texans started life without injured outside linebacker
Mario Williams
, Jamison exploded with a big first-half performance: two sacks, including one that forced a fumble he recovered that set up a touchdown. It was an impressive showing, and it's the sort of effort from a member of the supporting cast that the Texans can really use. Gary Kubiak said he sees Jamison as a young
Antonio Smith
. That's high praise considering what a player Smith is.
2. The Tennessee Titans' health:
Coming off a bye, the Titans appear pretty healthy. Safety
Chris Hope
(arm) is out for a long stretch. Backup linebacker and special-teamer
Colin McCarthy
(hamstring) may be the only other issue. If tight end
Craig Stevens
(ribs) is feeling better, things will be looking up for the Titans. And considering the Texans just played the very physical Ravens and have a banged-up quarterback in
Matt Schaub
, it's a nice advantage to have.
3. Indianapolis' pass protection:
The Colts have scrambled to patch things together with a bunch of injured guys, but quarterback
Curtis Painter
has gone over 100 pass attempts without an interception and he's had time the past few games to make his reads and make his throws.
Pierre Garcon
and
Reggie Wayne
have been beneficiaries. This line's taken a beating when things have been bad, and run blocking is no strength. But the group is stepping up to give the young quarterback a chance.
October, 14, 2011
10/14/11
1:30
PM ET
»
NFC Final Word
:
East
|
West
|
North
|
South
»
AFC
:
East
|
West
|
North
|
South
Five nuggets of knowledge about Week 6:
Blitzing Joe Flacco:
The Texans generally get good pass pressure without extra rushers. A lot of that has been because of end-turned-linebacker
Mario Williams
. According to ESPN Stats & Info, the Texans have 21 sacks when rushing four or fewer players since the start of 2010. Williams recorded 10 of them, and no other player has more than 4.5. Williams is out for the season with a torn pectoral muscle. Can Houston get to Flacco with a standard rush? If it can't, will defensive coordinator Wade Phillips call for more blitzing? How the Texans try to disrupt Baltimore's quarterback will be a big story line in Texans-Ravens.
[+] Enlarge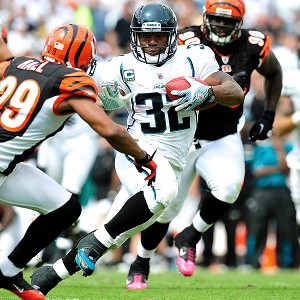 Grant Halverson/Getty ImagesThrough five weeks, Jaguars RB Maurice Jones-Drew has 476 rush yards and two touchdowns.
Get MJD cranking:
The Steelers have given up some big run yards this season, including 150 yards to Houston's
Arian Foster
. To win at Pittsburgh, the Jaguars will need
Maurice Jones-Drew
to carry a big share of the load. He's gained more than 80 yards in every game so far. That's a rare feat; only
Edgerrin James
(2005),
Priest Holmes
(2003) and
Robert Smith
(1996) have done it over the last 15 years, according to ESPN Stats & Info. Jacksonville's offensive line has been inconsistent and injuries have caused them to change things up. Tackles
Eugene Monroe
and
Guy Whimper
have been limited at practice this week.
Defensive backfield in doubt:
Cincinnati rookie quarterback
Andy Dalton
and rookie receiver
A.J. Green
have developed a pretty good connection so far. The Colts will have to rely on their pass rush to throw Dalton out of rhythm, because their struggling secondary is a mess. Their best cornerback,
Jerraud Powers
, is probably out with a hamstring injury. That means Green will be working against the likes of
Jacob Lacey
,
Terrence Johnson
and
Chris Rucker
. It's a group that did not have much success at all against
Dwayne Bowe
and the
Kansas City Chiefs
receivers a week ago.
Tight end- and running back-reliant:
Matt Schaub
threw for 416 yards in Sunday's loss to the Raiders, but only 99 of those yards went to wide receivers. Schaub is the only quarterback since 2001 to throw for 300 yards in a single game to just tight ends and running backs. Although the team added
Derrick Mason
, Gary Kubiak and Schaub probably will continue to lean on Arian Foster,
Owen Daniels
and
Joel Dreessen
. They can win featuring those guys in the passing game, provided they get plays after intermission as well as before. Houston has outscored the competition 90-25 in the first half and been outscored 70-37 in the second half. They have scored 6 points in the third quarter. It doesn't say much about their ability to make any adjustments.
Mindset:
While the Titans enjoy a weekend off, everyone involved in the run game should be preparing to return to action absolutely determined to get things cranking. They simply cannot be the worst run team in the league and remain an AFC playoff contender.
Chris Johnson
has to show far more determination and get back to running downhill. All his blockers and play-caller Chris Palmer have to get to the root of the issue and solve it. Five games is plenty for them to understand what is happening, what is not happening, and why.
October, 4, 2011
10/04/11
1:00
PM ET
»
NFC Stock Watch
:
East
|
West
|
North
|
South
»
AFC
:
East
|
West
|
North
|
South
FALLING
1. The secondary, Indianapolis Colts
: Safety
David Caldwell
dropped an end-zone interception that really could have influenced the game early on. The three cornerbacks who were on the field a lot struggled to locate pass-catchers and get them to the ground. Are
Terrence Johnson
,
Jacob Lacey
and
Chris Rucker
good enough to hold up against superior passing teams like New Orleans, Atlanta, Houston and New England coming up later on the schedule? It's a rhetorical question, and the answer right now is no.
2. Danieal Manning, Houston Texans special-teamer
: We're not knocking Manning the safety here. We're knocking the guy who blocked a Pittsburgh field goal attempt on the last play before halftime. He circled around and was one of a convoy of Texans following
Johnathan Joseph
as he scooped up the kick to run it back for a score, and Manning inexplicably shoved kicker
Daniel Sepulveda
in the back. There was no way the kicker was going to threaten the play, and Houston was very fortunate to survive the lost touchdown. So props to Manning on the block, but he's got to be smarter from there.
3. Linebackers, Jacksonville Jaguars
: The team poured money into the position in the offseason, and
Paul Posluszny
and
Clint Session
are good players. But Posluszny dropped a pick and
Daryl Smith
let
Drew Brees
guide him out of bounds on an interception return. The backers were repeatedly victimized by running back
Darren Sproles
, who averaged 10.9 yards a touch, and tight end
Jimmy Graham
, who caught 10 balls for 132 yards. The Jaguars need more from these guys against players like that.
[+] Enlarge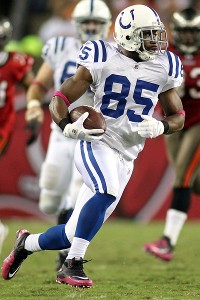 Marc Serota/Getty ImagesBoth of Pierre Garcon's receptions Monday night went for touchdowns.
RISING
1. Pierre Garcon, Indianapolis receiver
: He can be maddening with his drops -- he had one early against the Bucs. But the reason he's around is that he can change games with one play. He had two of them for the Colts Monday night, grabbing
Curtis Painter
passes and doing excellent work after the catch. They were the sort of explosive offensive plays Indianapolis has to have if it's going to be competitive.
2. Tight ends, Tennessee Titans
: Among the people the team has talked of needing to help fill the void without
Kenny Britt
,
Jared Cook
was a top name. If teams choose to cover him and attempt to tackle him the way the Browns did, look for him to put up monster numbers.
Craig Stevens
is regarded as more of a blocker, but he did well to catch a touchdown. If Cook, Stevens and
Daniel Graham
can continue to be counted as good targets for the accurate
Matt Hasselbeck
, there is a lot of cause for hope. Those guys complementing receivers
Nate Washington
,
Damian Williams
and
Lavelle Hawkins
are looking like a strong group.
3. Antonio Smith, Houston Texans defensive end
: He'll represent the entire defensive front here, which has been very good and which just overwhelmed the
Pittsburgh Steelers
' offensive line in Sunday's win.
Ben Roethlisberger
can be exceptionally tough to drag down, but Smith and the Texans ganged up on him for five sacks and really hit him with great regularity. The secondary is vastly improved, but life is a lot better back when a quarterback like Roethlisberger has little time to work.
October, 4, 2011
10/04/11
1:03
AM ET
Thoughts on the
Indianapolis Colts
' 24-17
loss
to the
Tampa Bay Buccaneers
Raymond James Stadium:


What it means:
The Colts are 0-4 for the first time since 1998, and while things have gotten a bit better they are still flailing. They rank with the
Miami Dolphins
,
St. Louis Rams
and
Minnesota Vikings
as the NFL's remaining winless teams.
What I didn't like:
A gruesome leg injury suffered by defensive tackle
Eric Foster
that left teammates ashen-faced and fearful. Clearly in great pain, he pounded his chest and the roof of the cart as he was taken from the field with his leg in a blow-up brace. The Colts also lost starting left tackle
Anthony Castonzo
and his backup, fellow rookie
Ben Ijalana
, to injuries. That meant Mike Tepper, signed off the practice squad earlier in the day, was with the starting offense at the conclusion of the game.
What I liked:
The inconsistent
Pierre Garcon
made two giant plays for
Curtis Painter
, for 87- and 59-yard touchdowns. While he lost a fumble and absorbed four sacks, his 13-for-30, 281-yard effort with the two scores and no picks was a good enough effort to win.
Not assertive enough:
With 8:27 left in the third quarter of a 10-10 game, Painter threw an incomplete pass on a third-and-less-than-a-yard from near midfield. Then the Colts punted. The Colts have to run there, and if they don't then they have to run on fourth down. For years we've talked about how they need to be able to run for a yard. Even with a dinged up offensive line,
Delone Carter
can't get a yard?
Ugly numbers:
The Colts allowed 466 net yards, left their defense on the field for 39 minutes and let Tampa Bay get away with 14 penalties worth 106 yards.
Still wondering:
After watching
Terrence Johnson
,
Jacob Lacey
and
Chris Rucker
work as cornerbacks, I was still left wondering why the Colts decided to release
Justin Tryon
last week.
What's next:
The Colts host Kansas City, which just got its first win Sunday. The Chiefs could provide Indianapolis' best chance to win yet.
August, 8, 2011
8/08/11
12:08
PM ET
ANDERSON, Ind. -- Some quick, initial impressions from the first practice of Colts training camp I watched…
Joe Reitz, who's listed as a tackle, continues to work at left guard ahead of Jacques McClendon. He lined up with left tackle Jeff Linkenbach, center Jeff Saturday, right guard Mike Pollak and right tackle Ryan Diem to form the starting O-line.
Justin Tryon ranks as the third corner right now, but count me among those who think he could wind up second. I watched him encourage and advise undrafted rookie Terrence Johnson during one-on-ones about being patient working against receiver Taj Smith. Good stuff.
"Saturday," a fan screamed and the center raised his fist before the rest of the line was delivered. "Thank you for the season." He should hear that a lot based on his giant role in the CBA negotiations.
It can't be a fun job to be the guy who holds up a three-ring pack of laminated sheets with the right package or play name on it to the camera before each play. But the coaches need to have some stuff labeled as "Alcatraz" of "Queso" when they review and look for landmarks of the sets.
With Dwight Freeney out for the morning, the first-unit defensive line was, left to right, Jamaal Anderson, Fili Moala, Antonio Johnson and Robert Mathis.
Special teams worked on punting out of the back of the end zone and the block team did well to get to one off of Pat McAfee's foot. Special-teams coach Ray Rychleski didn't care for close-but-no-cigar on another snap. Well, not even close, apparently. "Don't go near the guy,"' he barked at one rusher. "You're not even close. Block it or don't go near him." The broader point: Roughing the punter penalties kill.
Watched some one-on-one pass rush and saw Tommie Harris win snaps against McClendon and Reitz. Anthony Castonzo and Ben Ijalana looked good to me. Drake Nevis and Jerry Hughes didn't have a great period from what I could tell.
Linebacker Ernie Sims is out two weeks after an appendectomy, according to Jim Caldwell.
August, 31, 2010
8/31/10
8:33
PM ET
In trimming their roster to the mandatory 75-man limit Tuesday, the
New England Patriots
made a surprising move.

Bodden
They placed their top cornerback,
Leigh Bodden
, on season-ending injured reserve. That might leave them with the NFL's least experienced starting tandem at cornerback: rookie
Devin McCourty
and sophomore
Darius Butler
, who started five games last year.
Bodden has a shoulder injury, the Patriots announced
. Bodden later
tweeted he would undergo surgery
. He also hurt his knee early in training camp.
He started 15 games last year, including the postseason, and tied for the team lead with five interceptions. His 17 passes defensed were more than double the next-closest cornerback.
The Patriots also put defensive lineman
Darryl Richard
(foot) and defensive backs
Josh Barrett
(shoulder) and Brett Lockett (chest) on injured reserve and released defensive back
Terrence Johnson
.
The AFC East's other big personnel move Tuesday was the
New York Jets
' decision to keep quarterback
Kellen Clemens
and waive
Kevin O'Connell
.
Clemens was on the verge of being released
when he agreed to a pay cut to remain the third quarterback, a tough pill to swallow for a 2006 second-round draft choice. But Clemens wanted to stay make a Super Bowl charge with his boys.
ESPNNewYork.com's Rich Cimini reports Clemens dropped his $1.1 million salary to a little more than the veteran minimum of $630,000.
The Jets also claimed pass-rusher
Ricky Foley
off waivers from the
Seattle Seahawks
.
Foley had 12 sacks for the BC Lions
of the Canadian Football League last year.

NFL SCOREBOARD
Thursday, 12/18
Saturday, 12/20
Sunday, 12/21
Monday, 12/22