NFL Nation:

Terrence Knighton
December, 19, 2014
Dec 19
9:15
AM ET
CINCINNATI -- It was
Russell Bodine
's knack for physicality that impressed
Cincinnati Bengals
coaches during the pre-draft process last winter and spring.
Bodine
Film of his blocking ability in college at North Carolina, along with his impressive strength (he led all players at last year's combine with 42 bench reps) impressed the Bengals.
When they made him a fourth-round pick in May, they envisioned having him for games like Monday night's.
Although they are facing the No. 2 rushing defense in the league, it's clear the Bengals still would like to run the football when the
Denver Broncos
come to town for ESPN's "Monday Night Football" 2014 finale. Any success they have could hinge on Bodine and how physically he plays against one of the league's toughest and largest defensive tackle matchups.
"
Terrance Knighton
is 'Man Mountain Dean,'" Bengals offensive coordinator Hue Jackson said, comparing the Broncos' 330-pound interior lineman to a famed 1930s wrestler of similar size.
Knighton may not get the widespread praise from national media that pass-rushing tackles like
Geno Atkins
receive, but that doesn't mean he isn't respected by his peers. Bengals rookie running back
Jeremy Hill
wants to avoid tangling with Knighton as much as possible. That's why he believes the Bengals' rushing success will fall on Bodine's shoulders.
"The run game is going to [predicate] on how he blocks Knighton," Hill said. "If he can get him blocked up and we can get everybody else on to the second level, up on their linebackers, there are some holes to be had in there. But if [Knighton] is having a game, you're not going to get any rushing yards."
Part of the issue is that Knighton's massive size and strength makes running backs avoid going directly up the middle if they can help it. They'd rather find holes along the outer edge. But the problem with doing that against Denver is that the Broncos' outside linebackers and defensive ends, long lauded for their pass-rush ability, are pretty good against the run, too.
When those edge defenders can seal off the outside, a running back gets forced back into the inside. That's when Knighton is there to swallow him up.
"People look at these guys as pass rushers, but they're also very disruptive in the run game with their athleticism and ability," Bengals head coach Marvin Lewis said. "They're going to make you earn things."
So, why is all of this important? And why is Bodine the lineman worth focusing on?
Because it has been behind him that the Bengals' rushing offense has primarily operated. Of the 1,824 rushing yards the Bengals have, 72.4 percent have come between the tackles. A separate 27.5 percent have gone specifically behind Bodine. The interior run has, quite simply, been a hallmark of Cincinnati's ground game.
All season the Bengals feel good about Bodine, and this week they are confident he's up to the task of beating back Knighton.
"He's what we hoped he would be: a really, really tough, physical guy that's going to do nothing but grow and continue to get better and be like the top centers in the league, we hope -- the [Eric] Woodses and Alex Macks, and these guys who have excelled," Lewis said. "They're big guys, physical guys. You like to be around that, and that's what you want in the center of your football team."
October, 27, 2013
10/27/13
9:10
PM ET
DENVER -- Observed in the locker room after the
Denver Broncos
' 45-21
win
over the
Washington Redskins
:
Battered and bruised:
Broncos right tackle
Orlando Franklin
was limited in practice all week. Limited meant he was limping through drills at times with an ankle injury that kept him out of last Sunday's loss against the Colts. But he started and played through the Broncos' win Sunday, even though the struggle was evident at times. "You could tell he was hurting there a couple times in the game, but he stayed in there, but a real credit to him answering the bell and a real credit to his toughness,'' quarterback
Peyton Manning
said.
Knighton
Big man's game:
Broncos defensive tackle
Terrance Knighton
, all 335 pounds of him, had his second sack of the season in the second quarter when he dragged down
Robert Griffin
III on a first-and-10 play. In the fourth quarter it was Knighton who crashed down on Griffin, forcing him to throw an interception. The play knocked Griffin out of the game. "I guess I wanted to show the big guys are athletes, too.''
Taking responsibility:
Manning wouldn't use the word "frustrated" when describing his two third-quarter turnovers -- a fumble recovered at the Broncos' 19-yard line and an interception returned for a score -- that resulted in two Redskins touchdowns in the span of 1 minute, 31 seconds. "I say 'determined' is probably the word, to overcome those mistakes, and you don't do it by pressing and forcing things, you do it by going about your business and doing your job.''
Finally:
Sporting a cowboy hat while still in uniform, Broncos linebacker
Von Miller
was more than happy to recount a day that included his first sack of the season since his return from a six-game suspension for violating the league's substance-abuse policy. "We haven't remotely scratched the surface of what we can be,'' Miller said. "... But I always want to make those plays.''
December, 12, 2010
12/12/10
4:56
PM ET
Thoughts on the Jacksonville Jaguars'
win against
the
Oakland Raiders
at EverBank Field.


What it means:
The Jaguars improved to 8-5 and will win the AFC South with a win at Indianapolis next week if Houston loses to Baltimore on Monday night. The Jags are assured of a better record than last season's 7-9.
What I liked:
Jacksonville had plenty of chances to give up in this one, but kept pushing and took a 28-24 lead with 3:44 remaining in the third quarter. When the Raiders tied it at 31-31, the Jaguars easily retook the lead, with a 65-yard kick return by
Deji Karim
and a 30-yard touchdown run by
Maurice Jones-Drew
. The Jaguars missed some tackles and allowed some big plays, but continued to rebound and recover. That sort of resiliency is becoming more and more of a consistent characteristic.
What I didn't like:
The personal foul call against Jacksonville for a hit to the quarterback's helmet early in the fourth quarter. I thought it was against
William Middleton
. The official game book says it was against
Terrance Knighton
. It undid a 16-yard fumble recovery touchdown return for Knighton, and who doesn't love to see an enormous defensive tackle rumble into the end zone? While
Jason Campbell
got decked and hurt, I don't know that there was a hit to his helmet.
Breaking out:
While Jones-Drew churned out 101 yards on 23 carries, backup running back
Rashad Jennings
continued to provide an excellent changeup out of the backfield. He looked especially fresh as he went 109 yards with five carries -- taking one third-and-4 touch 74 yards for a touchdown.
What's next:
The Jaguars play in Indianapolis Sunday and can win their first division title since 1999, three years before realignment with a win. If they win at Lucas Oil Stadium, the worst they can finish is 9-7 and the best the Colts will be able to finish is 9-7. But Jacksonville will have swept the season series with Indy, thus winning the tiebreaker for the crown. The Jags also need one other ingredient: One more loss for Houston.
September, 19, 2010
9/19/10
4:08
PM ET
The
Jacksonville Jaguars
haven't just scaled back Derek Cox's responsibilities in Week 2. Jack Del Rio has benched the second-year corner.
Cox was expected to be a
cornerstone guy
in Year 2, along with defensive tackle Terrence Knighton. But the Cox's poor play in the season opener got him benched for the second half in last week's win over Denver.
In San Diego, Cox is inactive and
David Jones
is in the starting lineup. Injured safety
Anthony Smith
is out, with Courtney Green in his spot.
Meanwhile in Washington, the Texans won't face defensive tackle
Albert Haynesworth
, who is inactive.
Texans defensive tackle,
Amobi Okoye
, is active.
January, 6, 2010
1/06/10
2:30
PM ET
»
NFC Wrap-ups
:
East
|
West
|
North
|
South
»
AFC
:
East
|
West
|
North
|
South
»
Clayton
:
Video
|
AFC grades
...
NFC
»
More
:
Fantasy MVPs
|
FB Outsiders

|
Awards

A team-by-team analysis of the division. The arrow indicates which direction each team is trending.

Houston Texans
Final Power Ranking:
14
Biggest surprise:
Despite losing tight end
Owen Daniels
to injury along the way, quarterback
Matt Schaub
and
Andre Johnson
connected consistently, even as defenses keyed on minimizing the receiver. Johnson led the league in receiving with 1,569 yards -- 221 yards more than No. 2
Wes Welker
. Schaub answered questions about his durability by starting all 16 games, earning a $10 million option bonus to trigger the remainder of his contract in the process.

Biggest disappointment:
The inability of
Kris Brown
to hit clutch kicks and running back
Chris Brown
to convert clutch chances. In back-to-back November losses to Indianapolis and Tennessee, the kicker had chances to force overtime and missed on each occasion. The running back was miscast as a short-yardage answer, and his ineffectiveness hurt the Texans at the end of losses to Jacksonville and Arizona.
Biggest need:
The Texans have issues in the secondary, where free safety and cornerback need to be upgraded. But this is an offensive team and, even when running back
Steve Slaton
was healthy and running behind a healthy starting line, it didn't run well enough to complement the pass attack. The Texans need a big back who can gain a tough yard.
Team MVP:
Johnson. He consistently produced despite extra defensive attention, putting his combination of size and speed to the best use yet.
Contract issues pending:
Three key members of the Texans -- Daniels, middle linebacker
DeMeco Ryans
and strong safety
Bernard Pollard
-- will lose chances at unrestricted free agency if there is no new CBA. In that case, they would be restricted free agents. They won't be happy playing for one-year tenders and the Texans need to find a way to smooth things out with them.
---

Indianapolis Colts
Final Power Ranking:
1
Biggest surprise:
Rookie cornerbacks
Jerraud Powers
and
Jacob Lacey
were supposed to be role players. But injuries in the secondary meant they were each starters for the majority of the season. Both did very well doing what the Colts asked of them. Overall, the secondary got little from three of four projected starters, with only free safety
Antoine Bethea
a consistent presence. But the Colts defense played very well anyway, giving up few big plays when
Randy Moss
wasn't involved.

Biggest disappointment:
Passing on a chance to try to carry a perfect regular season into the playoffs was a biggie. Team brass was clearly put off, and surprised, by the volume and depth of the media and fan backlash after the Colts pulled starters and handed the Jets a game that dropped the Colts to 14-1. To suggest records for wins in a decade and consecutive regular season wins were more historic than a perfect 19-0 season sure seemed silly during the spin control period.
Biggest need:
Offensive linemen.
Charlie Johnson
did admirable work after he was promoted to replace the disappointing
Tony Ugoh
at left tackle and
Kyle DeVan
was a more physical right guard after replacing another underachiever,
Mike Pollak
. With legendary line coach Howard Mudd set to retire, the Colts need to restock and provide more options for his successor, Pete Metzlaars.
Team MVP:
Peyton Manning
is expected to win NFL MVP, so it would be hard to look anywhere else. He was exceptionally accurate and was a big reason young receivers developed and old targets produced. And it seemed like he led his team to a fourth-quarter comeback weekly.
Next men up:
Anthony Gonzalez
was expected to be the team's No. 2 receiver behind
Reggie Wayne
. But he went down with a serious knee injury in the season opener and never made it back. Rookie
Austin Collie
and
Pierre Garcon
were effective targets for Manning when opponents worked hard to blanket Wayne and forced the Colts to go elsewhere.
---

Jacksonville Jaguars
Final Power Ranking:
23
Biggest surprise:
They called it a retooling instead of a rebuilding, but after major roster turnover the Jaguars were 6-4 and 7-5 and very much in the thick of a hunt for an AFC playoff berth. They got quality experience for four high draft picks who started a lot of games -- offensive tackles
Eugene Monroe
and
Eben Britton
, cornerback
Derek Cox
and defensive tackle
Terrance Knighton
.

Biggest disappointment:
David Garrard
was sacked 42 times and hit way too much. The Jaguars failed badly in two West Coast trips, losing in Seattle and San Francisco, and closed with a four-game losing streak. Losses to Indianapolis and at New England were understandable, but defeats at home to Miami and at Cleveland in the season finale with an 8-8 record on the line were a lot harder to accept.
Biggest need:
Though the team traded up for
Derrick Harvey
and took a second defensive end,
Quentin Groves
, with their first two picks just two years ago, it's in desperate need of pass rush help. The team had just 14 sacks. Quarterbacks often had all day to throw and managed a 96.0 passer rating, 28 touchdowns and just 15 interceptions against Jacksonville.
Team MVP:
Running back
Maurice Jones-Drew
fared very well in his first season as the team's feature back and is the franchise's lone Pro Bowler. He ran for 1,391 yards and 15 touchdowns behind an inconsistent line.
Mighty have fallen:
Free safety
Reggie Nelson
, the team's top pick in 2007, could be on his way out. He was consistently burned in coverage and failed to finish tackles. The team tried him at cornerback when injuries thinned out that position and he fared no better. By season's end, he earned himself a spot on the bench.
---

Tennessee Titans
Final Power Ranking:
16
Biggest surprise:
Chris Johnson
showed himself to be an electrifying playmaker in his first season. But when he said in training camp before his rookie campaign he would run for 2,000 yards, people scoffed. Improbably, on a non-winning team, Johnson ran for a league-leading 2,006 yards, becoming just the sixth member of the 2,000-yard club. He topped 100 yards rushing in each of his final 11 games and scored on seven rushing plays of 20 yards or more.

Biggest disappointment:
After a 13-3 regular season that was the NFL's best in 2008, the 2009 team played terribly early and dug itself an 0-6 hole. While it did well climbing out and finishing 8-8, that miserable start cost the Titans a chance at a return to the playoffs. The slow start featured a slew of drops by the receivers, horrific pass coverage, and return game nightmares. The turnaround began after team owner Bud Adams called for Jeff Fisher to replace
Kerry Collins
with
Vince Young
at quarterback.
Biggest need:
Defensive playmakers. The Titans got old and less effective at several spots. Defensive end
Jevon Kearse
and cornerback
Nick Harper
won't be back. The team is likely ready to move on from veteran linebackers
Keith Bulluck
and
David Thornton
as well. Free safety
Michael Griffin
took a huge step backwards and defensive tackle
Jason Jones
couldn't fight through a shoulder injury. The Titans will look to add veterans and draft picks to rebuild.
Team MVP:
Johnson should be the NFL's offensive player of the year. Without him, who knows what the Titans would have done down the stretch. Getting him to 2,000 yards was a unifying team goal. Johnson even impressed his teammates by backing up the bold 2,000-yard prediction.
Back from the dead:
While he didn't finish especially strong, Young did a lot of good work in 10 games after he was reinserted as the starter. He deserves credit for maturing. His decision making has improved. He's set himself up to be the Titans starter in 2010 after changing the opinion of many of his critics, some of whom reside inside team headquarters.
December, 23, 2009
12/23/09
3:00
PM ET
»
NFC Draft Rewind
:
East
|
West
|
North
|
South
»
AFC
:
East
|
West
|
North
|
South
»
Draft class lists
:
Indianapolis
|
Jacksonville
|
Houston
|
Tennessee
Houston Texans

Cushing
Best get:
Not everyone was sold on
Brian Cushing
coming out of USC, often because of his injury history at USC. He missed most of camp hurt and has missed a lot of practices, but none of it has gotten in the way of his being an impact player every Sunday. The Texans need more defenders and more players in his mold. He's a legitimate defensive player of the year candidate.
Worst unaddressed spot:
The Texans had plenty of reason to expect they had a feature back in
Steve Slaton
, but completely misread their situation after that. Interior line injuries and a second-year slump for Slaton have made a second back even more important, and
Chris Brown
,
Ryan Moats
and
Arian Foster
all have proved incapable of handling the pressures of the work. A second running back ranks as one of the team's highest priorities in free agency or the 2010 draft.
Still uninvolved:
Tight end
James Casey
came in as a versatile fifth-rounder who was going to be a unique weapon for head coach Gary Kubiak and offensive coordinator Kyle Shanahan to tinker with. He's got six catches for 64 yards in 11 games. He needs to have more of an impact, given that the Texans lost top-flight tight end
Owen Daniels
to a season-ending knee injury.
Indianapolis Colts

Brown
Still to be determined:
First-rounder
Donald Brown
has shown he will be a good NFL player. But he's missed five games with injuries, including the last three. He's more capable than
Joseph Addai
of breaking off a big run. The question: Does Brown understand that looking for the big gain isn't worth risking a play resulting in second-and-12. If Brown is healthy, he could see a lot of touches in the last two games. The Colts are 14-0 with just 59 carries, 263 yards and two TDs from their top pick. (They haven't gotten much out of second-round defensive tackle
Fili Moala
, either.)
A perfect fit:
Fourth-round receiver
Austin Collie
, not Minnesota's
Percy Harvin
, leads all rookie receivers in catches. Collie's nabbed 53 passes for 567 yards and seven touchdowns. He's a perfect fit for the Colts' system, and adopted the necessary work ethic to win over and work with
Peyton Manning
. Whether
Anthony Gonzalez
re-emerges for the post season push or not, Collie's crucial to it.
Best special teams addition:
The Colts had eight touchbacks in 2008. With rookie punter
Pat McAfee
taking over kickoffs from
Adam Vinatieri
, they have 18 with two games remaining. Better kickoffs are a big factor in coverage improvements under new special teams coach Ray Rychleski. McAfee's also got a net punting average of 38.0 yards, less than a yard off former Colts' veteran
Hunter Smith's
number from last season.
Jacksonville Jaguars

Monroe
Long-term solutions:
Eugene Monroe
and
Eben Britton
were the top two picks and have played the bulk of the season at left and right tackle, respectively. They have not been consistent, but the team loves their skill sets and upside. And early work means they'll get to the levels the team projected when spending such high picks on them sooner rather than later.
Eighth-rounders:
First-year general manager Gene Smith needed additions beyond his draft class and found a couple: Cornerback
William Middleton
out of Furman and linebacker
Russell Allen
from San Diego State are undrafted free agents who made the team and have been contributors. In the nationally televised Week 15 Thursday night loss to the Colts, Allen led the team with 12 tackles. Smith is down a second and seventh rounder in 2010 because of trades, and he hopes to hit on some undrafteds again, and annually.
Three is key:
Smith did great work in the third round, landing two small school players who've established themselves as productive starters with upside. Cornerback
Derek Cox
from William & Mary has not been intimidated by anything or anyone. Defensive tackle
Terrance Knighton
from Temple has been a stout and reliable run stopper.
Tennessee Titans

Britt
Biggest breakthrough:
Since 1998, the Titans have spent draft picks in the top three rounds on
Kevin Dyson
,
Tyrone Calico
,
Courtney Roby
,
Brandon Jones
and
Paul Williams
. Dyson was involved in two of the franchise's biggest plays in 1999 and did OK otherwise, but none of them solved the team's long-standing woes at receiver. First-rounder
Kenny Britt
is a great combination of size, power and speed who goes and gets the ball. Britt seems like he can be a consistently productive weapon.
Disappearing act:
The Titans gave away a second-rounder to draft tight end
Jared Cook
in the third, and in camp he seemed like a great addition. Then he suffered an ankle injury, faded and never really re-emerged. Long-term he's still very compelling. But the Titans sure could have used a jolt from him during their 0-6 start.
An heir:
Gerald McRath
seems comfortable and been effective as an outside linebacker when needed. He will start the rest of the way and, after bulking up in the offseason, stands to inherit the spot of either
David Thornton
(breaking down) or
Keith Bulluck
(free agent who tore an ACL in Week 15) next year. If both veterans are gone (a likely scenario), the second replacement needs to be a free agent or a draft pick.
December, 10, 2009
12/10/09
5:12
PM ET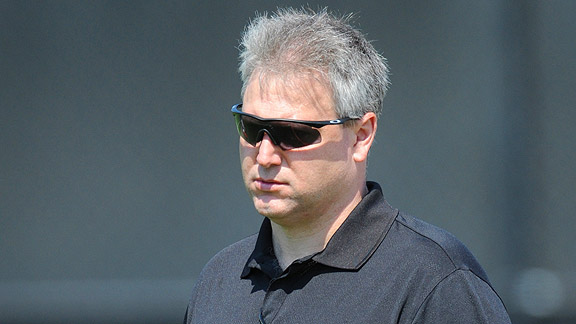 Al Messerschmidt/Getty ImagesFirst-year general manager Gene Smith appears to have the 7-5 Jaguars on the right track.
Gene Smith is straightforward, simple and a little uncomfortable when he's the focus. He's no jokester pulling punch lines out of his pocket.
Those are qualities that make him seem like a perfect fit for his job. Twelve games into his first season as GM of the
Jacksonville Jaguars
, he works quietly, anonymous to most NFL fans. That's just fine with him.
With his team surprisingly in control of one of the AFC's final playoff spots as it prepares to host Miami Sunday and Indianapolis next Thursday night, he's been more popular this week, carving out more time to talk to people like me.
His first draft class has made as big a contribution as any in the league and includes a third-round defensive tackle from Temple,
Terrance Knighton
, and a third-round cornerback from William & Mary,
Derek Cox
. Coming from those non-powerhouse schools, both picks raised eyebrows when their names were called in April. Both have been effective and look to be long-term building blocks.
Some of Smith's personnel peers say he deserves applause for his willingness to go with them.
"You've got to identify what your needs are, really look at the players and not worry about what everybody else says and I think that's what they did," one AFC personnel man said. "You'd prefer not to have to make those decisions your first or second year, you'd like that to come further down the road. But sometimes you don't have a choice. I think he gets a lot of credit for stepping forward and doing what he thought was the right thing."
Unless things come apart for the 7-5 Jaguars in spectacular fashion from here, I believe Smith has done enough of the right things that he ought to be seriously considered for any executive of the year awards.
In a wide-ranging conversation Thursday afternoon, we covered a lot of ground.
Here is my attempt to plug you into all of it.

NFL SCOREBOARD
Sunday, 12/28
WEEKLY LEADERS