December, 27, 2013
12/27/13
5:35
PM ET
EDEN PRAIRIE, Minn. -- Even before Friday's news that he would be listed as doubtful for the final game of the
Minnesota Vikings
' 2013 season, this year would have to qualify as a trying one for
Adrian Peterson
. The reigning NFL MVP began with talk of breaking
Eric Dickerson
's season rushing record after falling just 8 yards short last year, and his team had aspirations of a deep playoff run after a surprising 10-6 finish in 2012.
[+] Enlarge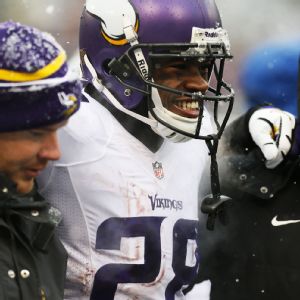 Mitch Stringer/USA TODAY SportsHistory suggests that Adrian Peterson, who will be 29 at the start of next season, may have peaked as a running back.
Only time will tell whether Peterson's 2013 season was an injury-induced fluke, a regression to the mean or the toll of a heavy workload catching up with him. And it's not like he's had a bad season. Assuming he doesn't play Sunday, Peterson will still, in all likelihood, finish among the league's top five or six rushers, despite carrying just 18 times in the Vikings' final four games. He had a shot at his second straight rushing title despite playing much of the year with nagging hamstring, groin and foot injuries that sapped his breakaway speed and made Peterson, by his own admission, run tentatively at times.
But time won't give Peterson -- or the Vikings -- this year back, and by the next time he steps onto a football field, he'll be 29 years old, gearing up for the first of two seasons outdoors. The Vikings' next indoor home game will come when Peterson is 31 years old in 2016. In light of all that, it's not hard to feel a lingering sense that Peterson's time as an elite running back might be slipping away.
History certainly doesn't play in his favor. Peterson has run for at least 1,300 yards in four of his seven NFL seasons; since the 1970 AFL-NFL merger, only 11 running backs have run for at least 1,300 in a season. The number of 1,300-yard seasons by a 30-year-old running back drops to nine, and by age 31, it's down to five. Only one running back since the merger -- Walter Payton in 1986 -- has run for more than 1,300 yards at age 32, and Payton is the only one even to eclipse 1,200 yards at that age.
Peterson's 1,266 yards are the 20th-most by a 28-year-old running back, behind lesser lights like William Andrews, Christian Okoye and
Terry Allen
. None of those players eclipsed 1,300 yards again after their age-28 season, and only Okoye posted another 1,000-yard season.
Peterson has much more in common with thoroughbreds like
Emmitt Smith
,
Barry Sanders
and Payton, and all three had seasons between the realms of great and dominant after they hit 29; Smith hit 1,332 yards at 29 and 1,397 at 30, Payton ran for at least 1,300 yards each year from 29 to 32, and Sanders had his MVP-winning, 2,053-yard season at 29 before running for 1,491 at 30 and then calling it quits.
But let's say Peterson can do that. He'll still have to carry a Vikings team that could be breaking in another new quarterback, and he'll have to play the next two seasons outdoors, where he's averaged about a quarter yard less (4.84) a carry in his career than he has indoors (5.08), according to ESPN Stats & Information. The running back has made no secret of his disdain for playing outdoors, and while bad weather might limit passing games, it can also slow down backs looking for big gains.
These numbers won't be popular with Vikings fans -- and probably not with Peterson, who enjoys few things more than excelling in the face of long odds. But Smith, Sanders and Payton enjoyed defying the odds, too, and time eventually caught up with all of them; Payton retired after a 533-yard season at age 33, while Smith never averaged more than four yards a carry after 32.
There's strong statistical evidence that elite seasons by a running back become increasingly rare after the age of 28, and even if Peterson can crank out a few more, the Vikings can't count on him being in a stratosphere of his own for much longer. That they couldn't do more with his age-28 season has to register as a disappointment.
October, 30, 2012
10/30/12
2:00
PM ET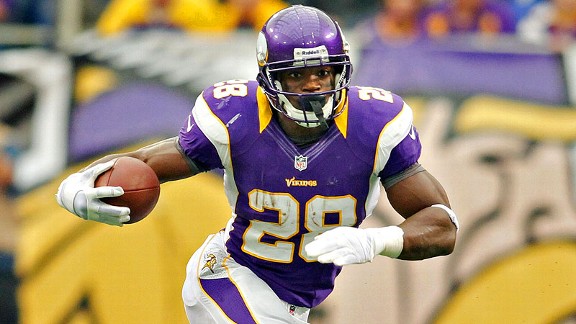 Bruce Kluckhohn/US PresswireVikings RB Adrian Peterson isn't playing like a guy who had major knee surgery in December 2011.
Six years ago, I spent some time with
Adrian Peterson
while working on a profile for the Minneapolis Star Tribune. Our conversation turned to his career goals, and a relatively lighthearted conversation grew serious.
If he were an actor, I would guess Peterson was pausing for effect. In this case, however, I think he was just taking a moment to put his ambitions into words. Eventually, Peterson turned, looked me straight in the eye and said he wanted "to be the best player to ever play this game."
That mentality is, I think, an appropriate context with which to view his unprecedented return from major knee surgery. Peterson wasn't driven simply to resume his career as soon as possible after tearing the ACL and MCL in his left knee on Dec. 24, 2011. He wanted to do it more quickly, and with better immediate returns, than anyone in the history of the game.
There are no objective ways to judge that mission, given medical advances and variances in the timing of injuries. But with the help of several resources, including ESPN Stats & Information, I looked at a cross-section of running backs who have suffered at least a torn ACL over the past decade or so. The chart shows our results, and while you'll notice some nice production in the first post-injury season for several backs, each had a substantially longer recovery time than Peterson.
Less than 10 months after his injury, Peterson leads the NFL in both yardage (775) and yards per game (96.9) while ranking second in offensive touches (174). He has run with power, leading the league with 479 yards after first contact while forcing a league-high 28 missed tackles, according to
Pro Football Focus
. And he has been explosive, ripping off a league-high eight runs of at least 20 yards and breaking away for a 64-yard touchdown scamper last Thursday against the
Tampa Bay Buccaneers
.
"He's doing everything you would hope he could do," Vikings coach Leslie Frazier said. Indeed, I would suggest Peterson has re-written the protocol for returning from an injury that has been career-ending even in some recent cases.
For years, the adage for NFL running backs was that any production in the first year after an ACL injury was gravy.
FootballDocs has a thorough examination (from a fantasy perspective.)
The mid-1990s case of former Vikings tailback
Terry Allen
marked the first really effective and immediate return from an ACL injury, but it's worth noting Allen's occurred during a July 1993 practice, giving him a full calendar year to recover before putting together a 1,031-yard season in 1994.
Until recently, however, Allen's case had proved the exception. It was only 11 years ago, in fact, that
Atlanta Falcons
tailback
Jamaal Anderson
retired because of lingering impact from a 1999 injury.
Denver Broncos
running back
Terrell Davis
, meanwhile, played two relatively unproductive seasons after tearing his ACL and MCL in 1999.
Medical advances have helped running backs resume their careers more regularly since then, and it's worth noting that
Baltimore Ravens
running back
Jamal Lewis
rushed for a combined 3,393 yards in his first two seasons back from an ACL injury. But like Allen, Lewis had a full 12 months to recover before resuming practice because the injury occurred during training camp in 2001.
Peterson, of course, had no such luxury after his injury occurred in Week 16 of the 2011 season. Yet he returned to the lineup, and played on more than half of the Vikings' offensive snaps, 260 days later. On the season, Peterson has played 70 percent of the Vikings' snaps and has appeared stronger with every week -- culminating in consecutive 100-yard games in Weeks 7 and 8.
"I said before I was at 100 percent, which I am," Peterson said recently. "But it's just so much more that I know is going to come. So each week, I feel myself getting better and just try to stay on path."
As a result, Peterson has outgained two other elite running backs who suffered ACL injuries last season.
Jamaal Charles
of the
Kansas City Chiefs
, whose injury occurred three months before Peterson's, has 595 yards in seven games. Meanwhile, the
Pittsburgh Steelers
'
Rashard Mendenhall
has returned to the field earlier this month after a January 2012 injury, but he is currently sidelined by an Achilles injury.
Documenting Peterson's production and putting it in perspective is easy. Explaining how it happened is much more difficult. As we've discussed, Peterson is as ambitious and competitive as they come. The Vikings have smartly limited the times he is asked to run laterally, directing 94.6 percent of his carries between the tackles, according to ESPN Stats & Info. Medical advances are making ACL rehabilitations more routine, and you can't discount the plan crafted by Vikings athletic trainer Eric Sugarman, who accommodated Peterson's wishes to do part of his rehab in Houston during the offseason.
A more detailed discussion is for another post, probably at the end of the season. For now, however, we can say that Adrian Peterson is on his way to being the best player to ever return to the game after suffering a catastrophic knee injury.
NFL SCOREBOARD
Thursday, 10/16
Sunday, 10/19
Monday, 10/20
WEEKLY LEADERS