April, 27, 2012
4/27/12
1:07
AM ET
Titans offensive coordinator Chris Palmer looks at first-round pick
Kendall Wright
and sees a player who reminds him of players from the franchise's passing glory days.

"I think this guy reminds me of
Drew Hill
and
Ernest Givins
that we had back in the run and shoot days in Houston," Palmer told Nashville media. "He is a guy that can also play outside. He closes the cushion between himself and the defensive back very quickly. The fact that he has the ability with the run after catch, his hands are very good, and I think he is a guy that will allow us to move him around and complement our other receivers and be more explosive offensively. The fact that he can get down the field, and if you watch the film he has thrown passes and made big game catches. I think this guy is electric and a very explosive player."
Jeff Fisher and Mike Heimerdinger, his offensive coordinator during much of his tenure with the Titans, were often reluctant to lean on rookie wide receivers.
Palmer emphasized that his offense can create opportunity for a first-year guy, which will be a refreshing change.
"You can go back and look at our record; we had
Terry Glenn
in New England, as a rookie caught 90 balls," Palmer said. "We had
Kevin Johnson
at Syracuse as a receiver first year had eight touchdowns. You had
Andre Johnson
who had 975 yards his rookie year. So, I think this system allows a rookie to come in and play early. There is enough evidence of that in the history of our coaching to indicate that we're counting on this guy to come in and play."
May, 3, 2011
5/03/11
7:00
PM ET
Jon Baldwin
is not Kansas City coach Todd Haley's first rodeo when it comes to dealing with difficult receivers.
A lot has been made about the
Kansas City Chiefs
drafting the receiver with the No. 26 overall pick. The Pittsburgh receiver earned a reputation for being difficult in college.
Haley has dealt with several receivers who were known for being "divas." Thus, because of Baldwin's potential -- he's 6-foot-5, 230 pounds and can make the spectacular catch -- and Haley's history of working with these types of players, it could be a worthwhile risk.
Here is a look at Haley's history of working with receivers:
In the late 1990s, Haley coached the Jets receivers. Under Haley's guidance, Keyshawn Johnson thrived and made the Pro Bowl. Johnson went on to have some difficult relationships with coaches later in his career, but Johnson and Haley remain close.
As receiver coach in Dallas, from 2004-2006, Haley had to deal with two known difficult receivers, Terry Glenn and Terrell Owens. Both players succeed under Haley despite having their issues.
As Arizona's offensive coordinator, Haley had a classic sideline blowup with receiver Anquan Boldin during the NFC championship game against Philadelphia. Haley and Boldin downplayed the incident and along with star Larry Fitzgerald, Boldin excelled in Haley's system.
In 2009, in his first season in Kansas City, Haley clashed with Chiefs' receiver Dwayne Bowe in training camp. Bowe spent much of the season in Haley's doghouse. Yet, in 2010, Bowe responded to Haley's tough love and become a Pro Bowl player.
Baldwin is entering a situation in which he will be challenged and if he revolts, it won't be anything new for his head coach. He'll be able to handle it.
April, 12, 2011
4/12/11
11:01
AM ET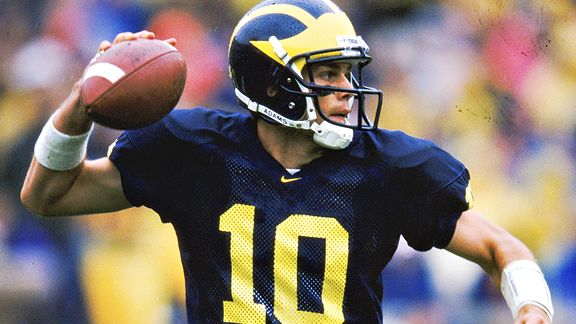 Harry How/Allsport Tom Brady threw for 5,351 yards and 35 touchdowns during his time at Michigan.
BUFFALO -- Bobby Grier hasn't been embraced by
New England Patriots
fans.
Bill Parcells left the Patriots in large part because owner Robert Kraft sided with Grier, the vice president of player personnel, on the selection of Ohio State receiver
Terry Glenn
in 1996. The rift led to Parcells' infamous "buy the groceries" comment.
Bill Belichick fired Grier in May 2000 to install his vision of the front office.
Two weeks before Belichick dumped him, however, Grier played a role in helping the Patriots draft their greatest player.
ESPN's documentary, "The Brady 6," will debut Tuesday night. The hour-long film looks back at how
Tom Brady
went from the 199th draft choice to a first-ballot Hall of Famer, while the six quarterbacks taken ahead of him didn't come close to measuring up.
One of the more surprising revelations comes from Lloyd Carr, Brady's head coach at Michigan.
[+] Enlarge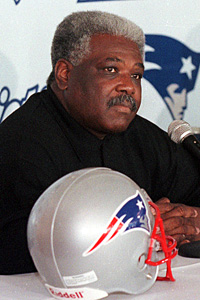 AP Photo/David KamermanBobby Grier was the only NFL executive who contacted Lloyd Carr about Tom Brady.
With scouts presumably examining all imaginable minutia while grading prospects -- the
Carolina Panthers
reportedly have requested
Cam Newton
game film from Blinn Junior College -- only one NFL executive contacted Carr about Brady.
"Bobby Grier, who was with the Patriots at the time, talked about they were going to draft a quarterback late," Carr said in the documentary. "I just said, 'Bobby, I guarantee you you'll never regret drafting Tom Brady.'"
Dick Rehbein, the late quarterbacks coach, gets a lot of credit for Brady ending up with New England. Rehbein's glowing report of a Brady workout in Michigan was significant. But Grier apparently was the lone NFL executive to check with the coach who knew Brady best.
The Patriots were hesitant to draft Brady because of circumstances that caused the Wolverines to force
Drew Henson
onto the field. But that had more to do with trying to keep Henson from playing baseball than feeling Brady wasn't good enough.
"One of the real troubling parts was the Michigan situation -- the fact that, really, they were trying to replace him as their starting quarterback," Belichick said in the film. "You say, 'OK, they don't really want this guy as their starting quarterback. They want another guy. What's the problem here?' It was a little bit of a red flag there."
Grier's call to Carr was wise to find out the true story of what transpired at Michigan.
In the Buffalo Sabres' locker room at HSBC Arena (of all places), I had a chance Monday to ask one of Grier's sons about the Brady pick. Mike Grier is a Sabres forward getting ready to play the Philadelphia Flyers in the first round of the NHL playoffs.
"He deserves a lot of credit," Mike Grier said. "He was always doing everything he could, never left any stone unturned when evaluating players. As a kid growing up, he was always coming in the door at 10 or 11 o'clock at night. He was spending all those hours in the office. I know he put in the time and cared about what he was doing."
Mike Grier said his father is too reserved to revel in his successful moves. But Grier's sons can read him and are knowledgeable enough about sports to figure it out for themselves. Chris Grier is the
Miami Dolphins
' director of college scouting.
"He'll never let me or anyone else know about it or talk about it," Mike Grier said, "but just being around him and talking with my brother, I know that he's pretty proud of that draft class and Tom in particular.
"He did his homework, and for me personally, it's something every time Tom does something and plays the way he does, it puts a smile on my face the way things ended for my dad there in New England. But I think he did a pretty good job. I'm very proud of him for what he did there."
Mike Grier grew up a Patriots fan. He was born in Detroit while his father was running backs coach at Eastern Michigan. The family moved to Massachusetts when Grier took a job at Boston College in 1978 and joined the Patriots three years later.
Mike Grier starred on the ice for St. Sebastian's School in Needham, Mass., and then Boston University. He was an All-American and finalist for the 1995 Hobey Baker Award, college hockey's version of the Heisman Trophy.
But Mike Grier can't root for the Patriots anymore, not given his dad's departure and his brother's role with the AFC East rival Dolphins.
"It's hard for me," Mike Grier said with a laugh. "I grew up hating those guys. But I root for them every Sunday."
So what does a Dolphins fan with connections to the front office think they'll do with the 15th pick?
"I don't know," Mike Grier said. "But I'd like to see them get a quarterback or a running back."
August, 1, 2010
8/01/10
8:12
PM ET
By
Matt Mosley
| ESPN.com
ALBANY, N.Y. -- It only took about 10 minutes to realize that the 2010
New York Giants
training camp will have a completely different feel. New defensive coordinator Perry Fewell has been hailed for his enthusiasm, and he quickly lived up to his billing by leading his unit in a spirited game of "hot potato" with the football.
The single-elimination tournament forced players to launch the ball back and forth at each other, and the last two standing were safety
Sha'reff Rashad
and defensive end
Mathias Kiwanuka
. Fewell declared Rashad the winner because Kiwanuka threw the ball over his head. But the main thing was that every defender was shouting and laughing, which didn't bring back memories of the regrettable Bill Sheridan era.
[+] Enlarge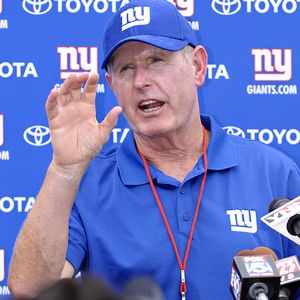 AP Photo/Hans PenninkCan Tom Coughlin right the ship before the it's too late?
"I hear that screeching," Coach Tom Coughlin said of Fewell's voice. "He's got good energy, great personality. Lively persona, energy in the classroom, energy on the field. The players had the spring with him, so they had an opportunity to get to know a little bit about how he coaches and how he approaches things. His enthusiasm is a good thing."
It appears Fewell will bring a lot more energy to the table, but general manager Jerry Reese said after practice that the players would ultimately have to be the ones to deliver.
"Bill Sheridan gets thrown under the bus," said Reese, who was sipping on Pedialyte to battle a stomach virus. "I don't care if Vince Lombardi's calling the plays, you have to go out and execute the plays."
The "hot potato" drill was the high point of the afternoon, because the rest of practice was pretty much a jog-through. But I still jotted down some observations for those of you who are still reading this entry:
I'm sure Coughlin loved watching cornerback Aaron Ross make some nice adjustments to the ball in interception drills. Ross spent most of last season's training camp nursing a hamstring injury, but he was one of the quickest players on the field in Sunday's practice. When he did drop an interception, he picked up the ball and spiked it into the ground. He just looked more intense then some of his teammates, and I think that has something to do with him missing so much time last season. And maybe the fact that he wants to play cornerback, not safety.
Defensive tackle Chris Canty appears to be in excellent condition and that's why he was singled out by Coughlin after practice. Coughlin used a different phrase to describe running back Gartrell Johnson's conditioning: "Rigor mortis." Needless to say, he was not impressed with how Johnson performed on his conditioning test.
Reese doesn't think rookies Jason Pierre-Paul and Linval Joseph need to be babied early in camp. He told us that both players will be thrown into the defensive line rotation from the start, and that he expects immediate results. I'll keep a close eye on those guys during Monday's sessions. They were mostly involved with the scout team Sunday.
[+] Enlarge

AP Photo/Hans PenninkGiants general manager Jerry Reese expects immediate results from first-round pick Jason Pierre-Paul, right.

I'm hesitant to tell you that Ramses Barden is once again off to a quick start. I sort of went overboard on Barden after watching him in camp last year, and then he couldn't get on the field during the season. He's now catching everything with his hands instead of his body and everything seems smooth. Reese said Barden can be a "difference maker" this season.
For a man who had ACL surgery about seven months ago, I thought 33-year-old Keith Bulluck looked pretty quick in drills. The Giants will bring him along slowly, but I do think middle linebacker is his job to lose. It had to be strange for him to start a training camp with another team after a decade with the Titans. When the horn blew to go to the next drill, you could tell that Bulluck was a little unsure what to do. But he's a highly intelligent player who will catch on quickly.
Some of my beat-writing buddies were so busy tweeting about how poorly rookie punter Matt Dodge was hitting the ball that they might have missed two consecutive 55-yard bombs with excellent hangtime.
Hakeem Nicks is so far down the road compared to last year at this time that it's silly. He does a nice job of staying low when he comes out of his breaks. Sort of reminds me of Terry Glenn in his younger days. Glenn was an excellent route runner when he first got to the Cowboys in 2003. Tony Romo used to marvel at how Glenn consistently got open against some of the top cornerbacks in the league. Nicks looks like he's run about 800 of those quick hooks this offseason.
Eli Manning hit Derek Hagan on a fly pattern down the right sideline. Manning actually threw a duck, but the ball reached its intended target. Manning's also on the Barden bandwagon: "Well he had a really good spring. Last year he didn't get a whole lot of playing time, when he did get in he made some things happen," Manning said before Sunday's practice. "But he had a really good spring, he's a smart guy, he understands the offense and what's going on, especially for a guy who hasn't had much playing experience. So it'll be good to get him in the preseason games and other games and see how he does. But he's a big target with big hands and he's excited about what he can do and how he can help improve our offense."
I think tight end Travis Beckum will be one of the breakout players from this camp. Reese and Coughlin have both bragged on him, and he's already displaying a lot more confidence. He's a big target with some speed. If Beckum can take the next step, he and Boss could be an effective duo.
Mario Manningham had his ups and downs last season, but on Sunday, he caught everything thrown his way. I like how all the Giants receivers are snatching the ball out of the air instead of letting it get into their bodies.
Cornerback Terrell Thomas might emerge as one of the better cover guys in the division. He had a solid season in '09 and he appeared to be closing fast on everything thrown in his direction Sunday. After Mike Jenkins and perhaps Asante Samuel, I think you have to think about putting Thomas in there. He has so much confidence right now.
For the Giants, this camp is going to be about reclaiming their identity as a physical football team. I heard that from almost everyone Sunday. And a lot of that starts with the running game. New York had to lean heavily on the passing game in '09 because the run wasn't working. The Giants made some changes in the offseason, but a lot of these guys were around for the embarrassment of '09. They're not going to dwell on that .500 season, but it's a decent point of reference. I also like the fact that none of the players and coaches are trying to pin everything on injuries in '09. Some of it had to do with the Giants flat-out stinking, and that's being acknowledged.
Some of you guys want to know how the offensive linemen look. I'll take a long look at those guys tomorrow. Let's hope Coughlin lets them bang around a little bit in the morning. Not much meat on the bone in Sunday's practice.
April, 14, 2010
4/14/10
1:06
PM ET
»
NFC decision-makers
:
East
|
West
|
North
|
South
»
AFC
:
East
|
West
|
North
|
South
»
Draft Watch
:
Biggest needs
(2/17) |
Busts/gems
(2/24) |
Schemes, themes
(3/3) |
Recent history
(3/10) |
Needs revisited
(3/17) |
Under-the-radar needs
(3/26) |
History in that spot
(3/31) |
Draft approach
(4/7) |
Decision-makers
(4/14) |
Dream scenario/Plan B
(4/21)
Each Wednesday leading up to the NFL draft (April 22-24), the ESPN.com blog network will take a division-by-division look at key aspects of the draft. Today's topic: The decision-makers.

Buffalo Bills
Several key members of the Bills' front office will be in unfamiliar roles for the draft. Rookie general manager Buddy Nix has been a consigliere for decades, but he has never overseen a draft. Assistant general manager Doug Whaley will be in Buffalo's war room for the first time after handling pro personnel for the
Pittsburgh Steelers
. Chan Gailey hasn't gone into a draft as the head coach for 11 years. The most prominent holdover is vice president of college scouting Tom Modrak. The Bills fired pro personnel chief John Guy after last season.

Miami Dolphins
This will be the third Dolphins draft for football operations boss Bill Parcells, general manager Jeff Ireland and head coach Tony Sparano. There's little doubt whose voice is most authoritative in the command center. Parcells handpicked Ireland and Sparano. Each is beholden to him. But that doesn't mean they're "yes" men. One of the qualities Parcells values most from his support staff is the ability to proffer a dissenting opinion. With that in mind, it's interesting Miami's director of college scouting is Chris Grier, son of former Patriots and Texans executive Bobby Grier. Parcells eventually left the Patriots after a disagreement with Bobby Grier about drafting receiver Terry Glenn. Parcells didn't want Glenn. Grier did. Patriots owner Robert Kraft sided with Grier, instigating Parcells' infamous "buy the groceries" lament.

New England Patriots
Patriots overlord Bill Belichick is entering his second draft without right-hand man Scott Pioli, who is now running the show in Kansas City. Belichick manages every personnel move within the organization. He receives help from senior football adviser Floyd Reese (the former
Tennessee Titans
general manager) and director of player personnel Nick Caserio, but Belichick has the first, second and final say. We've already noted Kraft reserves the right to get involved. But he won't go against a coach who has brought him three Lombardi trophies.

New York Jets
Parcells protégé Mike Tannenbaum is entering his fifth draft as general manager and his second with Rex Ryan. The opinionated coach has considerable say on whom the team selects, especially when it comes to defensive players. Tannenbaum isn't afraid to make moves on the fly, executing several trades to move up and select key players: quarterback
Mark Sanchez
, running back
Shonn Greene
, cornerback
Darrelle Revis
and linebacker
David Harris
. Tannenbaum and Ryan lean on top college scout Joey Clinkscales, who interviewed to be Dolphins general manager before Ireland got the gig.
February, 6, 2009
2/06/09
2:03
PM ET
Posted by ESPN.com's Matt Mosley
Cowboys
Eagles
Giants
Redskins
October, 28, 2008
10/28/08
3:46
PM ET
Posted by ESPN.com's Tim Graham
DAVIE, Fla. -- Chances are, at least one person in your family is every bit the athlete Greg Camarillo is.
| | |
| --- | --- |
| | |
| | Richard C. Lewis/Icon SMI |
| | Greg Camarillo might not be the prototypical NFL receiver, but he leads the Dolphins with 372 receiving yards. |
He is listed at 6-foot-1 and 190 pounds. He ran a 4.6-second 40-yard dash at his pro workout day before the draft. He wears size medium gloves.
Drive toward the illuminated light stanchions in your town on a Friday night and look through the chain-link fence. You'll see high school players who fit Camarillo's general description.
Those kids could play in the NFL, too. They almost certainly won't. If it was that easy, then Camarillo's story wouldn't be considered exceptional.
"I'm still amazed by it sometimes," Camarillo said while hunkered over a plastic plate of barbeque chicken, rice and beans at his stall in the Miami Dolphins locker room. "I wasn't supposed to be here.
"Pretty much every step of my journey I wasn't supposed to take the next step. Odds were against me. That's how my athletic career has been. I've always been the underdog, and I kind of like that."
Unrecruited, unable to score in college, not invited to the scouting combine and undrafted is not a good formula for becoming a go-to NFL target.
Yet Camarillo, who forever will be remembered as the hero who saved the Dolphins from the embarrassment of a winless season last year, leads them with 32 catches for 372 yards and a touchdown.
He has more catches than last year's ninth overall draft pick (Ted Ginn) and has started every game, while a handsomely paid offseason acquisition (Ernest Wilford) and a 2006 third-round pick (Derek Hagan) watch in street clothes.
"He's a guy that from the day that I walked in the door here has done nothing but make plays," Dolphins first-year head coach Tony Sparano said. "Every practice that I'm out there, Camarillo separates from somebody, makes a play, dives for a ball, makes a great catch, beats somebody that he's not maybe on paper not supposed to beat in man-to-man coverage."
August, 6, 2008
8/06/08
1:34
PM ET
Posted by ESPN.com's Tim Graham
Buffalo Bills
Miami Dolphins
New England Patriots
New York Jets
July, 31, 2008
7/31/08
8:40
AM ET
Posted by ESPN.com's Tim Graham
New York Jets
Buffalo Bills
Miami Dolphins
New England Patriots
July, 30, 2008
7/30/08
9:33
AM ET
Posted by ESPN.com's Tim Graham
New England Patriots
Buffalo Bills
Miami Dolphins
New York Jets
July, 29, 2008
7/29/08
11:12
PM ET
Posted by ESPN.com's Tim Graham
| | |
| --- | --- |
| | |
| | Rob Tringali/Sportschrome/Getty Images |
| | Could being reunited with Bill Parcells get former Cowboys receiver Terry Glenn back on track? |
The Miami Dolphins are willing to take a chance on oft-injured WR Terry Glenn.
Mac Engel of the Fort Worth Star-Telegram is reporting the former Dallas Cowboys receiver is about to rejoin Bill Parcells again. Engel cited two unnamed sources in his story out of Oxnard, Calif., where the Cowboys are holding camp.
The signing would reunite Glenn and Parcells a third time. Parcells, now the Dolphins football operations boss, coached Glenn with the New England Patriots and the Cowboys.
Yes, Glenn is the player Parcells once referred to as "she," but Glenn eventually won him over. Ninety catches for 1,132 yards as a rookie will do that. Glenn, who turned 34 last week, has amassed 1,000 receiving yards four times in his 12 NFL seasons. He caught 70 passes for 1,047 yards and six touchdowns two seasons ago.
The Cowboys cut Glenn on Friday over concerns about his right knee. He underwent two surgeries last year and missed 15 games. But when Glenn was healthy, Dolphins coach Tony Sparano was impressed.
Sparano, who spent the previous five seasons as a highly involved Cowboys offensive assistant, was asked about Glenn on Saturday. He agreed Glenn could be a dangerous threat for somebody.
"That's the way he looked," Sparano said of Glenn's late-season return in '07. "He looked like the Terry Glenn that I knew."
Glenn's value would be enhanced if he can be a mentor to fellow Ohio State product Ted Ginn Jr., a receiver and return specialist the Dolphins selected ninth overall last year.
July, 26, 2008
7/26/08
8:43
AM ET
Posted by ESPN.com's Tim Graham
Buffalo Bills
Miami Dolphins
New England Patriots
New York Jets