NFL Nation:

Terry McDonough
April, 29, 2013
4/29/13
7:14
PM ET
General managers making moves fire coaches when the season ends. They fire scouts after the draft.

When he took over as the general manager of the Jacksonville Jaguars, David Caldwell fired coach Mike Mularkey and most of his staff. Now he's let go the top two members of the scouting staff he inherited as well as a scout.
Per Ryan O'Halloran of the Florida Times-Union, the Jaguars have
parted ways
with director of player personnel Terry McDonough, director of pro personnel Louis Clark and southwest regional scout Chris Prescott. Prescott is the
son of Jaguars former chief financial officer Bill Prescott.
Caldwell will now bring in his own people for those posts, and perhaps more.
One prime candidate is likely to be Chris Polian.
Caldwell worked for Bill Polian in Indianapolis, and Chris Polian was on the staff there. Caldwell came to Jacksonville from Atlanta, where the Falcons hired Chris Polian after the Polians were fired by the Colts following the 2011 season.
There will be other candidates with expiring contracts or who come free in similar moves with other new regimes.
April, 30, 2012
4/30/12
3:32
PM ET
A piece I
linked to earlier
today calls for more comment.
Tania Ganguli of the Florida Times-Union wrote about how the Jaguars intend to experiment with a Wildcat package in camp and the preseason with
Mike Harris
, their sixth-round pick out of Florida State in position to throw.

I've been saying I think the Jaguars can
close the gap
on Tennessee if
Blaine Gabbert
can up his game to average and if the coaching staff lives up to its billing.
Two picks into the draft I was excited about what they'd done with receiver
Justin Blackmon
and defensive end
Andre Branch
.
Then they made the controversial
third-round punter pick
. And now they are talking Wildcat.
Seriously?
You lean on a gimmick when your base stuff won't work, so looking at Harris' good arm as potentially providing a change-up doesn't serve as a great endorsement of Blaine Gabbert.
Harris was a spread option quarterback at South Miami (Florida) High School. I wouldn't bank on that for much beyond an occasional trick play.
My understanding about why
Tim Tebow
ultimately decided to steer the Broncos to trade him to the Jets instead of the Jaguars -- who made a similar offer -- was because he'd get more chances to play on offense in New York.
Great, I said, no gimmicky stuff for the Jaguars. They want to play and excel largely as a conventional offense.
Now I am wondering why they are pumping up the Wildcat, which is largely dead around the league.
Here's a piece of Ganguli's story with Mularkey talking.
"It's not really the college Wildcat scheme but it is a way to attack defenses with somebody other than your quarterback,'' he said.

He said his scheme sometimes doesn't have the quarterback on the field. In some Wildcat formations, the quarterback is spread out as a wide receiver.

He said he always asks players if they've played quarterback at some point and how well they throw. Besides Harris, the other player he has identified as a candidate is wide receiver Cecil Shorts, who was a high school quarterback.

"We're going to see how it looks in camp and maybe experiment a little bit in the preseason,'' he said.
With anything they run that's Wildcat-like this season, they are begging more Tebow questions, especially if he has any success in the system with the Jets.
The Jaguars, of course, are upbeat and confident they've made the right choices, with the selection of punter
Bryan Anger
in the third-round, outside linebacker
Brandon Marshall
at a spot where the roster is well stocked, and Harris and seventh-round defensive tackle
Jeris Pendleton
out of Ashland.
Every team in the league feels confident now. I just hope Terry McDonough, the team's director of player personnel, doesn't wind up regretting this enthusiastic comment:
"The bottom line is that we will win, we will fill the stadium and we are going to talk about the punter at the end of the year.''
April, 24, 2010
4/24/10
7:40
PM ET
The Jaguars never planned on doing much offensively in the draft, according to director of player personnel Terry McDonough. That means they are really counting on a couple of last year's crop of three receivers to blossom.
"I have the same feeling about this draft as I did about last year's draft after the draft," he said. "Obviously our defense we needed to get, up front, a lot more athletic, a lot more explosive. It's no secret that last year we had 14 sacks, which was a league-low in the NFL, and we're going to try to correct that. We took two very explosive defensive tackles with our first two picks, and then we followed it up with two defensive ends after that…
"Offensively coming into this draft we were pretty much set, maybe there were one or two positions. But defensively we knew up front on the defensive line we needed to get a lot of people that can really run and can get after the quarterback, so we feel like we did that."
Jacksonville's drafted running back
Deji Karim
and kick returner
Scotty McGee
in the sixth round.
December, 10, 2009
12/10/09
5:12
PM ET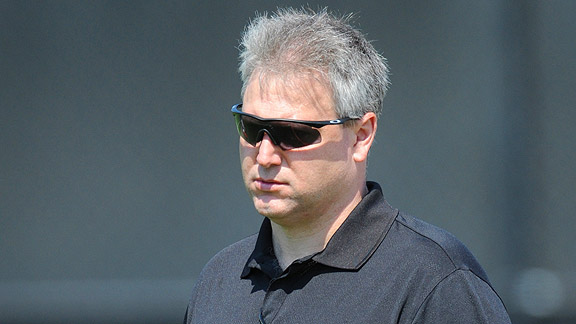 Al Messerschmidt/Getty ImagesFirst-year general manager Gene Smith appears to have the 7-5 Jaguars on the right track.
Gene Smith is straightforward, simple and a little uncomfortable when he's the focus. He's no jokester pulling punch lines out of his pocket.
Those are qualities that make him seem like a perfect fit for his job. Twelve games into his first season as GM of the
Jacksonville Jaguars
, he works quietly, anonymous to most NFL fans. That's just fine with him.
With his team surprisingly in control of one of the AFC's final playoff spots as it prepares to host Miami Sunday and Indianapolis next Thursday night, he's been more popular this week, carving out more time to talk to people like me.
His first draft class has made as big a contribution as any in the league and includes a third-round defensive tackle from Temple,
Terrance Knighton
, and a third-round cornerback from William & Mary,
Derek Cox
. Coming from those non-powerhouse schools, both picks raised eyebrows when their names were called in April. Both have been effective and look to be long-term building blocks.
Some of Smith's personnel peers say he deserves applause for his willingness to go with them.
"You've got to identify what your needs are, really look at the players and not worry about what everybody else says and I think that's what they did," one AFC personnel man said. "You'd prefer not to have to make those decisions your first or second year, you'd like that to come further down the road. But sometimes you don't have a choice. I think he gets a lot of credit for stepping forward and doing what he thought was the right thing."
Unless things come apart for the 7-5 Jaguars in spectacular fashion from here, I believe Smith has done enough of the right things that he ought to be seriously considered for any executive of the year awards.
In a wide-ranging conversation Thursday afternoon, we covered a lot of ground.
Here is my attempt to plug you into all of it.
April, 26, 2009
4/26/09
5:28
PM ET
Posted by ESPN.com's Paul Kuharsky
In praising fourth-round pick Mike Thomas, the speedy but small receiver out of Arizona drafted No. 107 in the fourth round, Jaguars director of player personnel Terry McDonough shredded a couple of failed first-rounders in the team's recent history.
Others have already concluded the same things.
Still, it is interesting to read these comments which sprouted out of talk about Thomas' speed -- a 4.29 at the combine according to McDonough:
Will he be a slot receiver?

"Yes, he'll be a slot receiver. What we thought last year when we had Reggie (Williams) and Matt (Jones) and all those receivers, we didn't have a guy that could catch it and do anything with it. And the coaches said we need a player that when you throw him the ball, they can get fast quick, and that's what this guy can do. He can get off the spot. He has burst. So we're excited. It'll be a little different than what you guys have seen around here the last couple of years, and he's a lively guy. Where he was, we thought he was probably going to go maybe a round earlier. So he was the top rated player on our board when we got him."

On the change in the wide receiver philosophy:

"What I will say is this kid can run and it's not one of these. We test the guys who are running the fastest but we bring them in here as fast guys but they really weren't fast. They ran fast on the watch. When you guys are out at mini-camp you'll see, this guy is fast. His speed is evident and his speed is quick. Where Matt (Jones) ran that time at Indy but then you never really saw his speed when he was out here, and you really never saw speed with Reggie (Williams) but you'll see speed on this guy."

Why do you think Thomas lasted to the fourth round?

"[He's] 5 foot 8. Those short receivers don't really go that high. And there's been a lot of receivers taken ahead of him, but I think when you're short like that you get pushed down on the board."

Now you have a 5-7 running back in Maurice Jones-Drew with a 5 foot 8 receiver in Thomas:

"If we could get half the results out of this guy that we got out of that running back, we'll be happy."
Scouts Inc. rates Thomas as above average in three of five receiver categories:
Separation: Quick-twitch athlete and polished route runner. Above-average initial burst off the line of scrimmage and eats up cushions quickly. Sticks foot in the ground and explodes off plant foot coming out of breaks. Uses quick feet to beat press coverage can get muscled out of routes by bigger corners.
Run after catch: Explosive open field runner. Elusive and can make defenders miss. However, isn't going to break many tackles.
Competitiveness and toughness: Competitor and shows good overall awareness/instincts. Not afraid to go over the middle and catch the ball in traffic. Does a nice job of finding an open area when quarterback scrambles. Does a sound job of throttling down and can keep both feet in bounds when catching passes near the sideline.
April, 21, 2009
4/21/09
2:35
PM ET
Posted by ESPN.com's Paul Kuharsky
Pre-draft press conferences can be some of the most awkward around the NFL.
Teams like GMs and/or coaches to provide some fodder for reporters, and we want to hear from them. But their objective at the podium or table is typically to offer little real information or even to put a last bit of misdirection in the air.
The Jaguars just wrapped up their pre-draft press conference Tuesday afternoon, and we expect to be able to get a taste of what general manager Gene Smith, coach Jack Del Rio and director of player personnel Terry McDonough had to say later on.
Here's when you can expect to hear from the rest of the division:
Houston Texans general manager Rick Smith will talk Wednesday at 2:30 ET, and you can see it live at houstontexans.com.
Tennessee Titans general manager Mike Reinfeldt, national supervisor of college scouting C.O. Brocato, director of college scouting Mike Ackerley and scouting coordinator Blake Beddingfield will talk Thursday at 2 p.m. ET.
Indianapolis Colts president Bill Polian will talk with local press at 2 ET Friday.
We'll do our best to sort through those press conferences and hit any highlights.

NFL SCOREBOARD
Thursday, 12/18
Saturday, 12/20
Sunday, 12/21
Monday, 12/22
WEEKLY LEADERS