NFL Nation:

Terry Metcalf
June, 24, 2010
6/24/10
9:00
AM ET
Notable players:
Charley Trippi, Elmer Angsman, Paul Christman, Pat Harder, Stan Mauldin, Chet Bulger, Billy Dewell, Mal Kutner, Boris "Babe" Dimancheff, Jeff Burkett, Marshall Goldberg
[+] Enlarge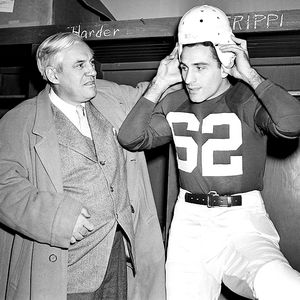 AP PhotoCharley Trippi, right, signed a four-year contract to play for Jimmy Conzelman before the season began.
Analysis:
The Pro Football Hall of Fame describes Jimmy Conzelman as a "newspaper publisher, playwright, author, orator, actor" -- and the only head coach to win an NFL championship with the Cardinals. (The team was based in Chicago from 1920-59. It played in St. Louis from 1960-87.)
Conzelman's brilliance as a coach shined through before and during the Cardinals' 28-21 victory over the
Philadelphia Eagles
in the 1947 NFL championship game. Conzelman initially refrained from reporting the Eagles for illegally filing down their cleats to better cope with the icy conditions at Comiskey Park. Conzelman instead reported the Eagles on a player-by-player basis, and only after Philadelphia had made significant gains. Officials wiped out the gains and penalized the Eagles, forcing players to leave the field to replace their equipment.
The Cardinals had addressed the footing issue by changing into sneakers before the game. Angsman scored twice on 70-yard runs. Trippi scored on a 44-yard run and 75-yard punt return.
Conzelman's resourcefulness reflected his varied background. His playing career included stints with Decatur, Rock Island, Milwaukee, Detroit and Providence. He had even owned the Lions for a couple of seasons in the 1920s, supposedly paying $100 for the franchise before returning it to the league. He retired as a player in 1930 and returned as a coach a decade later. But his record in three seasons with the Cardinals was only 8-22 when he stepped away following the 1942 season. The Cardinals brought back Conzelman four years later and he rewarded them by winning 27 of 37 games, counting playoffs and the only league title in franchise history.
The 1947 season produced tragedy in addition to triumph. A plane crash killed punter Jeff Burkett as he tried to rejoin the team following an appendicitis. Charles Bidwill, the team's owner since 1933, had died in April before the season.
Most impressive win:
The 1947 team needed a victory over the
Chicago Bears
in the final regular-season game to win the Western Division title. The Cardinals picked off Bears quarterback Sid Luckman four times in the 30-21 victory, but the offense might have provided the most important contribution. Christman's touchdown pass to Dimancheff on the first play of the game set a winning tone for the Cardinals. Dimancheff had missed every practice during the week while tending to his expectant wife, preventing him from practicing a play Conzelman was eager to run. No matter. The Cardinals isolated Dimancheff against Bears linebacker Mike Holovak, a speed mismatch Dimancheff used to his advantage.
Free-spending Cardinals:
The team landed Trippi before the season with a four-year contract worth a then-staggering $100,000. Trippi had been a Maxwell Award winner and Rose Bowl MVP at the University of Georgia, which retired his No. 62 jersey after a college career that later
landed Trippi a spot
on ESPN's list of 25 greatest college players. The move helped put the Cardinals over the top in 1947. Trippi ranked second on the team that season with 641 yards from scrimmage.
Honorable mention
2008:
The Cardinals came within a defensive stop of winning the Super Bowl against Pittsburgh after
Kurt Warner
found
Larry Fitzgerald
for the go-ahead touchdown pass late in the game. This team delighted in disproving skeptics and redefining an organization known for decades of futility.
1948:
A defeat in the championship game prevented this Cardinals team from challenging and probably overtaking the 1947 team as the best in team history. The 1948 team went 11-1 during the regular season as Trippi became a bigger threat.
1975:
Coach Don Coryell produced an 11-3 record thanks to an offense featuring Pro Bowl players in quarterback Jim Hart, receiver Mel Gray, running back Terry Metcalf, fullback Jim Otis and offensive linemen Dan Dierdorf and Conrad Dobler.
January, 3, 2010
1/03/10
7:13
PM ET
CHARLOTTE, N.C. -- I happened to run into
Carolina Panthers
personnel executive Mark Koncz in the press box late in Sunday's game.
Koncz had a very good question.
"Hey, has a running back ever not led his team in rushing yardage and gone to the Pro Bowl?'' Koncz asked.
It fits because that's the situation the Panthers are in. Starting running back
DeAngelo Williams
is going to the Pro Bowl. But backup
Jonathan Stewart
, partly because of injuries, finished the season with more rushing yards. Stewart isn't going to the Pro Bowl. Stewart finished with 1,133 yards and Williams with 1,117. They are the first pair of teammates to rush for 1,100 yards in the same season.
I didn't know the answer to Koncz's question, but I've got the resources to get it. I called our research people and they consulted with the Elias Sports Bureau and came up with the answer.
It has been done before, but there are some qualifiers involved. Since 1975, it's happened a handful of times and the most recent involves a guy who really wasn't a running back.
Tampa Bay's Mike Alstott, who wasn't truly a fullback either, made the Pro Bowl in 2002, 2000 and 1998. Alstott made it as a fullback and Warrick Dunn led the Bucs in rushing in 1998 and 2000 and joined Alstott in the Pro Bowl in 2000. In 2002,
Michael Pittman
led the Bucs in rushing.
The other instances came in 1993 when Pittsburgh's Barry Foster was selected over Leroy Thompson, in 1988 when James Brooks made it over Ickey Woods for the Bengals and in 1980 when Kenny King went over Mark Van Eeghen for Oakland.
You can also throw in St. Louis in 1975 -- sort of. Terry Metcalf first was selected to the Pro Bowl and Jim Otis was not. But Otis later was added to the Pro Bowl roster.
December, 18, 2009
12/18/09
1:10
PM ET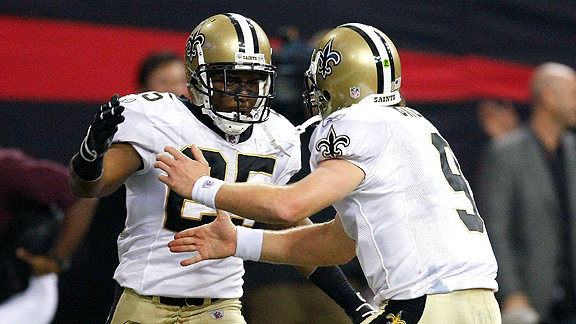 Kevin C. Cox/Getty Images
The Saints have figured out the running back label doesn't really apply to Reggie Bush.
It has been nearly four full seasons now, more than enough time for a verdict on
Reggie Bush
.
The No. 2 overall pick in the 2006 draft has precisely one 100-yard rushing game in his career and that came in his rookie season. He has only two career games in which he's carried the ball 20 times and he has carried more than 10 times in only one game this season. He's missed 12 career games because of injuries and never really has come close to what he did back in his days as a Heisman Trophy winner at USC.
Time to call him a bust?
No, don't do it. If you do, you're missing the big picture. Don't call Bush a bust and, please, don't call him a running back. The Saints finally have discovered that tag doesn't really apply to Bush.
Simply call him a football player or a jack of all trades. When it comes to judging Bush, you have to take everything he does into account. Do that and the sum can be pretty respectable.
"I thought Reggie Bush was outstanding,'' coach Sean Payton said Sunday, moments after a
26-23 victory
against Atlanta.
Bush had six carries for 33 yards. You call that outstanding?
Actually, it was, and this is where the part about Bush being a running back really kicks in. He's a running back in title only and the Saints list him as the starter at that position. But truth be told,
Pierre Thomas
really holds that role and when he's not on the field,
Mike Bell
usually steps into his place.
Bush is also a wide receiver, a slot receiver and a return man. If you want the real story on what he did Sunday against the Falcons, look at these numbers: 102 yards and two touchdowns. We're talking all-purpose yards and the two scores came on passes.
That's in the ballpark of outstanding. But what was really outstanding about Sunday was the way Payton used Bush. You didn't see him on the field all that much. But it seemed like every snap Bush got, he was in position to make an impact play.
His six carries included a 19-yard run. His six catches totaled 46 yards and included touchdowns of 21 and 6 yards. His only punt return was a 23-yarder, his best of the season.
Do yourself a favor and stop expecting Bush to be the second coming –- and more –- of
Deuce McAllister
. If anything, Bush is more like the second coming of Terry Metcalf, the triple threat (runner, receiver and return man) with the St. Louis Cardinals back in the 1970s and with the
Washington Redskins
in 1981.
That's not a shot at Bush at all. That's a compliment. Bush can do a little bit of everything and do it well. Maybe the key here is to just let him do a little bit of everything to get maximum results.
Take those 13 touches Sunday and realize Bush wasn't on the field for many more than 13 snaps. It's taken Payton and the New Orleans coaching staff a while to figure it out, but maybe they finally discovered the right equation for Bush.
Give him 12 to 15 touches and he'll give you 100 yards and, sometimes, a couple of touchdowns. Isn't that, at least in some ways, as good as giving Bush 20 or so carries? Actually, it's probably better.
Despite making a lot of noise in the preseason about how this would be the year Bush proved he could run between the tackles, he hasn't even had that chance. Apparently the Saints decided Bush couldn't run behind the tackles consistently, and that's turned out to be one of the better decisions Payton and his staff have ever made.
They're letting Thomas and Bell do the running and that's worked out surprisingly well. The Saints suddenly have a running game. In Bush, they've also got a nice change-of-pace back and Payton has been getting him into open space as a runner. That's where Bush is at his best and that's why he also is a threat in the passing and return games.
"I'm always anxious to make plays," Bush said.
The irony here is the Saints aren't putting Bush on the field nearly as much as they have at some points in the past, yet they're getting results out of him. They're maximizing his chances at big plays by letting him do the things he does best when he is on the field.
"He's just been patient, keeps working hard, and he's doing a great job,'' Payton said.
Kind of funny that the Saints are singing Bush's praises at a time when there's been a fair amount of speculation that this could be his last season with the team. It's easy to understand where that comes from. Bush is being paid like a No. 2 overall draft pick, but he's not cranking out 1,000-yard rushing seasons and the injury history suggests Bush might be a little brittle.
But I'm believing more and more that Bush will stay with the Saints. The NFL is heading into a 2010 season without a salary cap, so it's not as if the Saints can't afford to keep Bush. In fact, it might be more likely that they can't afford not to keep him. Especially when you look at days like Sunday and realize that the Saints appear to finally have found the formula to get what they should get from Bush.
Don't expect him to run for 100 yards a game. Just let Bush go out and be Bush. Let him be himself and Bush is not a bust.