October, 8, 2014
Oct 8
10:00
AM ET
Brian Woods began jotting down a business plan last summer, hoping it could one day fill football's need for a domestic developmental league. When NFL executive vice president Troy Vincent unexpectedly opened the bidding in April, Woods scrambled into action.
In a span of six months, Woods has mobilized the Fall Experimental Football League (FXFL) from thin air, signing hundreds of players and about 25 coaches to split among four teams for a six-week season that opens Wednesday night. Most coaches have NFL connections on their résumés and the player pool is comprised primarily of those players released during or after the NFL preseason this summer. Officials will be culled from a Division I pool that feeds the NFL officiating development program.
[+] Enlarge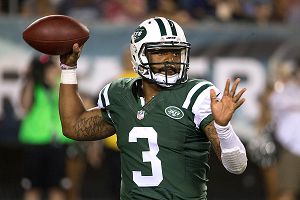 AP Photo/Chris SzagolaThe new FXFL will give players who are within three years of draft eligibility, such as Tajh Boyd, a chance to continue to develop and audition for NFL teams.
If all goes as (somewhat chaotically) planned, the FXFL will provide a viable platform for marginal players to receive "live" training, ultimately giving NFL teams better-prepared in-season roster replacements. Woods hopes that 25-30 percent of FXFL players return to the NFL this fall, boosted by schematic guidelines that will maximize their in-game reps. NFL teams will be able to monitor players in real time via a television schedule that will reach nearly 100 million homes by funneling
14 regional broadcasters
onto ESPN3.
"I'm most proud of the fact that we've mobilized in such a short period of time," Woods said. "The gestation period of a pro sports league, I assure you, is normally more than six months. We're very pleased with our progress in such a short time in an abbreviated time period we had. Overall, we're in a good place."
What is this?
I've chronicled the FXFL's progress
a few times
this summer
, but here are the basics for newcomers: Teams will be based in Brooklyn, Boston and Omaha, Nebraska. A fourth team, originally intended for Miami, is instead a roving "all-star" team that will play all its games on the road. There are 120 players under contract now, 40 per team, but Woods estimates that 250 will cycle onto the field at some point during the season.
They will earn about $1,000 per week playing in either minor league baseball stadiums (Omaha, Brooklyn) or college facilities (Boston). For context, consider that an NFL rookie earns $17,823 weekly to be on the 53-man roster and $6,300 weekly on the practice squad. Still, the FXFL has attracted a handful of 2014 NFL draft choices, most notably Boston quarterback Tajh Boyd, a sixth-round pick of the New York Jets.
The frenetic run-up to this season, however, has belied a simple and foreboding fact:
Every alternative football league -- from the United States Football League to the Xtreme Football League to the United Football League to NFL Europe -- has failed for economic reasons. Woods has said the league has enough financing to play out the 2014 season, although he won't comment on the source or extent of it.
The FXFL's television contracts are barter-only, generating no revenue but for a share of advertising, and game tickets went on sale just three weeks ago. By Woods' own admission, the league's future likely is tied to arranging a formal affiliation with the NFL.
Woods has been in regular contact with team executives who are monitoring the FXFL's progress and, in some cases, requesting roster spots for specific players who remain on their radar.
"My discussions have been really good in that regard," Woods said. "I have been in contact with several team front office people and gotten phone calls from coaching staffs in the NFL. Right now, I have a very good relationship with the member clubs, but our goal is still to achieve a formal partnership with the league itself."
What it will look like
Is it possible to pull together so many people so quickly and produce a meaningful product? I spoke this week with Terry Shea, a longtime NFL assistant and independent quarterback tutor who is head coach of the Boston franchise, to get his early impressions. Shea compared the exercise to preparing for a college all-star game.
"It's a similar approach where you're dealing with players for a few days before they play their game," he said. "In this case, we've had four or five more days than an all-star game. I'd say we probably have double the amount of volume for these players."
Teams have been practicing for about two weeks, in fact. Shea's players typically meet from 9 a.m. to 12:30 p.m., have a 45-minute walk-through in the early afternoon and then practice for up to two-and-a-half hours in the late afternoon. "It's about teaching these players how to set up a routine that they can use if they get back to the NFL," Shea said.
Shea's team will run the "three-digit" offensive scheme popularized by Don Coryell and still run by about a half-dozen NFL teams. Woods has mandated some teams play a 3-4 defense while others use a 4-3 to ensure experience against both alignments, and he has also adopted a series of suggestions from retired special-teams guru Mike Westhoff to ensure a maximum challenge on special teams.
Extra points will be kicked from 35 yards out, and all kicks will come from a wide hashmark to increase difficulty. Kickoffs will be set at the 25-yard line to reduce touchbacks and increase coverage opportunities. However, the returning team will be required to line up eight of its 11 men between the 35- and 45-yard lines in an experiment aimed at reducing the possibility of high-impact collisions.
"I really sense there is a need for a league like this," Shea said. "We certainly don't have a lack of players that are jumping at the opportunity to play for us, nor is there a lack of skill. The skill level of many of these players is on an NFL level, not necessarily to go in and start, but to have a chance to earn their way onto a 53-man roster. They just need some help. I think from an interest category and skill level, we've got a good chance to be successful."
The NFL will be watching.
July, 7, 2014
Jul 7
8:20
AM ET
Some Redskins items from recent days that you might have missed:
More work:
Quarterback
Robert Griffin III
will work with quarterbacks coach Terry Shea next week. Griffin worked with Shea earlier this offseason for a week, but wanted another tune-up before training camp begins July 24. Shea focused hard on Griffin's fundamentals, including narrowing his base, getting his feet to turn with his body in the pocket and raising where Griffin held the ball -- at times last year he held it too low, leading to a wind-up throw. Griffin clearly has worked hard this offseason. I'm curious to see how that pays off this summer and during the season. He's also said to have his explosion back, as has been discussed for a while – as multiple people have talked about seeing a difference in that area. But the real key for him is developing in the pocket. Griffin needs to succeed without that extraordinary explosion, though it certainly does help when defenses fear your legs.
[+] Enlarge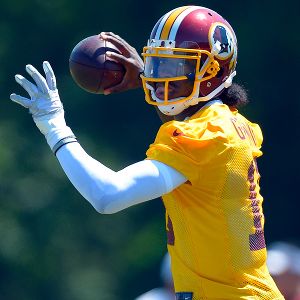 John McDonnell/The Washington Post via Getty ImagesWashington hopes the offseason work Robert Griffin III has put in will pay off in the fall.
Skepticism over RG III ranking:
Last week Mike Sando wrote a terrific piece,
ranking quarterbacks based on a poll of executives and coaches and evaluators

. Griffin did not fare well, being placed as a tier 3 quarterback tied with Cincinnati's
Andy Dalton
. The rankings prompted Kevin Seifert to
question why Griffin had fallen so far after just one bad season
; he also asked if they had forgotten a record-setting 2012 season. People fall in and out of love quickly in the NFL and I think Griffin is the latest example. Watch how fast opinions change if he gets off to a good start.
Vinny on Snyder's fight:
Former Redskins executive Vinny Cerrato knows Dan Snyder well,
which is why he doesn't think he'll abandon his fight to keep the nickname
. Snyder is not going to suddenly think the other side has a point, not when he views the matter much, much differently. Besides, what has been evident over the years is that he's ultra-competitive and does not want to lose this one. Cerrato's point is one that others have mentioned, too: The only way Snyder might relinquish the battle is if (and he stressed if) he somehow gets a new stadium out of it in a decade or so.
Family torn on name:
The Wetzel family is a pivotal one in the Redskins' battle over the nickname as Walter Wetzel is the one who designed the current logo used on the helmet since 1972.
Wetzel's son, Donald, tells The Washington Post
– and has told other outlets in the past – that he's proud of the name and the logo. But his nephew told the Post that he definitely is on the other side with his thoughts. Guessing this is a microcosm of the debate played out among Native Americans.
Redemption:
A lot of Redskins have talked about getting the "bad taste out of their mouths" from last season.
Niles Paul
joined that chorus
in an interview with Omaha.com. Paul said, "This is clearly a redemption year for us, and we want to let that be known." I did a two-week look at players with something to prove, but there's no doubt the organization as a whole has a lot to prove. But the Redskins have said the right things in the past only to do ... nothing. They can back up these words if Griffin rebounds, the pass rush is terrific, the tackling in the secondary is a lot better and the inside linebackers produce.
May, 1, 2014
May 1
1:23
PM ET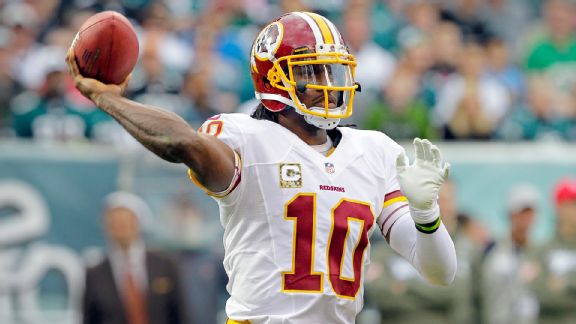 Hunter Martin/Getty ImagesRobert Griffin III believes offseason work on his mechanics will translate to the field this fall.
ASHBURN, Va. -- The changes should result, they hope, in improved mechanics and consistent throws and more success from the pocket. The science involved can explain how one aspect ties to another, helping Redskins quarterback
Robert Griffin III
return to his pre-injury form.
There is also this: Griffin just feels better with the changes. For all the impact the alterations in his mechanics have physically, they are also about fixing the mental game. If Griffin feels better about his base, for example, it will result in a more relaxed passer -- and better throws. Just like a batter in baseball likes the subtleties of his stance. Certain parts must be the same through the ball, but the entire goal is to feel comfortable at the plate. The same is true in the pocket.
And it's clear: Griffin feels more comfortable throwing the way he is now.
"Just fixing those little things so I can get back to playing the game and the brand of football I know how to play," he said.
Griffin's time to prove that he's back to what he was -- and what everyone thought he would be -- will be this summer and fall. But now is the time to perfect areas he could not last offseason. That is why he spent six days working in Arizona with quarterback coach Terry Shea, with whom he worked before the 2012 draft. They narrowed his base. They altered how he stepped with his front foot.
Though Griffin said his play last season wasn't as bad as he thought, he also saw the need to improve.
"It showed me what I have to do in my game to play an effective way," he said. "Base. Quick release. Where I hold the ball. All those things I was able to work on with coach Shea. It was getting back to a lot of things I was doing before, to fix up some of the technique that I was being coached before."
Here's what Shea worked on with Griffin:
Start from the waist down
When Griffin was at Baylor, his base was typically more narrow and his weight transfer was stronger. His transfer was fine as a rookie, but this past season it was not. So Shea worked every morning with Griffin for 40 minutes, focusing in part on the lower body.
They worked on the angle of his plant foot. They worked on setting harder on his back foot, allowing him to drive through his throws. For whatever reason in 2013 -- his right knee of course being tops on the list -- Griffin did not do this.
"I didn't believe he was planting that back foot in a position where he could transfer over the front and use his lower body," Shea said. "We worked on making sure he was transferring through on his throws."
Shea said this wasn't an issue in the games he watched Griffin play as a rookie.
"It seemed like the second year when he missed, a lot of his passes were high and that's a product of not coming down over the top well enough," Shea said, "He really addressed that during our six days. He was back on track."
Griffin wants to feel comfortable with how he plays. Reducing his base to shoulder width helps. For Shea it's about comfort, yes, but also about accuracy. And when Griffin's left foot is pointed where he wants to throw, he's more accurate.
Griffin has a knack for being able to fling a pass in the pocket, useful in situations where he can't get his feet turned towards the target. But there were too many times when Griffin failed to get his feet around in situations he could have done so, something Shea witnessed as well. They worked on making sure Griffin was aligned to the target, with his front foot and shoulder.
"[Last season] Robert was just not working his base quick enough," Shea said. "Consequently he got into some back-foot throwing. Sometimes quarterbacks end up throwing all with their arm, and most of the time it's inaccurate. It has to become second nature, but you have to drill it every day."
Ball positioning
Griffin dismissed the idea that reading defenses was a problem. Or something that caused a slower release at times.
"It wasn't an issue at all," he said. "I know from rookie year to last year, 'He's not reading defenses. Defenses are doing different things.' Defenses played us the same way last year. It wasn't a lack of reading defenses. I read defenses my rookie year, I read defenses last year and I'm going to read defenses this year, too."
Rather, he said his offseason focus was on where he held the ball. Shea wants him holding the ball at the numbers or letters. When it slips lower, as it would last season, it caused him to take a split second longer to throw -- he'd have to bring it back up, then back as opposed to just bringing it back.
Shea said he would have Griffin throw to stationary targets every morning, only focusing on arm speed and not accuracy. Then he would have Griffin cross over a line with his feet, waiting for Shea to shout, 'Ball!' before throwing.
Stafford
"The game is so fast that arm speed better be there," Shea said. "It starts with where he loads the ball up."
Griffin needs more throws like one he made in 2012 against Philadelphia. He faked a bubble screen to
Brandon Banks
, then quickly flipped his feet around and hit
Leonard Hankerson
downfield for 21 yards. He couldn't step into the throw as much because of pocket congestion. But he had a quick release -- the ball was up -- and it was accurate because of his feet.
"Of all the quarterbacks I ever worked with, Robert is one of the top two in terms of arm speed," Shea said. "The other one was
Matthew Stafford
. That's what makes the real special NFL quarterbacks.
"Robert is great to work with because I can give him one thing in an adjustment and it takes him one or two reps to get him corrected. He's very good with translating the information."
Griffin still needs to work on perfecting his fundamentals. But if nothing else he's regained a comfort level he did not feel in 2013. But the tough part comes in the fall: making sure the offseason work translates into in-season success.
February, 10, 2014
Feb 10
2:05
PM ET
He took off down the field against the
Minnesota Vikings
and the team's broadcaster used one word to describe the moment: electrifying. That's what
Robert Griffin
III provided for the
Washington Redskins
' offense as a rookie, those 76-yard sprints for touchdowns. He extended plays, fooled defenders with fakes and turned the Redskins into a dynamic offense.
Last season, he did not. Last season the focus wasn't on his electrifying play. Rather, it was on his surgically-repaired right knee. It was on his relationship with Mike Shanahan and Kyle Shanahan. It was on catchy slogans. It was on whether he should be playing.
And it all started around this time a year ago, when Griffin was recovering from knee surgery.
[+] Enlarge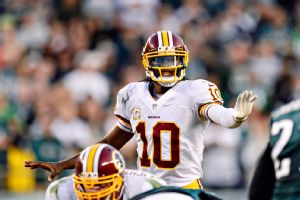 Howard Smith/USA TODAY SportsWith a fully healed knee, Robert Griffin III can now focus on improving his game this offseason.
But do you hear the sound around Griffin these days? It's all quiet -- and that's a good thing. Griffin is back to worrying about football and football only.
It's not as if those worries prevented him from becoming better last offseason. But they contributed to the mess the team became in 2013. Griffin was a weekly topic in the media throughout the season, not just for his play, either.
But his knee led to his sluggish start because he was unable to adequately prepare for the season.
"I thought we would have seen a great jump from Year 1 to Year 2 if he wasn't rehabbing the whole time," said former Redskins quarterbacks coach Matt LaFleur. "You can't work on your craft when you're rehabbing."
Griffin already has started to attack the offseason, throwing passes to some of his receivers away from Redskins Park. He and some of his receivers, tight ends and running backs will meet in Arizona in March to work out together, some bonding time that never really developed last offseason.
Griffin also will work out again with Terry Shea, the former NFL quarterbacks coach who trained him (and others) before the NFL draft. There's a desire to improve his footwork and to speed up his release, to work on areas that will help him in an NFL pocket.
By the way, what he's doing isn't because of 2013, it's what he also did before his rookie season: he worked with Shea; he got together with his receivers before training camp. It's just that he couldn't do any of this last offseason.
He also has a new staff to work with in Washington, with whom thus far there is nothing but good vibes.
It's a fresh start that someone only two years into his career probably needed.
Another bonus for him: Most likely, he'll also be without the knee brace that protected his knee, but didn't help his mobility.
"Everybody will see a big jump in his game and he'll look more like he did in Year 1 than in Year 2," LaFleur said.
There's no guarantee, of course, that Griffin will have that sort of jump. He has a lot to prove. And every player must own up to his mistakes. But it's a better bet it will happen after an offseason of work than one spent strengthening a knee. Griffin needs to study defenses and how they played him, then go onto the field and translate what he's learned. He couldn't do that in 2013.
Now he can focus on seeing how defenses play him and anticipate coverages. At times this past season it took too long for that to happen and plays ended with him sacked or in trouble.
"He'll be able to recognize and play the position faster," said LaFleur, now the quarterbacks coach at Notre Dame.
Griffin needed an offseason like this. Two years ago it was a heady whirlwind before the draft, going from Heisman Trophy winner to working out to savior in Washington in but a few months. Last season it was about rehabbing and documentaries and hidden meanings in quotes. There wasn't much time to take a breath. Now he's the player who some wonder what he'll eventually become, providing extra motivation to a guy who is always motivated.
When Griffin was The Guy as a rookie, he provided hope for Redskins fans as well as teammates. Defensive players used that word, knowing they were still in games even if they messed up. A broken offensive play -- or covered receivers -- could still result in heroics.
"When you've got a quarterback capable of taking it the distance at any point in time, it definitely strikes fear in the defense because you can't defend that," LaFleur said. "They might have you perfectly defended across the board but if a guy can take off and outrun the defense, there's nothing you can do."
With an inconsistent Griffin in 2013, other parts of the team needed to help him, but failed.
Griffin needs to get more of his 2012 game, but while improving in other areas so he can be a longtime starter. He's a smart player who has never had his work ethic questioned. Combined with talent, those attributes give him a chance to get back there. He'll also have to buy into what Jay Gruden is selling offensively.
The Redskins, done with their salary-cap penalties, will spend in the offseason. They'll add more young guys in the draft. All of that is important. But more than anything they need to see Griffin's game elevated. That will provide hope for not only this season, but for many to come.
January, 24, 2009
1/24/09
1:39
PM ET
Posted by ESPN.com's Mike Sando

Richard Obert of the Arizona Republic says the Cardinals are hoping to prove the new president wrong. Barack Obama is taking the Steelers.
Bob McManaman of the Arizona Republic dusts off a reference to Dean Martin and Jerry Lewis in describing the comedic charms of Cardinals offensive linemen Lyle Sendlein and Deuce Lutui.
Max Jarman of the Arizona Republic looks at Cardinals memorabilia sales.
David Mackall of the Arizona Republic checks in with Cardinals guard Reggie Wells, whose parents have gone to great lengths in watching their son play.
Richard Obert of the Arizona Republic looks at the Cardinals' penchant for trick plays. Coordinator Todd Haley concedes that the "Philly Special" might not work a second time.
Also from the Republic: a notebook leading with an item on Dominique Rodgers-Cromartie.
Kent Somers of the Arizona Republic provides an injury update from Cardinals practice Friday. Travis LaBoy is practicing on a limited basis. J.J. Arrington remains on the sideline.
Darren Urban of azcardinals.com says Cardinals running back Tim Hightower has benefited from an unlikely background in ballet.
Also from Urban: Cardinals defensive end Bertrand Berry finally enjoys success with Arizona.
More from Urban: Adrian Wilson's jack-in-the-box celebration is one of several the Cardinals have planned, just in case.
Scott Bordow of the East Valley Tribune traces the Cardinals' improvement to Michael Bidwill's arrival as team president in 2002.
Mike Tulumello of the East Valley Tribune looks at Rod Graves' role in building the Cardinals.

Niners general manager Scot McCloughan says the team hopes Alex Smith can compete with Shaun Hill to become the 49ers' starting quarterback. McCloughan: "I still believe Alex Smith is going to be a good quarterback in the NFL and if we can have him back competing with Shaun, we'd love to do it."
John Crumpacker of the San Francisco Chronicle isn't sure what to make of the 49ers' interest in Dan Reeves and Hue Jackson as potential offensive coordinators. Crumpacker: "With his sixth and seventh candidates interviewed, Singletary is either exercising due diligence in his search for a coordinator or is struggling to find someone compatible with his vision for the 49ers' offense."
Kevin Lynch of Niner Insider says hiring Jackson, now with the Ravens and formerly with the Falcons and Bencals, would "open the door to troubled but talented players such as Ocho Cinco, [Michael] Vick and to lesser extent [T.J.] Houshmandzadeh."
Matt Maiocco of the Santa Rosa Press-Democrat traces Reeves' candidacy to former 49ers coach Mike Nolan. Maiocco: "When Mike Nolan was named 49ers head coach in 2005, there were rumblings he might bring along his mentor, Dan Reeves, to assist him. Nolan is gone, but Reeves accepted a surprise invitation Friday to visit the 49ers team headquarters and discuss the offensive-coordinator position with new coach Mike Singletary."
Matt Barrows of the Sacramento Bee says Singletary couldn't find a more old-school coordinator than Reeves.

Clare Farnsworth of the Seattle Post-Intelligencer questions whether the Seahawks will keep two kickers for the long term. General manager Tim Ruskell says Olindo Mare will be back. The plan -- "right now," Ruskell said -- is for Brandon Coutu to return as well.
John Morgan of Field Gulls explains why he likes the Seahawks' hiring of Tim Lewis to coach the secondary. The fact that Lewis brought Charles Godfrey to Carolina helps.

Jim Thomas of the St. Louis Post-Dispatch says special-teams coach Al Roberts is one of the assistant coaches not coming back to the Rams. Strength coach Dana LeDuc and quarterbacks coach Terry Shea also will not return. Thomas: "Some holdover assistants who are still being considered for jobs are scheduled to meet with new offensive coordinator Pat Shurmur and new defensive coordinator Ken Flajole over the next few days."
Also from Thomas: a chat transcript that says the Rams do not have anyone negotiating contracts at the moment.

NFL SCOREBOARD
Thursday, 12/18
Saturday, 12/20
Sunday, 12/21
Monday, 12/22