June, 21, 2014
Jun 21
10:30
AM ET
Here are highlights from our weekly
San Diego Chargers
chat.
You can check out the full transcript here
.
Heidijoy (Iowa):
How are
Manti Te'o
and Chris Watts doing?
Te'o
Eric D. Williams:
Te'o looks faster now that his foot is fully healthy. But I want to see how he plays in a preseason game first before saying that he will be an impact player on defense. I think
Chris Watt
can be a fill-in guy at interior offensive line this season, and potentially a starter at center or guard in the next two or three years. Watt gets after it and appears to be picking up his assignments quickly.
Rashad (San Diego):
Has the
Brandon Flowers
deal broke down with the chargers and why? Do you know his asking price?
Williams:
I have no specifics on Flowers and the possibility he ends up in San Diego, other than he visited the team's facility Wednesday and Thursday. Flowers and his representation are likely listening to other potential suitors and weighing their options. The Chargers appear to be in a good position to land Flowers. He fits defensive coordinator John Pagano's system and would be an upgrade over anyone at cornerback on San Diego's roster as it stands right now. My only concern would be how having Flowers on the roster affects the playing time of
Jason Verrett
and
Steve Williams
. Those young corners have to play in order to get better. Flowers has to weigh scheme fit, opportunity for playing time and, of course, price.
Milwaukee Dan:
What's the story on Woodhead .... a luxury that the Bolts will let walk after this year or do you see them making an effort to keep him?
Williams:
Danny Woodhead
is a productive player and a good fit in the locker room. I would be surprised if Woodhead is not on San Diego's roster in 2015.
LeAndre (Los Angeles):
For some reason, WR
Tevin Reese
intrigues the heck out of me -- I've heard he's had a few drops here and there during practice, but you can't teach speed. What role might he fill this season OR do you see Reese having a legit shot at being on the field with Keenan, M-80,
Vincent Brown
/
Eddie Royal
?
Williams:
I like his skill set. I thought Reese actually had his best practice that I watched Wednesday during the team's final minicamp practice. I think he needs a redshirt year to learn a pro-style offense and gain weight. He has an uphill battle to earn a roster spot. I think more likely he winds up on the practice squad, unless he can seize one of the return jobs.
June, 7, 2014
Jun 7
11:05
AM ET
SAN DIEGO – Upon his arrival at Chargers Park, rookie receiver
Tevin Reese
was greeted with something he'd never had to deal with in his football playing career – a phone-book thick playbook.
At Baylor, the speedy receiver did not use a playbook under head coach Art Briles. Instead, Briles and his assistants taught his team's up-tempo offense through a lot of repetitions on the field and film study on an iPad.
It worked, with Baylor averaging a Football Bowl Subdivision-best 52.4 points per game in 2013.
[+] Enlarge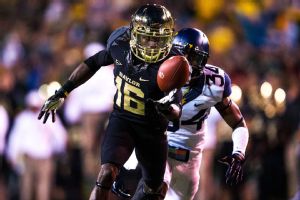 Jerome Miron/USA TODAY SportsTevin Reese set a Baylor record with 21 career touchdowns of 40-plus yards.
Although a little daunting at first, Reese says he's slowly getting comfortable in San Diego's complex offense.
"The first couple weeks was probably just out of this world, with all of these plays coming at me at one time," Reese said. "I never had a playbook my whole life. But just studying the playbook and being around the vets, they are teaching me the ropes. I'm starting to get it, and it's becoming second nature."
Helping in that transition for Reese has been another young receiver, second-year pro
Keenan Allen
.
"I try to make him feel as comfortable as possible," Allen said. "I know that was my problem when I came in, I wasn't as comfortable as I wanted to be. So you tend to make mistakes, you tend to think too much. So I just try to calm him down, make sure they're playing their game and they feel comfortable."
What Reese brings to San Diego's offense is explosiveness. Reese set a school record and led the NCAA with 21 career touchdowns of 40-plus yards.
Reese said he patterns his game after another explosive playmaker in the NFL – electrifying return man
Ted Ginn
Jr.
Reese has not worked on the field as a returner since high school. But like riding a bike, Reese says he's more comfortable catching returns in practice.
At 5-foot-9 and 165 pounds, Reese also knows he has to put on more weight in order to handle the pounding he will take in the NFL. However, Reese does not shy away from contact. He was a 140-pound tight end in high school, using cut blocks to take down defensive ends and linebackers in the run game.
"I've always been small my whole life, and I've found a way to make it work," Reese said. "And I'm still going to do that in the NFL.
"You can't tackle what you can't catch, and that's what I live by."
One thing Reese will have to do is consistently beat press coverage – with bigger cornerbacks attempting to negate his speed by slowing him down at the line of scrimmage. But the confident Reese believes he can win those one-on-one battles with proper technique.
"Beating press isn't all about being big and strong – a lot of technique comes into play," he said. "So if you have great technique, you can't beat anybody at press off the line. So once I beat the press, it's kind of hard to catch up to me."
Reese said he saw a lot of press at Baylor, and was able to beat press coverage with shiftiness, technique and speed.
"He's amazingly fast," Allen said. "He can go. To see him run is amazing, and when he catches the ball, he's gone. He's a great pickup."
January, 20, 2014
Jan 20
1:15
PM ET
MOBILE, Ala. -- Nearly the entire Jaguars football staff is on hand for the Reese's Senior Bowl. The Jaguars will coach the South team and the
Atlanta Falcons
will coach the North team, but each will switch rosters for a day on Thursday so they can interact with all the players.
Here's a primer of what to expect:
Help wanted:
Jaguars coach Gus Bradley said he expected his staff to remain intact, but linebackers coach Mark Duffner left the team on Sunday night to take the same position with the
Miami Dolphins
. Duffner just finished his eighth season with the team. Defensive coordinator Bob Babich, who spent seven seasons as a linebackers coach with the
Chicago Bears
and
St. Louis Rams
, will work with the linebackers this week. In addition to being a college all-star game, the Senior Bowl is also part coaches convention. Unemployed assistants are here trying to land jobs and head coaches are also here trying to fill staffs.
Keep your eye on:
The Jaguars certainly have a lot of needs to fill, beginning with quarterback and pass rusher. So naturally all the quarterbacks -- particularly
Derek Carr
,
Tajh Boyd
and
David Fales
-- are players to watch during the practices and games. Though he is unable to play because of a torn ACL he suffered in late November against Kentucky,
Aaron Murray
is here to participate in meetings and interviews. It's a smart decision and one that GMs will like.
As for those pass rushers, Jeremiah Attaochu (who played linebacker at Georgia Tech), Michael Sams,
Kareem Martin
,
Chris Smith
, and
James Gayle
are defensive ends to watch. At outside linebacker,
Trent Murphy
and
Christian Jones
are worth watching.
Unfortunately, two of the country's top pass rushers won't be here. Buffalo's
Khalil Mack
has opted not to participate and UCLA's
Anthony Barr
will miss the week because of an undisclosed injury. Both are considered top-10 draft picks.
Some other players to watch: WR
Jordan Matthews
, TE
C.J. Fiedorowicz
, TE Jacob Pederson, G
Cyril Richardson
and C
Weston Richburg
.
What you'll get:
Each day I'll provide Jaguars news and notes as well as observations from practice. I'll concentrate on players at positions that correspond to the Jaguars' top needs (QB, DE, OLB, interior OL, RB, WR) but there will be other players as well. I'll have several blog posts a day and you also can follow me on Twitter @ESPNdirocco.
ETC.:
Among the other players who either opted out or cannot participate because of injury are RBs
Carlos Hyde
(opted out),
Andre Williams
(injury) and
Tyler Gaffney
(injury), OTs
Jake Matthews
(opted out) and
Taylor Lewan
(injury), WR
Tevin Reese
(injury), and DT
Dominique Easley
(injury).
NFL SCOREBOARD
Thursday, 10/23
Sunday, 10/26
Monday, 10/27