January, 8, 2014
1/08/14
2:08
PM ET
Last season while writing a story for the Houston Chronicle about the Texans' focus on character, I talked with general manager Rick Smith about what that means to him.
Manziel
Quickly, I learned that the perception that the Texans value character above all else was one that Smith disagreed with. To him, a player's character is important as it relates to what he does on the field.
The Texans take plenty of chances on players with questionable off-the-field pasts. Sometimes those chances work better than others. But would they gamble with the most important position on the field, with what might be the most important draft pick in franchise history?
They will if they think he can win. That's the only question that matters.
What the Texans have done so far at the position hasn't worked. The even-keeled
David Carr
and
Matt Schaub
never made off-the-field headlines the Texans didn't want. Instead, those quarterbacks made plenty of cringeworth on-the-field headlines. At their best, their play was as bland as their quotes and more dependent on everything around them than you want a quarterback to be. At worst it cost the Texans big.
Which brings us to Texas A&M quarterback
Johnny Manziel
, who will enter the NFL draft
according to sources
. An electric personality is not a reason to draft someone, but it doesn't hurt. More importantly, Manziel's ability to improvise, his success at scrambling out of problems (6.3 yards per carry during his time at Texas A&M) even against the fast and physical defenses he faced, and his increasing comfort at passing from the pocket could make him a successful NFL quarterback.
I'd have concerns about his size, especially since Texans coach Bill O'Brien likes big quarterbacks, his durability and whether he would resort to his legs too often. Improvisation isn't always necessary. That's a lesson Texans quarterback
Case Keenum
learned the hard way.
But I wouldn't have concerns about the celebrity lifestyle he's embraced.
He's already shown the ability to be an elite player despite the partying with models and Texas fraternities. The NFL spotlight won't be bigger than the one that's on him now, though the league's media rules will force him to be a more public face than he's allowed to be in college.
Save for egregious criminal offenses, the only kinds of character concerns that scare the Texans away are ones that will impact someone's play. So far Manziel has shown that his antics haven't.
August, 14, 2012
8/14/12
11:30
AM ET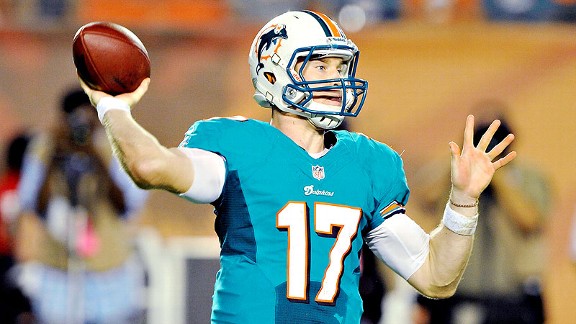 Brad Barr/US PresswireThere is no better time than the present for the Dolphins to start rookie QB Ryan Tannehill.
DAVIE, Fla. -- I rarely flip flop in the AFC East blog. But due to an unexpected set of circumstances, this is one of those rare instances.
It's time for the
Miami Dolphins
to start rookie quarterback
Ryan Tannehill
for the entire 2012 season. Yes, I said it. Now let it sink in.
Forget about my prior comments entering training camp. I previously wrote Tannehill's two-day holdout and late arrival all but ends the rookie's chances of jumping two veteran quarterbacks in training camp.
But crazy things happen in the NFL -- especially if you're the Dolphins. Miami has had a topsy-turvy 72 hours that
included projected starting
quarterback
David Garrard
's unexpected knee surgery and receiver
Chad Johnson
's release
following his arrest
for alleged domestic violence.
No one saw this coming a few weeks ago. Now, the Dolphins must adjust.
Miami needs to be decisive. It's time to start Tannehill this week against the
Carolina Panthers
and get him three full preseason games with the first team in preparation for Week 1 of the regular season.
No. 1 overall pick
Andrew Luck
is starting at quarterback for the
Indianapolis Colts
. No. 2 pick
Robert Griffin
III is starting for the
Washington Redskins
. Even
Cleveland Browns
' rookie
Brandon Weeden
, who was drafted 14 picks behind Tannehill, is starting in Week 1.
What are the Dolphins waiting for? It's time for Miami to play its rookie quarterback.
"It's possible, we'll see," Philbin said after practice Monday. "At this stage in the game we're going to let the practices play out. We're in no rush to name anybody. We (have a) game at Carolina on Friday and we've had two decent days of preparation so far and we have two more heavy practices coming up, so we're going to look at how the guys play."
The days of waiting a year or two for a quarterback to develop are outdated. Coaches get fired too fast in the NFL to have your franchise player sitting on the bench for too long. Philbin gets one year as a grace period. After that, the pressure is on to win in Miami.
Philbin and Tannehill should go through this grace period together in 2012. Let's be honest: Miami is in a rebuilding year. This team is learning a new West Coast offense, a new 4-3 defense and doesn't have enough dynamic playmakers on either side to consistently win games.
The Dolphins are not a playoff team regardless if Garrard, Moore or Tannehill is the quarterback. Therefore, you're better off playing the rookie who can develop into your long-term solution. Philbin and Tannehill can take their lumps together this season and learn on the job. Then, the pair will be well-positioned to take flight for Miami in 2013.
Tannehill could be the best quarterback on the roster right now. He was
certainly the most impressive
in Miami's preseason debut. Tannehill was 14 for 21 with 167 yards and a touchdown. He showed many of the traits Miami raved about in the draft. Tannehill was poised, in control of the offense and made a lot of good throws.
"I try to be calm on the field," Tannehill said. "(I) try to give off the essence of being calm in the pocket, being calm in the huddle. You know, we're going to go down and score every drive. I just try to give confidence to the other players on the field."
Dolphins veteran quarterback
Matt Moore
was 7 of 12 for 79 yards and an interception. The incumbent had some good plays and bad plays. After the game, Philbin was asked how big is the gap between Moore and Tannehill?
"I don't think it's huge," Philbin said candidly. "I think it's relatively close, probably."
If that is the case, what is there to lose?
We know what Moore's ceiling is. He is 13-12 in his six-year career. Moore is an average starter but a good backup. He's never played in a West Coast offense before and you can see it in practice. In many ways, Moore is a square peg trying to fit into a round hole with the Dolphins.
Meanwhile, Tannehill has the potential to be Miami's best quarterback since
Dan Marino
. Why waste a year of that immense potential on the bench? Tannehill played under Dolphins offensive coordinator Mike Sherman in college at Texas A&M and knows this West Coast offense well. The progress Tannehill has made from minicamp in the spring to the third week of training camp has been impressive.
Garrard was clearly winning the quarterback competition before his unexpected knee surgery. At that time I thought the former Pro Bowler gave Miami the best chance to win. But Garrard's injury opened the door for the Tannehill era to begin. Miami should embrace this opportunity instead of running away from it.
Moore and Garrard both have one year left on their contracts. There is a good chance neither veteran quarterback will be on Miami's roster next season.
But Tannehill will be on the roster in 2013. And it's best for the entire Dolphins organization that he enters next season with a full year of experience under his belt.
"We'll just have to trust the gut. ...We'll see how it unfolds," Philbin said. "At that time, if there are no differences statistically, if it looks even and production is even, then I think we'll have to go with a gut instinct on who can lead the team and give us the best chance to win."
Stop playing musical chairs with your quarterbacks, Miami. The future is now.
Start Ryan Tannehill.
April, 28, 2012
4/28/12
11:02
AM ET
DAVIE, Fla. -- Rookie quarterback
Ryan Tannehill
just wrapped up his first news conference with the
Miami Dolphins
. He is the new face of the Dolphins' franchise and a player they think can turn the team around.
Here are some notes from Tannehill's news conference at Dolphins headquarters:
The major question is how long will it take for Tannehill to see the field as a top-10 quarterback. Tannehill is not expected to play this season. But he's taking the right approach by not resigning himself to backup status behind Matt Moore and David Garrard. "I'm a football player and I'm a competitor," Tannehill said. "I want to be on the field and I want to compete. But I also realize that I'm coming in and there's veteran quarterbacks on this team that I can learn from."
Tannehill has good measurables. He's big and rangy. He looks the part of an NFL quarterback in person, which is important. Tannehill will take the field for the first time in rookie mini-camp next week.
I asked Tannehill about his leadership ability, because I think that's so important for the quarterback position. I was particularly curious about how he plans to lead despite being a rookie and working his way up the depth chart. "First of all, you got to get the respect of your teammates," Tannehill explained. "I've done it in a lot of different ways. But I want to get to know the guys. This is a new locker room and I have to get to know everyone. ... And your performance on the field is a big part of that. You have to be able to make plays on the field to get that respect."
Tannehill was happy to get his hands on Miami's playbook. He said many things looked familiar from the one he had in college. Tannehill played under Dolphins offensive coordinator Mike Sherman at Texas A&M. Sherman played a major role in bringing Tannehill to Miami.
April, 26, 2012
4/26/12
11:27
PM ET
DAVIE, Fla. -- There is no bigger boom-or-bust prospect in the 2012 draft than former Texas A&M quarterback
Ryan Tannehill
. Is he the next prolific NFL quarterback, or simply a product of pre-draft hype that led to becoming a top-10 pick?
Opinions vary. But the
Miami Dolphins
believe they have the answers to the Tannehill question. Miami has more inside knowledge on Tannehill than any other team and drafted its quarterback of the future with the No. 8 overall pick Thursday night.
Tannehill will rejoin Dolphins offensive coordinator and former Aggies coach Mike Sherman, who says Tannehill is a star in the making. There are many critics who believe Tannehill is fool's gold, but the Dolphins are very confident they made the right choice.
"This was an all-in decision," Dolphins general manager Jeff Ireland said firmly. "From the football side, our scouts, our coaches ... we all felt very, very good about it."
Ireland hit the nail on the head. The Dolphins are betting the foreseeable future of the franchise on Tannehill -- for better or for worse.
If Tannehill develops into an upper-echelon quarterback, the Dolphins finally have the biggest piece to change their misfortunes. If Tannehill is a bust, it will set Miami back another three or four years.
"We're excited and thrilled," Dolphins owner Stephen Ross said of their first-round pick. "I've always said you need to be strong at the quarterback position, and now that's one of the strengths of this team. So I couldn't be happier."
The pick doesn't come without pressure. It's been 29 years since the Dolphins drafted a quarterback in the first round:
Dan Marino
in 1983. Those are some big shoes to fill.
It's also no coincidence Miami hasn't had a legitimate, franchise quarterback since Marino retired in 2000. The list of mediocre starting quarterbacks since included
Cleo Lemon
,
Joey Harrington
,
Trent Green
,
Jay Fiedler
,
A.J. Feeley
,
John Beck
and most recently
Chad Henne
. Tannehill will try to avoid being the next name on this infamous list.
Tannehill had only 19 career starts in college. There is a learning curve with Tannehill that isn't as steep for other top quarterback prospects like
Andrew Luck
and
Robert Griffin III
, who went No. 1 and No. 2 to the
Indianapolis Colts
and
Washington Redskins
, respectively.
The good news is Tannehill is not expected to play in 2012. Barring unexpected injuries to Miami veteran quarterbacks
Matt Moore
and
David Garrard
, Tannehill probably will hold a clipboard next season. This will provide Tannehill ample time to learn the NFL game.
[+] Enlarge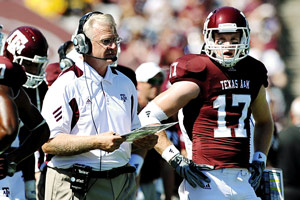 Icon SMIRyan Tannehill will be reunited with former Texas A&M coach Mike Sherman.
Dolphins rookie head coach and former Packers offensive coordinator Joe Philbin kept
Aaron Rodgers
on the bench for several years before he became a starter and it worked out fine. But that wasn't what Tannehill wanted to hear on draft day.
"I want to compete, that's just the competitor in me," Tannehill said in a conference call with the South Florida media. "Obviously with competition comes learning. It doesn't have to be a hostile competition. It's just competing."
Ireland said he's going to leave Tannehill's playing time next season up to the coaching staff. But chances are, we won't know much about Tannehill until 2013. The boom-or-bust talk will have to wait for at least a year.
But Tannehill's ceiling is high if things go right in Miami. It also doesn't hurt that the quarterback competition in the AFC East is not very stout. It's pretty much
Tom Brady
, and then there's everyone else.
Tannehill has the physical ability to potentially rise above the struggling quarterback pile in the division that includes
Mark Sanchez
,
Ryan Fitzpatrick
and
Tim Tebow
. If Tannehill becomes the second-best quarterback in the AFC East over the next two or three years, that's a huge advantage for the rebuilding Dolphins.
Remember this day, Dolphins fans. Tannehill is the draft pick that will either change Miami's misfortunes or extend the team's misery for several more years. The Tannehill mystery won't be solved overnight, but Miami feels it found the piece to eventually build this struggling franchise into a winner.
"I don't know if this energizes the fan base. What energizes the fan base is winning," Ross said. "I'm looking to field a winning team, because energizing a fan base only lasts a very short period of time.
"We're talking about winning in the long haul."
April, 29, 2011
4/29/11
4:55
PM ET
ENGLEWOOD, CO. -- Tim DeRuyter believes his lasting image of
Von Miller
exemplifies who the Denver Broncos' first-round pick truly is.

It was moments after an upset win against visiting Nebraska in November. Ninety-thousand-plus fans flooded Texas A&M's field. DeRuyter, the Aggies' defensive coordinator, then saw a stunning sight. There was Miller – the team's best player --- standing in the middle of the chaos, sobbing uncontrollably.
"That's Von," DeRuyter said. "He was so happy we won. He's cares so much more about the team than himself. That's not always the case with great players. Often, they care more about themselves than the team, but not Von. Denver is getting a guy who is going to be a great player and a great teammate."
I talked to DeRuyter on the phone moments before Miller was introduced to the media Friday afternoon; the day after the Denver took the pass-rusher with the No. 2 overall pick. Miller quickly showed the traits his former coach was talking about.
Miller said his new job is "all about winning" and he said on multiple times that he is in Denver to be a "sidekick" to existing Denver pass-rushers Elvis Dumervil and Robert Ayers, or as Miller referred to them "Mr. Dumervil" and "Mr. Ayers."
He thanked "Mr. Elway" for drafting him and said it was a surreal experience working for the legendary quarterback.
DeRuyter called Miller the "whole package" and said there is not a weak spot in his game or off-field life.
"Denver is going to love this kid," DeRuyter said. "He's a special kid."