NFL Nation:

Thaddeus Lewis
August, 9, 2013
8/09/13
12:00
PM ET
In which we look ahead to Week 1 of the 2013 preseason. All four NFC North teams will take the field Friday night. Rob Demovsky will have a preview of the Green Bay Packers' game against the Arizona Cardinals, and our friends at ESPNChicago.com handled pregame coverage of the Chicago Bears' matchup at the Carolina Panthers.

Detroit Lions
Opponent:
New York Jets
Location:
Ford Field
Time:
7:30 p.m. ET

Personnel notes:
Starters will probably play a couple of series, but some are expected to sit out. Atop that list is safety
Louis Delmas
(knee), whose limited work in training camp suggests the Lions wouldn't risk him in a preseason game. Fans at Ford Field will have their first chance to see tailback
Reggie Bush
in the Lions' offense, and everyone is looking forward to seeing place-kicker
Havard Rugland
-- aka "Kickalicious" -- see his first action in a live game. Rugland didn't look out of place in training camp practices earlier this week. Also, it will be fun to watch the Lions try out a number of candidates for their kickoff and punt return roles. Rookie
Steven Miller
is inexperienced but fast, quick and has the look of a playmaker.
Focal point:
Three days at Lions training camp revealed that they could face some intriguing bottom-of-the-roster decisions. The Lions are deep at tight end and running back, especially, and it makes you wonder whether they can afford to keep a No. 3 quarterback. Part of that decision includes the level of competence that
Kellen Moore
and
Thaddeus Lewis
demonstrate in preseason games.
Minnesota Vikings
Opponent:
Houston Texans
Location:
Metrodome
Time:
8 p.m. ET

Personnel notes:
A number of front-line players aren't expected to be in uniform, including defensive end
Jared Allen
(ankle). Cornerback
Xavier Rhodes
and linebacker
Desmond Bishop
were also nursing relatively minor injuries this week and could miss the game. Coach Leslie Frazier has said that tailback
Adrian Peterson
will get some work in the preseason, but it's not clear if that will come Friday or at some other point. The rest of the starters could play as much as a quarter.
Focal point:
We'll get our first real look at
Joe Webb
on the other side of his transition from quarterback to receiver/all-purpose playmaker. In training camp, Webb demonstrated excellent hands and catching radius but seemed to be laboring under the raw amount of running a receiver does in an NFL training camp. We all know he was an excellent open-field runner for a quarterback, but he won't have the advantage of surprising defenses anymore. Preseason games are important in this kind of situation. Webb must demonstrate enough playmaking capacity for the Vikings to use one of their 53 roster spots on him. Otherwise, it's difficult to carry a "developmental" player who is in the final year of his contract.
December, 18, 2011
12/18/11
12:49
PM ET
The
St. Louis Rams
' injury situation should, in theory, clear the way for the team to evaluate young depth against Cincinnati in Week 15.

That will happen at defensive end, where rookie
Robert Quinn
is getting the start over injured and inactive veteran
James Hall
. Quinn has shown flashes of ability as a situational player this season. Taking a longer look at him across additional situations will help.
But in too many other cases, the Rams are playing out the season without learning much about the future. Injuries are one reason. Not having enough young depth is another reason.
Sam Bradford
is inactive against the Bengals, but replacement
Kellen Clemens
is a stopgap, not a developmental player. The team had hoped to keep
Thaddeus Lewis
on is practice squad coming out camp, but Lewis signed with Cleveland. And without a regular offseason, the team decided to stick with veteran
A.J. Feeley
as its backup even though Feeley, now injured, did not know the new offense.
Left tackle
Rodger Saffold
is also out. His replacement Sunday,
Adam Goldberg
, is 31 years old. The team knows he projects as a backup guard and tackle. He isn't going to develop into more than that.
The team has suffered too many injuries at cornerback to even consider developing young players at that position. With
Justin King
out Sunday, Rod Hood gets the start. Hood is 30 years old and still coming back from a career-threatening knee injury. He did not play in 2010.
Some of the players St. Louis wanted to develop this season -- tight end
Michael Hoomanawanui
, receiver
Greg Salas
and tackle
Jason Smith
-- are on injured reserve.
As a result, the Rams are largely just playing out the final three games.
September, 12, 2011
9/12/11
7:27
PM ET
The
St. Louis Rams
could be in the market for quarterback help after injuries sidelined starter
Sam Bradford
and their emergency option at the position, receiver
Danny Amendola
, in the fourth quarter Sunday.
Bradford expects to play in Week 2 despite a bruised finger on his throwing hand. Amendola will miss at least one game and possibly quite a few more depending on whether his dislocated elbow requires surgery.
These dynamics
came to mind during early games Sunday.
Fewer teams kept three true quarterbacks active after rules changes revoked special game-day roster designations for No. 3 quarterbacks. The Rams were already among the teams keeping only two quarterbacks on their roster.
Coach Steve Spagnuolo, speaking with reporters Monday, called Sunday a "learning experience" and something that could require the team to adjust its approach.
"You're relying on a positional player to be your third quarterback, and the positional player is out there playing, so if he gets hurt, you could end up in the situation we were in," Spagnuolo said. "I'm not sure how we'll handle it going forward."
Bradford took every snap from center during the 2010 season, so there was little reason to think the team would need an additional quarterback on the roster. The Rams had hoped to sign
Thaddeus Lewis
to their practice squad, but the
Cleveland Browns
claimed him off waivers following the mandatory reduction from 80- to 53-man rosters.
Had there been no lockout, the Rams would have had more time to consider their options behind Bradford. They like
A.J. Feeley
, but they also asked him to take a pay cut before the season, ESPN's John Clayton reported Monday. Feeley was a better fit when the Rams were running the offense former coordinator Pat Shurmur brought from Philadelphia, where Feeley had played previously. That offense bears little resemblance to the one new coordinator Josh McDaniels is running.
September, 1, 2011
9/01/11
10:13
PM ET
Looking back on three things discussed here before the St. Louis Rams' preseason game against the Jacksonville Jaguars on Thursday night:

1. Sims-Walker homecoming:
There was one point in the first half when receiver
Mike Sims-Walker
's maneuvering before the snap suggested quarterback
Sam Bradford
might be coming his way with the football. It did not happen. Bradford attempted 11 passes, but none for Sims-Walker, who was returning to the stadium he called home for the previous three seasons. It's tough to fault Bradford for ignoring Sims-Walker. He was too busy finding a wide-open
Lance Kendricks
for 17 yards on third-and-4, 12 yards on first-and-10 and 44-yards on a third-and-1. Who needs wide receivers? Kendricks, the Rams' rookie tight end and second-round draft choice, caught a scoring pass in three of the team's four exhibition games.
2. Robert Quinn's development.
George Selvie
was the first defensive end off the bench after the Rams' starting right defensive end,
James Hall
, left the game with a back injury. Hall's injury was not thought to be serious. He was dominating to that point in the game, but he collided awkwardly with fellow defensive end
Chris Long
when the two met at the quarterback. Quinn, the Rams' first-round pick, entered the game with the other backups a bit later. He got close to the quarterback a couple times, but didn't make an obvious impact.
3. Pass protection.
The Jaguars entered this game with no sacks during the exhibition season. The streak ended when they brought down Rams third-stringer
Thaddeus Lewis
. Bradford took a couple hits, including a late helmet-to-helmet shot that drew a penalty. Bradford held up well and appeared to come out of the preseason healthy. He completed 7 of 11 passes for 133 yards, one score and a 135.8 rating. The pass protection was good overall. The Rams did a good job beating pressure with screens.
Note:
I posted this during the fourth quarter of the game, with the Rams leading, 21-10. Games involving the
San Francisco 49ers
and
Arizona Cardinals
were just beginning.
August, 16, 2011
8/16/11
11:03
AM ET
The
San Francisco 49ers
were the only NFC West team to play just two quarterbacks in their first preseason game.
They are the only team in the division looking for a third quarterback.
How much quarterbacks play during preseason can mean more than how well they seem to play under what are often unusual circumstances with little application to the regular season.
Preseason snap counts are especially precious during this abbreviated NFL offseason. That helps explain why
St. Louis Rams
coach Steve Spagnuolo indicated he might
schedule his starters to play longer
in the second preseason game, making up for time lost. That might also explain why the 49ers weren't going to waste preseason snaps on quarterbacks not yet in their immediate plans.
The charts break out quarterback participation by NFC West team, including non-penalty snaps, quarters, drives and drive results.
The
Arizona Cardinals
'
Kevin Kolb
drove his team to the Oakland 1, where the Raiders stuffed
Beanie Wells
on a fourth-and-goal play.
The second chart breaks down participation for No. 2 quarterbacks in preseason openers. Columns remain ordered by team (Rams, 49ers, Seahawks, Cardinals) for easier comparison with the other charts.
The third chart covers third-string quarterbacks (Rams, 49ers, Seahawks, Cardinals).
Cardinals fourth-stringer
Max Hall
also played in the first week of preseason. He took five snaps and led one touchdown drive.
I've included the final chart breaking down snap percentages by quarterback for those wondering whether their team's starter played too much, too little or the right amount in the opening week.
My impression watching the Seahawks was that Tarvaris Jackson, having played only two series, needed a little more time to get going. While he did play the lowest percentage of his team's snaps among NFC West starters, he logged one more snap than Kolb. Seattle quarterbacks ran more snaps overall, strengthening the perception that Jackson was hardly out there at all.
June, 14, 2011
6/14/11
4:15
PM ET
Thoughts and questions after former Ohio State quarterback Terrelle Pryor and agent Drew Rosenhaus issued
statements
Tuesday:
[+] Enlarge

AP Photo/J Pat CarterFormer Ohio State QB Terrelle Pryor, right, and his agent Drew Rosenhaus discuss Pryor's future at a news conference in Miami Beach, Fla.

Rosenhaus said he expects an NFL team to select Pryor in the first round of the supplemental draft. I've heard nothing from anyone in the NFL suggesting Pryor would command that much value. Rosenhaus might have a better idea, or he might be simply promoting his client. But if Pryor does go early in the supplemental draft, I cannot see him landing in the NFC West.

The St. Louis Rams have their current starter. The San Francisco 49ers have their current and projected future starter. The Arizona Cardinals have multiple developmental quarterbacks. They need a veteran to step in and start right away. Pryor does not fit. The Seattle Seahawks said they could not afford to invest early draft choices in a quarterback given the state of their roster in other areas, notably the line. They addressed the line, but still have holes.

Rosenhaus represents more NFL players than any agent. However, he generally is not the choice for quarterbacks. Does Pryor even project as a quarterback? Depends who you ask.

Pryor does not perform like the typical quarterback on the field, having rushed for 2,164 yards at Ohio State. His choice for representation also goes against convention for quarterbacks. Three of the 145 signed players Rosenhaus represented during the regular season were quarterbacks, according to NFL Players Association records from November. Rex Grossman, Thaddeus Lewis and Billy Volek were those quarterbacks. David Dunn (17) and Tom Condon (13) had more than 28 percent of quarterbacks.

The dynamics change if Pryor remains available late in the supplemental draft. There's much less risk at that point. In the meantime, ESPN's Chris Mortensen says we should expect to see Pryor meeting with Jon Gruden for a session similar to the ones Gruden put together for Cam Newton and others. Gruden reveled in putting pressure on prospects to prove how much they understood about offense. How well Pryor understands the game from a quarterback's perspective will affect how well he would fit even as a No. 3 quarterback.
Rosenhaus and Pryor refused to answer questions following their statements.
"I think I've said it all," Rosenhaus told reporters.
September, 12, 2010
9/12/10
3:18
PM ET
ST. LOUIS -- The
St. Louis Rams
named receivers
Brandon Gibson
and
Dominique Curry
inactive Sunday, leaving only four on their 45-man game-day roster.
Think they might want to run the ball with
Steven Jackson
?
Gibson was a potential starter following
Donnie Avery
's season-ending knee injury, but the Rams' move to acquire
Mark Clayton
from Baltimore altered plans. Gibson missed much of camp with a hamstring injury. He was not on the injury report this week, suggesting he has ground to make up before becoming part of the rotation -- particularly if the Rams are going to keep only four receivers active.
Curry's special-teams ability had given him a shot at the active roster, but the Rams probably weren't going to consider him much as a receiver at this stage.
Also inactive for the Rams: cornerback
Jerome Murphy
, tight end
Fendi Onobun
, offensive lineman
John Greco
, defensive end
Eugene Sims
and defensive tackle
Jermelle Cudjo
.
Thaddeus Lewis
is the third quarterback. If a third quarterback plays, the first two quarterbacks cannot re-enter the game.
Onobun's chances for the game-day roster appeared strong early in camp, but fellow rookie
Mike Hoomanawanui
impressed during exhibition games.
Murphy will probably factor as a nickel corner this season, but
Kevin Dockery
or
Justin King
will fill that role Sunday. Dockery appears most likely to serve as the nickel, but I'm not certain at this point. Veteran safety
James Butler
, listed as probable with a knee injury, is active.
September, 8, 2010
9/08/10
2:21
PM ET
Roster turnover is a leading topic for discussion in Seattle following the release of
T.J. Houshmandzadeh
in particular.
I've addressed the subject in depth across the division -- first
May 26
and again
July 30
-- and it's worth another look now that teams have reduced to 53 players for the regular season.
This time, I'm going to break down the changes by position, listing players no longer on the active roster at each main position group (with new players in parenthesis). Departures outnumber replacements because some players finished last season on injured reserve, meaning they were not part of the 53-man roster.
Some players no longer on the active roster remain with the team (they could be suspended, deemed physically unable to perform or part of the practice squad).
St. Louis Rams (34 off roster)

Defensive back:
Eric Bassey
,
Quincy Butler
,
Danny Gorrer
,
Clinton Hart
, Cordelius Parks,
David Roach
,
Jonathan Wade
(added
Kevin Dockery
,
Jerome Murphy
,
Darian Stewart
)
Defensive line:
Victor Adeyanju
,
Adam Carriker
,
Leger Douzable
,
Leonard Little
,
LaJuan Ramsey
,
James Wyche
(added
Jermelle Cudjo
,
Fred Robbins
,
George Selvie
,
Eugene Sims
)
Linebacker:
K.C. Asiodu
,
Paris Lenon
(added
Na'il Diggs
,
Josh Hull
)
Offensive line:
Roger Allen
,
Alex Barron
,
Ryan McKee
,
Mark Setterstrom
,
Phillip Trautwein
,
Eric Young
(added
Renardo Foster
,
Hank Fraley
,
Rodger Saffold
)
Quarterback:
Kyle Boller
,
Marc Bulger
,
Keith Null
,
Mike Reilly
(added
Sam Bradford
,
A.J. Feeley
,
Thaddeus Lewis
)
Running back:
Samkon Gado
,
Chris Ogbonnaya
(added
Keith Toston
)
Special teams:
Ryan Neill
Tight end:
Randy McMichael
(added
Mike Hoomanawanui
,
Fendi Onobun
)
Wide receiver:
Donnie Avery
,
Keenan Burton
,
Brooks Foster
,
Jordan Kent
,
Ruvell Martin
(added
Mark Clayton
,
Dominique Curry
,
Mardy Gilyard
)
---
Seattle Seahawks (33 off roster)

Defensive back:
Jamar Adams
,
Deon Grant
,
Ken Lucas
,
Josh Wilson
(added
Kam Chancellor
,
Kennard Cox
,
Nate Ness
,
Earl Thomas
,
Walter Thurmond
)
Defensive line:
Lawrence Jackson
,
Patrick Kerney
,
Cory Redding
,
Nick Reed
,
Darryl Tapp
,
Craig Terrill
(added
Kentwan Balmer
,
Raheem Brock
,
Chris Clemons
,
Dexter Davis
,
Junior Siavii
,
E.J. Wilson
)
Linebacker:
Leroy Hill
,
Lance Laury
,
D.D. Lewis
(added
Matt McCoy
; note that Hill is suspended for the first regular-season game)
Offensive line:
Trevor Canfield
,
Brandon Frye
,
Walter Jones
,
Damion McIntosh
,
Rob Sims
,
Steve Vallos
,
Ray Willis
,
Mansfield Wrotto
(added
Stacy Andrews
,
Evan Dietrich-Smith
,
Ben Hamilton
,
Russell Okung
,
Chester Pitts
,
Tyler Polumbus
)
Quarterback:
Mike Teel
,
Seneca Wallace
(added
Charlie Whitehurst
)
Running back:
Justin Griffith
,
Louis Rankin
,
Tyler Roehl
,
Owen Schmitt
(added
Quinton Ganther
,
Michael Robinson
,
Leon Washington
)
Special teams:
Kevin Houser
,
Jeff Robinson
(added
Clint Gresham
)
Tight end:
John Owens
(added
Chris Baker
,
Anthony McCoy
)
Wide receiver:
Nate Burleson
, T.J. Houshmandzadeh (added
Golden Tate
,
Mike Williams
)
---
Arizona Cardinals (24 off roster)

Defensive backs:
Ralph Brown
,
Bryant McFadden
,
Antrel Rolle
(added
A.J. Jefferson
,
Trumaine McBride
,
Brandon McDonald
,
Kerry Rhodes
)
Defensive line:
Jason Banks
(added
Dan Williams
)
Linebacker:
Monty Beisel
,
Bertrand Berry
,
Cody Brown
,
Karlos Dansby
,
Gerald Hayes
,
Chike Okeafor
,
Pago Togafau
(added
Paris Lenon
,
Cyril Obiozor
,
Joey Porter
,
Daryl Washington
; Hayes can return from the physically unable to perform list after six games)
Offensive line:
Mike Gandy
,
Herman Johnson
,
Reggie Wells
(added
Alan Faneca
,
Rex Hadnot
)
Quarterback:
Matt Leinart
,
Brian St. Pierre
,
Kurt Warner
(added
Derek Anderson
,
Max Hall
,
John Skelton
)
Running back:
Justin Green
,
Dan Kreider
(added
Jerome Johnson
)
Special teams:
Neil Rackers
(added
Jay Feely
)
Tight end:
Anthony Becht
(added
Jim Dray
)
Wide receiver:
Anquan Boldin
,
Sean Morey
,
Jerheme Urban
(added
Andre Roberts
,
Stephen Williams
)
---
San Francisco 49ers (24 off roster)

Defensive backs:
Dre' Bly
,
Walt Harris
,
Marcus Hudson
,
Mark Roman
(added
Phillip Adams
,
Tramaine Brock
,
William James
,
Taylor Mays
)
Defensive line:
Kentwan Balmer, Derek Walker
Linebacker:
Scott McKillop
,
Jeff Ulbrich
,
Matt Wilhelm
(added
NaVorro Bowman
,
Travis LaBoy
)
Offensive line:
Tony Pashos
,
Chris Patrick
,
Cody Wallace
(added
Alex Boone
,
Anthony Davis
,
Mike Iupati
)
Quarterback:
Nate Davis
,
Shaun Hill
(added
David Carr
,
Troy Smith
)
Running back:
Thomas Clayton,
Glen Coffee
,
Brit Miller
, Michael Robinson (added
Anthony Dixon
,
Brian Westbrook
)
Special teams:
Shane Andrus
,
Ricky Schmitt
Wide receiver:
Arnaz Battle
,
Isaac Bruce
,
Jason Hill
,
Brandon Jones
(added
Ted Ginn Jr.
,
Kyle Williams
,
Dominique Zeigler
)
---
The first chart shows how many players are back -- at least for now -- from Week 17 rosters and injured reserve lists. Seattle has the fewest number back with 26.
The second chart shows how many players each team has shed since Week 17 last season. This counts players who were on injured reserve. Teams with lots of players on injured reserve had more players to lose.
September, 4, 2010
9/04/10
3:00
PM ET
Sam Bradford
is the
St. Louis Rams
' starting quarterback.
Keith Null
, who started four games as a rookie in 2009, will not be the third-stringer behind
A.J. Feeley
.
Bradford's elevation, announced by coach Steve Spagnuolo, and Null's release brought clarity to the Rams' quarterback picture. The Rams have not announced all their cuts, but with Null out, rookie
Thaddeus Lewis
becomes the third quarterback heading into the regular season.
Starting Bradford was the most logical decision after the rookie No. 1 overall choice shined during much of the exhibition season, plus training camp. There's no sense in stunting Bradford's development if he appears mentally, emotionally and physically strong enough to dive right in.
Two other Rams moves:
Kevin Payne
and
Eric Young
to injured reserve.
On the radar:
Jim Thomas of the St. Louis Post-Dispatch says the Rams
could show interest
in
San Diego Chargers
receiver
Vincent Jackson
. Recently released
Seattle Seahawks
receiver
T.J. Houshmandzadeh
is also a consideration, but I'm not sure what type of situation Houshmandzadeh might prefer. He's from Southern California, he's a veteran and he's guaranteed $7 million no matter what, so why not target a winning team somewhere relatively close to the West Coast? Just a thought.
August, 27, 2010
8/27/10
7:37
AM ET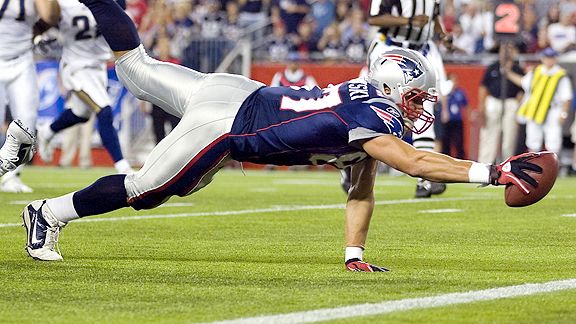 Stew Milne/US PresswireRookie tight end Rob Gronkowski caught three passes for 66 yards and two scores Thursday night.
Some random thoughts from Thursday night, when the
St. Louis Rams
beat the
New England Patriots
36-35 in Gillette Stadium ...
You can say Sam Bradford had a sensational night in his first NFL start, or you can be worried the rookie quarterback of a team that went 1-15 last year had his way against Bill Belichick's defense. The Patriots were undisciplined and seemed a little lost.

The Rams allowed 44 sacks last year, tied for seventh-most in the NFL. With four-fifths of the same offensive line and a rookie left tackle in front of Bradford, the Patriots' defense sacked him once and generally failed to create pressure.

New England was credited with three passes defensed. One of them belonged to nose tackle Vince Wilfork.

St. Louis' second-team offense, led by undrafted rookie quarterback Thaddeus Lewis, did this to New England's first-team defense to open the second half: 76 yards on 15 plays in 9:19. Lewis and Brandon Gibson connected for a 20-yard touchdown.

First-round draft pick Devin McCourty started at left cornerback and had a rough night. He struggled on run support and was beaten deep by Donnie Avery for 32 yards on the Rams' first drive. McCourty got scorched on what should have been a 27-yard Laurent Robinson touchdown at the end of the second quarter, but Bradford's throw carried Robinson out of bounds.

A bright spot for the defense was defensive lineman Ron Brace with seven tackles and a sack. He left the field with an undisclosed leg injury in the second half.

Rookie tight end Rob Gronkowski is going to be a fan favorite if he can A) stay healthy, and B) keep making the kinds of plays he made against the Rams. He caught three passes for 66 yards and two scores. On his 14-yard touchdown in the second quarter, he dragged James Laurinaitis the final 5 yards and lunged at the goal line. Gronkowski capped a long drive at the start of the fourth quarter by leaping to snare a Tom Brady dart from 20 yards away.

Wes Welker's return from reconstructive knee surgery took another positive step. He had two catches, one going for 39 yards to seemingly wake up the sleepwalking offense. But the psychological part of his recovery shouldn't be overlooked. Welker showed concern when Avery suffered a serious knee injury in the second quarter. Reminders are everywhere.

Flat is one thing, undisciplined is another. The Patriots committed nine penalties (two were declined) for 72 yards. The defense was culpable for most. Three Patriots were flagged for roughing the passer: Tully Banta-Cain, Brandon Spikes and Marques Murrell.

How did the Patriots score 35 points while maintaining possession for only 16:14? Brandon Tate returned the opening kickoff 97 yards for a touchdown followed by four straight possessions with a combined one first-down conversion. Then they scored touchdowns on each of their next three series, totaling 20 plays.

That's why Brady and the first-teamers played into the fourth quarter. He finished 18 of 22 for 273 yards and three touchdowns with no interceptions.

Brady's 65-yard bomb to Randy Moss sure looked pretty and got the Gillette Stadium crowd into the game, but you have to wonder if the Patriots' offense would have been better served with a drive. I don't think Belichick went into Thursday night with "Get Moss behind second-string safety Kevin Payne" on the Patriots' to-do list.

So here's what happened on the next series: At the end of the third quarter and into the fourth, New England went no huddle and traveled 98 yards on 10 plays, gaining five first downs before Brady found Gronkowski for a 20-yard touchdown. And it took them just 2:45.

Not sure what to make of running back Laurence Maroney not playing a down for the second straight game. Hard to say for sure, but looks like Belichick has booked him at Chateau Bow Wow. Belichick said it was related to time of possession. Regardless of the reason, no action two straight games is a bad sign for the fifth-year pro.

Sam Aiken is one of the most underappreciated players in the division. He's an adequate receiver who can help out the offense in a pinch, but he's a consistently solid special-teams performer, the kind of player every good team needs. He eliminated a Rams player on Tate's touchdown return and went across the middle for a 5-yard touchdown pass from Brian Hoyer in the fourth quarter.

The Patriots' offense probably would've had the ball longer if Belichick opted to go for it on fourth-and-inches from the 50-yard line midway through the first quarter. The TV showed Brady playfully mocking Belichick for punting. Against the Indianapolis Colts on "Sunday Night Football" is one thing. I guess Thursday night wasn't the right moment to be a renegade.

Forbes estimates the Patriots are worth $1.367 billion. Time to give the Gillette Stadium field some new paint. An on-the-spot official thought Rams tight end Fendi Onobun stepped out of bounds on what should have been a touchdown because the faded white sideline was undefined.
NFL SCOREBOARD
Sunday, 2/2
WEEKLY LEADERS